Authorities said the main fire front was moving up the coast and warned those in its path to seek shelter close to the beach.
Firefighters had gathered at the shore as a last line of defence.
Victoria's state emergency commissioner Andrew Crisp told reporters there were "4,000 people on the beach" at Mallacoota.
Authorities had previously urged people in the region - many of them tourists - to stay put
because by Monday it was too late and dangerous to evacuate.
Locals told the BBC they had "bunkered in" as the front approached, raining ash on the beaches.
"It was bloody scary. The sky went red, and ash was flying everywhere," said Zoe Simmons in Batemans Bay.
Firefighter death
Hundreds of massive blazes have destroyed millions of hectares in the eastern states of Australia since September.
A "freakish weather event" killed a volunteer firefighter on Sunday, according to the NSW Rural Fire Service (RFS).

He is the third volunteer firefighter to have died.
Samuel McPaul, 28, a newlywed, was expecting his first child. Powerful winds near the NSW-Victoria border - generated by the fires - lifted his 10-tonne truck off the ground and flipped it over, the service said.
Two other firefighters were also injured and suffered burns.
Temperatures exceeded 40C (104F)
in every state and territory at the start of the week
, with strong winds and lightning strikes bolstering the flames.
Meteorologists say a climate system in the Indian Ocean, known as the dipole, is the main driver behind the extreme heat in Australia.
But much of Australia is also suffering from a record drought.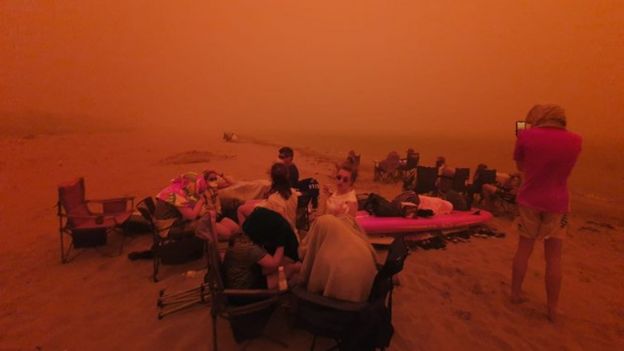 Residents in the NSW holiday towns of Bermagui and Batemans Bay also fled on Tuesday morning to the waterfront or makeshift evacuation sites near the shore.


Thousands ready to take to the water if necessary, leaving everything behind.

Government officials called for Australian military support and assistance from U.S. and Canadian fire crews as authorities confirmed two people had died overnight, taking to 12 the total deaths in wildfires since the beginning of October.
Victoria's state premier, Daniel Andrews, said navy ships might be called upon to provide food, water and power to the cut-off townships.
The huge bush fires have destroyed more than 4 million hectares (10 million acres)
, with new blazes sparked into life almost daily by extremely hot and windy conditions in bushland left tinder dry after a three-year drought.
Fueled by searing temperatures and high winds, more than 200 fires are now burning across the southeastern states of New South Wales and Victoria, threatening several towns and snapping their power, mobile and internet links.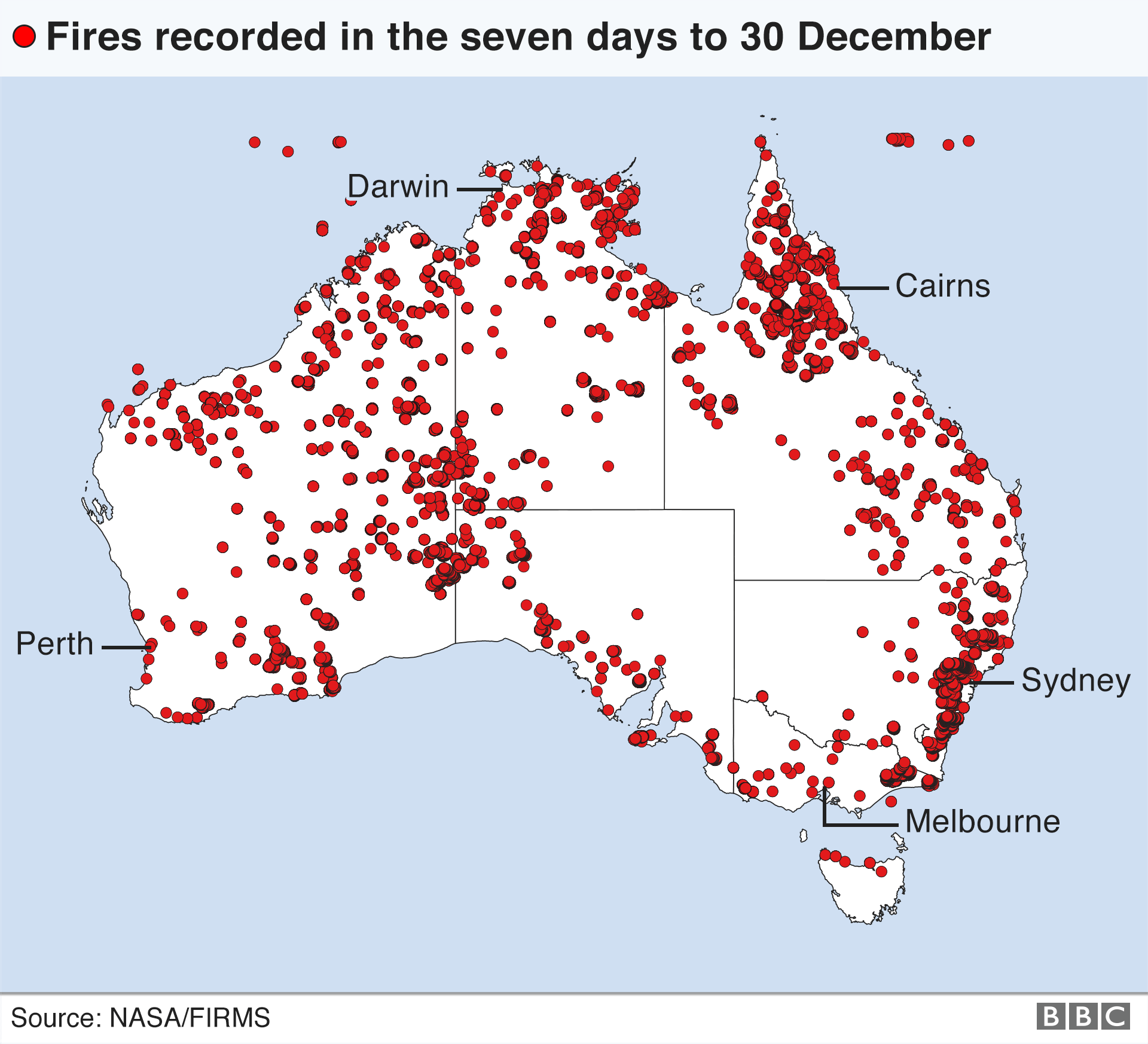 Sydney's water supply was said to be threatened by the fires and ash.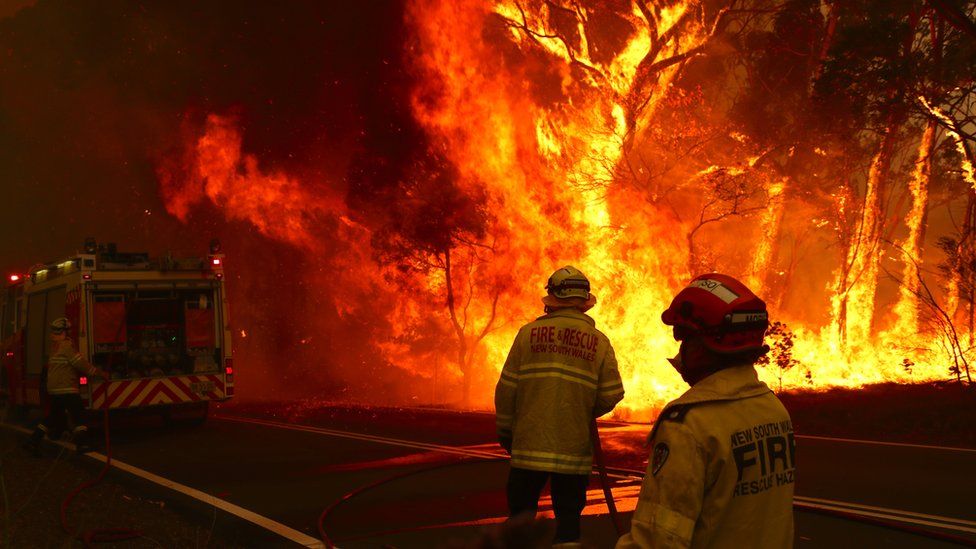 The bush fire crisis has exploded on a scale never experienced in New South Wales.
Three people have been confirmed dead in the past 24 hours, dozens of properties lost and thousands of people are trapped, evacuated to beaches, many forced onto and into the water.
Thousands of people have fled to a beach in Victoria, Australia, to escape bush fires racing towards the coast.
Locals in
Mallacoota
described a "terrifying experience" of camping on wharves and boarding boats under blood-red skies.
Military aircraft and vessels are to be sent to help rescue efforts.
The Australian Defence Force will send Black Hawk and Chinook helicopters, fixed-wing aircraft and navy vessels to Victoria and NSW, the two worst-affected regions.
Officials confirmed another two people had been killed by fires in New South Wales (NSW), bringing the fire-linked death toll there to 12.
The bodies of the latest victims - believed to be a father and son - were found in the NSW town of Corbargo, which was hit by a massive blaze on Tuesday.
Authorities say four people are missing in Victoria and another in NSW.
MELBOURNE/SYDNEY (Reuters)
- Thousands swarmed to beaches on Australia's east coast on Tuesday to escape fierce wildfires bearing down on several seaside towns, as the government readied naval vessels and military helicopters to aid firefighting and evacuations.
2,500 firefighters deployed in the field.
The small town of Balmoral, south-west of Sydney, was largely destroyed
and scores of homes were razed amid catastrophic conditions on 22 December.
In northern NSW large fires are burning in the region between Port Macquarie and Byron Bay.
In the countryside to the west of Sydney, there are fears that the vast Gospers Mountain fire, which originated in the Wollemi National Park, may merge with the Green Wattle Creek blaze in the lower Blue Mountains.
The fire in the Blue Mountains, a world heritage area and popular tourist destination, has burnt over 64,000 hectares, though much of it is now being controlled, according to the NSW Rural Fire Service.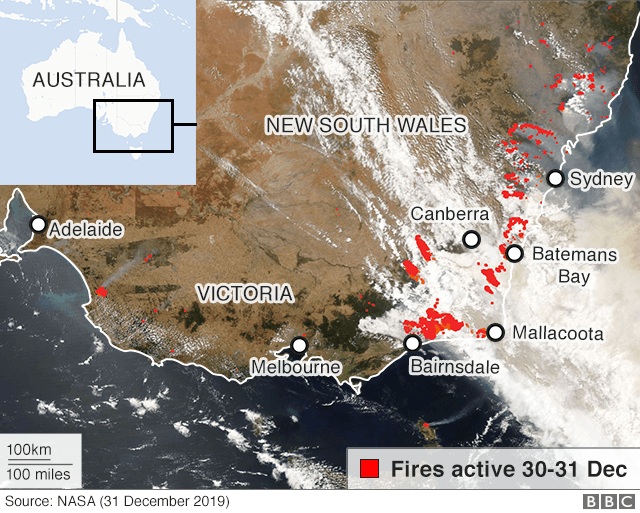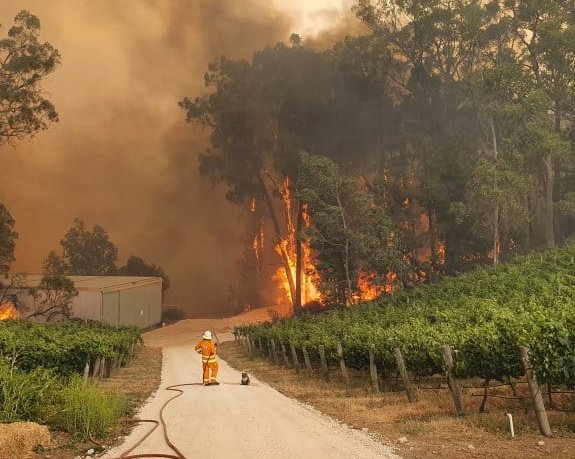 ABOVE: A small koala sits beside an Eden Hills firefighter as he battles a blaze
Australia wildfires: Fire truck overrun by bushfire flames
Firefighters in New South Wales were forced to shelter in their truck as it was surrounded by bushfire flames.
Authorities said members of the crew, from Station 509 Wyoming, were safe following the incident.

IMPOSSIBLE TO BATTLE SUCH FLAMES
These are giant, fast-moving blazes so powerful they create their own weather systems akin to thunderstorms.
And due to their ferocity, they are largely impossible to fight.
How are firestorms created?
With certain ground and atmospheric conditions, bushfires can rip through a large area with so much energy that they generate storms above them. This is a pyrocumulonimbus.
Ordinarily, bushfires are driven along by the wind but a massive blaze can carry so much power that its smoke is not pushed to the side. Instead, it forms a plume that
rises up to 15km (nine miles) into the sky.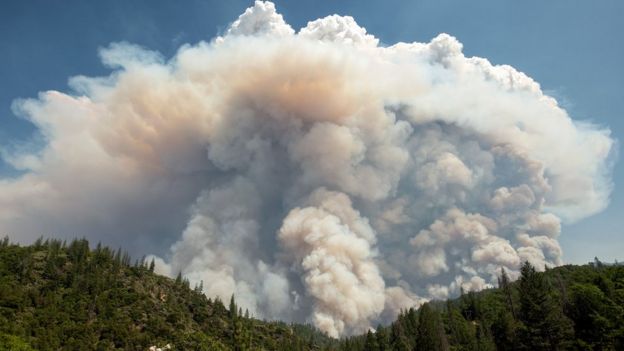 Because the plume contains heat and moisture, when it hits the stratosphere it can condense and form clouds.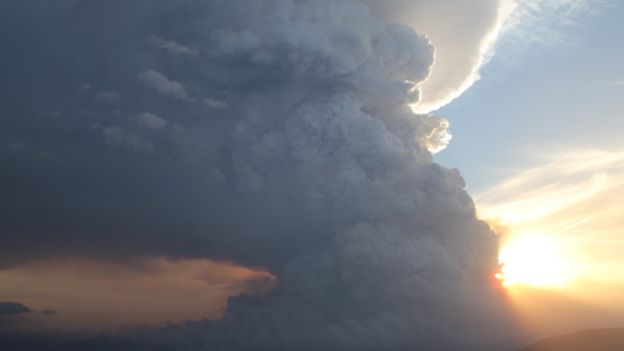 "A pyrocumulonimbus is basically a thunderstorm within the plume of the fire," says Associate Prof Jason Sharples, an expert in extreme fires based at the University of New South Wales (UNSW).
What can they do?
When the storm is formed, it means the fire below will be big, fast and very dangerous.
"That means it's big enough to overcome any other conditions," says UNSW scientist Prof Jason Evans.
Australian experts have tallied close to 60 such events since 2001.
A record 18 were recorded in March this year when fires burned in the state of Victoria. They were also seen during fires in Canberra in 2003, when a fire tornado was recorded.
"There's been a crazy increase in the frequency of these events," says Prof Evans.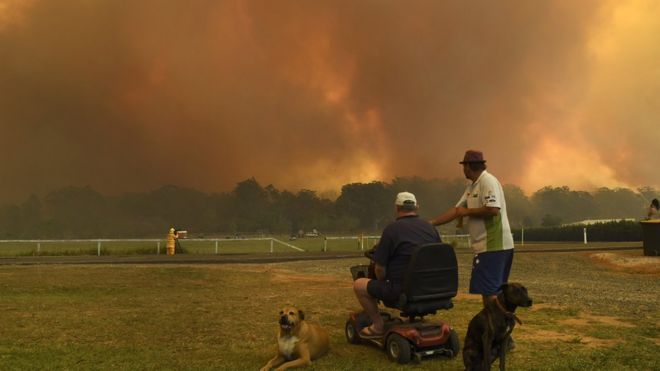 WHAT CAN ANYONE DO BUT MOVE OUT OF THE WAY AND THEN WATCH IT BURN?

BOTH DOMESTIC AND WILD ANIMALS HAVE PERISHED IN GREAT, BUT UNKNOWN NUMBERS SINCE THE FIRES BEGAN.
THE TEA ROOM CAN BUT OFFER PRAYERS AND HOPE FOR ALL LIFE THERE.
MAY MY MANY AUSTRALIAN READERS AND THEIR LOVED ONES, THEIR PROPERTY AND ANIMALS BE SAFE.

WE HAVE CLOSE FRIENDS AND EXTENDED FAMILY THERE.

MAY THERE BE A MIRACULOUS WEATHER CHANGE FOR THE GOOD TO HELP END THIS ONGOING NIGHTMARE.
//WW