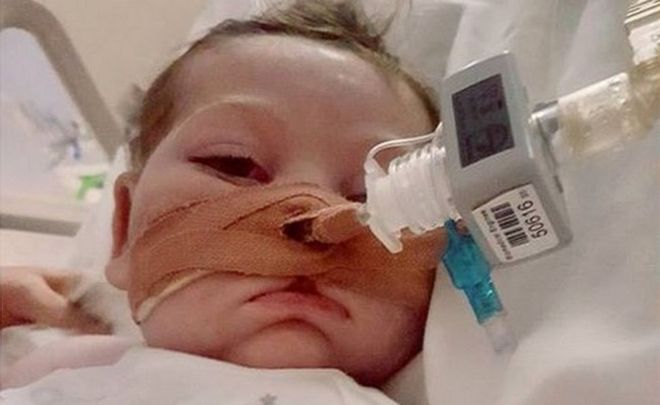 ABOVE, BABY CHA

R

LIE GARD: HE DIES TODAY, SAY HIS PARENTS, AND THE COURT WHICH RULED THAT HE MUST DIE WOULD NOT EVEN ALLOW THEM TO TAKE THE 10-MONTH-OLD HOME TO DIE.

In a post on Facebook on Thursday, the couple said they were spending their "last precious hours" with their son. "We're not allowed to choose if our son lives and we're not allowed to choose when or where Charlie dies," they wrote.
"We promised our little boy every single day that we would take him home," they told Mail Online. "We want to give him a bath at home, put him in a cot which he has never slept in, but we are now being denied that," Gard said. "We know what day our son is going to die but don't get a say in how that will happen.
Not only are we not allowed to take our son to an expert hospital to save his life, we also can't choose how or when our son dies."

THE COURT DETERMINED THAT "IT IS IN THE CHILD'S BEST INTEREST" THAT HE BE KILLED.
THAT'S THE BOTTOM LINE.
WHAT'S "BEST" FOR CHARL

IE IS DEATH.
IT IS THE STUFF OF NIGHTMARES...YOUR CHILD IS ON LIFE SUPPORT, FIGHTING TO LIVE,AND THEN A COURT DECIDES (S)HE MUST DIE.

THIS IS NOT ONE OF THOSE SNOPES INTERNET STORIES, THIS IS REALITY.
A COURT CAN DECIDE THE FATE OF A CHILD...YOUR CHILD, MINE, ANYONE'S... AND THE PARENTS WITHOUT THE FINANCIAL MEANS TO FIGHT FOR THEIR CHILD IN THE COURT SYSTEM HAVE TO STAND ASIDE AND SEE THAT LIFE TAKEN FROM THEM.

HOW CAN OUR CHILDREN BE PLACED IN SUCH JEOPARDY?
A FEW "EXPERTS" DETERMINE WHETHER OR NOT "THE BEST INTEREST" OF A CHILD WILL BE SERVED BY PROLONGING LIFE VIA ARTIFICIAL MEANS, OR IF "ALLOWING" (NO, FORCING!) THE CHILD TO DIE BY REMOVING LIFE SUPPORT, WITHHOLDING FOOD, WATER, MEDICATIONS, TREATMENTS, IS THE ONLY LOGICAL AND EXPECTED OUTCOME FOR AN INFANT, LIKE CHARLIE GARD, OR AN OLDER CHILD .

AS I WROTE IN MAY, 2016, UNICEF, A UNITED NATIONS ORGANIZATION, WANTS EUTHANASIA OF CHILDREN TO BE ALLOWED, "SAME AS FOR ADULTS", BUT SUGGESTS THERE NEED NOT BE A "TERMINAL ILLNESS" INVOLVED, AND THAT EUTHANASIA FOR THE MENTALLY ILL SHOULD ALSO BE CONSIDERED.

By extending its euthanasia law to minors in 2014, Belgium has fueled the international debate on this issue.

THE UNITED KINGDOM'S COURT TAKES UP THE TORCH TO ALLOW THE KILLING OF CHILDREN.

For ten months, Charlie Gard has been living in the intensive-care unit at Great Ormond Street Hospital in London.

Charlie, born last August, suffers from an inherited disease called infantile onset encephalomyopathic mitochondrial DNA depletion syndrome, generally referred to as "MDDS." The disease is extraordinarily rare: At present, there are only 16 known cases worldwide. Most patients who suffer from it die in early infancy. Charlie is unable to breathe unaided, suffers from seizures, and has severe brain damage.

In March, his doctors decided that there was nothing more they could do for him, and they recommended that his parents, Connie Yates and Chris Gard, withdraw his ventilator.
The parents refused, on the grounds that an untried experimental treatment was available in the United States.
The hospital, in accordance with British law, applied to the courts to forestall further treatment.

In April, the High Court found for the doctors and against the parents.

In May, the Court of Appeal upheld the initial decision.

In early June, the Supreme Court agreed.
And this week, the European Court of Human Rights — the last court of jurisdiction — refused to intervene.
Whenever they see fit to do so, the doctors at Great Ormond Street Hospital can now remove Charlie's life support.

THE COURTS TAKE AWAY THE RIGHTS OF THE PARENTS TO MAKE DECISIONS FOR THEIR CHILD.
Successive courts in the United Kingdom and in Europe simultaneously found that Connie Yates and Chris Gard had devoted themselves unhesitatingly to their son's welfare for ten months, and also that Yates and Gard could not be trusted to act in their son's best interests.

"COULD NOT BE TRUSTED"?
THAT'S ALL IT TAKES?
YES, THAT IS INDEED ALL IT TAKES.

According to the Honourable Mr. Justice Nicholas Francis of the High Court's Family Division, who authored the decision subsequently upheld by the higher courts, death is "in Charlie's best interests." There was no "scientific basis" for believing that Charlie would respond positively to the experimental American treatment; meanwhile, there is "unanimity among the experts from whom I have heard that nucleoside therapy cannot reverse structural brain damage."

"If," wrote Justice Francis, "Charlie's damaged brain function cannot be improved, as all agree, then how can he be any better off than he is now?"
It was "with a heavy heart," the judge said, that he sided with the doctors. Charlie should be permitted "to die with dignity."


"DIGNITY"?
WHAT DIGNITY IS THERE IN KILLING AN INFANT WHO CAN'T EVEN RUN AWAY FROM THOSE WHO WANT TO KILL HIM, WHO CAN'T EVEN CRY OUT, "PLEASE, DON'T!" ?


In conclusion, Justice Francis praised the parents he had just overruled: "Most importantly of all, I want to thank Charlie's parents for their brave and dignified campaign on his behalf, but more than anything to pay tribute to their absolute dedication to their wonderful boy, from the day that he was born."


IF HE THOUGHT THEY WERE "BRAVE AND DIGNIFIED", WHY DID HE REFUSE TO LET THEM TAKE THEIR CHILD HOME, AT LEAST, AND WHY DID HE SAY THEY WEREN'T FIT TO MAKE A DECISION FOR HIM TO LIVE ON?




PROBABLY TODAY,

THEY WILL KILL LITTLE CHARLIE GARD.



COURT SYSTEMS IN OTHER NATIONS ACTUALLY ENCOURAGE "ASSISTED SUICIDE" FOR CHILDREN (AND ADULTS) FOR THINGS AS NON-LIFE-THREATENING AS ANXIETY AND AUTISM?

In Belgium and the Netherlands and elsewhere in Europe, assisted suicide is now an acceptable remedy for people suffering not just from terminal illnesses but from depression, autism, and anorexia.

THE NEW YORKER, JUNE 22, 2015: THE DEATH TREATMENT
Belgium was the second country in the world, after the Netherlands, to decriminalize euthanasia; it was followed by Luxembourg, in 2009, and, this year, by Canada and Colombia.

Switzerland has allowed assisted suicide since 1942.
The United States Supreme Court has recognized that citizens have legitimate concerns about prolonged deaths in institutional settings, but in 1997 it ruled that death is not a constitutionally protected right, leaving questions about assisted suicide to be resolved by each state.

Within months of the ruling, Oregon passed a law that allows doctors to prescribe lethal drugs for patients who have less than six months to live. In 2008, Washington adopted a similar law; Montana decriminalized assisted suicide the year after; and Vermont legalized it in 2013.

A recent study in the British Medical Journal found that only half of euthanasia cases in Flanders had been reported to the Federal Control and Evaluation Commission. There were no repercussions for failing to report euthanasia deaths to the commission, a situation likely aided by the fact that nearly half of the sixteen members on the commission are affiliated with right-to-die associations.

IN CANADA, THE MENTALLY ILL WILL SOON BE AFFORDED ASSISTED SUICIDE, THANKS TO THEIR LEGAL SYSTEM.
APRIL 20, 2017
Canadian legislators may soon pass a law extending the right to physician assistance in dying, also known as physician-assisted suicide, to the mentally ill.
The possibility of such a move, which would bring Canadian policy somewhat into line with Dutch and Belgian policies, stems from a 2015 decision by the nation's highest court that mentally competent Canadian adults suffering "intolerably and enduringly" from a physical ailment have the right to a doctor's help in dying. Since that decision, Canadian lawmakers have been working to revise their statutes so they conform to the high court's ruling.

THE U.S. GETS INVOLVED IN "EUTHANIZING" THE MENTALLY ILL...

The debate is also raging south of Canada. The Discovery Institute's Smith said that in California a person committed to a state psychiatric hospital can petition to be released for assisted suicide. He sees it as an example where the extension of assisted suicide to the mentally ill makes no sense.

"You have people who are certifiably mentally ill," Smith said, "to the point where they're involuntarily hospitalized, having access to euthanasia."PAD [physician-assisted suicide] is permissible in Oregon, Washington, Colorado and Vermont, plus the District of Columbia.

"PAD is only lawful in those five states if the legal drugs are prescribed by a physician in accordance with all the safeguards," he said, adding that about 20 states are considering PAD laws.PAD FOR THE MENTALLY ILL... "The people whom modern science can't help."

WHO IS "MENTALLY ILL"?
ANYONE DECLARED SO BY "MEDICAL EXPERTS" WITH OR WITHOUT COURT ASSISTANCE ON THE RULING.
WHO ARE THOSE WHOM "MODERN SCIENCE CAN'T HELP"?
ALL OF US WHO REJECT THE "HELP" OF MODERN SCIENCE AND/OR SEEK ALTERNATIVE HELP, ALL WHOM MODERN SCIENCE SAYS THEY CAN'T HELP, AND INFANTS, AND SMALL CHILDREN WHO HAVE ABSOLUTELY NO SAY-SO ABOUT THESE DECISIONS WORLDWIDE.
CHILDREN LIKE CHARLIE GARD.



WHEN AND HOW DID WE COME TO DEVALUE, TO NEGATE THE WORTH OF A CHILD''S LIFE?



ROE V. WADE
WHAT IF A PARENT, THE FATHER OF THE UNBORN CHILD, HAD APPEARED IN THIS CASE AND WANTED HIS CHILD TO LIVE?
WHAT IF HE HAD OFFERED TO REAR THE CHILD HIMSELF?
THIS DIDN'T HAPPEN, BUT IF IT HAD, SINCE THE MOTHER DID NOT WANT TO ALLOW THIS,
THE MOTHER "WON" AND THE FATHER WOULD HAVE LOST, AND, CERTAINLY, THE UNBORN CHILD ALSO LOST...WAS KILLED...AGAIN, BY THE COURT.

SINCE THEN, IN AMERICA, ABOUT 60 MILLION FETUSES HAVE BEEN "TERMINATED", WHETHER OR NOT THE FATHER AGREED WITH THE DECISION OF THE MOTHER.
THE AMERICAN JUDICIAL SYSTEM BASICALLY REMOVED ANY RIGHT THE FATHER MAY CLAIM TO SEE HIS CHILD BORN.

IT IS MY OPINION THAT, HAD THEIR BEEN A VOCAL, HARD-FIGHTING FATHER SEEKING TO PRESERVE HIS CHILD'S LIFE IN THIS CASE, AND IF THE COURT HAD SIDED WITH THE FATHER, SOME FEMINISTS WOULD STILL BE STONING JUDGES.

TODAY, IN NON-LIFE-THREATENING SITUATIONS, WHEN ONE PARENT VALUES LIFE AND THE OTHER DOES NOT, HOW CAN A COURT OF LAW HAVE THE AUTHORITY TO SAY THAT ONE PARENT'S IDEOLOGY, BELIEFS, WISHES OVERRIDE THE OTHER PARENT'S?
IF THE LIFE OF THE MOTHER IS NOT IN JEOPARDY, WHY DON'T COURTS CONSIDER THE LIFE AND RIGHTS OF THE UNBORN CHILD, WHO HAS NO VOICE, NO CHOICE?

HIDDEN FACTS THE MEDIA DID NOT REPORT AT THE TIME
The ruling rested on incredibly shaky legal reasoning, as the seven justices in the majority manufactured a mysterious "right to privacy," discovered in the due-process clause of the 14th Amendment, to establish a woman's right to choose abortion. In addition, in the majority opinion, Justice Harry Blackmun found that "the word 'person', as used in the Fourteenth Amendment, does not include the unborn," plausibly the most flawed legal argument since the dehumanizing decision in Dred Scott v. Sandford.

THE COURT RULED THAT THE UNBORN ARE NOT 'PERSONS', EVEN THOUGH ANYONE WHO KILLS A PREGNANT WOMAN IS CHARGED WITH DUAL HOMICIDE/DOUBLE-MURDER IF BOTH MOTHER AND UNBORN DIE, OR WITH MURDER OF THE UNBORN IF ONLY THE FETUS DIES.

"The word 'person,' as used in the 14th Amendment, does not include the unborn," Justice Blackmun wrote, although states may acquire "at some point in time" of a pregnancy an interest in the "potential human life" that the fetus represents, to permit regulation. It is that interest, the court said, that permits states to prohibit abortion after the fetus has developed the capacity to survive.

Roe exemplifies the worst of legal procedure, both in the lies concocted on behalf of the U.S. abortion industry and in the contortions that Blackmun devised to justify the Court's appallingly undemocratic decision, one that paved the way for the legalized murder of nearly 60 million unborn children.
WHAT UNREAD, BIASED, HYSTERICAL AMERICANS DO NOT COMPREHEND ABOUT ROE V. WADE, WHAT WAS NOT REPORTED IN MAINSTREAM MEDIA, WOULD HAVE CHANGED

, PERHAPS, MOST AMERICAN MINDS ABOUT THIS RULING.



Data indicate that many Americans oppose the overturn of this decision because they believe that, in the absence of Roe, abortion would be outlawed nationwide.
NOT TRUE AT ALL!

In reality, if the Supreme Court were to overturn some or even all of Roe, the question of abortion would return to the states, allowing state governments to establish permissive abortion laws or to regulate abortion to protect the unborn.
As state laws currently stand, nearly all would permit abortion at least until the 20th week of pregnancy; it would require a federal law or constitutional amendment to make abortion illegal in all 50 states.

Some of our current slate of expansive abortion rights comes also from two other Supreme Court cases: Roe's companion case, Doe v. Bolton (1973) and Planned Parenthood v. Casey (1992).
While Roe permitted late-term abortion to preserve the life or health of the mother, Doe defined a mother's health expansively, as determined by "all factors — physical, emotional, psychological, familial, and the woman's age — relevant to the

well-being

of the patient."

Under this logic, doctors are able to justify abortion in practically any instance, as any woman who might experience emotional strain or mental discomfort as the result of the pregnancy would be legally entitled to the termination of it.

ONE OF THE "EXPERT STAR WITNESSES" ADMITTED HE AND OTHER "EXPERTS" LIED.

One prominent abortionist involved in the case, Bernard Nathanson, later admitted that he and fellow abortion proponents in the medical field cooperated to falsify statistics on the number of illegal abortions and maternal deaths in the decades preceding Roe.

When Nathanson later realized the horror of abortion (his own words) and quit the practice, he explained publicly how he and other key individuals used the false information to convince the Court that legalizing abortion would be safer than allowing it to continue illegally.



AN ATTORNEY IN ROE ALSO LIED.

NARAL attorney Cyril Chestnut Means Jr. falsified the legal history of abortion to make it appear as if abortion restrictions were not imposed until the 19th century and were created then only to protect maternal health rather than the lives of unborn children.

It was Justice Byron White, who dissented in a companion ruling, Doe v. Bolton — not Justice Harry A. Blackmun, who wrote the majority opinion in Roe v. Wade — who said:

"At the heart of the controversy in these cases are those recurring pregnancies that pose no danger whatsoever to the life or health of the mother but are nevertheless unwanted for any one or more of a variety of reasons — convenience, family planning, economics, dislike of children, the embarrassment of illegitimacy, etc. The common claim before us is that for any one of such reasons, or for no reason at all, and without asserting or claiming any threat to life or health, any woman is entitled to an abortion at her request if she is able to find a medical adviser willing to undertake the procedure. The Court for the most part sustains this position: during the period prior to the time the fetus becomes viable, the Constitution of the United States values the convenience, whim or caprice of the putative mother more than life or potential life of the fetus."

ROE RECANTED HER FALSE STATEMENTS AND FOUGHT FOR RIGHT-TO-LIFE

HOW MANY PRO-ABORTION PAMPHLETS MENTION THIS FACT?
'ROE' SWITCHED TEAMS!

NEW YORK TIMES, FEB.18,2017
For anyone taken in by the myth of Jane Roe as a courageous feminist who had fought for abortion rights in the Supreme Court, her 1994 autobiography was a dose of reality. She confessed a bystander's role in Roe v. Wade.

Ms. McCorvey, in testimony for a Senate subcommittee in 1998, made her reversal explicit: "I am dedicated," she said, "to spending the rest of my life undoing the law that bears my name."
Jane Roe (a name created to protect the identify of plaintiff Norma McCorvey in her suit against Texas's abortion ban) became intensely pro-life later in life and worked full time as a pro-life activist until her death in February this year (2017).

Though it wasn't until the mid 1990s that McCorvey experienced a conversion on this issue, she has since said that her role in the landmark court case was the biggest mistake of her life.
She also stated that she had been persuaded by her attorneys to make her case more convincing by lying and saying that she had been raped.

McCorvey made headlines in 1987 when she told the columnist Carl T. Rowan that she had lied when she told reporters in 1970 that her pregnancy had been the result of a gang rape. She said she had thought that the lie would help her get an abortion.

McCorvey gave up three other children at birth and was a cleaning woman, waitress and carnival worker. Bisexual but primarily lesbian, she sought refuge from poverty and dead-end jobs in alcohol and drugs. (She confessed to robbing a gas station at age 10 so she could leave home.)
She was never the idealized Jane Roe crusader many Americans visualized.
She had little contact with her lawyers, never went to court or was asked to testify, and was uninvolved in proceedings that took three years to reach the Supreme Court.

Ms. McCorvey disowned her past and began speaking for her newly adopted cause. She blamed abortion rights advocates for violence at abortion clinics.
"I personally think it's the pro-abortion people who are doing this to collect on their insurance, so they can go out and build bigger and better killing centers," she told CNN in 1997.

FROM ROE V. WADE, WE "PROGRESSED" TO 'ASSIS

T

ED SUICIDE' FOR CHILDREN WHO ARE NOT

EMOTIONALLY

OR MENTALLY

EQUIPPED

TO MAKE SUCH A DECISION ON THEIR OWN...AND TO KILLING CHARLIE GARD.
Court Orders Removal of Baby's Life Support -
Feb 25, 2003,

L.A.Times

14- Yr-Old Teen suffering from fatal disease makes decision to end life
Judge Orders Hospital to Remove Pregnant Woman
(now 22 weeks pregnant) From Life Support
IN ALL THESE INSTANCES AND MANY OTHERS, THE COURTS CLAIMED TO BE SERVING THE BEST INTEREST OF THOSE WHOM THEY WERE ABOUT TO HELP KILL.

DID THEY?

DID THE JUDGE IN THE CHARLIE GARD CASE
SERVE THAT BABY'S BEST INTEREST?

WE CAN'T ASK CHARLIE.
But the state does not suffer with the sick. Justice Francis did not "look at the question from the assumed point of view of the child," as the law naïvely demands; Justice Francis looked at the question from Justice Francis's point of view.
The question, then, is not what would Charlie Gard want — a question no one can answer. The question is what do we owe to people such as Charlie, who cannot speak for themselves? What duty of care do we owe them simply on account of their being human beings, who are by nature possessed of an inalienable dignity? What obligations do we have to those who suffer, and how should we understand their suffering? And, pertinent to this case, under what circumstances should the tightest bonds of affection — those between parent and child — be subordinated to the judgment of the state?

The precedent established by Charlie Gard's case will metastasize, as similar decisions have. It will be made to apply to children with more-familiar illnesses and better prognoses; it will be used to dismiss the input of parents whose values and priorities when it comes to medical care and end-of-life issues do not align with those of the state; it may be used simply to clear beds for "worthier" patients in a health-care system with very limited resources. This, presumably, will be "compassionate," too.
"WOULD THERE HAVE BEEN A DIFFERENT OUTCOME IF THE PARENTS WERE RICH?", THE GUARDIAN ASKED.
CHARLIE'S PARENTS COULD NOT AFFORD ATTORNEYS, BUT WERE RULED "NOT ENTITLED TO LEGAL AID".

"[The Charlie Gard

case]

is a reminder of the way that in other courts the state is skewing the balance of justice in its own interests. The law is becoming the preserve of the powerful. The Lord Chief Justice Lord Thomas said as much more than a year ago when he used his annual report to highlight the injustice of a system where the law was unaffordable to all but the rich. He repeated the criticism in his report for 2016.

What was extraordinary is that the state – our representative in court – says that although it rightly felt it had a duty to protect Charlie, it had no role in making sure that his parents' view of what was in his interest was properly represented. Yates and Gard were not entitled to legal aid. The judge told the court that he found this "remarkable". This is not the sort of thing judges normally say."


"Any day now, they'll kill Charlie Gard. But it's in his own best interest. Don't you see?"
//WW