THREE ASSAULTED BY COLLEGE PROFESSOR SWINGING A STEEL BIKE LOCK.
HE IS ANTIFA.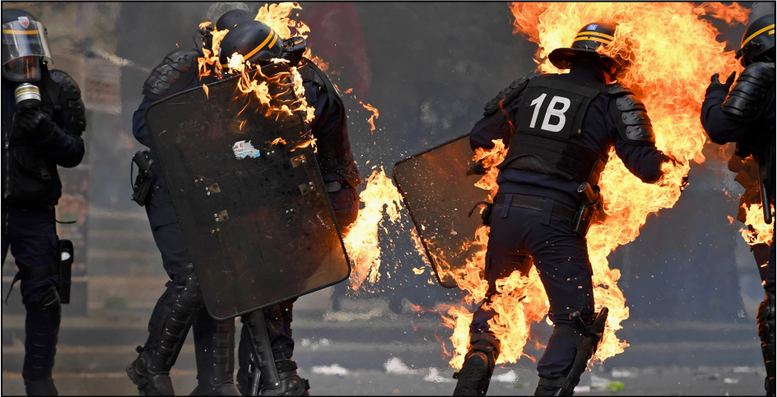 ABOVE: In Paris, on May Day, Antifa members attacked police with improvised bombs, engulfing multiple officers in flames.
THIS IS ANTIFA.

TO PROTEST THE G20 MEETING IN GERMANY, ANTIFA SET EVERYTHING AFIRE, CARS, POLICE, EVERYTHING. "Activists torched more cars, vandalised shops, threw petrol bombs, set fire to patrol vehicles near a police station and even fired flares at the several police helicopters buzzing overhead."

"Before the start of #Merkel's #G20 in #Hamburg, 111 policemen were already injured by left-extremists! pic.twitter.com/XruOGL37m3 #G20Summit"


Police can not control the violence.
pic.twitter.com/RRj0tPSRIG


Paris police officers set on fire by Molotov cocktail during May Day protest.

MAY DAY ATTACKS BY ANTIFA HAPPENED WORLD-WIDE THIS YEAR.

"French CRS anti-riot police officers are engulfed in flames as they face protesters"

ANTIFA SET FIRES IN SPAIN ON MAY DAY THERE.

AND RIOTED IN BERLIN ON MAY DAY.

YES, ANTIFA HAS ITS ROOTS IN EUROPE.


DO THE PHOTOS ABOVE SHOW HATE?
THEY DO, DON'T THEY?


Antifa attacking cops in Seattle right now. No Nazis in sight.. Will Democrats denounce?? #Charolettesvillepic.twitter.com/yBri3iBGEx

— Tennessee (@TEN_GOP) August 13, 2017

They've begun chanting: "Cops and Klan, hand in hand"

"Why won't you demand that leaders of the Democrats disavow the violence of Antifa?"

Left-leaning magazine "The Nation" called an Antifa attack "pure kinetic beauty."
POLICE BLAMED ANTIFA FOR THE VIOLENCE AT BERKELEY TODAY, AUGUST 28, 2017, JUST AS POLICE BLAMED ANTIFA FOR THE VIOLENCE IN PORTLAND, SEARTTLE, OLYMPIA AND ARRESTED ANTIFA MEMBER IN CHARLOTTESVILLE.

During a May Day march this week in Portland, Oregon, violence erupted resulting in 25 arrests after Antifa protesters allegedly attacked police officers, emergency workers and destroyed property.

Similar chaos broke out during May Day protests in New York City on Monday when supporters of President Donald Trump and Antifas clashed at Union Square.

In Paris on May Day Antifa members attacked police with improvised bombs, engulfing multiple officers in flames, according to reports. And as tensions mount between pro-Trump and Antifa groups in the states, some are wondering how long until the level of violence seen on the streets of Paris on Monday makes its way to the U.S.

When pressed if they would consider introducing firearms or other potentially deadly methods of protest the group would not rule it out, instead only saying, "No comment."

A COLLEGE PROFESSOR DRESSED IN ANTIFA GARB ATTACKED THREE UNARMED TRUMP-SUPPORTERS WITH A HEAVY STEEL BIKE LOCK, ANY BLOW OF WHICH COULD HAVE BEEN FATAL.
HE IS CHARGED WITH ASSAULT WITH A DEADLY WEAPON...ASSAULT CAUSING GREAT BODILY INJURY.
HE IS ANTIFA.

ANTIFA IS PROVOKING AND/OR ATTACKING THE POLICE AT EACH 'RALLY' THEY SHOW UP AT.

THE POLICE HAVE BACKED OFF EACH TIME AND ALLOWED ANTIFA PROTESTERS TO ATTACK TRUMP-SUPPORTERS, CALLING THEIR DECISION TO BACK DOWN "A SAFETY DECISION", WHEN TIME AND TIME AGAIN THEY ABANDONED SECURITY CHECKPOINTS AND DIDN'T MOVE IN FORCE TO STOP ANTIFA FROM ENTERING THE RALLY SITES.

ANTIFA HAS ATTEMPTED MURDER MORE THAN ONCE AND COULD HAVE BEEN SUCCESSFUL SEVERAL TIMES.
THEY WILL NOT STOP UNTIL THEY MAKE THAT FIRST KILL, AND THEN IT WILL BE ALL-OUT BLOODY CIVIL WAR ON EVERY AMERICAN STREET.

THE MEDIA SHOULD BE TRIED AS ACCESSORIES TO MURDER WHEN THAT HAPPENS.

HAS THE MEDIA MADE AMERICANS AWARE OF ANTIFA'S ROOT AND AGENDA, THEIR GOALS, THEIR IDEOLOGY?

LIKE ISIS, ANTIFA WANTS TO SEE THE DESTRUCTION OF THE AMERICAN GOVERNMENT, THE FALL OF THE UNITED STATES.
THEY MAKE NO BONES ABOUT WANTING TO "PUT THE WHITE MAN IN HIS PLACE", ERASE CAPITALISM, INSPIRE ANARCHY,

THE CHICAGO TRIBUNE, July 18, 2017:

But you need not cross the shining seas to experience violence, destruction of property and a general dismantling of liberal values from the political left.
You could simply visit America's elite college campuses like Yale or Middlebury or Berkeley, where tomorrow's leaders attempt to shut down conservative voices with protest or riots.

At Middlebury, rioting students landed liberal professor Allison Stanger in a neck brace for the crime of defending a conservative academic's right to speak.
At Berkeley, mobs of students created a "war zone" ahead of a planned visit from conservative provocateur Milo Yiannopoulos, injuring Trump supporters and causing $100,000 in damages.

Or head to Portland, Ore., one of the most liberal cities in the nation in the heart of the progressive Pacific Northwest, which this month Politico labeled "America's Most Politically Violent City." The progressive paradise —where Republicans are virtually an extinct species — has witnessed millions in damages attributed to the same types of anti-fascists-in-name-only that kept Hamburg residents paralyzed in fear this month. A "counter-protest" to a planned pro-Trump rally landed 14 antifa in jail for attacking the police with explosives and bricks.

Witness the blood-soaked congressional baseball field in Alexandria, Va., site of the June attack on U.S. Rep. Steve Scalise, R-La., and other Republicans batting up for their annual bipartisan game. James Hodgkinson, a "fervent supporter of progressive politics," showed up to the field with a rifle, a handgun and a hit list of Republicans.

As Scalise fought for his life, MSNBC host Joy Reid felt conflicted: The attempted assassination was a "delicate thing" because of Scalise's conservative views like opposition to gay marriage. "Are we required in a moral sense to put that aside in the moment?" she wondered.

Yes, Joy, you are.
The shooting of a mainstream, congressional Republican leader is reprehensible, and in no way justifiable.

Instead of retweeting, liberals who care about preserving our political system should be outraged that these are the standard-bearers of their party.

Nobody is directly responsible for a shooting except the shooter, and nobody throws a brick except the person who picks it up. No side has a monopoly on political violence. There are loonies at the fringes of every political movement — mentally ill, perturbed and paranoid — who can be stirred toward violence or dissuaded from it.

But when we have Democratic senators accusing political opponents of murder, when our college campuses descend into assault zones for conservative speakers (or those who defend them), when our major cities become playgrounds for far-left rioters and the news media gloss over it, we move toward a more violent and fractured society, not a safer one.

From Portland to New Haven to Washington, the violence we're witnessing is largely a product of the hard left, and the reaction from mainstream liberals — mostly silence, dismissiveness, equivocation — means it will continue to flourish.

To move toward a less violent and hyper-charged society, we must be clearheaded about violence where we see it, and not avoid the subject. We must condemn it without conditions.

Boston Strong? Antifa Thugs Assault Elderly Flag-Waving Woman Aug 19, 2017


Antifa assaults black conservative student at vigil for Heather Heyer

August 15, 2017


NEWS: ANTIFA Member Assaults Female Reporter

August 20, 2017


UPDATE: ANTIFA Demonstrator attacks police horse during March ... Jun 12, 2017 ... A Philadelphia woman is facing charges after she attacked a police horse with a flag pole during a demonstration in Harrisburg.

Antifa Thug Insults US Veteran in Wheelchair

Apr 16th, 2017
Hundreds of far left Antifa thugs turned out to disrupt the protest and beat heads. The police were nowhere in sight.

MAYBE YOU HAVEN'T BEEN FOLLOWING ANTIFA CLOSELY, BUT I HAVE AND TODAY WAS JUST THE STRAW THAT BROKE THE CAMEL'S BACK FOR ME.
TWO "REPORTS" ON ANTIFA VIOLENCE BOTH WOUND UP BLAMIING PEACEFUL PROTESTERS, EVEN A GUY LEADING A PRAYER GROUP.

THAT ISN'T JOURNALISM, THAT'S AIDING AND ABETTING WOULD-BE MURDERERS.

NO MATTER WHAT, THE LEFT-LEANING, CLINTON-SUPPORTING NEWS MEDIA WILL NOT CALL IT WHAT IT IS.
ANTIFA TERRORISTS STRIKE AGAIN, BUT IT'S THE "FAR-RIGHT" WHO GET SPOTLIGHTED.
THE "FAR RIGHT" MADE ANTIFA BEAT THEM.

THE L.A. TIMES HASN'T GOT THE GUTS TO CALL THIS WHAT IT IS.
IT WOULD COMPROMISE THEIR RHETORIC AND THE ANTI-TRUMP AGENDA.

While local cops have said REPEATEDLY that ANTIFA causes the violence to erupt, the media keeps downplaying that and focusing on "far-right extremists" who have rallied (PEACEFULLY) or who have NEVER showed up at these "protests", licensed rallies, LEGAL gatherings, as opposed to illegally present leftists where escalation comes from the left-wing supporters of MARXISM.

SOCIALISM/MARXISM, all the same, communist roots, as FDR knew well when he instituted the "welfare state".

FROM THE L.A. TIMES.
"Violence by far-left protesters in Berkeley sparks alarm"

THE WASHINGTON POST HAS NOT CEASED ATTACKING TRUMP SUPPORTERS AND OBVIOUSLY IS GOING TO BAT FOR ANTIFA.

"Black-clad antifa members attack peaceful right-wing demonstrators in Berkeley", wrote the Washington Post, but there were references there as well to the horrors of the "alt-right".
LOOK how the Post "reported" this.
This is no "report", it's just MORE "behead Trump" poorly disguised as "news".
When someone is KILLED by this MOB, we'll see the DEAD being BLAMED for getting killed!

This is where we are, America.
TERRORISTS are called "peaceful protesters" even with clubs and bike locks and urine-filled bags and broken bottles and Molotov cocktails in their hands, even when they BEAT others and commit ATTEMPTED MURDER, even when they assault policemen and set them on fire or drag the elderly down a street.

"Berkeley Mayor Jesse Arreguín said in a statement. " … the violence that small group of protesters (ANTIFA) engaged in against residents AND THE POLICE, including throwing smoke bombs, is unacceptable. Fighting hate with hate does not work and only makes each side more entrenched in their ideological camps."

Portland, Ore., has been the scene of street battles between antifa members and white nationalists this summer. White nationalist Richard Spencer was sucker-punched by a protester in a January video that went viral. And Inauguration Day 2017 in Washington, D.C., was marked by violence when masked protesters burned vehicles, smashed windows and clashed with police, leading to 231 arrests.

AGAIN, POLICE PULLED BACK, ALLOWING THE ANTIFA MOB IN, JUST AS THEY DID IN CHARLOTTESVILLE, SEATTLE, OLYMPIA, ALMOST EVERYWHERE.
...antifa protesters — armed with sticks and shields and clad in shin pads and gloves — largely routed the security checks and by 1:30 p.m. police reportedly LEFT THE SECURITY LINE at the Center Street and Milvaia Street entrance to the park. Berkeley Police Chief Andrew Greenwood told the AP the decision was strategic — a confrontation was sure to spark more violence between the protesters and police.

"Police at Berkeley protest say they backed off as a safety decision."

BACKED OFF SO THAT THE TRUMP GROUP HAD NO SECURITY?

LOOK WHAT THE WASHINGTON POST LEAVES OUT WHEN IT WRITES ABOUT THE GROUP WHO WERE SMEARING DOG POOP EVERYWHERE. THE POOP-DUMPERS WERE "ANTI-TRUMP PROTESTERS":
"Yet, as with other planned right-wing events in the wake of Charlottesville, Saturday's rally drew controversy in the San Francisco area, with one group stockpiling dog feces to lay at the scene on Saturday. In the week or so since Tuffington posted the dog-poop event, more than 980 people have said they will participate. More than 5,300 said they are interested. Some have even said they intend to collect their dogs' contributions over the course of the week to dump at the park."

SICK, SICK MINDS.
HATE THAT GOES BEYOND MERE HATE, THIS IS DEMONIC.

ANOTHER TWISTED "REPORT" OF WHAT REALLY HAPPENED. ANOTHER 'BLAME THE ONE ASSAULTED':

Shortly after, violence began to flare. A pepper-spray-wielding Trump supporter was smacked to the ground with homemade shields. (AND THE MAN WHO WAS KNOCKED DOWN AND ATTACKED? HE WAS PUT IN CUFFS.)
Another was attacked by five black-clad antifa members, each windmilling kicks and punches into a man desperately trying to protect himself.
A conservative group leader retreated for safety behind a line of riot police as marchers chucked water bottles, shot off pepper spray and screamed, "Fascist go home!"

AFTER VIOLENCE BEGAN TO FLARE, WITH NO POLICE NEARBY TO HELP THEM, WHO WOULDN'T PULL OUT THE PEPPER SPRAY TO FEND OFF TERRORISTS SET ON BEATING PEOPLE SENSELESS? BUT LOOK HOW THE POST TWISTED THAT.

YEAH, THAT GUY WITH THE PEPPER SPRAY IS A YOUNG GUY WITH JAPANESE LINEAGE WHO LEADS A PRAYER GROUP, SO SURELY HE HAS TO BE TO BLAME.

HERE'S A COUPLE OF QUOTES ABOUT HIS "EVIL, NAZI" PLANS:
"No extremists will be allowed in. No Nazis, Communist, KKK, Antifa, white supremacist, I.E., or white nationalists. This is an opportunity for moderate americans to come in with opposing views. We will not allow the extremists to tear apart this country."
"I'm trying to bring people together who believe in freedom," he said, adding that he does not identify as either right- or left-wing.

PRAYERS FOR AMERICA?
NO WAY! THAT HAS TO BE STOPPED!
PRAYERS ARE HATE, RIGHT?
PRAYING PEOPLE, EVEN IF THAT PERSON IS A JAPANESE AMERICAN TRYING TO UNITE THE NATION, MUST BE STOPPED!
THEY ARE "WHITE SUPREMACISTS", EVEN WHEN NOT WHITE, LIKE THE BLACK TRUMP-SUPPORTER ATTACKED BY A "PEACE-LOVING" LEFTIST, CAUGHT ON VIDEO THE OTHER DAY.

Counter-protester who allegedly 'sucker-punched' Trump supporter at O.C. rally tried to flee state, police say, Los Angeles Times4 days ago.

Maxwell, a black Trump supporter, told The Times he went to speak with counter-protesters "trying to find commonalities" and was explaining his views when he was attacked. He said he was also pepper-sprayed and choked.

The confrontation was captured on video that was posted to social media.

JANUARY, 2017
A man believed to be a Donald Trump supporter was violently attacked on film by protesters demonstrating against the president's immigration crackdown.
Portland Police officers surrounded the counter-protester and moved him out of the protest area to receive medical attention.


'I hope Trump is assassinated,' Missouri lawmaker writes Aug 17, 2017


FACE IT, THE VENOMOUS TYPE OF RABID HATE IS COMING FROM THE LEFT, THE LEFT, AND NOT EVEN FROM THE "FAR-LEFT", JUST THE LEFT WHO JUST CAN'T BRING THEMSELVES TO SHUT UP, SIT DOWN AND RIDE THIS 4 YEARS OUT LIKE MANY RODE OUT BILL CLINTON'S, BUSH'S AND OBAMA'S 8 YEARS EACH.

IT'S THE LEFT TAKING US TO CIVIL WAR.
IT WILL BE BOTH LEFT AND RIGHT DYING IN THE STREETS.
THE POLICE WILL LIKELY BE THE FIRST TO KILL A LEFT-WING NUTCASE WITH AN ANTIFA MASK AND STICK.
BUT THE RIGHT WILL BE BLAMED AND WE'LL SEE MARTIAL LAW.

All told, the Associated Press reported at least five individuals were attacked.
An AP reporter witnessed the assaults.
Berkeley Police's Lt. Joe Okies told The Washington Post the rally resulted in "13 arrests on a range of charges including assault with a deadly weapon, obstructing a police officer, and various Berkeley municipal code violations."

MARXISTS JUST DON'T LIKE BEING CALLED MARXISTS?
WELL, MARXIST IS WHAT THEY ARE!
JUST OWN IT.

And although the anti-hate and left-wing protesters largely drowned out the smaller clutch of far-right marchers attending a planned "No to Marxism in America" rally,

"ANTI-HATE"?
HAVE YOU SEEN THE FACES OF THOSE ATTACKING TRUMP-SUPPORTERS AND POLICEMEN, POLICE HORSES, 80+-YR-OLD VETERANS, THE DISABLED, WOMEN?

Sunday's confrontation marked another street brawl between opposing ends of the political spectrum — violence that has become a regular feature of the Trump years and gives signs of spiraling upward, particularly in the wake of the violence in Charlottesville.

THIS VIOLENCE DID NOT START IN CHARLOTTESVILLE.
IT BEGAN THE VERY NIGHT TRUMP WAS ELECTED, BEFORE HE EVEN MADE HIS ACCEPTANCE SPEECH.
IT WAS PREMEDITATED, PLANNED AND IT HAS NOT SLOWED SINCE THAT TIME.

HOW AND WHY NAZIS AND FASCISTS AND WHITE SUPREMACISTS CAME TO BE ASSOCIATED WITH TRUMP IS A VERY FAR STRETCH AS THE KKK VERY MUCH SUPPORTED THE ELECTION OF MANY WHO ARE CURRENTLY IN OFFICE ON THE HILL, WHO WERE OR ARE DEMOCRATS.

WE'VE HAD A FEW DEMOCRAT PRESIDENTS AND CONGRESSMEN WHO WERE MEMBERS OF THE KKK.

ROBERT BYRD ATTAINED GREAT HEIGHTS IN THE KLAN.
In 1946, Byrd wrote a letter to a Grand Wizard stating, "The Klan is needed today as never before.."
Byrd was a recruiter for the Klan while in his 20s and 30s.


Byrd's KKK History Shows Partisan Double Standard | Thomas ...
US News and World Report Jun 30, 2010


TRUMP, DESPITE HIS MULTITUDE OF FLAWS AND RACIST, BIGOTED COMMENTS, HAS NEVER BEEN A KKK MEMBER LIKE THOSE DEMOCRATS.
AND, BTW, IT WAS A GROUP OF DEMOCRATS WHO FOUNDED THE KKK, AND IT WAS DEMOCRATS WHO SECEDED FROM THE UNION, DEMOCRATS WHO WENT TO WAR AGAINST THE UNION, AND DEMOCRATS DEPICTED IN THOSE CONFEDERATE STATUES.

IT WAS A TOTALLY DEMOCRATIC SOUTH WHO FIRST RAISED THAT CONFEDERATE FLAG.

IT WAS ONLY IN 1948 THAT AMERICA BEGAN THE BIG "FLIP-FLOP", WHEN DEMOCRATS BECAME REPUBLICANS AND REPUBLICANS BECAME DEMOCRATS.
STUDY HISTORY, AMERICA.
SEE THE FACTS REVEALED IN THAT.

WHOMEVER THE "WHITE HATE GROUPS" SUPPORT CANNOT BE CHANGED BY THOSE WHO DON'T EVEN WANT THEIR SUPPORT.
THEY'VE "SUPPORTED" CANDIDATES JUST SO THEY WOULD NOT BE ELECTED IN THE PAST.

ANTIFA, LIKE ISIS, LIKE MARX, LIKE MANY BEFORE THEM, ARE OUT TO DESTROY AMERICA, TO BRING DOWN CAPITALISM, TO CREATE ANARCHY.

WHAT THEY WILL DO IS FORCE AMERICA INTO A STATE OF MARTIAL LAW AFTER CIVIL WAR ONCE AGAIN ERUPTS AND WE BEGIN TO KILL ONE ANOTHER ON A GRAND SCALE AGAIN, THANKS ONCE MORE TO WHICH PARTY?
AND THEN THAT WILL ALSO BE BLAMED ON TRUMP.
TRUMP IS A BUMBLING BUFFOON, A NARCISSIST, A MAN WHO DOESN'T KNOW POLITICS AT ALL.

HE IS ILL-READ, HAS A LIMITED VOCABULARY AND HAS APPEARED TO BE A WOMAN-HATING RACIST AND A BIGOT IN HIS PAST.

UNLIKE LBJ WHO WAS NOTORIOUS FOR USING THAT "N-WORD", HOWEVER, WHO WAS RACIST TO THE BONE, TRUMP HASN'T BEEN CAUGHT AND PROVEN TO HAVE BEEN QUITE THE RACIST LBJ WAS, NOR
THE WHITE SUPREMACIST THAT WILSON AND FDR WERE.

FROM PBS:

President Roosevelt believed blacks were intellectually inferior ... Wilson pushed for segregation of federal workers

I KNEW ALL THIS BECAUSE I WATCHED THE KLAN AND OTHERS FORMED BY DEMOCRATS RIDE ROUGH-SHOD OVER NON-WHITES ALL MY YOUNG DAYS, BECAUSE I STUDIED HISTORY AND BECAUSE I LEARNED EARLY THAT BOTH PARTIES ARE THE SAME.
THEY JUST SWITCH NAMES NOW AND THEN.

ANTIFA IS PRAISED BY WHOM?
ANTIFA IS PROTECTED IN THE MEDIA COVERAGE OF VIOLENCE BY WHOM?

WHAT IS ANTIFA'S GOAL?
THE SAME AS ISIS' GOAL, SAME AS COMMUNISM'S GOAL, SAME AS ALL WHO WANT TO SEE AMERICA BROUGHT DOWN.

FACTS...TRUTH...LEARN OR PERISH.





//WW