FROM AL JAZEERA NEWS:
"More than

4 million Syrian refugees

have fled their war-torn country, but the six wealthy Gulf Cooperation Council (GCC) countries have officially resettled




none of them.




Bahrain, Kuwait, Oman, Qatar, Saudi Arabia and the United Arab Emirates have instead allowed the refugee burden to fall

mainly on Lebanon, Turkey and Jordan

and, to a lesser degree, on Iraq and Egypt."
TWO-YEAR-OLD AYLAN KURDI, A SYRIAN REFUGEE, DROWNED OFF THE SHORE OF TURKEY TRYING TO MAKE THE CROSSING TO GREECE WITH HIS BROTHER AND MOTHER, BOTH WHO ALSO DROWNED, AND HIS FATHER WHO HAS SURVIVED.
THE BODIES OF HIS TWO SONS AND WIFE WERE RETURNED TO KOBANI, SYRIA, FROM WHICH THEY HAD FLED AND WHERE THE FATHER IS NOW.


THE IMAGES ON THE CNN ARTICLE ARE GRAPHIC, BUT PERHAPS THE WORLD NEEDS GRAPHIC IMAGES TO RAISE THE CRY FOR AN END TO THIS MADNESS.

More than 350,000 people have arrived in Europe so far this year, seeking sanctuary from war, persecution or poverty.
MILLIONS MORE HAVE TAKEN REFUGE IN LEBANON AND TURKEY.

HOW MANY OF THESE DID ANY OF THE RICH ARAB NATIONS CLOSEST TO SYRIA OFFER TO TAKE?
ZERO. NONE.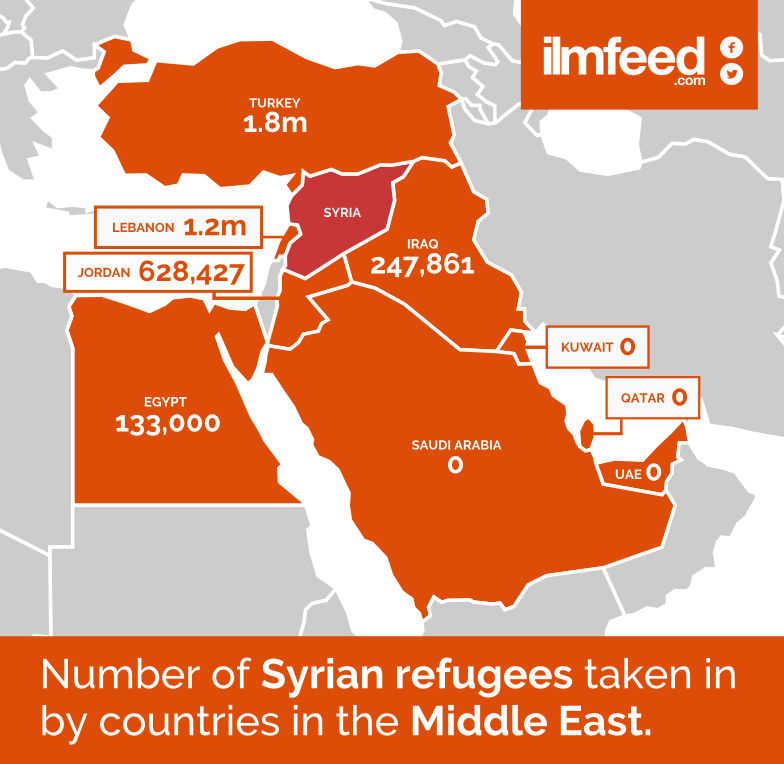 THE WASHINGTON POST RECENTLY HIGHLIGHTED THE FAILURE OF THE GULF STATES IN AN ARTICLE WHICH BEGAN WITH...


HOW IT ALL BEGAN...

IN 2007, YES, 2007, THE NEW YORKER QUESTIONED BUSH'S PLAN TO UNDERMINE ASSAD AS A WAY TO THWART IRAN.

THIS IS WHEN U.S. COVERT OPS IN SYRIA WERE REALLY RAMPED-UP.

"The U.S. has also taken part in clandestine operations aimed at Iran and its ally Syria.
Before the invasion of Iraq, in 2003, Administration officials, influenced by neoconservative ideologues, assumed that a Shiite government there could provide a pro-American balance to Sunni extremists.

In testimony before the Senate Foreign Relations Committee in January, Secretary of State Condoleezza Rice said that there is "a new strategic alignment in the Middle East," separating "reformers" and "extremists"; she pointed to the Sunni states as centers of moderation, and said that Iran, Syria, and Hezbollah were "on the other side of that divide." (Syria's Sunni majority is dominated by the Alawi sect.)
Iran and Syria, she said, "have made their choice and their choice is to destabilize."
The clandestine operations have been kept secret, in some cases, by leaving the execution or the funding to the Saudis, or by finding other ways to work around the normal congressional appropriations process, current and former officials close to the Administration said.

President George W. Bush, in a speech on January 10th, partially spelled out this approach. "These two regimes"—Iran and Syria—"are allowing terrorists and insurgents to use their territory to move in and out of Iraq," Bush said. "Iran is providing material support for attacks on American troops. We will disrupt the attacks on our forces.
We'll interrupt the flow of support from Iran and Syria. And we will seek out and destroy the networks providing advanced weaponry and training to our enemies in Iraq."

More than 2,600 people have died trying to cross the Mediterranean to Europe this year alone, making it the most deadly migrant crossing point in the world.

Amnesty International recently pointed out, the "six Gulf countries -- Qatar, United Arab Emirates, Saudi Arabia, Kuwait, Oman and Bahrain -- have offered zero resettlement places to Syrian refugees."
These countries aren't totally innocent bystanders. To varying degrees, elements within Saudi Arabia, Qatar, the U.A.E. and Kuwait have invested in the Syrian conflict, playing a conspicuous role in funding and arming a constellation of rebel and Islamist factions fighting the regime of Syrian President Bashar al-Assad.

None of these countries are signatories of the United Nations' 1951 Refugee Convention, which defines what a refugee is and lays out their rights, as well as the obligations of states to safeguard them.
"The region has the capacity to quickly build housing for the refugees.
The giant construction companies that have built the gleaming towers of Dubai, Abu Dhabi, and Riyadh should be contracted to create shelters for the influx.
Saudi Arabia has plenty of expertise at managing large numbers of arrivals: It receives an annual surge of millions of Hajj pilgrims to Mecca. There's no reason all this knowhow can't be put to humanitarian use," wrote the news site 'Quartz'.
BBC ASKED A POIGNANT QUESTION:
Why don't Syrians flee to Gulf states?


"As the crisis brews over Syrian refugees trying to enter European countries, questions have been raised over why they are not heading to wealthy Gulf states closer to home.

Syrians must apply for a tourist visa or work permit in order to enter a Gulf state.
Without a visa, Syrians are not currently allowed to enter Arab countries except for Algeria, Mauritania, Sudan and Yemen.
But the process is costly, and there is a widespread perception that many Gulf states have unwritten restrictions in place that make it hard for Syrians to be granted a visa
The relative wealth and proximity to Syria of the states has led many - in both social and as well as traditional media - to question whether these states have more of a duty than Europe towards Syrians suffering from over four years of conflict .
The Arabic hashtag #Welcoming_Syria's_refugees_is_a_Gulf_duty has been used more than 33,000 times on Twitter in the past week.
Users have posted powerful images to illustrate the plight of Syrian refugees, with photos of people drowned at sea, children being carried over barbed wire...
A Facebook page called The Syrian Community in Denmark has shared a video showing migrants being allowed to enter Austria from Hungary, prompting one user to ask:
"How did we flee from the region of our Muslim brethren, which should take more responsibility for us than a country they describe as infidels?"
Another user replied: "I swear to the Almighty God, it's the Arabs who are the infidels."
'Let them in!'


MAYBE SAUDI CAN'T HEAR THE PLEAS TO HELP THE SYRIANS BECAUSE OF THE HEAVY ARTILLERY THEY ARE CONSTANTLY SHELLING YEMENI WOMEN AND CHILDREN WITH?

COULD IT BE THE SCREAMS OF THE HUNDREDS OF GRIEVING YEMENI MOTHERS FOR THEIR MURDERED INNOCENT CHILDREN IS DEAFENING THERE?



OVER 500 CHILDREN ARE KNOWN TO HAVE BEEN KILLED AS OF JUNE, 3 MONTHS AGO, AND THE ONSLAUGHT CONTINUES!


NEWSWEEK ESTIMATED 8 CHILDREN EVERY DAY AND THE RISK OF STARVATION.



["The current Gulf aid outlay for Syrian refugees, which amounts to

collective donations under $1 billion (the United States has given four times that sum), seems short -- and is made all the more galling when you consider the vast sums

Saudi Arabia and the U.A.E. poured into this year's war effort in Yemen, an intervention some consider

a strategic blunder

.]



MAYBE THE ROAR OF ATTACK JETS TAKING OFF FROM SAUDI ARABIA BOUND FOR YEMEN TO DROP MORE BOMBS HAVE DEAFENED THE SAUDI MONARCHY?
OVER 3,000 WERE KILLED IN YEMEN IN JUST THE FIRST 100 DAYS OF SAUDI ATTACK.

THAT NUMBER HAD GROWN TO OVER 4,500 AS REPORTED AUG. 24, 2015 <HERE>.

The commander of the opposition Free Syrian Army (FSA), Riyad al-Asaad, retweeted an image of refugees posted by a former Kuwaiti MP, Faisal al-Muslim, who had added the comment:
"Oh countries of the Gulf Cooperation Council, these are innocent people and I swear they are most deserving of billions in aid and donations."

But despite the appeals from social media, Gulf states' position seems unlikely to shift in favour of Syrian refugees.


In terms of employment, the trend in most Gulf states, such as Kuwait, Saudi Arabia, Qatar and the UAE is towards relying on migrant workers from South-East Asia and the Indian subcontinent, particularly for unskilled labour.


Non-native residents may also struggle to create stable lives in these countries as it is near impossible to gain nationality.

In 2012, Kuwait even announced an official strategy to reduce the number of foreign workers in the emirate by a million over 10 years.


SAUDI ARABIA AND OTHER OIL RICH NATIONS HAVE LONG REFUSED TO ALLOW PALESTINIAN REFUGEES INSIDE THEIR BORDERS.
EVEN JORDAN, WHICH WAS TO HAVE BEEN THE PALESTINIAN HOMELAND FORCES THEM OUT.

"Human Rights Watch also documented Jordan's withdrawal of Jordanian citizenship from some Palestinians

who had lived in Syria for many years and who have been detained or deported to Syria without identity documents.




Security forces also detain and deport Palestinians who enter at unofficial border crossings using forged Syrian identity documents, or who enter illegally via smuggling networks."



NO MATTER WHERE REFUGEES COME FROM, ALTHOUGH THEY ARE MUSLIM, SAUDI ARABIA AND THE OTHER GULF STATES KEEP THEM OUT.
BEFORE ANYONE APPLAUDS JORDAN'S ALLOWING SEVERAL THOUSAND

SYRIAN

REFUGEES INTO THAT NATION, READ THE FACTS:


"Jordan has prevented Palestinians from Syria from entering Jordan

since 2012

, and is holding 190 Palestinians at the closed Cyber City refugee camp, where they have the unenviable choice of remaining in the camp indefinitely or returning to Syria.




Jordan refuses entry to or forcibly deports Palestinian refugees escaping Syria, in clear breach of its international obligations, Human Rights Watch said in a report released today. Jordan has officially banned entry to Palestinians from Syria since January 2013 and has forcibly deported over 100 who managed to enter the country since mid-2012, including women and children.

The deportations violate Jordan's international obligation of non-refoulement, the prohibition in international law on returning refugees and asylum seekers to places where their lives or freedom would be threatened, or the return of anyone to the risk of torture."


WHEN THE U.S. BEGAN ITS NEW "COVERT OPERATIONS" AGAINST ASSAD (JUST AS THEY HAVE DONE FOR SO MANY NOW DEAD OR IMPRISONED LEADERS IN THAT REGION) EVERYONE THOUGHT HE WOULD BE OUSTED OR KILLED WITHIN MONTHS.




THE OBAMA ADMINISTRATION SEEMED AS

INTENT

ON GETTING ASSAD TO STEP DOWN AS BUSH HAD BEEN.



THE WASHINGTON POST WONDERED AT U.S. STRATEGY BACK IN 2013.



"Two years after the first anti-government protests, conflict in Syria rages on."





WHEN OUR CIA BEGAN OPENLY ARMING THE REBELS (MANY OF WHOM ARE ISIS MEMBERS) WE AGAIN THOUGHT IT WOULD END SOON, BUT IT HASN'T.

SO THE CIA SLOWED THE ARMS TO SYRIAN "REBELS" TO A TRICKLE.

THIS IS EXACTLY WHAT THE BUSH SENIOR ADMINISTRATION DID TO THE KURDS IN THE FIRST IRAQ INVASION.
THAT PLAN BACKFIRED ON THE CIA AND U.S. AS THE WALL STREET JOURNAL REPORTED IN JANUARY THIS YEAR.
"Entire CIA-backed rebel units, including fighters numbering in the "low hundreds" who went through the training program, have changed sides by joining forces with Islamist brigades, quit the fight or gone missing.
"

"I think we've lost our window of opportunity," says Robert Ford, the State Department's ambassador to Syria from 2010 to 2014.

Former Rep. Mike Rogers, a Republican from Michigan who

led the House Intelligence Committee

, says the trickling pipeline of supplies drove some U.S. allies into the arms of Islamists. "We didn't commit to them, so why should we expect them to commit to us?" he asks."


WHAT A STRANGE PLACE, THE MIDDLE EAST!
ONGOING SLAUGHTER AMONG WARRING FACTIONS EACH NEW DAY.

THE U.S. ARMING SOME FIGHTERS, RUSSIA ARMING OTHERS, AND CHINA, IRAN, FRANCE, THE U.K., AND THE SAUDI MONARCHY ALL IN ON THE UNENDING "BROTHER-AGAINST-BROTHER" SECTARIAN INSANITY.
HOW TERRIBLE IT MUST BE TO BE A YOUNG PERSON THERE AMIDST ALL THE VIOLENCE!
HOW MUCH THAT MUST BE COMPOUNDED WHEN CHILDREN CAN LOOK AT A NEIGHBORING ARAB STATE AND SEE SANCTUARY, BUT NO ONE WILL LET THEM IN.


_______________________________




FURTHER READING:
~ SAUDI WAR CRIMES IN YEMEN