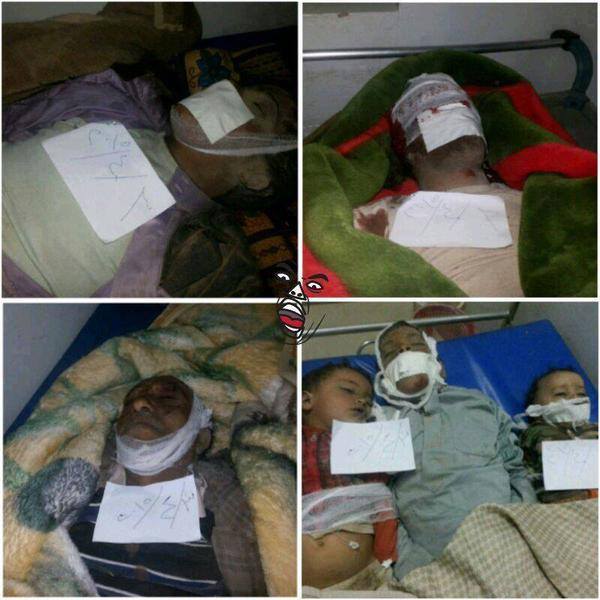 Dead children, killed by Saudi airstrikes on Yemen.
Photo from a Pakistani news source,
https://lubpak.com/archives/334709
From the Fars New
Service
, Yemini children killed by Saudi 'poison gas'.
April 19, 2015

"
Saudi Arabia has been striking Yemen for 25 days now to restore power to fugitive president Mansour Hadi, a close ally of Riyadh. The Saudi-led aggression has so far killed at least 2,645 Yemenis, including hundreds of women and children.
Yemeni officials had already warned that the bombs that the Saudi regime has used in Sana'a were different from those used in other parts of Yemen.
They said that the bombs were of the very rare and dangerous type that resulted in the suffocation of the residents of the affected regions.
On Friday, eyewitnesses said that Saudi Arabia has used internationally banned weapons in its aerial bombardment on an area near Sana'a.
"
FARS NEWS WAS QUOTING YEMENI OFFICIALS, SO WHY IS THE U.N. REPORTING SO MANY FEWER DEAD?
PHOTO FROM 'AL ALAM', APRIL 1, 2015, WHICH SHOWS A VERY GRAPHIC VIDEO FROM YEMEN, <HERE>
WHY ISN'T THE U.N. REPORTING CORRECTLY?
JUST SINCE MARCH 26, 2015 UP UNTIL APRIL 22, SAUDI BOMBS HAVE KILLED OVER 500 YEMENI CITIZENS, INCLUDING 115 CHILDREN AND 31 WOMEN.
THESE WERE ALL CIVILIANS.
IN LESS THAN ONE MONTH!
THE UNITED NATIONS HAS BEEN KEEPING COUNT OF THIS, SO PERHAPS THAT IS WHY THE NUMBERS THEY GIVE ARE SO LOW?
THE U.N. COUNTS ONLY WHAT IT CHOOSES TO COUNT!
MAYBE THE U.N. IS LYING TO HELP COVER THE CRIMES OF SAUDI ARABIA?
ALSO, ACCORDING TO THE U.N. STATS:
SAUDI BOMBS HIT 23 HOSPITALS AND PERHAPS 30 SCHOOLS.
ALMOST 1,200 YEMENI CIVILIANS HAVE BEEN WOUNDED BY SAUDI BOMBS.
ON APRIL 24, THE WASHINGTON POST REPORTED ALMOST 1,000 KILLED AND OVER 3,500 INJURED.
"According to figures from the U.N.'s World Health Organization, at least 944 Yemenis have been killed and nearly 3,500 injured since the Saudi-led campaign began.
Health facilities are struggling to function as they face increasing shortages of life-saving medicines and vital health supplies, frequent disruptions in power supply and lack of fuel for generators. Lack of fuel has also disrupted functionality of ambulances and the delivery of health supplies across the country.
Shortages of safe water have resulted in increased risk of diarrhea, and other diseases. "Over the past 4 weeks, national disease surveillance reports show a doubling in the number of cases of bloody diarrhea in children below the age of 5, as well as an increase in the number of cases of measles and suspected malaria.
High rates of malnutrition among women and children below the age of 5 have also been reported," says Dr. Ahmed Shadoul, WHO Representative for Yemen. "
WHAT NATION IS SCREAMING "WAR CRIMES!" AGAINST THE SAUDIS?
WHAT SANCTIONS HAS THE U.N. EVEN MENTIONED AGAINST SAUDI ARABIA?
THE ANSWER TO BOTH THOSE QUESTIONS APPEARS TO BE NONE!
NOT ONE!
"
U.N. officials said that while there was no formal complaint to the Saudis concerning the airstrikes, they have brought the matter up to the Saudi government informally."
WHY IS THAT?
WHY ISN'T THE ENTIRE WORLD OUTRAGED AT THE SAUDI BOMBINGS?
YEMEN HAS NOT ATTACKED SAUDI ARABIA!
YEMEN HAS NOT ATTACKED AMERICA, BUT AMERICAN FORCES ARE REFUELING AND "SUPPORTING" SAUDI BOMBERS!
"In Washington, Army Col. Steve Warren, a Pentagon spokesman, said the United States continues to refuel Saudi aircraft. "We are still flying a tanker a day to be available if needed," he said. "It's like having a gas station in the sky."
WHY?
SAUDI ARABIA CLAIMED IT WAS HALTING ITS BOMBING RUNS AGAINST YEMEN LAST TUESDAY, BUT THE U.N. SAID FRIDAY THAT SAUDI BOMBING CONTINUES AND CONTINUES KILLING CIVILIANS!
"We have recorded a number of airstrikes that have hit military and civilian positions in Sanaa, Ibb, Hajja and Taiz," Rupert Coleville, spokesman for the U.N. High Commissioner for Human Rights, told reporters. He said one incident on Wednesday in Ibb governorate killed 40 civilians, including seven children, when Saudi planes bombed a bridge then returned and bombed the bridge a second time.
"Civilians gathering to help those injured by the first airstrikes were reportedly hit by the second," Colville said.
Similarly, the U.N. Office for the Coordination of Humanitarian Affairs reported that airstrikes on Thursday hit areas in Sanaa, the Yemeni capital, as well as Taiz, Aden, Sadaa and Al Dhale governorates. The airport in Aden was also bombed, the agency said."
"...
a Saudi-led naval blockade of Yemen's ports continues to hinder the distribution of life-saving drugs and medical supplies as well as food, fuel and other essentials."
SAUDI ARABIA IS BLOCKING FOOD AND LIFE-SAVING MEDICAL SUPPLIES FROM AN ENTIRE COUNTRY WHILE CHILDREN ARE DYING AND GOING HUNGRY?
WHY?
THE SAUDIS KNEW A PEACE DEAL AMONG WARRING FACTIONS INSIDE YEMEN WAS CLOSE, AND THAT IS WHEN IT STRUCK!
FROM THE WALL STREET JOURNAL:
"
UNITED NATIONS—"Yemen's warring political factions were on the verge of a power-sharing deal when Saudi-led airstrikes began a month ago, derailing the negotiations, the United Nations envoy who mediated the talks said.
A senior diplomat familiar with the negotiations said the Saudis also intervened to prevent a power-sharing deal that would include the Houthis and that would give 30 % of the cabinet and parliament to women."
SAUDI'S RULERS DO NOT WANT EVEN ONE MEMBER OF THE HOUTHI FACTION TO BE PART OF A UNITED YEMENI GOVERNMENT.
THE HOUSE OF SAUD EQUATES THE HOUTHI WITH IRAN!
AND SAUDI'S RULERS ARE SCARED OUT OF THEIR MINDS OF IRAN!
IT IS A CASE OF THE SUNNI (FAILURES AT
WAHHABISM
?) SAUDIS AGAINST WHAT THEY SEE AS THE SHI'ITE HOUTHIS.
IT IS MUSLIM-AGAINST-MUSLIM KILLING...YET AGAIN!
IT IS WAR WITHIN THE RANKS OF ISLAM...YET AGAIN!
ONCE DEDICATED TO WAHHABISM, SAUDI ARABIA NOW DEDICATED TO MONEY
While Saudi Arabia has only existed since 1932, an earlier Al Saud state (Emirate of Diriyah) clashed with the Shia.
Ibn Abdul-Wahhab, who swayed the Saudi monarchs at the time, believed that Shia "imported into Islam" the practice of building mosques on graves, a practice he considered un-Islamic.
He referred to Shia as Rafida (rejecters), a name his followers have continued to use.
In 1802, the Saud-Wahhabi alliance waged jihad on the Shia holy city of Karbala.
You may not know that ISIS (the Islamic State) adheres to the doctrine of Ibn Abdul-Wahhab, and sees the House of Saud as reprobates and heretics for allowing worship of the "Black Stone" at Mecca, has vowed to destroy Mecca AND every member of the House of Saud ruling family.
ISIS sees the Saudis as betrayers of the PURE faith,
They say the House of Saud has become "westernized", corrupt "satanic" and must be destroyed.
[See my blog entitled "
ISIS VOWS TO DESTROY MECCA AND KILL JORDAN'S KING
"]
"SUNNI Saudis and their partners contend the air offensive in Yemen is meant to halt SHIA Iran's drive to expand its regional influence by backing Yemen's rebel Houthi tribesmen in their battle against Saudi-supported president Abed Rabbo Mansour Hadi.
However, Iran's connection with the Houthis is marginal at best and Saudi Arabia's new king, Salman bin Abdel Aziz, has powerful domestic reasons for waging a war. He is seeking to unify subjects split between ultra-conservatives and reformers, solidify his hold on power with a military victory, and prepare the way for a favourite younger son, Mohamed to ascend to the top rungs of the succession ladder.
Salman, 79 and a stroke survivor, fears he may not have a long reign and is seeking to promote Mohamed while he can."
"Analysts say that Shiite-majority Iran and Sunni-dominated Saudi Arabia are locked in a strategic contest for influence across the Middle East.
"What they do not want is an Iranian-run state on their southern border, because they already feel they've got enough problems on their northern border," said military analyst Lt. Col. Rick Francona, a retired U.S. Air Force intelligence officer."
TIMELINE OF YEMEN'S CURRENT TROUBLES
~ 1994: Believing Youth, a theological movement of the Shiite-linked Zaidi sect, forms in northern Saada province.
~ June 2004: Autocratic President Ali Abdullah Saleh sends the military, led by Maj. Gen. Ali Mohsin al-Ahmar, to arrest Hussein al-Houthi, Believing Youth's leader, amid protests over Mr. Saleh's alliance with the U.S. The group begins an uprising against the government.
~ September 2004: Mr. Houthi is killed by Gen. Ahmar's forces. The Believing Youth change their name to the Houthis.
~ November 2009: President Saleh declares fresh military operations against the Houthis. Saudi Arabia, which borders northern Yemen, joins after rebels overrun a Saudi military base and kill dozens of troops. The Saudis launch airstrikes on the Houthis.
~ April 2011: Arab Spring protests hit Yemen, but President Saleh refuses to step down. The United Nations sends Moroccan diplomat Jamal Benomar to the country as a special envoy.
~ June 2011: A bomb at the presidential palace mosque nearly kills Mr. Saleh.
November 2011: Mr. Saleh steps down after nearly 40 years and his vice president, Abed Rabbo Mansour Hadi, is picked by the international community to lead during a political transition.
~March 2013: : The National Dialogue Conference begins discussions on new constitution with decentralized federal powers. Later, President Hadi and allies unilaterally propose a six-region federal system outside the National Dialogue discussions. The Houthis oppose his map, saying it would dilute Zaidi representation.
~ September 2014: The Houthis overrun the capital San'a, withdrawing a month later. The Houthis, Mr. Hadi and other parties sign a power-sharing agreement on the day Houthis entered capital, but the deal quickly falls apart.
~ January 2015: Mr. Hadi pushes through the constitution and the federal system the Houthis oppose. The rebels overrun San'a again, forcing the government to resign and placing Mr. Hadi under house arrest. U.N.-mediated talks continue despite the turmoil.
~ February 2015: Mr. Hadi flees to the southern port of Aden. Mr. Benomar announces a breakthrough in talks, saying parties agreed to form a new transitional council, but the deal is not final.
~ March 25, 2015: Houthi rebels, aided by Yemeni military factions that broke off in support of Mr. Saleh, overtake Aden. Mr. Hadi flees, ending up in Saudi Arabia.
~ March 26, 2015: Saudi Arabia announces an anti-Houthi coalition of 10 Sunni countries and begins airstrikes in Yemen. Mr. Benomar says talks collapse.
AND STILL NO "FORMAL COMPLAINTS" AGAINST THE SAUDIS?
AND THE U.S. IS STILL HELPING OUT WITH THE BOMB RUNS?
AND MUSLIM CONTINUES TO KILL OTHER MUSLIMS.
AND CHILDREN, ALWAYS CHILDREN, CONTINUE TO DIE.
ANY WAR ON CHILDREN IS WRONG!
KILLING INNOCENT CHILDREN IS WRONG!
WHAT PERPLEXES ME IS WHY, WHEN IT IS MUSLIM-ON-MUSLIM KILLINGS, MURDERS,
INDISCRIMINATE
BOMBINGS, MANY IN THE MIDDLE EAST AND ELSEWHERE FIND WAYS TO TURN THE OTHER WAY, NOT PROTEST, NOT USE MAINSTREAM MEDIA TO CONDEMN IT, NOT SEE ANY U.N. SANCTIONS, ETC...
BUT IF ISRAEL TAKES DEFENSIVE ACTION AND SEND JUST ONE PLANE AGAINST ANY MUSLIMS, THE WHOLE WORLD CRIES OUT FOR ISRAEL TO BE ERASED AS A NATION!
WHAT'S THE DIFFERENCE?
WHY NO SANCTIONS NOR GLOBAL OUTRAGE OVER THE SAUDI RULERS KILLING HUNDREDS OF CHILDREN, STARVING AN ENTIRE NATION AND CUTTING OFF MEDICAL AID, OBLITERATING HOSPITALS AND SCHOOLS, INJURING THOUSANDS, USING BANNED "POISON GAS BOMBS" AGAINST CIVILIANS...?
THE U.S. KILLED SADDAM HUSSEIN FOR THIS...
AND NOW SAUDI ARABIA AND AMERICA ARE DOING THE SAME TO ONE OF THE POOREST NATIONS ON EARTH AND IT'S OKAY?
IT'S NEVER OKAY TO BOMB A NATION WHO HAS SENT NOT ONE BOMB AGAINST YOU!
NO, NO, IT'S NEVER OKAY TO KILL CHILDREN!
THE HOUSE OF SAUD AND THE USA MUST STOP KILLING CHILDREN!
THE WHOLE WORLD MUST STOP KILLING CHILDREN!