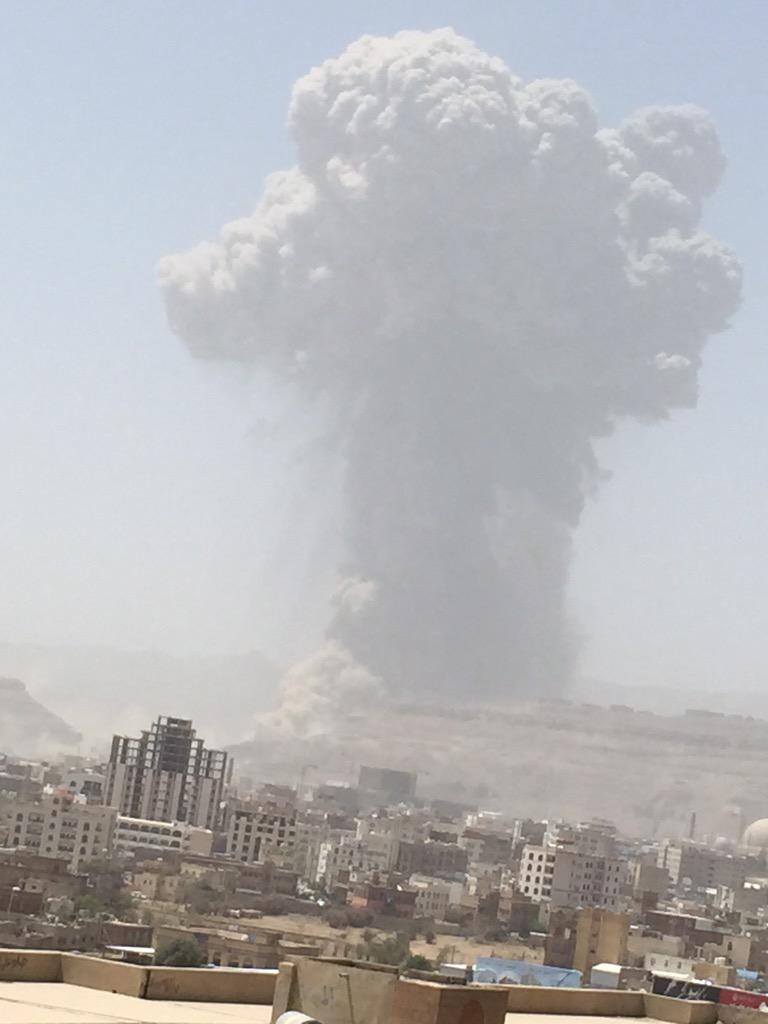 BOTH FARS NEWS AND
AL JAZEERA POSTED PHOTOS OF WHAT APPEARED TO BE 'MUSHROOM CLOUDS' I
N THE SKIES OF YEMEN BACK IN MID-APRIL AND
FARS NEWS DIRECTLY ASKED THE QUESTION "DID SAUDI ARABIA NUKE YEMEN?"
"Mushroom clouds rise in the sky in western Sanaa where the capital's largest weapons caches are located.
April 20, 2015
http://america.aljazeera.com/articles/2015/4/20/Yemen-Sanaa-explosion.html
Mushroom clouds rose over Fag Atan, in the mountainous outskirts of Sanaa, where the capital's largest weapons caches are located. The site has been targeted several times during the three-week air campaign.
A Yemeni official said the Saudi-led warplanes are demolishing parts of the mountain, hoping to uncover and destroy Scud missiles. "

AND THEN THERE WAS THIS VIDEO POSTED A FEW HUNDRED TIMES ON YOUTUBE, LABELED A NUCLEAR OR NEUTRON BOMB BLAST IN YEMEN BY MOST WHO POSTED IT, DESPITE THE COLOR OF THIS PARTICULAR CLOUD, AND THE DATE IS WRONG, GIVEN THAT THIS WAS REPORTED IN 'GULF NEWS YEMEN' ON APRIL 20.

IT DOES HAVE THE BRIGHTNESS OF A NUKE, SORT OF...
[THE VIDEO IS LOUD, AND IT IS RAW FOOTAGE.]
IMPRESSIVE EXPLOSION...WONDER WHAT THAT HIT?
The explosions came as fighting intensified in the southern port city of Aden, where Al Houthi militiamen along with military units loyal to a former autocrat are battling youths and forces loyal to internationally recognised President Hadi.
Mushroom clouds rose over Fag Atan, in the mountainous outskirts of Sana'a where the capital's largest weapons caches are located. The site has been targeted several times during the three-week air campaign. "
WELL NOW, SAUDI ARABIA HAS BEEN BOMBING YEMEN SINCE MARCH, WITH A LITTLE HELP FROM THE USA AND A FEW 'GULF STATES', BUT THE U.N. IS FINE WITH THAT, AND THE REST OF THE WORLD SEEMS FINE WITH THAT, EVEN THOUGH THE BODY COUNT IS NOW IN THE THOUSANDS.
I GUESS YOUR NAME HAS TO BE 'ISRAEL' BEFORE THE WHOLE WORLD SCREAMS FOR SANCTIONS, A CEASEFIRE, A TRIBUNAL FOR WAR CRIMES...
ESTIMATES ARE APPROACHING ABOUT 500 CHILDREN KILLED BY SAUDI BOMBS AND FIGHTER JET RUNS...BUT THAT APPEARS TO BE JUST FINE WITH EVERYONE AS WELL.
IF SAUDI ARABIA DID USE NUKES, I MUST WONDER IF ANYONE WOULD MENTION IT IN AMERICAN NEWS MEDIA.
PROBABLY NOT.
SO, DID THEY OR DIDN'T THEY USE NUKES ON YEMEN?
I DON'T SEE THAT IT MATTERS TO MUCH OF ANYONE EXCEPT THE PEOPLE OF YEMEN...DO YOU?
I MEAN, DID YOU SEE ANY OF THIS IN MAINSTREAM MEDIA HERE IN THE U.S.?
AND WERE YOU AWARE THAT THIS IS A REPEAT PERFORMANCE BY SAUDI ARABIA, THAT IT HAS BEEN THE
AGGRESSOR
BEFORE?

DID YOU KNOW THAT SAUDI ARABIA AND YEMEN HAVE BEEN BATTLING LIKE THIS FOR OVER 65 YEARS, AND THAT THE SAUDI MONARCHY CONSTRUCTED A HUGE BARRIER/WALL ON ITS BORDER WITH YEMEN, BEGINNING IN 2003?

[SEE Askar Halwan Al-Enazy (January 2002). "The International Boundary Treaty" (Treaty of Jeddah) Concluded between the Kingdom of Saudi Arabia and the Yemeni Republic on June 12, 2000". American Journal of International Law 96 (1): 161–173. AND ALSO SEE Bradley, John (February 11, 2004). "Saudi Arabia enrages Yemen with fence". The Independent. Archived from the original on 23 March 2007.]

SAUDI ARABIA IS NOT HIGHLY FAVORED BY EVEN SOME IN ISLAM...MAYBE MAINLY EGYPTIANS AND LEBANESE FROM THE SOUND OF THIS ARTICLE?

FROM 'LEBANON WIRE':
July 22, 2003
"What is the link between the twin towers of New York and the minarets of Mecca? The men who mounted the most devastating act of terrorism in modern times, the al-Qa'eda organisation for which they worked, and the Taliban regime that gave them sanctuary, all emerged from a single Islamic fundamentalist movement.
That movement - Wahhabism - originated in Saudi Arabia."
"Saudi Arabia used to be a poor country that depended solely on the Haj season for its only income, as it has no other resources. The Haj was the only way it could get any sort of financial assistance from Egypt and El-Sham.

Saudi Arabia used to borrow money from the family of Bin Laden until the Haj season came. And after the Haj it would repay the family.
But now, after the discovery of petroleum and the jump in its price, which has doubled so many times, many things have changed, and we will show how.

Saudi Arabia spread bribes among the Arab world and especially in Egypt, where it ruined the good morals of the Egyptian population. And so most of the Arab countries became the place for the fancies and desires of the Saudi people to be indulged. It's enough to realize that Egypt has 2 million children without fathers and there are 50,000 paternity suits against Saudi men.


[SAUDI ARABIA] Finances the terrorists in the Philippines, the Abu Sayaf people, and also in Thailand, Pakistan, Indonesia, Sudan, Jordan, and all European countries, especially in Germany and Italy.
Its role in supporting and protecting the extreme Muslim Brothers in Egypt and its role in ruining the national unity of Egypt."

"

To this day, Saudi Arabia carries out barbaric executions against both criminals and political enemies,

including victims accused of "sorcery and witchcraft

" in the aptly named, "

Chop-Chop Square

" located in the capital of Riyadh where heads are literally chopped off by hooded swordsmen.

WHEN SAUDI ARABIA SENT TROOPS INTO BAHRAIN IN 2011 AND BROUGHT THE WEE NATION 'BACK IN LINE' BY SHEER FORCE, WHO CARED?

WHO REPORTED THE KILLINGS OF SHIITES IN BAHRAIN BY SAUDI FORCES?

REMEMBER THAT OUR NEWS MEDIA TOLD US THAT BAHRAIN ASKED FOR SAUDI HELP.
THAT WAS A LIE.
HOUSE OF SAUD SIMPLY TOLD BAHRAIN IT WAS COMING IN.
BAHRAIN'S GOVERNMENT WANTED TO LIVE, WANTED TO AVOID A LONG-TERM OCCUPATION BY SAUDI ARABIA, SO ALL WAS 'TAKEN CARE OF' QUICKLY.

OH, BTW, DID YOU KNOW IRAN CLAIMED BAHRAIN AS AN IRANIAN PROVINCE UNTIL ABOUT 1970?

THE REASON HOUSE OF SAUD HAS ITS FINGERS IN THE YEMEN PIE IS ALSO BECAUSE OF IRAN ... IRAN WAS SENDING AID TO THE YEMENI 'REBELS'.
WELL, WALLS, FENCES, ARMED PATROLS THAT SHOOT ON SIGHT, FREQUENT BEHEADINGS, HUMAN RIGHTS VIOLATIONS, FIGHTER JET RUNS, BOMBS, MISSILES, CUTTING OFF INTERNATIONAL AID TO YEMEN, BLOCKADING SO NO FOOD, MEDICINE NOR FRESH WATER GETS IN THERE, BLOWING UP SCHOOLS AND HOSPITALS, ANYTHING ELSE SAUDI ARABIA WANTS TO DO IS JUST FINE, RIGHT?



NUKES?
NEUTRON OR OTHER...HEY, IT'S SAUDI ARABIA, NOT ISRAEL!
IT'S OKAY!
THE HOUSE OF SAUD CAN DO AS IT PLEASES, AND THE U.N. WILL NOT EVEN SUGGEST A SINGLE SANCTION, NOR WILL EUROPEANS TAKE TO THE STREETS TO PROTEST THE MURDERS OF YEMENI CHILDREN... LIKE THEY DO WHEN HAMAS LAUNCHES MISSILES INTO ISRAEL FROM THE ROOFS OF HOSPITALS, SCHOOLS, THE HOMES OF GAZAN CIVILIANS, THEN HIDES BEHIND CHILDREN WHEN ISRAEL STRIKES BACK...

GOOD OLD SAUDI ARABIA...SAUDI OIL...BLACK GOLD...GO AHEAD, NUKE AWAY!
LET'S HEAR IT FOR THE OPEC NATIONS HELPING THEM, AND THE U.S., TOO!
THREE CHEERS FOR ANYTHING THE SAUDI MONARCHY WANTS TO DO!

RIGHT?

WHILE THE U.S. IS KISSING-UP TO IRAN, IT IS ALSO AIDING AND ABETTING SAUDI ARABIA IN WHATEVER THE HOUSE OF SAUD WANTS TO DO.
FROM DER SPIEGEL,
Ausgabe 23/2005,
[ ON HOW THE SAUDIS SPONSOR TERRORISM]
EXECUTIVE SUMMARY
"Al-Qaida list of top 20 Saudi financial sponsors include 6 bankers and 12 businessmen, among which 2 former ministers.
Only two on the list have not been yet identified with certainty."

THAT'S HOW THE GAME IS PLAYED...BOTH ENDS AGAINST THE MIDDLE.
NO MATTER WHO LOSES, AMERICA WINS.

MAYBE THE MIDDLE EAST SHOULD JUST PREPARE FOR A NUCLEAR WINTER?
SEEMS INEVITABLE.

LOOKING AT THE IMAGE BELOW OF WHAT YEMEN IS UP AGAINST, MAYBE IT SHOULD JUST FOLLOW BAHRAIN'S LEAD...ROLL OVER AND PLAY DEAD...BELLY-UP TO THE SAUDI MONARCHY AND BEG FOR MERCY?

WARS IN THE MIDDLE EAST JUST GO ON AND ON FOREVER, ALWAYS HAVE, ALWAYS WILL.