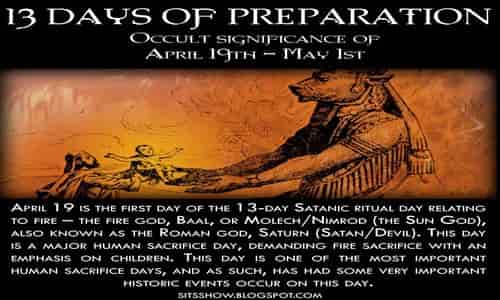 GUESS WH

EN THE BAAL TEMPLE IS SET TO GO UP IN NYC's TIMES SQUARE

?



APRIL 19!
Is this just another slap in the face to the majority of American people, or just
the "Christian majority"?


FROM THE NEW YORK TIMES:
"NEXT month, the Temple of Baal will come to Times Square. Reproductions of the 50-foot arch that formed the temple's entrance are to be installed in New York and in London, a tribute to the 2,000-year-old structure that the Islamic State destroyed last year in the Syrian town of Palmyra."

[SURE, LET'S CELEBRATE SUCH A WONDROUS "CULTURAL EVENT", THE ERECTION OF A TEMPLE, WHERE FOR A LONG, LONG TIME, HUMAN BABIES WERE SACRIFICED TO BAAL BY BEING BURNED ALIVE, WHERE "WORSHIPERS" ENGAGED IN ORGIES, WHERE DEATH WAS A REAL CELEBRATION.]

"The initial arches from the Temple of Baal that will be erected in New York and London as part of UNESCO's World Heritage Week in April are intended "as a gesture of defiance", but ultimately the plan is to share this "cultural treasure" with as many cities around the planet as possible.
If you go to Times Square in New York or Trafalgar Square in London late next month, you will not be able to miss these giant arches.
According to the New York Post, they will be 48 feet high and 23 feet wide…
The Institute for Digital Archaeology ultimately hopes to put 1,000 of these arches in cities all over the globe…"
ONLY 1,000? WHY STOP THERE?
Well, we shouldn't be surprised really, since the Egyptian "god of the dead", old ANUBIS, has been a long-running feature at the Denver International Airport.
Denver airport is also famous for its
32-foot-tall statue of a giant horse with fiery, glowing eyes.

Even creepier, the red-eyed statue, called Blue Mustang,
killed its sculptor,
Luis Jiménez.
It fell on him and severed an artery.


THE SATANIC TEMPLE's 'god', BAPHOMET, WAS TO HAVE BEEN PLACED IN OKLAHOMA CITY, BUT WOUND UP IN DETROIT.

OKLAHOMA REMOVED THE LARGE STONE TABLET OF THE '10 COMMANDMENTS' ON THE SAME GROUNDS WHERE THE ABOVE STATUE WAS TO HAVE BEEN INSTALLED... ALL IT TOOK WAS A GRIPE BY SATANIC TEMPLE ABOUT THE STONE TABLET.

BUT EVERYONE STILL LOVES AMERICAN MONEY THAT HAS

"IN GOD WE TRUST"

PRINTED ON IT, RIGHT?

OR DOES SATANIC TEMPLE USE FOREIGN CURRENCY TO HIRE ATTORNEYS?


CONTINUED FROM THE NYT:
"It will be uncanny and thrilling to see this arch from an ancient desert civilization set against the bright lights of New York. Unfortunately, facsimiles can achieve only so much. Denuded of people, stripped of the rich social contexts in which they were once embedded, antiquities appear just as evidence of the grandeur of the past, the accomplishments of another place in another time. But what did these assemblages of stone mean to the modern Iraqis and Syrians who lived with them?"

THE TEA ROOM CALLS FOR A POLL, RIGHT HERE, RIGHT NOW.

HOW MANY AMERICAN READERS ARE "THRILLED" TO SEE THIS?
HOW MANY WILL BE GLAD TO SEE Baal's TEMPLE IN NEW YORK'S TIMES SQUARE?
LEAVE A COMMENT AND WE'LL POST RESULTS.
FOR THOSE WHO MAY NOT BE FAMILIAR WITH BAAL OR BAEL, OR BEL,
"Baal, sometimes spelled Bael, Baël (French), Baell) is in 17th century goetic occult writings one of the seven princes of Hell.

The name is drawn from the Canaanite deity Baal mentioned in the Hebrew Bible as the primary god of the Phoenicians.

In this hierarchy, Baal was ranked as the first and principal king in Hell, ruling over the East.
According to some authors Baal is a Duke, with sixty-six legions of demons under his command.
During the English Puritan period Baal was either compared to Satan or considered his main assistant."

I imagine we American taxpayers will, at some future date, also pay for the FULL restoration of that Syrian temple IN Syria, if America can ever get Assad killed off, while some of us here in AmeriKa, Inc, face possible lawsuits if we erect a Nativity scene at Christmas time WITH OUR OWN FUNDS, ON OUR OWN PROPERTY, if they offend non-Christian neighbors .

ALL religions EXCEPT Christianity (and maybe Judaism?) are so VERY welcome here...our Feds make all kinds of rule changes and concessions to everyone and every religion EXCEPT Native-born Americans and Christians.
ISN'T THAT ODD?

IT'S LIKE OUR "LEADERS", OUR "LAWMAKERS" ARE SAYING....

"Come on over, bring your gods and temples and mosques and do as you please!

Feel free to publicly pray and publicly read YOUR 'holy books' anywhere you choose, since Christians can't do that hardly anywhere anymore....Plenty room for prayer rugs and any statues to any gods you'd like once we clear out those old Christian symbols from all our cities!

We'll accommodate your need to pray ANYWHERE, ALL day, EVERY day, even in our schools, while we expel American students for wearing "religious attire/jewelry" to school.
We'll make our kids leave their crosses at home.But YOU feel free to wear whatever YOUR religion says you ought to!
We'll change a few rules for you, bless your hearts!

Sure, we'll make our kids stop saying "Bless you", but YOUR kids can certainly say whatever they please.
We'll even FORCE our kids to say "Allahu akbar!"

The Federal government will put down rebellion by any Christians or others who don't agree to our changing such things, while having their religions suppressed and their religious freedoms spit on and discarded so no refugees are offended by them!

Yes indeed, bring your gods and come to America!
We welcome them!
How many temples to Baal or Satan or Osiris would you like us to build for you?
We want YOU to be happy here, while you watch us maybe crucify a few old silly Christians.
(wink, wink!)
Love and butt-kisses from your new Capitol,
All of us in Washington, DC.
XOXOXOXOXO"
THERE, THAT SHOULD DO NICELY, YES?
WELCOME, WELCOME!

MAYBE WE SHOULD ALL WEAR SIGNS AROUND OUR NECKS THAT SAY, "YOU MAY PISS ON ME ANYTIME YOU NEED TO URINATE"???

WOULD THAT ASSURE WE DON'T OFFEND OTHERS WHO JUST GOT TO AMERICA?

HOW ABOUT IF WE JUST THROW OURSELVES ON THE GROUND BEFORE THOSE WE MIGHT OFFEND WHEN WE SEE THEM APPROACHING AND LET THEM WALK ON US?
WOULD THAT APPEASE THEIR gods AS WELL?
PLEASE CAREFULLY READ THE FOLLOWING, THEN ASK YOURSELVES...IF THAT SITUATION HAD BEEN REVERSED, WOULD IT HAVE BEEN THE MUSLIMS OR THE CHRISTIANS THE "LOWER COURTS" SIDED WITH?

WHO WOULD THE POLICE HAVE BLAMED IF THE SITUATION WAS REVERSED?

IF THE CHRISTIANS HAD THROWN ANYTHING AT THE MUSLIM CROWD, WHAT WOULD HAVE HAPPENED?
INTERNATIONAL INCIDENT?
U.N. SANCTIONS?
"
At the International Arab Festival in Dearborn, Michigan, in 2012
, when Christian evangelists were violently attacked (THEY WERE STONED, ACTUALLY.) by a hostile Muslim mob,
lower courts ruled the officers were allowed to order the Christians to leave, under threat of arrest, because of the threat of violence from the Muslims.
However, the full appeals court the police action in violation of the Constitution.
"We find that
defendants violated the Bible Believers' First Amendment rights
because there can be no legitimate dispute based on this record that
the [county and officers] effectuated a heckler's veto by cutting off the Bible Believers' protected speech in response to a hostile crowd's reaction," the court opinion said.
"
The First Amendment offers sweeping protection that allows all manner of speech to enter the marketplace of ideas
.
This protection applies to loathsome and unpopular speech with the same force as it does to speech that is celebrated and widely accepted.
The protection would be unnecessary if it only served to safeguard the majority views.
In fact, it is the minority view, including expressive behavior that is deemed distasteful and highly offensive to the vast majority of people, that most often needs protection under the First Amendment."
The opinion noted that two types of speech are unprotected, incitement to riot and fighting words.
The judges found any advocacy for the use of force or lawless behavior is "absent from the record in this case."
And the judges found regarding fighting words, "the average individual attending the festival did not react with violence, and of the group made up of mostly adolescents, only a certain percentage engaged in bottle throwing."
The opinion cited the "heckler's veto" concept of one person or group silencing others by threatening violence.
"It is a fundamental precept of the First Amendment that the government cannot favor the rights of one private speaker over those of another. Accordingly, content-based restrictions on constitutionally protected speech are anathema to the First Amendment
and are deemed 'presumptively invalid
,'" the ruling said.
"A review of Supreme Court precedent firmly establishes that the First Amendment does not countenance a heckler's veto," the ruling said.
The county argued that
the Christians
needed to be removed because of the crowd and the threat.
But, the HIGHER COURT'S ruling notes,
"The video record evinces next to no attempt made by the officers to protect the Bible Believers or prevent the lawless actions of the audience."
The judges also pointed out that there were many officers "unoccupied" if there had been a need for them.
The Christians came to talk about their beliefs, the ruling noted, but when that message was not well received,
"police did next to nothing to … contain the lawlessness of the hecklers in the crowd."
"Instead, the WCSO accused the Bible Believers of being disorderly
and removed them," the ruling said, "Wayne County … through its deputy chiefs and corporation counsel, effectuated a constitutionally impermissible heckler's veto by allowing an angry mob of riotous adolescents to dictate what religious beliefs and opinions could and could not be expressed.
This, the Constitution simply does not allow."
The case was ordered back to the lower court to calculate damages.
The lawsuit
alleged the Christians were pelted with water bottles and rocks by Muslims (EASILY SEEN IN THE VIDEOS!), and
police threatened to arrest the Christians for disorderly conduct if they did not halt their speech activity and immediately leave the festival area.
A video of the 2012 confrontation shows the Muslim mob assaulting the Christians and the authorities refusal to protect them.
Not one Muslim was arrested for the attack, which left several members of the Christian group injured, the video said.
The video, and a related complaint, showed the crowd – reminiscent of a rock-throwing "intifada" scene from the Middle East – hurling a dizzying barrage of objects at the Christians,
who were standing passively with their signs
."
LET THAT ALL SINK IN A MOMENT.
IF YOU'D LIKE, WATCH THE VIDEOS AT THE END OF THE BLOG, THOUGH I WARN YOU, THERE IS CONSIDERABLE VULGARITY AND PROFANITY IN THEM.
THIS IS WHERE WE ARE IN AMERICA...TOLD TO BE, AND EVEN FORCED TO BECOME, "BOOT-LICKERS", TO ACCEPT, TO CONDONE BY SILENCE ANYTHING AND EVERYTHING WE DO NOT AGREE WITH.

WE, THE AMERICAN PEOPLE, MUST KEEP SILENT ABOUT OUR PERSONAL, RIGHTFUL BELIEFS SO AS NOT TO OFFEND OTHER CULTURES, OTHER RELIGIONS, OTHER BELIEF SYSTEMS, VISITORS, REFUGEES, ROCK-AND-BOTTLE-THROWING IMMIGRANTS, THE WHOLE NINE YARDS.
IF YOU AGREE WITH THAT, WITH AMERICANS HAVING TO ACCEPT EVERYTHING, EVERYONE ELSE'S BELIEFS AND LIFESTYLES WITHOUT SO MUCH AS VOICING OUR AMERICAN OPINIONS, THEN YOU HAVE COME TO THE WRONG PLACE TO READ.

IF A NON-AMERICAN, A NON-CHRISTIAN, ANYONE WITH DIFFERENT BELIEFS AND VALUES AND ETHICS AND MORAL STANDARDS CAN VOICE THEIR OPINIONS, SAY WHAT THEY THINK, SPEAK OUT, MAKE DEMANDS, COMPLAIN, EXPRESS THEIR 'DISMAY', THEIR DISAGREEMENT WITH AMERICAN AND/OR CHRISTIAN VALUES, PROTEST IN AMERICAN STREETS, CARRY SIGNS, ETC, THEN BY EVERY GOD THERE IS, SO CAN I, SO CAN YOU, SO CAN WE ALL VOICE OURS AND EXPRESS OUR DISCONTENT!
WHEN A FOREIGN GROUP CAN BURN AN AMERICAN FLAG, OR THROW IT ON THE GROUND AND STOMP ON IT, I, AS AN AMERICAN, CAN CERTAINLY EXPRESS MY ANGER AND DISGUST AT THAT ACTION, AND I WILL.

ONE OF THE BIG PROBLEMS IN AMERICA IS THAT AMERICAN CITIZENS ARE NOT AWARE OF THEIR RIGHTS, DO NOT KNOW WHAT THE CONSTITUTION SAYS ABOUT SUCH THINGS.

IT IS WAY PAST TIME WE ALL LEARNED WHAT THAT OLD CONSTITUTION GUARANTEES ALL OF US, TIME TO UNDERSTAND WE STILL HAVE RIGHTS, FREEDOMS, AND DEMAND WE GET THOSE, EVERY DAY, ALL DAY, NO MATTER WHAT.

I BLOODY WELL DO NOT WANT A REPLICA OF A TEMPLE TO A DEMON god STANDING IN TIMES SQUARE!
IF ONE RED CENT OF MY TAX DOLLARS IS GOING TO PAY FOR THAT 'INSTALLATION', I AM DUE A VOICE IN THE MATTER!
IF NOT, I CAN STILL RAISE SAND ABOUT IT IF I WISH TO.
AND I DO WISH TO DO SO.

I WILL NOT BOW AND SCRAPE AND BOOT-LICK AND "GRIN AND BEAR" IT.

IF NEW YORK CITY INSTALLS THIS TEMPLE TO BAAL, THEN LET NEW YORK ALSO INSTALL TEMPLES TO EVERY "god" THERE IS!
THAT'S ONLY "FAIR", ISN'T IT?

I BELIEVE THE 'EASTERN BAND CHEROKEE' (ANIYUNWIYV) RECOGNIZED BETWEEN 4,000 AND 6,000 'DEITIES' (THEY WERE NOT CALLED THAT, BTW) AT ONE TIME...
NEW YORK NEEDS TO GET BUSY ON THOSE, SO I AM NOT OFFENDED!
WE COULD SAVE A LOT OF TAXPAYER DOLLARS IF, EVERY TIME THE FEDERAL OR A STATE OR COUNTY OR CITY GOVERNMENT WANTED TO DO ANYTHING THAT NECESSITATED DIPPING INTO TAX REVENUES, THEY HAD TO SEND US CITIZENS ACTUAL BILLS...ITEMIZED BILLS, SHOW US WHAT WE'RE PAYING FOR!
IF WE'RE FOOTING THE BILL, IN ANY SMALL OR GREAT WAY, WE DESERVE AN ITEMIZED ACCOUNTING OF HOW MUCH WAS SPENT, ON WHAT AND WHY.


IN ANOTHER VEIN, HERE ARE A FEW LITTLE THINGS MOST AMERICANS EITHER DON'T KNOW OR DENY OR DON'T GIVE A HOOT ABOUT:

THERE IS NO, NONE, ZILCH RECIPROCITY BY ISLAMIC STATES WHEN IT COMES TO "FREEDOM OF RELIGION" AND THE RIGHT TO WORSHIP AS WE SEE FIT IN AMERICA.

MANY NATIONS WE TRADE WITH AND EVEN CALL "ALLIES" TAKE A VERY HARD LINE AGAINST CHRISTIANITY.

60 OR SO OTHER NATIONS ON EARTH ARE CURRENTLY KILLING CHRISTIANS AND/OR MAKING LIFE UNBEARABLE FOR THEM.

SOME OF THOSE WHO ARE DOING THESE THINGS ARE THE VERY SAME ONES WHO SCREAM THE LOUDEST FOR AMERICA TO HONOR THEIR RELIGIONS...OR LACK OF RELIGIOUS BELIEFS.


--In 2015, the Grand Mufti of Saudi Arabia AGAIN called for the demolition of all churches in the Arabian peninsula.
The Mufti has said exactly the same thing before now; presumably he has had to repeat himself as people were not paying attention the first time.

The Grand Mufti is appointed by the Saudi government.

Hilariously, the Mufti seems to be pushing at an open door.
There are no churches in Saudi Arabia.
That is because all non-Muslim worship in the Kingdom is illegal.

--The United Nations has found that Christians are persecuted more than ever in Iran.
At least 49 Christians are presently held in Iranian jails. The lawyer representing them was recently denied access to even meet with them.
To even claim Christian faith can mean harassment and brutal beatings, and charges of "coercion" (for suspicions of evangelism) can lead to arrests and imprisonment.

--In Iraq, ISIS has targeted Christians for discrimination or even death.
They have raped Christian women, sold them into slavery, and caused many to flee.
Where there were once 1.2 million Christians in Iraq, there are now less than 200,000. Some of the oldest Christian churches in the world have been abandoned because of ISIS attacks.
Cities where Christians have continually worshipped for almost 2000 years no longer have a Christian presence.

--Likewise, in Kenya, Al Shabaab recently executed 19 Christians and actively seeks to persecute more Christians.

--One in four of the world's Christians live in countries hostile to their faith.


--At any given moment, 100 to 200 million Christians around the world are being persecuted for their faith.
YES, THAT'S 100,000,000 TO 200,000,000.

--The Center for the Study of Global Christianity reports that 100,000 Christians die every year (11 every hour) because of their faith.
--Presently, Christians in more than 60 countries face persecution from their governments for their beliefs, according to the U.S. State Department.
This is, OR SHOULD BE GIVEN THE SHEER NUMBERS, the biggest human rights issue in the world, but seems to be the least reported on, talked about, or protested against.

--In China, persecution against Christians is at an all-time high.
In Zhejiang Province, crosses have been removed or demolished from more than 300 churches.
In Henan Province, restrictions and arrests are made at Christian meetings.
Last month, a pastor was sentenced to 12 years in prison for "gathering a crowd to disrupt public order."
Authorities have explicitly banned Christians from sharing the gospel with anyone under 18 years old.
In these and many other ways, Chinese authorities wage an ongoing campaign to curtail Christianity's influence.


-- BUT OUR OWN LAWS AND REGULATIONS ARE BEING CHANGED, AND WE CAN CLEARLY SEE THE DOUBLE STANDARD NOW PRESENT IN AMERICA.
IT HAS BEEN DEMONSTRATED TIME AND TIME AGAIN...
* The Muslim woman in Florida who was allowed to obtain a driver's license without removing her veil while it was not allowed that any non-Muslim could cover a face and get a driver's license.
That was later changed so that she had to unveil if she wanted to drive in Florida, but, initially, it was allowed.

* The Kentucky court clerk who refused to issue marriage licenses to same-sex couples because of her Christian beliefs was jailed, but the Muslim airline stewardess who has filed suit against her airlines employer because she says she was FORCED to serve ham sandwiches and alcohol to NON-MUSLIM passengers, which is contrary to HER religion will likely win her lawsuit.

"We have informed ExpressJet of its obligation under the law to reasonably accommodate Ms. Stanley's religious accommodation request regarding service of alcohol," Lena Masri, staff attorney for CAIR-Michigan said in a statement.
~Christian kids are persecuted in American schools.
Children who have Christian beliefs are increasingly threatened, punished, and silenced.

Consider two recent cases: in Sacramento, California, a 12-year-old girl shared invitations with two classmates to a "biblical creation" event — and was "forced to confess her wrongheadedness about evolution."

She was called to the principal's office, reprimanded, and directed to write an "Incident Report" confessing her wrongdoing.
The acting principal then summoned her back to the office several more times to re-write her confession until it was satisfactory.

Just last month, officials in Long Island, New York denied Liz Loverde the right to form a Bible club and join 30 other existing student-led activities at her school.
~Discrimination against religious people is not tolerated — except for routine discrimination of Christians.

Here is one recent case in point: a student petition at the University of California-Berkeley sought to stop Bill Maher from speaking at the school's fall commencement.
Maher is called a "blatant bigot" in the Change.org petition for his recent remarks criticizing Islam as violent and anti-women.
Yet, there has never been a boycott of Maher for his discriminatory statements against Christianity.
He has called God a "psychotic mass murderer" for drowning the world in the Great Flood. (He also mocked the whole concept of religion in his 2008 movie Religulous.)
On his HBO show, Maher regularly ridicules various Christian beliefs, but this has never resulted in a call to have him removed as a speaker.
Florida Professor Demands Student Stomp On Jesus:
It all started with a conflict between an antagonistic professor and one brave student at Florida Atlantic University. Ryan Rotela was told by his professor to write Jesus Christ's name on a piece of paper and stomp on it. Rotela defiantly refused and in retaliation, a formal disciplinary action was started against him.
But, before the system could roll over Rotela, a funny thing happened. The word about what was happening to him got out, Christians became outraged, and suddenly the university's tune quickly changed. "FAU's Senior Vice President for Student Affairs, Dr. Charles Brown, has since issued a groveling formal apology." Next thing you know, the disciplinary action was waved off.
Now, comes word that the professor, Deandre Poole, has been put on administrative leave following a withering public response, that included complaints from the Governor of Florida, Rick Scott.
Unfortunately, that story didn't have a happy ending. Even after the governor got involved, Deandre Poole still kept his job.

Government Forces Churches To Get Permits For Baptisms:

The National Park Service recently began a new policy requiring churches that wished to hold baptisms in public waters to apply for a special permit at least 48 hours in advance of the baptism.


MILITARY PERSONNEL CANNOT VOICE CHRISTIAN BELIEF/PERSONAL OPINION THAT GAY MARRIAGE IS WRONG.Airforce Veteran Faces A Court Martial For Opposing Gay Marriage:

Senior Master Sgt. Phillip Monk found himself at odds with his Lackland Air Force Base commander after he objected to her plans to severely punish an instructor who had expressed religious objections to homosexuality. During the conversation, his commander ordered him to share his personal views on homosexuality.
"I was relieved of my position because I don't agree with my commander's position on gay marriage," he told me. "We've been told that if you publicly say that homosexuality is wrong, you are in violation of Air Force policy."
The accusations against Monk are a court-martial offense in the Air Force – and it's quite possible that the 19-year veteran with a spotless record could be booted out of the military because of his Christian beliefs.
And he's not the only Christian at Lackland Air Force Base facing persecution for opposing gay marriage.


Florida Ministry Told To Choose Between Jesus And Helping The Poor:

"For the past 31 years, the Christian ministry has been providing food to the hungry in Lake City, Fla. without any problems. But all that changed when they said a state government worker showed up to negotiate a new contract. ...(A) state agriculture department official told them they would not be allowed to receive USDA food unless they removed portraits of Christ, the Ten Commandments, a banner that read 'Jesus is Lord' and stopped giving Bibles to the needy."
When an American state government tells the Christian Service Center it has to give up Christ or quit using USDA food to help the poor, that's religious discrimination.


ONLY THE TIP OF THE ICEBERG.
THE TEA ROOM COULD ABSOLUTELY WRITE 1,000 PAGES OF SUCH AS THE ABOVE AND WHAT WE READ BELOW AND STILL NEVER SCRAPE THE SURFACE OF THE THOUSANDS OF SUCH EXAMPLES OF DISCRIMINATION AGAINST CHRISTIANS IN AMERICA..

ON A GOOGLE SEARCH, TYPE IN "DISCRIMINATION AGAINST CHRISTIANS IN AMERICA", SEE IF YOU GET...
"About 570,000 results

In 2010, a group of students from the Arizona-based Wickenburg Christian Academy were ordered by a police officer to cease their quiet prayers on the steps of the Supreme Court in Washington, D.C. The officer cited a statute that prohibits demonstrations on the steps, but no official policy bars prayer at that location.

In June of 2010, David Wood and two other Christian missionaries were arrested by Dearborn, Michigan, police at the annual Arab festival

for discussing Christianity

on a public sidewalk outside the event.
The men, who have since been acquitted, were charged with disturbing the peace and spent the night in jail.