UPDATE: IT IS NOW JUNE, 2019 AND THE FLOODING CONTINUES, WITH SEVERAL STATES PROVIDING 'AID' TO FARMERS WHO OTHERWISE WOULD HAVE LOST IT ALL BECAUSE IT'S IMPOSSIBLE TO PLANT.

"Now you're going to have significantly less product coming out of those areas due to smaller yield because the product wasn't there long enough or [there's] no product at all because they just couldn't get it in the ground," Samson said. "Those are probably going to be some concerns that people start talking about as we get further into the summertime."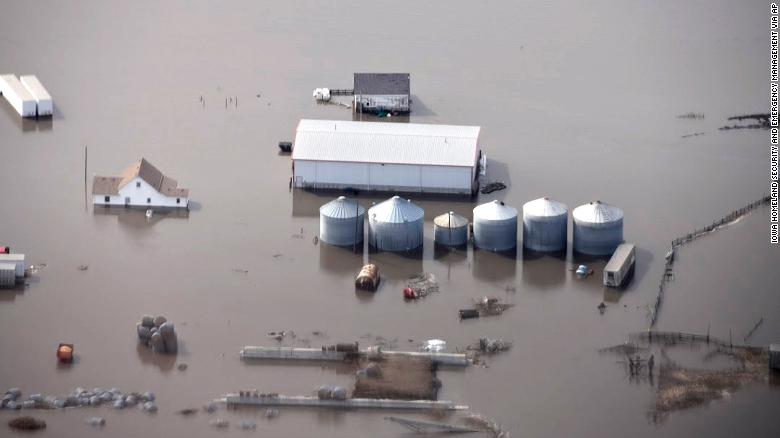 SPRING FLOODING IN THE MIDWEST CONTINUES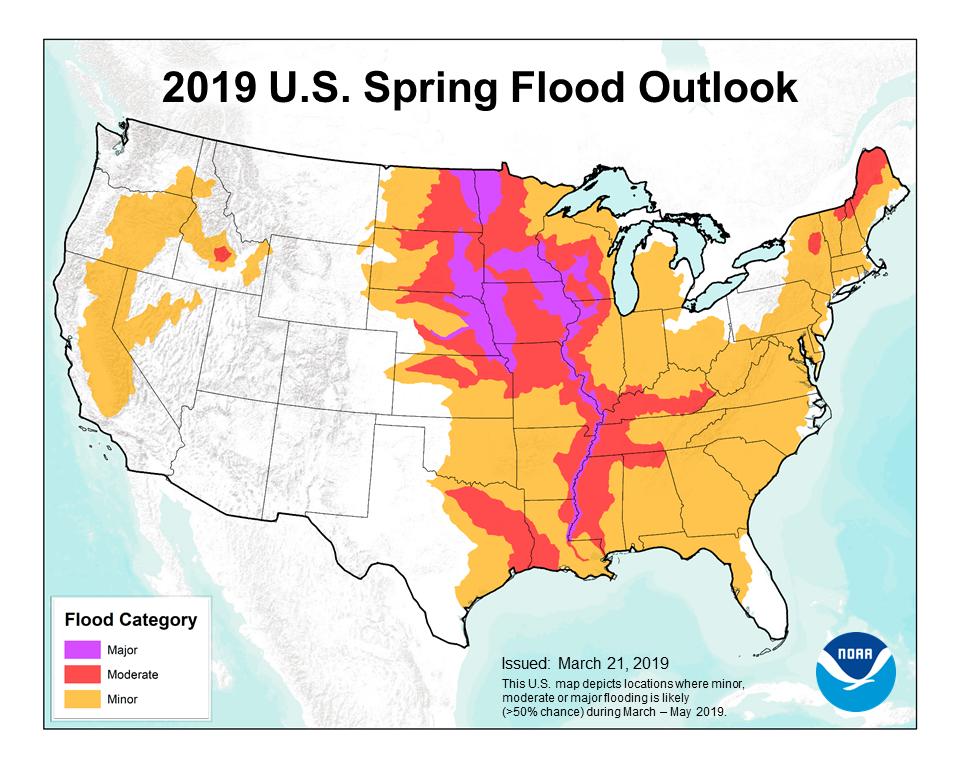 NOAA PREDICTS A CONTINUATION INTO MAY


"What difference does it make how

much is laid away in a man s safe

or in his barns, how many head of

stock he grazes or how much capital

he puts out at interest, if he is always

after what is another's and only counts

what he has yet to get, never what he

has already?

You ask what is the proper

limit to a person s wealth? First, having

what is essential, and second, having

what is enough." ~ Lucius Annaeus Seneca,


"Infinite growth of material consumption in a finite world is an impossibility.
…we are estranged from reality and inclined to treat as valueless everything that we have not made ourselves. The substance of man cannot be measured by Gross National Product.

Nothing reveals the thin veneer of civilisation like a threat to its food or fuel supply, or the cracks in society like a major climate-related disaster.

A cocktail of all three will give cold sweats to the most hardened emergency planner. But that is what we face. ~ E.F. Schumacher, German statistician and economist.


WHAT WOULD YOU DO TO OBTAIN FOOD FOR YOURSELF AND/OR THOSE YOU CARE FOR?

IN A WORLD WHERE NO FOOD WAS FOR SALE, WHERE EVERY MORSEL WAS CAREFULLY GUARDED BY THOSE WHO HAD ANY FOOD, HOW WOULD YOU BE ABLE TO SUSTAIN YOUR LIFE, THE LIVES OF THOSE YOU LOVE?

IN THE EVENT OF A NATURAL DISASTER, SAY, A "COSMIC EVENT', A "SPACE WEATHER ANOMALY", GLOBAL NUCLEAR WINTER, WHEN THERE WAS SIMPLY NO WAY TO RAISE CROPS IN THE TRADITIONAL MANNER, HOW WOULD WE LIVE BEYOND MERE WEEKS?

THE TEA ROOM HAS WRITTEN MUCH OVER THE YEARS ABOUT THIS VERY SCENARIO, BUT NOW WE MUST ADD TO THE EQUATION.

This past Winter was especially difficult for farmers in the "breadbasket" region of the U.S. Severe flooding, still ongoing today, March 29,2019, threatens to break the backs of small farmers/family farms that have been in existence since America was created.

"NOAA Warns Of Historic Flooding Through May, 200 Million At Risk, Food Price to Skyrocket", read the headlines the other day.

The National Oceanic and Atmospheric Administration warned that "historic, widespread flooding" would "continue through May".

More than 90 percent of the upper Midwest and Great Plains is currently covered by an average of 10.7 inches of snow, and all of that snow is starting to melt. That means that we are going to transition from one of the worst winters in modern history to a flood season that has already taken an apocalyptic turn for farmers all across America.

At this moment, millions of acres of farmland are already underwater.

Thousands of farmers are not going to be able to plant crops this year, and thousands of other farmers that have been financially ruined by the floods will never return to farming again. This is already the worst agricultural disaster in modern American history, and it is going to get a whole lot worse.

Any time our grain belt is compromised, there will be a global effect on food.

USA TODAY reported, "Beef prices at supermarkets could rise 25 to 50 cents per pound and pork as much as $1, estimates Phil Flynn, a senior market analyst at the Price Futures Group in Chicago.The impact on grains that go into products such as cereal will be more muted; two-and-a-half pennies per product is his forecast. "If the bad weather continues or the flooding continues, all bets are off."
Either way, it will take about two more months to assess the extent of the damage to some of the country's most important crop-growing and ranching regions. Farmers need to determine how much harvested grain was destroyed in storage, how many planted acres are salvageable and how many animals died.

Across parts of the Midwest, hundreds of livestock are drowned or stranded; valuable unsold, stored grain is ruined in submerged storage bins; and fields are like lakes, casting doubt on whether they can be planted this year.

"I would say 50% of the farmers in our area will not recover from this," Dustin Sheldon, a farmer in southwestern Iowa's flood-devastated Fremont County near the swollen Missouri River, said this week.

Nebraska Gov. Pete Ricketts called this the "most widespread disaster we have had in our state's history." Officials expect their initial farm damage estimates -- $400 million in damages to crops, and $400 million in lost livestock, will be exceeded, Nebraska Department of Agriculture spokeswoman Christin Kamm said.

In Iowa, after Gov. Kim Reynolds flew over flooded farms in a helicopter, she said she could see only the tops of grain bins sticking out of what looked like an ocean.
700 hogs drowned at just one farm near Omaha.

"Within 30 minutes, we had over 2 feet of water come through the front barn, and just swells were coming, and we barely made it out of here," leaving most of the animals behind, he told TV station WOWT.

An Iowa farmer, said Wednesday he knows of six facilities holding about 3,000 pigs each -- and no one was immediately able to reach the flooded buildings to see how the livestock fared.

"Nobody could plan for this," Scott Shehan, co-owner of Lusco Farms Rescue, said. "It's flooded in places it's never flooded before."

That's a phrase repeated all across America this year.

[On a personal note I and my pets were evacuated and kept away from home for 10 days after epic flooding of the Hatchie River this month. As one neighbor said, "We've been sitting on water since 3 days after Christmas, 2018! There won't be any gardens here this year."]

"In 2011, we thought we had the 500-year flood -- the Noah's Ark of all floods," Sheldon, who also is the Fremont County supervisor, said. "It took every dime of money our family had to put the land back into production at the level it was. Here, eight years later, we are right back to square one."

I saw one comment that made me stop and think about the insanity that seems to reign in the Federal planning here in America:
"If they'd stop building levees, maybe there wouldn't be so many "historic" floods. We have "historic" numbers of levees that only serve to make flooding worse by raising the river and preventing flood plains from doing their jobs. They KNOW this - and keep building them."

"THEY KNOW THIS ...AND KEEP BUILDING THEM."
WHY?
WHY don't they reverse that, since they DO know the devastation brought by it?

"The flooding this year could be worse than what we have seen in previous years ... even worse than the historic floods we saw in 1993 and 2011," said Mary Erickson, deputy director of the National Weather Service.
The only portion of the country expected to see below-average precipitation is the Pacific Northwestern states of Washington and Oregon.

IT ISN'T JUST FLOODED FIELDS OF FOOD CROPS THAT WILL IMPACT US IN THE LONG RUN.
An acre of U.S. corn yields about 7,110 pounds of corn for processing into 328 gallons of ethanol, BUT several railroad tracks and highways were damaged, affecting the shipment of ethanol and, in turn, potentially raising gas prices weeks before summer driving season.

"It is going to impact our pocketbooks. It is also going to impact our environment," said Ramanan Krishnamoorti, chief energy officer at the University of Houston.

Almost all U.S. gasoline is blended with 10 percent ethanol. Now, disruptions in the railway service are threatening a supply crunch."There's been about a 15 percent disruption."

Union Pacific and BNSF Railway did not mention when repairs to the tracks will be finished.

DOMINO EFFECT.

FOOD CROPS MUST BE POLLINATED TO GROW.
Pollination requirements of 107 globally traded fruit and vegetable crops (representing 40 percent of global plant-based food production) by Klein et al. (2007) shows that animal pollination improves production in 75 percent of the crops studied. Most cultivars of another 10 percent of the crops require animal pollination.
Fruits and vegetables, which add diversity to the human diet and provide essential nutrients, tend to depend heavily on pollinators (Prescott-Allen and Prescott-Allen, 1990; Roubik, 1995). Seven of the nine crops that provide at least 50 percent of the vitamin C available to the human diet globally depend partially or entirely on animal pollination for the production of fruits or seeds.

Moreover, several oilseed crops depend on pollinators, and bee pollination is required to produce the seeds of major forage and hay crops, such as alfalfa and clover, that feed the animals that supply meat and dairy products.

In the United States, about 130 agricultural crops benefit from insect pollination (McGregor 1976.

Decreases in seeds, nuts, and fruits [after extensive, long-term floods] could be damaging to many species of insects, birds, and mammals, even if plant populations do not exhibit declines. More severe effects are expected if populations of mature plants become scarcer.

A now well-known estimate proposed that about one-third of our food, including animal products, derives from animal-pollinated, mostly bee-pollinated, crops (McGregor, 1976). This estimate has recently been confirmed by Klein et al. (2007)
Currently, stocks of honey-bees are experiencing many diseases, and populations of wild pollinator species are declining in several regions (Kluser and Peduzzi, 2007), raising concern that a potential global 'pollination crisis' threatens our food supply (Withgott, 1999; Kremen and Ricketts, 2000; Richards, 2001; Westerkamp and Gottsberger, 2002; Steffan-Dewenter et al., 2005). In North America, the number of managed honey-bee hives has declined almost 60 % since the mid 1940s.

BEES...GOING, GOING...

WHAT IF ONE-THIRD OF OUR FOOD WAS NO LONGER AVAILABLE, WOULD NOT BE AVAILABLE EVER AGAIN?

About one in every three mouthfuls of food you eat relies on honeybee pollination of food crops.


ASIDE FROM THE RECENT SITUATION IN VENEZUELA WITH THE FOOD SUPPLY BEING DISRUPTED AND PEOPLE FACING SEVERE HUNGER, A STRANGE THING HAPPENED IN GREAT BRITAIN IN 2000 THAT SHOWS HOW QUICKLY WE COULD GO FROM "FEAST TO FAMINE".

"One morning in August in the year 2000, a gathering happened of very worried men from several very powerful companies at the heart of government, in one of the world's richest countries.
Around Britain, farmers and truck drivers angered by the rising cost of keeping their vehicles running were blockading fuel depots across the country. They had found, and were paralyzing, the critical infrastructure of a Western nation more effectively than any terrorist organisation.

At the height of the protests, hunkered down in private, serious meetings, Britain's
biggest supermarkets, who account for around 80 per cent of our food supply, were telling Ministers and civil servants that the shelves could be bare within three days.

We were, in effect, nine meals from anarchy."

Since 2006, in the USA, beekeepers have been reporting losses of between three- and nine-out-of-ten of their hives.

Even if it was physically possible, and it is NOT, the cost of replacing bee pollination in the USA alone has been estimated at upward of $92 billion.

In 2009, the British Beekeepers Association warned that honeybees could disappear from Britain by 2018.

In London, about 4,000 hives - two-thirds of the bee colonies in the capital - were estimated to have died over last winter. Of the eight colonies inspected so far this year, all have been wiped out.

The losses are being blamed on Colony Collapse Disorder.

At a showdown meeting, between Lord Rooker, the farming minister, and the BBKA last month, the minister refused to increase the spending, even though in November, he appeared to admit the severity of the threat, when he said: "If we do not do anything, the chances are that in 10 years' time we will not have any honeybees."

"The downside of globalisation and complex economic interdependence is a world in which shocks, stresses and crashes get transmitted ever faster and amplified with often devastating consequences. Decades of unsustainable finance and consumption have left a world littered with economic landmines and confusion about how to clear them up - from the rocky ground of U.S. sub-prime mortages, to farms which once grew food for people to eat and now produce biofuels to keep roads clogged with cars."

"How can we disarm greed and envy?
Perhaps by being much less greedy and envious ourselves?
By resisting the temptation of letting our luxuries become needs;
and perhaps by even scrutinizing our needs to see if they cannot be simplified and reduced.

Nature always knows where and when to stop. Greater even than the mystery of natural growth is the mystery of the natural cessation of growth. There is measure in all natural things – in their size, speed, or violence. As a result, the system of nature, of which man is a part, tends to be self-balancing, self-adjusting, self-cleansing.

Insight does not come easily to people who have allowed themselves to become alienated from real, productive work and from the self-balancing system of nature, which never fails to recognize measure and limitation.
Our modern tendency is to see and become conscious of only the visible and to forget the invisible things that are making the visible possible and keep it going.

[DISCLAIMER!
THE TEA ROOM IS NOT INTO HYSTERIA ABOUT 'GLOBAL WARMING', THOUGH I MIGHT BE LABELED A "TREE-HUGGING HIPPIE" BY THOSE WHO DON'T GIVE A DAMN ABOUT THE ENVIRONMENT AND SENSIBLE ECOLOGY.
BEAR IN MIND THAT I WAS REARED (MOSTLY) BY MY 'NATIVE AMERICAN' GRANDPARENTS AND COUNSELED ALL MY LIFE BY THE WISDOM AND CLOSENESS TO 'NATURE' OF AN INDIGENOUS PEOPLE.
I SIMPLY SAW AND STILL SEE FOR MYSELF THAT IF YOU SCREW AROUND WITH 'MOTHER NATURE', SHE WILL SCREW YOU RIGHT BACK IN THE LONG RUN.
RESPECT HER, LEARN HER LESSONS, TAKE FROM HER ONLY WHAT YOU NEED, NEED LESS, AND YOU WILL BE REWARDED BY HER.]
SMALL IS BEAUTIFUL: ECONOMICS AS IF PEOPLE MATTERED

Social cohesion, cooperation, mutual respect, and above all, self-respect, courage in the face of adversity, and the ability to bear hardship—all this and much else disintegrates and disappears when these "psychological structures" are gravely damaged. A man is destroyed by the inner conviction of uselessness. No amount of economic growth can compensate for such losses—though this may be an idle reflection, since economic growth is normally inhibited by them.

The common criterion of success, namely the growth of GNP, is utterly misleading and, in fact, must of necessity lead to phenomena which can only be described as neo-colonialism.

The best aid to give is intellectual aid, a gift of useful knowledge. A gift of knowledge is infinitely preferable to a gift of material things.

Before we can talk about giving aid, we must have something to give. We do not have thousands of poverty-stricken villages in our country; so what do we know about effective methods of self-help in such circumstances?

Yet it remains an unalterable truth that, just as a sound mind depends on a sound body, so the health of the cities depends on the health of the rural areas. The cities, with all their wealth, are merely secondary producers, while primary production, the precondition of all economic life, takes place in the countryside.

There is no answer to the evils of mass unemployment and mass migration into cities, unless the whole level of rural life can be raised, and this requires the development of an agro-industrial culture, so that each district, each community, can offer a colorful variety of occupations to its members.

Economic development is something much wider and deeper than economics, let alone econometrics. Its roots lie outside the economic sphere, in education, organization, discipline and, beyond that, in political independence and a national consciousness of self-reliance.

In the excitement over the unfolding of his scientific and technical powers, modern man has built a system of production that ravishes nature and a type of society that mutilates man.

There has never been a time, in any society in any part of the world, without its sages and teachers to challenge materialism and plead for a different order of priorities…Today, however, this message reaches us not solely from the sages and saints but from the actual course of physical events. It speaks to us in the language of terrorism, genocide, breakdown, pollution, exhaustion.

Needless to say, wealth, education, research and many other things are needed for any civilization, but what is most needed today is a revision of the ends which these means are meant to serve.

It is of little use trying to suppress terrorism if the production of deadly devices continues to be deemed a legitimate employment of man's creative powers. Nor can the fight against pollution be successful if the patterns of production and consumption continue to be of a scale, a complexity, and a degree of violence which, as is becoming more and more apparent, do not fit into the laws of the universe, to which man is just as much subject as the rest of creation.

Pollution must be brought under control and mankind's population and consumption of resources must be steered towards a permanent and sustainable equilibrium.

Everywhere people ask: "What can I actually do?"
The answer is as simple as it is disconcerting: we can, each of us, work to put our own inner house in order. The guidance we need for this work cannot be found in science or technology, the value of which utterly depends on the ends they serve; but it can still be found in the traditional wisdom of mankind.

BOTTOM LINE?

IT IS IMPOSSIBLE TO CORRECTLY PREDICT WHAT EITHER 'MOTHER NATURE' OR MANKIND WILL DO.
THINGS CHANGE IN THE BLINK OF AN EYE.

IF YOU'VE NEVER BEEN CAUGHT IN A FLASH FLOOD, A WILDFIRE, A TORNADO, AN EARTHQUAKE, A TERRORIST ATTACK, ETC, YOU
JUST CANNOT UNDERSTAND HOW QUICKLY AND HOW COMPLETELY ONE CAN GO FROM ALL IS WELL TO ALL HELL BREAKS LOOSE.



SURE, SURE, EVERYTHING CAN GO BACK TO 'NORMAL' JUST AS QUICKLY, BUT I ASK YOU TO ALWAYS BE PREPARED FOR WORSE CASE SCENARIO, TO QUESTION HOW AND IF YOU AND THOSE YOU LOVE WOULD FARE IF THE CATASTROPHIC HAPPENS.
I ASK YOU TO NEVER RELY ON MAN'S PREDICTIONS BUT TO MAKE VALID,
WORKABLE PLANS "JUST IN CASE"

.

THERE ARE FAR TOO MANY THINGS THAT CAN BRING US SUDDENLY TO "9 MEALS TO ANARCHY".

WITH THE CURRENT CIVIL UPHEAVAL IN OUR SOCIETY ALONE, ONE WOULD HAVE TO BE INSANE TO NOT PLAN AHEAD, TO REFUSE TO ASK, "WHAT IF TOMORROW EVERYTHING I KNOW COMES CRASHING DOWN?"

EXPECT THE WORST, HOPE FOR THE BEST, BUT PLAN LIKE THERE MIGHT NOT BE ANYTHING LEFT OF SOCIETY AS WE KNOW IT WITHIN THE NEXT 24 HOURS.




//WW