ABOVE IMAGE: THE RADIOACTIVE EFFLUENT COMING OUT OF ALL NUCLEAR FACILITIES CYCLES THROUGH THE LIVING WEB OF LIFE VIA BIOACCUMULATION AND BIOCONCENTRATION UP THE FOOD CHAIN.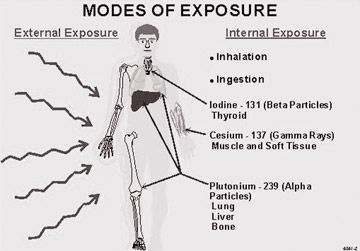 ABOVE IMAGE: World Health Organization:

Prolonged exposure to low levels of radiation increases the risk of cancer.

21 October 2015

Low doses of ionizing radiation increase risk of death from solid cancers.

"When you do the meta-analysis, you do see significant negative effects."

"It also provides evidence that there is no threshold below which there are no effects of radiation," he added. "A theory that has been batted around a lot over the last couple of decades is the idea that is there a threshold of exposure below which there are no negative consequences. These data provide fairly strong evidence that there is no threshold — radiation effects are measurable as far down as you can go, given the statistical power you have at hand."

As to storage of 'HIGH-LEVEL' nuclear waste, safe storage for hundreds of thousands of years is a hopeless situation.

"The spent nuclear fuel from uranium-235 and plutonium-239 nuclear fission contains a wide variety of CARCINOGENIC radionuclide isotopes such as strontium-90, iodine-131 and caesium-137, and includes some of the most long-lived transuranic elements such as americium-241 and isotopes of plutonium."

[SOURCE: Department of Energy Carlsbad Field Office (Jun 2002).

"Chapter 1, "Introduction and Statement of Purpose and Need""

(PDF). Final Environmental Assessment for Actinide Chemistry and Repository Science Laboratory. DOE/EA-1404. US Department of Energy]

The most long-lived radioactive wastes, including spent nuclear fuel, are

usually

managed to be contained and isolated from the environment for a long period of time. Spent nuclear fuel storage is mostly a problem in the United States, following a 1977 President

Jimmy Carter

prohibition to nuclear fuel recycling. France, Great Britain and Japan, are some of the countries which rejected the repository solution.

Disposal of these wastes in engineered facilities, or repositories, located deep underground in suitable geologic formations is seen as the reference solution

The United States 9/11 Commission has said that nuclear power plants were potential targets originally considered for the September 11, 2001 attacks. If terrorist groups could sufficiently damage safety systems to cause a core meltdown at a nuclear power plant, and/or sufficiently damage spent fuel pools, such an attack could lead to widespread radioactive contamination.

SAFER, BUT NOT SAFE ENOUGH!

One of the challenges facing the supporters of these storage efforts is to demonstrate confidently that a repository will contain wastes for so long that any releases that might take place in the future will pose no significant health or environmental risk.

Governments and industries haven't grappled seriously enough with this problem — all nuclear power waste is only in temporary storage. High-level nuclear waste from the uranium fuel cycle, i.e. the existing fuel cycle for commercial nuclear power reactors, has to be stored and managed for hundreds of thousands of years.

No human institution has lasted for more than about 2000 years. SAFE STORAGE SIMPLY CANNOT BE DONE, ESPECIALLY NOW THAT WE MUST DEAL WITH 'INTERNATIONAL TERRORISTS' AND CYBER-TERRORISTS GAINING ACCESS TO SUCH FACILITIES.


What is erroneously called "low-level waste" is dealt with quite nonchalantly through chemical and volume control system (CVCS). This includes gas, liquid, and solid waste produced through the process of purifying the water through evaporation. Liquid waste is reprocessed continuously, and gas waste is filtered, compressed, stored to allow decay, diluted, and then DISCHARGED BACK INTO THE ENVIRONMENT.

The rate at which this is allowed is regulated and studies must prove that such discharge does not violate dose limits to a member of the public.

Almost never mentioned by news media, m

ost

nuclear plants

currently operating in the US were originally designed for a life of about 30–40 years and have been shown to start crumbling at about 32 years. But the government keeps allowing them to operate, knowing they cannot do so at maximum safety.




IF SUCH A THING IS TRULY SAFE, WHY AREN'T NUCLEAR POWER PLANTS LOCATED DOWNTOWN IN MAJOR CITIES AND WHY DON'T WE FIND ANY GOVERNMENT OR REGULATORY AGENCY TOP BRASS LIVING NEXT DOOR TO SUCH NUKE PLANTS?



Atmospheric nuclear testing gave us "background radiation" on a grand scale.

Frequent above-ground nuclear explosions between the 1940s and 1960s scattered a substantial amount of radioactive contamination. Some of this contamination is local, rendering the immediate surroundings highly radioactive, while some of it is carried longer distances as nuclear fallout; some of this material is dispersed worldwide. The increase in background radiation due to these tests peaked in 1963.

Coal plants emit radiation in the form of radioactive

fly ash

which is inhaled and ingested by neighbors, and incorporated into FOOD crops.

This is a small part of what mainstream media didn't and still won't tell you about good old nuclear energy.


Nuclear power plants are not clean.

Nuclear energy is not cheap, but is at least double the price of wind and solar PV energy.

Nuclear plants are not sealed off.

All nuclear facilities, uranium mines, thorium mines, reprocessing facilities, purifying facilities, recycling facilities and nuclear waste storage facilities release radioactive emissions just like a coal plant or car does. But nuclear power plant emissions are radioactive, i.e. they emit nuclear contamination.

75% to 100% of U.S. nuclear plants are leaking toxic tritium radiation into our drinking water supply and polluting the air above them with the 'venting' of other radionuclides EVERY day.


Each commercial nuclear power plant is required to submit only two annual reports, which detail (1) the radioactive effluents discharged from the site, and (2) the effects (if any) on the environment.

THE NUCLEAR REGULATORY COMMISSION (NRC) ALLOWS THESE NUKE SITES TO SELF-REPORT/SELF-MONITOR! THEN THE NRC MERELY SLAPS A FINE ON THE OFFENDERS AND ALLOWS THEM TO CONTINUE VIOLATING THE RULES!

In addition to these two annual reports, in 2007 each power plant voluntarily submitted answers to a questionnaire related to the voluntary initiative on groundwater protection, initiated by the commercial nuclear power industry.

To see these basically worthless reports and questionnaires for a particular nuclear power plant, select the plant name from the table found <

HERE

>.

Radioactive Effluent Summary Report by Calendar Year:

|

2014

|

2013

|

2012

|

2011

|

2010

|

2009

|

2008

|

2007

|

NOTICE THAT NO DATA IS AVAILABLE FOR HANFORD NUCLEAR SITE NOR FOR WIPP IN MEW MEXICO.




YOU ALSO NEED TO SEE THE 'RADIATION SAFETY CHART' FOUND <HERE>.


THE EPA CONDUCTING RADIATION MONITORING IS A SICK JOKE.


On their

poor excuse for an informative website

, the EPA "explains" missing data thusly:

"It will take time for the EPA to add exposure rate measurement to all locations. As part of normal RadNet maintenance, the EPA is adding exposure rate measurement capability to each monitor's gamma detection system when the currently installed gamma detection system requires repair. Monitors in the ten largest cities, Washington D.C. and a number of other sites already have exposure rate measurement added to their gamma detection system.

View the list of RadNet air monitors with exposure rate measurement capability.

For more information, visit

RadNet

."

TRY using their site at

https://www.epa.gov/radnet/near-real-time-and-laboratory-data-state#WA
Measuring Radioactivity
THINGS THE AVERAGE CITIZEN DOESN'T KNOW BUT SHOULD.

Ionizing radiation can be measured using units of electron volts, ergs, and joules. The electron-volt (abbreviated eV) is a unit of energy associated with moving electrons around.

Radiation doses are often calculated in the units of rad (short for radiation absorbeddose). One rad is 100 ergs/gram, in other words, 100 ergs of energy absorbed by one gram of a given body tissue. An erg is one-ten-millionth of a joule. One hundred rad equals one Joule/kilogram (J/kg), which also equals one Gray (Gy), the standard international unit for measuring radiation dose. Suppose time is involved? Then we are talking about dose rate (or dose per unit time). An example of the units for dose rate is millirad/hour. In everyday terms, a joule (and even more so, an erg) is a rather small amount of energy. But in terms of ionization potential of molecules or elements, a joule is a huge amount of energy. One joule of ionizing radiation can cause tens of thousands of trillions of ionizations.

The roentgen measures the amount of ionization in the air caused by radioactive decay of nuclei. In non-bony biological tissue, one roentgen is the equivalent of about 0.93 rad. In air, one roentgen equals 0.87 rad. Dials that show calibration in mR/hr are reading milliroentgen per hour.

Dose conversion factors (DCFs) are used to convert an amount of radioactivity (expressed in curies or becquerels) breathed or ingested by a person into a dose (expressed in rems and sieverts).




SEE CONVERSION CHART BELOW THIS BLOG ENTRY AT THE TRIPLE ASTERISK *** '

MEASURING RADIATION CONVERSION CHART'.




WHY SO MANY CONFUSING MEASUREMENTS?

The EPA, WHEN IT REPORTS, reports in "curies", adding to confusion of the general public, and of the supposed

140 monitors across the country, many are often listed as "down for maintenance" or are "no longer in service". MANY were taken offline immediately after the Fukushima meltdowns.
That is very odd, don't you think?
The Tearoom has reported many times on the failure of the EPA when it comes to monitoring, and the FDA for refusing to test American-grown food crops and food animals.
It's a growing web of deceit, allegedly, again, to "prevent panic".

BS! IT'S TO SAVE THE NUCLEAR ENERGY BOYS' BUTTS! SIEVERTS AND RADIATION SAFETY

Absorbed radiation is usually measured in

sieverts (Sv)

.

From a technical perspective, different forms of radiation affect cells in different ways so the sievert accounts for this relative biological effectiveness (RBE). There are also other ways of measuring radiation exposure (

rems, rads, and grays

).

That the media mixes up the various methods and makes things far more confusing than they need be is also just their way of "preventing panic", they've claimed.


The HXC-320 vehicle scanner inspects passenger cars and trucks at borders and checkpoints. The system utilizes a powerful X-ray generator for inspecting vehicles, but it is designed to limit passengers' radiation exposure. During an average scan, so we are told:
Passengers flying from New York to Los Angeles absorb 400 times more radiation
Living for a year in a brick building includes 700 times more radiation exposure
Patients getting a head CT scan absorb 20,000 times more radiation. WHAT ABOUT PEOPLE LIVING NEXT TO NUCLEAR POWER PLANTS, ESPECIALLY ONE THAT IS LEAKING LIKE FUKUSHIMA? As Hirose Takashi noted, March 22, 2011:

"All of the information media are at fault here I think. They are saying stupid things like, 'Why, we are exposed to radiation all the time in our daily life, we get radiation from outer space.'
But that's one millisievert per year. A year has 365 days, a day has 24 hours; multiply 365 by 24, you get 8760. Multiply the 400 millisieverts by that, you get 3,500,000 the normal dose. You call that safe? And what media have reported this? None. They compare it to a CT scan, which is over in an instant; that has nothing to do with it. The reason radioactivity can be measured is that radioactive material is escaping.
What is dangerous is when that material enters your body and irradiates it from inside. These industry-mouthpiece scholars come on TV and what do they say? They say as you move away the radiation is reduced in inverse ratio to the square of the distance.

I want to say the reverse.
Internal irradiation happens when radioactive material is ingested into the body.
What happens?
Say there is a nuclear particle one meter away from you. You breathe it in, it sticks inside your body; the distance between you and it is now at the micron level. One meter is 1000 millimeters, one micron is one thousandth of a millimeter. That's a thousand times a thousand: a thousand squared. That's the real meaning of "inverse ratio of the square of the distance."
Radiation exposure is increased by a factor of a trillion. Inhaling even the tiniest particle, that's the danger.

[Interviewer] So making comparisons with X-rays and CT scans has no meaning. Because you can breathe in radioactive material.

[Takashi] That's right. When it enters your body, there's no telling where it will go. The biggest danger is women, especially pregnant women, and little children. Now they're talking about iodine and cesium, but that's only part of it, they're not using the proper detection instruments. What they call monitoring means only measuring the amount of radiation in the air. Their instruments don't eat. What they measure has no connection with the amount of radioactive material. . . "

At the very least, it is important to note that each individual internal emitters behaves differently. They each accumulate in different places in the body, target different organs, mimic different vitamins and minerals, and are excreted differently (or not at all). Therefore, comparing radioactive cesium or iodine with naturally occurring radioactive substances – even those which can become internal emitters – is incorrect and misleading.

This is not to say that we're ALL going to get cancer, but some will."
Have you read any of the warnings such as those listed above or below in any MSM article? WHY DON'T ALL MSM MENTION THESE QUOTES? -- Physicians for Social Responsibility notes:

According to the National Academy of Sciences, there are no safe doses of radiation. Decades of research show clearly that any dose of radiation increases an individual's risk for the development of cancer.

"There is no safe level of radionuclide exposure, whether from food, water or other sources. Period," said Jeff Patterson, DO, immediate past president of Physicians for Social Responsibility.
"Exposure to radionuclides, such as iodine-131 and cesium-137, increases the incidence of cancer. For this reason, every effort must be taken to minimize the radionuclide content in food and water."

"Consuming food containing radionuclides is particularly dangerous. If an individual ingests or inhales a radioactive particle, it continues to irradiate the body as long as it remains radioactive and stays in the body,"said Alan H. Lockwood, MD, a member of the Board of Physicians for Social Responsibility.

Radiation can be concentrated many times in the food chain and any consumption adds to the cumulative risk of cancer and other diseases.


-- The National Council on Radiation Protection says, "… every increment of radiation exposure produces an incremental increase in the risk of cancer."

-- The Environmental Protection Agency says, "… any exposure to radiation poses some risk, i.e. there is no level below which we can say an exposure poses no risk."

-- The Department of Energy says about "low levels of radiation" that "… the major effect

IS

a very slight increase in cancer risk."

--The Nuclear Regulatory Commission says, "any amount of radiation may pose some risk for causing cancer ... any increase in dose, no matter how small, results in an incremental increase in risk."

--The National Academy of Sciences, in its "Biological Effects of Ionizing Radiation VII," says, "... it is unlikely that a threshold exists for the induction of cancers ...."

Long story short, one can no longer speak of a 'safe' dose level. But mainstream media just keeps lying about the danger so we don't panic.


UNACCEPTABLE!
Comparing Bananas with Nuclear Fallout is Ludicrous Science.

Lumping all types of radiation together is misleading and is comparing apples to oranges, or, in this case, bananas to radioactive fallout.

In contrast to potassium, cesium, one of the main types of radioactivity being spewed by the Japanese plant, has a much longer half life, and can easily contaminate food and water supplies.

As the New York Times

noted

:

"Over the long term, the big threat to human health is cesium-137, which has a half-life of 30 years.

At that rate of disintegration, John Emsley wrote in "Nature's Building Blocks" (Oxford, 2001), "it takes over 200 years to reduce it to 1 percent of its former level."

It is cesium-137 that still contaminates much of the land in Ukraine around the Chernobyl reactor. [AND FUKUSHIMA]

Cesium-137 mixes easily with water and is chemically similar to potassium. It thus mimics how potassium gets metabolized in the body and can enter through many foods, including milk.

What makes a banana radioactive is the potassium isotope K-40.
There are three potassium isotopes. K-39 (a stable isotope), the most abundant approximately 93% total; K-41 is next at almost 7% and is also a stable isotope.
The radioactive isotope, K-40 has a very low concentration of 0.0118%

and has a very long half-life of 1,260,000,000 years.

I assure you that I can sit and eat bananas all day, every day and not set off any alarms.

But EVERY time I have to go in for a PET scan to keep tabs on these malignacies, I am warned to

(1) Keep my distance from other people, especially children, and

(2) THAT I COULD SET OFF SENSITIVE ALARMS IN AIRPORTS, SUBWAY SYSTEMS AND ELSEWHERE.

Mainstream media never mentions that BIG difference between fallout radiation, the MANY various radioactive isotopes in fallout/leaks, and bananas.

The European Committee on Radiation Risk (ECRR) developed a different model of measuring radiation hazards for humans than the antiquated method news media continue to use. Such measurements determine internal absorption of ionizing radiation.

The European model correlates higher cancer rates with low-level doses of ionizing radiation 100 times over the ICRP's risk model. For instance, with a population of 30 million in Tokyo, the older ICRP model predicts a 100 deaths from cancer over the next 50 years with radiation levels at 100 to 500 nSv/hour. The low level ECRR model predicts 120,000 deaths under the same parameters. Birth defects, heart disease and other health risks are also calculated.

THE WORLD MAY NEVER KNOW EXACTLY HOW MUCH RADIATION FUKUSHIMA HAS PUMPED INTO THE ATMOSPHERE, INTO THE GROUND AND INTO THE OCEAN.
YOU SEE, THEY REPEATEDLY LIE ABOUT THAT AND GET BUSTED LYING, ONLY TO LIE AGAIN.

Published April 4th 2011, the

Herald Sun

Reports that Japan withheld radiation levels between the 12th of March until the 24th. The data was higher than previously reported over a more extended area of coverage than previously revealed. The public reasoning is that officials did not know how high the radiation levels were at the time, until much later.




Combined, exposure from Chernobyl and Fukushima is estimated at 648,000 person-Sieverts. Exposure from eating a banana is estimated at between

0.09-2.3 microSieverts

. Let's use a figure of 0.1 microSievert per banana. Thus, exposure from Chernobyl and Fukushima equates to 6,480,000,000,000 Banana Equivalent Doses... of ONLY radioactive potassium.

LUDICROUS comparison and very bad "science", but it calmed the panicky masses, right?


HIGHER THAN DAILY DANGER.
Do you know when nuclear power plants release 500 times more radiation than during normal operation?


When nuclear reactors are refueled, a 12-hour spike in radioactive emissions exposes local people to levels of radioactivity up to 500 times greater than during normal operation.

The spikes, according to some experts and medical doctors may explain infant leukemia increases near nuclear plants - but plant owners/operators provide no warnings and take no measures to reduce exposures.

Would you want to know if your dentist or physician was going to do an xray that used 500 times more radiation than a normal xray? Would you pass on that?

WE DON'T HAVE THAT CHOICE BECAUSE THE NRC AND BIG NUKE REFUSE TO ALLOW US TO MAKE SUCH CHOICES.

On 23rd August, 2014, 'The Ecologist' published very

clear evidence of increased cancers among children

living near nuclear power stations around the world, including the UK.

The story sparked much interest on social media sites, and perhaps more importantly, the article's

scientific basis

(published in the academic peer-reviewed scientific journal the Journal of Environmental Radioactivity) was downloaded over 500 times by scientists.

We've known about these spikes ever since the start of the nuclear era back in 1956, but governments and nuclear power operators have been extremely unwilling to divulge this data.

Only annual emissions are made public and these effectively disguise the spikes. No data is ever given on daily or hourly emissions.

Is this important?

Yes: these spikes could help answer a question which has puzzled the public and radiation protection agencies for decades - the reason for the large increases in childhood leukemias near nuclear power plants (NPPs) all over the world.

Governments have insisted that these increased leukemias could not be caused by radioactive emissions from NPPs as their estimated radiation doses were 1,000 times too low. But such denials don't take the time patterns of radioactive emissions into account, and so are riddled with uncertainties.

This situation lasted until September 2011, when the International Physicians for the Prevention of Nuclear War (IPPNW) in Germany released a press notice. For the very first time anywhere in the world,

half-hourly data on releases

of radioactive noble gases from an NPP were made public.

This is shown in the chart

for 7 days from Gundremmingen NPP -in Bavaria, Southern Germany.

The chart showed

that the normal emission concentration (of noble gases) during the rest of the year was about 3 kBq/m³ (see squiggly line along the bottom on September 19 and 20) , but during refuelling on September 22 and 23 this sharply increased to ~700 kBq/m³ with a peak of 1,470 kBq/m³: in other words, a spike.

The emissions level didn't return to "mormal" (NPPs emit all the time) for 13 days.

Primarily, the spike includes radioactive noble gases and hydrogen-3 (tritium) and smaller amounts of carbon-14 and iodine-131.

This data shows that NPPs emit much larger amounts of radioactive noble gases during refuelling than during normal operation in the rest of the year.

'Especially at risk are unborn children'

IPPNW Germany warned of the probable health impacts of such large emission spikes. Dr Reinhold Thiel, a member of the German IPPNW Board said:

"Especially at risk are unborn children. When reactors are open and releasing gases, pregnant women can incorporate much higher concentrations of radionuclides than at other times, mainly via respiration. Radioactive isotopes inhaled by the mother can reach the unborn child via blood with the result that the embryo/ fetus is contaminated by radioactive isotopes.

"This contamination could affect blood-forming cells in the bone marrow resulting later in leukemia. This provides a plausible explanation for the findings of the KiKK study published in 2008 that under-fives living near NPPs are considerably more at risk of cancer, particularly leukemia, than children living further away."

In the light of the German data, it is recommended half-hourly emissions data from all reactors should be disclosed and that the issue of childhood cancer increases near NPPs be re-examined by the Government.

When you get an x-ray, an external emitter is turned on for an instant, and then switched back off.

But internal emitters steadily and continuously emit radiation for as long as the particle remains radioactive, or until the person dies – whichever occurs first. As such, they are much more dangerous.

As the head of a Tokyo-area medical clinic – Dr. Junro Fuse, Internist and head of Kosugi Medical Clinic –

said

:

Risk from internal exposure is 200-600 times greater than risk from external exposure.


Tritium, which is a radioactive form of hydrogen, has leaked from at least 48 of 65 sites

, according to U.S. Nuclear Regulatory Commission records reviewed as part of the AP's yearlong examination of safety issues at aging nuclear power plants. Leaks from at least 37 of those facilities contained concentrations exceeding the federal drinking water standard -- sometimes at hundreds of times the limit.

Previously, the AP reported that regulators and industry

have weakened safety standards for decades

to keep the nation's commercial nuclear reactors operating within the rules. While NRC officials and plant operators argue that safety margins can be eased without peril, critics say these accommodations are inching the reactors closer to an accident.

SEE:

U.S. nuke regulators weaken safety rules WHAT HAPPENS TO THOSE WHO DRINK THIS TAINTED WATER EVERY DAY?


WHY ISN'T THE PUBLIC WARNED?
Because the public would never agree to being radiated in such a way, over and over and over again.

People who rationally discuss the hazards from nuclear accidents are dismissed as "anti-nuclear". However, that is like saying that people who are against pilots drinking tequila during flights are anti-flying.

As Bloomberg

points out

, the operator of the Fukushima reactors faked safety tests and results and cut every corner in the books for decades, just as BP cut every safety corner prior to the Gulf oil spill. Moreover, the Fukushima reactors were

not designed

to withstand an earthquake or a tsunami, and their peculiar design makes the spent fuel rods an even greater danger than the reactors themselves.


BACKGROUND RADIATION
Most "Background Radiation" Didn't Exist Before Nuclear Weapons Testing and Nuclear Reactors.


There was exactly

zero background radioactive cesium or iodine

before above-ground nuclear testing and nuclear accidents started.

Caesium-137 is unique in that it is totally anthropogenic.

Unlike most other radioisotopes, caesium-137 is not produced from its non-radioactive isotope, but from uranium. It did not occur in nature before nuclear weapons testing began. By observing the characteristic gamma rays emitted by this isotope, it is possible to determine whether the contents of a given sealed container were made before or after the advent of atomic bomb explosions. This procedure has been used by researchers to check the authenticity of certain rare wines, most notably the purported "Jefferson bottles".

As the EPA notes:

Cesium-133 is the only naturally occurring isotope and is non-radioactive; all other isotopes, including cesium-137, are produced by human activity.

Similarly, iodine-131 is not a naturally occurring isotope. As the Encyclopedia Britannica

notes

:

The only naturally occurring isotope of iodine is stable iodine-127. An exceptionally useful radioactive isotope is iodine-131…

Fukushima has spewed much more radioactive

cesium

and

iodine

than Chernobyl. The amount of radioactive cesium released by Fukushima was some

20-30 times higher

than initially admitted. Japanese experts say that Fukushima is currently releasing up to

93 billion becquerels of radioactive cesium

into the ocean each day. And the cesium levels hitting the west coast of North America will keep

increasing for several years

.

Fukushima is still spewing radiation into the environment, and the amount of radioactive fuel at Fukushima

dwarfs Chernobyl

.

The additional radioactivity in the biosphere caused by human activity due to the releases of man-made radioactivity and of Naturally Occurring Radioactive Materials (NORM) can be divided into several classes.

- Normal licensed releases which occur during the regular operation of a plant or process handling man-made radioactive materials.

For instance the release of 99Tc from a

nuclear medicine

department of a hospital which occurs when a person given a Tc imaging agent expels the agent.

-Releases of man-made radioactive materials which occur during an industrial or research accident.

For instance the

Chernobyl accident

.

- Releases which occur as a result of military activity.

For example, a nuclear weapons test.

- Releases which occur as a result of a

crime

.

For example, the

Goiânia accident

where thieves, unaware of its radioactive content, stole some medical equipment and as a result a number of people were exposed to radiation.

- Releases of naturally occurring radioactive materials (NORM) as a result of mining etc.

[WHAT IS "NORMAL" ABOUT MINING? ONLY HUMANS MINE FOR RADIOACTIVE MATERIALS.]

For example, the release of the trace quantities of uranium and thorium in coal, when it is burned in power stations.

-- 2,000 PLUS NUCLEAR TESTS RELEASED MASSIVE AMOUNTS OF RADIOACTIVE HEAVY METAL POISONS ALL AROUND THE WORLD, EVEN UNDERGROUND NUCLEAR TESTS VENTED POISONS INTO THE AIR AND GROUND.

-- EVERY YEAR, A NUCLEAR PLANT THAT IS RUNNING IS RELEASING THE EQUIVALENT OF 1000 HIROSHIMA NUCLEAR BOMBS WORTH OF RADIATION DURING JUST THAT YEAR OF NORMAL OPERATION.

What this means is that everyday, each nuclear power plant that is running, makes the equivalent of 3 nuclear bombs of radiation.

Put that in your banana and smoke it.


SIGNIFICANT BACKGROUND RADIATION IS PRODUCED BY HUMANS AND RISES WITH EACH 'ACCIDENT', EACH NUCLEAR TEST, EACH MEDICAL RADIATION INCIDENT.

Geoff Meggitt, a retired health physicist, and former editor of the Journal of Radiological Protection worked for the United Kingdom Atomic Energy Authority and its later commercial offshoots for 25 years. He says there's an enormous variation in the risks associated with swallowing the same amount of different radioactive materials—and even some difference between the same dose, of the same material, but in different chemical forms.

It all depends on two factors:

1) The physical characteristics of the radioactivity—i.e, What's its half-life? Is the radiation emitted alpha, beta or gamma?

2) The way the the radioactivity travels around and is taken up by the body—i.e., How much is absorbed by the blood stream? What tissues does this specific isotope tend to accumulate in?




One other thing left out of media 'reports' on radiation from nuke plants is that when a reactor is vented DAILY to prevent pressure related containment failure (aka an explosion),

there is no filter applied

.

If they are venting 2 times in a day, the population downwind is getting more heavily dosed and will every time they have to do it.

THIS IS CUMULATIVE...IT ADDS UP EACH DAY.


DON'T WORRY, BE HAPPY?

Brian Moench, MD,

writes

:

Administration spokespeople continuously claim "no threat" from the radiation reaching the US from Japan, just as they did with oil hemorrhaging into the Gulf. Perhaps we should all whistle "Don't worry, be happy" in unison. A thorough review of the science, however, begs a second opinion.That the radiation is being released 5,000 miles away isn't as comforting as it seems.... Every day, the jet stream carries pollution from Asian smoke stacks and dust from the Gobi Desert to our West Coast, contributing 10 to 60 percent of the total pollution breathed by Californians, depending on the time of year. Mercury is probably the second most toxic substance known after plutonium. Half the mercury in the atmosphere over the entire US originates in China. It, too, is 5,000 miles away. A week after a nuclear weapons test in China, iodine 131 could be detected in the thyroid glands of deer in Colorado, although it could not be detected in the air or in nearby vegetation.

The idea that a threshold exists or there is a safe level of radiation for human exposure began unraveling in the 1950s when research showed one pelvic x-ray in a pregnant woman could double the rate of childhood leukemia in an exposed baby. Furthermore, the risk was ten times higher if it occurred in the first three months of pregnancy than near the end. This became the stepping-stone to the understanding that the timing of exposure was even more critical than the dose. The earlier in embryonic development it occurred, the greater the risk.

A new medical concept has emerged, increasingly supported by the latest research, called "fetal origins of disease," that centers on the evidence that a multitude of chronic diseases, including cancer, often have their origins in the first few weeks after conception by environmental insults disturbing normal embryonic development. It is now established medical advice that pregnant women should avoid any exposure to x-rays, medicines or chemicals when not absolutely necessary, no matter how small the dose, especially in the first three months.

Many epidemiologic studies show that extremely low doses of radiation increase the incidence of childhood cancers, low birth-weight babies, premature births, infant mortality, birth defects and even diminished intelligence.

Just two abdominal x-rays delivered to a male can slightly increase the chance of his future children developing leukemia.

By damaging proteins anywhere in a living cell, radiation can accelerate the aging process and diminish the function of any organ. Cells can repair themselves, but the rapidly growing cells in a fetus may divide before repair can occur, negating the body's defense mechanism and replicating the damage.

"Epigenetics" is a term integral to fetal origins of disease, referring to chemical attachments to genes that turn them on or off inappropriately and have impacts functionally similar to broken genetic bonds. Epigenetic changes can be caused by unimaginably small doses - parts per trillion - be it chemicals, air pollution, cigarette smoke or radiation. Furthermore, these epigenetic changes can occur within minutes after exposure and may be passed on to subsequent generations.

Common, low-dose dental x-rays more than double the rate of thyroid cancer. Those exposed to repeated dental x-rays have an even higher risk of thyroid cancer.

Radiation from CT coronary scans is considered low, but, statistically, it causes cancer in one of every 270 40-year-old women who receive the scan.
Twenty year olds will have double that rate.

Annually, 29,000 cancers are caused by the 70 million CT scans done in the US."
WE SEE THIS VERY THING HAPPENING TO OFFSPRING OF THOSE WHO WERE EXPOSED TO DEPLETED URANIUM MUNITIONS WHILE SERVING IN THE MILITARY.

WE ALSO SEE IT IN THE OFFSPRING OF THOSE IN IRAQ AND ELSEWHERE IN THE MIDDLE EAST WHERE DEPLETED URANIUM BOMBS AND SHELLING WERE USED. Cumulative and Synergistic Damage

A military briefing written by the U.S. Army for commanders in Iraq

states

:

Hazards from low level radiation are long-term, not acute effects… Every exposure increases risk of cancer.

(Military briefings for commanders often contain less propaganda than literature aimed at civilians, as the commanders have to know the basic facts to be able to assess risk to their soldiers.)

The briefing states that doses are cumulative: the

more times someone is exposed, the greater the potential damage

.

In addition, exposure to different radioactive particles may increase the damage. Specifically, the International Commission on Radiological Protection

notes

:

It has been shown that in some cases a synergistic effect results when several organs of the body are irradiated simultaneously.

("Synergistic" means that the whole is greater than the sum of the parts.)

Because different radionuclides accumulate in different parts of the body – e.g. cesium in the

muscles

,

kidneys, heart and liver

,

iodine in the thyroid, and strontium in the bones

– the exposure to many types of radiation may be more dangerous than exposure just to one or two types.




One problem in the radiation field is that little of the data on hand addresses the problem of protracted exposure. Most of the health data used to estimate the health effects of radiation exposure comes from survivors of the Hiroshima and Nagasaki bombings of 1945. That was mostly a one-time exposure.

Scientists who say that this data leads to the underestimation of radiation risks cite another problem: it does not include some people who died from radiation exposure

immediately

after the bombings.




The United Nations Scientific Committee on the Effects of Atomic Radiation. Sources and effects of ionizing radiation, UNSCEAR 2000 Report to the United Nations General Assembly, should have better-informed AEarth's people of the hazards of nuclear ANYTHING, but it wasn't published in mainstream media.

I suggest a read on the following:


"UNSCEAR 2008 REPORT Vol.II" Annex C

- "Radiation exposures in accidents" (49 pages)

Annex E

- "Effects of ionizing radiation on non-human biota" (97 pages)

REMEMBER... Ionizing Radiation

is that part of the electromagnetic radiation spectrum with sufficient energy to remove an electron from an atom or molecule. Examples are alpha particles, beta particles, and gamma rays.

The Bottom Line

Even though the nuclear industry and government have been

covering up the dangers of radiation ever since nuclear weapons were invented

, there is overwhelming scientific evidence that

even low levels of radiation

can damage our health.

Potential containment and plant improvements in the following six areas were evaluated

to determine potential benefits in terms of reducing the core-melt frequency, containment failure probability, and offsite consequences: (1) hydrogen control; (2) alternate water supply for reactor vessel injection and containment drywell sprays; (3) containment pressure relief capability (venting); (4) enhanced RPV depressurization system reliability; (5) core debris controls; and (6) emergency procedures and training.

[SOURCES: Letter to All Licensees Holding Operating Licenses and Construction Permits for Nuclear Power Reactor Facilities from U.S. Nuclear Regulatory Commission, "Individual Plant Examination for Severe Accident Vulnerabilities—10 CFR § 50.54(f),

(Generic Letter No. 88-20)," November 23, 1988 [

ML031150465

], (Supplement 1) August 29, 1989 [8908300001], (Supplement 2) April 4, 1990 [

ML031200551

], (Supplement 3) July 6, 1990 [

ML031210418

], (Supplement 4) June 28, 1991 [

ML031150485

], (Supplement 5) September 8, 1995.]

THE NRC AND NUCLEAR ENERGY COMPANIES MAKE SURE THESE "TOO EXPENSIVE" FIXES ARE NOT IMPLEMENTED, OWNERS GOING SO FAR AS TO FIGHT AGAINST THEM IN COURTS. BETTER THEIR PROFITS THAN YOUR SAFETY, YOU SEE.

FUKUSHIMA WON'T BE ANYWHERE NEAR STOPPABLE FOR AT LEAST 40 TO 100 YEARS, ACCORDING TO THE ABE GOVERNMENT AND TEPCO.

RADIATION LEVELS WILL RISE AND WE'LL LIKELY SEE OTHER 'ACCIDENTS' DURING THAT TIME.

GOOD LUCK, PEOPLE OF EARTH, BUT LUCK WILL NEVER STOP DEATH BY NUCLEAR POWER PLANTS. ONLY YOU CITIZENS OF THE PLANET CAN ACCOMPLISH THAT...IF YOU TRULY WANT TO.

PLEASE, DO WANT TO.

_____________________


OTHER SOURCES NOT CITED ABOVE AND FURTHER READING:[PLEASE, IF YOU FIND BROKEN LINKS, LEAVE A COMMENT SO I CAN CORRECT THAT.]

*** MEASURING RADIATION CONVERSION CHART:

Some units used in measuring ionizing radiation and radiation dose Unit Description Equivalent:

--Rem (roentgen equivalent man) A unit of equivalent absorbed dose of radiation which takes into account the relative biological effectiveness of different forms of ionizing radiation, or the varying ways in which they transfer their energy to human tissue. The dose in rem equals the dose in rad multiplied by the quality factor (Q). For beta and gamma radiation, the quality factor is taken as one, that is, rem equals rad. For alpha radiation, the quality factor is taken as 20, that is, rems equal 20 times rads. Rem is essentially a measure of biological damage. For neutrons, Q is typically taken as 10. rem = rad x Q.

--Sievert (Sv) A unit of equivalent absorbed dose equal to 100 rem. 1 Sv = 100 rem

Sv = Gy x Q.

--Rad (radiation absorbed dose) A unit of absorbed dose of radiation. Rad is a measure of the amount of energy deposited in tissue. 1 rad = 100 erg/gram.

--Gray (Gy) A unit of absorbed radiation dose equal to 100 rad. Gray is a measure of deposition of energy in tissue. 1 Gy = 100 rad.

--Curie (Ci) The traditional unit of radioactivity, equal to the radioactivity of one gram of pure radium-226. 1 Ci = 37 billion dps = 37 billion Bq.

--Becquerels (Bq) The standard international unit of radioactivity equal to one disintegration per second. 1 Bq = 27 pCi.

--Disintegrations per second (dps) The number of subatomic particles (e.g. alpha particles) or photons (gamma rays) released from the nucleus of a given atom over one second. One dps = 60 dpm (disintegrations per minute). 1 dps = 1 Bq.

Sources:

Nuclear Wastelands

, Makhijani et al., eds., Cambridge: MIT Press, 1995;

https://www.nrc.gov/sr0933/Section%203.%20New%20Generic%20Issues/157r1.html

-- Military studies and reports:

- ACE Directive 80-63, ACE Policy for Defensive Measures against Low Level Radiological Hazards during Military Operations, 2 AUG 96

- AR 11-9, The Army Radiation Program, 28 MAY 99

- FM 4-02.283, Treatment of Nuclear and Radiological Casualties, 20 DEC 01

JP 3-11, Joint Doctrine for Operations in NBC Environments, 11 JUL 2000

- NATO STANAG 2473, Command Guidance on Low Level Radiation Exposure in Military Operations, 3 MAY 2000

- USACHPPM TG 244, The NBC Battle Book, AUG 2002




-- See ALSO

this

,

this, this

and

this

.



--

The New York Times' Matthew Wald

reported

in 2012:

The Bulletin of the Atomic Scientists

May-June issue

carries seven articles and an editorial on the subject of low-dose radiation, a problem that has thus far defied scientific consensus but has assumed renewed importance since the meltdown of the Fukushima Daiichi reactors in Japan in March 2011.




--

Many studies have shown that repeated exposures to low levels of ionizing radiation from CT scans and x-rays can cause cancer. See

this

,

this

,

this

.

this

,

this

,

this

,

this

,

this

,

this

and

this

.

--

https://allthingsnuclear.org/dlochbaum/containment-venting-is-cooling-but-needs-filters


--

Palisades Nuclear Plant Is Venting Radioactive Steam

26 Sep 2011 Entergy's Palisades nuclear plant near South Haven on Lake Michigan is venting radioactive steam into the environment as part of an unplanned shutdown triggered by an electrical accident. This shutdown, which began Sunday evening, came just five days after the plant restarted from a shutdown that was caused by a

leak in the plant's cooling system

. "The steam that would normally go to the generators, that steam is now going into the environment… through the

steam stack

," said Nuclear Regulatory Commission spokeswoman Prema Chandrithal.




--

https://washingtonsblog.com/2011/03/comparing-japans-radiation-release-to-background-radiation.html


--

No 'safe' threshold for radiation: experts; ABC Science (Australia); 31/3/11 (quotes Tilman Ruff and also cites work of PSR and IPPNW)


--

Nuclear radiation 'the greatest public health hazard'; CNN, 25/3/11


--

Just in case you missed it, here's why radiation is a health hazard. Tilman Ruff. The Conversation, 24/3/11

--

Physicians for Social Responsibility Deeply Concerned About Reports of Increased Radioactivity in Food Supply Press Release, 23/3/11 (ran in numerous outlets and blogs)

--

Radiation and Public Health, PSR-USA


--

ABCs of Japan's Nuclear Reactor Disaster, Union of Concerned Scientists

--

CDC fact sheets on cesium-137, iodine-131, strontium-90, and plutonium
-- https://web.archive.org/web/20120114052448/http://www.n-tv.de/Spezial/Horrorszenario-wartet-auf-Japan-article2887296.html

--Long-term health effects of Japanese radiation have been reported by Maria Sotiropoulou, a biopathologist, president of the Pan-Hellenic Medical Society against Nuclear Threats. He stressed that the situation there is very worrying and stressed that the credibility of the International Atomic Energy Commission is doubtful. "

There is no safe nuclear energy

," he said.




--https://washingtonsblog.com/2011/03/no-amount-of-radiation-released-from.html

-

https://web.archive.org/web/20110817050323/https://washingtonsblog.com/2011/03/no-amount-of-radiation-released-from.html

-- Linda Gunter explained in a 16 November 2017

article

:

"At the COP23 Climate Talks currently underway in Bonn, a group calling itself Nuclear for Climate, wants you to slip on their false banana propaganda and fall for their nonsensically unscientific notion that bananas are actually more dangerous than nuclear power plants! I am not making this up. Here is the picture.

"The oxymoronic Nuclear for Climate people are handing out bananas complete with a sticker that reads: "This normal, every-day banana is more radioactive than living near a nuclear power plant for one year." …

"If you smell something rotten in this banana business, you are right. So let's peel off the propaganda right now. In short, when you eat a banana, your body's level of potassium-40 doesn't increase. You just get rid of some excess potassium-40. The net dose of a banana is zero.

"To explain in more detail, the tiny radiation exposure due to eating a banana lasts only for a few hours after ingestion, namely the time it takes for the normal potassium content of the body to be regulated by the kidneys. Since our bodies are under homeostatic control, the body's level of potassium-40 doesn't increase after eating a banana. The body just gets rid of some excess potassium-40.

"The banana bashers don't want you to know this and instead try to pretend that the potassium in bananas is the same as the genuinely dangerous man-made radionuclides such as cesium-137 and strontium-90 that are released into our environment from nuclear power facilities, from atomic bomb tests and from accidents like Fukushima and Chernobyl.

"These radioactive elements, unlike the potassium-40 in bananas, are mistaken by the human body for more familiar elements. For example, ingested radioactive strontium-90 replaces stable calcium, and ingested radioactive cesium-137 replaces stable potassium. These nuclides can lodge in bones and muscles and irradiate people from within. This is internal radiation and can lead to very serious, long-lasting and trans-generational health impacts."


https://www.dianuke.org/many-bananas-equal-chernobyl-fukushima-jim-green-nuclear-propagandists-radiation/

--

Fukushima Radiation Can't Be Compared to Bananas or X-Rays





--

https://theecologist.org/2014/sep/29/radioactive-spikes-nuclear-plants-likely-cause-childhood-leukemia






//WW