PLEASE BE AWARE THAT I SEE THE MANY "HOLES" IN THE AFFORDABLE HEALTH CARE LAW, AND I ALSO SEE MANY FLAWS IN THE CURRENT ADMINISTRATION, JUST AS I'VE SEEN FLAWS IN EVERY POLITICIAN I'VE LOOKED AT SINCE ABOUT 1955 OR SO WHEN I FIRST STARTED LOOKING AT THEM.
BUT THE NATION'S "NOT-RICH" NEED SOMETHING/SOMEONE TO HELP THEM GET THIS BASIC HUMAN NECESSITY...HEALTH CARE...
HELP TO LIVE AND NOT DIE JUST BECAUSE THEY'RE ILL AND HAVE NO INSURANCE.
IF YOU THINK PEOPLE SIT DOWN AND PLAN TO BE POOR, PLAN TO GROW UP AND HAVE A MINIMUM WAGE JOB, PLAN TO HAVE LESS THAN THE "AMERICAN DREAM" LIFE, THEN, MAY I SUGGEST, YOU NEED A REALITY CHECK.
YOU MAY ALSO NEED SOME HUMAN COMPASSION.
YOU MAY ALSO NEED TO LEARN TO DO YOUR OWN RESEARCH INTO THINGS.
THE 2010, CONGRESSIONALLY-PASSED AFFORDABLE HEALTH CARE ACT, OFTEN CALLED "OBAMACARE", IS 3 YEARS OLD.
CONGRESS VOTED, THE VOTES WERE COUNTED, THE LAW WAS PASSED.
SOMETIMES ONE SIDE "WINS", SOMETIMES THE OTHER, BUT AS LONG AS THERE IS SUCH DIVISION AS WE'VE SEEN RECENTLY, WE ALL LOSE.
AMERICA LOSES.
A NATION THIS DIVIDED CANNOT STAND!
MANY MYTHS AND OUTRIGHT LIES ARE CIRCULATING ACROSS THE NATION ABOUT THIS LAW. THEY COME FROM BOTH "PARTIES".
THE 2010 HEALTH CARE LAW IS A LONG, 900-PAGES+ READ, BUT WELL WORTH IT TO DISPEL THOSE MYTHS AND LIES.
IT IS IN NO WAY A 'PERFECT' LAW, IT HAS FLAWS.
IT IS NOT THE BEST WAY TO ALLOW ALL AMERICANS TO HAVE HEALTH INSURANCE, BUT IT MAY BEAT NOTHING FOR AMERICA'S "MIDDLE-CLASS" AND HER POORER CITIZENS.
NO ONE HAS ANY RIGHT TO WRITE ABOUT IT, TALK ABOUT IT, OR CONDEMN IT UNTIL THEY HAVE AT LEAST READ AN HONEST SUMMARY OF IT AND SEEN FOR THEMSELVES WHAT IT CONTAINS.
A SUMMARY WON'T IN ANY WAY TAKE THE PLACE OF A COMPLETE READING OF THIS LAW.
DEMOCRATS WILL EXTOLL ITS VIRTUES WAY TOO MUCH, AND REPUBLICANS WILL FOAM AT THE MOUTH AND CURSE IF ITS EVEN MENTIONED.
IT'S ALWAYS BEST TO FIND THINGS OUT FOR YOURSELF AND THEN TO MAKE YOUR OWN
INFORMED
DECISIONS ABOUT THEM.
TO HELL WITH "PARTY LINES" OR THE HERD MENTALITY, JUST DO INDEPENDENT RESEARCH AND COUNT ON YOURSELVES TO FIND THE TRUTH.
IT IS OUT THERE!
TO READ ALL OF THE 2010 LAW, GO HERE:
http://www.gpo.gov/fdsys/pkg/PLAW-111publ148/pdf/PLAW-111publ148.pdf
Full Text of the LAW.
TO READ THE BASICS AND MISS QUITE A BIT, READ HERE:
http://kaiserfamilyfoundation.files.wordpress.com/2011/04/8061-021.pdf
A 13 page SUMMARY of the LAW.
ERRONEOUSLY, PERHAPS BECAUSE FEW HAVE READ THE LAW, PEOPLE THINK THIS IS JUST SOMETHING FOR THE FEW, SOMETHING TO ADD TO "WELFARE", TO ADD TO THE GROWING DEFICIT.
NO! WRONG!
IT DOES INSURE PEOPLE WHO DON'T HAVE INSURANCE, BUT
THIS LAW WAS ABOUT REFORM, HEALTH CARE REFORM,
FROM INSURANCE TO HOW HOSPITALS AND DOCTORS TREAT PATIENTS, ABOUT QUALITY OF CARE, ABOUT REAL VALUE FOR THE PRICES WE PAY FOR HEALTH CARE.
IT BEGINS AN OVERHAUL OF THE ENTIRE SYSTEM OF HEALTH CARE.
ITS ABOUT DEMANDING ACCOUNTABILITY TO THE AMERICAN PEOPLE BY THOSE WHO SELL INSURANCE ALL THE WAY TO THOSE WHO PROVIDE CARE.
IT WILL BEGIN TO HELP PREVENT BOTH WASTE AND FRAUD.
IT WILL FERRET OUT THOSE WHO TREAT FOR PROFIT AND NOT FOR THE GOOD OF THE PATIENTS.
IT WILL START TO WEED-OUT THOSE WHO ARE IN THE MEDICAL PROFESSION JUST FOR PROFIT FROM THOSE WHO ARE DEDICATED TO THEIR PATIENTS, DEDICATED TO FINDING A CURE, NOT JUST REPEATED TREATMENT OF SYMPTOMS.
IT WILL BEGIN TO FORCE HUGE PHARMACEUTICAL COMPANIES TO STOP PUSHING EXPENSIVE PILLS THAT NEVER EFFECT A CURE, BUT OFTEN LEAD TO NEW SYMPTOMS, OR LEAD TO SIDE-EFFECTS THAT REQUIRE STILL MORE EXPENSIVE PILLS.
YOU MUST KNOW THIS...
MEDICINE IS NOT MEDICINE ANYMORE!
MEDICINE IS BIG BUSINESS!
THE BUSINESS IS GEARED TO PROFIT, NOT CURE!
IF MEDICINE OFFERED CURES, AS ONCE IT DID, THERE WOULD BE FEWER AND FEWER PATIENTS!
THAT IS NOT PROFITABLE, SO THAT IS NO LONGER WHAT MEDICINE DOES IN THE WEST, IN AMERICA, INC.
THIS NEW HEALTH CARE LAW IS ABOUT REFORM.
A
GOP
SENATOR RECENTLY SENT OUT AN EMAIL TO HIS CONSTITUENTS INVITING THEM TO GO TO ONE OF HIS WEBSITES AND LEAVE A HORROR STORY ABOUT "OBAMACARE".
I CHECKED AFTER THE FOLLOWING 'STORY' WAS MADE KNOWN TO ME, AND THAT WEBSITE DOESN'T SAY ONE CAN ONLY LEAVE A STORY THAT THE GOP WILL LOVE, ONE THAT SUITS THEIR AGENDA.
IT JUST SAYS "TELL US YOUR STORY".
SO, ONE
REPUBLICAN
CONSTITUENT DID SO, BUT THAT STORY NEVER SHOWED UP ON THAT PAGE WITH THE PERHAPS 20 OTHER COMMENTS, ALL OF WHICH MADE "OBAMACARE" SOUND LIKE THE INQUISITION, OR THE HOLOCAUST.
THAT REALLY PISSED ME OFF.
SUCH TACTICS ALWAYS MAKE ME ANGRY.
THERE ARE TWO SIDES TO EVERY STORY...AND THEN THERE IS THE TRUTH.
THOSE WHO REFUSE TO LISTEN TO BOTH "SIDES" CAN'T EXPECT TO FIND THE REAL TRUTH!
I FELT A NEED TO SEE THAT COMMENT, THAT STORY TOLD.
THE PERSON WHO SUBMITTED IT AGREES IT NEEDS TO BE TOLD.
HERE IT IS [word emphasis is my doing]:
"'From 1995 until 2010, I was uninsurable due to pre-existing conditions, including cancer.
I found one company in 2007, just one that said they'd insure me, for $720 a month. I didn't have $720 a month to spend. I suffered through 15 years with no insurance, paying for every doctor's visit (when I could afford it, which was hardly ever) out of pocket. I had to pass on getting most prescriptions filled, too expensive. My health deteriorated noticeably.
I have a daughter and 2 grandchildren with the same problem.
I came into Medicare in 2010.
Being able to see a doctor again was wonderful, but it came too late. Conditions that had arisen in the 15 years in which I had no real medical care, couldn't afford high-cost testing and diagnostic procedures, like a PET or an MRI, are now debilitating, and those same conditions I didn't know I had because I wasn't getting regular checkups have cost me any hope of a long life or a quality life.
Living with no healthcare hurts...literally, terribly.
Now there is hope for my child and grandchildren under the Affordable Care Act, hope that they can have access to doctors and needed treatments, medications, help that they don't have now.
The ACA, its name is not Obamacare, is a
LAW
, passed by Congress and will prohibit all insurance companies from refusing coverage to people with pre-existing conditions. There will be no uninsurable people under the ACA after January 2014.
It is a shame to see the GOP trying to prevent people from finally getting health care.
You surely realize those who can now afford coverage, thanks to the ACA, not the GOP, will remember you at the polls.
Please accept that this is a LAW, a 3 year-old law. It is not perfect, but it sure beats what the GOP offered, which was simply,
Don't Get Sick
.
Please stop trying to keep health care from being affordable.
Your Wall Street cronies don't always have to win. Profits should never come before human health.
Listen to the majority of the people. Your own poll showed the majority never wanted you to shut down the government over this
LAW
. You did shut down the government to fight a Congressionally-passed
LAW
. That cost us taxpayers $2.5 billion that we can't afford.
That was shameful.
Accept the ACA, it's what the majority of the American people want, like it or not, and just move on, please.'"
<end quote>
WHY wouldn't that GOP website print such a simple statement from one of its OWN?
I'm hoping to get an answer to that after they get questions from me and several others who don't see why this person's comment was rejected.
HERE'S HOW THE REFORM PART WORKS
The Act includes 45 changes to how doctors deliver health care, and how patients pay for it. These reforms, if successful, will move the country's health system away from one that pays for volume and toward one that pays for value.
"The Affordable Care Act is like two laws in one," former Medicare administrator Don Berwick said. "There's the coverage piece, and I think that's proceeding well. On the other side, there's health-care delivery reform."
Even as Congress was debating the Affordable Care Act, economic and demographic trends were steering the industry's business model off a cliff. As costs ticked higher, Americans were losing insurance coverage. They were making fewer trips to the doctor, which meant less revenue. Baby Boomers landed in Medicare, which pays less than private insurance, further shrinking health-care providers' income. Health systems reevaluated their volume-dependent bottom lines.
Across the country, however, a few health-care systems had made high-profile moves in another direction. Places like Kaiser Permanente in California and the Mayo Clinic in Minnesota were setting strict budgets for their patients and demonstrating, in study after study, that they could deliver higher quality outcomes at a lower cost than other hospitals and doctors.
What these systems had in common was a model called integrated care, where doctors, hospitals and insurers work together to deliver the most cost-effective treatments. In integrated care systems, doctors are often paid a flat salary, rather than charging for each procedure they perform. They often receive incentive payments for hitting certain quality metrics.
Alongside a handful of success stories, there were dozens of cautionary tales. Health-care costs did decrease in the mid-1990s, when Health Maintenance Organizations limited patients' access to more costly, specialty providers, but patients left such payment plans in droves, which encouraged providers to stick with a volume-driven system.
Insurance premiums had grown by 131 percent
between 1999 and 2009. If Congress was going to extend insurance to millions more Americans, it wanted a guarantee that those benefits would be affordable. The integrated-care model, they hoped, could control those costs even as it improved the quality of care. No "rationing" needed.
"Forever and a day, everybody had been saying we had to change the way we paid for health care," Roades says. "Now, we have a sense of direction of where the country's biggest payer is headed. And that provides cover for everybody else to move in that direction."
When Baptist Health Systems started down this path in 2008, it had little idea where it would lead or whether the doctors would revolt. Now that 78 percent of his doctors have received bonus checks, Zucker is more confident.
"It's created a different relationship between us and our physicians," he says. "For a long time, we've kept each other at arm's length. And this really changed how we looked at physicians."
Baptist Health System recently applied for the Affordable Care Act's new bundled-payment program, which will shift more procedures to flat fees. That program will also expand the amount of cost savings that doctors are allowed to receive. It's another step in the right direction, says Goletz, who has operated at Baptist for three decades.
"The way I look at it, Medicare used to pay a bunch of money into a bunch of little buckets, and some were ours, and some were theirs," he says. "We decided that rather than paying into those little buckets, we should pay into one big bucket.
We cleaned up the waste, saved money and lowered our costs."
ONE READER OF THE ABOVE ARTICLE RESPONDED:
<The basic problem with the American healthcare system is GREED -- at every level. The hospitals and care facilities are greedy for profits; their shareholders are greedy for dividends; the doctors are greedy - just plain greedy, it seems; the insurers are greedy for premiums and profits;
I despise the idea of government intervention, but if ever a system screamed out to be socialized, it's American healthcare.>
4 THINGS BIG BUSINESSES HATE ABOUT THE NEW LAW (AND THEREFORE, THE GOP HATES, TOO)
1~Require employers with
over 50 employees
to pay penalties for employees who
receive tax credits for health insurance through an Exchange, with
exceptions for small employers.
Impose new regulations on health plans in the Exchanges and in the individual and small group markets.
Exempt employers with up to 50 full-time employees from any of the above penalties.
THIS MERELY SPOTLIGHTS THOSE CORPORATIONS WHO HAVE REFUSED TO OFFER AFFORDABLE, SANE HEALTH CARE TO THEIR EMPLOYEES.
IT MAKES THEM DO SO OR PAY THE PENALTY WHEN THEIR EMPLOYEES TURN TO "OBAMACARE".
THIS ALSO PROVIDES SUBSIDIES AND INCENTIVES TO
SMALL
BUSINESSES, AND SMALL BUSINESSES WHICH CAN OFFER BENEFITS TO EMPLOYEES CAN BECOME
BIGGER
BUSINESSES BECAUSE THEY WILL ATTRACT MORE EMPLOYEES.
BIG BUSINESSES MAY BE AFRAID OF THAT KIND OF
COMPETITION
, YES?
AND THE POLITICIANS DON'T WANT THEIR DARLINGS TO HAVE TO COMPETE WITH "MOM-AND-POP" SMALL BUSINESSES!
WHAT THIS "IMPOSES" IS REGULATION OF COST AND HOW GOOD THOSE HEALTH CARE "SERVICES" ARE.
WHAT WE HAVE TODAY CAN FORCE THE BADLY INSURED TO PAY HUGE OUT-OF-POCKET EXPENSES TO GET NECESSARY TESTING, TREATMENTS, ETC, PERFORMED, AND OFTEN LIMITS THE INSURED TO CERTAIN DOCTORS, CLINICS, ETC, THAT ARE KNOWN FOR BEING OVER-PRICED AND OFFERING LESS THAN STELLAR CARE.
THINK ABOUT THAT.
2~Expand Medicaid to 133% of the federal poverty level.
DO YOU REALIZE WHAT THIS WILL MEAN TO ALL THOSE
MINIMUM WAGE
WORKERS?
DO YOU HAVE A CONCEPT OF HOW MANY MOTHERS WITH CHILDREN THERE ARE OUT THERE WHOSE HUSBANDS HAVE JUST WALKED AWAY FROM ALL HEALTH CARE RESPONSIBILITY TO THEIR CHILDREN?
A "SINGLE" (SINGLE DOES NOT MEAN SHE WASN'T
ONCE
MARRIED!) MOM WITH 2 CHILDREN WILL HAVE TO PAY FROM $600 TO $1800
EACH WEEK
FOR CHILD CARE FOR 2 KIDS, DEPENDING ON WHERE SHE LIVES.
HOW CAN SHE AFFORD HEALTH CARE AND CHILD CARE WHEN SHE IS THE
ONLY
"BREADWINNER"?
DO YOU THINK WOMEN PLAN TO BE LEFT ALONE TO STRUGGLE WITH THIS?
THEY MARRIED AND HAD THOSE KIDS THINKING MARRIAGE WOULD BE FOREVER.
WHEN THAT GOES ALL WRONG, THEY'LL BE THE ONLY ONES RESPONSIBLE FOR EVERY BIT OF CHILD CARE AND INSURANCE IN THE VAST MAJORITY OF CASES.
THIS SHOULD ALSO HELP SPARK THE CRY FOR
HIGHER WAGES
IN AMERICA.
NO FAMILY, EVEN WITH TWO PARENTS WORKING, CAN LIVE WELL, OR "COMFORTABLY" ON MINIMUM WAGE IF THEY ALSO HAVE TO PAY FOR CHILD CARE AND FAMILY HEALTH INSURANCE AT THE CURRENT HIGHER RATES FOR LOW-INCOME FAMILIES.
[SEE MY PREVIOUS BLOGS :
http://havacuppahemlock1.blogspot.com/2013/11/minimum-wage-means-poverty-american.html
AND
http://havacuppahemlock1.blogspot.com/2013/11/war-against-american-workers.html
]
.3~
Provide cost-sharing subsidies
to eligible individuals and families. The cost-sharing credits reduce the cost-sharing amounts and annual cost-sharing limits and have the effect of increasing the actuarial value of the basic benefit plan to the following percentages of the full value of the plan for the specified income level:
100-150% FPL: 94%
150-200% FPL: 87%
200-250% FPL: 73%
250-400% FPL: 70%
INSTEAD OF PAYING OUT THE NOSE TO HIGH-PRICED INSURANCE COMPANIES, PEOPLE CAN NOW SHOP THE NEW MARKET AND HAVE HELP PAYING FOR HEALTH CARE.
THOSE MAKING UP TO 1 1/2 TIMES THE POVERTY LEVEL IN WAGES
(POVERTY LEVEL IS SET AT $11,490 FOR 1 PERSON, $15,510 FOR 2, $19,530 FOR A FAMILY OF 3 AND $23, 550 FOR A FAMILY OF 4)
GET 94% OF THE COST OF HEALTH INSURANCE IN SUBSIDIES, UNLIKE CONGRESS WHO GET THEIR HEALTH INSURANCE
COMPLETELY
AT TAXPAYER EXPENSE.
MANY POLITICIANS SEE THIS AS "WELFARE", BUT IF THAT IS SO, THEN THEY ARE ALSO GETTING WELFARE!
POLITICIANS ALSO REALIZE THAT THE POORER WORKERS MAY FEEL GRATEFUL TO THE PARTY WHO GOT THIS AFFORDABLE HEALTH LAW PASSED.
IF THEY ALLOW "OBAMACARE" TO CONTINUE, THEY'RE AFRAID THE LESS-THAN-RICH VOTERS MIGHT JUST VOTE FOR THE OPPOSITION.
CAN'T HAVE THAT!
AGAIN, THIS WILL TAKE AWAY SOME INCOME FROM THOSE INSURANCE COMPANIES WHOSE RATES HAVE ALWAYS BEEN FAR TOO HIGH FOR THE SERVICES THEY OFFER CLIENT-PATIENTS.
THE BIG INSURERS WILL HAVE TO RETHINK HOW THEY PROVIDE COVERAGE TO THEIR CLIENTS....FINALLY!
4~ Establish a temporary national high-risk pool to
provide health coverage to individuals with pre-existing medical conditions.
U.S. citizens and
legal
immigrants who have a pre-existing medical condition and who have been uninsured for at least six months will be eligible to enroll in the high-risk pool and receive
subsidized premiums
. Premiums for the pool will be established for a standard population and may vary by no more than 4 to 1 due to age; maximum cost-sharing will be limited to the current law HSA limit ($5,950/individual and $11,900/family in 2010). (Effective within 90 days of enactment until January 1, 2014, AFTER WHICH NO EXCLUSIONS FOR PRE-EXISTING CONDITIONS ARE ALLOWED.)
INSURANCE COMPANIES KNOW THAT SOME CHRONIC ILLNESSES/DISEASES CAN COST
THEM
A LOT IF THEY HAVE TO INSURE THEM.
IN THE PAST, PEOPLE WITH CERTAIN CONDITIONS COULD EASILY BE EXCLUDED FROM HEALTH CARE COVERAGE OR COULD PERHAPS GET SOME COVERAGE FOR SKY-HIGH PRICES.
THAT ALL CHANGES NOW.
A PERSON WITH CANCER OR ANY OTHER SUCH CONDITION CANNOT BE TURNED DOWN FOR HEALTH CARE.
ALL OF THOSE PEOPLE WHO CURRENTLY EITHER PAY FOR EVERYTHING OUT-OF-POCKET OR JUST DO WITHOUT CAN NOW HOPE FOR AFFORDABLE INSURANCE, NO MATTER HOW LONG THEY ARE ILL AND NO MATTER WHAT MAKES THEM ILL.
PEOPLE WHO CAN GET TREATMENT CAN HAVE HOPE ONCE AGAIN.
PEOPLE WHO PREVIOUSLY HAD TO SUFFER THROUGH DEVASTATING, LONG-TERM ILLNESS WITH NO INSURANCE CAN ONCE AGAIN SEE DOCTORS AND GET TREATED!
POLITICIANS AND INSURANCE COMPANIES KNOW THIS WILL BE EXPENSIVE...TO THEM.
IT WAS FINE WHEN IT WAS THE EXCLUDED PAYING OR DOING WITHOUT, BUT FOR BIG INSURANCE COMPANIES TO HAVE TO PAY ANYTHING,
ANYTHING AT ALL
, IS GRATING ON
BOTH THE COMPANIES AND THE POLITICIANS THOSE COMPANIES CONTRIBUTE TO AT ELECTION TIME.
GUESS WHO
MANY
WILL THANK FOR THIS AT THE POLLS?
AGAIN...PLEASE BE AWARE THAT I SEE THE MANY "HOLES" IN THE AFFORDABLE HEALTH CARE LAW, AND I ALSO SEE MANY FLAWS IN THE CURRENT ADMINISTRATION, JUST AS I'VE SEEN FLAWS IN EVERY POLITICIAN I'VE LOOKED AT THE PAST 60 YEARS OR SO WHEN I FIRST STARTED LOOKING AT THEM.
BUT THE NATION'S "NOT-RICH" NEED SOMETHING/SOMEONE TO HELP THEM GET THIS BASIC HUMAN NECESSITY...HEALTH CARE...HELP TO LIVE AND NOT DIE JUST BECAUSE THEY'RE ILL.
IF YOU WANT TO KNOW THE TRUTH, NEVER TRY TO GET IT "SECOND-HAND".
GO FIND IT AND GO SEE FOR YOURSELVES.
NEVER ALLOW ANYONE ELSE TO THINK FOR YOU, OR ENCOURAGE YOU TO "GROUP-THINK".
WE ARE ALL UNIQUE HUMAN BEINGS, NOT SHEEP, NOT MINDLESS, AND WE NEED TO START REMINDING OUR CONGRESS OF THAT.
IF YOU DIDN'T KNOW THAT THE MARKETPLACE HAS OPENED FOR AMERICANS TO SHOP FOR BETTER COVERAGE, CHEAPER COVERAGE, AND TO SEE IF THEY QUALIFY FOR SUBSIDIES TO HELP THEM PAY FOR HEALTH CARE, HERE ARE TWO 'POSTERS' I FOUND THAT WILL TAKE YOU TO THE FEDERAL SITES.
BE AWARE THAT THE "MARKETPLACE" IS DOWN FOR MAINTENANCE THIS WEEKEND THROUGH VETERANS DAY AND REOPENS TUESDAY.
PLEASE CLICK ON THE DROPPED LINK BENEATH EACH PHOTO TO GO STRAIGHT TO THE SITE.
TO SEE IF YOU OR YOUR FAMILY QUALIFY FOR SUBSIDIES, AND ALSO SEE WHAT YOUR INSURANCE PREMIUM MIGHT BE, ON A NATIONAL SCALE, GO HERE:
http://laborcenter.berkeley.edu/healthpolicy/calculator/index.shtml
WHAT I FOUND FOR A FAMILY OF 4, BOTH PARENTS AND 2 CHILDREN UNDER 21 YRS OLD, MAKING $50,000 (MAKING A BIT MORE THAN MINIMUM WAGE) , THAT FAMILY CAN HAVE INSURANCE AT $280 PER MONTH TOTAL. FOR THEIR CHILDREN, THIS WILL INCLUDE DENTAL AND OPTICAL VISITS.
A "SINGLE" MOM., MAKING $40,000 A YEAR, WOULD PAY $216 FOR THE SAME "SILVER LEVEL" INSURANCE.
BUT, A SINGLE MOM, MAKING $30,000, WOULD PAY ONLY $104 FOR HERSELF AND HER 2 CHILDREN.
UNDER THAT AMOUNT, UNDER THE NEW LAW, SHE WOULD LIKELY QUALIFY FOR MEDICAID IN ABOUT 25 STATES, SO FAR.
https://www.healthcare.gov/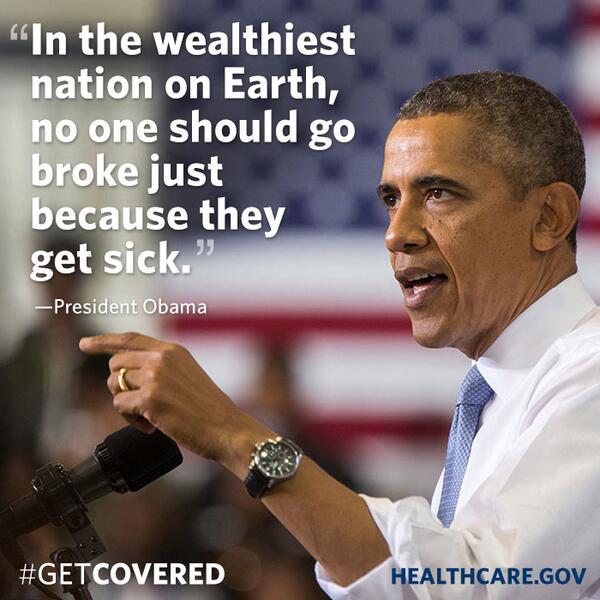 https://www.healthcare.gov/