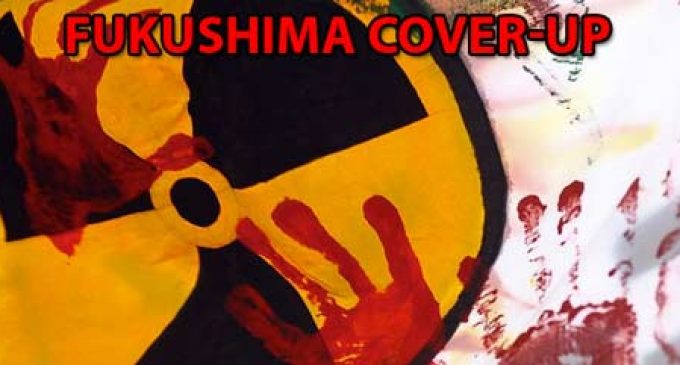 FROM A JAPANESE SCIENTIST WHO WON'T BE SILENCED BY THE ABE REGIME:

"The legal exposure limit to radiation for the public was established at 1 millisievert per year.


The Abe regime in Japan has raised the upper threshold to 20 millisieverts per year in their drive to push Fukushima residents to return.





The Chernobyl law forbids residence and agriculture in areas where more than 5 millisieverts (per year) of irradiation is expected; in Japan, approximately 1,000,000 people live in such areas.



Under the Basic Law on Atomic Energy, which governs nuclear reactors and related phenomena, the standard for radioactive waste management (the level considered for safe recycling use) is 100 becquerels per kilogram.
Notwithstanding this rule, the "special law" for measures to handle contamination by radioactive substances permits up to 8000 becquerels per kilogram.
Contamination dispersal is thus becoming systematized.

When looking at the measurements taken by the Nuclear Regulation Authority of the contamination levels in all prefectures, we see that contamination exists everywhere in the country, Okinawa being no exception. In particular, eastern Japan shows high levels of contamination.

10 prefectures show contamination of more than 1,000 becquerels of Iodine-131 per square meter of land



These readings are taken from a fixed point, which means that if a radioactive plume does not pass over these points, it will not be measured, and is liable to produce an under-estimation gap by 1 to 2 digits.

Although the Ministry of Education has implemented airborne monitoring, cities with a density of buildings higher than 3 stories present obstacles to this technology, making it unable to record their levels of contamination. Severe contamination is concealed in the Tokyo metropolitan area and other places in the region. "

[The above is a translation of a modified version of Yagasaki's three-part article series "Kakusareru naibu hibaku – Fukushima genpatsu jiko no shinso" that appeared in Ryukyu Shimpo on March 16, 17, and 18, 2016. The article can also be found <HERE>]

FROM A YOUNG JAPANESE MAN DOING ALL HE CAN TO REVEAL TRUTHS AND GET INTERNATIONAL HELP FOR THE JAPANESE PEOPLE... AUTHOR OF "FUKUSHIMA DIARY"....

On 7/15/2016, Fukushima prefectural government objected against the plan to build a stone coffin on Fukushima plant to METI (Ministry of Economy, Trade and Industry).

MOE (Ministry of the Environment) estimated 90% of contaminated soil can be reused in Fukushima prefecture by 3/30/2016.
Currently interim storage facility stocks 22,000,000 m3 of radioactive contaminated soil.
MOE estimates they can reuse 90% of the contaminated soil but they haven't discovered the technology yet.

WITHOUT THE TECHNOLOGY YET CREATED TO DO THAT, THEY'RE ALREADY "RECYCLING" THAT SOIL, BUT NO ONE KNOWS WHERE TO OR HOW MUCH.

WE SEEM, AS A SOCIETY, TO LOATHE THE WHISTLEBLOWERS WHO TELL U THINGS WE DO NOT WANT TO HEAR, OR WHO MAKE US UNCOMFORTABLE.
SOMETIMES HUMAN FEARS PUSH US TO DENY FACTS, TRUTH, THE REALITIES OF OUR WORLD.
WE WILL PERHAPS LIVE TO REGRET THAT.

I AM NOT OVERLY FOND OF RALPH NADER, BUT HIS DEFINITION OF A WHISTLEBLOWER IS CORRECT...

Whistleblowing is an act of a man or woman who, believing in the public interest, overrides the interest of the organization he/she serves to publicly blow the whistle if the organization is involved in corrupt, illegal, fraudulent, or harmful activity.
— Ralph Nader, consumer advocate and activist

MY GRANDFATHER AND OTHER WISE MEN HAVE SAID THAT IF WE WANT THE TRUTH ABOUT HOW A PEOPLE THINK, WHAT THEY BELIEVE, WE GO TO THE PEOPLE THEMSELVES, STAND IN THE SHADOWS AND OBSERVE AND LISTEN TO THE PEOPLE AND NEVER RELY ON THIRD-PARTY 'HEARSAY'.

AMERICAN MEDIA SIMPLY DOES NOT DO THAT WHEN IT COMES TO THE FUKUSHIMA DISASTER, BUT WE MUST.

THE ABE REGIME IS ONCE AGAIN TIGHTENING THE NOOSE AROUND THE NECKS OF ALL WHO WOULD REPORT THE TRUTH FROM JAPAN...PHYSICIANS, SCIENTISTS, JOURNALISTS, CITIZEN ACTIVISTS, DISPLACED RESIDENTS WHO ARE OPPOSED TO BEING SENT BACK INTO HIGH RADIATION ... ALL ARE ONCE AGAIN UNDER THREAT IF THEY SPEAK OUT ABOUT WHAT WE ALL SHOULD BE TOLD ABOUT THE EVER-SPREADING FUKUSHIMA TRIPLE MELTDOWNS.

PLEASE, PLEASE LISTEN TO THE JAPANESE PEOPLE AND SHARE WHAT THEY ARE TRYING TO TELL THE WORLD, TELL YOU, ALL OF US, SO PERHAPS WE CAN AT LEAST BE AWARE OF THE CRISIS WE ALL FACE, THAT OUR CHILDREN AND GRANDCHILDREN AND ALL LIFE ON EARTH WILL FACE IF SOMETHING IS NOT VERY SOON DONE TO STOP THE COVER-UP, REVEAL THE TRUTH AND GET ALL NATIONS OF EARTH INVOLVED IN FORCING ABE'S HAND ON THIS.

FUKUSHIMA MUST BE BROUGHT UNDER CONTROL, NO MATTER WHAT IT TAKES, AND ABE MUST BE STOPPED FROM BRINGING THE WORLD TO HIS COUNTRY FOR THOSE 2020 OLYMPICS, FROM RESTARTING ALL THOSE LEAKING NUCLEAR POWER PLANTS, FROM THE SILENT NUCLEAR WAR HE IS WAGING AGAINST THE REST OF THE WORLD .

LISTEN TO THE PEOPLE OF JAPAN, THEY KNOW WHAT'S HAPPENING, WE DON'T.

ON NOVEMBER 6, JAPAN TIMES WAS BRAVE ENOUGH TO REPORT THE FOLLOWING:
"Highly radioactive sludge is turning up in septic tanks at car washes in Fukushima Prefecture, and the readings are as much as seven times higher than the government's limit, auto industry officials say.

While the government-set limit is 8,000 becquerels per kilogram, some of the sludge is giving off 57,400 becquerels per kg, a document obtained by Kyodo News says. "

BUT JAPAN (AND AMERICA) HAS RAISED THE "ACCEPTABLE LIMIT" FOR RADIATION SO IT DOESN'T HAVE TO ADMIT TO ITS PEOPLE THAT WHAT THEY ARE GETTING IN RADS PER DAY IS 20 TIMES WHAT WAS PREVIOUSLY ALLOWED.

BOTH NATIONS, THERE AND HERE, ARE TRYING TO AVOID BOTH PANIC AND LAWSUITS, NOT TO MENTION RESPONSIBILITY FOR THOUSANDS OF DEATHS FROM THE EFFECTS OF RADIATION.

WE SAW OUR OWN GOVERNMENT SCREW-OVER ITS OWN MILITARY AND "DOWN-WINDER" U.S. CITIZENS WHO WERE USED AS GUINEA PIGS WHEN THE U.S. WAS DOING ABOVE-GROUND TESTING WITH NUKES.

HOW DARE WE IMAGINE THAT SORT OF THING HAS CEASED TO EXIST!
"Fukushima Prefecture has some 1,700 auto maintenance facilities where a growing number of septic tanks are reaching capacity, they said, adding that the amount of tainted sludge accumulated from washing cars likely weighs several thousands of tons.
To prevent the septic tanks from overflowing, some of the maintenance facilities are manually scooping up the mud, which has prompted industry groups to warn authorities about the health hazards workers face, the officials said.

The issue has failed to gain attention until now in part because the decontamination law only requires that companies report on radiation levels in sewage sludge and incinerated ash, not other waste products.

Although the companies that install the septic tanks know about the radiation problem, they couldn't go public about it for fear of losing customers.

Kunikazu Noguchi, associate professor of radiation protection studies at Nihon University in Tokyo, said all tainted sludge should have been designated as radioactive waste and disposed of by the central government, instead of being kept in septic tanks.

"The fact that the government failed to act on this problem for 5½ years shows its negligence," Noguchi said. "To remove sludge that contains nearly 60,000 becquerels of radioactive material per kilogram, you need to do so with extra caution, in line with guidelines set by the Environment Ministry."

AS OF TODAY, NOVEMBER 8,2016, THE ABE REGIME IS ONCE AGAIN TRYING TO SILENCE BOTH SCIENTISTS AND JOURNALISTS WHEN IT COMES TO REPORTING FACTS LIKE THOSE WE READ FROM JAPAN TIMES.

WE MUST NOT FORGET!

Yagasaki Katsuma, emeritus professor of Ryukyu University, has been constantly sounding the alarm about the problem of internal exposure related to nuclear weapons testing and nuclear electricity generation. Since the explosion at the Fukushima Daiichi nuclear power plant (NPP), he has drawn on his expertise to conduct field research, and to support those who evacuated to Okinawa.

What follows is an article written by Katsuma.

[ THE TRANSLATION OF THIS ARTICLE, AS I SAID BEFORE, CAN BE FOUND AT http://apjjf.org/2016/10/Yagasaki.html]
"On March 17, 2011, a friend who lived in Fukushima City contacted me. "They're reporting an onslaught of radioactivity, but we have no idea about any of that", he said. "We need dosimeters, but there's no way to get our hands on them." I ended up making my way to Fukushima along with several dosimeters for measuring radioactivity. I set up the dosimeters.

Desperate farmers did not heed warning about spreading the radiation in the soil.

At the time, the dose readings from farmland went down by half when just the top layer of weeds and straw litter were removed; digging 3 cm deep reduced the readings by 80%.

So I suggested that if people did not plant crops this year, and removed 5 cm of topsoil from their land, they could prevent future batches of crops from radioactive contamination. It was a situation in which both national and local governments were at a loss about what to do; they could not even come up with countermeasures, and were practically without policies.

In the end, apart from a few enterprising farmers who followed my recommendations, most farm-owners felt compelled to plant crops, and ended up ploughing the soil to spread radiation up to 20 cm deep.
No Measures to Protect Residents

One of the things which stunned me was the absoluteness of the safety myth (anzen shinwa). Even though radioactive dust was falling, no one knew anything about how to protect their bodies.
The local governments had not a single dosimeter among them. The evacuation manual for NPP accidents used in Fukushima City's elementary schools was exactly the same as the evacuation manual for earthquakes.

Furthermore, all attempts to talk about demonstrations of the danger of NPPs were categorically suppressed.
Herein lies the root of why no countermeasures were taken to protect residents from radioactivity.

No stable iodine tablets were distributed; no SPEEDI (System for Prediction of Environmental Emergency Dose Information) data was announced, and so on.
THE COVER-UP BY BOTH JAPAN AND AMERICA BEGAN AFTER HIROSHIMA.

The Atomic Bomb Casualty Commission (ABCC) and the Radiation Effects Research Foundation (RERF) have suppressed information about those sacrificed in the atomic bombings. The International Commission for Radiation Protection (ICRP) has concealed the issue of internal exposure in the context of their commitment to the cause of the United States' nuclear strategy.

The Fukushima Daiichi NPP accident, through multiple explosions, has scattered between one hundred and several thousand more radioactive materials than the Hiroshima bomb into the environment, resulting in health damage caused by internal exposure.

This would ineluctably lead the International Atomic Energy Agency (IAEA) and the ICRP to cover up internal exposure and exposure casualties.
In other words, I believed that they would do everything they could to cast off health damage to Fukushima residents, and support the Japanese government's policies to abandon its own citizens.
This is what drove me to rush down to Fukushima.

The mass media did (initially) courageously report on the reality and danger of internal exposure, but a distressing incident occurred in the process.
This happened during my appearance, on July 2, 2011, as a guest on NHK Television's Weekly News Insights.

I had asked them to make a flipboard for me which showed data on how the rate of child cancer deaths in Japan had jumped five years after the atomic bombings of 1945 to three times their original rate (see graph below).



It was data which clearly demonstrated that these children were the world's first casualties of internal exposure.

The night before the show, I was handed a script and sat in a meeting discussing the show until past 10 PM. However, the next morning, when I headed to NHK, the director told me that due to time constraints, we could not follow the script we had discussed the previous night.

On entering the studio, the flipboard which I had expected to be at my feet was nowhere to be seen. When I asked a nearby staff member to please bring it for me, quickly, the reply was that they could not do that. With 30 seconds to go before showtime, I had no choice but to appear on the show bereft of my data.

After the accident, the melted-down reactor core was too radioactive to be properly disposed of. It is clear as day from this fact alone that nuclear power generation should not be permitted. In these 5 years, there has been a regime brimming with pollution: it is manifest in things like the lack of intelligence and care on the part of the Japanese government, the utilitarianism that places profits and power above human rights, and the political concealment of the worst environmental radiation disaster in history.

It is now 5 years since the Fukushima Daiichi accident, and we are in an abnormal state of affairs in which TEPCO and the national government are forcing people to silently accept their victimization.
Under the Atomic Energy Basic Law, the maximum annual exposure limit for the public is set at 1 millisievert. But people are being forced to accept a revised threshold that is 20 times larger, that of 20 millisieverts per year.

In Fukushima Prefecture, the cessation of compensation payments and the lifting of the evacuation order in highly contaminated regions has forced people to return, at the same time that housing support for the evacuees is also being ended. Of course, there are no measures at all in place to deal with radioactivity outside Fukushima Prefecture.

The Chernobyl NPP accident of 1986 led Ukraine (also Belarus and Russia) to establish laws that protected human rights, which stands in great contrast with the human rights situation surrounding the Fukushima Daiichi NPP accident.

In Chernobyl, uncontaminated food was distributed to residents of contaminated areas. Respite trips for children are also ensured by the state.
And yet, in Fukushima, there is a huge push to "support by consumption" (tabete ouen) and the administration has implemented a policy of "locally-grown and locally-consumed" in providing children's school lunches.
Japan is not attempting to avoid internal exposure as Chernobyl-affected states did; it is doing the exact opposite.

What is at the bottom of this response?
Whether it is protecting residents from radiation exposure, or decommissioning of the melted reactor core, or indeed dealing with the contamination of underground water, there are numerous things that need to be addressed even by diverting the budgets of the forthcoming Tokyo Olympics.
However, the Japanese government is trying to overcome all these issues with cheaper costs at the expense of people's suffering.

Underlying this is their utilitarianism – an ideology which prioritizes economics over human rights and human lives – as well as their philosophy of abandoning the people.

Following what the government is saying, one is left speechless.
"If it's under 100 becquerels, then sell it [produce]"; "If you don't sell it you won't be able to support yourself"; "If you talk about radioactivity you won't be able to sell [your produce]"; "Don't talk about radioactivity".
Media reports are controlled by the government, and people can only remain silent.

[MY NOTE: A VERY IN-DEPTH ARTICLE ABOUT THAT MEDIA COVER-UP CAN BE SEEN A BIT FURTHER BELOW.]

Providing safe food is the mission of agriculture. Surely there is no more cruel infraction of human rights than to force producers, against their will, to make food that might adversely affect human health by radioactive contamination.

There is no solution to this injustice other than to get rid of this system that has been imposed by fiat. Although farmers' labors have lowered the amount of radioactive contamination in their produce, tragedies will continue as long as they keep the allowable radioactivity in food up to 100 becquerels/kilogram.
Such standard stems from the thinking that economic profits come before health.
Radioactivity even in small amounts can cause harm. International Commission on Radiological Protection has it that carcinogenesis starts with DNA mutation of a single cell.
Human susceptibility to radioactivity depends on individuals, and more vulnerable ones, particularly fetuses are affected first.
The natural miscarriage rate of the four prefectures including Fukushima since 311 has risen by 13%.

OF UTMOST IMPORTANCE:
Consumption of one becquerel of C-137 (with biological half-life of approximately 80 days) every day will result in an internal accumulation of 140 becquerels within about 2 years.
If we have to inevitably set any standard for allowable radioactivity in food, we should use the guidelines set forth in the recommendation by German Society for Radiation Protection, which is "no food with a concentration of more than 4 becquerel of the leading radionuclide Cesium-137 per kilogram shall be given to infants, children and adolescents. Grown-ups are recommended to eat no food over 8 becquerel per kilogram of the leading nuclide Cesium-137.

Deceitful Dosimetry

The Japanese government's philosophy of abandoning its people starts with its refusal to trust them, in other words it views them as unintelligent citizens. Fearing that a panic would result, it did not announce SPEEDI data, nor did it distribute solid iodine tablets. It prioritized "emotional stability" over protecting residents from radiation danger. Moreover, it implemented thorough control of information.

It is not simply that residents are seen as ignorant. The government has even actively betrayed their trust.
A classic example of such actions by the state is the presentation of data on the radioactive contamination levels in the environment. The government set up monitoring posts (MP) in Fukushima Prefecture and neighboring prefectures and made the readings from them into official data. Along with Yoshida Kunihiro and others from the "Safety and Reassurance Project", in the autumn of 2011, I checked the dose measurements of the MP. We found clear evidence that the publicly available data of the MP only showed 54% of the actual level of contamination in our readings.




Image caption: Readings from the Monitoring Posts and Actual Doses

X-axis: amount of radiation (microsieverts/hour

Y-axis: actual doses for residents and measurements at monitoring posts

Black dot-dash line: Actual absorbed dose received by residents

Dotted red line: Measurements at monitoring posts without decontamination

Red line: Measurements at monitoring posts with decontamination

[When laid alongside a graph of the actual recorded radiation doses taken by the authors at the monitoring posts (black line; the absorbed dose to residents), the same displayed readings taken from the same monitoring posts were 58% of that value in the case of non-decontaminated areas and 51% for decontaminated areas.]

[2011 autumn, taken with a certified scintillator counter, model HITACHI-ALOKA YCS172B]

On top of that, there was also a deliberate downplaying in government processing of the numerical data.
The level of soil contamination is directly related to the amount of radiation in the air, and an objective measurement of this thus should be obtained from the air dose. However, on the assumption that there is a uniform exposure dose to the whole body, this reading was converted to 60% of its full amount based on the projected dose, an amount called the "effective dose", a number that divides the exposure dose among the body's various organs.

Furthermore, they made a hypothetical estimate of the time people spent inside and outside their homes, and created a "substantive dose" reading that was another 60% lower. In the background to these machinations lies the will of the international nuclear energy industry.

The health survey being conducted by the Fukushima Prefecture Health Survey Evaluation Committee continues to progress, and the sad news is that it has already located 163 cases of cancer.
From a scientific point of view, it is clear that these cases are undeniably caused by radioactivity. I also found, from the ratio of male to female patients, that about 75% of cancers in each sex were induced by radiation.
Despite this, the Evaluation Committee continues to assert that there is no proof that these cancers are linked to the NPP accident.

Just as the committee insists that the numerous stark cases of thyroid cancer are not linked to radioactivity, so they will attempt to bury all other adverse health impacts in the sand.
The Japanese government has deemed the amount of radioactivity released from the Fukushima accident as one sixth of that which was released from Chernobyl.

However, the subsequent revelations suggest that Fukushima's radioactivity is actually anywhere from 2 to 4 times as high as Chernobyl's.
Compared to the explosion of just one reactor at Chernobyl, which had a 1,000,000 kilowatt capacity, the explosion at Fukushima Daiichi involved 4 reactors with a combined output of 2,810,000 kilowatts.

The post-accident maintenance of nuclear reactors between Fukushima and Chernobyl also differs.
Seven months after Chernobyl, a steel and cement sarcophagus was built to cover the reactor, thus stopping the further release of radioactive materials. Japan, even after 5 years, continues to let radioactive substances spew out into the air and water, thus worsening the world's environment.

Without using the necessary basic procedures, they are simply trying to implement "cheaper" countermeasures.


The fact that the stricken reactor cannot be managed alone can demonstrate that nuclear power lacks practicality and there is no choice but to abolish it.



THE FOLLOWING WILL NOT GET EVEN A MENTION IN TODAY'S NEWS, BUT I DID WANT YOU TO SEE THAT SOME ARE AWARE AND TRYING TO HELP, AND THOUGHT SOME MAY BE IN THAT AREA AND MIGHT WANT TO ATTEND.

SF Japan Consulate Speak-out-Evacuate The Families and Children Of Fukushima And Stop The Cover-up

On November 11, 2016 there will be a speak out at the Japanese consulate (San Francisco) to call for the immediate evacuation of the children and families of Fukushima.

The Abe government which now runs TEPCO continues to cover-up the dangers of radiation and is also still attempting to restart Japan's nuclear power plants.

The Abe government has told the people of Japan and the world that the Fukushima crisis has been overcome and there is nothing to worry about despite the fact that radioactive material continues to contaminate the area and the Pacific ocean.

The Japanese people are growing increasingly angry at the lies and also the massive costs of containing the crisis and the tens of thousands of bags of contaminated waste as well as the thousands of tanks of contaminated water.

Even NHK has been running programs about the unbridled costs of the 7,000 workers which are still employed at the plant to keep it "under control"

The people of Japan need to know that American people stand with them in defending the people of Fukushima and also opposing any restarting of the nuclear plants.

The government has also passed a secrecy law that is being used against the press to silence journalists and also is openly violating the anti-war constitution Article 9. More and more Japanese people are angry about this reactionary and dangerous path by the Abe government"
THE REALITY OF THESCOPE OF FUKUSHIMA.

"Lest anybody forgets, THREE nuclear reactors at Fukushima Diiachi Nuclear Power Plant experienced 100% meltdown, aka The China Syndrome over five years ago.

The molten cores of those reactors melted down to a stage called corium, which is a lumpy hunk of irradiating radionuclides so deadly that robotic cameras are zapped by it.

The radioactivity is powerfully deadly and possessed of frightening longevity, HUNDREDS (TO THOUSANDS) of years.

Again for those who missed class, TEPCO (Tokyo Electric Power Company) has no idea where those masses of sizzling hot radioactive goo are today.
Did they burrow into the ground?
Nobody knows, but it is known that those blobs of radioactivity are extraordinarily dangerous,constantly spewing radioactivity "who knows where"?

Fukushima is a national/worldwide emergency, everybody knows it is happening; it is current; it is alive; it is deadly; it has killed (as explained in several prior articles) and will kill many more as well as maim countless people over many decades.

Yet, the Abe administration is talking to Olympic officials about conducting Olympic events, like baseball, in Fukushima for Tokyo 2020.
Are they nuts, gone off the deep end, gone mad, out of control?

After all, TEPCO readily admits (1) the Fukushima cleanup will take decades to complete, if ever completed, and (2) nobody knows the whereabouts of the worlds most deadly radioactive blobs of sizzling hot masses of death and destruction, begging the question:

Why is there a Chernobyl Exclusion Zone of 1,000 square miles after one nuclear meltdown 30 years ago, but yet Fukushima, with three meltdowns, each more severe than Chernobyl, is already being repopulated?

The short answer is the Abe administration claims the radioactivity is being cleaned up. A much longer answer eschews the Abe administration by explaining the near impossibility of cleaning up radioactivity throughout the countryside.

There are, after all, independent organizations with boots on the ground in Fukushima (documented in prior articles) that tell the truth, having measured dangerous levels of radiation throughout the region where clean up crews supposedly cleaned up.

Consider this; 30 years after the fact, horribly deformed Chernobyl children are found in over 300 asylums in the Belarus backwoods deep in the countryside.
Equally as bad but maybe more odious, as of today, Chernobyl radiation (since 1986) is already affecting 2nd generation kids.

According to USA Today, Chernobyl's Legacy: Kids With Bodies Ravaged by Disaster, April 17, 2016: "There are 2,397,863 people registered with Ukraine's health ministry to receive ongoing Chernobyl-related health care. Of these, 453,391 are children — none born at the time of the accident. Their parents were children in 1986. These children have a range of illnesses: respiratory, digestive, musculoskeletal, eye diseases, blood diseases, cancer, congenital malformations, genetic abnormalities, trauma."

It's taken 30 years for the world, via an article in USA Today, to begin to understand how devastating, over decades, not over a few years, radiation exposure is to people. It is a silent killer that accumulates in the body over time and passes from generation to generation to generation, endless destruction that cannot be stopped."

HONEST INVESTIGATIVE JOURNALISM, "WATCHDOG JOURNALISM"... SOMETHING SOME PEOPLE, SUCH AS MYSELF, LOOK FOR AND EITHER DON'T FIND OR FIND LACKING IN AMERICA, BUT IN JAPAN, IT BECAME SO POWERFUL A FORCE FOR THE ENLIGHTENMENT OF JAPANESE CITIZENS TO THE FACTS OF FUKUSHIMA THAT IT WAS FIRST BANNED BY LAW UNDER THREAT OF JAIL AND THEN WAS COMPLETELY STOPPED BY THE SECOND LARGEST NEWSPAPER THERE, WITH A CIRCULATION OVER 7 MILLION.

IN MAY OF 2014, ASAHI SHIMBUM PUBLISHED ITS LAST ARTICLE TRYING TO EXPOSE THE HIDDEN TRUTHS AND GOVERNMENT CORRUPTION REGARDING THE ONGOING FUKUSHIMA NUCLEAR DISASTER, A DISASTER THAT CANNOT BE STOPPED.

IT WAS ONE ARTICLE TOO MANY, OBVIOUSLY, AND WITHOUT AN ANNOUNCEMENT AS TO WHY, WITHOUT ADVANCE NOTICE...SILENCE.

FORBIDDEN TO WRITE ABOUT FUKUSHIMA
"On the sixth floor of its hulking headquarters overlooking Tokyo's celebrated fish market, the newspaper in October 2011 hand-picked 30 journalists to create a desk dedicated to investigative reporting, something relatively rare in a country whose big national media favor cozy ties with officials via so-called press clubs.
The clubs are exclusive groups of journalists, usually restricted to those from major newspapers and broadcasters, who are stationed within government ministries and agencies, ostensibly to keep a close eye on authority. In reality, the clubs end up doing the opposite, turning the journalists into uncritical conduits for information and narratives put forth by government officials, whose mindset the journalists often end up sharing.

The Investigative Reporting Section proved an instant success, winning Japan's top journalism award two years in a row for its exposure of official coverups and shoddy decontamination work around the nuclear plant.

In May, 2014, a major investigative story was published by The Asahi Shimbun, about workers fleeing the Fukushima nuclear plant against orders.

But on May 20, 2014, running under the banner headline "Violating Plant Manager Orders, 90 Percent of Workers Evacuated Fukushima Daiichi," the front-page article made the explosive claim that at the peak of the crisis, workers had fled the nuclear plant in violation of orders to remain from plant manager, Masao Yoshida.

The article challenged the dominant narrative of the manager leading a heroic battle to contain the meltdowns and thus save Japan. The reporters behind the story, Hideaki Kimura and Tomomi Miyazaki, had obtained a transcript of testimony that Yoshida gave to government investigators before his death from cancer in 2013. The 400-plus-page document, drawn from 28 hours of spoken testimony by Yoshida, had been kept secret from the public in the Prime Minister's Office. Unearthing the testimony was an investigative coup, which the Asahi unabashedly played up in ad campaigns.

BUT IT ALL BEGAN TO CRUMBLE...
"Rather than stand together to resist government pressure, they allowed themselves to be used as instruments of political pressure," said Jiro Yamaguchi, a political scientist at Tokyo's Hosei University.

Despite peer pressure, Asahi journalists say the newspaper initially intended to defend its Fukushima scoop, going so far as to draw up a lengthy rebuttal that was to have run on page one in early September. As late as Sept. 1, Seiichi Ichikawa, the head of the Investigative Section at the time, told his reporters that the newspaper was ready to fight back.

"The government is coming after the Special Investigative Section," Ichikawa said in a pep talk to his team, according to Watanabe and others who were present. "The Asahi will not give in."

The rebuttal was never published. Instead, President Kimura surprised many of his own reporters with a sudden about face, announcing at a press conference on Sept. 11 that he was retracting the Fukushima-Yoshida article.

In September 2014, the newspaper retracted the story it had published in May, punishing reporters and editors responsible for the story, slashing the size of the new section's staff and forcing the resignation of the newspaper's president at the time, Tadakazu Kimura, who had supported the investigative push.

A newspaper-appointed committee of outside experts later declared that the article, which the Asahi had trumpeted as a historic scoop, was flawed because journalists had demonstrated "an excessive sense of mission that they 'must monitor authority.'"

While the section was not closed down altogether, its output of major investigative articles dropped sharply as the remaining journalists were barred from writing about Fukushima.

The abrupt about-face by the Asahi, a 137-year-old newspaper with 2,400 journalists that has been postwar Japan's liberal media flagship, was was an early victory for the administration of Prime Minister Shinzo Abe, which had sought to silence critical voices as it moved to roll back Japan's postwar pacifism, and restart its nuclear industry.

"In Japanese journalism, scoops usually just mean learning from the ministry officials today what they intend to do tomorrow," said Makoto Watanabe, a former reporter in the section who quit the Asahi in March because he felt blocked from doing investigative reporting. "We came up with different scoops that were unwelcome in the Prime Minister's Office."

The taming of the Asahi set off a domino-like series of moves by major newspapers and television networks to remove outspoken commentators and newscasters.

Political interference in the media was one reason cited by Reporters Without Borders in lowering Japan from 11th in 2010 to 72nd out of 180 nations in this year's annual ranking of global press freedoms, released on April 20, 2016.

"Emasculating the Asahi allowed Abe to impose a grim new conformity on the media world," said Koichi Nakano, a professor of politics at Sophia University in Tokyo and a leading critic of the administration on press freedom issues.
"Other media know that once Asahi gave in, they were exposed and could be next. So they gagged themselves."

"Until 2014, the newspaper was very enthusiastic about giving us the time and freedom to expose the misdeeds in Fukushima, and tell our own stories about what had happened," recalled once head of the investigative journalism section, Takaaki Yorimitsu.
"We were telling the stories that the authorities didn't want us to tell."

Many Japanese journalists are unable to resist pressures that officials can put on them via the press clubs.

Journalists who are deemed overly critical or who write about unapproved topics can find themselves barred from briefings given to other club members. This is a potent sanction when careers can be broken for missing a scoop that appeared in rival newspapers. This is what some Asahi journalists in the press clubs say happened to them as the Investigative Section angered government officials with its critical stories.

"When the chips were down, they saw themselves as elite company employees, not journalists," said Yorimitsu, who, after the Fukushima article's retraction, was reassigned to a Saturday supplement where he writes entertainment features.

"Until 2014, the newspaper was very enthusiastic about giving us the time and freedom to expose the misdeeds in Fukushima, and tell our own stories about what had happened," recalled Yorimitsu. "We were telling the stories that the authorities didn't want us to tell."

Under Yorimitsu, the section's crowning achievement was an investigative series called "The Promethean Trap," a play on the atomic industry's early promise of becoming a second fire from heaven like the one stolen by Prometheus in Greek mythology.

The series, which appeared daily beginning in October 2011, won The Japan Newspaper Publishers and Editors Association Prize, Japan's equivalent of the Pulitzer Prize, in 2012 for its reporting on such provocative topics as A GAG ORDER PLACED ON SCIENTISTS after the nuclear accident, and the government's failure to release information about radiation to evacuating residents.

The series spawned some larger investigative spin-offs, including an exposé of CORNER-CUTTING in Japan's multi-billion dollar radiation cleanup, which won the prize in 2013.

These were promising accomplishments for a new section, but they also led to resentment in other parts of the newspaper, where the investigative team was increasingly viewed as prima donnas, and Yorimitsu's "no more pooches" proclamation as an arrogant dismissal of other sections' work.

The paper's new president, Masataka Watanabe, continues to talk about the importance of investigative journalism, and some current and former Asahi journalists say investigative reporting will make a comeback.

However, scholars and former section reporters say the setback was too severe.
They say the Asahi's decision to punish its own journalists will discourage others from taking the same risks inherent in investigative reporting. Worse, they said the Asahi seemed to lapse back into the old, access-driven ways of Japan's mainstream journalism. "


AND THAT IS HOW IT'S DONE, EVERY DAY, IN JAPAN, HERE, WHEREVER THE REAL NEWS, THE TRUTH, OFFENDS THOSE IN POWER.

THE BRAVE STEP OUT, THEN COME THE ATTACKS, THE DISCREDITING, THE DRIVING BACK OF THE FACTS, THE COVERING-UP OF THE TRUTH WE SAY WE WANTBUT DO NOT HOLD DEAR ENOUGH TO DEMAND.

JOURNALISTS TURN ON THEIR OWN TO SAVE THEIR CAREERS, NEWS MEDIA TURN ON THEIR OWN TO "SAVE THE COMPANY".

AND WE, THE VERY ONES WHO NOW AND THEN CATCH A GLIMMER OF THE REAL FREEDOM OF THE PRESS AND SEE HOW FINE IT IS TO BE TOLD THE FACTS, WELL, WE ALSO CAVE IN, SWALLOW HARD, GO BACK TO BELIEVING THE LIES AND HALF-TRUTHS, THE MEDIA PROPAGANDA WE'RE SO USED TO.

GEORGE ORWELL SAW THESE TIMES IN HIS BOOK 1984, BUT WE'RE WAY PAST THAT NOW.
EVEN ORWELL COULD NOT HAVE IMAGINED HOW MIRED IN "GROUP-THINK", HOW USED TO "DOUBLE-SPEAK", HOW WILLING WE ARE TO LET GO OF TRUTH IN FAVOR OF WHAT WE WANT TO HEAR AND READ AND THINK.


IN THE END, WHEN ALL IS SAID AND DONE, WE GET WHAT WE PAY FOR, DON'T WE, READERS?

IF WE WON'T PAY FOR TRUTH, WE'LL DIE IN THE OCEAN OF LIES THAT SURROUND US TODAY, THANKS TO THE POWER THAT THOSE IN POWER WIELD OVER OUR MAJOR MEDIA EVERYWHERE.