ABOVE: THE RED LINE REPRESENTS JUST CONFIRMED POLIO CASES, THE BLUE LINE REPRESENTS CASES OF "AFM" AND THE LIGHTER LINE REPRESENTS THE COMBINED CASES, OVER 100,000 TOTAL CASES SINCE 1996.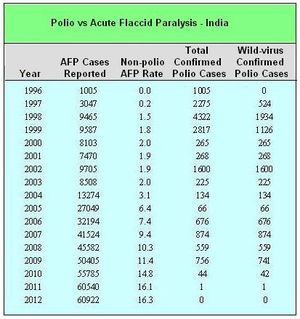 ABOVE: RESEARCHERS IN INDIA HAVE DEMONSTRATED A DEFINITE LINK BETWEEN IMMUNIZATIONS AND ACUTE FLACCID PARALYSIS. THE STEADY INCREASE CORRELATES TO THE MASSIVE NUMBER OF CHILDREN THERE GIVEN VACCINES SINCE 1996.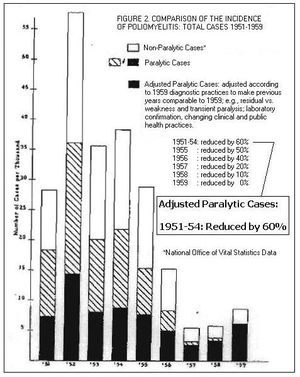 ABOVE

GRAPH:

All of the non-paralytic cases, represented by the clear portions of the bars in the graph, and which, pre-vaccine, were the majority of cases reported simply as polio each year, were discarded completely and reclassified by redefining polio and by new mandates for diagnosis of polio.


I TRY TO STAY ABREAST OF THE LATEST NEWS IN 'MEDICINE' AND SO I CAME ACROSS THE FOLLOWING TODAY ... AND ALL THE ALARM BELLS WENT OFF.
Three more Washington state kids hospitalized with symptoms of rare, polio-like illness.


THAT ILLNESS IS CALLED 'ACUTE FLACCID MYELITIS' (AFM).
IT WAS ALSO KNOWN PREVIOUSLY AS "ACUTE FLACCID PARALYSIS" (AFP).
OLD DISEASE, NEW NAME.

The agency has reported a sharp rise in AFM cases this year, with at least 89 cases in 33 states between January and September.

[BETWEEN JANUARY AND SEPTEMBER, ALL SCHOOL MONTHS IN THE U.S. AND KIDS CAN'T ATTEND SCHOOL WITHOUT BEING VACCINATED.]

Illness attacks central nervous system

Like Polio, AFM attacks a child's nervous system and can lead to paralysis.

LIKE POLIO?
LIKE?
WHY NOT CALL IT WHAT IT REALLY IS?
POLIOMYELITIS.

HERE IS THE DEFINITION OF POLIOMYELITIS BY THE WORLD HEALTH ORGANIZATION (W.H.O.):

"an infectious viral disease that affects the central nervous system and can cause temporary or permanent paralysis.

[NOTE: AFM/AFP has the same definition but with the claim that it is caused by a different enterovirus.]

Poliomyelitis (polio) is a highly infectious viral disease, which mainly affects young children."

THE W.H.O. ALSO STATES THAT VACCINES ARE KNOWN TO CAUSE AND SPREAD THE POLIO VIRUS.

"Q: What is vaccine-derived polio?

A: Oral polio vaccine (OPV) contains an attenuated (weakened) vaccine-virus, activating an immune response in the body.

When a child is immunized with OPV, the weakened vaccine-virus replicates in the intestine for a limited period... During this time, the vaccine-virus is also excreted.
In areas of inadequate sanitation,

this excreted vaccine-virus can spread in the immediate community

(and this can offer protection to other children through 'passive' immunization), before eventually dying out."

NO, IT OFFERS THE RISK OF INFECTING OTHERS WITH THAT VIRUS ITSELF!

HERE IS A VERY IMPORTANT FACT FOR ALL PARENTS TO CONSIDER:

"Acute Flaccid Myelitis (AFM) is a variant or sub-type of transverse myelitis. AFM is inflammation of the spinal cord ...

The enterovirus (EV-D68) has been SUSPECT in many of these cases however, IT HAS NOT BEEN DEFINITIVELY PROVEN that it is this particular virus that has caused the paralysis, although several cases of AFM occurred at around the same time as an outbreak of the EV-D68 virus.



Enterovirus is not always related to nor is it always the cause of AFM

."

[Source: a retrospective cohort study. Lancet Infec Dis. 2015;15:671-82.]

REPEATING THAT LAST SENTENCE...

"ENTEROVIRUS IS NOT ALWAYS RELATED TO NOR IS IT ALWAYS THE CAUSE OF AFM."

QUITE ODD IS THIS, FROM AUSTRALIA, WHERE THE "WILD" POLIOVIRUS DOES NOT EXIST, BUT WHERE THE VACCINE IS STILL GIVEN:

"Adequate investigation of all cases of AFP [ACUTE FLACCID PARALYSIS, aka ACUTE FLACCID MYELITIS] is required for WHO certification.

Most importantly, even in the absence of wild poliovirus circulation, surveillance systems should be capable of detecting at least one case of AFP per 100,000 population aged less than 15 years or 40 cases per year in Australia.

Secondly, at least 80% of AFP cases should have two specimens collected within 14 days of onset of paralysis, 24 hours apart, even if the clinician involved is confident of an alternative diagnosis.

Stool specimens MUST be tested for poliovirus in a WHO accredited laboratory ..."
AND NOW, THE W.H.O. HAT TRICK...TURN POLIO CASES INTO AFP/AFM CASES OR GUILLAIN-BARRE, WHATEVER YOU PLEASE...HERE'S HOW THEY DID IT....

"Diagnoses of the 111 confirmed cases are shown in Table 2.

There were no cases of poliomyelitis identified during the study period.

According to WHO's virological classification 42 (38%) of cases would be classified as 'non-polio' cases either because they had two poliovirus negative stool cultures or because there was no residual paralysis at 60 day follow-up.

However, using this classification, 69 (62%) WOULD be classified as 'polio compatible' because of incomplete follow-up data or failure of provision of specimens for stool culture (Figure 1).

Following review by the Polio Expert Committee, 60 of the 69 (87%) of the 'polio compatible' cases were reclassified as 'non-polio' based on information provided by the reporting paediatrician and the investigating laboratory. "

PRESTO CHANGE-O! POLIO BECOMES WHATEVER W.H.O. LABS WANT TO CALL IT, ANYTHING BUT POLIO!


AS YOU WILL SEE BELOW, DURING THE FIRST FEW DAYS AFTER 'IMMUNIZATION, A VACCINATED CHILD CAN INDEED SPREAD THE VIRUS TO OTHERS THROUGH BODY EXCRETIONS, AS ONE CHILD SPREAD IT TO THE FATHER, WHO IS NOW DISABLED BY THE PARALYSIS.

ASIDE FROM THE ABOVE GRAPHS, THERE ARE NUMEROUS PEER-REVIEWED STUDIES, ARTICLES FROM ALL OVER THE WORLD THAT HAVE REPEATEDLY TRIED TO FOCUS ON THE VERY REAL POSSIBILITIES OF VACCINES CAUSING HARM TO THOSE VACCINATED.

ONE OF THE MOTHERS OF A CHILD RECENTLY DIAGNOSED, THE MOTHER OF THE CHILD WHO DID NOT SURVIVE THIS "AFM", HAS TOLD MAJOR NEWS MEDIA THAT HER SON HAD RECENTLY BEEN VACCINATED.

MY HEART GOES OUT TO HER BECAUSE I KNOW THE THOUGHTS THAT PLAGUE A PARENT WHEN A CHILD DIES, ALMOST DIES, OR IS AFFECTED FOR LIFE AND ONE WONDERS IF THERE WAS ANYTHING THAT COULD HAVE BEEN DONE OR NOT DONE TO PREVENT SUCH A HORRIBLE LOSS.

THIS IS NOT A BLOG ABOUT "ANTI-VACCINATION", BUT A PLEA FOR PARENTS TO QUESTION, TO RESEARCH, TO DEMAND TO KNOW WHAT TO BE WATCHFUL FOR IN A RECENTLY VACCINATED CHILD, TO CAREFULLY WEIGH WHAT THE LEGAL SYSTEM AND THE SCIENTIFIC/MEDICAL COMMUNITY HA

VE ALL

REVEALED ABOUT THE KNOWN AND PROVEN HAZARDS OUR MOST PRECIOUS CHILDREN FACE FROM THE VERY VACCINES WE PARENTS ARE TOLD THEY MUST HAVE.



THERE IS NOTHING IN THIS WORLD MORE IMPORTANT TO ME THAN THE HEALTH AND SAFETY OF EVERY CHILD BORN.



IT HAS LONG BEEN MY STANCE THAT EVERY PARENT SHOULD BE AFFORDED THE RIGHT TO READ THE INSERTS THAT COME WITH EACH VIAL OF VACCINE, TO SEE FOR THEMSELVES WHAT THE MANUFACTURERS LIST AS KNOWN SIDE-EFFECTS, KNOWN FAILURES OF THOSE VACCINES TO EVEN DO WHAT WE'RE TOLD THEY'LL DO.

I HAVE RISKED REPUTATION, CAREER AND THE ALIENATION OF COLLEAGUES AND FRIENDS FOR OVER THREE DECADES TO MAKE CERTAIN THAT PARENTS ARE COMPLETELY AWARE OF WHAT ALL PHYSICIANS ARE AWARE OF REGARDING BOTH MEDICATIONS AND VACCINES THAT MOST PATIENTS SIMPLY TAKE WITHOUT QUESTION.

TO MAKE SUCH AN UNINFORMED DECISION TO INGEST OR IN ANY OTHER WAY INTRODUCE ANY DRUG OR VACCINE INTO A HUMAN BODY CAN BE FATAL.

AS A CHILD, I WAS ADMINISTERED THE ORAL POLIO VACCINE THAT CONTAINED THE SV-40 MONKEY VIRUS WHICH WE NOW KNOW CAUSES CERTAIN CANCERS.

I AM IN MY 4th BATTLE WITH CANCER AS I TYPE AND LOST 13 MEMBERS OF MY FAMILY TO CANCER WHO ALL HAD THAT VACCINE AT THE SAME TIME THAT I DID.

AS A PARENT, I ALMOST LOST TWO OF MY CHILDREN TO POST-VACCINE SIDE-EFFECTS, TO ANAPHYLACTIC REACTION IN ONE AND TO A MONTHS-LONG STRUGGLE FOR SURVIVAL IN ANOTHER, THE AFTER-EFFECTS OF WHICH SHE STILL SUFFERS TODAY, 43 YEARS LATER.

HAD I BUT BEEN GRANTED A LOOK AT THE INSERTS OF THOSE VACCINES, HAD I BUT KNOWN TO ASK FOR THAT, MY CHILDREN WOULD HAVE BEEN SPARED.

A RULING AGAINST A PHYSICIAN WHO FAILED TO DISCLOSE ALL PERTINENT PACKAGE INSERT INFORMATION TO

THE

FATHER WHOSE CHILD WAS VACCINATED FOR POLIO, WHO THEN WAS INFECTED BY THE CHILD AND IS PERMANENTLY DISABLED, SHOWS US THAT PHYSICIANS MUST BE HELD RESPONSIBLE FOR INFORMING PATIENTS OF THE RISKS.

"Defendant Lederle Laboratories manufactured "Orimune", which consisted of live but weakened strains of the polio virus. Defendant Dr. Schwartz administered the oral vaccine to plaintiff's five-month-old daughter. Plaintiff had elective surgery, then cared for his daughter after her immunization.
He was exposed to the polio viruses she shed.
Within thirty days of the infant's vaccination, Mr. Tenuto was diagnosed with paralytic poliomyelitis, which rendered him a permanent paraplegic."


WE MUST QUESTION EVERYTHING AND INSIST ON VALID, HONE

ST, PROVABLE ANSWERS TO THOSE QUESTIONS.
WE MUST LEARN ALL WE CAN ABOUT WHAT GOES INTO OUR FRAGILE HUMAN BODIES.



NO TWO HUMANS REACT IN EXACTLY THE SAME WAY TO ANYTHING THAT ENTERS THEIR SYSTEM.



WESTERN MEDICINE, ESPECIALLY, FAILS TO TAKE THAT INTO CONSIDERATION WHEN TREATING PATIENTS AND ADMINISTERING MEDICINES AND VACCINES INDISCRIMINATELY TO ALL.



A SIMPLE ASPIRIN IS DEADLY TO SOME, JUST AS A PEANUT CAN BE.
PENICILLIN IS A LIFE-SAVING DRUG FOR SOME, BUT OTHERS HAVE DIED FROM ANAPHYLACTIC REACTION WITH EVEN SMALL DOSES.

FROM THE U.S. HEALTH AND HUMAN SERVICES WEBSITE, ONE CAN READ FOR HOURS ON INJURIES CAUSED BY VACCINES, LEGAL RULINGS, SOME OF THE "SIDE-EFFECTS" OF SOME VACCINES, ABOUT THE "INJURY COMPENSATION PROGRAM" WHEREIN THE FEDERAL GOVERNMENT, USING TAXPAYER FUNDS, PAYS FOR VACCINE INJURIES BECAUSE CONGRESS PASSED A LAW THAT FORBIDS SUING VACCINE MANUFACTURERS.

THE 'SUPREME COURT' HAS UPHELD THAT LAW.
US Supreme Court Bans Vaccine Design Defect Lawsuits



WE MUST CAREFULLY EVALUATE THE NEWEST OUTBREAK OF THIS "ACUTE FLACCID MYELITIS/PARALYSIS".

A search through public health department disease statistics reveals that, in the U.S., those cases [of Acute Flaccid Myelitis, aka Acute Flaccid Paralysis, aka Transverse Myelitis] were basically handled as they were in Canada: " the term non-paralytic poliomyelitis [is] replaced by 'meningitis, viral or aseptic' with the specific viruses shown where known."

[SOURCE: Poliomyelitis Trends, 1958, published by the Dominion Bureau of Statistics, Ottawa, Canada; Catalog No. 82-204]

YOU SEE, IT'S AN OLD PROBLEM WITH A NEW NAME.
IT WAS GIVEN THIS NEW NAME SO THAT THE CENTERS FOR DISEASE CONTROL (THE CDC) COULD CLAIM THAT POLIO HAS BEEN ERADICATED.
IT HAS NOT BEEN ERADICATED.

IT'S ONCE AGAIN ON THE RISE...UNDER A NEW LABEL.
Dr. Douglas Kerr from Johns Hopkins:

"Infants as young as five months old can get Transverse Myelitis, and some are left permanently paralyzed and dependent upon a ventilator to breathe… my colleagues at the Johns Hopkins Hospital and I hear about or treat hundreds of new cases every year."

[SOURCE: pg. xv in the Forward to Donna Jackson Nakazawa's book "The Autoimmune Epidemic"]

Transverse myelitis is a rare clinical syndrome in which an immune-mediated process causes neural injury to the spinal cord.
The pathogenesis of transverse myelitis is mostly of an autoimmune nature, triggered by various environmental factors, including vaccination.

A systematic review of PubMed, EMBASE and DynaMed for all English-language journals published between 1970 and 2009... disclosed 37 reported cases of transverse myelitis associated with different vaccines including those against hepatitis B virus, measles-mumps-rubella, diphtheria-tetanus-pertussis and others, given to infants, children and adults.

Although vaccines harbor a major contribution to public health in the modern era, in rare cases

they may be associated with autoimmune phenomena such as transverse myelitis.


The associations of different vaccines with a single autoimmune phenomenon allude to the idea that a common denominator of these vaccines, such as an adjuvant, might trigger this syndrome.
[Source: https://www.ncbi.nlm.nih.gov/pubmed/19880568]

AN ADJUVANT IS DEFINED AS : a substance that enhances the body's immune response to an antigen.

Adjuvants may be added to a vaccine to modify the immune response by boosting it such as to give a higher amount of antibodies and a longer-lasting protection

There are different classes of adjuvants that can push immune response in different directions, but the most commonly used adjuvants include aluminum hydroxide and paraffin oil
ALUMINUM?

Aluminum in Vaccines May be More Dangerous than Mercury


FROM OUR OWN EPA,
"If you are exposed to aluminum, many factors will determine whether you will be harmed. These factors include the dose (how much), the duration (how long), and how you come in contact with it. You must also consider any other chemicals you are exposed to and your age, sex, diet, family traits, lifestyle, and state of health.

Studies in animals show that the nervous system is a sensitive target of aluminum toxicity. Obvious signs of damage were not seen in animals after high oral doses of aluminum. However, the animals did not perform as well in tests that measured the strength of their grip or how much they moved around.

It does not appear that children are more sensitive than adult animals."



FROM THE U.S. NATIONAL LIBRARY OF MEDICINE:

Adjuvants--a balance between toxicity and adjuvanticity.
The chemical nature of adjuvants, their mode of action and
the profile of their side effects are highly variable.
Some of the side effects can be ascribed to an unintentional stimulation of different mechanisms of the immune system whereas others may reflect general adverse pharmacological reactions.
The most common adjuvants for human use today are still aluminum hydroxide, aluminum phosphate and calcium phosphate
At present the choice of adjuvants for human vaccination reflects a compromise between a requirement for adjuvanticity and
an acceptable low level of side effects.

ACCEPTABLE TO WHOM?
WHO DECIDES WHAT'S "ACCEPTABLE"?

IT ISN'T JUST THE ADJUVANTS...IT'S HOW THE VACCINES ARE CREATED.
"We have listed vaccine ingredients (substances that appear in the final vaccine product), process ingredients (substances used to create the vaccine that may or may not appear in the final vaccine product), and growth mediums (the substances vaccines are grown in) for vaccines approved by the Food & Drug Administration (FDA) and commonly recommended by the Centers for Disease Control (CDC.)



Controversial products used to make vaccines: African Green Monkey (Vero) cells, aluminum, cow products, Cocker Spaniel cells, formaldehyde, human fetal lung tissue cells, insect products, and mouse brains."

IS ANY OF THE ABOVE COMMON KNOWLEDGE, FREQUENTLY REPORTED IN THE PRESS, TOLD TO US BY OUR PHYSICIANS WITHOUT US QUESTIONING THEM?

NO.
KEVIN

N

ORBURY'S STORY OF CONTRACTING POLIO WAS REPEATED ALL ACROSS THE WORLD IN THE 1950s...A HEALTHY, HAPPY KID ONE MINUTE, A BODY WRECKED FOR LIFE THE NEXT.


BUT KEVIN WAS A VERY SPECIAL KID AND BECAME A VERY GOOD NEWS REPORTER.

Kevin has written a memoir entitled, 'The Improbable Reporter'.
He was interviewed by Andrew Rule of the Sunday Sun Herald (an Australian newspaper) and his story was published March 12, 2016.

Here is a quote from the article:
"Dr Bertram McCloskey no doubt saved many lives, maybe even Norbury's own. But it wasn't until the adult Norbury dug up a report McCloskey published in a medical journal that he heard of a likely link between the 1950s polio epidemic and inoculation against whooping cough and the deadly disease diphtheria, which once killed tens of thousands of children a year.

His report in The Lancet makes disturbing reading, even today," Norbury begins.

McCloskey had noticed that

211 of 340 polio cases in Victoria in six months were children who had been inoculated

— and that the more recent the injection, the more likely it was they had developed polio.
Even more pointedly, the polio paralysis was more severe in whichever arm the child had recently had injected.
This rang alarm bells with Norbury.
Because of problems with the primitive syringes then used,

he'd been given a double dose of diphtheria vaccine, he says, only weeks before the paralysis hit him.
He discovered that

McCloskey had reported his misgivings to the Victorian chief health officer, the heads of the Commonwealth Serum Laboratories and the head of the Infectious Diseases Hospital.



They agreed there was a link between school injections and polio. In fact, the Medical Journal of Australia advised against injecting school-aged children in areas where polio was breaking out.



Experts apparently suspected that children's immune systems were temporarily weakened by the vaccines, making them vulnerable to polio.

So what happened?
Because of fears of a backlash against immunisation, the authorities buried McCloskey's report.
People in high places thought that the increased risk of hundreds of children getting polio was better than postponing diphtheria vaccinations."

JUST LIKE WE READ IN THE INSERT FOR THE POLIO VACCINE TODAY, PROVIDED BY THE W.H.O. (WORLD HEALTH ORGANIZATION):

"The potential risk of apnoea and the need for respiratory monitoring for 48 -72 h should be considered when administering the primary immunisation series to very premature infants (born ≤ 28 weeks of gestation) and particularly for those with a previous history of respiratory immaturity.



As the benefit of vaccination is high in this group of infants, vaccination should not be withheld or delayed. "



THEY KNOW THE RISK TO THESE INFANTS, BUT INSIST ON GIVING THE VACCINE ANYWAY!
WHY WOULD THEY DO THAT?
WHY RISK EVEN ONE BABY?

The connection between childhood vaccination and paralysis has been known since the polio outbreaks in the 1940s and 1950s, and the knowledge was not confined to Australia. It also happened in the United States, Canada, Germany, Italy, France, and England.

There is a very good article in The Lancet, entitled Polio Provocation: Solving a Mystery with the Help of History.

In the article, the author, Stephen Mawdsley reveals some very interesting facts about the association between vaccination with diphtheria, tetanus, and pertussis, and the increased risk of paralytic polio in recently vaccinated children.

From the Lancet article:

… it was not until the end of World War II that injection-induced polio emerged as a public health concern. The application of epidemiological surveillance and statistical methods enabled researchers to trace the steady rise in polio incidence along with the expansion of immunisation programmes for diphtheria, pertussis, and tetanus.

Evidence of this correlation was first published by German doctors, who noted that children who had received treatment for congenital syphilis later became paralysed in the injected limb.

Although further studies from Italy and France corroborated this link, it was not until the end of World War II that injection-induced polio emerged as a public health concern.

A report that emerged from Guy's and Evelina Hospitals, London, in 1950, found that 17 cases of polio paralysis developed in the limb injected with pertussis or tetanus inoculations.

Results published by Australian doctor Bertram McCloskey also showed a strong association between injections and polio paralysis.

Meanwhile, in the USA, public health researchers in New York and Pennsylvania reached similar conclusions. Clinical evidence, derived from across three continents, had established a theory that required attention. Medical journals and newspapers became sites of contestation.

Not all doctors agreed with the alarmist tone and critiqued the findings as either coincidental or based on insufficient data.

Meanwhile, American newspapers advised parents to postpone vaccinations during warm weather or epidemics, citing evidence that some children developed polio within a month of injection. As debates swirled and publicity mounted, parents were asked to weigh the potential risks of immunisations with their benefits.

The impressive volume of literature on polio provocation by the 1950s fuelled changes in health policy. US health organisations and charities, including the National Foundation for Infantile Paralysis, the American Academy of Pediatrics, and the American Public Health Association, accommodated the possibility of polio provocation and encouraged health professionals to avoid "indiscriminate" injections and "booster shots" during epidemics.

The state of virology and immunology were sufficiently advanced by the 1990s to allow for a systematic investigation.

In 1998, State University of New York researchers Matthias Gromeier and Eckard Wimmer published a pioneering article on the mechanism of injection-induced polio paralysis.

Through their laboratory work, they discovered that tissue injury produced by an injection aided the poliovirus to infect the body and readily journey to the spinal cord.

For the first time, health professionals working in polio endemic regions had scientific evidence that paediatric injections could incite paralysis."

In an article from 1998, published in the Journal of Virology, researchers reported their findings, which confirmed the suspicions of nearly half a century earlier, writing:

"Skeletal muscle injury is known to predispose its sufferers to neurological complications of concurrent poliovirus infections.
This phenomenon, labeled "provocation poliomyelitis,"

continues to cause numerous cases of childhood paralysis due to the administration of unnecessary injections

to children in areas where poliovirus is endemic.



Recently, it has been reported that intramuscular injections may also increase the likelihood of vaccine-associated paralytic poliomyelitis in recipients of live attenuated poliovirus vaccines. "



HOW MANY OF US KNEW OF THIS?
IS THE AMERICAN PUBLIC OR THE PUBLIC ABROAD MADE AWARE OF THIS TODAY?
NO!

DO OUR PEDIATRICIANS WARN US, GIVE US TIME TO WEIGH ANYTHING BEFORE WE INJECT OUR PRECIOUS CHILDREN?
NO!
NO, MOST DO NOT.

SOME PHYSICIANS ARE STILL TRYING TO INFORM US, STILL TRYING TO GET OUR "HEALTH AGENCIES" TO LISTEN, TO MAKE CHANGES.

AS TO THIS RECENT OUTBREAK, MAY THE CONSCIENCES OF ALL INVOLVED DEMAND THAT THEY MAKE THE FOLLOWING PUBLIC KNOWLEDGE IN ALL MAJOR MEDIA:

The virus that is associated with the more recent hospitalizations of children is Enterovirus D68. It is not polio, but it is a very similar virus and belongs to the family of enteroviruses, which includes polio virus.

There are some doctors who remember provocation polio.
One of those doctors is Alan S. Cunningham, M.D., a retired pediatrician. Dr. Cunningham's concerns were published in The BMJ, in January of 2015.

Dr. Cunningham wrote:

"Since August 2, 2014 our Centers for Disease Control has received reports of 107 cases of 'acute flaccid myelitis' (AFM), a polio-like illness in children in 34 states.

During the same interval there have been 1153 cases of respiratory illnesses associated with enterovirus D-68 (CIDRAP News 1/16/15. CDC update 1/15/15. Catherine Saint Louis, NY Times 1/13/15).

AFM affects motor neurons in spinal cord gray matter, resulting in asymmetrical limb weakness; 34% of patients have cranial nerve motor dysfunction.

Median age of patients is 7.6 years/range: 5 months-20 years (MMWR 63: 1243–January 9, 2015).

So far only one child has fully recovered.

EV-D68 is a suspected cause but, thus far, no viruses have been found in the spinal fluid of patients, and only a minority have had an antecedent illness associated with EV-D68. Case-control studies are planned to look for clues, but presently AFM is a mystery disease of unknown cause.

It is taboo to suggest a role for vaccines, but some old-timers remember "provocation poliomyelitis" or "provocation paralysis."

This is paralytic polio following intramuscular injections, typically with vaccines. PP was most convincingly documented by Austin Bradford Hill and J. Knowelden during the 1949 British polio epidemic when the risk of paralytic polio was increased 20-fold among children who had received the DPT injection (BMJ 2:1–July 1, 1950).

Similar observations were made by Greenberg and colleagues in New York City; their literature review cited suspected cases as far back as 1921 (Am J Public Health 42:142–Feb.1952).

I first became aware of PP 10 years ago while browsing through "Krugman's Infectious Disease of Children" (page 128 of the 2004 edition).

AFM may result from a direct virus attack on the spinal cord, or by an immune attack triggered by a virus, or by something else.

If a polio-like virus is circulating in the U.S., the possibility of its provocation by one or more vaccines has to be considered. "

PLEASE, PARENTS, UNDERSTAND THAT NO TWO CHILDREN ARE ALIKE AND NO TWO CHILDREN RESPOND IN THE SAME MANNER TO ANYTHING PLACED INTO THEIR FRAGILE SYSTEMS.

WE NEED BETTER METHODS OF DETERMINING WHICH CHILDREN ARE AT HIGHER RISK FOR "PROVOCATION PARALYSIS", FOR ANY HARM FROM ANY VACCINE.

WE NEED TO MAKE CERTAIN THAT ALL PHYSICIANS WHO PRESCRIBE OR ADMINISTER IMMUNIZATIONS FULLY INFORM PARENTS BEFORE THE DAY COMES FOR THAT FIRST IMMUNIZATION.

EVERY PARENT SHOULD BE AFFORDED THE RIGHT TO READ THE PACKAGE INSERTS, TO ASK QUESTIONS, TO SEEK SECOND OPINIONS, TO HAVE THEIR CHILDREN TESTED FOR ANY IMMUNE DEFICIENCY THAT COULD RENDER THEM MORE SUSCEPTIBLE TO VACCINE INJURY THAN OTHER CHILDREN.


IF WE TRULY VALUE OUR CHILDREN, WE MUST DEMAND MORE RESEARCH BY INDEPENDENT STUDIES TO LOOK INTO WHY SUCH INJURIES OCCUR AND CHANGE THINGS SO THEY DON'T OCCUR ANY LONGER.






________________________________________________

THE TEA ROOM IS DEEPLY APPRECIATIVE OF AND INDEBTED TO THE FOLLOWING WEBSITES FOR THE WEALTH OF INFORMATION THEY HAVE PUBLISHED, STORED AND OFFER TO US ALL FREE OF CHARGE:

~ VAXTRUTH.ORG
http://vaxtruth.org/tag/vaccines/

~INTERNATIONAL MEDICAL COUNCIL ON VACCINATION



FURTHER READING:

~
Gromeier, M and Wimmer, E.

Mechanism of injury-provoked poliomyelitis.

J Virol

.

1998

;

72

:

5056–5060
~Wyatt, HV.

Provocation poliomyelitis: neglected clinical observations from 1914 to 1950.

Bull Hist Med

.

1981

;

55

:

543

(

537

)
~PROBLEMS WITH THE FLU VACCINE...ASK YOUR PHYSICIAN ABOUT THIS, SEE WHAT YOU'RE TOLD?

After a series of epidemiological investigations, researchers found that the higher incidence of narcolepsy correlated with the use of AS03-adjuvanted influenza vaccine (Pandemrix).
Those vaccinated with Pandemrix have almost a 12 times higher risk of developing the disease.

The adjuvant of the vaccine contained vitamin E that was no more than a day's normal dietary intake.

A 12 TIMES HIGHER RISK.


~ The Association of American Physicians and Surgeons (AAPS), stated the following in their Apr. 9, 2009 "Fact Sheet on Mandatory Vaccinations," available at aapsonline.org:

"AAPS does not oppose vaccines. AAPS has never taken an anti-vaccine position, although opponents have tried to paint that picture. AAPS has only attempted to halt government or school districts from blanket vaccine mandates that violate parental informed consent...
The Centers for Disease Control admits that the reported number of adverse effects of vaccines is probably only 10% of actual adverse effects...
Rampant conflicts of interest in the approval process has been the subject of several Congressional hearings, and a recent Congressional report concluded that the pharmaceutical industry has indeed exerted undue influence on mandatory vaccine legislation toward its own financial interests.

The vaccine approval process has also been contaminated by flawed or incomplete clinical trials, and government officials have chosen to ignore negative results. For example, the CDC was forced to withdraw its recommendation of the rotavirus vaccine within one year of approval. Yet public documents obtained by AAPS show that the CDC was aware of alarmingly high intussuception rates months before the vaccine was approved and recommended.

Mandatory vaccines violate the medical ethic of informed consent. A case could also be made that mandates for vaccines by school districts and legislatures is the de facto practice of medicine without a license."

[Editor's Note: This position had not been updated on the AAPS website as of Feb. 5, 2014.]

~ Dr.Joseph Mercola, DO, physician, stated the following in his pamphlet "How to Legally Avoid Unwanted Immunizations of All Kinds," available at mercola.com (accessed Jan. 26, 2010):

"You have every legal right to protect your children from the known health risks of vaccinations. Laws are in place to safeguard you against those risks — you've just never been let in on the secret...

Nobody — anywhere or anytime or under any circumstances — has the right or power in this country to immunize you or your children against your will and conviction.

Into every compulsory immunization law in America are written legal exceptions and waivers."

~ "

No American should be legally forced to play vaccine roulette with a child's life

...

If we cannot be free to make informed, voluntary decisions about which pharmaceutical products we are willing to risk our lives for, then we are not free in any sense of the word. Because if the State can tag, track down and force individuals against their will to be injected with biological products of unknown toxicity today, then there will be no limit on which individual freedoms the State can take away in the name of the greater good tomorrow."
-Oct. 16, 2008 - Barbara Loe Fisher, Co-founder and President of the National Vaccine Information Center