IF YOU LIVED IN JAPAN, THE ABOVE MIGHT SHOW YOU WHAT YOUR FOOD, YOUR HOME, YOUR LIFE SOUNDS LIKE BY GEIGER COUNTER ...IT'S THE SOUND OF VARIOUS RADIOACTIVITY LEVELS.
HUMAN SUFFERING, CHERNOBYL AND FUKUSHIMA.



ABOVE:

Svetlana Alexievich, a Belarusian writer who won a Nobel Prize for her book on the Chernobyl nuclear disaster, visited evacuees in Fukushima Prefecture recently to hear about their experiences.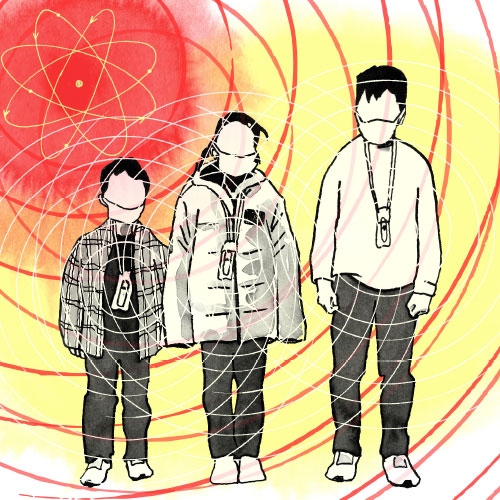 [MY NOTE: I HAVE EDITED THIS AND TRIED TO SHORTEN IT FOR OVER A WEEK, BUT HOW CAN ONE CHOOSE WHICH VOICE TO SILENCE/OMIT OF SO MANY VOICES OF THE PEOPLE WHO ARE THERE IN THIS?


WHEN WE WANT TO KNOW WHAT IS GOING ON THERE, WE CAN BUT GO DIRECTLY TO THE PEOPLE WHO ARE LIVING IT.

EACH TIME I ELIMINATED A STORY, THE ACCOUNT OF ANOTHER HUMAN BEING

IN
THIS INCREDIBLE HOPELESSNESS, I WEPT.


THAT ONE WON'T BE HEARD... NOR THAT ONE...

I CAN'T CUT ANY MORE

, SO, WITH NO APOLOGY FOR LENGTH, I MERELY HOPE AND SINCERELY PRAY THAT THE VOICES OF THE PEOPLE OF JAPAN WHO ARE RIGHT THERE IN THIS NIGHTMARE WILL BE HEARD.

PLEASE, HEAR THEM FOR THE CHILDREN'S SAKE. PLEASE.
AND, IF YOU WILL, SEND ANYTHING YOU CAN

, ANY STATEMENTS BY ANY OF THE PEOPLE OF JAPAN WHO ASK FOR OUR HELP TO YOUR ELECTED OFFICIALS, TO THE NUCLEAR REGULATORY COMMISSION, TO THE U.N., AS I WILL AGAIN TODAY, BY EMAIL AND 'SNAIL MAIL', AND FOLLOW UP BY CALLING THE CROOKS.

WHEN ENOUGH OF US CREATE A LOUD, INCESSANT PROTEST OF THIS, I MUST BELIEVE SOMEONE, SOMEWHERE WILL PAY ATTENTION AND HELP THESE PEOPLE, THESE CHILDREN. I MUST BELIEVE THAT. -- WW ]


AS IN WAR, AS IN ALL THINGS WHERE THERE ARE CRIMES AGAINST HUMANITY, IT IS ALWAYS THE CHILDREN WHO SUFFER MOST...THE INNOCENTS.

IT IS THE CHILDREN WHOM WE MUST CHAMPION, WHOM WE MUST FIGHT FOR, WHOM WE MUST HELP.

TENS OF THOUSANDS OF JAPANESE CHILDREN ARE PLAYING ON SCHOOL PLAYGROUNDS WHERE HUGE STACKS OF PLASTIC-BAGGED RADIOACTIVE DEBRIS SITS.

THEY ARE PLAYING IN PARKS (SOME IN TOKY

O) WHERE THE SAME PLASTIC BAGS HAVE BEEN BARELY BURIED OR ARE TUCKED AWAY ONSITE, IN VIEW.


TENS OF THOUSANDS OF CHILDREN WILL SOON BE FORCED , ALONG WITH THEIR PARENTS, TO RETURN TO DANGEROUSLY HIGH LEVELS OF RADIOACTIVITY IN THE VILLAGES BEING REPOPULATED BY MANDATE OF THE ABE ADMINISTRATION THERE.

OTHER CHILDREN WILL SOON BE IN DANGER FROM FUKUSHIMA CONTAMINATION.
THE 2020 OLYMPICS WILL OPEN SOON...IN RADIOACTIVE JAPAN.

Around the world children who are currently adolescent and possibly younger are in training to compete at the 2020 Summer Olympics and Paralympics in Japan. Their parents most likely have no idea that some of the venues are being planned near the most devastating and ongoing nuclear and industrial disaster in world history, Fukushima Daiichi.

WORLDWIDE MEDIA HAVE GLOSSED-OVER AND DOWNPLAYED THE FACT THAT FUKUSHIMA IS INDEED AN ONGOING DISASTER AND WILL BE FOR GENERATIONS TO COME.

THE LEAKS HAVE NOT BEEN CONTAINED, THE CORIUM HAS NEVER BEEN LOCATED, WHAT HAS BEEN RULED AS DECONTAMINATED IS RE-CONTAMINATED BY RAIN, WIND AND BURNING OF RADIOACTIVE WASTE.


DOES THE FOLLOWING FACT SOUND LIKE ALL IS WELL IN FUKUSHIMA?
20th June 2015 – 1,000,000 Bq/m3 of Sr-90 detected in seawater of Fukushima plant port. Highest in recorded history

( PDF:http://www.tepco.co.jp/nu/fukushima-np/f1/smp/2015/images/2tb-east_15061901-j.pdf)


TEPCO AND THE ABE REGIME HAVE STATED THAT THE TECHNOLOGY DOES NOT NOW EXIST, NOR WILL IT FOR AT LEAST 40 TO 100 YEARS, TO CLEAN THAT BIG MESS UP.

NO

INTERNATIONAL AGENC

Y IS INDEPENDENTLY MONITORING JAPAN'S RADIATION LEVELS AND REPORTING THOSE LEVELS TO THE PUBLIC.
TEPCO AND THE GOVERNMENT HAVE BEEN CAUGHT REPEATEDLY REPORTING FALSE LEVELS AND NOT REPORTING NEW LEAKS AND INCREASED RADIATION.
Fukushima radiation levels '18 times higher' than thought - BBC News


Press Conference with Hirohiko Izumida, Governor of Niigata Prefecture
Source: Foreign Correspondents' Club of Japan
Date: Aug 28, 2013
"LIES HAD TO BE TOLD"

Hirohiko Izumida, Governor of Niigata Prefecture:
"Tepco on either the 12th of March or on the 11th of March had already anticipated a meltdown to occur.

For example, there should be soul-searching in regard to Fukushima, and it should be made clear as to who gave the instructions to tell lies for a period of two months. And it is necessary to do this for them to regain credibility, and yet there is no one that has been able to talk about this.

In other words, it doesn't mean that a person had to go to the No. 2 reactor to look at the high doses, but rather normally it should have been explained that there were reasons why lies had to be told but now what is going to be carried out from here onwards so that lies will no longer be conveyed."

(Watch the press conference in Japanese by clicking here)

SHINZO ABE HAS BEEN PUBLICLY ACCUSED BY TWO FORMER PRIME MINISTERS AND A FORMER AMBASSADOR OF OF JAPAN OF LYING TO NOT JUST THE OLYMPIC COMMITTEE, BUT TO THE PEOPLE OF EARTH ABOUT THE DEGREE OF CONTAMINATION THERE.

Former Japan PM Koizumi accuses Abe of lying over Fukushima pledge.
"When [Abe] said the situation was under control, he was lying," Koizumi told reporters in Tokyo. "It is not under control."

[MY NOTE: FEW ARE AWARE THAT ABE RESIGNED FROM HIS FIRST ATTEMPT AS PRIME MINISTER. "He resigned in September 2007 after less than a year in office, following a series of ministerial scandals..."]


Former Prime Minister Naoto Kan said that the nuclear accident is "still going on" today.
"One reactor meltdown could destroy the whole plant and, however unlikely, that is too great a risk."
He criticised his successor as prime minister, Shinzo Abe, for restarting some of the country's nuclear power stations, all of which were shut down after the crisis, saying that Japan had "not learned the lessons enough" and was "closing its eyes" to the risk of a second disaster. He has joined protest demonstrations against the plant reopenings.

Former Japanese ambassador to Switzerland, Mitsuhei Murata, recently proposed an eminently reasonable solution. It is time, he says, for Japan to stage an "honorable retreat" from hosting the 2020 Olympics while there is still time to select and prepare an alternative site.
As Murata noted in the conclusion of his article, "Heaven and Earth will not long countenance immoral conduct."

ABE'S IDEA OF DECONTAMINATION MAKES NO SENSE.
MARCH 11, 2015, LOS ANGELES TIMES:
"Tatsuhiko Kodama, director of Tokyo University's Radioisotope Center, who has been recruited by Minamisoma to chair its Committee to Promote Decontamination, says the government's decontamination plan is "nearly impossible" and makes no sense.

"The government is simply putting soil into bags with no plan for recycling," said Kodama, who has been visiting the area on a weekly basis. "The residents don't trust the government so much."

DENIAL THAT CHILDHOOD THYROID CANCER IS CAUSED BY RADIATION...
Key findings from a report, which was released at a press briefing March 9, 2016, include a 10-fold increase in the incidence of thyroid cancer in children.

"As of February 2016, 116 children in [ONLY] Fukushima Prefecture had been diagnosed with aggressive and fast-growing, or already metastasizing, thyroid cancer, against an expected number of 1 to 5 cases per year, the report notes.

An additional 50 children have been diagnosed with suspected thyroid carcinoma.

More than 10,000 (and perhaps as many as 66,000) excess cases of cancer are expected among residents of the Fukushima area and the rest of Japan as a result of radiation exposure from the March 11, 2011, Fukushima nuclear power plant disaster, according to a report from Physicians for Social Responsibility and the International Physicians for the Prevention of Nuclear War.



THE GOVERNMENT HAS REFUSED TO TEST ALL CHILDREN IN JAPAN.

WHY?


AREN'T THEY 'WORTH' THE COST?



FUKUSHIMA IS NOT OVER. IT WILL CONTINUE FOR GENERATIONS.



"

Catherine Thomasson, MD,

co-editor

of the report and executive director of Physicians for Social Responsibility, emphasized during the briefing that Fukushima is "often incorrectly seen as a past event. The reality is that radioactive emissions from the wrecked reactors continue to this day, both periodically into the atmosphere and in the form of 300 tons of leakage each day into the Pacific Ocean."

THE FAILURE OF THE GOVERNMENT IS AN OUTRAGE.
"Unfortunately, the full health impact of Fukushima may never be known, due to Japan's failure to immediately track radiation releases as well as a disturbing lack of testing of the general population for radiation-related diseases and other impacts, such as miscarriages and fetal malformations, leukemia, lymphomas, solid tumors or cardiovascular disease," Dr Thomasson said.

The report also notes that independent research data on the effects of the disaster are needed. Most of the data for the report come from pro-nuclear organizations in Japan. Dr Thomasson noted that the "massive initial radioactive emissions were not recorded at the time of the triple-reactor meltdown, and some radioactive isotopes, including strontium-90, have not been measured at all by the government.

"What is badly needed now is a series of epidemiological studies to investigate the health consequences of the excess radiation exposure, especially diseases that can be detected and treated early," the report concludes.

BUT SHINZO ABE WILL NOT ALLOW THAT!

Briefing speaker Alex Rosen, MD, pediatrician and vice-chair, International Physicians for Prevention of Nuclear War (Germany), said, "The important thing about this report is not so much counting cases of cancer or predicting how many cases of cancer there will be but pointing out that there are people in Japan right now whose right to life in a healthy environment is being taken away from them."

Robert Alvarez, senior scholar specializing in nuclear disarmament, environmental, and energy policies, Institute for Policy Studies, and former senior policy advisor, US Department of Energy, said: "Radioactive fallout from the reactors has created de facto 'sacrifice zones' where human habitation will no longer be possible well into the future.
In November 2011, the Japanese Science Ministry reported that long-lived radioactive cesium had contaminated 11,580 square miles (30,000 sq km) of the land surface of Japan. Some 4500 square miles — an area almost the size of Connecticut — was found to have radiation levels that exceeded Japan's allowable exposure rate of 1 mSV (millisievert) per year. Fourteen of the nation's 54 reactors are permanently shut down, as they are on fault lines, and only four have been restarted."

"It is unfortunate," added Tim Mousseau, PhD, professor of biological sciences, University of South Carolina, "that, in some regards, we have better and more complete data about the impacts of Fukushima radiation on trees, plants, and animals than we do on humans."

[The full report is available online at http://www.psr.org/resources/fukushima-report-2016.html. ]


FROM THE GUARDIAN, U.K.:
9 March 2014
"Almost 400,000 children were living in Fukushima on 11 March 2011.
Last month, the number of confirmed and suspected cases of thyroid cancer among people aged 18 or below at the time of the accident rose to 75
At first sight, the figures give cause for alarm. Thyroid cancer normally affects one to two people per million among 10 to 14-year-olds in Japan, a rate far lower than observed in Fukushima, although tests there apply to people aged up to 18.

In Fukushima, the first recorded cases of thyroid cancer – whose latent period can be between four or five years to several decades – came just a year after the meltdown. In Chernobyl, it took four years before cancer rates rose.

Inevitably, parallels have been drawn with the 1986 disaster in Chernobyl. Estimates vary, but according to the UN Committee on the Effects of Atomic Radiation, more than 6,000 cases of thyroid cancer among exposed children and adolescents living in Ukraine, Russia and Belarus had been reported by 2005. There, no attempt was made to prevent children from drinking milk or eating leafy vegetables, leaving them vulnerable to ingesting dangerous amounts of the radionuclide iodine-131, a recognised cause of thyroid cancer.

Dr. Paul Dorfman of the Energy Institute at University College, London, on the Japanese government raising allowable radiation levels to 20 times the acceptable high level in the rest of the world: .

"This is inexplicable, since 20mSv is the allowable dose for an adult radiation worker," Dorman said. "Given that infants and children are still in their developmental stage, they should not have been subjected to this dose.

"Unfortunately, what this means is that we may be seeing increased ill health in the future. Not simply gross cancers and possibly heart problems, but also things that are difficult to detect through epidemiology, such as immune problems."

The Japanese government has resisted calls from parents to conduct comparable screenings among children in a region of Japan that was not affected by the disaster. That, radiation experts say, would at least establish whether or not the thyroid cancer spike in Fukushima is out of the ordinary.

"It is such an obvious measure that could be completed in about six months, but the government has done absolutely nothing for three years," said Koichiro Ono, a local kindergarten teacher. "The government is worried that if the results suggest that there is a link, it will ruin its plans to restart nuclear reactors."


"How can anyone talk about life returning to normal in Fukushima until everything has been done to ensure that people have their health?
Politicians keep talking about recovery, but that doesn't mean anything to people living around here."Toshiyuki Kamei whose 12-year-old daughter was found to have nodules on her thyroid.

June 7, 2016, CBS NEWS:
KORIYAMA, Japan -- She's 21, has thyroid cancer, and wants people in her prefecture in northeastern Japan to get screened for it.

She is the first to speak out.

That near-silence highlights the fear Fukushima thyroid-cancer patients have about being the "nail that sticks out," and thus getting hammered.

The thyroid-cancer rate in the northern Japanese prefecture is many times higher than what is generally found, particularly among children, but the Japanese government says more cases are popping up because of rigorous screening, not the radiation that spewed from Fukushima Dai-ichi power plant.

To be seen as challenging that view carries consequences in this rigidly harmony-oriented society.

Even just having cancer that might be related to radiation carries a stigma in the only country to be hit with atomic bombs.

A support group for thyroid cancer patients was set up earlier this year. The group, which includes lawyers and medical doctors, has refused all media requests for interviews with the handful of families that have joined, saying that kind of attention may be dangerous.When the group held a news conference in Tokyo in March, it connected by live video feed with two fathers with children with thyroid cancer, but their faces were not shown, to disguise their identities

"There aren't many people like me who will openly speak out," said the young woman, who requested anonymity because of fears about harassment.

She suffers from the only disease that the medical community, including the United Nations Scientific Committee on the Effects of Atomic Radiation, has acknowledged is clearly related to the radioactive iodine that spewed into the surrounding area.

Many Japanese have deep fears about genetic abnormalities caused by radiation. Many, especially older people, assume all cancers are fatal, and even the young woman did herself until her doctors explained her sickness to her.

The young woman said her former boyfriend's family had expressed reservations about their relationship because of her sickness. She has a new boyfriend now, a member of Japan's military, and he understands about her sickness, she said happily.

When asked how she feels about nuclear power, she replied quietly that Japan doesn't need nuclear plants. Without them, she added, maybe she would not have gotten sick."

IF YOU CAN'T STOP THE LEAKS, RAISE THE ALLOWABLE

LEVEL OF RADIATION...


The Abe regime's decision to raise allowable radiation exposure standards in Japan to 20 millisieverts of radiation a year, up from the prior level of 2 mSv a year, far surpasses the globally-accepted limit for radiation absorption of 1 mSv a year.

This means that children were and are being exposed to the same levels of radiation that are permitted for adult nuclear power plant workers in Europe.
Some officials even argued that zones where rates were as high as 100 mSv a year should be considered 'safe'.

FOR CHILDREN?
THAT'S CRIMINAL!

New Orleans-based attorney Stuart Smith observed wryly:

"Instead of taking corrective measures to protect its people, Japan has simply increased internationally recognized exposure limits. It seems that the priority – as we've seen in so many other industrial disasters in so many other countries – is to protect industry and limit its liability rather than to ensure the long-term health and well being of the masses."


BACK ON NOVEMBER 18, 2016, TARO YAMAMOTO STOOD BEFORE THE CHAMBER OF DEPUTIES' SPECIAL COMMISSION ON RECONSTRUCTION TO DEFEND THE RIGHTS OF THOSE WHOM PRIME MINISTER SHIZO ABE IS FORCING BACK INTO RADIOACTIVE ZONES NEAR THE FUKUSHIMA NUCLEAR POWER PLANT, ZONS THAT ARE STILL CONTAMINATED, THAT ARE RECONTAMINATED WITH EACH RAIN AND RUNOFF, EACH BURNING OF NUCLEAR WASTE, EACH DAY THAT THE CRIPPLED PLANT SITS THERE LEAKING INTO THE GROUND, AIR AND WATER.

YAMAMOTO IS ONE OF A VERY FEW IN JAPANESE POLITICS WHO HAVE CHAMPIONED THE VICTIMS OF THE NUCLEAR MELTDOWNS, THE VICTIMS OF THE ABE GOVERNMENT'S DRIVE TO SEND JAPANESE CITIZENS BACK INTO HARM'S WAY, BACK TO A RADIOACTIVE ENVIRONMENT THAT INTERNATIONAL LAWS SAY MUST NOT BE POPULATED.

THE VIDEO OF HIS BRAVE STAND IS IN JAPANESE, BUT AN ENGLISH LANGUAGE TRANSCRIPT IS AVAILABLE WITH THE VIDEO <HERE>.

I SINCERELY HOPE YOU WILL TAKE THE 8 MINUTES OR SO TO READ THE TRANSCRIPT WHICH I HAVE INCLUDED BELOW AT THE END OF THIS BLOG, WATCH THE VIDEO, AND TRY TO IMAGINE BEING WHERE THESE PEOPLE ARE TODAY, IMAGINE WHAT YOU WOULD FEEL, THINK, DO IF IT WERE YOU OR YOUR FAMILY GOING THROUGH THIS UNENDING NIGHTMARE.

IN ONE EXCHANGE, YAMAMOTO ASKED: There are rules that apply to controlled areas of radioactivity, are not they? Can we eat and drink in such a controlled area?

● Government expert (Seiji Tanaka) REPLIED:

Here is the answer. According to the Ordinance on the Prevention of Risks from Ionizing Radiation**, eating and drinking are prohibited in workplaces where there is a risk of ingesting radioactive substances orally.

● Taro Yamamoto

Of course, it is forbidden to drink or eat there. So it's obvious that it's not possible to spend the night there, is it?
Even adults cannot stay for more than 10 hours. You are well aware of the existence of this Ordinance.

IN ESSENCE, WHAT YAMAMOTO WAS TRYING TO GET THIS 'COMMISSION' TO ADMIT, TO SEE, TO FINALLY ADDRESS, IS THAT TO FORCE HUMAN BEINGS INTO SUCH A RADIOACTIVE ENVIRONMENT, FORCE THEM TO WORK, EAT, DRINK, SLEEP IN RADIOACTIVITY AT A LEVEL FORBIDDEN FOR EVEN NUCLEAR POWER PLANT WORKERS ELSEWHERE IN THE WORLD IS A CRIME AGAINST HUMANITY, AGAINST INNOCENT CHILDREN.


AND YET, THE UNITED NATIONS IS SILENT.
WHAT ABOUT THEIR "CONVENTION ON THE RIGHTS OF THE CHILD"?

WAIT...THE ACRONYM FOR THAT IS, AFTER ALL, "CROC", AS IN A TOTAL CROCK OF MANURE.
THE U.S. HAS NEVER RATIFIED THAT, BTW.

THE U.N., WORLD HEALTH ORGANIZATION, THE ENTIRE WORLDWIDE NUCLEAR REGULATORY COMMUNITY, ALL FAIL TO STEP FORWARD TO PROTECT HUNDREDS OF THOUSANDS OF JAPANESE CHILDREN AND OTHERS WHO ARE LITERALLY BEING FORCED INTO SUCH A LIFE.

THESE PEOPLE HAVE ALREADY ENDURED OVER FIVE YEARS OF 'HELL ON EARTH', STIGMATIZED BY THE INITIAL CONTAMINATION THEY RECEIVED WHEN TEPCO AND THE JAPANESE GOVERNMENT FAILED TO EVACUATE THEM IN TIME TO AVOID SUCH HIGH LEVELS OF RADIATION.

ONE YOUNG TEEN WHOM OTHER CHILDREN CALLED "GERM" KILLED HIMSELF, UNABLE TO ENDURE THE STIGM

A

ANY LONGER.

"He was being called "bug" and "germ" by classmates, and had dead insects placed on his chair in class, Sankei Shimbun reported. The boy committed suicide by hanging himself at his home on September 2, 2012."

Parents to sue in bullied son's death | The Japan Times

THE JAPAN TIMES REPORTED ON THIS EXTENSIVELY FOR OVER A YEAR AFTER IT HAPPENED.


ANOTHER MAJOR JAPANESE NEWSPAPER, "ASAHI

"

, ALSO REPORTED THIS.

THE AMERICAN PRESS DID NOT.

THE U.N. NEVER COMMENTED ON ANY OF THE HUNDREDS (MAYBE THOUSANDS?) OF OTHER SUICIDES SINCE THE FUKUSHIMA DISASTER.

THE ABE REGIME WANTS US TO BELIEVE IT'S DEPRESSION FROM BEING REMOVED FROM THEIR HOMES THAT ARE KILLING JAPANESE PEOPLE.

WHAT ABOUT THOSE WHO HAVE KILLED THEMSELVES AFTER FINDING OUT THEY MUST RETURN TO THOSE HOMES?

"A Japanese Cabinet Office report stated that, between March 2011 and July 2014, 56 suicides in Fukushima Prefecture were linked to the nuclear accident. This should be taken as a minimum, rather than a maximum, figure."

56 GOVERNMENT-REPORTED SUICIDES IN ONE, JUST ONE PREFECTURE.

BUT WHO CAN SAY HOW MANY OF THE 30,000 OR SO YEARLY SUICIDES IN JAPAN ARE THE RESULT OF FUKUSHIMA'S ONGOING NIGHTMARE?

Suicides top 30,000 for 14th straight year | The Japan Times

AS REPORTED BY 'JAPAN TODAY' IN 2016:

N

umber

of suicides in Japan drops below 25,000 for first time in 18 years

THE SUICIDE RATE AMONG JAPANESE SCHOOLCHILDREN IS ABSOLUTELY ALARMING.

Why Do So Many Japanese Schoolchildren Kill Themselves?

11/8/15
"Last year, suicide was the leading cause of death for Japanese children between the ages of 10 and 19. Among teens and young adults ages 10–24, there are roughly 4,600 suicide deaths in each year, and another 157,000 instances of hospitalization for self-inflicted injuries."

According to research by Hokkaido University professor Kenzo Denda, 1 in 12 Japanese elementary school-aged children, and 1 in 4 junior high school students suffer from clinical depression.

ACCORDING TO THE WASHINGTON POST, MARCH 13, 2014:
"Roughly 30,000 suicides have occurred inside Japan in EACH of the last three years, and government research shows that suicides generally surge around this time of year, as winter gives way to spring."

Following the Fukushima nuclear power plant disaster in March, 2011, troubling tales of depression and suicide started to trickle in. "One man I know went back to check his house," a woman told CNN last year. "When he didn't return his family went to find him. His car was parked outside. He had hanged himself. I think he'd given up, he couldn't see any future."

But now, those trickles have turned into a steady stream, the National Police Agency said Thursday morning."


The Japanese people were kept in the dark from the start of the Fukushima disaster about high radiation levels and their dangers to health.

In order to proclaim the Fukushima area 'safe', the Government increased exposure limits to twenty times the international norm. Soon, many Fukushima refugees will be forced to return home to endure damaging levels of radiation.

THE FUKUSHIMA MELTDOWNS HAVE BEEN RULED "PREVENTABLE" AND "MAN-CREATED", BUT NO ONE HAS PAID FOR COMMITTING THESE CRIMES.

The media may have played the willing government handmaiden in reassuring the public with falsehoods, but in July 2012, the Fukushima Nuclear Accident Independent Investigation Commission concluded that the disaster was really no accident but "man-made".
It came about, the researchers said, as a result of "collusion" between the government, regulators and the nuclear industry, in this case, Tepco.


"There should be a Tepco trial like the post-war Tokyo Trials", Dr. Tetsunari Iida, founder and executive director of the Institute for Sustainable Energy Policies (ISEP) in Japan, said, referring to the post World War II war crimes trial in which 28 Japanese were tried, seven of whom were subsequently executed by hanging.

The remark caused a bit of a stir and earnest questions about the mechanism by which Tepco could be brought there. Needless to say, nothing of the kind ever happened, or is likely to.

Instead, the Abe's government's preferred tactic is to go full out to restart reactors and move everybody back home as soon as possible, as if nothing serious had happened. Just scoop off a little topsoil, cart it away somewhere else and, Abracadabra! Everything is clean and safe again!


Radiological decontamination is not that easy. Nor is it reliable.

It is more like"pushing contamination from one spot to the next", as independent nuclear expert, Mycle Schneider describes it.
And radiation does not remain obediently in one place, either.


"The mountains and forests that cannot even be vaguely decontaminated, will serve as a permanent source of new contamination, each rainfall washing out radiation and bringing it down from the mountains to the flat lands", Schneider explained.
Birds move around.
Animals eat and excrete radioactive plant life.
Radiation gets swept out to sea. It is a cycle with no end."


DENIAL

"As observed by Spycher et al (2015), some scientists "a priori exclude the possibility that low dose radiation could increase the risk of cancer. They will therefore not accept studies that challenge their foregone conclusion."

One reason why such scientists refuse to accept radiation's stochastic effects (cancers, strokes, CVS diseases, hereditary effects, etc) is that they only appear after long latency periods - often decades for solid cancers.
For the Japanese Government and its radiation advisors, it seems out-of-sight means out-of-mind.

This conveniently allows the Japanese Government to ignore radiogenic late effects.

But the evidence for them is absolutely rock solid.
Ironically, it comes primarily from the world's largest on-going epidemiology study, the Life Span Study of the Japanese atomic bomb survivors by the RERF Foundation which is based in Hiroshima and Nagasaki."


LIKE CHERNOBYL

Fukushima, a replica of Chernobyl; Crimes against humanity.

"In Japan, considering their condition, it is clear that the cooling systems will never be able to return to service.

While borated water is injected as well as nitrogen, a huge amount of water is poured every day in order to cool them so as to prevent the corium from piercing the outer containment and reaching these same masses of water, which could be catastrophic.

And it is not just one, but four reactors, including the N° 3 that worked on French-provided MOX (16), that are affected. Not to mention the consequences of seismic aftershocks, the possibility of which can unfortunately not be excluded, given the location of the plant.

Under these conditions, who can predict the possible cumulative effects of this type of situation, whether in Japan or elsewhere?

Actually, the measures that were successfully applied in Chernobyl to avert a catastrophe of planetary scale are unlikely to ever be feasible anywhere else again, except perhaps for some time yet, in China.

In the former USSR, it was possible to recruit 800 000 "liquidators", as well as the emergency services of an entire vast country, hundreds of firefighters, ten thousand miners, a still powerful army with tens of thousands of reservists, all of this simply on the order of the Secretary of the Politburo.

The deployment of such gigantic means will no longer be possible in other similar cases, and it is doubtful that appealing to other countries would be enough: in liberal democracy, there will be few volunteers to sacrifice their lives and experience a degree of pain that is known to be horrendous.

The prospect of having to survive in contaminated areas cannot be excluded.

In the territories that were contaminated by fallout from Chernobyl, it is dangerous to practice farming, dangerous to wander in the forests, dangerous to go fishing and hunting, dangerous to eat locally produced food without checking its level of radioactivity, dangerous to drink milk and even water.

All things that had been for many millennia the safest and most accurate sources of life - air, natural waters, the flowers, the fruit of the earth, forests, rivers and seas - all those, in just a few days, became sources of danger to man and animal.

As this Ukrainian disaster has taught us, we must also consider the destructive health effects of "low doses", whether inhaled or ingested through food, which will then produce their effects many years later.

Equipment for automated spectrometry of the human body, such as the SCRINNER used in Belarus, are designed to measure the activity of radionuclides in the human body. These devices should be routinely used in all countries situated downwind of active atomic power plants.

Moreover, real large scale public prescriptions should be issued, clarifying the advantages and limitations of iodine tablets, of sheltering measures, of first aid gestures, of evacuation perimeters, of the emergency plans ... This is why, in all countries, civil society organizations should consider the importance of creating a system of radiological control that is independent from the official system.


NO PUBLIC DATA, NOTHING FOR VICTIMS TO RELY ON
There is no publicly available instrumented data on the extent to which all European countries have been contaminated by the entire array of radionuclides from Chernobyl, and it is now clear that there never will be.

In using this absence of data as a justification in the "Chernobyl Forum" of 2005, the IAEA and the WHO restricted the scope of its study to include only data pertaining to the territories of Belarus, Ukraine and European Russia, ignoring the contamination of other European countries.

On the other hand, the removal of institutions which were entrusted with monitoring the pathological consequences of Chernobyl, the diversion of research teams from the study of problems caused by the disaster, the harassment and the imprisonment of some specialized doctors, are as many attempts for concerted and persistent suppression of the truth.


The consequences of Chernobyl on public health.
Briefly summarizing the data published in the CERR report, radioactive contamination from Chernobyl has affected nearly 400 million people, (205 million in Europe and about 200 million outside Europe). The curve analysis of general morbidity among children living in contaminated areas of the former USSR is particularly distressing: only 20% of them are healthy. In some parts of Polesye there are no more healthy children. In Germany, the teeth of children born after the disaster contained 10 times more strontium 90 (similarly, plutonium shows up in baby teeth of English children living near Windscale - since then renamed Sellafield - 53 years after that other atomic disaster). The number of Chernobyl victims will continue to grow over several generations."

Ex-leader of Japan Turns nuclear foe, calls for shutdown of all 54 Japanese nuclear reactors


Press Conference at The Foreign Correspondents' Club of Japan, August 18, 2014:

Toshio Yanagihara, attorney representing Fukushima children and their parents:
5:00 — Thyroid cases after Chernobyl in Belarus — comparing that with the present situation in Fukushima, [here] there's 14 times [the rate] of children with thyroid cancer.


6:00 — Fukushima prefecture's announced that the massive number of thorough screenings [is the reason why there's] more numbers of people with cancer — but we found that doubtful. In Fukushima prefecture, the west part of Fukushima compared to those areas that are closer to the nuclear power plant, there are about ¼ or even 1/5 the people who are found with thyroid cancer.


7:00 — June 10th of this year, the Fukushima committee in charge of researching thyroid cancer admitted for the first time that the suspicion of malignancy is due to the lymph node metastasis. This is the common thing that was found after the Chernobyl accident.


8:00 — In Fukushima right now, we see that the number of the children found with thyroid cancer — and the scale of this catastrophe is ongoing — it is going much faster than it was in the Ukraine after Chernobyl.


11:45 — The announcement from the Sendai high court from April 2013 that the Fukushima children's lives are threatened… this didn't cause Fukushima or the Japanese government to help provide support.


16:15 — We emphasis that the Japanese government is discriminating against the Fukushima children, and in the international [court], we can say this is a crime against humanity. This is Japan's most important and most criminal human problem that we're facing right now.


17:15 — Fukushima is a war zone, and children have a right to be evacuated to a safer place… In Japan, this present situation is the most harsh child-rearing situation in the world.


19:15 — They're supposed to support and evacuate children from Fukushima during this war zone… It must be argued at the international court that this is a crime against humanity. We would like to take this case to the International Criminal Court, and we're preparing for that.

OBVIOUSLY, NO "INTERNATIONAL CRIMINAL COURT" GIVES A DAMN.

Gendai Business Online (article in Japanese here), Jun 14, 2016:

RE-CONTAMINATION, A GIVEN.
[T]he radiation from the mountains are coming back to the city by way of wind and rain.
Mr. Gundersen noted the extreme radioactive contamination of the mountains… vegetables grown in that area exceed the government's standard by 1500 Bq. These vegetables were sold at the MichinoEki in Tochigi prefecture, and the bamboo shoot grown in this contaminated region was used for elementary school lunches in Utsunomiya. These school lunches contained more than twice as much radiation as the government's standard… However, the government continues to push for the end of people's relocation and force the return to recontaminated areas.

CHERNOBYL MIRRORED IN FUKUSHIMA VICTIMS


(TAKEN FROM THE VIDEO AT THE TOP OF THIS BLOG.)


Svetlana Alexievich, a Belarusian writer who won a Nobel Prize for her book on the Chernobyl nuclear disaster, visited evacuees in Fukushima Prefecture recently to hear about their experiences.

Alexievich was awarded the Nobel Prize in Literature in 2015 for her writing about human suffering through the testimonies of witnesses of the Chernobyl disaster. She has been highly praised for her oral history of that event.
Alexievich was invited to speak at a university in Tokyo.

"It may be impossible to stop nuclear power plants right away, but it's important to consider what you can and should do," she said at the event.

Alexievich's books are written collages of testimonies by ordinary people. Her book, "Chernobyl Prayer: A Chronicle of the Future," published in 1997, is representative of her work. It's a collection of statements from the victims of the Chernobyl nuclear disaster 30 years ago in the former Soviet Union.

About a quarter of the land in Alexievich's home country of Belarus was contaminated and seriously damaged by radioactive material. Even now, many former residents are not allowed to return to their hometowns.
Alexievich spent more than 10 years interviewing over 300 people, sometimes on camera.
"In the last few days, whenever I lifted my husband's body, his skin would peel off and stick to my hand," the wife of one firefighter told her.
She then wrote about their deep shock and continual sadness.

The Nobel Committee described her work as "polyphonic writings, a monument to suffering and courage in our time."
"I try to listen to people no one sees or hears," Alexievich says. "There's much more power in their emotions than in economic or medical data.... So I think it's important to remember their lives."

Alexievich came to Japan to hear what people in Fukushima prefecture have to say, and visited temporary housing to listen to residents' stories.
She met with a former resident of Iitate village, a town that's still under an evacuation order.
"I was a dairy farmer in Iitate, but now I'm unemployed," Kenichi Hasegawa told her.
Before the earthquake, he had about 50 cows, and was living with 7 members of his family that spanned 4 generations. Hasegawa drove Alexievich to his former home, which still stands empty.
After the accident, all of his cows had to be put down or let go. Unable to continue dairy farming due to radiation, Hasegawa decided to demolish the cow shed. His family is now scattered.
"Wasn't it difficult to leave home?" Alexievich asked him.
"Yes, it was… We can't live the way we did before the accident, because of the radiation," Hasegawa said.

Government officials say the evacuation order on Iitate will be lifted next March, but Hasegawa is anxious about the future.
"They say we'll be able to return home, but haven't mentioned their plans for the village after that," he says. "My children won't be returning."

"In Fukushima, I saw the exact same situation I'd seen in Chernobyl. The destroyed homes, the empty villages and cities, the victims' despair -- they're all the same," Alexievich said. "In both countries, governments rushed to develop new technology, but they weren't able to fulfill their responsibilities. They were irresponsible toward 'the ordinary people.

"


Alexievich was also told the story of a dairy farmer who committed suicide. A close friend of the farmer took her to the place where he died.
"He left a note saying, 'I wish there'd been no nuclear power plants here,'" Hasegawa said.

Alexievich has spent years focusing on the suffering of ordinary people and making their voices heard. Visiting the 2 disaster-stricken regions has renewed her sense of determination.
"No one completely understands the horror of nuclear power. Literature should communicate it, and so should philosophers. It's not a job for politicians alone," Alexievich said. "In other words, we need to look at what happened in Chernobyl and Fukushima and put them together, to form new knowledge.... I saw the future, not the past, and we need to work on that future."

It has been 30 years since the nuclear disaster in Chernobyl, and 5 years since the one in Fukushima. The future depends on never letting the voices of "the ordinary people" go unheard -- that's the message from Nobel laureate Svetlana Alexievich.

AS THE U.K.'s NEWSPAPER THE TELEGRAPH REPORTED IN MARCH, 2014:
15,000 FILED CRIMINAL COMPLAINT...CASE DISMISSED.

"More than 15,000 people whose homes or businesses were affected by radiation from the damaged reactors at the plant filed a criminal complaint against the national government and senior officials of Tokyo Electric Power Co. in 2012.

Prosecutors decided it would be difficult to prove negligence in connection with the disaster and a final appeal against that decision has now been dismissed.

"There are many victims of the accident, but there is no 'assailant'," Ruiko Muto, organiser of the rally, told protestors.

Local residents and environmental groups have reacted angrily to the announcement that prosecutors have decided to drop the charges for responsibility for the crisis at the Fukushima Dai-ichi nuclear plant.


As Japan nears the third anniversary of the March 11 earthquake that crippled the plant, no-one has been held accountable for the second-worst nuclear accident in history, despite the independent investigative committee set up by the government concluding in July 2012 that the accident was "man-made disaster" caused by shortcomings in Japanese corporate culture.

"Absolutely no-one is taking responsibility for this huge accident and when all these people are suffering," Aileen Mioko-Smith, of Kyoto-based Green Action Japan, told The Telegraph"


It's time to punish Tepco | The Japan Times

Mar 13, 2015
Fishermen trawling the waters off Japan's eastern coast have been alleging for a while that radioactive water is again spilling into the Pacific from the Fukushima power plant that melted down after a massive earthquake in 2011. On Feb. 24, Tokyo Electric Power Co., which is responsible for the site, admitted those suspicions were justified.

In the 15 days since Tepco finally confessed (to covering up new leaks for a year or more), have investigators raided its Tokyo headquarters? Have regulators demanded that heads roll? Has Prime Minister Shinzo Abe used his bully pulpit to demand accountability from the company that gave the world its worst nuclear crisis since Chernobyl?

In any other major democracy, those steps would have been obvious. But none have occurred in Japan. And that raises troubling questions not just about Tepco's corporate governance, but the rampant cronyism enabling it.

Abe's government never intervened, and Tepco stayed in charge. Four years to the day since the earthquake, Fukushima is still leaking; 120,000 people remain displaced; and Tepco's opacity and incompetence are unchanged.


How does Tepco get away with it?

It is protected from on high by the "nuclear village," Tokyo's answer to the military-industrial complex that is said to hold sway in Washington. This alliance of pro-nuclear politicians, bureaucrats and power companies promotes reactors over safer forms of energy like solar, wind or geothermal, and works to shield utilities from competition and global standards. (That's how Tepco got away with consistently doctoring its maintenance reports for Fukushima and putting all of its backup generators underground in a tsunami-prone area.)Tepco's executives continue to enjoy a get-out-jail-free card, courtesy of the Tokyo establishment.


TRANSCRIPT OF TARO YAMAMOTO'S ADDRESS.
PLEASE READ IT.
PLEASE SHARE IT WHEREVER YOU CAN.

QUESTIONS RAISED BY YAMAMOTO

● Taro Yamamoto:
Thank you. I am Taro Yamamoto from the Liberal Party. I would like to ask questions as the representative of a parliamentary group.

Declared on 11 March 2011, the state of nuclear emergency has not yet been lifted to date, 5 years and 8 months after the accident at the TEPCO Fukushima Daiichi nuclear power plant. Today, I will address a subject that is well known by the members here present.

I will start with the subject of the radioactivity controlled area. This is a demarcated area frequented by workers with professional knowledge who are exposed to the risks associated with ionizing radiation, such as an X-ray room, a research laboratory, a nuclear power plant and so on.

Here is my question. There are rules that apply to controlled areas of radioactivity, are not they? Can we eat and drink in such a controlled area?


● Government expert (Seiji Tanaka)

Here is the answer. According to the Ordinance on the Prevention of Risks from Ionizing Radiation**, eating and drinking are prohibited in workplaces where there is a risk of ingesting radioactive substances orally.


● Taro Yamamoto

Of course, it is forbidden to drink or eat there. So it's obvious that it's not possible to spend the night there, is it? Even adults cannot stay for more than 10 hours.

You are well aware of the existence of this Ordinance. This is a rule that must be respected in order to protect workers exposed to risks related to ionizing radiation in establishments such as hospitals, research laboratories and nuclear power plants, isn't it?

It contains the definition of a radioactivity controlled area.

This is Article 3 of the Ordinance in File No. 1. It states that if the situation corresponds to the definition described in Article 3/1 or to that specified in Article 3/2, the zone shall be considered as a controlled area and a sign shall be posted there. I will read parts 1 and 2 of this article.

1: The area in which the total effective dose due to external radiation and that due to radioactive substances in the air is likely to exceed 1.3mSv per quarter – over a period of three months! When the dose reaches 1.3mSv over a period of three months, a zone is called "controlled radioactivity zone".

Part 3/2 refers to the surface density in the attached table.
Here is File No. 2. What will it be if we do the conversion of the density of the surface per m2?


● Government expert (Seiji Tanaka)

The conversion gives 40,000Bq/m2


● Taro Yamamoto

Thus, with 40 000Bq / m2, the zone is classified as a "controlled zone of radioactivity".

It is therefore necessary to monitor not only radioactivity in the air but also the surface contamination, ie the ground dose of radioactive substances, ie other elements in the environment, and to manage the area in order to protect workers from radiation-related risks, isn't it?

A radioactivity controlled area is defined both by the dose rate of the ambient radioactivity and by the surface density of the radioactive substances. The point is that the risk in a situation where the radioactive substances are dispersed is quite different from that in the situation where the radiation sources are well identified and managed.

At present, the evacuation order applied to the evacuation zones following the nuclear power plant accident is lifted when the ambient radioactivity dose rate becomes less than 20mSv / year.

Here is my question. Concerning contamination, apart from the dose rate of ambient radioactivity, are there any conditions to take into account in order to lift the evacuation order? Please answer yes or no.


● Government expert (Takeo Hoshino)
Here is the answer.

Concerning the conditions necessary for the lifting of the evacuation order, as far as the radioactivity measurements are concerned, it is only the certainty that the annual cumulative dose rate of ambient radioactivity is less than 20 mSv.


● Taro Yamamoto

You did not understand. I asked you to answer yes or no. Are there any other conditions other than the dose rate of ambient radioactivity?
To lift the order of evacuation below 20mSv / year, what are the conditions regarding the contamination?

The fact is that regarding contamination, there are no other conditions than the dose rate of the radioactivity in the air. This is abnormal. You, who belong to this Commission, certainly understand to what extent this situation is abnormal.

In the definition of a radioactivity controlled zone, apart from the dose rate of radioactivity in the air, account is taken of the substances dispersed and then deposited, that is to say contamination in the soil etc., which means a criterion of 40 000Bq / m2 is established for surface contamination.

However, in the return policy to return populations to territories where the annual cumulative dose rate is less than 20mSv / year, the condition of soil contamination is not considered necessary.

The latter is not an evaluation criterion, the only criterion used is the dose rate of the ambient radioactivity. Politicians and officials who consider this to be a regular situation do not deserve to receive wages paid from tax revenues.

Our job is to protect the life and property of the people. Now, you lighten those conditions. You create, at your discretion, a rule that is less stringent than that applied to workers with a professional knowledge of radioactivity.
What are you doing !

Following the Chernobyl accident, laws have been established in Russia, Belarus and Ukraine, measuring both the dose rate of radioactivity in the air and the contamination of the soil.
Why ?

That goes without saying. This is because it is difficult to grasp the amount of irradiation suffered by the population only with measurements of ambient radioactivity. In Ukraine, with 5mSv / yr, a measure corresponding to that of the controlled radioactivity zone, the population is evacuated, and even with 1mSv / year which corresponds to the limit of the average dose rate for the public, 'they have the right to move out.

This law known as the Chernobyl law is still in force.

On the other hand, what is the situation in Japan? According to the Cabinet decision of June 2015, the evacuation order is lifted if the dose rate in the air is less than 20mSv / year. There is no problem ! For example, if you stay 24 hours in a controlled area of radioactivity, you are exposed to a dose of 5.2mSv / year.

However, the criterion for the lifting of the order and the return of the population is 20mSv / year or less. The zoning is determined by a dose 4 times that of a controlled zone of radioactivity.

Go back, live there, continue your life, rebuild, what is this! I can find no other expression than "completely twisted".

Can we still call it the State?
I think it's better to call it the mafia. It's so inhuman!

The government appears to have adopted dose limits of 20 to 100mSv as recommended by the ICRP*** on radiation exposure limits after an accident. However, when considering the health effects on the population, the most reasonable would be to adopt 1mSv, the lowest dose measurement for radiation limit for public health, according to the global consensus.

The right to evacuate must be granted to the population until the dose rate falls below 1mSv / year.
The right to decide when to return belongs to the victims.

Why do you determine zoning as you wish?
The State must make every effort to reduce the dose as close as possible to 1mSv / year, maximum dose in a normal situation. Then the State, the administration should warn the people, and let them make their own decisions. That would be the fairest way. The State should behave like this.


Who is responsible for this accident?
It is TEPCO.
Who supported it?
It is the State.

It is clear who the perpetrators of the crime are.
And yet, only the charges of the criminals are being relieved.

If it is permissible to develop zoning and associated rights to the convenience of the criminals, this world is a hell then.

In the town of Minamisoma in the coastal region of Fukushima Prefecture, three types of evacuation zone were established after the earthquake.
In July 2016, the evacuation order was lifted in the "evacuation order lifting preparation area" and in the "restriction of housing" area. There is only one home with two people remaining in the "area where the return is difficult".

According to the State, 90% of the territories of Minamisoma are safe.

There is a group called "The Measurement of Environmental Radioactivity Around the Fukushima Daiichi Nuclear Power Plant"**** composed mainly of residents of Minamisoma.
Since 2012, its members are taking measurements of soil contamination in the vicinity of the neighborhoods of the members and in residential areas.
They provided the information.

Please look at File No. 3. You see a colored map

[MY NOTE: see below for map

, or

at


https://dunrenard.wordpress.com/2016/11/12/the-minamisoma-whistleblowers-fukushima/

]



This is the map of soil measurements collected and measured in the territories where the decontamination works have been completed.
The colors show the levels of contamination.

The blue colored area indicates where the contamination measurements are below 40

,

000Bq / m2, i.e., below than the level of a radioactivity controlled zone. There is only one, at the right bottom.

Apart from this one, at all other places, the colors show corresponding measurements above the measurements of a controlled zone of radioactivity.

There is even a colored place in gray where the measurements exceed 1,000,000Bq / m2.
There are people living there!

Compared to the extraordinary ambient radioactivity dose rate observed immediately after the accident, the dose rate of radioactivity in the air decreased considerably.
It is not the same order of magnitude. However, according to the inhabitants, even with 0.1μSv / hr of ambient radioactivity dose rate,

soil measurements may still be equivalent to those of a radioactivity-controlled zone.



It is senseless that only the dose rate of ambient radioactivity should be taken into account as a condition for lifting the evacuation order. It is so irresponsible and neglectful. It is exactly the opposite of protecting the life and property of the people.

People do not live floating in the air at 1 meter above the ground*****.
They sit down, lie on the ground, they stop to chat, standing or sitting.



Children do not play on asphalted roads only. They can venture into the bushes. Children play freely. There are some who put soil in their mouth.

Remember how you were when you were still a child.
Gutters where contamination is concentrated provide one of the favorite playgrounds for children.

Mr. Masuchika Kono, a member of the above-mentioned project group, who was with the Engineering Department of Kyoto University, a specialist in nuclear engineering, a graduate of radiation manipulation, collected soil at the Minamisoma Michi-no-eki roadside (service and parking area), and passed it through a sieve of about 100 microns.

The measurements showed 11

,

410Bq / kg of Cs.
These dust rises with the winds and the passages of the vehicles.

In daily life, dust is inhaled by the people. You do not take internal radiation into account, do you? You calculate the amount of internal radiation by applying just a coefficient, but do not include internal radiation in real life.


Some people self-evacuated from areas outside the evacuation areas under evacuation order, as they consider that the State policies do not protect the children, their lives.

To these persons, within the framework of the Disaster Relief and Disaster Relief Act******, dwellings – "temporary accommodation"******* – were made available.


However, in March 2017, next year, the free housing provision will be suspended.

You are telling them that there is no more problem; Why then stay evacuated?

That's it, isn't it?
Those displaced from areas outside evacuation areas under evacuation order fled because their home and living environment are contaminated as a result of the TEPCO nuclear accident.

However, since their homes are located at some distance from the nuclear power plant, they were not included in the evacuation zones that the state established unilaterally.
As a result, these displaced persons receive no public support except the provision of free housing. And even this aid will stop in March 2017.

It's incredible to stop helping them. Moreover, what does it mean to stop the provision of free housing in March? It is the season when mobility is at its highest in the year. You expel them, force them to relocate at the time of the year when rents and costs become more expensive! You have no compassion. You are ruthless!

Here are some testimonies:

"I am afraid of the investigators of the Tokyo Metropolitan Prefecture visiting door to door. I hide under the cover for fear of hearing the ringing at the door. When I opened the door, the investigator stuck his foot into the door so that I could not close it. With a loud voice so that all the neighbors could hear, he shouted at me "you know very well that you can only live here until March". I know, but I cannot move. "

The next person.

"The Tokyo Metropolitan Prefecture demands that we move out in a fierce and haughty manner. We had to leave our home because of the accident at the nuclear power plant. I do not understand why they are expelling us again. I gave in to the pressure, and I filled up the Tokyo Metropolitan Prefecture housing application, but it was against my will. Psychologically, I can not accept the fact, and it causes me pain. They are forcing me to move into a prefecture owned housing where no one from Fukushima lives close by. It's like abandoning the elderly in a mountain. "

The following testimony. It is a home where just a mother and her young children live. The other members of the family remained in Fukushima. They lead a double life. "If there is no more free housing provided, there is no resource to pay the rent. The only dream left to my child is his piano lesson. Do not take away that dream. "

The next person.

"The deadline has not arrived …"

(Note from the translator : Taro Yamamoto can no longer hold his tears)

Who does something like that? I beg your pardon.
Who orders such a thing?
It may be admitted that the State would ask local governments to carry out polite negotiations with the displaced.
No, it is nothing but expulsion.
Does not the State intend to stop such a situation?
I do not allow you to say that you did not know. You see the problem before you now!

"Constant phone calls, visits without notice, and they shout at me asking what my intention is. They send documents to file, and leave passing notices in the mailbox. I am completely exhausted, physically and psychologically. " This is understandable. They continue to live like that since the explosions of the nuclear power plant, and 5 years and 8 months later they are tracked down in a similar situation. To what extent do you want to tear the hearts of the victims? It is enough for the State to take a decision. This person says that the metropolitan prefecture of Tokyo has asked him to leave the housing, because the prefecture must return that housing for civil servants in March. It is monstrous that the State asks the Tokyo Metropolitan Prefecture to evict the evacuees and restore the house in proper condition.

These were testimonies of displaced people.

According to my research, to date there are 9327 vacancies among the housings for civil servants in the region of Kanto, including the Tokyo Metropolitan Prefecture and 6 other prefectures. It is enough for the State to take a decision, it can solve the problem, at least partially.

Why should the inhabitants be expelled? Is it because, if there are tenants, those buildings could

not be sold during the financial bubble of the Olympic Games? It's too cruel.

On April 4 last year, according to the newspaper Mainichi shinbun, the state does not request reimbursement from TEPCO for the rents of dwellings "considered as temporary housings".
Commission member Iwabuchi mentioned earlier that the government will oblige TEPCO to pay for the costs of the decontamination work.

Why don't you ask TEPCO to pay the rents?
These people are the victims!

Finally, I would like to ask to the Minister. I would like you to answer two questions.

1st question: You said that this is what the Fukushima prefecture wants. However, you are in a position to make suggestions to the Fukushima Prefecture. Please talk it over again. This situation is really irregular.

2nd question: Please listen to the voices of the displaced. I think you have almost no opportunity to hear the voices of self-evacuees coming from locations outside the evacuation areas. Until then, you were too busy. Perhaps the people around you got acquainted with their testimonies. Please listen to them yourself. Today, too, they are here.
There's a break after this session. Could you give them 5 minutes? If you give us just 5 minutes today during the break, you can talk with the self-evacuees.

I would ask you to answer these two questions.

Secretary of State (Masahiro Imamura) :As I have already said, I am willing to consult with the prefecture of Fukushima, and I would like to ensure that the people concerned are not hurt. I will see to its smooth progress.

You said that self-evacuated people are here. I also have a plenary session after and I do not have time, but I will listen to them.

President (Mitsuru Sakurai) :Mr. Yamamoto, you have exhausted your time.


Taro Yamamoto

:


Thank you. Please keep your promise. Thank you very much.
[END TRANSCRIPT]
[Credits to Kurumi Sugita from the Nos Voisins Lointains 3.11 Association for the Japanese to French translation (http://nosvoisins311.wixsite.com/voisins311-france)

French to English translation by Hervé Courtois (Dun renard) from the Fukushima 311 Watchdogs]

[* Source : Taro Yamamoto's website]


** Ordinance on Prevention of Ionizing Radiation Hazards, Ministry of Labour Ordinance No. 41 of September 30, 1972, Latest Amendments: Ministry of Health, Labour and Welfare Ordinance No. 172 of July 16, 2001

*** International Commission on Radiological Protection

**** Fukuichi shûhen kankyôhôshasen monitoring project

***** The measurements of ambiant radioactivity are taken at 1 meter above the ground.

****** Saigai kyûjohô, Law of assistance in case of disaster , laws N°118 of octobre 18, 1947

******* Minashi kasetsu jyûtaku. Rental housing managed by private agencies inhabited by evacuees whose rent is borne by the central government or local governments.


[The original source of this article is Fukushima 311 Watchdogs
Copyright © Fukushima 311 Watchdogs, Fukushima 311 Watchdogs, 2017]


The originality of this map is due as much to the quality of its realization as to the abundance of its informations: it can be read, for each of the 36 samples taken, measurements in Bq / m², in Bq / kg, in μSv / h at three different soil heights (1 m, 50 cm, 1 cm) And in cpm (counts per minute) at the height of 1 cm. For those who know a little about radioactivity, these informations are very valuable informations. Usually, measurements are given in either unit, but never simultaneously with 4 units. Official organizations should learn this way of working. The measures revealed by the map are very disturbing. They show that the earth has a level of contamination that would make it a radioactive waste in any uncontaminated country.


Mr. Ozawa, the engineer who launched this investigation, has chosen the precision of the measurements, that is to say laboratory scintillation radiometers are used to measure radioactivity: Hitachi Aloka TCS172B, Hitachi Aloka TGS146B and Canberra NaI Scintillation Detector.


UNPUNISHED CRIMES AGAINST HUMANITY...LET'S JUST CALL THIS WHAT IT IS, AND AS THIS SPREADS DAILY ACROSS OUR GLOBE, WE WILL ONE DAY FIND OURSELVES IN THE SAME PREDICAMENT THESE PEOPLE ARE IN.

SHOULD WE WAIT UNTIL THAT HAPPENS TO JOIN THEIR FIGHT TO BE HEARD, TO BE HELPED?

IT WILL BE TOO LATE THEN, DON'T YOU SEE?



// WW