The Franklin Scandal between 1988 and 1991.
The Discovery Channel produced a documentary about it complete with interviews of the alleged child victims. The documentary was pulled, silenced before it was ever shown to the public. Conspiracy of Silence, a documentary listed for viewing in TV Guide Magazine was to be aired on the Discovery Channel, on May 3, 1994. This documentary exposed a network of religious leaders and Washington politicians who flew children to Washington D.C. for sex orgies.
A copy of this videotape was furnished anonymously to former Nebraska state senator and attorney John De Camp who made it available to retired FBI Agent Ted L. Gunderson.

Gunderson authored a very controversial report called 'THE FINDERS' detailing the CIA's kidnapping of young children for purposes of prostitution, pornography, high tech experimental abuse, mind control, child slave labor, white sex slavery, and satanic murder. In association with former Senator John DeCamp of Nebraska, they exposed Washington D.C. sex orgies with under-age kids,

According to U.S. Department of Justice research, an estimated 800,000 children will go missing in the United States alone — a rate of over 2'000 missing children each day — with 466,949 of those cases entered into the FBI's National Crime Information Center (NCIC) database in 2014.

HOW MANY OF THESE MISSING CHILDREN ARE CHILD SEX SLAVES WE MAY NEVER KNOW.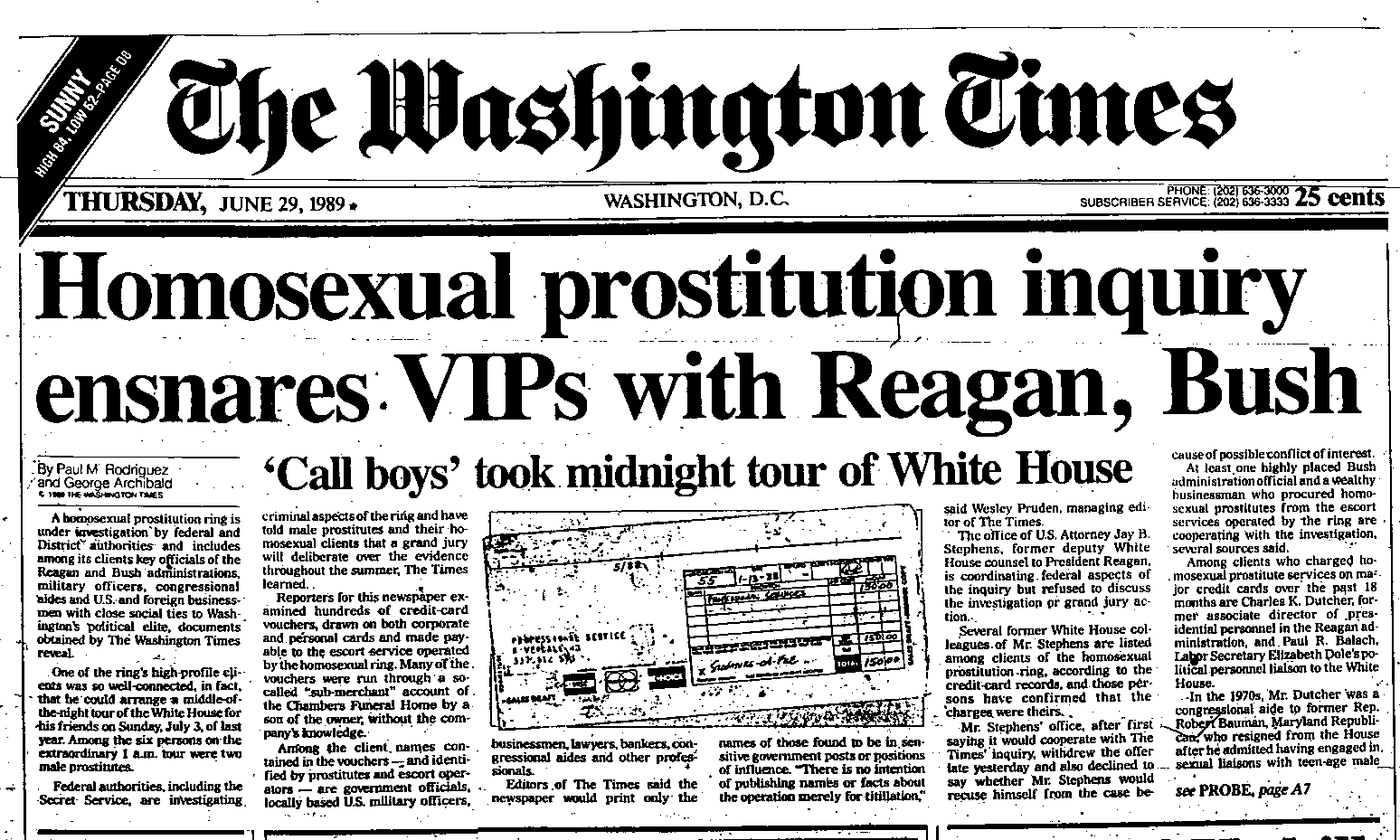 CHILD PORNOGRAPHY HAS BEEN FOUND ON PENTAGON COMPUTERS AND ON OTHER GOVERNMENT COMPUTERS FOR OVER A DECADE. IT ISN'T THAT IT HASN'T BEEN REPORTED IN MAINSTREAM MEDIA BECAUSE IT HAS.

BACK DURING THE BUSH, SR. WHITE HOUSE DAYS, THERE WAS A BRIEF SCANDAL REGARDING YOUNG MEN AND UNDERAGE BOYS VISITING "SOMEONE" AT THAT WHITE HOUSE AFTER MIDNIGHT.

THAT WAS HUSHED-UP QUICKLY, THE SECRET SERVICE WAS EVEN ENLISTED IN TRYING TO GET ALL THE COPIES OF THE WASHINGTON TIMES OFF THE STREET... THE HEADLINE GLARING AT ALL WHO WANTED TO READ IT.

[FOR LINKS TO SEVERAL DECLASSIFIED DOCUMENTS, GO <HERE>. ]


THE PROBLEM IS THAT AN IN-DEPTH, REAL INVESTIGATION INTO THE EXTENT OF IT AND WHO ALL IS GUILTY OF IT HAS NEVER BEEN CONDUCTED.

WHY NOT?

BECAUSE TOO MANY BIG NAMES IN GOVERNMENT HAVE BEEN AND CONTINUE TO BE PART OF THAT CIRCLE OF WASHINGTON INSIDERS WHO ENGAGE IN SEX WITH CHILDREN, THAT'S WHY.

MAINSTREAM MEDIA SHOULD BE REPORTING THIS DAILY, EVERY DAY, BUT THEY DON'T.

The responsibility of journalists vis-a-vis the public has precedence over any other responsibility, in particular towards their employers and the public power.
[A journalist's duties include] respecting the truth no matter what consequences it may bring about to him, … defending the freedom of information, of commentaries and of criticism, [and] not suppressing essential information.

TO ALL MAINSTREAM MEDIA JOURNALISTS:
IF THE EXPLOITATION OF CHILDREN, THEIR DISAPPEARANCES, DEMISE, THE STATISTICS ON CHILD SEX TRADE IN AMERICA DOESN'T MATTER, WHAT DOES?

The Boston Globe reported:

The Pentagon's investigation of defense and intelligence employees who downloaded child pornography is being criticized in Congress after the Department of Defense acknowledged that its investigators failed to check thoroughly whether its employees were on a list of suspected porn viewers.

In 2006, the Immigration and Customs Enforcement agency, which conducts Internet pornography investigations, produced a list of 5,200 Pentagon employees suspected of viewing child pornography and asked the Pentagon to review it.
But the Pentagon checked only about two-thirds of the names, unearthing roughly 300 defense and intelligence employees who allegedly had viewed child pornography on their work or home computers.
The defense investigators failed to check an additional 1,700 names on the list…

Members of Congress and other officials say it raises additional concerns when such materials are accessed by employees with high-level security classifications, because it leaves them vulnerable to blackmail.

Few of these individuals were questioned, cross-checked or charged; instead, the matter stalled and was later dropped altogether, despite the fact that some of those investigated were found be in positions as high a top aide for the Secretary of Defense.

EXPLOITATION OF CHILDREN NOT CONSIDERED A PRIORITY.
"These cases were not considered a priority by the Defense Department in the first place, and they should have been,'' Grassley said this week in an interview.
Grassley wrote last month to the Department of Defense inspector general, Gordon S. Heddell, demanding a thorough accounting of the department's actions.

"There are some extremely disturbing and depraved activities taking place at the highest levels of our government, and it is clear that there are just certain things that they don't want discussed."

IN JULY, 2015, THE WASHINGTON POST DID A SHORT ARTICLE ON THE FACT THAT TWO DOZEN U.S. CONGRESSMEN HAD BEEN INDICTED ON CRIMINAL CHARGES SINCE 1980.

THEY LEFT OUT THE LIST OF THOSE ACCUSED OF 'SEX CRIMES' AGAINST CHILDREN, ACCUSATIONS BROUGHT BY CHILDREN, OR CHARGES AGAINST CONGRESSMEN WHO WERE SOLICITING TEENAGE PROSTITUTES, MALE AND FEMALE, WHO MADE 'PLEA DEALS', WHO WERE BAILED OUT OF TROUBLE BY THEIR COLLEAGUES, WHO WENT INTO "REHAB" INSTEAD OF TO JAIL ON CHARGES OF HAVING SEX WITH OR SOLICITING SEX FROM TEENAGERS.

I PUT TOGETHER A SHORT LIST OF THOSE BELOW.

OVER 30 YEARS AGO, CONGRESSMEN WERE HAVING SEX WITH 17-YEAR-OLD CONGRESSIONAL PAGES AND CALLING IT CONSENSUAL SEX.
CONSENSUAL OR NOT, THE GIRL AND THE BOY WERE LEGALLY DEPENDENT MINORS, NOT ADULTS,

TWELVE STATES IN THE UNION STILL PROSECUTE THOSE ENGAGING IN SEX WITH CHILDREN UNDER 18 AS RAPE:
Arizona, California, Delaware, Florida, Idaho, North Dakota, Oregon, Tennessee, Texas, Utah, Virginia and Wisconsin.
Such laws may refer to: "carnal knowledge of a minor," "child molestation," "corruption of a minor," "sexual misconduct," and/or "unlawful carnal knowledge."

The laws of Georgia, Missouri, North Carolina, Mississippi, and Tennessee STILL specifically refer to "statutory rape", each state defining it differently.

Nevada criminalizes "statutory sexual seduction" while Pennsylvania criminalizes "statutory sexual assault".


A CONGRESSIONAL GET-OUT-OF-JAIL DEAL, 1983.
On July 14, 1983, the House Ethics Committee recommended that Rep. Dan Crane (R-IL) and Rep. Gerry Studds (D-MA) be reprimanded for having engaged in sexual relationships with minors, specifically 17-year-old congressional pages.

IT MADE FRONT-PAGE HEADLINES.
DID THEY DO JAIL TIME?
NO.
THEY WERE "CENSURED" AND ALLOWED TO STAY ON THE PAYROLL.

Studds gave up his right to a public hearing reluctantly, saying that he objected to the conclusions of the Ethics Committee but wanted to protect the privacy of the pages involved and that the affair was a "mutually voluntary, private relationship between adults." At the same time, Studds did admit to "a very serious error in judgment," saying that he should not have had sex with a congressional subordinate, regardless of the individual's age or sex.

I FIND THE TERM "CONGRESSIONAL ETHICS COMMITTEE" LUDICROUS, UNLESS THEY MEET TO LAUGH ABOUT HAVING NO ETHICS.

HAVING SEX WITH CHILDREN WAS A GOING THING FOR MANY YEARS IN AMERICA.
In 1880, the age of consent was set at 10 or 12 in most states, with the exception of Delaware where it was 7.
HOW CAN WE JUSTIFY ADULTS HAVING SEX WITH A 7-YEAR-OLS, OR A 10-YEAR-OLD?
BUT WE DID.

THAT AMERICANS WERE NOT PUT-OFF BY VILE ACTS AGAINST CHILDREN IN THE EARLY YEARS OF THIS NATION MAY BEST BE SHOWN BY ONE EXAMPLE... JAMES HAMMOND.

James Henry Hammond, (Nullifier Party - SC) U.S. Representative and later Senator, engaged in a homosexual relationship with a college friend, pursued what he called "a little dalliance" with his teenage NIECES, and had sexual relationships with female slaves including a girl aged 12.
The affair with his nieces became public in 1843, and forced Hammond to withdraw from his Senate bid in 1846, but he later became a U.S. Senator again in 1857.

KNOWING HE WAS GUILTY OF INCEST AND PROBABLY GUILTY OF RAPE OF AT LEAST ONE SLAVE CHILD, HE WAS STILL RE-ELECTED.

BURDEN OF PROOF PLACED ON THE VICTIMS.
IT APPARENTLY WAS ASSUMED THAT MOST FEMALES OF EVERY AGE WHOM ANY MAN HAD SEX WITH WAS OF A "QUESTIONABLE CHARACTER" SINCE, UNTIL 1998, A FEMALE CHILD ALLEGING RAPE WAS REQUIRED TO PROVE SHE HAD BEEN "CHASTE".

Until the late 20th century many states had provisions requiring that the teenage girl must be of previous "chaste character" in order for the sexual conduct to be considered criminal. In 1998 Mississippi became the last state to remove this provision from its code.


IT TOOK A BIT LONGER TO LEGALIZE SODOMY, INCLUDING SODOMY OF TEENAGE CHILDREN IN AMERICA, BUT THE SUPREME COURT TOOK IT UPON ITSELF TO DO SO IN 2003.
On June 26, 2003, both heterosexual and homosexual sodomy became legal (between non-commercial, consenting adults in a private bedroom) in all U.S. states, territories, and Washington, D.C. under the U.S. Supreme Court decision Lawrence v. Texas.

THE SUPREME COURT ALSO REMOVED THE DEATH PENALTY FOR THE MOST AGGRAVATED FORMS OF CHILD SEXUAL ABUSE IN 2008.
THAT 'DETERRENT' IS NO LONGER APPLICABLE, SO SUCH CRIMES NOW SEE THE ASSAILANTS DO JAIL TIME AND GO BACK INTO SOCIETY TO COMMIT SUCH ACTS AGAIN.

In 2008, in Kennedy v. Louisiana, the Supreme Court of the United States ruled that the death penalty for rape of a child was unconstitutional.

NOWHERE IN THE CONSTITUTION IS THE RAPE OF A CHILD MENTIONED, NOWHERE IS SEXUAL ASSAULT OF A CHILD MENTIONED, SO HOW THE DEATH PENALTY ESTABLISHED BY STATES FOR THAT CRIME CAN BE RULED UNCONSTITUTIONAL IS A MYSTERY, ALSO A TRAVESTY OF JUSTICE AND AN OVERSTEPPING OF THE SUPREME COURT OF THE LIMITATIONS PLACED ON IT BY THAT CONSTITUTION.
ANYTHING NOT ADDRESSED IN THE CONSTITUTION IS, BY THE DOCUMENT ITSELF, LEFT UP TO THE DISCRETION OF EACH INDIVIDUAL STATE.

THE TENTH AMENDMENT:
Reserved Powers. The powers not delegated to the United States by the Constitution, nor prohibited by it to the States, are reserved to the States respectively, or to the people.

WHAT CONGRESS HAS ALWAYS IGNORED IS THE FOLLOWING:

The age of consent in the District of Columbia is 16 with a close-in-age exemption for those within four years of age.
However, sexual relations between people 18 or older and people under 18 are ILLEGAL if they are in a "significant relationship".
According to the Code of the District of Columbia, a relationship is considered "significant" if one of the partners is:
"A parent, sibling, aunt, uncle, or grandparent, whether related by blood, marriage, domestic partnership, or adoption".

"A legal or de facto guardian or any person, more than 4 years older than the victim, who resides intermittently or permanently in the same dwelling as the victim"

"The person or the spouse, domestic partner, or paramour of the person who is charged with any duty or responsibility for the health, welfare, or SUPERVISION of the victim at the time of the act"

"ANY employee or volunteer of a school, church, synagogue, mosque, or other religious institution, or an educational, social, recreational, athletic, musical, charitable, or youth facility, organization, or program, including a teacher, coach, counselor, clergy, youth leader, chorus director, bus driver, administrator, or support staff, OR ANY OTHER PERSON IN A POSITION OF TRUST WITH OR AUTHORITY OVER A CHILD OR MINOR.

Fred Richmond, Representative (D-NY): Charges that he solicited sex from a 16-year-old boy were dropped after he submitted to counseling. (1978)
[SOURCE: "Heading South", Page Six, New York Post, February 24, 2009.]
NO CHARGES
Robert Bauman, Representative (R-MD), was charged with attempting to solicit sex from a 16-year-old male prostitute.
Upon completing an alcoholism rehabilitation program, the charges were dropped.
NO CHARGES.

SEX WITH A 16-YEAR-OLD GIRL....SLAP ON THE WRIST.
Donald "Buz" Lukens Representative (R-OH) Convicted of Contributing to the Delinquency of a Minor for having sex with a 16 yr old girl.
He was sentenced to 30 days in jail and fined $500. (1989)
[SOURCE: NEW YORK TIMES, May 9, 1990, "Lukens Loses Ohio Primary" by the AP.]


STATUTORY RAPE INDICTMENT LEADS TO RE-ELECTION.
Mel Reynolds, Representative (D-IL), resigned from Congress in 1995 after a conviction for statutory rape. In August 1994, he was indicted for sexual assault and criminal sexual abuse for engaging in a sexual relationship with a 16-year-old campaign volunteer that began during the 1992 campaign.
Despite the charges, he continued his campaign and was RE-ELECTED that November; he had no opposition.
Reynolds initially denied the charges, which he claimed were racially motivated.
On August 22, 1995, he was convicted on 12 counts of sexual assault, obstruction of justice and solicitation of child pornography.
He resigned his seat on October 1 of that year.

Strom Thurmond, Senator (R-SC), noted segregationist, fathered a child, Essie Mae Washington-Williams, with a 15-year-old African American in 1925 who was employed by the Thurmond family. (2003)

The Mark Foley scandal, broke in late September 2006, and centered on soliciting e-mails and sexually suggestive instant messages sent by Mark Foley, a Republican Congressman from Florida, to teenage boys who had formerly served as congressional pages.

PERHAPS BECAUSE OF THE FOLEY INVESTIGATION, ANOTHER GAY CONGRESSMAN, REP. JAMES "JIM" KOLBE, WAS ALSO INVESTIGATED ON CHARGES THAT HE "BEHAVED INAPPROPRIATELY' TOWARD TEENAGE EX-PAGES ON A CAMPING TRIP IN 1996.

MIMI ALFORD WAS A CONSENTING ADULT AT AGE 19 WHEN SHE BEGAN HER AFFAIR WITH PRESIDENT JOHN FITZGERALD KENNEDY.
["JFK Had An Intern Too". The Smoking Gun. 2003-05-13.]

Declassified documents that mentioned Alford by name were previously confirmed in general terms by Kennedy press aide Barbara Gamarekian, identifying "Mimi" by name in her oral memoir transcribed by the John F. Kennedy Presidential Library and Museum in 1964, and unsealed in 2003.
After the interview transcript was leaked in 2003, on May 13 the New York Daily News headline ran: "Fun and Games with Mimi in the White House".
It was on her fourth day in the White House press office that the first sexual encounter occurred...(in Jackie Kennedy's bedroom).

[My note: Was that "ethical" of JFK?
To use Bill Clinton as example, "It depends on what the definition of "is" is", right?]

IF THE PRESS WON'T PUBLISH THE EMAILS, IN DEPTH, HOW CAN AMERICANS KNOW?
To honestly decide whether that's what we are seeing in the Podesta emails, please have a look at this one example. Look at the invitation at the end of the thread. Ms Luzzatto is inviting people (among which are John and Mary Podesta) to a farm in Lovettsville. This is what she says:
"We plan to heat the pool, so a swim is a possibility. Bonnie will be Uber Service to transport Ruby, Emerson, and Maeve Luzzatto (11, 9, and almost 7) so you'll have some further entertainment, and they will be in that pool for sure."

They couldn't possibly be speaking about sexually abusing the children!

THE SAME 'GRANDMA' ALSO WROTE IN ANOTHER LEAKED PODESTA EMAIL:

"Evelyn is growing up. Soon she will be the queen of the entire US of A. right now, for a limited time only,

you can spend some time with her online, raw and uncut

. Take advantage of this now, as in the future she will have the power of life and death over you."

From JOHN PODESTA'S email dump by Wikileaks.

This is how invitee Drew Littman, ‎Senior Counselor, Immediate Office of the Secretary at U.S. Department of Health and Human Services, answered the invitation:

"I've never had an affair, so I pass the Walter Jones test."
Why, for an innocent party at a farm, would this guy write, "I've never had an affair, so I pass the Walter Jones test"?

John and Tony Podesta are old friends of Jeffery Epstein, Dennis Hastert and Clement Freud, three CONVICTED child molesters.
Who has so many child rapists as friends?
Who stays friends with child rapists after they're exposed and convicted?

REMEMBER WHEN THE DEMOCRATS WERE HOPEFUL THAT EPSTEIN WAS...

The Billionaire Pedophile Who Could Bring Down Donald Trump

BUT BILL CLINTON AND HILLARY WERE BOTH LOGGED IN ON SOME OF THOSE FLIGHTS TO "ORGY ISLAND"!
Flight logs show that from 2001 to 2003, Bill Clinton flew on Epstein's private plane, dubbed "The Lolita Express" by the press, 26 times. After Epstein's arrest in July 2006, federal tax records show Epstein donated $25,000 to the Clinton Foundation that year.
MUCH EVIDENCE WAS RECOVERED AT EPSTEIN'S HOME, ENOUGH TO CONVICT HIM, BUT OTHERS SHOULD HAVE ALSO BEEN CONVICTED, MEN IN HIGH PLACES, ELECTED OFFICIALS INCLUDED.

How about the Katy Grannan photos plastered around the Podestas' mansion, depicting naked teenagers?

THE WASHINGTON POST REPORTED ON THESE YEARS AGO, SEPT. 29, 2004:

"Folks attending a house tour in the Lake Barcroft neighborhood in Falls Church earlier this year got an eyeful when they walked into a bedroom at the Podesta residence hung with multiple color pictures by Katy Grannan, a photographer known for documentary-style pictures of naked teenagers in their parents' suburban homes."

"'They were horrified', Heather Podesta recalls, a grin spreading across her face."

How about the underground vault on the Podestas' property which admittedly allows them to watch "very complicated video pieces"?


Arun Rao, assistant U.S. Attorney, was caught "liking" several of Alefantis' creepiest toddler Instagram posts.

Again, that could be dismissed – only there's all this context, and the fact Mr Rao is an Assistant US attorney, charged with prosecuting child pornography and abuse.


Did you know that Laura Silsby (Gayler), the woman caught trying to smuggle thirty-three children out of Haiti (a country where the Clinton Foundation isn't without controversy), whose release from jail became a personal matter for Hillary Clinton, thereafter became an associate of MyStateUSA, which changed its name to AlertSense, and which is the one providing the technology to issue Amber Alerts?

Jorge Puello, the attorney who represented Laura Silsby, was himself convicted as a sex trafficker.

Reddit Bans #Pizzagate Investigation. The Corbett Report Continues It.

A WEBSITE FOUND <HERE> HAS THE BEST COLLECTION OF IMAGES RELATED TO THE MULTITUDE OF ARTWORKS RELATED TO PEDOPHILIA FOUND AT THE COMET PIZZA SITE AND AT THE PODESTA HOME OF ANY I FOUND.
THEY ARE INTENSELY DISTURBING, I WARN YOU.


WHEN WE'VE SEEN DECADES OF CATHOLIC BISHOPS COVERING UP CHILD MOLESTATION BY ITS OWN PRIESTS, DARE WE IMAGINE THAT CONGRESS HASN'T COVERED UP THE SAME AMONG ITS OWN MEMBERS?

IF AMERICA KNEW HOW RAMPANT THIS WAS, WOULD IT MATTER?
I'M AFRAID THAT I DOUBT ANYONE WOULD GATHER A POSSE AND HEAD OFF TO D.C.

Some of the email messages from and to Podesta made public by Wikileaks last year contained references to cheese, pizza, hot dogs, and black handkerchiefs, things that the FBI has stated are often used as code in pedophile and sadomasochistic sex circles.
The Pizzagate emails linked both John Podesta and his brother Tony to pizza joint owner James Alefantis and to Marina Abramovic, the woman behind a "spirit cooking" dinner the Podesta brothers were invited to.

PHOTOS FROM THAT "DINNER" ARE MOST TROUBLING AND I WILL ONLY POST THE LINK TO THAT, BUT IT'S IMPORTANT TO SEE WHAT MANY IN WASHINGTON CONSIDER 'FUN', WHAT THEY WILL ATTEND. I WARN YOU, THERY ARE DISTURBING IMAGES.
https://www.youtube.com/watch?v=3EsJLNGVJ7E

After WikiLeaks released the Pizzagate emails, internet sleuths turned up some very odd Instagram posts by Alefantis. In one picture, a small girl was looking into the camera while her arms were taped to a tabletop. Numerous pictures showed Alefantis with children despite the fact that he has no children himself.


JOHN PODESTA CALLED A PEDOPHILE PUBLICLY.
Twitter messages from conservative publisher Andrew Breitbart sent just before his death. In those messages, Breitbart clearly accuses John Podesta of being a pedophile and of trafficking children as sex slaves. Breitbart died of heart failure, at just 43-years-old, just weeks later.

In 2012, the Huffington Post ran a story in which it explored a theory that Breitbart may have been murdered by arsenic poisoning.


Early on did John Podesta imagine his baby @mmfa would be covering up for underage sex slave ops & H8 crimes against blacks?

— AndrewBreitbart (@AndrewBreitbart) February 2, 2011


How prog-guru John Podesta isn't household name as world class underage sex slave op cover-upperer defending unspeakable dregs escapes me.

— AndrewBreitbart (@AndrewBreitbart) February 4, 2011

As you can see in the messages above, Breitbart mentions Media Matters For America (MMFA). That organization was founded by David Brock, who was James Alefantis' former partner. During the recent presidential campaign, MMFA was given office space by John Podesta, and they regularly ran articles to discredit any of the negative news about Hillary Clinton, including attempting to denigrate the WikiLeaks Podesta emails.


WHEN BUSTED, DELETE POSTS...OOPS, TOO LATE!
Since the investigation began, Mr. Alefantis has deleted many of his posts and set his social media to private. We have archived the entirety of his online presence however.

James Alefantis is the owner of pizza joint Comet Ping Pong, he is the romantic partner of former CTR director David Brock. Here is a link confirming this and showing them caught up with another individual in some kind of blackmail love triangle:

http://www.foxnews.com/politics/2012/02/27/media-matters-boss-paid-former-partner-850g-blackmail-settlement.html

Here is a photo of Brock on Alefantis' Instagram:

https://i.sli.mg/p58Eks.png

An FEC search also shows payments made to Alefantis from the Clinton Campaign and pro Clinton PACS
WHY, FOR WHAT PURPOSE?

Alefantis is also listed in White House records as having visited a few times:

http://imgur.com/Ia1lLQK


George Soros is listed as a major donor to the American Bridge 21st Century PAC:

http://archive.is/afTPu


This PAC is on record with the FEC as having made several donations to Comet Ping Pong:
http://docquery.fec.gov/cgi-bin/fecimg/?13941306270

http://docquery.fec.gov/cgi-bin/fecimg/?13940775420

http://docquery.fec.gov/cgi-bin/fecimg/?14960793887

Here is Alefantis posting a photo of Tony Podestas house:

http://archive.is/LIHTn

You may remember this "Arch of Agony" statue from the house of Tony Podesta, as seen in this Washington Post article:

TO MANY, THAT "ARCH OF AGONY" GLORIFIES THE WORK OF JEFFREY DAHMER

Keep in mind that this house also contains art showing child abuse by Biljana Djurdjevic:

https://twitter.com/northofdoom/status/795019411497177088


https://i.sli.mg/dBY95x.jpg

http://washingtonlife.com/2015/06/05/inside-homes-private-viewing/


Here is a disturbing Wikileaks email where a "torture chamber" is referenced:

https://wikileaks.org/podesta-emails/emailid/56492

Finally, people have noticed that pro-Hillary groups own ALL the properties on the block where Comet Ping Pong is located.

https://i.sli.mg/1XVf9d.png

THAT MAY BE OF NO CONSEQUENCE WHATSOEVER, BUT IT IS ODD.

As noted in the previous picture, some of the company logos of nearby groups who have offices near Comet Ping Pong look similar to known images used by pedophiles as per this FBI document:

https://wikileaks.org/wiki/FBI-pedophile-symbols.pdf


THAT DOCUMENT NEEDS TO BE IN THE HANDS OF EVERY PARENT IN AMERICA.


IT'S NOT OVER AND IT IS NOT JUST A CONSPIRACY THEORY.
January 18th, 2017

In a news segment that ran on Atlanta's CBS 46 last night, host Ben Swann recounted the Pizzagate conspiracy theory that led one man to charge into a pizzeria with an assault rifle last year, and defended it as not being 'fake news' but something that needs to be investigated more fully.

From the Presidio affair to Jimmy Saville and the BBC, or from the Vatican's historic involvement in covering-up pedophilia to US legislators' documented trips on the "Lolita Express", from the questions still surrounding Dutroux to the Hampstead doubts, the scourge has been featured in the news, movies, documentaries, art work.

AS I HAVE WRITTEN BEFORE, PEDOPHILIA AMONG AMERICAN ELECTED OFFICIALS GOES BACK HUNDREDS OF YEARS TO THE 1800s.
IT BECAME RAMPANT AND BETTER REPORTED IN THE 1980s, BUT AMERICA DID NOT TAKE HEED OF THAT.


THE PRESIDIO AFFAIR

The Presidio affair and Satanism in the U.S. military.

On Feb. 5, 1999, in U.S. District Court in Lincoln, Nebraska, an extraordinary hearing occurred in Paul A. Bonacci v. Lawrence E. King, a civil action in which the plaintiff charged that he had been ritualistically abused by the defendant, as part of a nationwide pedophile ring linked to powerful political figures in Washington and to elements of the U.S. military and intelligence establishment.

Three weeks later, on Feb. 27, Judge Warren K. Urbom ordered King, who is currently in Federal prison, to pay $1 million in damages to Bonacci, in what Bonacci's attorney John DeCamp said was a clear signal that "the evidence presented was credible."

During the Feb. 5 hearing, Noreen Gosch stunned the court with sworn testimony linking U.S. Army Lt. Col. Michael Aquino (ret.) to the nationwide pedophile ring. Her son, Johnny, then 12 years old, was kidnapped off the streets of West Des Moines, Iowa, on Sept. 5, 1982, while he was doing his early-morning newspaper deliveries. Since his kidnapping, she has devoted all of her time and resources to finding her son, and to exposing the dangers that millions of children in America face from this hideous, literally Satanic underground of ritualistic deviants.

"We have investigated, we have talked to so far 35 victims of this said organization that took my son and is responsible for what happened to Paul, and they can verify everything that has happened," she told the court.

Throughout much of the 1980s, Aquino was at the center of a controversy involving the Pentagon's acquiescence to outright Satanic practices inside the military services. Aquino was also a prime suspect in a series of pedophile scandals involving the sexual abuse of hundreds of children, including the children of military personnel serving at the Presidio U.S. Army station in the San Francisco Bay Area. Furthermore, even as Aquino was being investigated by Army Criminal Investigation Division officers for involvement in the pedophile cases, he retained highest-level security clearances, and was involved in pioneering work in military psychological operations ("psy-ops").


On Aug. 14, 1987, San Francisco police raided Aquino's Russian Hill home, which he shared with his wife Lilith. The raid was in response to allegations that the house had been the scene of a brutal rape of a four-year-old girl. The principal suspect in the rape, a Baptist minister named Gary Hambright, was indicted in September 1987 on charges that he committed "lewd and lascivious acts" with six boys and four girls, ranging in age from three to seven years, during September-October 1986. At the time of the alleged sex crimes, Hambright was employed at a child care center on the U.S. Army base at Presidio. At the time of Hambright's indictment, the San Francisco police charged that he was involved in at least 58 separate incidents of child sexual abuse.


WHAT THE AMERICAN PUBLIC DOESN'T KNOW ABOUT SEX AND CONGRESS AND THE WHITE HOUSE WOULD FILL HUGE VOLUMES.
MAYBE WE DON'T WANT TO KNOW, MAYBE WE'RE AFRAID TO KNOW, BUT THAT ISN'T HELPING THE CHILDREN WHO ARE DAILY VICTIMS OF SEX CRIMES, ABUSE, AND RITUALISTIC DEATHS.

MY MAIN CONCERN IS AND ALWAYS WILL BE THE CHILDREN OF THIS WORLD, OUR HOPE FOR A FUTURE, AND THAT WE ALL MUST HELP SAFEGUARD THEM FROM THOSE WHO SEE THEM AS DISPOSABLE OBJECTS OF PLEASURE.

I AND MANY WHOM I KNOW WERE VICTIMS OF SUCH ABUSE, SO LET ME ASSURE YOU ALL, SOMEWHERE OUT THERE A CHILD IS TERRIFIED, HURTING, MAYBE DYING AND THAT CHILD IS PERHAPS PRAYING OR AT LEAST HOPING SOMEBODY, ANYBODY COMES TO SAVE THEM, COMES TO HELP THEM, COMES TO RESCUE THEM.

THAT SOMEONE COULD BE ANY OF US...YOU, ME, ANYONE WHO CARES.
I CARE.

WHETHER OR NOT ANY/ALL OF THE ALLEGATIONS POSITED BY THOSE SO-CALLED "PIZZAGATE CONSPIRACY THEORISTS" TURN OUT TO BE PROVEN IN COURTS OF LAW OR DON'T, THE FACT IS THERE IS A HORRENDOUS RING OF PEDOPHILES OPERATING ALL AROUND THIS GLOBE.

WHAT IF THEIR NEXT VICTIM IS YOUR CHILD, GRANDCHILD, NIECE, NEPHEW?
HOW HARD WOULD YOU TRY THEN TO EXPOSE THEM AND BRING THEM TO JUSTICE?

GET INVOLVED, STAY INVOLVED, I BEG YOU.
IF YOU DO NOTHING MORE THAN QUESTION WHY NO REAL INVESTIGATIONS OR PROSECUTIONS OF CONGRESSIONAL AND OTHER OFFICIALS HAVE GONE FORWARD, THAT IS A START.









//WW