On Thursday night, March 22, 2018, around 150 short-finned pilot whales stranded themselves at Hamelin Bay, a site on Australia's western coast around 200 miles south of Perth.
The short-finned pilot whale is a large species of dolphin with a dark-grey body and a bulbous head.
When a fisherman spotted them in the early hours of Friday morning, most were already dead.
If cetaceans land on solid surfaces, their chest walls, no longer supported by the weight of the water, start to compress their internal organs.

By 7 p.m. local time, trained staff and volunteers had hauled six survivors back into the sea, but their fate is still uncertain. Rescued whales often re-strand themselves, and nightfall will make their movements harder to track.

Three years ago, again almost to the day, around 20 long-finned pilot whales washed up at Bunbury, about 70 miles to the north. The largest mass stranding ever documented in the region was in the summer of 1996 when 320 long-finned pilot whales beached themselves at Dunsborough, less than 50 miles to the north.

This isn't a uniquely Australian problem. New Zealand's Farewell Spit is a notorious whale trap where pilot whales regularly strand; up to 650 long-finned pilot whales beached there last February, of which 400 or so were saved.

Cape Cod is another hot spot, and sees an average of 226 stranded whales and dolphins every year.

Pilot whales seem especially susceptible, but even larger species will beach themselves. Over 300 sei whales died at a Chilean fjord in 2015, while 29 sperm whales washed up on the coasts of the southern North Sea in 2016.

Cetaceans—the group that includes whales and dolphins—are highly intelligent and beautifully adapted to life in the water.
Why would they leave the aquatic world to risk death?
And why do so many of them do so at the same time?

No one really knows. There's a multitude of hypotheses and few firm answers.

Whales might be pursuing prey into unfamiliar waters (as was possibly the case for the sperm whales that died in the North Sea in January 2016). Or they might be fleeing from predators like orcas, or be sent astray by extreme weather. They might be weakened by injuries, viral infections, or mere old age, and seek shallower waters where they can more easily breathe.

They might even be influenced by astronomical events. Many cetaceans use the Earth's magnetic field to navigate, and their internal compasses could be vulnerable to magnetic anomalies, of the kind caused by solar storms. The sun occasionally lashes out with streams of charged particles and radiation; these cosmic tantrums produce the magnificent northern lights, but perhaps they're also responsible for disorienting cetaceans, sending them into dangerous waters. It seems like a far-fetched possibility, but it's one that NASA is seriously investigating.

Cetaceans can be disoriented by the underwater din of human activity, from naval sonar to the seismic airguns used in oil and gas exploration. Several stranding events have been tied to military exercises near the United Kingdom, Denmark, Greece, the Canary Islands, Hawaii, and most famously, the Bahamas in 2000. As documented in 'War of the Whales', that last event led to a string of scientific studies, legal injunctions, court cases, and a formal admission of culpability from the U.S. Navy. Naval sonar is so loud that it can cause internal hemorrhaging. It could also cause gas bubbles to form in cetaceans' bodies, essentially giving them the bends—the same condition that afflicts human divers who surface too quickly. Even low levels of sonar could harm cetaceans by distressing them, forcing them to flee into unfamiliar territory.

Many of these hypotheses are difficult to test, let alone prove, and it's likely that many of them are correct. It would be a mistake to let the heartbreaking nature of these events cloud the fact that they vary considerably in the species that are affected, their location, and the circumstances around their deaths. It seems unlikely that there will ever be a Grand Unified Theory of Mass Strandings.

AND THOSE DEATHS CONTINUE AGAIN THIS YEAR, ALL OVER THE GLOBE.

6th March 2018 - 12+ dead dolphins wash ashore along the coast of Galicia, Spain. Link


5th March 2018 - Millions of dead sea creatures wash up along the coast of Yorkshire, England. Scenes of devastation shocked people going to the beach this weekend as millions of sea creatures - from fish to lobsters and whelks - were washed up on Yorkshire's East Coast. Several dead seals were among the casualties of the terrible underwater storm, which left velvet crabs piled up in some places a foot deep at Fraisthorpe, near Bridlington. "It was just like a war zone, total chaos," said commercial fisherman Jack Sanderson, who was at Fraisthorpe with a group of fishermen, rescuing live lobsters to release back into the sea. "There was every form of marine life, velvet crabs, lobsters, whelks, scallops, razorfish, Dover soles, cod, ling, wrasse and sand eels." Link


4th March 2018 - Tens of thousands of dead starfish wash up on a beach in Kent, England. Link


4th March 2018 - Hundreds, maybe thousands of dead fish wash up on a beach, 'a mystery' in Marseillan, France. Link


28th February 2018 - Large die off of fish washes ashore on a beach in La Brea, Trinidad and Tobago. Link


26th February, 2018 - 193 Olive Ridley Turtle Deaths In 3 Weeks In Chennai, Tamil Nadu, India


22nd February 2018 - Thousands of dead fish wash up on beaches in North Carolina, America. Thousands Of Dead Fish 'Piled Thick' On Beaches Of NC's Outer Banks. Link


22nd February 2018 - Thousands of dead fish was up at North Aukland beach, New Zealand. Link


14th February 2018 - 25 pilot whales wash up dead on Maio island in Cape Verde. Link


14th February 2018 - Dead Pelicans, Turtles and 'countless fish' wash up in a lagoon near Sydney, Australia. Link


14th February 2018 - 21 dolphins dead after 54 strand in Baja California Sur, Mexico


A global map with 50 most recent known die-off events can be found <here>.

Seaborne radiation from Japan's Fukushima nuclear disaster has been detected in seawater samples taken from Tillamook Bay and Gold Beach.


Salmon and other West Coast marine life hit new lows for the past 3 years and will not see hopes of recovery for at least several more years.

"We are seeing unprecedented changes in the environment [Pacific Ocean off the West Coast] ," said Toby Garfield, Director of the Environmental Research Division at the SWFSC, citing unusually high coastal water and air temperatures over the last year. Climate and ecological indicators are "pointing toward lower primary productivity" off California, Oregon and Washington, he said.

That could translate into less food for salmon and other marine species, added Chris Harvey of the Northwest Fisheries Science Center.
High mortality of sea lion pups in Southern California and seabirds on the Oregon and Washington coasts in recent months may be early signs of the shift.


NOT ONE MENTION OF THE LEUKEMIA FOUND IN SEA LION PUPS, NOT ONE WORD ABOUT CANCEROUS LESIONS FOUND IN ALL TYPES OF FISH, WHALES, DOLPHINS, SEALS, WALRUSES AND POLAR BEARS, NOT ONE.

NOT ONE MENTION THAT SPECIMENS TESTED FOR ALGAE TOXICITY WERE NEGATIVE, THAT THE WATERS OFF THE WEST COAST HAVE BEEN FAR COOLER AND FAR WARMER AND ALL WITHOUT THE MASS DIE-OFFS OF THE PAST 5 OR 6 YEARS, THAT NEITHER EL NINO NOR LA NINA CAUSED SO MANY MARINE DEATHS BEFORE.

THE ELEPHANT IN THE ROOM THAT THIS ARTICLE ISN'T MENTIONING IS RADIATION FROM FUKUSHIMA, WASHING INTO THE PACIFIC EACH NEW DAY, SETTLING INTO OCEAN SEDIMENT, BEING CHURNED UP BY STORMS, THOSE ODD 'URANIUM BUCKYBALLS' SKITTERING ACROSS THE SURFACE OF THE PACIFIC AT HIGH SPEED, THE FALLOUT FROM THE INITIAL EXPLOSIONS RAINING DOWN ON SEA ICE, COASTAL AREAS ALL THE WAY UP TO THE ARCTIC CIRCLE AND ALL THE WAY DOWN TO CHILE, HOW RADIATION BIO-ACCUMULATES UP THE FOOD CHAIN, OR HOW SENSITIVE SEA LIFE IS TO RADIATION.


The report by NOAA Fisheries' Northwest Fisheries Science Center and Southwest Fisheries Science Center assesses productivity in the California Current from Washington south to California. The report examines environmental, biological and socio-economic indicators including commercial fisheries and community health.

"We're seeing some major environmental shifts taking place that could affect the ecosystem for years to come," said John Stein, Director of the Northwest Fisheries Science Center. "We need to understand and consider their implications across the ecosystem, which includes communities and people."

For example, warmer conditions in the past often coincided with increases in sardines and warmer-water fish such as tuna and marlin and drops in anchovy and market squid. Salmon also fare poorly during warm conditions. Cooler conditions in contrast have often driven increases in anchovies, rockfish and squid. Anchovy and sardines have both remained at low levels in recent years, the report notes.

BOTH ANCHOVIES AND SARDINES, AS WELL AS TUNA, SQUID, SALMON, CRUSTACEANS, SHELLFISH, SEA BIRDS, TURTLES, STARFISH, SEALS, CETACEANS, ET AL, HAVE SEEN MASS DIE-OFFS FOR OVER 6 YEARS NOW.
RESULTS OF NECROPSIES, EXCEPT FOR THOSE SEAL PUPS, ARE STILL 'PENDING', YEARS AFTER THEY WERE SENT TO GOVERNMENT LABS FOR ANALYSIS.

NOAA researchers will continue tracking how species respond to the shifting temperatures and conditions.

WHY BOTHER?
NO MATTER WHAT THEY FIND, WE WON'T EVER KNOW.
"RESULTS ETERNALLY PENDING".

NO NEWS IS GOOD NEWS, RIGHT?
WRONG!

Back in 2012, the Vancouver Sun reported that cesium-137 was being found in a very high percentage of the fish that Japan was selling to Canada…
• 73 percent of mackerel tested
• 91 percent of the halibut
• 92 percent of the sardines
• 93 percent of the tuna and eel
• 94 percent of the cod and anchovies
• 100 percent of the carp, seaweed, shark and monkfish
Canadian authorities are finding extremely high levels of nuclear radiation in certain fish samples…
Some fish samples tested to date have had very high levels of radiation: one sea bass sample collected in July, for example, had 1,000 becquerels per kilogram of cesium.
BBC News recently reported that radiation levels around Fukushima are "18 times higher" than previously believed.

An EU-funded study concluded that Fukushima released up to 210 quadrillion becquerels of cesium-137 into the atmosphere.

A senior researcher of marine chemistry at the Japan Meteorological Agency's Meteorological Research Institute says that "30 billion becquerels of radioactive cesium and 30 billion becquerels of radioactive strontium" are being released into the Pacific Ocean from Fukushima every single day.

According to a professor at Tokyo University, 3 gigabecquerels of cesium-137 are flowing into the port at Fukushima Daiichi every single day.

It has been estimated that up to 100 times as much nuclear radiation has been released into the ocean from Fukushima than was released during the entire Chernobyl disaster.

The Iodine-131, Cesium-137 and Strontium-90 that are constantly coming from Fukushima are going to affect the health of those living the the northern hemisphere for a very, very long time. Just consider what Harvey Wasserman had to say about this…


Iodine-131, for example, can be ingested into the thyroid, where it emits beta particles (electrons) that damage tissue. A plague of damaged thyroids has already been reported among as many as 40 percent of the children in the Fukushima area. That percentage can only go higher. In developing youngsters, it can stunt both physical and mental growth. Among adults it causes a very wide range of ancillary ailments, including cancer.

Cesium-137 from Fukushima has been found in fish caught as far away as California. It spreads throughout the body, but tends to accumulate in the muscles.

Strontium-90's half-life is around 29 years. It mimics calcium and goes to our bones.
A study conducted last year came to the conclusion that radiation from the Fukushima nuclear disaster could negatively affect human life along the west coast of North America from Mexico to Alaska "for decades".

Yale Professor Charles Perrow is warning that if the cleanup of Fukushima is not handled with 100% precision that humanity could be threatened "for thousands of years"…
"Conditions in the unit 4 pool, 100 feet from the ground, are perilous, and if any two of the rods touch it could cause a nuclear reaction that would be uncontrollable. The radiation emitted from all these rods, if they are not continually cool and kept separate, would require the evacuation of surrounding areas including Tokyo. Because of the radiation at the site the 6,375 rods in the common storage pool could not be continuously cooled; they would fission and all of humanity will be threatened, for thousands of years."

WHY DON'T SUCH FACTUAL ARTICLES APPEAR IN ALL AMERICAN MAINSTREAM MEDIA?
WHY IS CANADA MORE FORTHCOMING ABOUT RADIOACTIVE FOOD FISH THAN THE USA OR JAPAN?

2015
A new analysis by American University sociology professor Celine-Marie Pascale finds that U.S. news media coverage following the disaster minimized health risks to the general population.

Pascale analyzed more than 2,000 news articles from four major U.S. outlets following the disaster's occurrence from March 11, 2011 through March 11, 2013. Only 6 percent of the coverage–129 articles–focused on health risks to the public in Japan or elsewhere. Human risks were framed, instead, in terms of workers in the disabled nuclear plant. Pascale's research has published in the flagship journal for the International Sociology Association, Current Sociology.

Disproportionate access...

"It's shocking to see how few articles discussed risk to the general population, and when they did, they typically characterized risk as low," said Pascale,

"We see articles in prestigious news outlets claiming that radioactivity from cosmic rays and rocks is more dangerous than the radiation emanating from the collapsing Fukushima Daiichi nuclear plant."

NOT TRUE!
"The mainstream media — in print and online — did little to report on health risks to the general population or to challenge the narratives of public officials and their experts," Pascale said. "Discourses of the risks surrounding disasters are political struggles to control the presence and meaning of events and their consequences. How knowledge about disasters is reported can have more to do with relations of power than it does with the material consequences to people's lives."
"People's understanding of disasters will continue to be constructed by media. How media members frame the presence of risk and the nature of disaster matters," she said.

Pascale studied news articles, editorials, and letters to the editor from two newspapers, The Washington Post and The New York Times, and two nationally prominent online news sites, Politico and The Huffington Post. These four media outlets are among the most prominent in the United States. They also are among the most cited by television news, talk shows, other newspapers, social media and blogs Pascale said.

Nuclear disasters have potentially large-scale and long-term consequences for people, environments, and economies around the globe. Given limited public knowledge about the details of nuclear energy and encumbered access to disaster sites, the media have disproportionate power around the globe to shape public knowledge, perception, and reaction to nuclear crises, Pascale said.

Pascale's article illustrates how systematic media practices minimized the presence of health risks, contributed to misinformation, and exacerbated uncertainties.

This analysis initially characterized the risk to the general population in one of three ways: low, uncertain, or high. However, when examining the bases on which these characterizations were made, it was clear that all media characterizations of uncertain risk were subsequently interpreted as evidence of low risk.
In two years of reporting, across all four media outlets, there were only a combined total of 17 articles reporting any noteworthy risk from the largest nuclear disaster in history.

Pascale's analysis identified three primary ways in which the news outlets minimized the risk posed by radioactive contamination to the general population.
(1) Articles made comparisons to mundane, low-level forms of radiation;
(2) defined the risks as unknowable, given the lack of long-term studies; and
(3) largely excluded concerns expressed by experts and residents who challenged the dominant narrative.

Corporations and government agencies had disproportionate access to framing the event in the media, Pascale says.
Even years after the disaster, government and corporate spokespersons constituted the majority of voices published.
News accounts about local impact–for example, parents organizing to protect their children from radiation in school lunches–were also scarce.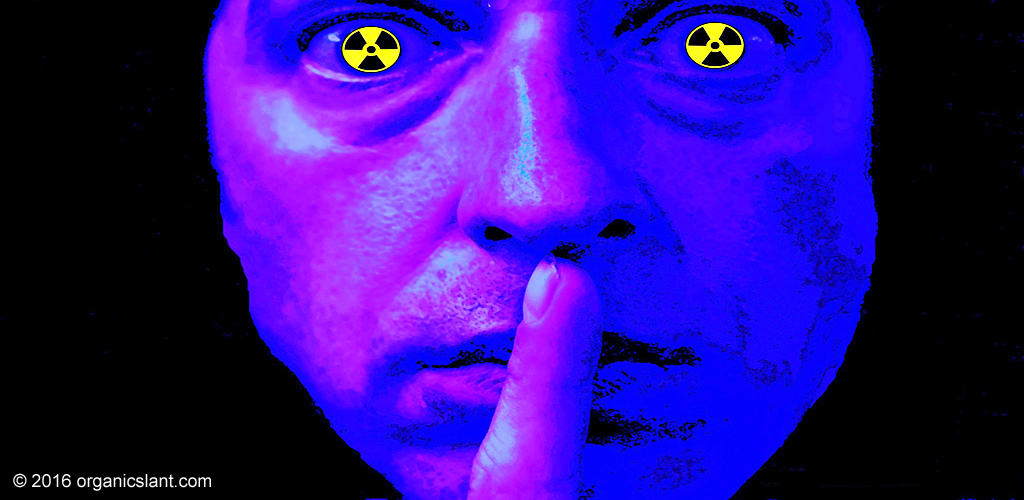 THE MEDIA TRIES TO SILENCE ANY SCIENTISTS WHO OFFER FACTUAL INFORMATION ABOUT THE RISKS TO HUMANS AND ALL LIFE , THE HEALTH IMPACTS, BIO-ACCUMULATION, THE DOZENS OF OTHER RADIONUCLIDES BEING RELEASED INTO OCEANS, AIR, AND FALLING IN RAIN, THE INCREASING DEADLINESS OF FUKUSHIMA.

THEY DOWNPLAY THE DISASTER AT EVERY TURN AND PRODUCE THEIR OWN UNREALITY THAT THEY THEN HARD-SELL TO A GULLIBLE, UNREAD, IN-THE-DARK PUBLIC, WHILE OUR GOVERNMENTS SEEK TO "AVOID PUBLIC PANIC", SHUT DOWN MONITORING STATIONS, STOP TESTING DEAD AND DYING PACIFIC OCEAN MARINE LIFE AND BLAME EVERYTHING FROM RED TIDE TO EL NINO AND SPACE WEATHER FOR THE SUDDEN, MOST UNCOMMON MASS DIE-OFFS OF THE PAST 6 OR 7 YEARS.
"NO, NO, IT COULDN'T BE FUKUSHIMA CAUSING THIS.
DON'T BE SILLY. SOMETHING ELSE CAUSED THE LEUKEMIA IN SEALS, THE CANCERS FOUND IN SEA LIONS, WHALES, SALMON, SEA BIRDS, WALRUSES, TURTLES, ETC. CAN'T BE FROM RADIATION!"

Fukushima radiation continues to contaminate West Coast fish.

In early December, 2017, a number of news agencies reported seaborne radiation from Japan's Fukushima Nuclear plant was detected in the Pacific Ocean all along the West Coast.

Last year, the Okanagan Nation Alliance found Cesium-134, the so-called fingerprint of Fukushima, in sockeye that had migrated up the Okanogan River to British Columbia.

Now, a study by Upper Columbia United Tribes has found trace amounts of radiation in Columbia River sockeye as well as Chinook salmon, UCUT biologist Marc Gauthier said Tuesday to the Colville Business Council's Natural Resource Committee.

In the Columbia River salmon, UCUT found no cesium-137 but did find trace amounts of strontium-90, which is another Fukushima radionuclide, according to Gauthier.

"There's some unknowns, some questions that this information raises," said Gauthier. One question, he noted, is why ONA found cesium-134 but UCUT did not find the derivative cesium-137.

MEANWHILE, NEW AREAS OF SEVERE RADIOACTIVE CONTAMINATION ARE FOUND EVERY YEAR.

New Evidence Of Nuclear Fuel Releases Found At Fukushima March 2, 2018
Scientists have been looking at extremely small pieces of debris, known as micro-particles, which were released into the environment during the initial disaster in 2011.

The researchers discovered uranium from nuclear fuel embedded in or associated with caesium-rich micro particles that were emitted from the plant's reactors during the meltdowns. The particles found measure just five micrometres or less; approximately 20 times smaller than the width of a human hair.

The size of the particles means humans could inhale them.
The reactor debris fragments were found inside the nuclear exclusion zone, in [rice] paddy soils and at an abandoned aquaculture centre, located several kilometres from the nuclear plant.

It was previously thought that only volatile, gaseous radionuclides such as caesium and iodine were released from the damaged reactors.

Now it is becoming clear that small, solid particles were also emitted, and that some of these particles contain very long-lived radionuclides; for example, uranium has a half-life of billions of years.

Dr Gareth Law, Senior Lecturer in Analytical Radiochemistry at the University of Manchester and an author on the paper, says: "Our research strongly suggests there is a need for further detailed investigation on Fukushima fuel debris, inside, and potentially outside the nuclear exclusion zone. Whilst it is extremely difficult to get samples from such an inhospitable environment, further work will enhance our understanding of the long-term behaviour of the fuel debris nano-particles and their impact."


Currently any cesium-134 in the ocean is coming from Japan as there was no other nuclear accidents in the last 2 years.

CESIUM-134 HAS A HALF-LIFE OF ONLY 2 YEARS, SO ANY AMOUNT FOUND ANYWHERE TODAY SHOWS US THAT DAI'ICHI IS STILL PUMPING IT OUT.....TODAY, EVERY DAY.

Cesium-137 levels recorded off the coast of Japan in the Pacific Ocean PRIOR TO 2011 were among the planets lowest measuring around 2 becquerels per cubic meter (1 becquerel/Bq equals one radioactive decay event per second) but are now reading at 60 million becquerels per cubic meter. This is said to be high enough to cause reproductive and health effects in marine animals.


ONCE UPON A TIME, Scientists from UC Berkeley detailed even more concerning reports following the disaster, finding the highest cesium content in topsoil for each California location was consistent.
The recordings were posted online along with the date of finding:

Sacramento, CA Topsoil on Aug. 16, 2011: Total Cesium @ 2.737 Bq/kg
Oakland, CA Topsoil on Sept. 8, 2011: Total Cesium @ 2.55 Bq/kg
Alameda, CA Topsoil on Apr. 6, 2011: Total Cesium @ 2.52 Bq/kg
San Diego, CA Topsoil on June 29, 2011: Total Cesium @ 2.51 Bq/kg
Sonoma, CA Topsoil on Apr. 27, 2011: Total Cesium @ 2.252 Bq/kg

But the levels were nothing compared to what Marco Kaltofen, PE, of the Department of Civil & Environmental Engineering at Worcester Polytechnic Institute (WPI) recorded from his research.
In his report presentation, an instantly downloadable PDF, entitled 'Radiation Exposure to the Population in Japan After the Earthquake', Kaltofen found samples on US soil that were 108 times greater than what UC Berkley researchers were reporting.

A DUST SAMPLE FROM NAGOYA CONTAINED POLONIUM, RADIUM, CESIUM OXIDES AND OTHER FISSION PRODUCTS. IT HAD TRAVELED 450 KM (280 MILES) FROM FUKUSHIMA'S DAI'ICHI PLANT.

SOME OF KALTOFEN'S CHARTS AND DATA ARE AVAILABLE ONSITE AT RESEARCHGATE.NET.

ANOTHER STUDY OF HOUSE DUSTS STATED: Follow-up of the Fukushima Dai-Ichi Disaster: High Radioactivity Particles in Japanese House Dusts.

"Airborne dusts transport radioactive materials as isolated individual particles containing high concentrations of radioisotopes. Alpha and beta emissions related to fission wastes and dispersed fuel particles are hazardous when inhaled or ingested. Radioactively-contaminated environmental dusts can accumulate in indoor spaces, potentially causing significant radiation exposures to humans via inhalation, dermal contact, and ingestion. These heterogeneously distributed hot particles can be difficult to detect and measure, making it likewise difficult to determine radiation dose to residents of contaminated areas. NaI gamma and EDS spectrometry of hot particles found 226Ra, 134Cs, and 137Cs, 241Am, and 230Th as the most commonly detected isotopes. Autoradiographic, gamma spectral and SEM/EDS results demonstrated that hot particles were present in about 25% of dusts sampled. This quartile of the samples was both contaminated with 134Cs, an indicator contaminant for the reactor accident, and was autoradiographically positive for hot particles. SEM analysis showed that the majority of these hot particles were 10 um or less in size, meaning that they were potentially inhalable."

Follow-up of the Fukushima Dai-Ichi Disaster: High Radioactivity Particles in Japanese House Dusts (PDF Download Available). Available from: https://www.researchgate.net/publication/266810409_Follow-up_of_the_Fukushima_Dai-Ichi_Disaster_High_Radioactivity_Particles_in_Japanese_House_Dusts [accessed Mar 24 2018].


MEANWHILE, AS ALWAYS, TEPCO LIES AGAIN:

"We will bring an end to the problem by 2020," says Yuichi Okamura, who led the Tokyo Electric Power Co. team dealing with water at Fukushima from the early days to last summer.

Worries about ocean health make disposing of even treated water a contentious subject. Treating contaminated water removes all radioactive isotopes except tritium, a radioactive form of hydrogen. Nuclear plants elsewhere release water containing allowable amounts of tritium, nuclear officials said.The government is evaluating experimental technology to separate tritium, but experts at the International Atomic Energy Agency and Japan's Nuclear Regulation Authority say that is impossible."

IT'S ALSO IMPOSSIBLE THAT TEPCO AND THE ABE REGIME WILL DO ANYTHING TO END THEIR SILENT NUCLEAR WAR.

According to TEPCO, "The previous highest radiation level was about 73 Sv/h measured in March 2012, so we designed cameras and robots to tolerate that level of radiation (about 100 Sv/h) for 10 hours for the investigation this time. The estimation of radiation levels (as high as about 530 Sv/h at a certain point) was more than we expected..."

Scientists find new source of radioactivity from Fukushima disaster
https://phys.org › Earth › Environment, Oct 2, 2017 - The sands took up and retained radioactive cesium originating from the disaster in 2011 and have been slowly releasing it back to the ocean. ... plant or from nuclear weapons tested in the 1950s and1960s, but also cesium-134, a radioactive form of cesium that can only come only from the 2011 Fukushima accident.

Peninsula Daily News
, Apr 28, 2017: Radiation from the 2011 Fukushima Daiichi nuclear disaster appears to have peaked off the West Coast of North America…
Scientists already have seen contamination peak offshore and are now watching that apex move toward the coast
, [Jay Cullen, a professor at University of Victoria's School of Earth and Ocean Sciences] said… Offshore, scientists are measuring seawater with up to 10 becquerels of Cesium-137 per cubic meter…
John N. Smith et al., Bedford Institute of Oceanography (Government of Canada)
, Nov 3, 2016:
Transport of Fukushima Radioactivity to North America
… Fukushima radioactivity levels continued to increase on Line P through 2015 with 137Cs levels increasing to 10 Bq/m3 compared to fallout background of 1.5 Bq/m3… In Feb. 2016 levels of 137Cs were still increasing over the shelf.


THE SANDS, THE DUST, THE AIR, THE WATER, THE MARINE LIFE AND THEN US...FUKUSHIMA KILLS.






....

__________________________________


AS TO...
"TRANSPORT OF FUKUSHIMA RADIATION TO NORTH AMERICA"
by John N. Smith, et al, Bedford Insitute of Oceanography,
Dart
mouth, Nova Scotia, Canada.


November 3, 2016

PROOF that Fukushima fallout continues and is affecting large areas of several oceans, land masses, ice shelf, etc, with maps, photos, data from reporting stations, charts, plots of movement via ocean gyres, that the radiation was identical, almost, to the movement of the "warm Pacific Blob", that radiation was also descending into ocean sediment, total atmospheric fallout, etc.
THERE WERE NO MEASUREMENTS OF ANYTHING BUT CESIUM, AS ALWAYS, DESPITE THE FACT THAT MORE DEADLY URANIUM, POLONIUM, PLUTONIUM,
RADIOACTIVE IODINE, STRONTIUM, TRITIUM, NOTHING BUT CESIUM.
WHY?
WHY?
http://meetings.pices.int/publications/presentations/PICES-2016/W10-Smith.pdf
http://meetings.pices.int/publications/presentations/PICES-2016/W10-Smith.pdf




//WW