ABOVE: SHINZO ABE, KAMIKAZE PILOT MINDSET?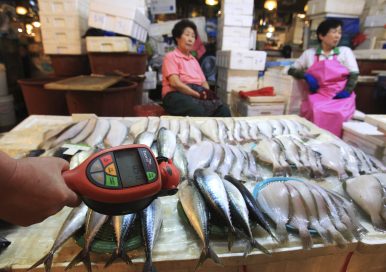 ABOVE: A worker using a Geiger counter checks for possible radioactive contamination at Noryangjin Fisheries Wholesale Market in Seoul, South Korea.
Dec 9, 2016 -

Fish contaminated by radiation from the Fukushima nuclear plant in Japan have been detected 6,000 miles away of the US west coast. Salmon carrying traces of caesium 134 particles - the so-called fingerprint of the Fukushima - were found by researchers in the seas off Oregon.
Scientists also found the particles in seawater taken from the Tillamook Bay and Gold Beach in Oregon.


AFTER 7 LONG YEARS THE U.N. FINALLY SPEAKS OUT AGAINST THE ABE REGIME'S HANDLING OF EVACUEES...SORT OF.

The Japanese government recently came under pressure in a United Nations human rights forum over the adequacy of its support for people who fled the disaster zone – and faced scrutiny about radiation levels in places where evacuees have returned.

IT'S ABOUT BLOODY TIME, YES?
BUT WILL JAPAN'S ABE STOP THE FORCED RETURNS?
NOT WITH THE UPCOMING 2020 OLYMPICS LOOMING.
ABE WANTS THE WORLD TO BELIEVE JAPAN IS A SAFE PLACE TO VISIT.
HE CAN'T AFFORD TO HAVE SOME OF HIS OWN PEOPLE REFUSING TO GO BACK TO AREAS WITH KNOWN HIGH RADIATION LEVELS.

HOW HIGH?
1 March 2018

Tokyo, Japan – A comprehensive survey by Greenpeace Japan in the towns of Iitate and Namie in Fukushima prefecture, including the exclusion zone, revealed radiation levels up to 100 times higher than the international limit for public exposure.

The high radiation levels in these areas pose a significant risk to returning evacuees until at least the 2050's and well into next century.

"In all of the areas we surveyed, including where people are permitted to live, the radiation levels are such that if it was in a nuclear facility it would require strict controls. Yet this is public land. Citizens, including children and pregnant women returning to their contaminated homes, are at risk of receiving radiation doses equivalent to one chest X-ray every week. This is unacceptable and a clear violation of their human rights, " said Jan Vande Putte, radiation specialist with Greenpeace Belgium and leader of the survey project.

The investigations [were carried out] in September and October 2017, measuring tens of thousands of data points around homes, forests, roads and farmland in the open areas of Namie and Iitate, as well as inside the closed Namie exclusion zone. The government plans to open up small areas of the exclusion zone, including Obori and Tsushima, for human habitation in 2023.

The survey shows the decontamination program to be ineffective, combined with a region that is 70-80% mountainous forest which cannot be decontaminated.

[MY NOTE:The Fukushima prefectural government says that the number of evacuees peaked at 164,865 in 2012, the year after the disaster, but that figure has now fallen to about 50,000 with decontamination work progressing and the lifting of evacuation orders in a number of towns. The government does not mention suicides, deaths in that group, nor the fact that many have decided to either leave Japan or move permanently as far away from all nuclear plants as they can afford to go. 'In one place only 6% of original residents moved back' - #Fukushima docu filmmaker http://on.rt.com/76nn ]

The Government's policy to effectively force people to return by ending housing and other financial support is not working, with population return rates of 2.5% and 7% in Namie and Iitate respectively as of December 2017.

"Our radiation survey results provides evidence that there is a significant risk to health and safety for any returning evacuee. The Japanese government must stop forcing people to go back home and protect their rights," said Kazue Suzuki, Energy Campaigner at Greenpeace Japan. "It is essential that the government fully accept and immediately apply the recommendations at the United Nations."

Several countries took up the issue of the rights of Fukushima residents and evacuees as part of the UN's universal periodic review of Japan.

Austria, for example, urged the government to continue to provide housing support to so-called voluntary evacuees.

These are people who had been living outside officially designated evacuation zones but fled because of their fears about radiation.

Their housing aid ended about a year ago.

Portugal, meanwhile, called on Japan to ensure women and men had equal participation in decision-making processes about their resettlement and Mexico urged the government to guarantee access to health services.

Germany's representatives focused on radiation levels.

Under Japanese government policies, evacuation orders can be lifted if the level of exposure for residents is estimated to be below 20 millisievert (mSv) per year.

THIS IS THE ALLOWED EXPOSURE FOR NUCLEAR POWER PLANT WORKERS, AS OPPOSED TO THE 1mSv/YEAR ALLOWED BY OTHER NATIONS FOR THEIR CITIZENS.

THE ABE REGIME ALLOWS 20 TIMES THE "NORM" JUST SO IT CAN FORCE PEOPLE BACK AND CONVINCE THE WORLD ALL IS WELL.
NO, ALL IS NOT WELL.

Germany called on the government to "respect the rights of persons living in the area of Fukushima, in particular of pregnant women and children, to the highest level of physical and mental health, notably by restoring the allowable dose of radiation to the 1 mSv/year limit, and by a continuing support to the evacuees and residents."

Incidentally, even the International Commission on Radiological Protection recommends that the level for people in contaminated areas should be in the lower part of the 1 to 20 mSv/year range, with a long-term post-accident target of 1 mSv/year.

In a response dated March 1, the Japanese government said it accepted these four recommendations for follow-up, while arguing that it was providing necessary support to affected people under the relevant laws.

The minister for reconstruction, Masayoshi Yoshino, subsequently told foreign journalists and diplomats that the government was effectively already committed to the long-term target advocated by Germany. "We have proceeded with decontamination efforts and as a long-term goal the government has indicated 1 mSv per annum," he said during a briefing at the Foreign Press Center Japan on March 7.

REALLY?

LET'S GO TO THE PEOPLE OF JAPAN, SEE WHAT THEY HAVE TO SAY.

Well before the Fukushima accident, public support for nuclear power in Japan had been eroded since the 1990s due to a series of accidents and scandals.

July, 2007, the Niigata Chuetsu-Oki earthquake occurred on a fault very close to the Kashiwazaki-Kariwa nuclear power plant, and the ground acceleration exceeded the design parameters for the plant, i.e., it was more severe than the plant was required to be designed for.
BTW, Japan has never been party to any international nuclear liability convention.

Fukushima evacuee to tell UN that Japan violated human rights

11 Oct 2017
Mitsuko Sonoda will say evacuees face financial hardship and are being forced to return to homes they believe are unsafe


The problem, according to environmental activists, is that the (so-called) time-frame for achieving that 1mSV per year goal is vague (that "long-term goal" simply isn't possible with Daiichi leaking like a sieve).

AFTER ALL, JAPAN HAS VACILLATED BETWEEN ESTIMATES OF 40 YEARS AND OVER 100 YEARS FOR THE COMPLETION OF CLEANUP AT FUKUSHIMA AND AN END TO THE INCESSANT RADIATION LEAKS.

DOES ABE PLAN TO FORCE AN ENTIRE NEW GENERATION OF JAPANESE CHILDREN TO ENDURE SUCH HIGH LEVELS OF RADIATION ALL THEIR LIVES AS WELL?

WHAT WILL HAPPEN WHEN NEWBORN JAPANESE CHILDREN START SHOWING THE BIRTH DEFECTS THAT 'CHILDREN OF CHERNOBYL' ARE BORN WITH STILL TODAY?
Apr 22, 2015 - A drone carrying small traces of a radioactive material landed on the roof of Japanese Prime Minister's office in protest against the government's nuclear energy plans.

Japanese Mothers have silently tackled these difficulties, including health problems in themselves and their children.
'Is it safe to stay here, Mom?' Fukushima evacuees on aftermath of disaster

"The government people and the scientists and professors, they kept saying on TV that there would be no danger," Fukushima evacuee Hiroko Tsuzuki told RT from Sapporo, Japan. "I found out that the radiation level on March 15 was almost 200 times higher than the usual level. I was so shocked," she said.

"In that same period my daughter's son had a nose bleed several times. My son cried and asked: 'Is it okay to stay here, Mom?' I was so ignorant about these things. I could not protect my children from exposure to radiation," Tsuzuki said.

"Radioactive contamination poses hazards far beyond Fukushima. It spreads beyond the official exclusion zone. I think it is unsafe to return children there," says Ken Sakamoto, from the Evacuation and Support Kanagawa Network, an organization that helps the Fukushima evacuees to protect their rights. "Today it seems that the Japanese government does not take the refugee problem quite seriously. That's why the plight of those displaced has worsened considerably of late."

"The five-year anniversary of the Fukushima Accident… is a gaping wound in our planet that will continue to bleed radiation into our food chain for at least the next 100 years, affecting our health and genetic legacy for generations to come."

Nancy Foust, research team member of the Fukushima Project, is concerned how soon people are being allowed to return to that area.

"Many of these areas are not truly safe, they have not been properly cleaned up, infrastructure has not been put back in place," Foust told RT.

"There is also the problem of proximity to the actual disaster site. They have a lot of complicated and very risky work that to do in the next couple of decades to remove the melted fuel," Foust said, adding that the idea of re-locating people back from evacuations right now is "very premature and not a really good idea."

"Restarting reactors in the manner they've done them is problematic. It has been very much a political move rather than a determined social need that they really need to restart them," Foust said.
THE REAL REASON FOR SO MANY INACCURATE REPORTS ON RADIATION LEVELS , FROM FUKUSHIMA?

After the earthquake and tsunami, most radiation dose-monitoring equipment and meteorological monitors were either damaged by the tsunami or were out of service because of the loss of power. In addition, the models did not incorporate all the variables needed to ACCURATELY calculate human external exposure and inhalation so the local authorities were reluctant to rely heavily on them in their decision-making process. There were also reports that initially the authorities did not know about SPEEDI, and later on played down the data to dismiss the severity of the accident for fear of having to significantly expand the evacuation zone, and to avoid compensation payments to still more evacuees.

TRANSLATION?
THE GOVERNMENT AND TEPCO LIED TO SAVE THEMSELVES MONEY AND 'SAVE FACE'.

In Fukushima, on 25 March, approximately 62,000 residents were advised to evacuate voluntarily OR to stay indoors. Orders to 'shelter in place' or to voluntarily evacuate were unclear and long-winded, leading some people to move into areas with high levels of radiation and eventually be evacuated multiple times.
According to the Nuclear Accident Independent Investigation Commission (NAIIC), the Japanese government was slow in informing the municipal governments and the public about the accident and its severity.

THEY LIED TO SAVE THEMSELVES MONEY AND SAVE FACE.

Tens of thousands were permanently displaced from the immediate vicinities; thousands made the decision to move because of health concerns, environmental degradation and collapsed infrastructure; and millions remained in contaminated areas due to an absence of resources and/or opportunities, financial constraints and special attachment to their home.

However, a lack of information relayed to affected populations exacerbated long-term effects of the crisis on these populations.
An estimated 1,539 stress-related deaths occurred in the context of evacuation from Fukushima, which arguably could have been prevented by more active consultation and communication by the government with affected populations.

THEY LIED TO SAVE THEMSELVES MONEY, SAVE FACE, AND HOLD THE OLYMPICS IN TOKYO.
See also: Protests as Tokyo restarts first nuclear plant since Fukushima disaster


And...Fukushima 5yrs on: Botched response, radiation danger, murky prospects


Japanese government held liable for first time for negligence in Fukushima
17 Mar 2017


Is Fukushima doomed to become a dumping ground for toxic waste?

16 Mar 2018
Despite promises of revitalisation from Japan's government, seven years on from the nuclear disaster the area is still struggling


In September 2015, Tokyo came under criticism for allowing people to return to a town which lies just 20km south of the crippled plant. That's while the cleanup is estimated to take about 40 years and the area has registered cases of flora and fauna mutations.

Foust recalls the rate of children living near Fukushima diagnosed with thyroid cancer. Over 130 children were diagnosed with the cancer in the area in August last year – a 25 percent spike from the same month in 2014. The average rate of thyroid cancer in children is estimated at 1-2 children per one million.

[MY NOTE: That number has increased "officially", to about 180, last stats I saw, but the government is no longer requiring testing, and let us not forget the doctors and hospital staff who came forward and said they were under strict orders to never say any illness, death, miscarriage, or birth defect is due to radiation.]

The events of March 2011 triggered massive protests in Japan against the use of nuclear energy.

Shaun Burnie, a nuclear specialist at Greenpeace Germany, said the raising of the issue in the UN process was important for evacuees as the recommendations could not simply be ignored. "The German government's intervention on behalf of tens of thousands of Japanese citizens is absolutely welcome," he said during a visit to Tokyo.

Burnie and others plan to closely monitor how the recommendations are implemented.

Fukushima causes mutations & DNA damage with 'no end in sight'
Already, over 9 million cubic meters of nuclear waste are scattered over at least 113,000 locations across Fukushima prefecture.
The impact from the 2011 disaster are already becoming apparent. These are seen in the high radiation concentrations in new leaves, growth mutations of fir trees ... pale blue grass butterfly mutations,
decreases in 57 bird species and high levels of cesium contamination in freshwater fish. There is contamination of coastal estuaries as well.
Two reports recently released in Japan, one by Japanese medical professionals and the second from Tokyo Power Corporation – TEPCO – acknowledged that there will be numerous cancers in Japan, much greater than normal, due to the radioactive discharges from the triple meltdown at Fukushima Daiichi.
"I believe, as do many of my colleagues, that there will be at least 100,000 and as many as one million more cancers in Japan's future as a result of this meltdown."

[T]he second report received from Japan proves that the incidence of thyroid cancer is approximately 230 times higher than normal in Fukushima Prefecture.

So what's the bottom line?
The cancers already occurring in Japan are just the tip of the iceberg. I'm sorry to say that the worst is yet to come."
These new reports defy the chronically underestimated impacts of the Fukushima triple meltdown on the risk of cancer in exposed populations, which does not just include Japan, but arguably the entire world.

According to the new report, data provided by a group of esteemed Japanese medical professionals and TEPCO, confirm a direct link of numerous cancers in Japan to the triple meltdown.

As we have reported previously, the present day radiation risk model is based on outdated science and a dataset extracted from Hiroshima atomic bomb survivors, and which was arrived at before the discovery of DNA, and knowledge of up to six orders of magnitude higher genotoxicity caused by what is known as photoelectron induction associated with low-dose radioisotope exposure, i.e. the incorporation into our tissue of extremely low doses of radionuclides such as plutonium-239, uranium-238, and over one hundred others produced as a byproduct of the nuclear reactions that produce nuclear power.

For those unafraid of confronting the truth, I highly recommend reading the 2001 paper published in the Journal of Inorganic Biochemistry titled, "Depleted uranium-catalyzed oxidative DNA damage: absence of significant alpha particle decay," produced by the Army's own Radiobiology Research Institute, in order to fully comprehend the implications of photoelectron induction.

In a nutshell, it implies that the adverse health effects associated with nuclear fallout may be tens of thousands times worse than present radiation risk models used by the nuclear industry, medical establishment, and government presently project.


BUY FUKUSHIMA GOODS! YOU MUST BUY!
ABE BULLIES THE WORLD MARKET.

At the same time, Japanese diplomats have been waging a long battle to persuade other countries to ease import restrictions on food from the surrounding areas.

The Japanese government has been seeking to promote the safety of food products from Fukushima and other nearby regions, as a handful of places (including China and Taiwan) still impose import restrictions.

The Japanese government emphasizes the integrity of its food screening measures.

WHAT INTEGRITY?

BOTH TEPCO AND THE ABE REGIME'S MINIONS HAVE BEEN BUSTED MORE TIMES THAN I CAN COUNT TRYING TO PASS OFF SHIELDED RADIATION READINGS, GOVERNMENT-CREATED MYTHS (e.g. THE INFAMOUS "SMILE AND THE RADIATION WON'T AFFECT YOU" LIE) WHILE SEVERAL JAPANESE 'REPORTING AGENCIES' HAVE HAD TO ADMIT THEY "MADE A MISTAKE ON RADIATION READINGS", ETC, FOR SEVEN YEARS NOW.

GREED, THE DESIRE FOR PROFIT AT ANY PRICE HAS NO INTEGRITY.

SINCE DAY 1, IT HAS BEEN DEMONSTRATED REPEATEDLY THAT JAPANESE POLITICIANS AND TEPCO PUT PROFITS AND INTERNATIONAL PUBLIC RELATIONS ABOVE HUMAN LIVES.

THEY SEEM MERELY TO VALUE MONEY OVER THEIR OWN PEOPLE.

ABE CHOSE TO LIE TO THE OLYMPIC COMMITTEE, AS FORMER PRIME MINSTERS ACCUSED HIM OF, JUST TO GAIN AN INTERNATIONAL SPOTLIGHT, INVITING THE WORLD TO TOKYO, TO FUKUSHIMA TO SEE THE GAMES, KNOWING MANY COULD GO HOME AND LATER EXPERIENCE THE REALITY OF BEING EXPOSED TO FUKUSHIMA/TOKYO RADIATION.

HE DIDN'T MENTION THAT THERE IS NO SAFE LEVEL OF RADIATION INSIDE A HUMAN BODY.


[There is no 'safe' exposure to radiation - The Salt Lake Tribune

Apr 10, 2011 - In the 1940s many of the world's premier nuclear scientists saw mounting evidence that there was no safe level of exposure to nuclear radiation. ... the Atomic Energy Commission or the Department of Energy, independently came to the conclusion that exposure to nuclear radiation was not safe at any level.]


HE MERELY WITHHELD FACTS, DID NOT TELL THE TRUTH AND WE MAY NEVER KNOW HOW MANY TRUSTING PEOPLE WILL SUFFER FOR IT, HOW MANY ATHLETES TRAINING THERE FOR MONTHS MAY NOT LIVE AS LONG AS THEY MIGHT HAVE, HAD ABE NOT INVITED THE WORLD TO TOKYO.

In a recent report to the International Atomic Energy Agency, the government said 25,864 food samples were taken and analyzed in January 2018, of which 19 samples or 0.07 percent were found to be above the limits for cesium-134 and cesium-137.

Yoshino, the reconstruction minister, said vegetables, tea, and livestock products had not exceeded the standard limits over the past five years.

LET'S CALL WHAT JAPAN'S ABE IS DOING BY ITS RIGHTFUL TERM...STRONG-ARMING, OR FORCING NATIONS TO BUY ITS RADIATION.

ABE'S STATEMENT ON FORCING NATIONS TO "BUY JAPAN" WAS LUDICROUS:

"Incidentally, it has been six years since the Great East Japan Earthquake. I strongly request that import controls on Japanese food to be lifted, based on scientific grounds," Abe said.

He added that Japan would start rice deliveries to Laos and Myanmar again through the APT Emergency Rice Reserve Agreement.

WOULD THE PEOPLE CHOOSE TO EAT FUKUSHIMA RICE?

DOES ABE EAT ANYTHING GROWN IN THOSE CONTAMINATED AREAS?

DO HIS CABINET MEMBERS?

DOES ANYONE WHO KNOWS THE DANGERS OF EATING RADIOACTIVE FOOD AND KNOWS THAT TEA AND OTHER FOOD PRODUCTS, FROM AS FAR AWAY AS 100 MILES, HAVE TESTED POSITIVE FOR TOO MUCH RADIATION TO BE CONSUMED WANT TO PUT THAT INSIDE THEIR BODIES?

WHO WOULD WILLINGLY, OF THEIR OWN FREE WILL, EAT THAT CRAP?

REMEMBER THE VIDEO OF THE YOUNG RICE FARMER WEEPING BECAUSE HE WAS SELLING RADIOACTIVE RICE THAT HE SAID HE WOULD NOT EAT?

REMEMBER THE LONG FIGHT OF JAPANESE FISHERMEN TO FORCE TEPCO TO SEEK INTERNATIONAL AID TO STOP THE RADIATION LEAKS INTO THE OCEAN BECAUSE THEY KNEW THE FISH WERE INEDIBLE?

ON FEBRUARY 28 THIS YEAR, REUTERS REPORTED:

The World Trade Organization largely upheld a Japanese complaint against South Korean import bans and additional testing requirements imposed on Japanese seafood because of the 2011 Fukushima nuclear disaster.

A WTO dispute panel said that South Korea's measures were initially justified, but that keeping them in place violated the WTO's sanitary and phyto-sanitary (SPS) agreement.

Japan, which has been in talks with other countries such as China and Taiwan that also have trade restrictions in place, plans to step up talks with them in light of the WTO ruling, a government official said.

South Korea widened its initial ban on Japanese fishery imports in 2013 to cover all seafood from eight Japanese prefectures including Fukushima.

Relations between Japan and South Korea, often testy, have soured in recent years.


IN JANUARY OF THIS YEAR...

Concerns linger about imports from nuclear radiation area.

The curbs on imports of Japanese food produced in areas hit by the country's nuclear crisis will not be easily relaxed or lifted, and Chinese consumers won't accept such imports given food safety concerns, experts said.

Chen Zilei, deputy director of the National Association for the Japanese Economy, told the Global Times on Wednesday that the beginning of such talks does not mean an easing or lifting of the ban is imminent.

"The beginning of negotiations might signal an improvement in bilateral relations, but we have our own supervision standards and requirements for imported goods, which will not be changed," Chen said.

Besides, Japan needs to publicize the accident-related information in a more open and transparent way in order to address the concerns, Chen said, adding that this would be a prerequisite for carrying out the negotiations.

"It is also Japan's obligation to the international community," he noted.

Many countries and regions, including China, the US, South Korea, Singapore and the EU, have curbed imports of food products from areas near the stricken Fukushima nuclear plant over fears of potential contamination, although some have recently eased their restrictions.

AS HAS THE U.S., GOING SO FAR, AT LEAST WHILE OBAMA WAS IN POWER, TO CONSIDER NO LABELING OF 'NATION OF ORIGIN'. AMERICANS, LIKE MUCH OF THE WORLD, WOULD THEN BE UNAWARE OF WHERE OUR FOOD COMES FROM, OR IF IT IS GMO OR NOT.
CONGRESS, WHORES THAT LOT IS, WOULD DO ANYTHING FOR "BUSINESS", AKA, THEIR WALL STREET MASTERS.

The EU has decided to ease import restrictions on Japan's farm and marine products, including rice, the Japan Times reported in November.

"Most consumers have a psychological barrier against accepting food from the nuclear radiation areas," Zhu said, noting that Japanese seafood has not been very popular in the Chinese market over the past two years, partly due to increasing competition from products from countries such as Denmark, Norway and Canada.

"Friends around me have declined to eat any Japanese seafood since the accident took place since you cannot tell whether it is from the radiation-stricken area or not," he said.

THE SAME GOES FOR THAILAND.

BUT LET'S NOT CALL THIS A "PSYCHOLOGICAL BARRIER".
LET'S CALL IT COMMON SENSE.

RADIATION IS STILL LEAKING AT ALL-TIME HIGH LEVELS FROM DAI'ICHI, RADIOACTIVE SOIL IS BEING STORED IN FLIMSY PLASTIC BAGS ALL OVER JAPAN, ABE'S REGIME IS ALLOWING THAT SOIL TO BE "RECYCLED", AND OPEN-AIR BURNING OF OTHER RADIOACTIVE WASTE IS, OR WAS, ALLOWED AT OVER 50 SITES, SOME NEAR TOKYO.

WHO WOULD BE SO DUMB AS TO IMAGINE ALL THAT FALLOUT DOESN'T FALL ON FARMLANDS ALL ACROSS JAPAN, AND, WITH THE RIGHT WINDS, AT LEAST THE COASTAL REGIONS OF ALL OF JAPAN'S NEAREST NEIGHBORS?
RADIATION MOVES CONSTANTLY AND BY MANY MEANS.

JAPAN HAS BEEN BUSTED EXPORTING RADIOACTIVE SCRAP METAL TO AT LEAST 3 NATIONS.
THE ABE REGIME AND TEPCO ARE DESPERATE TO BE RID OF AS MUCH CONTAMINATION AS POSSIBLE, ANY WAY THEY CAN DISPOSE OF IT.

IT SEEMS THAT THE CURRENT ADMINISTRATION DOES NOTHING BUT THUMB ITS NOSE AT INTERNATIONAL LAW, CONDUCTS ITSELF LIKE A 'ROGUE NATION',AND SIMPLY REFUSES TO ACT RESPONSIBLY.

Japan's whaling [AND IVORY TRADE] draws fire for possible violation of int'l treaty - Japan Today

Dec 3, 2017 - Japan was under fire for its "research" whaling in the Northwest Pacific as a possible violation of an international treaty on endangered species, while Tokyo's ivory trading practice was also questioned.

THEN AGAIN, SINCE BEFORE WORLD WAR II, JAPAN HAS BEEN AT ODDS WITH ITS NEIGHBORING COUNTRIES AND WITH THE CITIZENS WITHIN ITS OWN BORDERS.
MAYBE THE JAPANESE PEOPLE NEED A REVOLUTION TO SHAKE OFF THE CHAINS OF THAT OLD WARLIKE SAMURAI RULING CLASS?

Progeny of Japan's Warrior Elite Retain Edge Today (WALL STREET JOURNAL)


IT MAY BE TOO LATE FOR MOST JAPANESE PEOPLE TO ESCAPE "ABE'S MADHOUSE", BUT WE CAN HOPE THAT SANER MINDS THAN ABE'S EXIST IN THE LAND OF THE RISING SUN SO THAT DAIICHI DOESN'T CONTINUE TO DESTROY LIFE ELSEWHERE.
THOSE TOO TIMID TO DEMAND INTERNATIONAL INTERVENTION NOW, WHO ARE WILLING TO ACCEPT THEIR FATE, WHO ARE UNWILLING TO TAKE ACTION TO SAVE THE REST OF US, WILL PERHAPS SIMPLY GO THE WAY OF THE WIND AND THEN, TOO LATE, OTHERS WILL STEP UP AND SEND THAT FAILED NUCLEAR NIGHTMARE OFF THE FACE OF THE PLANET AND END JAPAN'S SILENT NUCLEAR WAR AGAINST THE WORLD.

IF ABE WAS INDEED ENRICHING URANIUM AT DAIICHI AS MANY HAVE SUGGESTED, HOPING TO RESTORE JAPAN'S MILITARY TO THE POINT OF HAVING NUCLEAR BOMB CAPABILITY, THEN WE CAN EXPECT HIM TO CONTINUE ON THAT PATH.
New evidence of Japan's effort to build atom bomb at the end of WWII
Japan's KNOWN Uranium Enrichment Program

U.S. to help in 'elimination' of sensitive Japanese nuclear stockpile
Mar 24, 2014 - Japan will turn over hundreds of kilograms (pounds) of sensitive nuclear material for potential use in bombs to the United States.

OH, BUT THERE'S A DIFFERENCE BETWEEN IRAN AND JAPAN, WHO BOTH GOT CAUGHT WITH ENRICHED URANIUM.
YEAH, SEE, IRAN NEVER BOMBED PEARL HARBOR.

JAEA operated a small uranium refining and conversion plant, as well as a small centrifuge enrichment demonstration plant, at Ningyo Toge, Okayama prefecture, but these facilities are now decommissioned. (JAEA is
Japan Atomic Energy Agency)

While most enrichment services are still imported, Japan Nuclear Fuel Ltd (JNFL) operates a commercial enrichment plant at Rokkasho – RE2A. This began operation in 1997 using indigenous technology and had seven cascades each of 150,000 SWU/yr, though only one had been operating. The plant is being equipped with a new centrifuge design, and 37,500 SWU/yr came fully on line in March 2012 after a 15-month break in operations. A further 37,500/yr SWU came online in May 2013, and in mid-2014, 1.05 million SWU was operational.

The design capacity of 1.5 million SWU/yr is expected to be reached about 2022. JNFL's main shareholders are the power utilities. In May 2017 the NRA approved its operation in line with 2013 standards.

A new enrichment plant using Russian centrifuge technology is planned under an agreement between Rosatom and Toshiba, the location not announced.

Japan has 6400 tonnes of uranium recovered from reprocessing (RepU) and stored in France and the UK, where the reprocessing was carried out. In 2007 it was agreed that Russia's Atomenergoprom would enrich this for the Japanese utilities who own it.

ABE DOESN'T NEED A BOMB NOW...HE HAS FUKUSHIMA'S DAIICHI NUKE PLANT, AND HE INTENDS TO KEEP USING IT AGAINST THE ENTIRE WORLD, OBVIOUSLY.

MAYBE ABE HAS A KAMIKAZE PILOT'S MINDSET? OR MAYBE, AS I MENTIONED HERE BEFORE, IT'S JUST 'PAYBACK' FOR HIROSHIMA/NAGASAKI AND FOR HIS SAMURAI GRANDFATHER'S SHAMING AFTER THE WAR?






______________________________________

FURTHER READING:


For your own safety, try to read as much as you can in an extensive body of research on natural substances that mitigate nuclear disaster related radiation toxicity.radiation toxicity.
The documentation is rather impeccable.


Learn more about government's previous cover-up of a nuclear meltdown in the Los Angeles region in 1959.










//WW