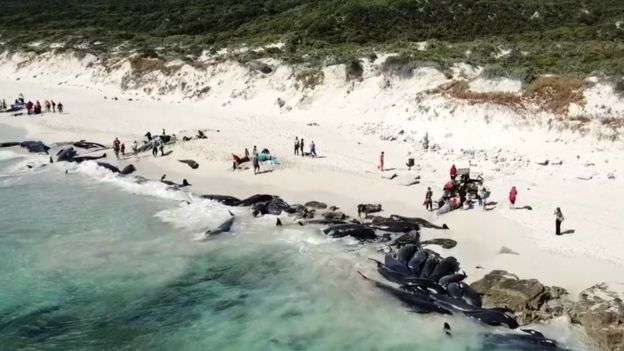 23 March 2018
Only six members of a pod have survived a mass stranding of pilot whales on the coast of Western Australia.

About 150 of the animals were found beached at Hamelin Bay, about 300km (180 miles) south of Perth.

Their discovery by a local fisherman on Friday prompted a major rescue effort to return them to deeper waters.
However, by nightfall, more than 140 of the whales had died, with deteriorating weather conditions and the threat of frenzied sharks impeding efforts.

THERE HAS BEEN A 'STRANGE' UPSWING IN MARINE DEATHS FOR THE PAST DECADE.

SO FAR IN 2018, "170 Known MASS Death Events in 49 Countries (or Territories)."

'Millions of birds, fish, crabs and hundreds of other species of marine life have been turning up dead in massive numbers from the United States, through Europe and down to South America.

Scientists and environmental officials have attributed some of the deaths to severe weather, dramatic drops in temperature -- even fireworks. However, many reported deaths remain mysterious.'

Some 'experts' blame a lack of food due to unusually warm ocean waters.
Other say it has to be some new type of virus that spreads between marine populations.
Although external and internal lesions, malformed limbs, disorientation, missing eyes, and other noticeable mutations have been present in especially the larger creatures,only a few scientists are mentioning the possibility that many of the dead and dying animals look a LOT like those that were exposed to radiation during nuclear testing in our oceans.
Some Arctic Tribes have suggested this to the scientific community since they were witness to similar during the Cold War when both Russia and the U.S. plus France were blowing nukes all over the globe.

Almost no one wants to fully examine this possibility, even though necropsy results on baby seals off California's coast showed they died of LEUKEMIA, which, in ocean populations, can only be caused by a very few chemicals NOT found in the Pacific, or else it is caused by radiation exposure.
That cesium-134 (the 'Fukushima fingerprint') and cesium-137 were found in kelp and in tuna off our west coast immediately after the Fukushima nuclear meltdowns was quickly hushed by the media.
That radioactive fallout was recorded in sea ice near the Arctic Circle just 2 weeks after those blasts and was initially thought to be the reason for so many marine deaths there later in the year was also downplayed.

In early 2011, Kristi Miller, a scientist with the Canadian Department of Fisheries and Oceans, was prevented from responding to media inquiries regarding her important research into declining salmon stocks. Orders to keep Miller from speaking with journalists came from the Privy Council Office in Ottawa.

There are many more die-offs than I am listing here.
I don't list the ones in lakes and rivers, list only coastal birds and only list SOME from March, April and May of this year, beginning in March. Nations include familiar names from past die-offs: Russia, the U.S., India, France, Australia, the United Kingdom, Taiwan, Chile, New Zealand, Brazil, Mexico...a long list too familiar to us by now.

Many different POSSIBLE causes are given but we may never know the true facts.
Whether the deaths came from the Pacific, Atlantic, Indian or Mediterranean Seas, the
truth seems to be that the oceans of the world are all sick, something is definitely wrong out there.
38 dead Pilot Whales, New Zealand, April 3, 2018


ABOVE: Marine advocates are calling a large number of little blue penguins washing up along New Zealand's Bay of Plenty coastline the "biggest penguin die-off in many years".

Hundreds of shearwaters, petrels, prions, shags and penguins, including dead poisonous pufferfish, were reported to have washed up along the coastline so far this year.

LARGE DIE-OFFS OF MARINE BIRDS ARE HAPPENING WORLDWIDE, HOWEVER.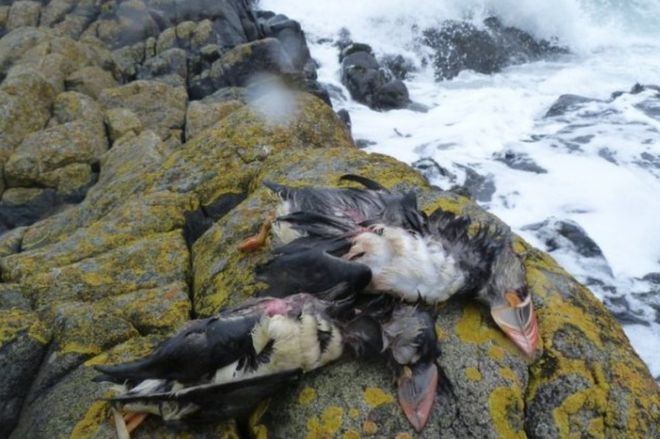 Dead puffins were among the hundreds of lifeless birds that washed ashore on Scotland's east coast in late March.





ABOVE: March 28, 2018, 61 dolphins found stranded in Puerto Medryn, an Argentinian city in northern Patagonia.

According to local authorities, 49 died on the coast of the El Doradillo Protected Natural Area, while the remaining 12 were saved and returned to the sea alive.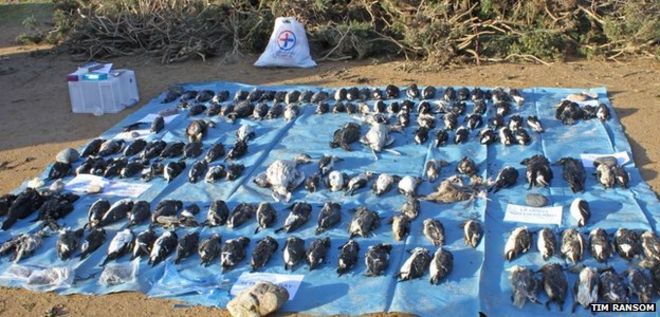 Over 400 dead seabirds on Jersey Beach, UK, and 'Dead seabirds littered across Chesil Beach in Dorset' in the same week NEAR THE SAME LOCATIONS.



Across the globe from England, also in the same time frame in March, more dead seabirds washed ashore in Chile.
Chile has also seen marine deaths of sea turtles, sea worms, fish, dolphin and whales.
ABOVE: One of the photos from the recent die-off in the U.K.
A dead seal, one of four that washed ashore in the UK in one day, along with millions of other marine creatures.
Millions of star fish washed ashore, Kent, England.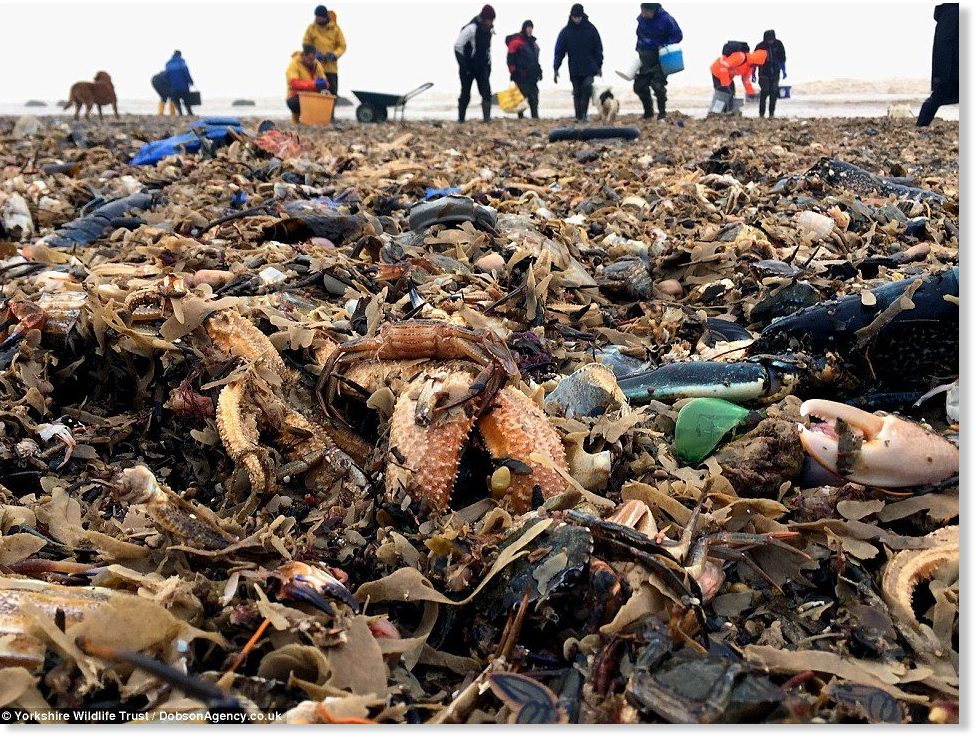 Incredible picture above shows Fraisthorpe beach near Bridlington, UK, blanketed by tons of marine creatures, with a group of fishermen battling to save some of those still alive.
'It is still coming out of the sea; every tide is leaving a fresh batch.'


March 7, 2018
Tens of thousands of dead starfish also washed up on a beach in Ramsgate, Kent, UK, in the wake of a storm.

"There was every form of marine life, velvet crabs, lobsters, whelks, scallops, razorfish, Dover soles, cod, ling, wrasse and sand eels.

Several dead seals were among the casualties.

"There were hundreds of thousands of lobsters, millions of mussels, you can't count the number.

"There was every form of marine life, velvet crabs, lobsters, whelks, scallops, razorfish, Dover soles, cod, ling, wrasse and sand eels. There were hundreds of thousands of lobsters, millions of mussels, you can't count the number."


From the BBC,March 19, 2018

Hundreds of dead seabirds have been washing up on Scotland's east coast.

Scientists, who have sought reports of similar cases from across the UK, said the guillemots, razorbills and puffins died due to recent bad weather.

HOW LONG HAS THAT SEA SENT "BAD WEATHER" ASHORE WITHOUT SO MASSIVE A DIE-OFF ACROSS MARINE SPECIES?

I post the following article mainly to show how quickly a necropsy on a dead whale CAN be performed and reported, while we in America and Canada still await results from NOAA necropsies on whales and other marine life discovered dead 3, 4, even 5 years ago.

March 11, 2018
Autopsies of beached whales in southern Taiwan reveal sickness.

Three stranded killer whales, two female and one male, died at the National Cheng-kung University Marine Biology & Cetacean Research Center (on March 11).
The whales appeared on a Kaohsiung beach March 6. As their health deteriorated much quicker than expected, the combined efforts of over 60 people moved them to the research center on March 9.
Lung problems ultimately caused the rapid deaths of the whales.

Researchers found 18 plastic bags in the stomach of the thinnest of the three whales during autopsy, reported CNA.

The other female whale had hardened plastic bags and other unidentifiable objects in her stomach as well as serious ulcers.

No objects were discovered inside of the male whale though he did have had infected lungs, parasites around the genitals, and a flushed stomach.

Finding plastic bags inside the stomachs of beached whales is becoming increasingly common, according to the researchers.

IF TAIWAN CAN ACCOMPLISH A COMPLETE NECROPSY AND ISSUE RESULTS IN DAYS, WHY CAN'T NOAA?

[Read NOAA's statement in 2017 that it can take them YEARS to determine cause of death for the whales; "
The investigation may require months, or even years of data collection, analysis, and interpretation."]


Meanwhile, back in Florida, USA, another massive fish die-off on the Atlantic coast:

It happened in this area before"
Thick clusters of dead fish drifted near neighborhoods in south Cocoa Beach and Patrick Air Force Base, blanketing canals with corpses. The death toll spans the spectrum of about 30 species, from pint-sized junk fish to plump, prize-sized sport fish.
The fish were carried ashore from Cape Canaveral south to Melbourne.


1st April 2018 - 28 dead dolphins wash up this year in Mississippi, America. Link


A PHRASE I NOTICED THAT WAS REPEATED IN MANY OF THESE REPORTS...NO OTHER ANIMALS/BIRDS WERE EATING THE DEAD:

"There are hundreds of birds around but they are not eating the fish at the moment."

MANY BEACHES ARE REPEATING SCENES FROM YEARS AGO.
Two years ago thousands of dead fish were washed up on another Cornish (UK) beach.
The fish, thought to be mackerel, stretched for "as far as the eye could see" along Marazion beach in Cornwall.

25th March 2018 - 3 dead dolphins wash up on a beach in Sinop, Turkey. Link


23rd March 2018 - 140+ whales dead after stranding in Western Australia. Link
23rd March 2018 - 140+ whales dead after stranding in Western Australia. Link


23rd March 2018 - Mass die off of fish washes ashore on the coast of Oman. Link

17 March 2018 - Dozens of dead sea birds and dead seals washed ashore in Coronado, California, America. Link

28th March 2018 - Large die off of seagulls, cormorants and swans in Lolland, Denmark. Link
The cause of death of the birds is currently unknown, but Lahrmann said that avian influenza was a possible reason.

A veterinary unit will analyze the dead animals in order to determine a cause of death, a process likely to take "a few days," she said.

[PERHAPS THEY, TOO, LIKE TAIWAN, CAN TEACH NOAA HOW TO ACCOMPLISH THIS IN DAYS, NOT YEARS?]


27th March 2018 - Thousands of sea birds and fish dead due to oil spill in northern Colombia. Link

27th March 2018 - Thousands of sea birds and fish dead due to oil spill in northern Colombia. Link

14th March 2018 - 7 dead dolphins found along the coast south of Chennai, India. Link


News 13 Florida, March 7, 2018
Algae Bloom Warns of Another Massive Fish Kill

Officials warn of potential fish kill at Indian River Lagoon
This current bloom pattern mirrors what happened in 2016, when a massive fish kill began. It's not the blooms that kill fish — it's the lack of oxygen.

4th March 2018 - Hundreds, maybe thousands of dead fish wash up on a beach, 'a mystery' in Marseillan, France. Link


6th March 2018 - 12+ dead dolphins wash ashore along the coast of Galicia, Spain. Link

The number of dolphins stranded and dead in Galicia in the last two days rises to at least a dozen. But there could be many more. The strong storm at sea during the last days threw these animals to the coast in places as distant as Muros and Vigo, but also in Ribeira, Porto do Son, A Illa de Arousa and O Grove.

Most belong to the common dolphin species ( Delphinus delphis ), typical of tropical and subtropical waters that do not abound in the interior of the Galician estuaries.


26th March 2018 - Dozens of dead sea birds found on a beach in Novorossiysk, Russia. Link

1st April 2018 - 28 dead dolphins wash up this year in Mississippi, America. Link

2nd April 2018 - UPDATE: 200+ dead dolphins found during past few months in Rio de Janeiro, Brazil. Link

Scientists there have discovered more than 200 dead Guiana dolphins, or Sotalia guianensis, a quarter of what was the world's largest concentration of the species. The deaths, caused by respiratory and nervous system failures linked to a virus, have subsided, but scientists are working to unravel the mystery behind them.How, they ask, did a virus that might ordinarily have claimed a handful of dolphins end up killing scores of them?

3rd April 2018 - Hundreds of dead fish wash up on a beach, 'a mystery' in Safety Bay, Australia. Link

4th April 2018 - 5 TONS of dead fish wash up in Bio Bio, Chile. Link

6th April 2018 - 38 pilot whales dead after washing up on a beach in Westland, New Zealand. Link
Resident and local iwi member Helen Rasmussen said she had lived in the area for 42 years, but never encountered such a large stranding.


9th April 2018 - Thousands of dead fish washing up in Irondequoit Bay, New York, America. Link

The state Department of Environmental Conservation.said that stress combined with a confirmed low-level infection of the so-called VHS virus to do in the fish.

The agency said fish die-offs had been reported in Irondequoit Bay and a section of the Erie Canal at Newark, Wayne County.

The county will not provide cleanup.


9th April 2018 - 21 dead turtles found on the coast of West Kalimantan, Indonesia. Link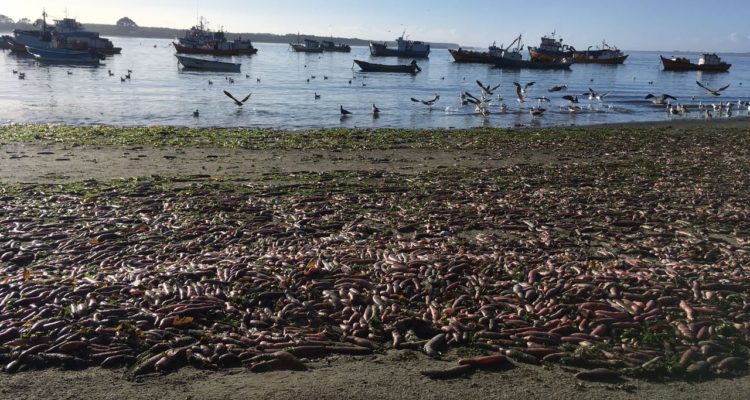 ABOVE: 23rd April 2018 - TONS of dead sea worms wash ashore in Los Lagos, Chile. Link

14th April 2018 - 10 dead turtles found on the coast of Uruguay. Link


18th April 2018 - Hundreds of dead catfish, eels and seahorses found on a beach in Kailua, Hawaii, America. Link


24th April 2018 - Mass die off of penguins continuing along the coast of New Zealand. Link


1st May 2018 - 30,000 dead fish wash up in a harbor in Baltimore, America. Link


30th April 2018 - 6.4 TONS of dead fish washed up on beaches in Rio de Janeiro, Brazil. Link




ABOVE: 6th May 2018 - Millions of jellyfish wash up around the coast of Malta. Link


4th May 2018 - 100 dead sea birds found, 'never seen anything like it', on Navarre beach, Florida, America. Link


4th May 2018 - Dead sea birds found washed up on the coast of Mariupol, Ukraine. Link


7th May 2018 - Thousands of dead fish wash up on a beach in Ras al-Khaimah, United Arab Emirates. Link

The cause of the mass death was unknown, and the Ras Al Khaimah Environment agency said they are investigating possible causes.

7th May 2018 - Hundreds of dead salmon found washed up on a beach in Port Lincoln, Australia. Link


FROM BOTTOM-DWELLING CRUSTACEANS TO SURFACE SKIMMING
SEA BIRDS, FROM TINY JELLYFISH TO HUGE WHALES, THE DEATH COUNTS GO ON AND ON.
AGAIN AND AGAIN WE READ THAT "SCIENTISTS ARE BAFFLED", THAT NO ONE IS 100% CERTAIN WHY ALL THESE CREATURES ARE DYING IN SUCH HIGH NUMBERS OVER SO LONG A PERIOD OF TIME.
IT ISN'T LOCALIZED, IT'S WORLDWIDE, IN EVERY OCEAN, AND ALGAE BLOOMS AND ALL THAT 'EXPERTS' HAVE GUESSED AT DON'T SEEM TO FIT THE OVERALL PICTURE OF THESE MASS DEATHS.

WE MAY NEVER KNOW THE TRUTH, NEVER FIND THE ANSWERS, BUT IT IS CRYSTAL CLEAR THAT OUR OCEANS ARE DYING, THAT LIFE DEPENDENT ON THEM CAN NO LONGER HANG ON IN THE SEWERS THOSE OCEANS HAVE BECOME.

WE DUMP RADIOACTIVE WASTE, CHEMICALS, PLASTICS, EVERY KNOWN FORM OF GARBAGE AND TOXINS INTO THEM EVERY DAY, EVERY YEAR, MAKING THE MARINE ENVIRONMENT NO LONGER LIVABLE.

WE'VE CREATED A DEATH TRAP FOR ALL THAT LIVE IN THE SEA...BUT WE'RE NEXT.

AS THEY GO, SO GO WE ALL.

//WW