WATCH THIS AND THEN WATCH THE VIDEO BELOW. CONNECT THE DOTS.
"Diseases Spread By Insects Have More Than Tripled, CDC Says | TIME"


US military plan to spread viruses using insects could create 'new class of biological weapon', scientists warn.
"Such action will have profound consequences and could pose a major threat to global biosecurity. But this seemingly inoffensive goal has been slammed by the scientists, who say the plan is simply dangerous and that insects loaded with synthetic viruses will be difficult to control.
They also say that despite being in operation since 2016 and distributing $27m in funds to scientists,
DARPA
has failed to properly justify the existence of such a program."
[
NOTE
: For any who don't like RT News, the UK's 'INDEPENDENT' had the same article, which I link to further down in today's blog.]
IS IT POSSIBLE TO REDUCE HUMAN POPULATION BY MEANS OF INJECTABLE, INHALABLE, INGESTIBLE VIRAL AGENTS, INTRODUCED BY LAB-CREATED AND MASS-RELEASED INSECTS, OR BY OUR TRUSTY VACCINES, OR BY SECRETLY ADDING THEM TO FOOD SUPPLIES, OR INTO THE WATER SUPPLY?
IT SURELY WOULD BE 'CONVENIENT', WOULDN'T IT, SINCE SO FEW OF US HAVE ANY WAY AT ALL TO TEST WHAT GOES INTO OUR HUMAN BODIES.
WE BLINDLY TRUST OUR GOVERNMENT TO MAKE SURE ALL IS WELL, BUT WE FORGET THE LESSONS OF THE PAST...THAT GOVERNMENTS HAVE NOT ALWAYS TAKEN CARE OF THEIR CITIZENS.
MY LONG-TIME READERS WELL KNOW MY SUGGESTIONS OVER THE YEARS THAT THE EASIEST WAY TOO WIPE OUT A MASSIVE NUMBER OF PEOPLE EASILY, CHEAPLY AND PERMANENTLY IS BY "POISONING THE WELLS", SO TO SPEAK.
IT WOULD ALL WORK LIKE THE SPREAD OF THE KILLER VIRUS "CAPTAIN TRIPS" IN THE STEPHEN KING MASTERPIECE "THE STAND".
WHETHER INTENTIONALLY OR ACCIDENTALLY (MAYBE 'ACCIDENTALLY ON PURPOSE'?) A VIRUS ESCAPES THE LAB AND UNLEASHES HELL ON HUMANITY.
ONE PERSON INFECTS SEVEN WHO EACH INFECT SEVEN MORE AND WITHIN A MONTH HUMANITY IS HISTORY.
READING TODAY'S HEADLINES UNDER 'HEALTH NEWS', I WAS STRUCK BY HOW MANY, MANY VIRUSES ARE CURRENTLY ON THE LOOSE HERE IN AMERICA.
WE'RE SEEING SOME FAIRLY "EXOTIC" AND "UNUSUAL" DISEASES PLAGUING OUR ANIMALS AND CITIZENS.
I LIST A FEW HEADLINES FROM JUST TODAY BELOW.
WE'VE ALSO SEEN A LOT OF CROP LOSS FROM FLOODS OR DROUGHT.
WE'VE SEEN MARINE LIFE IN ALL OCEANS, LAKES AND RIVERS GOING BELLY-UP FOR THE PAST DECADE OR MORE.
WE'VE HEARD ABOUT THE MASSIVE DIE-OFF OF THE BEE AND BAT POPULATIONS, WHICH THREATENS MUCH OF OUR FOOD SUPPLY.
IT SEEMED TO ME THAT WE ARE EXPERIENCING (ALMOST) THE INFAMOUS "PLAGUES OF EGYPT" AND THEN I THOUGHT TOO LONG AND TOO DARKLY ABOUT THE WHOLE THING AND HERE WE ARE.
ACTUALLY, IT WAS THE CORRELATION BETWEEN ONE REPORTED INCIDENT OF A "RARE" VIRAL OUTBREAK IN HORSES AND A RED FLAG THAT WAS STORED IN MY MEMORY BANKS THAT DID IT.
IT SET OFF A MAJOR ALARM.
--#1, FIRST ARTICLE FROM TODAY:
"Vesicular stomatitis confirmed in 32 Colorado counties"

"The contagious disease primarily affects cattle, horses, mules, donkeys, swine and occasionally sheep, goats, llamas and alpacas. Humans are rarely affected by the disease, agriculture officials said."

IT'S A BIT BIGGER THAN THAT...IT'S IN THE RABIES FAMILY OF VIRUSES.
IT'S ALSO CONNECTED TO EBOLA, IN A VERY ODD WAY.

CANADIAN SCIENTISTS USED THIS VERY VIRUS TO CREATE A COMBINATION VIRUS
,
(rVSV-ZEBOV),
WHICH THEY THEN USED TO CREATE A VACCINE,
rVSV-EBOV,
FOR EBOLA.

[PLEASE NOTE: WHEN YOU SEE THAT WORD "RECOMBINANT" , IT MEANS THAT THE VIRUS HAS BEEN CREATED BY COMBINING GENETIC MATERIAL OF TWO OR MORE (USUALLY) NATURALLY OCCURRING VIRUSES, ETC.]

AND I WONDERED, WILL ANYONE TEST THESE HORSES FOR THE COMBINATION VIRUS?

HAS THAT VIRUS ESCAPED FROM ONE OF THE LABS THAT HAVE IT?
IS SOMEONE TESTING THAT VACCINE ON HORSES?

FROM THE MERCK MANUAL OF VETERINARY MEDICINE:

"Vesicular stomatitis virus is a virus in the family Rhabdoviridae; the well-known rabies virus belongs to the same family.

Vesicular stomatitis is a viral disease caused by two distinct serotypes of vesicular stomatitis virus—'New Jersey' and 'Indiana'.
The viruses are members of the genus Vesiculovirus.

Outbreaks occurred in the USA in 1995, 1997, 1998, 2004, 2005, 2006, 2009, 2010, and 2012. The largest outbreak in the past decade occurred in 2005 and affected nine states.

Vesicular stomatitis viruses are endemic in South America, Central America, and parts of Mexico but have not been seen naturally outside the Western hemisphere.

Of primary concern in diagnosis is differentiation of vesicular stomatitis from clinically indistinguishable but much more devastating viral diseases, including foot-and-mouth disease in ruminants and swine (see Foot-and-Mouth Disease).

No specific treatment is available or warranted. Cachexia can be avoided by providing softened feeds. Cleansing lesions with mild antiseptics may help avoid secondary bacterial infections. Management factors suggested to reduce risk of exposure to the virus include limiting time on pasture during insect season, providing shelters or barns during insect feeding times, and implementing other procedures that reduce animal contact with insects.

The vesicular stomatitis viruses are zoonotic and may cause self-limiting influenza-like disease (headache, fever, myalgia, and weakness) lasting 3–5 days in people working in close contact with the virus (eg, laboratory exposure, direct contact with lesions in infected animals). Rarely, people can develop vesicles on the buccal and pharyngeal mucosa, lips, and nose. More severe signs, including encephalitis, are rare."

USING TWO VIRUSES TO MAKE A NEW VIRUS.

Recombinant vesicular stomatitis virus–Zaire Ebola virus (rVSV-ZEBOV) is an experimental vaccine for protection against Ebola virus disease.
When used in ring vaccination, rVSV-EBOV has shown a high level of protectionAround half the people given the vaccine have mild to moderate adverse effects that include headache, fatigue, and muscle pain.
rVSV-ZEBOV is a recombinant, replication-competent vaccine. It consists of a
vesicular stomatitis virus
(VSV), which has been genetically engineered to express a glycoprotein from the Zaire ebolavirus so as to provoke a neutralizing immune response to the Ebola virus.
The vaccine candidate (rVSV-ZEBOV) is genetically engineered
to replace the VSV glycoprotein with the glycopro-tein from a Zaire strain of Ebola virus. [PDF]
It was created by scientists at the National Microbiology Laboratory in Winnipeg, Manitoba, Canada, which is part of the Public Health Agency of Canada (PHAC). PHAC licensed it to a small company, NewLink Genetics, which started developing the vaccine; NewLink in turn licensed it to Merck in 2014. It was used in the Democratic Republic of Congo in a 2018 outbreak in Équateur province, and has since been used extensively in the 2018-19 Kivu Ebola outbreak, with over 90,000 people vaccinated.
ANOTHER RED FLAG WENT UP AT THE MENTION OF THAT CANADIAN LAB BECAUSE BACK IN JULY, THIS HAPPENED:
"Sources say Xiangguo Qiu, biologist Keding Cheng, and an unknown number of Qiu's students
were escorted from the National Microbiology Lab
(NML) and their security access revoked on July 5.
Qiu is head of the Vaccine Development and Antiviral Therapies Section in the Special Pathogens Program.
Neither PHAC nor the RCMP are providing further details, citing privacy concerns.
In 2014, Canada claimed China was responsible for a cyber attack on the National Research Council."

SURELY IT'S ALL JUST A 'MISUNDERSTANDING'?

MANY arbroviruses - i.e. mosquito borne illnesses (in many cases) - vectored by birds are endemic in the US. However, these viruses have been essentially confined to various areas of the country and have not proceeded to spread coast-to-coast, border-to-border, year-after-year, mutating and changing as they go.

BUT KEEP IN MIND, as part of a program to develop biowarfare countermeasures, scientists synthesize live viruses from chemicals and PUBLICLY available data and genetic material.

THIS IS CLASSIFIED WORK SO WE KNOW EITHER NOTHING OR VERY LITTLE ABOUT WHAT GOES ON IN SUCH LABS.
DID YOU KNOW THAT WE HAVE "VIRUS HUNTERS" WHO TRAVEL THE GLOBE SEARCHING FOR DEADLY VIRUSES AND THEN BRING THEM BACK TO CLASSIFIED LABS HERE?
"During the first phase of the U.S. government's "disease surveillance program", from 2009-2014, "we found about a thousand new viruses",
Kevin Olival, a disease ecologist from the
EcoHealth Alliance
,
says.

What is the 'undiscovered pool of viruses'?
"Oh, we estimate that it could be in the millions. There are probably millions of viruses out there that infect other mammals and could potentially infect people."
"These are viruses that most people have never heard of, but they rank quite highly in terms of their potential for pathogenicity," says Olival.
AND OUR GOVERNMENTS WANT SUCH VIRUSES TO USE AS WEAPONS.
EVER SINCE THE
EARLY SETTLERS SENT SMALLPOX BLANKETS TO THE PESKY INDIANS
, BIOLOGICAL CONTAMINANTS HAVE RANKED AT THE TOP OF THE LIST OF "MUST-HAVE" WEAPONS IN AMERICA.

THEY'RE CHEAP TO MAKE, EASY TO DISPERSE AND SILENT.
CREATE VIRUSES, MORE DEADLY STRAINS?
IT'S EASY TO DO!
It's now possible to
build viruses from scratch
, using nothing more than their genetic sequence for instructions, so you don't need to be a government scientist to have access to the world's most lethal pathogen. If it's ever released, the virus could change the world forever.
"Synthetic Polio Virus Created"
Tech Live TechTV.com July 12, 2002
by
Jessica Rappaport
"
Creating a deadly virus is easier than you think."

"
Dr. Eckard Wimmer, head of a biomedical research team at the State University of New York at Stony Brook, re-created the polio virus as part of a research project
funded by the Pentagon to combat biowarfare.

The research was published in the journal
Science
on Friday.
What's more disturbing is that his team was able to re-create the virus by using the Internet, downloading the virus' genome sequence from one of a number of databases.
"There are databases that have the numbers for certain viruses," Wimmer said. "And you plot in the number in a computer."
His team purchased the genetic material from a company that makes made-to-order DNA."

PUT ALL THE ABOVE TOGETHER AND JUST THINK ABOUT IT FROM A 'TERRORIST', OR A EUGENICIST'S, POINT OF VIEW.

PROBLEM: TOO MANY PEOPLE.
SOLUTION: CREATE OR FIND A NEW SUPER-VIRUS AND WIPE THEM OUT.


#2--WEST NILE VIRUS (WNV)

-West Nile virus confirmed in three horses along Front Range
--Public officials in New Jersey
were already bracing for an increased amount of West Nile Virus this year, with the first case of the infection being reported on July 2 — the
earliest ever reported in the state
. Last year, a record 61 people in New Jersey were reportedly infected with West Nile.
The WNV that has broken out in the US has already taken a massive toll on our birds, (both wild and domestic). Each month we learn of new species of birds, raptors and water fowl now infected. Many raptors, such as our eagles, some species of owl, and hawks are already endangered. This virus could, very easily and quickly, wipe out the small numbers of these threatened species.

WHO'S TESTING TO SEE WHICH VIRUS THIS REALLY IS?
From Newsday 09-29-1999 page A28
"Area Labs Have Long Studied West Nile Virus - Yale And Rockefeller Began Test In The '50s"
"Epidemiologists suspect that the West Nile virus has for the first time been isolated in humans or animals in the Western Hemisphere, but the virus has for decades made its home in several U.S. research laboratories, including Rockefeller University in Manhattan and Yale University in New Haven, Conn. In fact, investigators there were the first to grow and study the West Nile virus in the United States. The work began in the 1950s when unidentified viral samples from around the world arrived at Rockefeller on a steady basis."

BECAUSE THE POLIO VACCINE WAS BEING SEEN AS A FAILURE, OR WAS ACTUALLY CREATING POLIO IN THE VACCINATED, CDC AND COMPANY NEEDED A SCAPEGOAT...ENTER WEST NILE VIRUS.

Boston Globe
SEPT. 24, 2002
"Mosquito-borne West Nile virus is causing a medical condition rarely seen by US physicians since the 1950s: polio.
According to the Centers for Disease Control, the West Nile virus has killed 94 people nationwide this year, including two in Massachusetts, and sickened 1,963, by far the largest outbreak since it was first reported in the United States three years ago.

Although other viral illnesses kill vastly more people - the flu is blamed for 20,000 deaths annually - public-health authorities are concerned about West Nile because it has spread from coast to coast so quickly and produced unexpected symptoms, with polio being the most recent example."



#3--"Epizootic Hemorrhagic Disease (EHD) Found In 64 Deer In West Virginia"

"Officials say EHD is spread by flies that circle bodies of water such as creeks, water holes or ponds. The flies are more common at this time of year when there is heat and weather is dry."
Officials say EHD causes fever in deer so it's typical to find sick or dead deer near bodies of water as they are trying to get relief. They will also act non-responsive or exhibit unusual behaviors such as running into things or walking in circles. There could also be some swelling in the face but other than that the deer usually look perfectly healthy."
EHDV can only be spread by an insect vector.
#4--THAT DAMNED ZIKA VIRUS AGAIN, WITH ITS GENETICALLY ENGINEERED 'GOOD' MOSQUITOES DESIGNED TO "COMBAT" THE BAD MOSQUITOES.
PLEASE READ MY DOCUMENTATION ON THE STUPIDITY OF THE CLAIMS MADE BY CDC, ET AL, ABOUT THIS VERY OLD VIRUS.
SUCH CLAIMS SHOULD EMBARRASS ANY FIRST YEAR MICROBIOLOGY STUDENT.
Mosquito Species Known for Carrying Zika Found in Citrus Heights Neighborhood
"Previously, the non-native species was found only as far north as Fresno, but this year made its way to the Modesto area in San Joaquin County. Citrus Heights and the South Placer County area is the farthest north it's been detected so far."
#5--YELLOW FEVER
Yellow fever mosquitoes found in Sacramento County
"The aedes aegypti mosquito is a carrier of dangerous viruses like Zika, dengue, and chikungunya. Officials say its presence has been established in the Citrus Heights..."
JUST LIKE ZIKA AND OTHERS, THIS VIRUS COMES OUT OF AFRICA.
THERE ARE AS MANY STORIES ON HOW IT GOT TO AMERICA AS THERE ARE LABS THAT GROW IT.
Phylogenetic analyses indicate that the virus originated from East or Central Africa, with transmission between primates and humans, and spread from there to West Africa.
The first outbreaks of disease that were probably yellow fever occurred in the Windward Islands of the Caribbean on Barbados in 1647 and Guadalupe in 1648.
#6-- EASTERN EQUINE ENCEPHALITIS (EEE)

"More mosquitoes are testing positive for Eastern Equine Encephalitis (EEE) in Massachusetts, including in Methuen and Cape Cod."

#7--JAMESTOWN CANYON VIRUS AND POWASSAN VIRUS (BOTH RARE)
Concord, NH – The New Hampshire Department of Health and Human Services (DHHS) announced that
an adult from Kingston, NH tested positive for both Jamestown Canyon virus (JCV) and Powassan virus (POW),
the first time these vector-borne diseases have been identified in the State in 2019.
JCV is transmitted by infected mosquitoes and POW is transmitted by infected ticks. There are no vaccines to prevent JCV or POW and treatment consists of supportive care.
Other mosquito- and tick-borne illnesses that have been documented in New Hampshire include WNV and EEE from mosquitoes, and Lyme disease, anaplasmosis, babesiosis, and Borrelia miyamotoi from ticks. Biting mosquitoes will continue to be a disease concern until there are two, statewide, hard frosts. Risk of tick bites exists when temperatures are above freezing and ticks are not covered by snow.
Mosquitoes with Jamestown Canyon virus found in Connecticut
#8--LACROSSE ENCEPHALITIS
The virus is connected to a type of mosquito most often found in or near wooded areas.
The family reached out to ABC6/FOX28 Friday after seeing reports about the virus:
three confirmed cases of in Ohio this year, including 2 in Franklin County. There may be an additional case in Knox County.
The CDC says
the virus, spread by mosquitoes, can cause severe health problems in kids under 16
.
LAST MONTH ANOTHER CHILD WAS DIAGNOSED WITH THIS 'RARE' VIRUS'.
#9--DENGUE VIRUS
MIAMI (CBSMiami) – A mosquito in South Florida has tested positive for the Dengue Virus.
.Dengue fever can present itself as a flu-like illness with muscle aches, pain, fever and sometimes a rash. The symptoms appear within 14 days of being bitten by an infected mosquito and can last for up to a week.
There are no vaccines to prevent infection. The
CDC says
that early recognition and treatment can "substantially lower the risk of medical complications and death."
The Florida Department of Health confirmed the first locally-acquired case of the Dengue Virus in Miami-Dade County on Tuesday.
The department did not release the location.

#10-- NOROVIRUS

FROM FORBES:
Is Norovirus In The Water? Can A Smartphone Test Help?
Norovirus is a very common cause of nausea, vomiting, abdominal pain, and diarrhea infections, leading to around 700 million cases of gastroenteritis, over 200,000 deaths, and
over $60 billion in associated costs
each year.
WE'LL STOP HERE WITH 10 DIFFERENT TALES OF VIRUSES OUT THERE TODAY, BUT THERE WERE OTHERS.

WE HAVEN'T HAD A MAJOR OUTBREAK OF EBOLA YET, BUT IT CAN HAPPEN ANY DAY.
WHY DOES THE U.S. ALLOW IMPORTS OF THE VERY MONKEYS KNOWN TO CARRY EBOLA?
DO THEY WANT AN OUTBREAK HERE?

"Transmission of the ebola viruses between natural reservoirs and humans is rare, and outbreaks of Ebola virus disease are often traceable to a single case where an individual has handled the carcass of a gorilla, chimpanzee or duiker (a small antelope).

Monkeys from the Philippines are the most well known carriers of ebola, so what does the U.S. ALLOW to be imported?
Monkeys from the Philippines, over and over again. And what came to America in 1989 (Virginia and Pennsylvania), 1990 (Virginia and Texas), 1996 (Texas)?
Ebola in Philippine monkeys.

[SEE https://www.nationalgeographic.com/science/health-and-human-body/human-diseases/ebola-virus/ AND https://www.imdb.com/title/tt0114069/faq.]


Don't Texas and Virginia get it? Those monkeys carry ebola!

Well, hang on, there ARE "government testing labs" doing really wacky "research" in Virginia and Texas. Maybe they needed monkeys, especially monkeys WITH ebola?
CLASSIFIED RESEARCH LABORATORIES AS SOURCES OF ESCAPE OF DEADLY VIRUSES .
"The government isn't regulating how highly dangerous viruses and bacteria are rendered safe for shipment, posing risks to the public, auditors say."
Public, academic and private laboratories that work with deadly diseases have mistakenly transferred highly contagious viruses and bacteria to unsecured locations at least twenty-one times in the past 13 years, a frequency more than double what the officials overseeing such work previously said their data showed, according to
a new Government Accountability Office report
.
No government-wide standards exist for ensuring that pathogens have been inactivated – either by chemicals, radiation, heat or filtration — prior to their shipment via public channels, the GAO report said. No firm requirements exist for reporting mistakes, a circumstance that means the real number of improper shipments could be even greater than 21. And no clear policies have been set on how lapses are to be punished."
--FORT DETRICK, MARYLAND
IN JULY THIS YEAR OLD FORT DETRICK WAS SHUT DOWN AGAIN FOR SCREWING UP.
"Fort Detrick researchers banned from working with anthrax, Ebola and smallpox until procedures improved.
Fort Detrick has continued defensive research into deadly pathogens on the list of "select agents", including the Ebola virus, the organisms that cause the
plague
, and the highly toxic poison ricin.
Last month the Centers for Disease Control and Prevention (
CDC
) – the government's public health body – stripped the base of its license to handle highly restricted "select agents", which includes
Ebola
,
smallpox
and
anthrax
."

Historically, Fort Detrick was the center of the U.S. biological weapons program from 1943 to 1969. Since the discontinuation of that program, it has hosted most elements of the United States biological defense program.

Safety concerns at the prominent military 'germ lab' led the government to shut down research involving dangerous microbes like the Ebola virus.
In its statement, the C.D.C. cited "national security reasons" as the rationale for not releasing information about its decision.

"Research is currently on hold," the United States Army Medical Research Institute of Infectious Diseases, in Fort Detrick, Md., said in a statement on August 6, 2019. The shutdown is likely to last months, Caree Vander Linden, a spokeswoman, said in an interview.

The statement said the Centers for Disease Control and Prevention decided to issue a "cease and desist order" last month to halt the research at Fort Detrick because the center did not have "sufficient systems in place to decontaminate wastewater" from its highest-security labs.
The suspended research involves certain toxins, along with germs called select agents, which the government has determined have "the potential to pose a severe threat to public, animal or plant health or to animal or plant products." There are 67 select agents and toxins; examples include the organisms that cause Ebola, smallpox, anthrax and plague, and the poison ricin.

YES, RICIN.


-FORT TERRY ON PLUM ISLAND, NY

In 1952, it became a military animal and biological warfare (BW) research facility, moving to civilian control in 1954 as the Plum Island Animal Disease Center. However, the biological warfare mission continued under civilian control until 1969, when the US ended offensive BW research.
Since 1954, the DHS S&T Office of National Laboratories (ONL) Plum Island Animal Disease Center (PIADC) Orient Point, New York has served as the nation's premier defense against accidental or intentional introduction of transboundary animal diseases (a.k.a. foreign animal diseases) including foot-and-mouth disease (FMD). PIADC is the only laboratory in the nation that can work on live FMD virus (FMDV). The lab and its staff of nearly 400 employees provide a host of high-impact, indispensable preparedness and response capabilities, including vaccine R&D, diagnostics, training, and bioforensics among others.
[ENDED 'OFFENSIVE' BIOWEAPONS RESEARCH?
BS, BS, BS, NOTHING IN THAT LINE HAS ENDED NOR WILL IT EVER,. WE HAVE TO MAINTAIN THE LEAD IN BIOLOGICAL WARFARE AND WE TRY, LORD KNOWS WE DO TRY.]


"Government oversight of these labs is notoriously weak; in 2013, the GAO called it fragmented and too reliant on self-policing."


IN SPITE OF THESE DISASTERS, CURRENT ADMINISTRATION HAS LIFTED A BAN ON WHICH LABS CAN HANDLE THESE DEADLY PATHOGENS!
"
Government officials lifted a ban this week on funding research that makes dangerous germs more lethal
.
"Dr. Francis S. Collins, director of the National Institutes of Health, called the move an important step to help scientists "identify, understand, develop strategies and effective countermeasures against rapidly evolving pathogens that pose a threat to public health." But some voiced concerns about the potential risks.
The decision lifts a funding pause put into place in October 2014 on experiments involving
influenza
, severe acute respiratory syndrome (SARS), and
Middle East respiratory syndrome (MERS)
viruses.
"The work with these viruses can now move forward."
But some critics worry that researchers may create a "super germ" that could threaten millions if it somehow escaped the lab.
For example, if scientists discovered what it would take for
Ebola
to become a respiratory virus that could spread through a sneeze – a finding that might be useful to aid preparedness but would also make the altered virus more dangerous – that could have devastating consequences if the information got into the wrong hands."
YA' THINK?
DO YOU SEE WHAT WE'RE UP AGAINST?
IF THE ENTIRE POPULATION WAS WIPED OUT BY SOMETHING LIKE THIS TOMORROW, THE GOVERNMENT WOULD JUST SAY, "OOPS! SORRY. OUR MISTAKE." AND GET BY WITH IT.

Deadly pathogens
"WHO publishes list of top emerging diseases likely to cause major epidemics"
GIRD YOUR LOINS, PEOPLE OF EARTH, HERE'S THE SHORT LIST OF WHAT WE'LL SEE COMING OUR WAY.
"
10 December 2015
-- A panel of scientists and public health experts convened by WHO met in Geneva this week to prioritize the top five to ten emerging pathogens likely to cause severe outbreaks in the near future, and for which few or no medical countermeasures exist.
The initial list of disease priorities needing urgent Research & Development (R&D) attention: Crimean Congo haemorrhagic fever, Ebola virus disease and Marburg, Lassa fever, MERS and SARS coronavirus diseases, Nipah and Rift Valley fever.
Three other diseases were designated as 'serious', requiring action by WHO to promote R&D as soon as possible;
these were chikungunya, severe fever with thrombocytopaenia syndrome, and Zika."
FOR A SHORT RUNDOWN ON EACH OF THESE 'THREATS', READ <HERE>.
WHAT ABOUT VACCINES?
COULD, SAY, "TERRORISTS", FOREIGN OR DOMESTIC, JUST CONTAMINATE OUR VACCINE SUPPLIES WITH DEADLY VIRUSES, POISONS, ETC?
WELL, BIG PHARMA DOES THAT EVERY DAY, DON'T THEY?
It's back-to-school time in America and so is the yearly push to vaccinate the kiddies, and with vaccinations come the annual outbreaks of measles, mumps, "polio-LIKE" illnesses and the beginning of "flu season". All one has to do is set the clock for August/September, wait and watch the kiddies drop like flies to various illnesses BECAUSE of vaccines and being crammed together in classrooms across the nation.
IT'S CALLED VACCINE SHEDDING.
IT IS REAL, IT IS COMMON AND EACH INSERT IN EACH VIAL OF VACCINE WARNS THAT SHEDDING IS POSSIBLE.
ONE OF THE FIRST PHYSICIANS WHO WAS BRAVE ENOUGH TO STEP FORWARD AND TELL THE WORLD OF THE DANGERS WE FACE BY 'MEDICINE' AND THE PHARMACEUTICAL COMPANIES HAS MUCH TO SAY ABOUT VACCINES.
HERE'S ONE SMALL ARTICLE HE WROTE ON SHEDDING:
While inactivated vaccines use a killed version of the pathogen, live viral vaccines use a weakened (or attenuated) version of the virus. Typically, the live virus used in vaccine production is passed through a living cell culture or other host, such as chicken embryo, many times over until it becomes weakened to a point that it's not likely to make you sick when it's injected or, in the case of live oral vaccines, swallowed.
That being said, a live vaccine strain virus is still active and strong enough to trigger an inflammatory response in your body, prompting the creation of vaccine-acquired antibodies. There are a few problems with this, such as the possibility that the weakened vaccine-strain virus can revert to virulence, leading to serious complications identical or similar to complications of the natural disease the vaccine is supposed to prevent in the vaccinated person.
While the CDC states that the live type A and B vaccine strain influenza viruses in FluMist are too weak to actually give recipients influenza, research has raised some serious doubts that this is the case. One recent study revealed not only that influenza virus may be spread via simple breathing (i.e., no sneezing or coughing required) but also that repeated vaccination increases the amount of influenza virus released into the air.3
"Self-reported vaccination for the current season was associated with a trend toward higher viral shedding in fine-aerosol samples; vaccination with both the current and previous year's seasonal
vaccines
, however, was significantly associated with greater fine-aerosol shedding … ," the researchers stated.
What's more, individuals who had been vaccinated in the current and previous season had 6.3 times more aerosol shedding than those who had received no vaccination in those two seasons. The researchers concluded:
"The association of current and prior year vaccination with increased shedding of influenza A might lead one to speculate that certain types of prior immunity promote lung inflammation, airway closure and aerosol generation … If confirmed, this observation, together with recent literature suggesting reduced protection with annual vaccination, would have implications for influenza vaccination recommendations and policies."
Another noted problem is that the person who is given a live attenuated viral vaccine can asymptomatically shed and transmit vaccine-strain virus for a period of days, weeks or months and potentially infect close contacts, who can also experience symptoms of the very disease the vaccine was intended to prevent."
THIS is why we see the same cycle each new school year:
Vaccinate-outbreak, vaccinate-outbreak, over and over again.
The MMR vaccine package insert found on the FDA.gov website states:

"Excretion of small amounts of the live attenuated rubella virus from the nose or throat has occurred in the majority of susceptible individuals 7 to 28 days after vaccination."
WELL, FDA, YOU FORGOT FROM URINE AND FECES, FROM ANY/ALL BODY FLUIDS.
Most hospitals post warnings about
visiting immune-compromised patients shortly after being vaccinated with live vaccines.
ST. JUDE'S CHILDREN'S HOSPITAL
HAS SUCH A CLEAR WARNING POSTED, BUT BE SURE TO READ FROM WHERE THE RED ARROW POINTS ALL THE WAY DOWN TO THE END OF THE WARNING.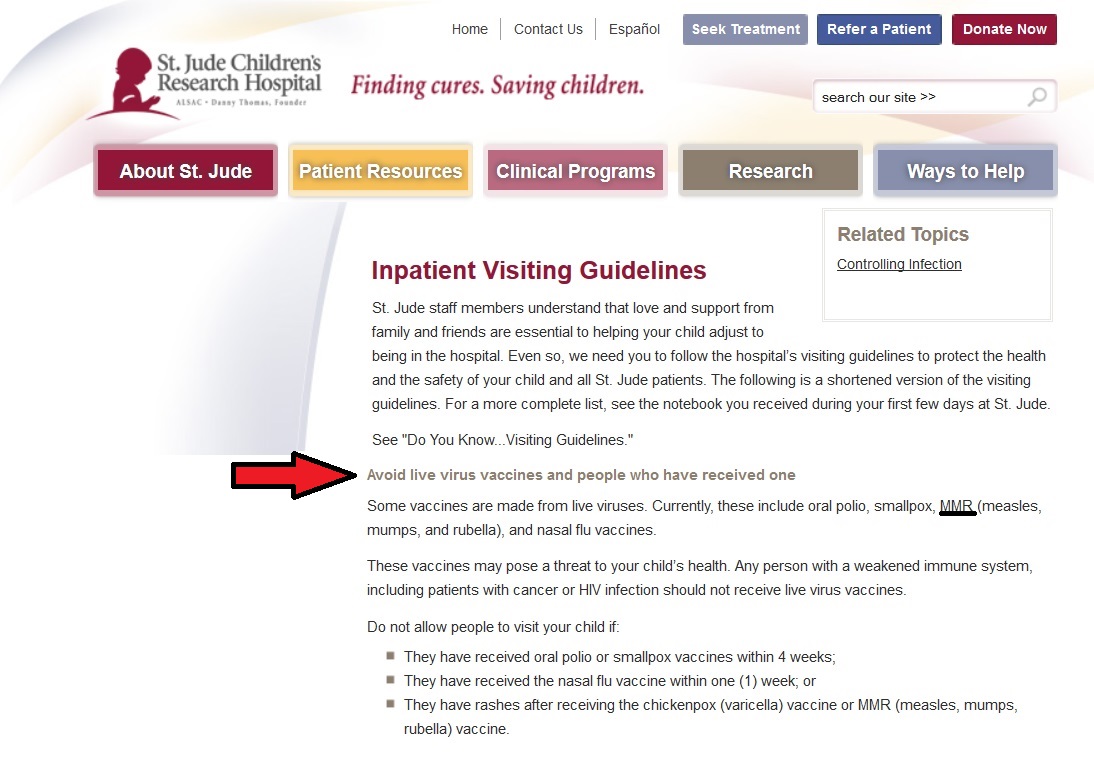 SHEDDING IS A REAL PROBLEM, NOT A FAIRY TALE. IT HAPPENS EVERY DAY ON PLANET EARTH.
IF YOU CHOOSE TO VACCINATE, FACE IT, YOU WILL SHED, SO TAKE PRECAUTIONS AND GO ON, BUT STAY FAR AWAY FROM IMMUNE-COMPROMISED PEOPLE AND CHILDREN AND PREGNANT WOMEN ESPECIALLY.
IF YOU'RE GOING TO DO VACCINES, DON'T FORCE OTHERS TO BECOME INFECTED BECAUSE OF YOUR DECISION. KEEP YOUR VIRUSES TO YOURSELF.
MORE AND MORE PHYSICIANS ARE SPEAKING OUT AND ALSO PROVING THAT VACCINES SIMPLY DO NOT WORK LIKE WE WERE TOLD THEY DO
.
In 2011, a study was published in the Journal Vaccines titled "The Re-Emergence of Measles in Developed Countries: Time to Develop the Next-Generation Measles Vaccines?"

Gregory A. Poland, MD, and Robert M. Jacobson, MD, both of the Mayo Clinic, authored the study and revealed that a high percentage of individuals in measles outbreaks were already vaccinated.
A 2017 study published in the Journal of Clinical Microbiology reported that during the 2015 Disneyland Measles outbreak, it was determined that 73 of the 194 measles cases were from the vaccine:

"During the measles outbreak in California in 2015, a large number of suspected cases occurred in recent vaccinees. Of the 194 measles virus sequences obtained in the United States in 2015, 73 were identified as vaccine sequences." (R. J. McNall, unpublished data). (Source.)

Rebecca J. McNall, a co-author of this study, is a CDC official in the Division of Viral Diseases.
So you see, the CDC has the data proving that some measles outbreaks are, at least in part, caused by the vaccine.
WHO BENEFITS MOST FROM MASS MEDIA SCARES ABOUT DREADFUL OUTBREAKS?
THE MANUFACTURERS OF VACCINES, NOT THOSE WHO GET VACCINES.
MEDIA SCARES ARE GOOD MARKETING TECHNIQUES.
ADVERTISING PAYS, RIGHT?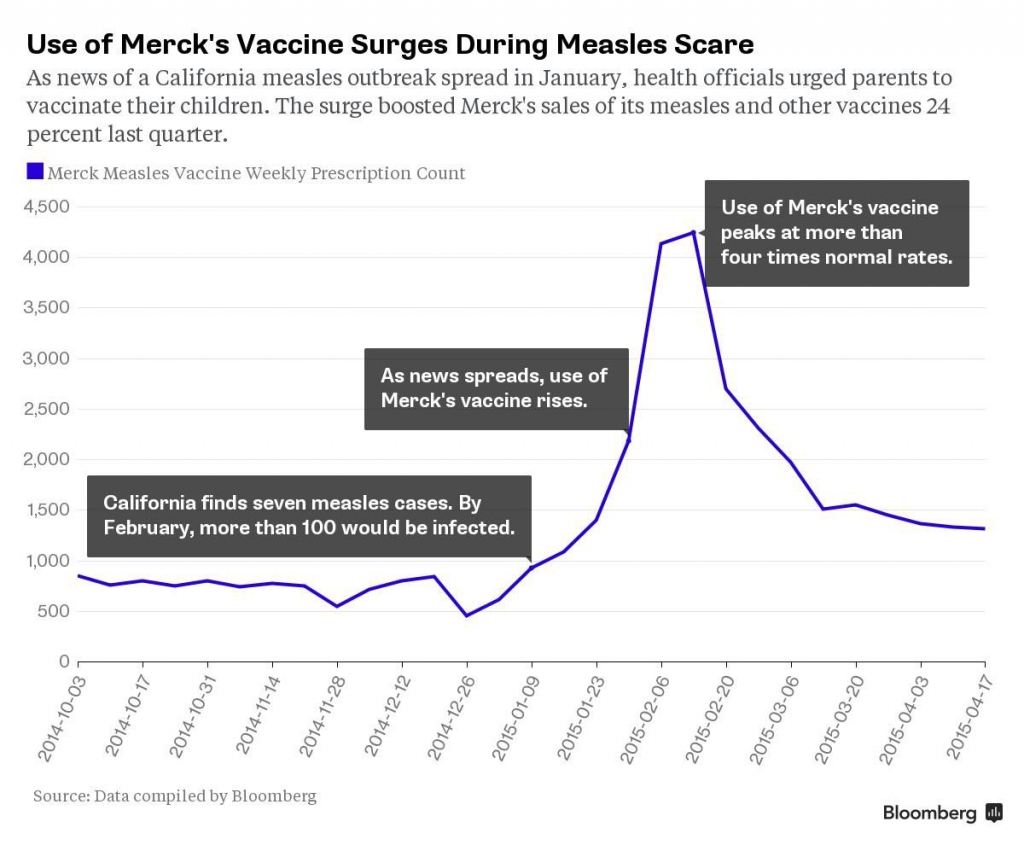 The 1986

National Childhood Vaccine Injury Act

gave pharmaceutical companies total legal immunity from lawsuits originating from injuries and deaths due to vaccines.
Today, if you are injured or killed by a vaccine, you have to sue the U.S. Government and go up against their high-powered attorneys to try and prove vaccine liability, while the pharmaceutical companies continue churning out vaccines at a record rate with no accountability.

HOW MANY HAVE BEEN ABLE TO PROVE TO THAT "VACCINE COURT" THAT THEIR LOVED ONE DIED FROM THE VACCINE ITSELF?
THIS SHOWS US THE ODDS, BUT ALSO SHOWS US THE HYPE, THE PROPAGANDA IN MAINSTREAM MEDIA IS JUST THAT, HOGWASH.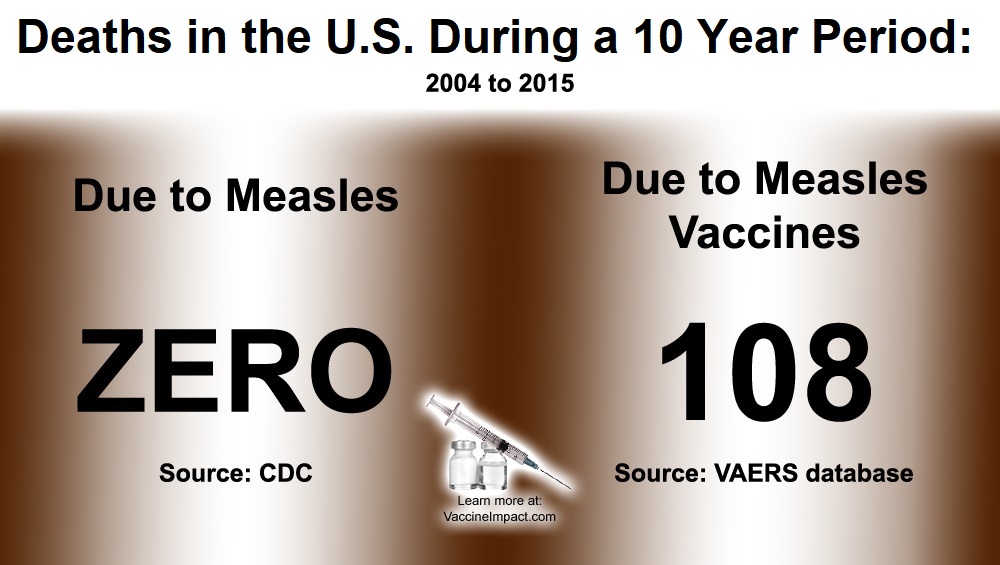 YES, ZERO DEATHS FROM HAVING MEASLES, ACCORDING TO THE CDC!
BUT 108 UNFORTUNATE VICTIMS OF THE MEASLES VACCINE WHOSE SURVIVORS WERE ABLE TO PROVE THEY DIED BY VACCINE.

WHO BUYS THE MOST VACCINES EVERY YEAR?
THE CDC!
AND THEY USE TAXPAYER DOLLARS TO DO SO.
"The Centers for Disease Control and Prevention (CDC), which is tasked with vaccine safety, is the largest purchaser of vaccines in the world, spending over $5 billion of American taxpayers' funds to purchase vaccines."
CDC DIRECTOR TIED TO BIG PHARMA
Julie Gerberding was in charge of the CDC from 2002 to 2009, which includes the years the FDA approved the Merck Gardasil vaccine.
Soon after she took over the CDC, she
reportedly
completely overhauled the agency's organizational structure, and many of the CDC's senior scientists and leaders either left or announced plans to leave. Some have claimed that almost all of the replacements Julie Gerberding appointed had
ties to the vaccine industry
.
Gerberding resigned from the CDC on January 20, 2009, and took over as the president of Merck's Vaccine division, a 5 billion dollar a year operation, and the supplier of the largest number of vaccines the CDC recommends (
article here
).
CONNECT THE DOTS.
THINK.
WHILE YOU'RE THINKING, CONSIDER THIS:
WHO AMONG US 'AVERAGE CITIZENS' REALLY KNOWS WHAT'S IN THOSE VACCINES THAT SO MANY RUN TO LINE UP FOR?
WHY ARE SO MANY OF THEM FREE OR COVERED COMPLETELY BY INSURANCE COMPANIES WHEN THE CDC ALONE SPENDS BILLIONS OF DOLLARS OF OUR MONEY TO ACQUIRE THEM AND DRUG COMPANIES WHINE TO CONGRESS ABUT THE HIGH COST OF RESEARCH AND DEVELOPMENT OF THE VERY VACCINES THEY ALSO PUSH "FOR FREE" SOMETIMES?
WHY FREE? SO THAT MORE OF US WILL GO GET THEM WITHOUT EVER KNOWING FOR CERTAIN WHAT WE'RE REALLY GETTING.
IF YOU HAVEN'T READ A PREVIOUS BLOG ABOUT OUR GOVERNMENT USING US AS GUINEA PIGS, PLEASE CONSIDER DOING SO. IT'S WELL DOCUMENTED THAT WE HAVE BEEN PART OF HUGE EXPERIMENTS FOR MANY DECADES NOW.
AND PLEASE REMEMBER THAT ONE OF THE ALLEGED BIGGEST PROBLEMS WE FACE ON THIS SMALL PLANET IS OVERPOPULATION. EVERY DAY WE'RE REMINDED THAT FEEDING THE MASSES AND PROVIDING POTABLE WATER FOR BILLIONS OF PEOPLE IS NOT GOING TO BE POSSIBLE MUCH LONGER.
IS IT POSSIBLE, THEN, IS IT NOT FEASIBLE THAT USING VACCINES, USING ADDITIVES TO OUR DRINKING WATER, USING POISONS ON OUR FOOD CROPS, USING GENETICALLY MODIFIED MOSQUITOES AND OTHER INSECTS, AEROSOLS, RADIATION, THINGS THAT FEW WILL BE ABLE TO TEST FOR THEMSELVES, ARE DESIGNED TO REMOVE LARGE NUMBERS FROM THE POPULATION?

WHAT IF, PEOPLE OF EARTH...WHAT IF YOU OR I DECIDED TO OFF A BILLION PEOPLE QUICKLY?
HOW WOULD WE DO THAT QUIETLY, SUBTLY, SO THAT WE COULD BLAME IT ON SOMETHING THAT COULD BE CONSIDERED A "NATURAL KILLER", LIKE DISEASE.
HAVE I GONE BERSERK? AM I INSANE, OR AT LEAST HOPELESSLY PARANOID?

TIME WILL TELL...OR MAYBE WHISTLEBLOWERS WILL...LIKE THOSE FEW IN THE TOBACCO, ASBESTOS, CHEMICAL, NUCLEAR, AUTO AND PHARMACEUTICAL INDUSTRIES WHO STEPPED FORWARD AND REVEALED FACTS THAT SAVED MANY LIVES, AFTER MANY HAD DIED.

___________________________
POSTSCRIPT AND FURTHER READING:

--LET'S BRIEFLY CONSIDER THE 10 DEADLIEST POISONS THAT A 'TERRORIST' MIGHT USE TO KILL LARGE NUMBERS OF A POPULATION QUICKLY.

The deadliest poisons in the world
include chemical weapons; natural compounds; chemical defenses used by plants, animals, fungi, and bacteria; and even chemical elements.
Most of the truly deadly poisons are neurotoxins. Death usually occurs from suffocation when muscles become paralyzed and a person can't breathe.
[FENTANYL REALLY SHOULD HAVE BEEN PLACED ON THIS LIST. CAN'T IMAGINE WHY IT WASN'T.]
1-RICIN

Ricin is a deadly poison
that comes from castor beans. A dose the size of a single grain of sand is enough to kill.


2-BOTULINUM
The bacterium
Clostridium botulinum
produces a deadly neurotoxin called botulinum. If the bacteria are ingested, botulism poisoning may result.


3-TETRADOTOXIN
Tetradotoxin or TTX is a powerful neurotoxin that shuts down nerve conduction between the brain and the body by blocking sodium channels. A minute dose can cause loss of sensation and paralysis, but just a tiny bit more paralyzes muscles you need working in order to live. It takes around 6 hours to reach full effect, but once the diaphragm stops, the lungs can no longer inhale or exhale and you're a goner. Or, you could die sooner from an irregular heartbeat.
TTX is lethal whether it's inhaled, ingested, or absorbed directly into the bloodstream through a cut.


4-BATRACHOTOXIN
Batrachotoxin is one we're least likely to encounter (unless you live in a tropical rain forest). The poison is found on the skin of poison dart frogs. The frogs themselves are not the source of the toxin. It comes from the food they eat.
he amount of the chemical depends on the species of frog.
The golden poison frog from Columbia may carry enough toxin that touching it would expose you to enough batrachotoxin to kill around two dozen people.
The poison is a neurotoxin that interferes with sodium channel functioning. The result is paralysis and a quick death. There is no antidote.
5-AMATOXIN Amatoxin is the deadly poison found in Amanita mushroom, such as the fly agaric. Eating one mushroom may be enough to end your life.
6- CYANIDE
Cyanide is a deadly poison that binds to iron in blood, preventing it from carrying oxygen to cells. A lethal dose kills in minutes. However, this toxin is so common in nature that the body detoxifies small amounts. It's found in seeds of apples, cherries, almonds, elderberries and apricots. Hydrogen cyanide is a chemical weapon. It's said to smell like almonds.
7-NERVE GAS
Any one of the nerve agents could be on the list of deadliest chemicals.
Sarin
, VX, and related compounds are far more deadly than most of the other compounds. Sarin, for example, is about 500 times more toxic than hydrogen cyanide.
Nerve gas does not need to be inhaled to be effective. It can be absorbed through skin. While it's possible to survive an extremely low dose, the victim usually suffers some level of permanent neurological damage. VX may be even more powerful, although the nerve agent was never used in battle, so there is less data on it. VX inhibits an enzyme in the nervous system so that it constantly fires signals. Loss of control of bodily functions, suffocation, and convulsions lead to death.
8-BRODIFACOUM
Brodifacoum is a potent anticoagulant that reduces the level of
vitamin K
in the blood, leading to internal bleeding and death. It's sold as a rodenticide under brand names including Talon, Jaguar, and Havoc. While it kills rats because they eat the tainted bait, it doesn't do people or pets any favors either, since even touching it can cause exposure. It permeates the skin and remains in the body for months.

9-STRYCHNINE
Strychnine is a naturally-occurring poison, mainly obtained from seeds of the Strychnos nux-vomica tree. It's a neurotoxin that acts on spinal nerves, causing victims to contort and convulse. It's commercially available as a pesticide for killing gophers and rats. Like Brodifacoum, it's dangerous to use because it presents a FATAL risk to children, pets, and other unintended victims.

10-POLONIUM
Polonium
and other heavy,
radioactive elements
pack a double-whammy. The element itself is toxic, plus the radioactivity breaks down the body's tissues.
The
lethal dose of this element
is much smaller than that of any other poison on this list. Ingesting just 7 trillionths of a gram is enough to kill an adult.



--THE FOLLOWING VIDEO, LIKE SO MANY OTHERS, IS GONE, DELETED AND NO WEB ARCHIVE OF IT.
WHY?
IT WAS A REPORT BY UPI, A TRUSTED NAME IN JOURNALISM.
SHOULDN'T THE PUBLIC KNOW SUCH THINGS OR IS THAT SEEN AS TOO DANGEROUS BY BIG PHARMA AND THE CDC?

YouTube: Foreign Origins of the H1N1 Swine Flu Virus (UPI Report)
A report from UPI on the "foreign origins" of the H1N1 virus and attempts to create a vaccine (Sept 14th 2009).



--
"While having gone unnoticed by a large portion of the population, there are numerous new emerging diseases and new virulent strains of older bugs that are beginning to manifest themselves with greater frequency at ever widening locations in North America and around the world.Names like
Flesh Eating Bacteria
(Necrotizing fasciitis),
MDR Staph A
(Multiple Drug Resistant Staphylococcus aureus or MRSA bacteria), Hanta Virus, Ebola, Mad Cow Disease,
Pfiesteria
("Red Tide"), Viral Meningitis, Dengue Fever, Hepatitis ,
Monkey Pox
(similar to Smallpox), Australian Flu, Bird Flu, E-coli H0197 , Tuberculosis, Listeria and other "mystery outbreaks" are regularly reported in the media today. A recent outbreak of a pig virus has occurred in Malaysia. It was originally called Japanese Encephalitis, but now that identification has been dropped in favor of a NEW species of viral encephalitis called
Nipah
, a virus that crossed species from pigs to humans.

In addition, the growing threat of biological attack from "terrorists" groups is becoming increasingly evident.

Since December 1997, there have been numerous warnings from the Department of Defense (DOD) and the White House about possible bio-terror attacks on Americans with biological agents like Anthrax or Bubonic Plague.
In 1999, we were treated to a brand 'new' mosquito-borne virus supposedly originating in the New York City area called the West Nile Virus (WNV).
The WNV has now spread to neighboring states in the Northeast and possibly across the nation, carried, we are suppose to believe, by 'birds' (how convenient).

Is the purpose behind this crescendo of media warnings to get the public ready for something BIG, some lab-created pandemic like the SPANISH FLU?
You can be sure that the government knows MUCH that we don't know.

In politics, nothing happens in a vacuum. ALL events are planned. Nothing is ever really a surprise to the elite in government (including the "surprise" attack on Pearl Harbor). The government is flooding the media with these warnings now because when the excrement hits the fan, they don't want you to be able to say that you weren't warned.
Dr. Eckard Wimmer, head of a biomedical research team at the State University of New York at Stony Brook:
"If you were to ask me, 'Would you be able to do this with other viruses?' the answer would be with small viruses, yes you could. However, if you were to ask me, 'Could you do this with the smallpox virus?' the answer is no. The smallpox virus is much too large to re-create it in a test tube. However, technologies [will] progress in the coming decades and biotech progresses very fast. One can anticipate their putting together the precursors for a large virus. Like Ebola is going to be a possibility," he said.

Even when viruses are extinct, people will still have to be inoculated. "We better be prepared," Wimmer said, "We would want to stockpile, for example, vaccines. And we would want to control maybe the production of these precursors."

With terrorism at the forefront of most people's minds these days, TechTV asked Wimmer why he chose to make his study public.

Going public

"I have always said that secrecy breeds suspicion and if we had done this work and word had leaked out [that] some guy somewhere had produced a virus in a test tube, people would say, 'Good Lord! Can you imagine?' The press would be all over the place," he said.

But members of the scientific community say the ability isn't new.

"This was an example that has been anticipated about a little over a year," said Dr. C.J. Peters, director for the Center for Biodefense at the University of Texas Medical Branch at Galveston. "There was a meeting at the National Academy of Sciences talking about these very same issues. The conclusion was yes, the polio virus can be synthesized. Other viruses can be constructed from their particular genes and eventually we will be able to synthesize those genes and put them all together." Peters added that he didn't think there was a great scientific achievement from that research.

Furthermore, Peters disagreed with the way in which the research was presented to the public.

"I think science is something that belongs in its own sphere. I think making public warnings and social statements is pushing things, particularly if it is done through the scientific medium," he said. Peters is on a National Academy of Science committee that's looking into bridging the gap between the public and the scientific community. He says the public, the government, and ethicists need to be on the same page and discuss how to handle this information in a way that provides more security to the global community without compromising the scientific data.

Wimmer was surprised that the study galvanized this much attention, but he understood how unsettling it is to learn how easy one can re-create a deadly virus.

"I think the research has to be done because we have to do these things rather than one day be surprised when some person uses that to attack us," he said. "But it is better to do it now when there is not a problem."

See also: http://news.bbc.co.uk/1/hi/sci/tech/2122619.stm

--The Poisoned Needle by Eleanor McBean (1957)
Complete book on-line
(Suppressed Facts About Vaccinations)
http://www.whale.to/a/mcbean3.html
--
Mounting Evidence of Microchipping via Swine Flu Vaccine (Nov. 11, 2009)
Nano Particles Used In Untested H1N1 Swine Flu Vaccines
By F. William Engdahl
Global Research
Need for special needles delays vaccination campaign in Norway
In Norway, the swine flu vaccination campaign was delayed because the hospitals had to wait for special needles and syringes. It has been suggested that special government supplied needles are to be used because these will contain a nano chip. A bar code on the syringe package would allow traceability, for example.
--
Live Avian flu with 60% death-rate "accidentally" put in US company's test vaccine material (Nov. 7, 2009)



--
The Vaccine Magic Conspiracy: The Grand Finale
by DR. LEONARD G. HOROWITZ
ORIGINALLY PUBLISHED, BUT GONE NOW, AT
http://www.drlenhorowitz.com/news/vaccine_magic.html
--
Interview with Dr. Andrew Moulden: What You Were Never Told About Vaccines (Oct. 8, 2009)


--"False Flag Flu" ... The original website is no more but pieces of it were saved by 'The Wayback Machine' archive.
http://www.falseflagflu.com/

Read what's left of it at ...
https://web.archive.org/web/20100105014114/http://www.falseflagflu.com/

///WW