SHUTDOWN COSTING TAXPAYERS $300 MILLION A DAY, $12.5 MILLION EVERY HOUR!
THANKS, CONGRESS, YOU BUMS!

NOW DO YOU 'GET IT', AMERICA?
SHUTTING DOWN THE GOVERNMENT JUST HELPED THOSE WITH FINGERS IN THE 'PIES' OF WALL STREET!
AND BTW,THE WEBSITE FOR SIGNING UP FOR 'OBAMACARE' WAS FLOODED AND CRASHED.
IT'S BACK UP, WHILE AMERICA IS DOWN THE TOILET!
OBAMACARE ROLLS RIGHT ON, THOUSANDS HAVE ALREADY SIGNED UP FOR THAT IN JUST THE FIRST DAY, BUT 'WE, THE PEOPLE' HAVE BEEN SCREWED YET AGAIN BY STOCK-OWNING CONGRESSMEN!
OBAMACARE WILL FUNCTION WHEN WE'RE ALL PARALYZED BY THE GOVERNMENT SHUT-DOWN!
REPUBLICANS LIED, WE'RE FRIED, OUR TROOPS DON'T GET PAID, 825,000 FEDERAL EMPLOYEES GET NO PAY, BABIES WILL HAVE TO DO WITHOUT FORMULA BECAUSE THIS SHUT DOWN THE 'WIC' PROGRAM, BUT, BYALLTHEGODS,CONGRESSMEN MADE SOME REAL GAINS ON WALL STREET TODAY, THEIR PAYCHECKS GO OUT ON SCHEDULE, AND THEY DON'T GO ON 'FURLOUGH'!

The Cost of the Shutdown, via NBC News:
Here's the price tag for the first government shutdown in 17 years: about $1.6 billion a week, $300 million a day, or $12.5 million an hour.
That estimate, from economic consulting firm IHS Global Insight, covers just the cost in work and services the government is unable to perform as it furloughs 800,000 federal workers.


In other words, TAXPAYERS, THAT'S US, ARE PAYING MILLIONS PER HOUR FOR THIS SHUTDOWN!
THAT'S RIGHT, VOTERS, YOU BEARERS OF THE MAJORITY OF THE MASSIVE TAX BURDEN, YOU ARE SHELLING OUT MILLIONS EVERY HOUR FOR THIS FIASCO!

Stocks climb while bonds, gold tumble after U.S. shutdown.
<<The Dow Jones industrial average .DJI gained 62.23 points, or 0.41 percent, to 15,191.90. The Standard & Poor's 500 Index .SPX rose 11.45 points, or 0.68 percent, to 1,693.00. The Nasdaq Composite Index .IXIC added 32.09 points, or 0.85 percent, to 3,803.57.
A review by Bank of America-Merrill Lynch (

BAC.N

) of 17 government shutdowns since 1976 showed that in the month prior to a government shutdown, the stock market gained 0.1 percent. During a shutdown it dipped 0.8 percent, and then bounced, gaining about 1.1 percent in the month following a shutdown.
BofA-Merrill strategists see any significant decline as a buying opportunity, though they cautioned that a protracted fight over the debt limit could add more short-term risk.
The benchmark 10-year U.S. Treasury note fell 5/32 in price, yielding 2.634 percent as traders reduced their safe-haven bond holdings after recent rallies.
Gold slid below $1,300 per ounce to its lowest level since early August, unwinding much of the gain built up before the shutdown. Spot gold fell to $1,283 an ounce from $1,326.94.



INTERNATIONAL MARKETS WARN INVESTORS TO AVOID U.S. DOLLARS...DOLLARS FELL TO LOWEST IN ALMOST A YEAR HEADED TOWARD AN 8-YEAR LOW!


Fitch Ratings reiterated on Tuesday that a partial shutdown of the U.S. government is not itself a trigger for downgrading its AAA sovereign credit rating, but it does undermine confidence in the budget process and raises concerns over whether the debt ceiling will be raised to meet U.S. financial obligations.
If the debt ceiling is not raised in time, Fitch said a formal review of the AAA rating "with potentially negative implications" would be triggered, even though it believes U.S. Treasury securities will be honored in full and on time.
The dollar slipped on concern the shutdown would further delay the U.S. Federal Reserve's plans to start scaling back its monetary stimulus. The dollar fell to a near eight-month low against a basket of six currencies and hit a 1-1/2-year low against the safe-haven Swiss franc.>>



<<WIC payments.

Republicans are all about how babies are so great that women shouldn't be able to say no to having one—so much so that another attempt to make it harder to avoid unwanted pregnancy was in the spending bill that forced the shutdown.

However, they clearly don't love babies enough to make sure the alive ones are fed. The Special Supplemental Nutrition Program for Women, Infants and Children (WIC) is on the "non-essential" list of government services to be shut down starting this week. Since 53 percent of infants in the U.S. rely on WIC to meet their full nutritional needs, this is a massive shortfall that could leave a lot of babies hungry and mothers scrambling for food.>>
NOTE: YOU CAN'T GO TO THAT GOVERNMENT WEBSITE IN THE ABOVE LINK, IT'S CLOSED UNTIL FURTHER NOTICE!!!
BUT YOU CAN PERHAPS HEAR YOUR NEIGHBORS' INFANTS CRYING FOR MILK IF YOU JUST GO OUTSIDE AND LISTEN IN A COUPLE WEEKS!
WITH OVER 2 MILLION INFANTS DEPENDING ON WIC, I HOPE CONGRESS CAN HEAR THEM ALL, ALL 2 MILLION PLUS, 2 WEEKS FROM NOW WHEN WIC RUNS OUT COMPLETELY!

OVER 9 MILLION CHILDREN AND MOMS AFFECTED BY THIS.
FROM FORBES MAGAZINE, http://www.forbes.com/sites/clareoconnor/2013/10/02/government-shutdown-9-million-moms-and-babies-at-risk-as-wic-program-halts/

SURE, CONGRESS, IT'S THE BABIES' FAULT!
LET'S FUND ANYTHING BUT INFANTS!

SINGLE MOTHERS ,THE DISABLED, AND SENIOR CITIZENS ALL TAKE ANOTHER HIT...
<<Heat assistance. People who struggle to afford food or rent also struggle to afford heat in the winter. These people tend to be disproportionately female. Temperatures are dropping, and if the shutdown drags into the colder months, poor people who depend on the Low Income Home Energy Program to heat their homes may have to make some hard decisions about whether to heat their homes or feed their kids. >>
AGAIN THAT WEBSITE IS SHUT DOWN NOW!
TRY THIS SITE... http://www.slate.com/topics/g/government_shutdown.html
DAMN THOSE POOR PEOPLE!
DAMN THOSE KIDS AND ELDERLY AND DISABLED!
BUT CONGRESS KEPT THE FEDERAL RESERVE EMPLOYEES WORKING!
THEY CAN SURE AFFORD HEAT AND FOOD!

97% OF NASA...GONE...FURLOUGHED!
LIGHTS OUT FOR THE CAMERAS/MONITORING OF NEAR-EARTH OBJECTS, FOR KEEPING ALL THOSE SATELLITES IN ORBIT, YOU'RE ON YOUR OWN, INTERNATIONAL SPACE STATION! MAYBE SOME PASSING "E.T" CAN DROP YOU SOME SUPPLIES! MEANWHILE NO PAYCHECKS FOR YOU GUYS! WE HAVE TO PAY "HOMELAND SECURITY"!

94% OF THE EPA, SENT HOME. (REPUBLICANS WHO DON'T WANT AN EPA, NOR CARE IF WE EVEN HAVE AN ENVIRONMENT LEFT, MUST BE DANCING FOR JOY ON THAT ONE!
DRILL, DRILL, POLLUTE, POLLUTE! KILL, KILL, KILL!)

94% OF THOSE WHO WORK IN THE DEPT. OF EDUCATION...FURLOUGHED!
(WHO NEEDS AN EDUCATION WHEN STUPID IS BETTER, RIGHT?
STUPID SWALLOWS THE LIES BETTER!
"IN STUPID , CONGRESS TRUSTS!")

96% OF HOUSING AND URBAN DEVELOPMENT, GONE HOME...WAIT...WHAT HOME?
AMERICANS DON'T NEED NO STEEEEENKEEENG HOME!
LET 'EM SLEEP IN THE WOODS WHILE CONGRESSMEN CAN GO TO THEIR 2ND OR 3RD HOMES OUT OF COUNTRY IF THINGS GET TOO HOT HERE, RIIIIGHT?
TAP THOSE CAYMAN ISLAND ACCOUNTS, BOYS! IT'S A FREE-FOR-ALL!
YOU KNOW WHO DID NOT GET FURLOUGHED?
CONGRESS!
THE FEDERAL RESERVE EMPLOYEES!
THOSE IN

THE STATE DEPARTMENT!


THE PENTAGON!
86% OF 'HOMELAND SECURITY' EMPLOYEES WILL STILL BE WATCHING YOU AND GROPING YOU AT AIRPORTS...IF YOU CAN STILL FLY.
THOSE WHO NEED NEW PASSPORTS/VISAS...FORGET ABOUT IT!
GOVERNMENT SHUT-DOWN, YOU SEE!

BUT IF YOU WANT TO SIGN UP FOR OBAMACARE, THAT YOU CAN DO!
THE HEALTH CARE ACT MARCHES ON!
YOU WERE LIED TO, AMERICA! BELOW A GROUP OF ABOUT 90 AMERICAN VETERANS "STORMED" THE WAR MRMORIAL IN WASHINGTON TODAY DETERMINED TO LAY THEIR WREATHS AND PAY THEIR RESPECTS TO THE FALLEN.
I WISH ALL OF AMERICA WAS THIS BRAVE, WOULD BUCK THE SYSTEM!
THANK YOU FOR SERVING ,VETERANS!
I'M SORRY YOU WILL BE LOSING ACCESS TO YOUR BENEFITS SOON.
YOU DESERVE BETTER!

http://www.slate.com/blogs/the_slatest/2013/10/01/wwii_memorial_busload_of_wwii_vets_storm_the_shuttered_monument.html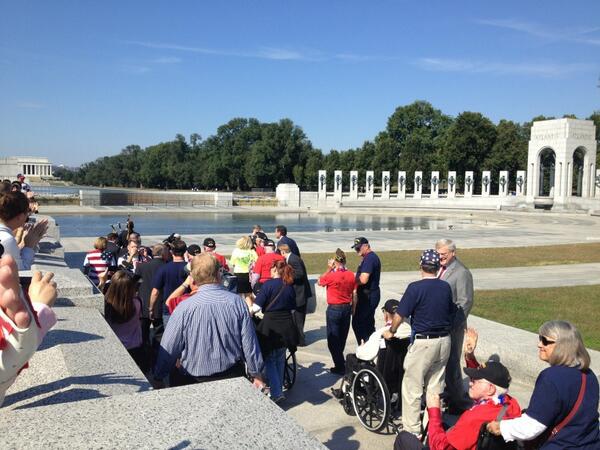 REMEMBER THIS NEXT ELECTION!
VOTE THE PROFITEERS OUT!

AMERICANS NEED TO "SHUT-DOWN THE GOVERNMENT" BY FIRING EVERY MEMBER OF THE HOUSE AND SENATE WHO DRAGGED US ALONG AS THEY ALL PLAYED DRAMA QUEENS AND SAID THIS WAS IN THE NAME OF "STOPPING 'OBAMACARE'".
THE HELL IT WAS!
OBAMACARE ROLLS RIGHT ON!

WE HAVE LOCATED THE REAL TERRORISTS!
THEY'RE ALL ON CAPITOL HILL!!!