FEMA CAN, IN NO WAY, DENY ITS PURCHASES BECAUSE THEY ARE REPORTED ON SEVERAL GOVERNMENT SITES THAT REPORT FEDERAL PURCHASES.
AND FEMA HAS NOT, AT ALL, DENIED THAT THEY DID INDEED MAKE THE PURCHASES THAT FORMER SENATOR
SHELDON R. SONGSTAD HAS PUBLICLY STATED THEY MADE.
THERE IS A LIST, BENEATH THE VIDEOS OF WHAT THE SENATOR FOUND THAT MADE HIM COME FORWARD WITH HIS FINDINGS.
PLEASE PLEASE DO READ THEM CAREFULLY!

THE FEMA WEBSITE WAS SO PANICKED BY THE SENATOR'S FULL DISCLOSURE THAT, IN SPITE OF THE GOVERNMENT SHUTDOWN, THEY MANAGED TO UPDATE

THEIR SITE JUST 2 DAYS AGO WITH THE FOLLOWING:



<<Rumor Control
FEMA is purchasing ammunition, vaccines, etc. in anticipation of a disaster in Region III on or about October 1st, 2013. This is FALSE.
FEMA is aware of the speculation surrounding procurement of materials throughout the United States, particularly in the mid-Atlantic region. There is no specific threat, catalyst, or alert that causes FEMA to purchase additional supplies. Throughout the year, FEMA routinely purchases materials and prepositions them throughout the country in anticipation of disasters. No unusual or inordinate purchases are being made.
Last Updated: 09/30/2013 - 15:20>>

LOOK! THIS GOVERNMENT LINK STILL WORKS, FOR NOW!
http://www.fema.gov/region-iii-dc-de-md-pa-va-wv
<<NOTICE: Due to the lapse in federal funding, portions of this website may not be updated and some non-disaster assistance transactions submitted via the website may not be processed or responded to until after appropriations are enacted.>>
PLEASE MAKE A NOTE: Region three includes, DC, DE, MD, PA, VA, WV.
HAS FEMA INDEED ORDERED OVER A BILLION ROUNDS OF AMMUNITION OF A TYPE NOT USED BY OUR TROOPS?
YES!
HAS FEMA ORDERED MILLIONS OF MREs (MEALS READY TO EAT) TO BE DELIVERED TO FEMA REGION 3 BY OCT. 1?
YES!
AND ALL THAT THE GOOD EX-SENATOR SAID IS PROVEN TRUE. HE HAS NO REASON TO "BS" ANYONE OR SOUND FALSE ALARMS!

03/11/2013
EVEN FORBES MAGAZINE QUESTIONED ALL THOSE AMMO PURCHASES!
http://www.forbes.com/sites/ralphbenko/2013/03/11/1-6-billion-rounds-of-ammo-for-homeland-security-its-time-for-a-national-conversation/
<<The Denver Post, on February 15th, ran an Associated Press article entitled Homeland Security aims to buy 1.6b rounds of ammo, so far to little notice. It confirmed that the Department of Homeland Security has issued an open purchase order for 1.6 billion rounds of ammunition. As reported elsewhere, some of this purchase order is for hollow-point rounds, forbidden by international law for use in war, along with a frightening amount specialized for snipers. Also reported elsewhere, at the height of the Iraq War the Army was expending less than 6 million rounds a month. Therefore 1.6 billion rounds would be enough to sustain a hot war for 20+ years.
In America.>>



YES, THE FORBES REPORTER DARED SUGGEST WAR INSIDE AMERICA'S BORDERS!

CONTINUED:<<According to the AP story a DHS spokesperson justifies this acquisition to "help the government get a low price for a big purchase." Peggy Dixon, spokeswoman for the Federal Law Enforcement Training Center: "The training center and others like it run by the Homeland Security Department use as many as 15 million rounds every year, mostly on shooting ranges and in training exercises."
At 15 million rounds (which, in itself, is pretty extraordinary and sounds more like fun target-shooting-at-taxpayer-expense than a sensible training exercise) … that's a stockpile that would last DHS over a century. To claim that it's to "get a low price" for a ridiculously wasteful amount is an argument that could only fool a career civil servant.>>

COULD THIS JUST BE FEMA GOING BACK TO BAD PURCHASING PRACTICES?
FROM A 2006 CONGRESSIONAL HEARING INTO BAD SPENDING PRACTICES AND THOUSANDS OF "LOST" ITEMS PURCHASED BY FEMA
http://www.gpo.gov/fdsys/pkg/CHRG-109shrg32722/html/CHRG-109shrg32722.htm

<<I do want to note that at 7:52 this morning, DHS informed 
the Committee that it had miraculously found the missing boats 
and some of the missing computers, although they are ``in the 
process of locating the printers.'' To me, this is just a 
further indictment of a lack of systems at the Department to 
account for property, and it shows a chaotic and completely 
unacceptable system when items worth hundreds of thousands of 
dollars are missing one day, found the next, and perhaps to be 
found in the future.
FEMA entered into a $178,000 contract with 
a broker for the purchase of 20 boats at a cost that was 100 
percent above retail price. The broker then used the card 
number to purchase boats and also made additional unauthorized 
purchases totaling $30,000 using the purchase card. That was 
done by the broker, not by the DHS employee. The FBI is 
actually investigating the vendor.
    And then there were instances where DHS employees purchased 
items that, shall I say respectfully, seem unlikely to have had 
a legitimate government purpose, such as iPods. And an employee 
of the Coast Guard Academy apparently used a purchase card to 
pay $227 for a home brew beer kit to make beer for academy 
functions.
    Overall, GAO finds, based on the statistical sample, that 
45 percent of DHS' purchase card transactions were not properly 
authorized. >>

NO, NO THIS IS MORE THAN BAD PURCHASING, THIS IS MASS PURCHASING OF ITEMS THAT THE GOVERNMENT WAS SCRAMBLING TO GET DELIVERED BY A SPECIFIC DATE, OCTOBER 1, 2013.
IT WASN'T "JUST" AMMO AND READY-TO-EAT MEALS, IT WAS SO MUCH MORE THAN THAT! AND IT WASN'T "JUST" FEMA REQUESTING "STAT" ORDERS!

SENATOR SHELDON R. SONGSTAD was interviewed on TRUNEWS , SEPT 30 2013.
Sheldon R Songstad - 75 years of age - currently resides in Buffalo Ridge, SD
[VERY MUCH ALIVE.]
WHY WAS THIS ELDERLY EX-SENATOR INTERVIEWED?
Something he sent to close friends on Tuesday, August 13, 2013 6:43 AM
Subject: National update from Sheldon: Senator Sheldon R. Songstad, Ret. of South Dakota State.
He ended his disclosure with the words, "God help America!"
The retired Senator's national preparedness research was sparked by a comment Donald Trump made during an August, 2013 appearance on Fox News' "On the Record with Greta Van Susteren.
The original interview with the Senator, in its entirety, can be listened to here:
http://youtu.be/4dK7-aVHnyc
He states he's been 'keeping track of things' for 2 years.
As a former Senator, the man had/has information most of us only wish we had.
MANY WITH HIS INSIDE INFORMATION HAVE BECOME DISENCHANTED WITH OUR GOVERNMENT'S SECRECY AND COVERT OPERATIONS, WITH HOW IT SEES US ALL AS "POTENTIAL TERRORISTS", AND MANY HAVE SPOKEN OUT QUITE LOUDLY AGAINST SUCH THINGS, BUT MAINSTREAM MEDIA, OWNED BY WALL STREET, DICTATED TO BY THE REAL GOVERNMENT THAT PULLS THE STRINGS TO MAKE OUR POLITICIANS DANCE THE RIGHT TUNE, HAS USUALLY REFUSED TO AIR OR PRINT THE STORIES OF EX-GOVERNMENT OFFICIALS WHO HAVE TRIED TO SHOW US CITIZENS THE TRUTH AND THE FACTS BEHIND OUR NATION'S IMPENDING COLLAPSE INTO TYRANNY.

WHAT DID THE SENATOR MENTION?
AMONG OTHER THINGS...
<<The preparations listed include;

(1) Nine-week training course for UN Peacekeepers in CONUS to learn Urban Warfare, English, and US weapons systems beginning 4th week of July for 386,000 troops to be completed by October 1st;2013.

(2) $11 million in antibiotics to be delivered to FEMA region III by October 1st ordered by CDC, Atlanta, GA.

(3) FEMA purchase orders for over $14.2 million for MREs and heater meals to be delivered to Region III by October 1st;

(4)FEMA purchase orders for 22 million pouches of emergency water to be delivered to region III by October 1st;

(5)FEMA purchase orders for $13.6 million for MREs and heater meals to be delivered to Austin by October 1st;

(6) 2,800 Mine-Resistant Ambush Protected vehicles, heavily armored, (MRAPs) must be delivered to DHS by October 1st

(7)Over 300 school systems will be issued a 3 day emergency kit for each student in September.

(8)Our U.S. military will not be permitted leave from September 28th thru November 5th. NORCOMM's yearly training for civil unrest is suspended until September 27th. To be performed in northeast coastal areas.

(9)Date for release of QE3 report has been moved to October 16th.

(10)FEMA purchase orders for $13.6 million for MREs and heater meals to be delivered to Austin by October 1st.

(11)World Health Organization held its second emergency meeting in its entire history to discuss MERS Coronavirus. Determined a vaccine MUST be in place by October 1st.

(12) All DHS agents MUST qualify with sidearm, shotgun and AR 15 by September 28th. No mention of yearly less lethal qualification.


(13)Sporadic testing of GPS and Communications satellites is coordinated for the first time with a testing date of September 29th.

(14) POTUS mandates to FEMA and DHS concerning support for metropolitan communities dealing with the extreme climate change MUST be complete by October 1st. These mandates were issued during the last three weeks.

(15)All National Guard units will complete riot control and disaster assistance training during this year's annual two week training. All units MUST have their training complete by September 30th.
(16)Daily testing of the Emergency Broadcast System to begin on September 25th and run thru October 2nd.

(17)Eastern-based Coast Guard units to perform massive group training, usually performed in the Gulf, in the Virginia and Delaware areas. This is a 10-day training mission to begin September 26th.
The copied email alert FROM THE SENATOR, dated August 13, 2013 can be seen in full, one link being http://beforeitsnews.com/opinion-conservative/2013/08/fema-preparing-for-the-worst-in-region-3-why-video-2698874.html
which is a site I do not support nor generally reference, but it was the 1st site I found that does show the email.
That particular website also DID provide some links that I also found legitimate, and a questionable video by a veteran on same. If you want to dive into that, here's that link:
http://beforeitsnews.com/alternative/2013/09/fema-region-3-update-shock-and-awe-video-2774726.html
.
I REFER YOU TO MY PREVIOUS BLOG,
"AMERICA'S GRID TO GO DOWN IN NOVEMBER... A 'KNOCKDOWN BLOW' SCENARIO", OF SEPT. 2, 2013.
http://havacuppahemlock1.blogspot.com/2013/09/emergency-drill-in-november-unlike-any.html

WHILE MOST WHO ARE REPORTING ON THE SENATOR'S DISCLOSURES ARE EXPECTING A NATIONAL DISASTER SOMETIMES IN OCTOBER, I STILL BELIEVE THAT THE AGENCIES ARE PREPARING FOR THE NOVEMBER "GRID-GOES-DOWN" SCENARIO THAT SOMEONE WILL "ACCIDENTALLY" BLOW THAT DRILL AND WE WILL SEE A REAL GRID-DOWN SITUATION.
IT JUST MAKES MORE SENSE THAN A SUDDEN FALSE-FLAG ATTACK ON THE EAST COAST LIKE THE S.C. SENATOR GRAHAM SEEMED TO HAVE SUGGESTED WHEN HE MENTIONED AN ATTACK ON A S.C. HARBOR UNLESS WE WENT TO WAR IN SYRIA/IRAN.

RISKING SOUNDING LIKE SOME "CONSPIRACY THEORIST", I'D ALSO LIKE TO MENTION THE FACT THAT, IN THE PAST SEVERAL MONTHS, AMERICA AND OTHER NATIONS HAVE DOCUMENTED AN AMAZING, EVEN HISTORICAL, AMOUNT OF "BRIGHT FIREBALLS", SEEN AND REPORTED BY MILLIONS. THESE WERE VERY BRIGHT, VERY LARGE OBJECTS.
AND THEN THERE WERE THE "UNEXPECTED" HEAVY METEOR SHOWERS, A FEW OF WHICH WERE ADMITTEDLY A "MYSTERY" TO THE ASTRONOMERS WHO COMMENTED ON THEM. NO ONE COULD FIGURE OUT WHERE SO MANY METEORS/METEORIITES AND FIREBALLS WERE COMING FROM.
WELL, meteor showers often come from "leftover" comet tails and we had 57 easily observed NAMED comets reached perihelion this year !
WE'VE SEEN QUITE A FEW COMETS IN THE PAST TWO YEARS, AND ISON IS INCOMING.
AS A LONG-TIME STUDENT OF ASTRONOMY, I WAS QUITE EARLY INTERESTED IN THE DEBRIS FIELD SURROUNDING ISON.
I KNOW THAT AHEAD OF AND SURROUNDING, AS WELL AS TRAILING SUCH THINGS, THERE CAN BE AN ENORMOUS DEBRIS FIELD OF SMALLER OR EVEN LARGER OBJECTS.
I DO BELIEVE THAT THE AMAZING INCREASE IN REPORTED METEORS, FIREBALLS, UNKNOWN OBJECTS BURNING THROUGH OUR ATMOSPHERE ARE RELATED TO THE PAST MANY RECENT AND STILL INCOMING COMETS.
YOU MAY GO TO THE SITES I LINKED BELOW TO SEE HOW MANY, MANY REPORTS OF METEORS/FIREBALLS THERE HAVE BEEN IN JUST THE PAST FEW MONTHS. IT'S BEEN RECORD-BREAKING!
http://www.amsmeteors.org/fireballs/fireball-report/
http://www.imo.net/observations
http://star.arm.ac.uk/latest.html
I WAS ALSO TROUBLED BY THE VERY SUDDEN "LOSS" (SHUTDOWN?) OF NASA'S NEAR-EARTH OBJECT MONITORING SYSTEM, INCREDIBLY COINCIDING WITH INCOMING COMET ISON. SURELY NASA TECHNOLOGY COULD GIVE US BACK THAT VIEW ON WHAT ELSE MAY BE INCOMING TO EARTH?
[SEE: http://www.latimes.com/science/sciencenow/la-sci-sn-nasa-deep-impact-mission-spacecraft-ends-20130920,0,2964615.story ]
NOW, OF ALL TIMES, IS NOT THE TIME FOR NASA TO "GO DARK" ABOUT NEAR-EARTH OBJECTS THREATENING OUR PLANET!
OR IS IT THE PERFECT TIME FOR THAT???
March 21, 2013
http://www.cbn.com/cbnnews/healthscience/2013/March/NASA-Only-Prayer-Will-Stop-Asteroid-Apocalypse/
<<The House and Senate are holding hearings this week on the threat of asteroids to Earth. Scientists are calling for continued funding and support for NASA satellites and observation programs that look for near-Earth objects.
They warn the Earth could be facing an Armageddon-like scenario this century, adding that there is almost no way to stop asteroids and debris from hurtling toward the planet.
On Tuesday, lawmakers on the House Science Committee asked NASA Administrator Charles Bolden what his agency could do if a large asteroid headed for Earth was discovered with just weeks before impact.
"The answer to you is, if it's coming in three weeks, pray," he replied.>>
REALLY? PRAY?
IF THAT'S THE CASE, WHY BOTHER?
IS THAT WHY NASA HAS GONE SO DARK?
THE SLOOH SPACE CAMERA TEAM RECENTLY DID A VERY POOR JOB OF TRYING TO DISPEL WHAT SEVERAL AMATEUR AND PROFESSIONAL OBSERVERS ARE SHOWING US ABOUT INCOMING COMET ISON.
I WAS EMBARRASSED FOR THEM AFTER THY OFFERED THEIR "EXPLANATION" OF WHAT ASTRONOMERS WORLDWIDE HAVE BEEN REPORTING, ESPECIALLY ONE PHOTOGRAPH IN PARTICULAR THAT THEY SEEMED HELL-BENT TO DISCREDIT.
THE NEGATIVE COMMENTS DIRECTED AT SLOOH GOT SO BAD, WITH MANY ASTRONOMERS CALLING "BULL!", "BS!", ETC, THAT SLOOH DISABLED COMMENTS ON THEIR OWN VIDEO!
AND GOOGLE DOES NOT "RECOGNIZE" THIS AS A VALID LINK, SO YOU WILL HAVE TO CLICK IT AND GO THERE. IT DOES EXIST!
http://www.youtube.com/watch?v=OQs9p4YwOPA&feature=share
IT IS A GRATING VIDEO, BUT GO AHEAD, FOR A LAUGH ON HOW INEPTLY THEY "DISPEL" THE PHOTO.
COWARDS FOR TAKING DOWN THE COMMENTS!
THIS IS THE PHOTO THEY WERE SAYING WAS SO "WRONG":
http://static.squarespace.com/static/4f34530ecb12e336a9dfe29c/t/522c14ace4b0d3c39ccd0bc6/1378620589473/8C8887436-130906-coslog-closeup-625p.blocks_desktop_medium.jpg

THEY DID NOT ADDRESS THE OTHER PHOTOS TAKEN BY THE INTERNATIONAL COMMUNITY, OR OTHER SATELLITES' IMAGES, LIKE THESE:
FROM MELBOURNE, AUSTRALIA
AND THIS FROM THE
TIAMLIAN 1 satellite. Aug 23-29.


THE TIANLIAN 1 IS TRACKED BY NORAD, AND IS VERY REAL.
TIANLIAN 1-03 - NORAD 38730 - 3D Online Satellite Tracking
http://www.satflare.com/track.asp?q=38730#

ALAS,ALSO, FOR SLOOH, AN INCREDIBLE ASTRONOMER NAMED ROLANDO LIGUSTRI HAS CAPTURED IMAGES OF ISON FOR US.
UPDATE: 10-13-13, MOST IMAGES OF THIS SHOT ARE NO LONGER AVAILABLE ON THE INTERNET. IF THIS ONE SHOULD ALSO BE REMOVED, PLEASE LET ME KNOW. I HAVE MANY COPIES OF IT IN MY FILES.
http://www.leguideduciel.net/lgdc/lgdc078/rolando-ligustri-c2012s1_130907.jpg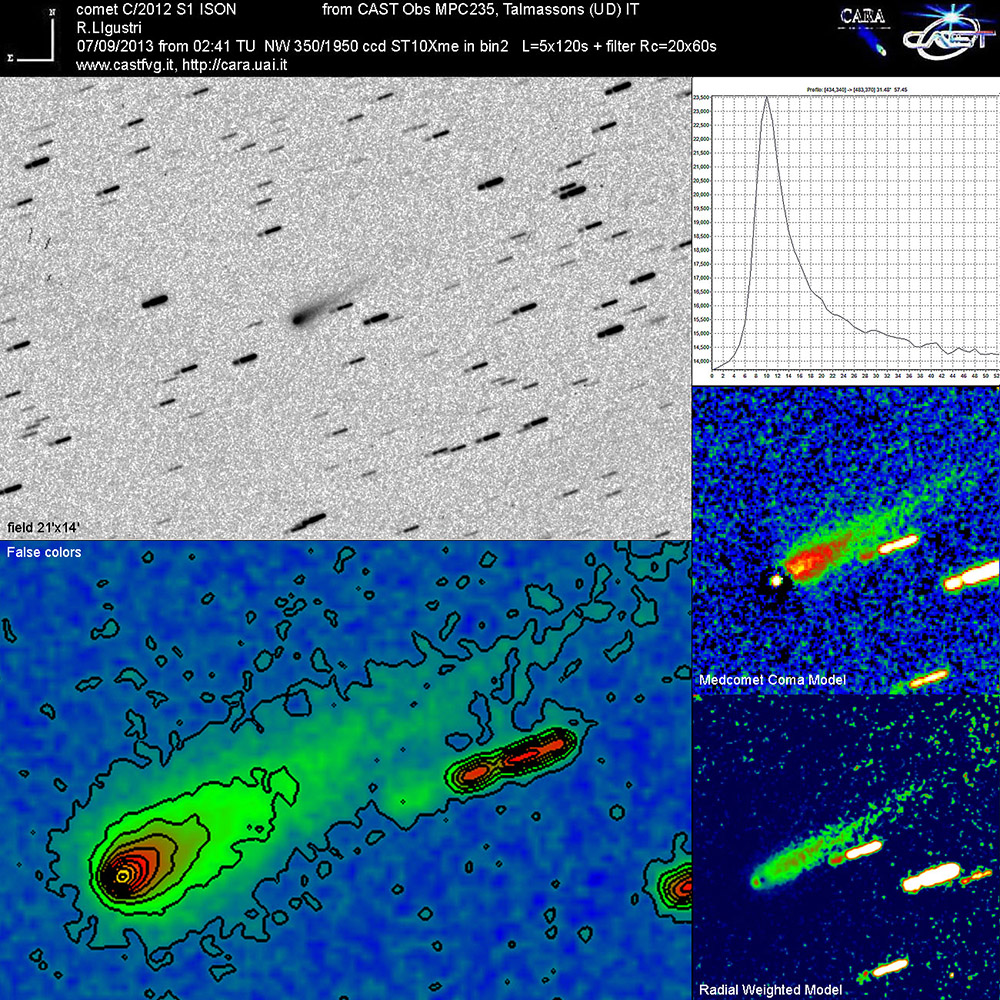 THE WEBSITE ABOUT ISON'S "COMPANIONS" IS ALSO GONE, NOT FOUND EVEN BY THE WAYBACK MACHINE:
http://spaceweather.com/submissions/pics/r/rolando-ligustri-c2012s1_130907_1378563214.jpgcomet ison's companions
YES, THAT WAS ON THE VERY VALID "SPACE WEATHER" SITE, ABOUT ISON'S "COMPANIONS"!
NOT ANYMORE!

WHATEVER ACCOMPANIES ISON, WE CAN BE ASSURED THERE IS NOTHING TO BE DONE ABOUT IT...UNLESS WE HAD ACCESS TO ONE OF THOSE MANY DEEP UNDERGROUND FACILITIES OUR GOVERNMENT HAS DUG OUT OVER THE PAST 5 DECADES OR SO...CHANCES OF SURVIVING A 2-3-MILE WIDE COMET LIKE ISON OR SOME HUGE METEOR MIGHT BE A WEE BIT BETTER IF WE COULD GO DEEP UNDERGROUND.
THOSE DEEP UNDERGROUND FACILITIES, GOVERNMENT OR MILITARY, ARE JUST FOR "STORAGE OF DATA AND SUPPLIES FOR THE MILITARY", RIGHT?
WHO CAN SAY?
WHO INDEED, BU TTHOSE WHO HAVE WORKED THERE, SERVED THERE IN THEIR MILITARY CAREERS, VISITED THERE AS MEMBERS OF CONGRESS?

WE ALSO KNOW THAT THERE IS A "WORLD SEED VAULT" (aka,
The Svalbard Global Seed Vault) BURIED DEEP, DEEP IN THE ICY GROUND UP NEAR NORWAY, BEGUN CIRCA 1984, AND THAT MONSANTO HAS ARRANGED TO IMPLANT THAT WITH GMO SEEDS.
SHOULD OUR CIVILIZATION AS WE KNOW IT BE ANNIHILATED AND ONLY A FEW OF US SURVIVE THESE SEEDS ARE KEY TO COMING BACK FROM THE BRINK OF EXTINCTION.
BILL GATES CONTRIBUTED HEAVILY TO THAT EFFORT AND IS A GOOD FRIEND TO MONSANTO.
MOST OF THOSE SEEDS WE KNOW OF AS "FRANKENSEEDS" OWNED BY MONSANTO.
<<
As part of the vault's one year anniversary, more than 90,000 food crop seed samples were placed into storage, bringing the total number of seed samples to 400,000.
This 4-tonne (3.9 long tons; 4.4 short tons) shipment brought the total number of seeds stored in the vault to over 20 million
.
[
SEE: Walsh, Bryan (27 February
2009). "The Planet's Ultimate Backup Plan: Svalbard". Time

]>>
I CANNOT POSSIBLY OVEREMPHASIZE THE IMPORTANCE OF COLLECTING AND SAVING HEIRLOOM, ORGANIC SEEDS! WITH THE MONSANTO SEEDS AND MONSANTO'S EFFORTS TO ERASE HEIRLOOM AND ORGANICALLY GROWN SEEDS FROM THE EARTH, ANY THAT YOU MAY FIND AND ACQUIRE WILL BE WORTH MORE THAN GOLD SHOULD WE FACE GLOBAL DISASTER.

ABOUT THOSE UNDERGROUND FACILITIES...
MANY ARE MASSIVE, ALARMINGLY SO!

THEY ARE REFERRED TO AS "Deep Underground Military Bases". PHOTOS DO EXIST OF SOME OF THE TUNNELING MACHINES USED TO CONSTRUCT THESE FACILITIES.
http://www.detailshere.com/images/tunnelmachine.jpg
http://www.detailshere.com/images/denmarktunnelmachine.jpg
<<The need for better burrowing equipment for such federal government projects was likely met by the Los Alamos Scientific Laboratory, in New Mexico.

Called the Subterrene, the Los Almos machine looks like a vicious giant mole. The beauty of the Subterrene is that, as it burrows through the rock hundreds of feet below the surface, it heats whatever stone it encounters into molten rock, or magma, which cools after the Subterrene has moved on.

The result is a tunnel with a smooth, glazed lining. For power, the Subterrene can use a built-in miniature nuclear engine or even a conventional power plant.

Normal rate of speed is approximately six and one/half miles per hour depending on Type of rock, sand, etc
.>>
Another such device from the patent office website:
http://tinyurl.com/o9z7huf
ANOTHER "NUCLEAR REACTOR APPARATUS FOR EARTH PENETRATION" AT THE PATENT OFFICE:
http://tinyurl.com/qxgtmrx
The three tunnel diameters were: a) 3.05 meters (10ft.); b) 4.73 meters (15.5 ft.); and c) 6.25 meters (20.5 ft.).
THERE ARE SEVERAL MORE, BETTER ONES.
THE UNDERGROUND SITES WE CAN DOCUMENT?


~ RAVEN ROCK, PENNSYLVANIA
One of the earliest American underground facilities was built at Raven Rock in Pennsylvania. The military refer to it as Site R. Sounds like Section D. Raven Rock was picked because it is made of greenstone, a type of granite that is the fourth hardest rock on earth. Construction started in 1950, and engineers had completed a series of tunnels and a three-story building by 1953. Two more three-story buildings were completed by 1963. The complex lies 650 feet beneath the 1,529-foot-high summit of Raven Rock and can be entered through four portals. The mountain has everything needed to survive a catastrophe: cars, some of the best dining in the Army, chemical suits, a fitness center, a medical facility, a barbershop, legal services, a chapel, designated smoking areas and a convenience store. It has six 1,000 kilowatt generators and 35 miles of cable on 180 telephone poles. Remember, this is one of the early underground sites, and probably does not compare with some of the new underground cities that have been constructed in more recent years.

~
Virginia's Mount Weather


One of the first of nearly 100 Federal Relocation Centers was built in rural Virginia's Mount Weather. It took years to complete, but when complete resembled a city more than an emergency installation. Mount Weather was equipped with such amenities as private apartments and dormitories, streets and sidewalks, cafeterias and hospitals, a water purification system, power plant, and general office buildings. The site includes a small lake fed by fresh water from underground springs. It even has its own mass transit system small electric cars that run on rechargeable batteries and make regular shuttle runs throughout the city.

~THE GREENBRIER
"Tour The Greenbrier Bunker". PBS Documentary. PBS

. Retrieved June 18, 2008

. As recently as 1992, the papers reported the existence of a Cold War secret, the government had built a $14 million underground bunker in West Virginia and maintained it for more than three decades for Congress to use in the event of a nuclear attack. The hideaway Capitol was built under the fashionable Greenbrier resort in White Sulphur Springs, about 250 miles from Washington. Its location was known only to a relative handful of the nations highest-ranking officials. From 1958 on, the very existence of this facility was a closely guarded secret. Very few in Congress or the executive branch knew of the program.
In the late 1950s, the U.S. government approached The Greenbrier for assistance in creating a secret emergency relocation center to house Congress in the aftermath of a nuclear holocaust. The classified, underground facility, named "Project Greek Island".
The Greenbrier bunker has living quarters and work space for 800 people as well as separate meeting halls for the House and Senate.


WE ARE TOLD THAT "'
The facility was decommissioned in 1992 after the program was exposed in a U.S. newspaper article.'"
BELIEVE THAT, OR DON'T.
THERE ARE MANY MORE PROVEN MAJOR UNDERGROUND FACILITIES, BUT ONWARD TO OTHERS WHICH THOSE STATIONED THERE HAVE REPORTED TO HAVE UNDERGROUND FACILITIES, OR HAVE BEEN "LEAKED TO THE PRESS" AS SUCH, ETC.

~CHEYENNE MOUNTAIN, COLORADO SPRINGS, COLORADO, NORAD FACILITY
The Cheyenne Mountain Colorado Springs complex traces its origins to 1956, when General Earle E. Partridge, commander of the Continental Air Defense Command, proposed construction of a new underground combat operations center to replace the outgrown and vulnerable above-ground facility at Ent Air Force Base, Colorado.
The Cheyenne Mountain NORAD Complex is located at Cheyenne Mountain Air Force Station (CMAFS), a short distance from NORAD and USNORTHCOM headquarters at Peterson Air Force Base in Colorado Springs, Colorado.
At the height of the Cold War in the late 1950s, the idea of a hardened command and control center was conceptualized as a defense against long-range Soviet bombers. The Army Corps of Engineers supervised the excavation of Cheyenne Mountain and the construction of an operational center within the granite mountain. The Cheyenne Mountain Colorado Springs facility became fully operational as the NORAD Combat Operations Center on April 20, 1966.

LIKELY UNDERGROUND, BASED ON REPORTS BY EX-MILITARY OR JOURNALISTS, ETC
~

Warrenton Training Center, VIRGINIA
Under the NCS (dissolved and functions transferred to the Department of Homeland Security in 2012
), the center is mandated to provide communication for the federal government under any circumstances, including a nuclear attack. Its underground bunkers house communications infrastructure that provides service for most major federal departments.
I
n 2002, the Brookings Institution listed an unspecified WTC "relocation bunker" as a facility with an active nuclear weapons, weapons-related or naval nuclear propulsion mission.
~CAMP PEARY, AT LEAST A PART OF IT, ALSO IN VIRGINIA, ALSO WELL-KNOWN BY ITS NICKNAME, "THE FARM", officially
referred to as an
Armed Forces Experimental Training Activity
(
AFETA
).
Under the auspices of the Department of Defense, Camp Peary is rumored to host a covert CIA training facility known as "The Farm". Camp Peary has a sister facility, "
The Point
", located in Hertford, North Carolina. [ ABOUT "THE POINT": Through a NOTAM order issued by the FAA on behalf of several agencies, a permanent "no-fly zone" exists within 25 radial miles of the facility "'due to the ordnance testing that occurs at the facility and the related hazards that exist for general aviation'". ]
Comprising 9,275 acres of land, of which about 8,000 acres are unimproved or only partially improved Camp Peary is no small"installation". The 100 acre Biglers Millpond occupies the site adjacent to the York River. It has been
closed to the public since 1951,
and as of 2007 access still is highly restricted.
During World War II, beginning in 1942, the United States Navy took over a large area on the north side of the Virginia Peninsula in York County, Virginia which became known as Camp Peary.
As part of the process of converting the property to a military reservation,
all residents of the entire towns of Magruder and Bigler's Mill had to vacate.
The town of Magruder was a traditionally African-American community established for freedmen after the American Civil War.
The portion of the original World War II Seabee base which is north of Interstate 64 has remained closed to the public since 1951. However, the roads and many structures of Magruder and Bigler's Mill are apparently still there and many are occupied. An airport with a 5,000-foot (1,500 m) runway was added to the facility near the site of Bigler's Mill.
~ Fort Huachuca, AZ
During the buildup of World War II, the fort had quarters for more than 25,000 men. In 2010, Fort Huachuca has a population of roughly 6,500 active duty soldiers, 7,400 family members and 5,000 civilians. Fort Huachuca can have well over 18,000 people on post during the peak hours of 0700 and 1600, M-F, making it one of the busiest transient installations.
Fort Huachuca is also home to Raymond W. Bliss Army Medical Center, a U.S. Army Medical Department Activity (MEDDAC).
INTERESTING THING ABOUT THIS FACILITY IS ITS CURRENT STATUS UNDER
"REX 84":
<<The Rex 84 Program was established on the reasoning that if a "mass exodus" of illegal aliens crossed the Mexican/US border, they would be quickly rounded up and detained in detention centers by FEMA. Rex 84 allowed many military bases to be closed down and to be turned into prisons.
>>
~TWENTYNINE PALMS, USMC, CALIFORNIA
THERE WERE SOME "INVESTIGATIONS" INTO THIS SITE BACK AROUND 1989.
Twentynine Palms is the premier live-fire base in the Marine Corps. Each year roughly one-third of the Fleet Marine Force and Marine Reserve units -- some 50,000 Marines in all -- participate
in the base's training exercise program. These training exercises involve every weapons system in the Marine Corps' arsenal, from small arms to attack aircraft.
A geological anomaly in the area created by sea water rushing into underlying caverns when the area was under water created a natural underground network.
according to ex-military stationed there, "'tunnels to Chocolate Mountains, Fort Irwin, California (possibly one more site due west a few miles.'"
~BROOKS RANGE, ALASKA
Alaska is full of abandoned mines, there are old missile sites leftover from the Cold War...which was a hot spot (its relations to Russia, the location, etc). They also have rocket launching pads, the largest HAARP facility (in the Gakona area of Alaska). Alaska is also supposed to be the largest area of underground bases (military and UFO) in North America.
There is also an undisclosed part of Alaska that all pilots know, and its a no fly zone.
The Brooks Mountain Range, near Caribou Pass is in that range.
~EDWARDS AIR FORCE BASE, CALIFORNIA
Research facilities operated by Northrop, McDonnell-Douglas and Lockheed are involved with developing new types of aircraft there.
QUITE ODDLY
, he United States Census Bureau has designated Edwards Air Force Base as a separate census-designated place for statistical purposes.

WHY?
References to the "Tejon Ranch".
<<Rockefeller Group Development Corporation is developing a joint-venture 500-acre Foreign Trade Zone 60 miles north of Los Angeles, near Edwards>> THAT article recently caught my eye, ESPECIALLY AFTER THE ROCKEFELLER GROUP HAS REMOVED REFERENCES TO IT FROM THEIR OWN WEBSITE! Tsk, tsk, tsk...no fair, gentlemen!
The Rockefeller Group managed to gain the freedom of several who faced trial at Nuremberg for crimes against humanity, imported them to the U.S. and put them to work! Eugenics is the Rockefeller Group's "darling" project.
They, too, want to reduce the world population to a "manageable" 500 million.
~DENVER INTERNATIONAL AIRPORT
WHO HASN'T HEARD ABOUT DENVER?
<<DIA is debunking the conspiracy theories of underground military facilities, by allowing FOX31 News cameras into areas no TV crew has been before.>>
IS THAT SORT OF LIKE INVITING VEGETARIANS TO YOUR HOME AND NOT SHOWING THEM THE 400 POUNDS OF BEEF IN YOUR FREEZER???
http://youtu.be/FAHjT_QDbBY
FOR YOUR CONSIDERATION:
HARMLESS LITTLE VIDEO POSTED TO YOUTUBE BY A TRUCK DRIVER, SHOWING HOW HE DROVE THROUGH
THE UNDERGROUND FACILITY NEAR SPRINGFIELD, MISSOURI.
<<Trucking in the
Springfield Underground Caves in Springfield, MO.
A truck driving career sure takes me to some strange places!>>
I WANTED TO ACCESS SOMETHING I HAVE ACCESSED BEFORE TO POST HERE, BUT GOING TO THE SAME SITE AS BEFORE, I WAS GREETED WITH THIS NEW WARNING, AND FOUND THE SITE SCRUBBED FROM THE WAYBACK MACHINE'S ARCHIVES....INTERESTING...
A "WARNING" WAS ISSUED AS FOLLOWS:
<<YOU ARE ACCESSING A U.S. GOVERNMENT (USG) INFORMATION SYSTEM (IS) THAT IS PROVIDED FOR USG-AUTHORIZED USE ONLY.
By using this I.S. (which includes any device attached to this IS), you consent to the following conditions:
The USG routinely intercepts and monitors communications on this IS for purposes including, but not limited to, penetration testing, COMSEC monitoring, network operations and defense, personnel misconduct (PM), law enforcement (LE), and counterintelligence (CI) investigations.
At any time, the USG may inspect and seize data stored on this IS.
Communications using, or data stored on, this IS are not private, are subject to routine monitoring, interception, and search, and may be disclosed or used for any USG-authorized purpose.
This IS includes security measures (e.g., authentication and access controls) to protect USG interests--not for your personal benefit or privacy.
Notwithstanding the above, using this IS does not constitute consent to PM, LE or CI investigative searching or monitoring of the content of privileged communications, or work product, related to personal representation or services by attorneys, psychotherapists, or clergy, and their assistants. Such communications and work product are private and confidential. See User Agreement for details.>>
<END WARNING>

WHY A ONCE-FREE TO DOWNLOAD PDF IS NOW "RESTRICTED" IS BEYOND ME, BUT YOU CAN CLEARLY SEE IT WAS ONCE AVAILABLE IN THE LIST AT THEIR SITE:
LOOK FOR FM 3-39.40 A FIELD MANUAL.
http://armypubs.army.mil/doctrine/Active_FM.html
WELL, YOU CAN READ THE WHOLE THING HERE OBTAINED BY THE FOIA, I BELIEVE, BY THE GOOD FOLKS HERE:
http://info.publicintelligence.net/USArmy-InternmentResettlement.pdf
AND, NO, NO, AMERICA, OBAMA DID NOT DO THIS!
HE HAS MERELY CONTINUED TO MAINTAIN THE ORDERS OF THOSE BEFORE HIM, WHICH IS BAD ENOUGH.
FROM KENNEDY TO CARTER, THROUGH REAGAN, BOTH BUSH1 AND BUSH2, CLINTON, SEE THE FOLLOWING TO GET YOUR FACTS STRAIGHT!

FEMA HAS BEEN AUTHORIZED TO SHUT US COMPLETELY DOWN, SUSPEND THE CONSTITUTION, RENDER OUR CONGRESS USELESS, ROUND US UP AND RELOCATE US ANYWHERE SINCE ITS INCEPTION, LONG BEFORE OBAMA!
SEE MY BLOG "
FEMA : POWER TO SUSPEND THE CONSTITUTION
THE MOST POWERFUL ORGANIZATION IN THE UNITED STATES"
http://havacuppahemlock1.blogspot.com/2013/01/power-to-suspend-constitution-fema.html
HARRY S. TRUMAN MAY HAVE BEEN THE FIRST TO REASSIGN PRESIDENTIAL POWERS TO AN AGENCY LIKE FEMA!

EXECUTIVE ORDER 10242
HARRY S. TRUMAN
THE WHITE HOUSE,
May 8, 1951


Executive Order 12148--Federal emergency management
BY JIMMY CARTER, July, 1979
Section 1. Transfers or Reassignments
1-1.
Transfer or Reassignment of Existing Functions.
1-101
. All functions vested in the President that have been delegated or assigned to the Defense Civil Preparedness Agency, Department of Defense, are transferred or reassigned to the Director of the Federal Emergency Management Agency.
This Order is effective July 15, 1979.

Executive Order 10995 =
JOHN F. KENNEDY
,
THE WHITE HOUSE,
February 16, 1962.
Executive Order 10999 = KENNEDY AGAIN,
February 16, 1962.
EXECUTIVE ORDER 12919 = CLINTON, WHO BROUGHT ALL FORMER FEMA-RELATED EXEC ORDERS UNDER ONE, 12919.
DO YOU SEE HOW LONG THIS HAS BEEN GOING ON?
MORE THAN 60 YEARS!
LONGER THAN MOST OF YOU HAVE BEEN ALIVE!
AND I HAVE BEEN WATCHING THIS UNFURL FOR OVER 55 YEARS NOW!
I'VE WATCHED AMERICANS BETRAYED ALMOST ALL MY LIFE!
MAYBE NOW YOU CAN APPRECIATE WHY I SEEM A BIT "TESTY" AT TIMES.
I KNEW AN AMERICA YOU WILL NEVER KNOW!
I KNEW A FREE AMERICA, ONE ENTIRELY DIFFERENT FROM TODAY'S, AND THEN I HAD TO WATCH IT ALL BE UNDERMINED AND CHANGED INTO A POLICE STATE, WHERE WE HAVE NO MORE FREEDOMS, WHERE OUR RIGHTS UNDER THE ORIGINAL CONSTITUTION ARE NO MORE AND EVEN THAT CONSTITUTION LIES IN RUIN!
I DON'T KNOW WHAT'S COMING UPON US, BUT LOOKS LIKE SOMETHING MAJOR IS BREWING.
ALWAYS BE PREPARED FOR THE ABSOLUTE WORST CASE SCENARIO!
DO WHAT YOU CAN WHILE YOU CAN, AND BEST OF LUCK TO ALL OF US ON THAT!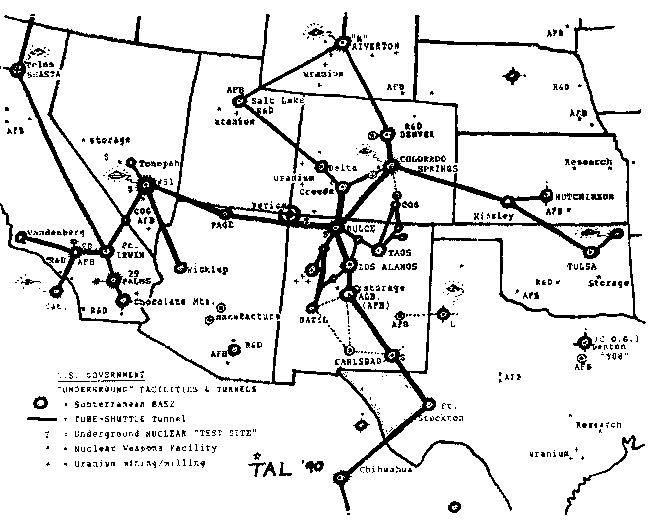 YOU NEED TO SEE THIS IN AS LARGE A FORMAT AS POSSIBLE....
http://www.bibliotecapleyades.net/imagenes_area51/tunnels_aliens.gif