ABOVE, simulation of the 2008 'Great Southern California ShakeOut' was based on a potential magnitude 7.8 earthquake on the southern San Andreas Fault— approximately

5,000 times larger than the magnitude 5.4 earthquake that shook southern California on July 29, 2008.



It's not a matter of if an earthquake of this size will happen—but when.

Above, another animation of wave propagation during a magnitude-7.8 earthquake rupturing the San Andreas Fault from northeast to southwest.

Red-blue colors reflect the intensity of shaking; green colors indicate areas of permanent ground deformation.

Simulation by Daniel Roten, Kim Olsen, and Steven Day at the Department of Geological Sciences at San Diego State University, and Yifeng Cui at the San Diego Supercomputer Center. Visualization by Daniel Roten (SDSU). Simulation on UIUC Blue Waters.

PLEASE BE AWARE THAT THE INITIAL SHOCK MAY BE FOLLOWED BY MORE INTENSE SHAKING.




WE'VE BEEN WARNED FOR YEARS THAT THE SAN ANDREAS FAULT AREA IS LONG OVERDUE FOR A MAJOR QUAKE.

EARLIER THIS MONTH, ON JUNE 10, A 5.2 QUAKE RATTLED NERVES NEAR SAN DIEGO AND WAS FOLLOWED BY OVER 800 AFTERSHOCKS.
THESE AFTERSHOCKS AND SMALLER TREMORS ARE AN IMPORTANT INDICATION OF THE RESTLESSNESS OF THE SAN ANDREAS FAULT SYSTEM.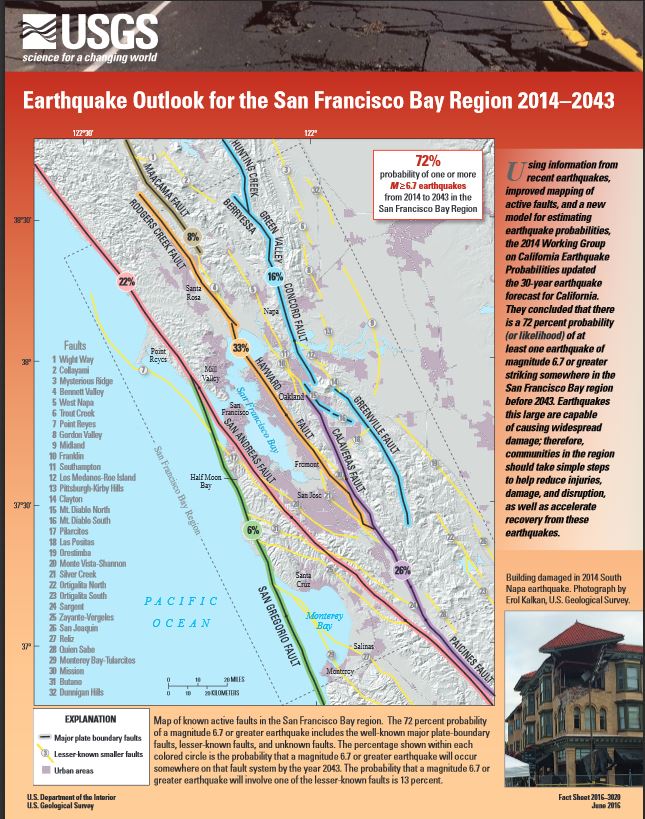 SCIENTISTS PREDICT MAJOR QUAKE AT 72% PROBABILITY BY 2043
[Larger image available <HERE>.]
Earthquake outlook for the San Francisco Bay region 2014–2043
Fact Sheet 2016-3020:

[To download the PDF go <HERE>]

"Abstract:

Using information from recent earthquakes, improved mapping of active faults, and a new model for estimating earthquake probabilities, the 2014 Working Group on California Earthquake Probabilities updated the 30-year earthquake forecast for California.

They concluded that there is a 72 percent probability (or likelihood) of at least one earthquake of magnitude 6.7 or greater striking somewhere in the San Francisco Bay region before 2043.

Earthquakes this large are capable of causing widespread damage; therefore, communities in the region should take simple steps to help reduce injuries, damage, and disruption, as well as accelerate recovery from these earthquakes."
Above, the San Andreas is visible from the air.




The San Andreas fault system is more that 1300 km (800 miles) long, and in some spots is as much as 16 km (10 miles) deep.

The San Andreas fault is NOT a single, continuous fault, but rather is actually a fault zone made up of many segments.
Movement may occur along any of the many fault segments along the zone at any time.

The following comes from the Los Angeles Times...

"For the first time, scientists have produced a computer image showing huge sections of California rising and sinking around the San Andreas fault.

The vertical movement is the result of seismic strain that will be ultimately released in a large earthquake.

In a study published in the journal Nature Geoscience on Monday, scientists found that much of the Los Angeles Basin, Orange County, San Diego County and the Bakersfield area are sinking 2 to 3 millimeters a year — a couple of penny-widths annually.

By contrast, Santa Barbara and San Luis Obispo counties, and a large portion of San Bernardino County, are rising at the same rate.

The California coastline is where two enormous tectonic plates come together. The Pacific plate and the North American plate are slowly but surely moving against one another, and this creates a tremendous amount of geological stress.

While areas on both sides of the San Andreas fault have been steadily rising and sinking as a result of this stress, there are sections of the fault itself that have remained "locked" for more than 100 years, and other sections that have remained locked for more than 300 years..."

OVERDUE...

The region of the San Andreas fault between Monterey County and Imperial County hasn't moved in a significant way in more than 150 years, and other parts of the fault have been accumulating stress for more than 300 years with no major quake there since 1690.

The earliest reported earthquake in California was felt in 1769 by the exploring expedition of Gaspar de Portola while the group was camping about 48 kilometers (30 miles) southeast of Los Angeles.

The last 'megaquake' on the southern San Andreas fault, magnitude 7.9, was in the Monterey Region, Los Angeles County in 1857. The quake was so powerful that the soil liquefied, causing trees as far away as Stockton to sink.
Trees were also uprooted west of Fort Tejon.
The shaking lasted 1 to 3 minutes.

IN THE PAST 7 DAYS, AS OF TODAY, JUNE 25, 2016, ACCORDING TO THE USGS, THERE HAVE BEEN 1,814 EARTHQUAKES THAT WERE RECORDED GLOBALLY, ALL MAGNITUDES.

1,044 OF THOSE WERE RECORDED IN THE USA AND ALMOST 800 OF THOSE WERE IN THE CALIFORNIA/NEVADA/OREGON AREA.

IN THE PAST 30 DAYS, THERE HAVE BEEN 109 QUAKES WITH A GREATER THAN 4.5 MAGNITUDE WORLDWIDE.
16 OF THOSE OCCURRED TODAY, JUNE 25. YOU CAN VIEW TODAY'S WORLDWIDE QUAKES AND ACCESS EARTHQUAKE ARCHIVES AT USGS <HERE>. Just last year the U.S. Geological Survey admitted that the probability of a megaquake along the west coast involving multiple faults at once was significantly greater than they had previously been projecting..

.

"The new likelihoods are due to the inclusion of possible multi-fault ruptures, where earthquakes are no longer confined to separate, individual faults, but can occasionally rupture multiple faults simultaneously," lead author of the study and USGS scientist, Ned Field says.

"This is a significant advancement in terms of representing a broader range of earthquakes throughout California's complex fault system.".


MAY 4, 2016, FROM THE L.A. TIMES:

"

The springs on the San Andreas system have been wound very, very tight. And the southern San Andreas fault, in particular, looks like it's locked, loaded and ready to go," Thomas Jordan, director of the Southern California Earthquake Center told the participants in his keynote address at the National Earthquake Conference in Long Beach.

Jordan said it's important that California focus on becoming resilient to a potential huge earthquake, one as strong as a magnitude 8. He praised Los Angeles' plan to require earthquake retrofits on apartment and concrete buildings, pushed into law by Mayor Eric Garcetti.


"It's remarkable that this happened," Jordan said. "We know politically how difficult it is to make these kinds of changes."


Other areas of focus have included strengthening Los Angeles' vulnerable aqueduct systems and its telecommunications networks.

Among other predicted problems: The sewer system could be out of commission for six months.

Such an earthquake could cause shaking for nearly two minutes, with the strongest shaking in the Coachella Valley, Inland Empire and Antelope Valley, but it also could send pockets of strong shaking into areas where sediments trap shaking waves, such as the San Gabriel Valley and East Los Angeles."

CALIFORNIA, 10,000 QUAKES A YEAR....Each year the southern California area has about 10,000 earthquakes.
Most of them are so small that they are not felt.
Only several hundred are greater than magnitude 3.0, and only about 15-20 are greater than magnitude 4.0.

If there is a large earthquake, however, the aftershock sequence will produce many more earthquakes of all magnitudes for many months.
I WAS SURPRISED TO SEE THE FOLLOWING ON THE USGS SITE DISPUTING A RISE IN MAJOR EARTHQUAKES.
I DON'T KNOW WHEN THAT WAS WRITTEN, BUT IT'S NO LONGER TRUE AND SHOULD BE UPDATED. 2015 WAS A RECORD-BREAKER FOR MAGNITUDE 7.0 AND HIGHER QUAKES, ACCORDING TO ANOTHER USGS FACT SITE! "According to long-term records (since about 1900), we expect about 16 major earthquakes in any given year, which includes 15 earthquakes in the magnitude 7 range and one earthquake magnitude 8.0 or greater.

In the past 38 years, from 1973 through 2011, our records show that we have exceeded the long-term average number of major earthquakes only 8 times, in 1976, 1990, 1995, 1999, 2007, 2009 (21), 2010 (30), and 2011 (26).

[NOTE: NUMBERS IN PARENTHESES ARE THE COUNT FROM BERKELEY, NOT USGS.]

The year with the largest total was 2010, with 24 earthquakes greater than or equal to (symbolized by

≥)

magnitude 7.0".

[

BUT BERKELEY COUNTS 30.


Northern California Earthquake Data Center. UC Berkeley Seismological Laboratory.]


AND IN 2012?
17 MAJOR QUAKES >7.0

MAGNITUDE

.


IN 2013?
19 MAJOR QUAKES

≥

7.0

MAGNITUDE

.

2014?
17

≥

7.0

MAGNITUDE

.


2015?
25

≥

7.0 MAGNITUDE.
SO FAR IN 2016?
10

≥

7.0

MAGNITUDE.


WHEN WE LOOK AT THE EXPECTED FREQUENCY OF VARIOUS MAGNITUDES OF EARTHQUAKES USING THE RICHTER SCALE BELOW, WE CAN SEE THAT THE USGS MAY BE 'PULLING OUR LEG' JUST A BIT ON HOW MANY EARTHQUAKES OVER 6.0 WE SHOULD EXPECT TO SEE IN A YEAR OR A MONTH...

WE'RE SEEING CONSIDERABLY MORE THAN PERHAPS WE SHOULD EXPECT.
THE ENERGY RELEASED BY EARTHQUAKES CAN BE MASSIVE.
FOR EXAMPLE, FROM THE RICHTER SCALE, A 6.0 QUAKE RELEASES ABOUT 15 KILOTONS OF ENERGY, THE EQUIVALENT OF THE ATOMIC BOMB DROPPED ON HIROSHIMA.
A 7.9 IS EQUIVALENT TO THE TUNGUNSKA EVENT'S 10.7 MEGATONS THAT LEVELED TREES FOR MILES.

HERE'S A LITTLE KNOWN FACT ABOUT USGS, ACCORDING TO OTHER WEBSITES AND NATIONS THAT MEASURE EARTHQUAKES: USGS OFTEN DOWNGRADES QUAKES, EVEN THOUGH THE REPORTING SEISMIC AGENCY IN THE NATION OR STATE OF THE QUAKE DISAGREES.
MAYBE THEY USE DIFFERENT FORMULAE?



WHEN/IF YOU HAVE A FEW MINUTES WITH NOTHING BETTER TO DO, COMPARE THE

EMSC (European-Mediterranean Seismological Centre) SITE , THE 'SEISMIC MONITOR' SITE AND THE GEOSCIENCE AUSTRALIA SITE WITH THE USGS IN REAL TIME, CURRENT QUAKES, MAGNITUDE 2.5 AND ABOVE....IT'S QUITE ODD.

USGS DIDN'T MAP OR SHOW RECORD OF MANY OF THE QUAKES REPORTED AT THE OTHER 3 SITES, FOR EXAMPLE IN AUSTRALIA, NEAR AUSTRALIA AND IN SOUTH AMERICA.
HOWEVER, THE OTHER 3 SITES ALSO EXCLUDE SOME QUAKES LISTED BY USGS.

WHOM DO WE TRUST FOR FACTUAL DATA?

CASCADIA RISING FEMA DRILL Drill dates: June 7-10, 2016
The Cascadia Subduction Zone off the coast of North America spans from northern California to southern British Columbia. This subduction zone can produce earthquakes as large as magnitude 9 and corresponding tsunamis.

Scientific evidence indicates that a magnitude 8.0-9.0 earthquake occurs along the 800-mile long fault on average once every 200 to 500 years.

The last major earthquake and tsunami along the fault occurred over 300 years ago in 1700.
"A 9.0 magnitude earthquake along the Cascadia Subduction Zone (CSZ) and the resulting tsunami is the most complex disaster scenario that emergency management and public safety officials in the Pacific Northwest could face. Cascadia Rising is an exercise to address that disaster.

To prepare the Pacific Northwest for such an enormous disaster, the U.S. government has developed, alongside the military and state and local emergency personnel, a readiness drill the second week of June, a dress rehearsal for the prophesied massive earthquake and tsunami.

Cascadia Rising, named after the 600-mile-long fault, the Cascadian Subduction Zone, which runs from Northern California to Southern British Columbia, was a drill that involved 20,000 people, utilizing a wide range of governmental agencies, with the goal to test how well these agencies will work to decrease the loss of life and the destruction such an earthquake would leave.

Scientists tell us that we are actually way overdue for such a quake and accompanying tsunami, and when it comes large numbers of Americans that are clustered right along the coastline will die.

Why all of this is of greater concern now is due to the fact that many areas along the "Ring of Fire" that roughly encircles the Pacific Ocean are roaring to life right now.

The FEMA drill included measures to be taken by coastal residents in the event of a tsunami following a major quake. "

Although both are sea waves, a tsunami and a tidal wave are two different unrelated phenomena.

A tidal wave is a shallow water wave caused by the gravitational interactions between the Sun, Moon, and Earth.

A tsunami is a sea wave caused by an underwater earthquake or landslide (usually triggered by an earthquake) displacing the ocean water.
15 MINUTES OR LESS TO EVACUATE TO HIGHER GROUND SHOULD TSUNAMI HIT WEST COAST.

FROM OREGON STATE UNIVERSITY:


"The major earthquakes that devastated Chile earlier this year (2010) and the one which triggered the catastrophic Indonesian tsunami of 2004 are more than just a distinct possibility to strike the Pacific Northwest coast of the United States.

New analyses by Oregon State University marine geologist Chris Goldfinger and his colleagues have provided fresh insights into the Northwest's turbulent seismic history – where magnitude 8.2 (or higher) earthquakes have occurred 41 times during the past 10,000 years.

Those earthquakes were thought to generally occur every 500 years, but as scientists delve more deeply into the offshore sediments and other evidence, they have discovered a great deal more complexity to the Cascadia Subduction Zone.


"What we've found is that Cascadia isn't one big subduction zone when it comes to major earthquakes," Goldfinger said. "It actually has several segments – at least four – and the earthquake activity is different depending on where a quake originates. The largest earthquakes occur in the north and usually rupture the entire fault. These are quakes of about magnitude-9 and they are just huge – but they don't happen as frequently.

"At the southern end of the fault, the earthquakes tend to be a bit smaller, but more frequent," he added. "These are still magnitude-8 or greater events, which is similar to what took place in Chile, so the potential for damage is quite real."

The OSU professor is convinced that the Pacific Northwest is at risk for an earthquake that could meet – or exceed – the power of seismic events that took place in Chile, as well as Haiti.

If a magnitude-9 earthquake does strike Cascadia, he says, the ground could shake for several minutes.

Highways could be torn to pieces, bridges may collapse, and buildings would be damaged or even crumble.



If the epicenter is just offshore, coastal residents could have as little as 15 minutes of warning before a tsunami could strike.

That immediacy is why engineering and coastal communities are exploring different ways of evacuating low-lying areas, including the construction of high-rise, tsunami-resistant facilities.


"It is not a question of if a major earthquake will strike," Goldfinger said, "it is a matter of when. And the 'when' is looking like it may not be that far in the future."

Significant Earthquakes, Past 30 Days:
[ NOTE: Most earthquakes occur at depths of less than 80 km (50 miles) from the Earth's surface. The deepest earthquakes typically occur at plate boundaries where the Earth"s crust is being subducted into the Earth's mantle. These occur as deep as 750 km (400 miles) below the surface. The hypocenter of an earthquake is the location beneath the earth's surface where the rupture of the fault begins. The epicenter of an earthquake is the location directly above the hypocenter on the surface of the earth.]


~ 6.3, located 68km WNW of Namatanai, Papua New Guinea
2016-06-21 17:12:08 UTC, 365.3 km deep

~6.3, located 84km SSW of Isangel, Vanuatu
2016-06-19 09:47:23 UTC, 13.0 km deep

~ 5.2, located 20km NNW of Borrego Springs, CA
2016-06-10 08:04:38 UTC, 12.3 km deep

~6.1, located 17km E of Puerto Morazan, Nicaragua
2016-06-10 03:25:22 UTC, 10.0 km deep

~ 6.3, located 128km E of Bitung, Indonesia
2016-06-07 19:15:15 UTC, 30.7 km deep

~ 6.3, located 133km SW of Leksula, Indonesia
2016-06-05 16:25:33 UTC, 429.0 km deep

~ 6.6, located 79km W of Sungaipenuh, Indonesia
2016-06-01 22:56:00 UTC, 50.5 km deep

~ 6.4, located 93km ENE of Keelung, Taiwan
2016-05-31 05:23:47 UTC, 244.1 km deep

~ 7.2, located 53km NNE of Visokoi Island, South Georgia and the South Sandwich Islands.
2016-05-28 09:46:59 UTC, 78.0 km deep

~ 6.6, located 161km SSE of Ndoi Island, Fiji
2016-05-28 05:38:51 UTC, 416.8 km deep

~ 6.4, located 18km SSE of Ndoi Island, Fiji
2016-05-27 04:08:43 UTC, 567.5 k deep

Earthquakes occurring outside the US and smaller than about magnitude 4.5 can be difficult for the USGS to locate if there are not enough data.

The USGS continues to receive data from observatories throughout the world for several months after the events occur. Using those data, we add new events and revise existing events in later publications.

For a description of these later publications and the data available, see Scientific Data.



NOTE: There are many regional networks around the world that can record smaller earthquakes in their region than the NEIC global network can, and in many cases these regional networks do not share their data with the NEIC.

So if you think there is a missing earthquake on our maps and lists, please see the national and regional links for the area of interest on these webpages:

Also see: FAQs about real-time earthquake information



THE PACIFIC'S "RING OF FIRE" HAS BEEN VERY ACTIVE THIS MONTH...
SEVERAL VOLCANOES AROUND THE PACIFIC RIM ALSO GREW VERY ACTIVE.

THIS IS IMPORTANT TO OUR WEST COAST BECAUSE OF A VOLCANO THAT LIES OFF OREGON'S COAST WHICH HAS GENERATED QUAKES OF 5.0 AND GREATER.
[UNDERWATER LOOK AT THE VOLCANO <HERE>.] About 250 miles off the Oregon Coast, and three-quarters of a mile underwater, sits the Axial Seamount.

It is probably one of the most active and most studied undersea volcanoes on the planet. According to the Pacific Marine Environmental Laboratory, the volcano Axial Seamount likely began to erupt on April 24, 2015.


While over the past five months, there were hundreds of small earthquakes on most days at Axial Seamount,

scientists say they recorded nearly 8,000 earthquakes on that day which they say signaled the eruption.

"The April 2015 eruption of the Axial Seamount underwater volcano has been confirmed by the latest research of the University of Washington (UW) OOI Cabled Array group.



The eruption was predicted in 2014 and is currently the most accurate eruption forecast of this volcano made so far.

Previously documented eruptions from the volcano occurred in 1998 and 2011. Two large lava flows from the N rift zone, 8 - 16 km (5 - 10 miles) north of the summit caldera, were at most 127 m (417 feet) thick. Some of the thicker areas had drained collapse features indicating they had molten interiors when emplaced. The ROV traversed the flows for about 2 km (1.2 miles). New, thinner lava flows were also identified in the NE summit caldera and on the NE rim.
The volcano rises 700 m (0.4 miles) above the mean level of the central Juan de Fuca Ridge crest to within about 1 400 m (0.8 miles) of the sea surface. It is the most magmatically robust and seismically active site on the Juan de Fuca Ridge between the Blanco Fracture Zone and the Cobb offset. "

MANY ACTIVE VOLCANOES WORLDWIDE...Across the Pacific, Eurasia's largest volcano Klyuchevskaya Sopka in Russia's far east erupted shooting hot ash miles into the air on Tuesday, June 14.

Santiaguito (Guatemala): Following a relatively calm period of 3 weeks (no significant eruptions since 25 May), a powerful vulcanian explosion occurred at the Caliente lava dome again on June 17 at 09:15 local time, sending a mushroom-shaped eruption column approx. 5 km into the sky.

Above: map of currently erupting volcanoes across the globe, as of June 25, 2016.
Below, a partial list of currently active/erupting volcanoes:
Sinabung (Sumatra, Indonesia):


Kliuchevskoi (Kamchatka):


Kilauea (Hawai'i): Tuesday, Jun 14, 2016


Canlaon (Central Philippines): Saturday June 18, 2016



Bulusan (Luzon Island, Philippines):

(10 Jun

e)

Manam (Papua New Guinea): Thursday, June 09, 2016

CONTINUING ERUPTIONS...
Ongoing activity:
~ Alaid

, Kuril Islands (Russia)

|


~ Bagana, Bougainville (Papua New Guinea) |

~ Chirpoi, Kuril Islands (Russia) |

~ Colima, Mexico |

~ Copahue, Central Chile-Argentina border Dukono |


~
During 9-14 June ash plumes from Dukono, rose to altitudes of 1.9-2.1 km.


~ Halmahera (Indonesia) |

~ Guagua Pichincha, Ecuador |

~ Kilauea

,

Hawaiian Islands (USA)


~ Klyuchevskoy, Central Kamchatka (Russia) |

~ Popocatepetl, Mexico |

~ Semeru, Eastern Java (Indonesia) |

~ Sheveluch, Central Kamchatka (Russia) |

~ Sinabung, Indonesia |

~ Suwanosejima, Ryukyu Islands (Japan).
AS YOU CAN SEE, WE DO NOT LIVE ON A DEAD PLANET.
SHE IS VERY MUCH ALIVE!
HER TECTONIC PLATES MOVE CONSTANTLY.

WHAT WE DON'T KNOW IS HOW MUCH THOSE PLATES WILL MOVE OR EXACTLY WHEN THEIR MOVEMENTS WILL CAUSE EARTHQUAKES, OR EARTHQUAKES WITH TSUNAMIS.

THE WISE PREPARE FOR "WORST CASE SCENARIOS".
IT'S JUST LOGICAL AND SENSIBLE TO ALWAYS BE PREPARED.

WE MUST ALSO LOOK AGAIN AT JAPAN AND THE FUKUSHIMA DISASTER AND THEN LOOK AT DIABLO CANYON NUCLEAR POWER PLANTS AND THE "DECOMMISSIONED" BUT LEAKING STILL SAN ONOFRE ON AMERICA'S WEST COAST, JUST AS OLD AND JUST AS VULNERABLE AND WITH THE SAME EXACT DESIGN FLAWS THAT THE REACTORS AT JAPAN'S DAI'ICHI FACILITY HAD, AND SITTING ON THAT SAME PACIFIC OCEAN.