1918 On March 4, 1918, the Army installation at Camp Funston, Kansas, reported a single case of flu.

Before the end of the month, 1,100 men had been hospitalized, and 20 percent of those men developed pneumonia. Flu spread rapidly among Army camps as troops were rushed through on their way to the front.
Camp Devens, 35 miles northwest of Boston, was seriously overcrowded. Built to house 36,000 troops, it contained more than 45,000 in early September 1918. The flu struck there.

Through the summer, Americans were being sent to Europe at the rate of 250,000 a month.

SICK SOLDIERS WERE OFTEN SENT ON TO EUROPE, PERHAPS AS INFECTIOUS AGENTS?
THE CDC HAS REVIVED THAT VIRUS, INTENTIONALLY RESTORED IT.... "FOR STUDY", AS REPORTED BY THE BBC:
"The Spanish Flu virus is contained at the US Centers for Disease Control and Prevention under stringent safety conditions.

It is hoped to carry out experiments to further understand the biological properties that made the virus so virulent.
The virus was recreated from data produced by painstaking research by a team from the US Armed Forces Institute of Pathology.
Lung tissue samples...
Working on virus samples from the remains of victims of the 1918 pandemic, the researchers were able to piece together the entire genetic sequence of the virus.
1931 Dr. Cornelius Rhoads, under the auspices of the Rockefeller Institute for Medical Investigations, infects human subjects with cancer cells.
He later goes on to establish the U.S. Army Biological Warfare facilities in Maryland, Utah, and Panama, and is named to the U.S. Atomic Energy Commission.

While there, he begins a series of radiation exposure experiments on American soldiers and civilian hospital patients.

1946

Patients in VA hospitals are used as guinea pigs

for medical experiments. In order to allay suspicions, the order is given to change the word "experiments" to "investigations" or "observations" whenever reporting a medical study performed in one of the nation's veteran's hospitals.
1951 Department of Defense begins open air tests using disease-producing bacteria and viruses. Tests last through 1969 and there is concern that people in the surrounding areas have been exposed.

1977 Senate hearings on Health and Scientific Research confirm that 239 populated areas had been contaminated with biological agents between 1949 and 1969. Some of the areas included San Francisco, Washington, D.C., Key West, Panama City, Minneapolis, and St. Louis.
1986 A report to Congress reveals that

the U.S. Government's current generation of biological agents includes

: modified viruses, naturally occurring toxins, and agents that are altered through genetic engineering to change immunological character and prevent treatment by all existing vaccines.

1987 Department of Defense admits that, despite a treaty banning research and development of biological agents, it continues to operate research facilities at 127 facilities and universities around the nation.
1995 Dr. Garth Nicolson, uncovers evidence that the biological agents used during the Gulf War had been manufactured in Houston, TX and Boca Raton, Fl and tested on prisoners in the Texas Department of Corrections.

1996 Department of Defense admits that Desert Storm soldiers were exposed to chemical agents.

1997 Eighty-eight members of Congress sign a letter demanding an investigation into bioweapons use & Gulf War Syndrome.



Absolutely nothing came from those demands....NO ONE has been jailed or even charged.
2015 The US now officially admits to conducting human experiments with mustard gas and other chemical weapons on 60,000 troops separated by race, including African Americans, Japanese-Americans, Puerto Ricans, and whites of European descent.

This is in addition to other human experiments the US carried out on African Americans, Guatemalans, Marshall Islanders, whom mainstream US culture referred to as "savages", and others.

Those listed above and those listed below are not even 1/1000th of the number of such "experiments" conducted on human beings by the U.S. government and/or military.
Americans either haven't looked into these experiments, or, perhaps like the citizens living near those infamous torture factories in the past who KNEW what was going on inside, justify it somehow in twisted minds?
A look at the congressional fight to keep Guantanamo OPEN after its atrocities have been revealed speaks volumes.

Or have we become so accustomed to, so desensitized to seeing wrongs committed that we no longer care, no longer have a sense of "right and wrong"?

Wrong in one place is wrong everywhere, whether it's for "national security" (like Hitler and Bush said) or for "scientific research" (like exposing troops and civilians to radiation intentionally), or just for kicks, to see what might happen.
WRONG IS WRONG AND IS NEVER RIGHT.


"Factions within the US Government's Military Industrial Complex have been, and indeed are now testing Directed Energy Weapons, along with chemical, nuclear and biological agents on members of the military and the civilian populace.


[See also:National Defense Magazine, May 26, 2016 - TAMPA, Fla: Special Operations Command to Test Directed Energy Weapon AND http://www.military.com/video/directed-energy-weapons/ ]


In fact, US law, approved by Congress, allows chemical and biological testing on the populace. (see PUBLIC LAW 105–85—NOV. 18, 1997 111 STAT. 1915)

The Presidential Commission for the Study of Bioethical Issues is composed of 13 members and was established in November of 2009 by way of Executive Order 13521 which was issued by President Barrack H. Obama.

According to the PCSBI official government website;
'In its report, the Commission found that the federal government supported

more than 55,000 projects involving human subjects around the globe in Fiscal Year 2010, mostly in health-related research...
In assessing the current regulations that protect human subjects, the Commission learned that there is no central source with information about the overall size, scope, and cost of the government's research involving human subjects.
The Commission requested information from 18 individual agencies that conduct most federal human subjects research, but discovered that many federal offices could not provide basic data about the research they support.
The Pentagon, for example, required more than seven months to prepare information on specific studies supported by the Department of Defense.
The Advisory Committee on Human Radiation Experiments (1994-95) was created by President Bill Clinton to investigate human radiation experiments conducted from 1944-1974 as well as radiation intentionally released into the environment for research purposes.


THE ABOVE IS ALLEGEDLY FROM A 1954 DECLASSIFIED DOCUMENT REGARDING MIND CONTROL "EXPERIMENTS" CARRIED OUT ON AMERICAN MILITARY "VOLUNTEERS".
(Larger image <here>.)

THE CODE NAME OF THE EXPERIMENT WAS 'PROJECT ARTICHOKE'.

A MUCH LARGER AND MORE PAGES OF THIS DECLASSIFIED DOCUMENT CAN BE SEEN AT http://www.foia.cia.gov/sites/default/files/document_conversions/89801/DOC_0000140399.pdf .

IT APPEARS TO ASK THE QUESTION: "CAN AN INDIVIDUAL OF ___ DESCENT BE MADE TO PERFORM AN ACT OF ASSASSINATION UNDER THE INFLUENCE OF ARTICHOKE?"

[NOTE: IT WAS THIS "PROJECT" THAT MANY 'CONSPIRACY THEORISTS CITE AS PROOF THAT THE MILITARY TRAINED PRESIDENTIAL ASSASSINS, AND IS THE MIND CONTROL EXPERIMENT THAT THE 1962 MOVIE "THE MANCHURIAN CANDIDATE" WAS SUPPOSEDLY BASED ON.]

The most incriminating statement to date made by a government official as to the existence of 'Project MONARCH' mind control experiments was extracted by Anton Chaitkin, a writer for the publication, The New Federalist.

When former CIA Director William Colby was asked directly,

"What about Monarch?" he replied angrily and ambiguously,

"We stopped that between the late 1960's and the early 1970's."


DOES THE GOVERNMENT SUPPORT OUR TROOPS?
(FROM INFORMATION BELOW THE FIRST VIDEO):

"On Memorial Day, politicians speak at ceremonies all over the country and repeat their favorite mantra: "Support the troops."

This pledge is hammered into the American psyche at every turn. But there is a hidden, dark history that shows that the politicians are in fact no friend to service members--but their greatest enemy.

An easy way to prove this truth is to look at how they so quickly betray and abandon their soldiers after purposely ruining their lives, and even after using them as literal lab rats.

In this disturbing chapter of The Empire Files, Abby Martin documents decades of experimentation on US troops—from nuclear tests to psychotropic drugs—as well as knowingly exposing them to deadly poisons, from sarin gas to Agent Orange.

Most damning is that the hundreds of thousands of veterans seeking help from the government for the side-effects are always met with lies and denial. "

MAINSTREAM MEDIA HAS, SURPRISINGLY, POINTED OUT THE WAY OUR TROOPS WERE USED, BUT NOT OFTEN ENOUGH.

FROM BLOOMBERG, Sept. 18, 2015:

"U.S. Soldiers Used as Guinea Pigs, Now Denied Care"

"For decades, thousands of U.S. soldiers took the military up on an offer that was hard to refuse: a few days off from the drudgery of base life in exchange for letting scientists run them through a few safety tests. Those who accepted, however, were in for an appalling surprise.
From just after World War I into the 1970s, soldiers and sailors were exposed to mustard gas, experimental nerve-agent antidotes and other toxic substances, all without their knowledge.
Now the survivors want to know exactly what the military did to them.
They want medical care. Yet the Pentagon seems intent on treating them like malingerers trying to get out of KP duty.
At least 70,000 troops

are covered by a class-action suit claiming that these experiments caused cancers, emphysema and other serious illnesses.
What they want seems understandable: to be told exactly what substances they were given and how risky they were, to be relieved of any confidentiality agreements they signed during the testing, and to receive care for any conditions that resulted.
Yet the Pentagon and Justice Department continue to fight this effort, in part on the grounds that 'the military had tried unsuccessfully to reach out to them over the years'.
In June, 2015, the 9th U.S. Circuit Court of Appeals in California sided with the survivors, ordering the military to release the information and telling the Army, rather than the overburdened Department of Veterans Affairs, to treat their conditions.
But that order did not end the travesty.
The Pentagon is asking for a rehearing.
It's true that it will be hard to prove that any illnesses or deaths were the direct result of the tests. Even so, many of these men suffered through horrific experiences.
For that alone, they deserve a day in court and compensation.
D
uring World War II, fearing that Germany would resort to the weapons of the first world war, the Army and Navy used their personnel as guinea pigs to test the effects of mustard gas and the efficacy of protective gear.
Some men, now in their 80s and 90s, recall being exposed to the nerve agent while locked in airtight chambers; the rooms had fans blowing across ice blocks to increase humidity, which makes the gas even more potent.
Their skin turned red, blistered and even fell off their hands.
Some say the skin conditions plague them still.
While the men were characterized as volunteers, the available records make clear that many were ordered to take part.

The War Department, as it was known at the time, didn't classify the testing as human experiments, thus technically avoiding the requirement for informed consent.
In later decades, the military turned to testing biological weapons and nerve weapons, in part to find ways to afflict the enemy with "fear, panic, hysteria, and hallucinations," as a scientist involved described it.

One man put through this ordeal in 1970s who later got records of those experiments through the Freedom of Information Act found he was given a nerve-agent antidote that scientists knew had side effects, and then quickly another drug intended to counter the effects of the initial dose.

Others were given the drug atropine, a hallucinogen; one ex-soldier says that for days afterward he heard imaginary voices and had visions of animals creeping out of walls.
The military insists that it has not abandoned these men, claiming it has tried to contact those who were part of the trials.

This rings hollow. In the early 1990s, after details of the World War II trials were declassified, the VA pledged to reach out to about 4,000 still-living Army and Navy veterans who were subject to the experiments.

Yet it only contacted 610 of them, claiming that the records were such a mess it made identifying many individuals impossible. Its outreach effort consisted of a single letter, with no follow-up.
However, a researcher for National Public Radio, which has been dogged in investigating the scope of the program, says it was able to locate about twice as many survivors

using the government's own data.
In reaction to the NPR series, Representative Gus Bilirakis, a Florida Republican on the House Committee on Veterans Affairs, said he will hold a hearing in which VA officials will testify about their efforts to help the survivors.
The VA has also pledged to double its efforts to locate those exposed to toxins in World War II testing.
Attention from Congress is welcome, but it is not the branch that needs to own up to its horrors.
The Army should stop bickering with the VA about who has responsibility for the survivors' health care.
The first step is to tell these men exactly what sort of mad science the military performed on them."
OPERATION DELIRIUM
The New Yorker, Dec. 17, 2012
[THE NEW YORKER ARTICLE IS VERY DISTURBING, VERY LENGTHY, BUT PERHAPS WORTH EXPLORING IN DEPTH FOR ANYONE INTERESTED IN THE MILITARY'S "MIND EXPERIMENTS".]


"For nearly a decade Colonel James S. Ketchum dreamed of war without killing. He joined the Army in 1956 and left it in 1976.
He became the military's leading expert in a secret Cold War experiment: to fight enemies with clouds of psychochemicals that temporarily incapacitate the mind—causing, in the words of one ranking officer, a "selective malfunctioning of the human machine."
Ketchum went about his work in the belief that chemicals are more humane instruments of warfare than bullets and shrapnel—or, at least, he told himself such things.
To achieve his dream, he worked tirelessly at a secluded Army research facility, Edgewood Arsenal, testing chemical weapons on hundreds of healthy soldiers, and thinking all along that he was doing good.
Within the Army, and in the world of medical research, the secret clinical trials are a faint memory. But for some of the surviving test subjects, and for the doctors who tested them, what happened at Edgewood remains deeply unresolved. Were the human experiments there a Dachau-like horror, or were they sound and necessary science? As veterans of the tests have come forward, their unanswered questions have slowly gathered into a kind of historical undertow...
The drugs under review ranged from tear gas and LSD to highly lethal nerve agents, like VX, a substance developed at Edgewood and, later, sought by Saddam Hussein.
Ketchum's specialty was a family of molecules that block a key neurotransmitter, causing delirium.
The drugs were known mainly by Army codes, with their true formulas classified.
The soldiers were never told what they were given, or what the specific effects might be, and the Army made no effort to track how they did afterward. Edgewood's most extreme critics raise the spectre of mass injury—a hidden American tragedy.
I spoke to a former Edgewood test subject who was given the nerve agent VX, which, when applied to the skin, is a hundred times as deadly as sarin. An officer came to his bedside to draw a small circle on his arm, and then a doctor with a syringe squirted on a drop of liquid.
The effect was rapid.

The subject heard other people groaning, but he felt only a calm disassociation from his environment. There was a radio on in the room, but the words made little sense. When he was given food, he didn't know what to do with his utensils.

"I was not in control," he told me. "It was incredible. This tiny drop had rendered me helpless."
As the test continued, he was seized by an agonizing wave of tension, as if each nerve ending were being crushed in a vise. "It was intense," he told me. "My body was clenched. All of my nerves were tight, physically and mentally."

FROM CNN, AN ARTICLE AND ONSITE VIDEO DETAILING ONE 18-YEAR-OLD PRIVATE'S TWO-MONTH "ASSIGNMENT" TO KETCHUM'S FACILITY.

The moment 18-year-old Army Pvt. Tim Josephs arrived at Edgewood Arsenal in 1968, he knew there was something different about the place.
"It just did not look like a military base, more like a hospital," recalled Josephs, a Pittsburgh native. Josephs had volunteered for a two-month assignment at Edgewood, in Maryland, lured by three-day weekends closer to home.

NO ONE MENTIONED DRUGS OR CHEMICALS...

"It was like a plum assignment," Josephs said. "The idea was they would test new Army field jackets, clothing, weapons and things of that nature, but no mention of drugs or chemicals."
But when he went to fill out paperwork the morning after his arrival, the base personnel were wearing white lab coats, and Josephs said he had second thoughts. An officer took him aside.
"He said, 'You volunteered for this. You're going to do it. If you don't, you're going to jail. You're going to Vietnam either way -- before or after,'" Josephs said recently.
From 1955 to 1975, military researchers at Edgewood were using not only animals but human subjects to test a witches' brew of drugs and chemicals. They ranged from potentially lethal nerve gases like VX and sarin to incapacitating agents like BZ.


The military also tested tear gas, barbiturates, tranquilizers, narcotics and hallucinogens like LSD.


This top secret Cold War research program initially looked for ways to defend against a chemical or biological attack by the Soviet Union, thought to be far ahead of the United States in "psycho-chemical" warfare. But the research expanded into offensive chemical weapons, including one that could, according to one Army film obtained by CNN, deliver a "veritable chemical ambush" against an enemy.
"This incapacitating agent would be dispersed by standard munitions, and the agent would enter the building through all nonprotected openings," the film's narrator boasts.
President Nixon ended research into offensive chemical weapons in 1969, and the military no longer uses human subjects in research on chemical agents, said a spokesman for Edgewood Chemical Biological Center, as the facility is known now.
[IMAGINE WHAT ANIMALS THERE GO THROUGH!]
Tests began for Josephs almost as soon as he arrived at Edgewood for a two-month assignment on January 1, 1968.
Josephs said he didn't know what drugs he was getting. "A lot of chemicals were referred to as agent one or agent two."
Some weeks, he would undergo one test; other weeks, more, Josephs said. And when he questioned the staff about whether he was in any danger, they reassured him: "There is nothing here that could ever harm you."

But Josephs, 63, believes the chemical agents he received during his two-month stint at Edgewood did harm him, triggering health problems that continue to plague him four decades later. Even when he talks about Edgewood, he said, "I get a tightness in my chest."

Days before his Edgewood duty ended, in February 1968, Josephs was hospitalized for days with Parkinson's-like tremors, symptoms he said have followed him on and off throughout his adult life.
From Edgewood, Josephs said he went to an Army installation in Georgia, where he experienced tremors so severe, he had to be admitted to the base hospital and given muscle relaxers.

The Army then sent Josephs to Air Force bases in Thailand, in support of the war effort in Vietnam.
He was told never to talk about his experiences at Edgewood and to forget about everything he ever did, said or heard at the Maryland base.

In his mid-50s, Josephs was diagnosed with Parkinson's disease, a progressive neurological condition that forced him to retire early. Medications cost $2,000 a month, which he was paying for out of pocket.

DENIAL OF HARM AT EDGEWOOD ...
Josephs applied for veterans benefits based on chemical exposure at Edgewood. Last year, the Department of Veterans Affairs granted him partial benefits for his Parkinson's for Agent Orange exposure during his time in Thailand, giving Josephs 40% disability.

The letter granting him benefits made no mention of Edgewood.

Josephs says he now takes two dozen pills daily. His symptoms vary from day to day. Sometimes, he has trouble swallowing. Other times, he experiences numbness in his joints or or tremors. He says he tires easily.
He blames his time at Edgewood for all this, and he has joined a lawsuit on behalf of Edgewood veterans seeking medical benefits from the Department of Veterans Affairs.

Josephs has not received ANY health benefits related to his time as a human test subject at Edgewood.



MEDICAL HELP DENIED...EVERYTHING, DENIED...
In addition to medical benefits, the lawsuit is asking that the Defense Department and Department of Veteran Affairs find all Edgewood veterans and provide them with details of the chemicals they received and their possible health effects.
Gordon Erspamer, lead attorney in the suit, said the government has reached very few of the 7,000 or so Edgewood veterans, and the VA has turned down almost all Edgewood-related health claims.

Court documents show that the Veterans Benefits Administration rejected 84 of 86 health claims related to chemical or biological exposure.

"The whole thing stinks, and if the American people knew about it, they would not tolerate it. This kind of behavior toward our veterans would not be allowed to happen," Erspamer said.

"They're hoping we die off, so you apply [for benefits], you get turned down," Josephs said. "And it just goes on for years and years, and they just want to wear us down. They want to use young men as guinea pigs and throw them away."
"I really felt a duty to my country to go and serve," he said. "Things were different back then. You believed in your government. And you just wouldn't think they would give you something that would harm you intentionally."
The Department of Defense and Department of Veterans Affairs declined face-to-face interviews with CNN, citing pending litigation.
'PROJECT ARTICHOKE' WAS ANOTHER SIMILAR "EXPERIMENT"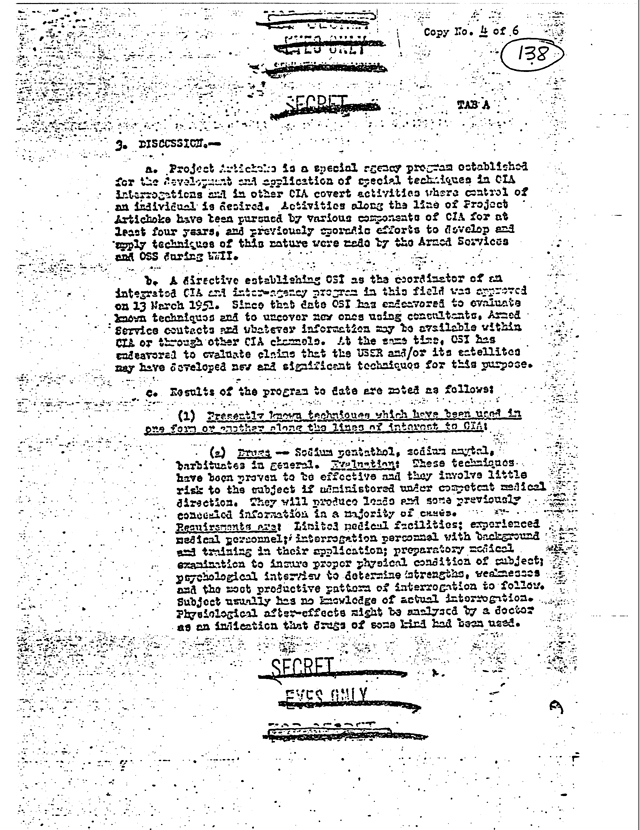 In the 1950s, the CIA's Office of Scientific Intelligence (OSI) ran a series of mind control projects in an attempt to answer the question "Can we get control of an individual to the point where he will do our bidding against his will and even against fundamental laws of nature?"
One of these programs, Project Artichoke, studied hypnosis, forced morphine addiction, drug withdrawal, and the use of chemicals to incite amnesia in unwitting human subjects. Though the project was eventually shut down in the mid-1960s, the project opened the door to extensive research on the use of mind-control in field operations.


"SUPER SOLDIER" EXPERIMENTS

IT BEGAN, APPARENTLY, IN GERMANY IN THE 1940s, THE ATTEMPT TO CREATE "SUPER SOLDIERS" WITH A DRUG CALLED "D-IX".
D-IX was a methamphetamine-based experimental performance enhancer developed by the Nazis in 1944 for military application.

The researcher who rediscovered this project, Wolf Kemper, said that "the aim was to use D-IX to redefine the limits of human endurance.".
Nazi doctors found that equipment-laden test subjects could march in a circle for up to 56 MILES (90 kilometers) per day WITHOUT REST while carrying a 44-POUND (20 kilogram) backpack.
Twenty-four hours later, the majority of them fell down on the ground dead.

THE IDEA WAS PLANTED IN THE MINDS OF THE "ALLIED FORCES", INCLUDING AMERICA.
EVER SINCE, ATTEMPTS TOCREATE JUST SUCH A SOLDIER HAVE BEEN UNDYING.

FROM 'THE ATLANTIC', SEPT. 23, 2015:
"Engineering Humans for War:
Inside the Pentagon's efforts to create a super-soldier—and change the future of the battlefield."
"For decades after its inception in 1958, the Defense Advanced Research Projects Agency—DARPA, the central research and development organization of the Department of Defense—focused on developing vast weapons systems.
Starting in 1990, and owing to individuals like r
etired four-star general Paul F. Gorman, a new focus was put on soldiers, airmen, and
sailors—on transforming humans for war. The progress of those efforts, to the extent it can be assessed through public information, hints at war's future, and raises questions about whether military technology can be stopped, or should be.
'TALOS' is strikingly close to the futuristic exoskeleton that Gorman first envisioned for DARPA

25 years ago

, and aims to be "fully functional" by 2018.

"I am here to announce that we are building Iron Man," President Barack Obama said of the suit during a manufacturing innovation event in 2014.

When the president said, "This has been a secret project we've been working on for a long time," he wasn't kidding.
It was the collapse of the Soviet Union that accelerated many of DARPA's most radical super-soldier science programs.
The revelation that the Soviets had developed an extensive biological-weapons program caused DARPA to bring biologists into its ranks, and with the life sciences at the fore, DARPA began to look

inside the human body, toward a scientific capability that could transform soldiers from the inside out.
The turn of the century "was a radical time to be at DARPA,"
Defense Sciences Office (DSO) director Michael Goldblatt said.
He believed that defense sciences could demonstrate that "the next frontier was inside of our own selves," and he became a pioneer in military-based transhumanism—the notion that man can alter the human condition fundamentally by augmenting the body with machines and other means.

[President] Clinton gave lots of money to the countermeasures program for unconventional pathogens," with the result that DARPA had plenty of funding for biology programs. Goldblatt saw the creation of the super-soldier as imperative to 21st-century warfare.
Goldblatt ran the DSO from 1999 until 2004, and when he spoke to me last year, he could only describe unclassified programs.
More than 10 years after his departure, the status of the "super-soldier" pursuits he helped launch is murky; DARPA's highest-risk, highest-payoff programs remain secret until they are unveiled on the battlefield.
"Soldiers having no physical, physiological, or cognitive limitation will be key to survival and operational dominance in the future," Goldblatt told his program managers a few weeks after his arrival.

One program in the DSO, called Persistence in Combat, [that link is a PDF that downloads automatically] addressed three areas that slowed soldiers down on the battlefield: pain, wounds, and excessive bleeding.
Goldblatt hired a biotechnology firm to develop a pain vaccine. If a soldier got shot, Goldblatt explained, the vaccine would "reduce the pain triggered by inflammation and swelling," the desired result being "10 to 30 seconds of agony then no pain for 30 days."
Such a vaccine would allow the war-fighter to keep fighting so long as bleeding could be stopped.

To develop new ways to try to stop bleeding, Goldblatt initiated another program that involved injecting millions of microscopic magnets into a person, which could later be brought together into a single area to stop bleeding with the wave of a wand.
Another idea was to find a way to get a wounded soldier to go into a kind of hibernation, or suspended animation, until help arrived.

Achieving this goal would give a soldier precious hours, or even days, to survive blood loss and avoid going into shock while awaiting evacuation or triage.

Bears hibernate. Why can't man? Could a chemical compound produce such a state?
Sleep, too, was a focus of intense research at DSO.

In the Continually Assisted Performance program, [previous link is instant download PDF] scientists worked on ways to create a "24/7 soldier," one who required little or no sleep for up to seven days.
If this could be achieved, an enemy's need for sleep would put him at an extreme disadvantage.

Goldblatt's program managers hired marine biologists studying certain sea animals to look for clues.

Whales and dolphins don't sleep; as mammals, they would drown if they did.
Unlike humans, they are somehow able to control the lobes of their left and right brains so that while one lobe sleeps, the opposite lobe stays awake, allowing the animal to swim.

While some DARPA scientists ruminated over the question of how humans might one day control the lobes of their own brains, other scientists experimented with drugs like Modafinil, a powerful medication used to counter sleep apnea and narcolepsy, to keep warfighters awake.
Other programs explored other questions. What if soldiers could have 10 times the muscle endurance of enemy soldiers? What if they could leap seven feet or do 300 pull-ups a day?
Under the DSO banner, in a program called the Brain-Machine Interface, DARPA scientists studied how brain implants could enhance cognitive ability.

The program's first goal was to create "a wireless brain modem for a freely moving rat," DARPA's Eric Eisenstadt stated at a technology conference in 2002.

The scientists would implant a chip in the rat's brain to see if they could remotely control the animal's movements.

"The objective of this effort," Eisenstadt explained, "is to use remote teleoperation via direct interconnections with the brain."

The bigger objective was to allow future "soldiers [to] communicate by thought alone. … Imagine a time when the human brain has its own wireless modem so that instead of acting on thoughts, warfighters have thoughts that act," Eisenstadt suggested.
WARNINGS!
But a 2008 report by defense scientists raised some warnings.
"An adversary might use" brain technology "in military applications. … An extreme example would be remote guidance or control of a human being."
Other critics said that the quest to enhance human performance on the battlefield would lead scientists down a morally dangerous path.
Michael Goldblatt disagreed. "How is having a cochlear implant that helps the deaf hear any different than having a chip in your brain that could help control your thoughts?" he asked.
[HOW MANY RECENT SHOOTERS, THOSE WHO KILLED MORE THAN ONE, COMPLAINED OF BEING CONTROLLED BY 'ELF' (EXTRA LOW FREQUENCY), OF HEARING VOICES, OF BEING TOLD TO KILL?



Aaron Alexis Carved 'My ELF Weapon' on the Stock of his Shotgun

REMEMBER OTHER SUCH HEADLINES DURING THE PAST 10-20 YEARS?]
When questioned about unintended consequences, like controlling humans for nefarious ends, Goldblatt insisted, "There are unintended consequences for everything."
"I do not accept that our soldiers cannot physically outperform the enemy on his home turf," [PDF file] said Dr. Michael Callahan, who heads the project at DARPA's Defense Sciences Office, during a 2007 presentation.
The goal is to make soldiers "kill-proof" against all sorts of conditions, including infectious diseases, chemical, biological and radioactive weapons, temperature and altitude extremes, and harsh natural environments."

MAN OR MACHINE?


Working with the human genome, DARPA hopes to manipulate certain gene expressions.

In experimentation, DARPA and the military industrial pharmaceutical complex are using natural abilities that are enhanced through genetic engineering.

Some of the medical feats DARPA would like to enhance are the ability of military soldiers to regrow limbs destroyed in battle.

By eliminating empathy, the Department of Defense (DoD) hopes to "enhance" a soldier's ability to "kill without care or remorse, shows no fear, can fight battle after battle without fatigue and generally behave more like a machine than a man."

Scientists are researching the construction of soldiers that feel no pain, terror and do not suffer from fatigue as tests on the wiring of the human brain are furthered by Jonathan Moreno, professor of bioethics at Pennsylvania State University.
Moreno is working with the DoD in understanding neuroscience.
The Pentagon allocated $400 million to this research.
According to Joel Garreau, professor at Arizona University, DARPA is learning how to genetically modify human fat into pure energy by rewiring the metabolic switch which would create soldiers that

require less food

.
The Project for the New American Century (PNAC) published a document entitled Rebuilding America's Defenses in 2000 which frameworks a strategy for American hegemony in the near future, identifying "problem areas" of the world and advising regime change of unfavorable governments so that in the end the nations of the world will be unified under the banner of American democracy.

The revelation of former US President George Bush's "axis of evil" defined American policy under the guidelines of the PNAC with the identification of Iran, Iraq and North Korea which is literally mentioned in the PNAC as governments that require a regime change.

In the PNAC, the globalists have described the use of scientific enhancement and clinical trials turning the US armed forces into guinea pigs for the advancement of a super solider.

While Roger Pitman , professor of psychiatry at Harvard University is experimenting with propranolol which is a beta blocker that is believed to erase "terrifying memories", soldiers are subjected to more research while serving to alleviate the psychological effects of war.

Moreno explains:

"The problem is: what else are they blocking when they do this? Do we want a generation of veterans who return without guilt?"

HOW MANY UNWITTING SOLDIERS HAVE BEEN TAGGED TO PARTICIPATE IN THESE RECENT "EXPERIMENTS"?

WITH THE UPSURGE IN MILITARY VETERAN SUICIDES, SHOULD WE LOOK TO SEE HOW MANY OF THOSE WERE PARTICIPANTS IN SUCH STUDIES AS WE KNOW ARE ONGOING?

ARE THEY BEING PROGRAMMED TO SELF-DESTRUCT?
I HONESTLY MUST WONDER ABOUT THAT, GIVEN WHAT WE KNOW ABOUT THESE MIND CONTROL EXPERIMENTS.

MAYBE IN ANOTHER 15 TO 20 YEAR, SUCH INFORMATION WILL BE DECLASSIFIED.

OR, MAYBE IN ANOTHER 15 TO 20 YEARS, THANKS TO "SCIENCE" LIKE OUR GOVERNMENT IS USING TO CONTROL THOSE "SUPER SOLDIERS", WE'LL ALL BE SO CONTROLLED WE JUST WON'T GIVE A DAMN WHAT'S HAPPENING?
SEEMS TO ME THAT WE'RE ALMOST TO THAT POINT NOW.
WAR....WHO IS IT GOOD FOR? WALL STREET, THOSE PAID BY "UNCLE SAM" TO CREATE THE MEANS FOR WAR.
MAY 27, 2016
"Civilians, not soldiers, are always the vast majority of war's casualties. People die not for freedom and democracy but in order for armaments manufacturers to make large fortunes.

Major General Smedley Butler said that his US Marines died for the sake of the profits of the United Fruit Company and some lousy bank investment—truth that you never hear on Memorial Day or July 4th.
[

GENERAL BUTLER'S SPEECH, (Quoted here in part):
1935
"WAR is a racket. It always has been.
It is possibly the oldest, easily the most profitable, surely the most vicious.
It is the only one international in scope.
It is the only one in which the profits are reckoned in dollars and the losses in lives.
A racket is best described, I believe, as something that is not what it seems to the majority of the people.
Only a small "inside" group knows what it is about.

It is conducted for the benefit of the very few, at the expense of the very many.
Out of war a few people make huge fortunes.
In the World War [I] a mere handful garnered the profits of the conflict.
At least 21,000 new millionaires and billionaires were made in the United States during the World War.
That many admitted their huge blood gains in their income tax returns.
How many other war millionaires falsified their tax returns no one knows.
How many of these war millionaires shouldered a rifle?
How many of them dug a trench?
How many of them knew what it meant to go hungry in a rat-infested dug-out?
How many of them spent sleepless, frightened nights, ducking shells and shrapnel and machine gun bullets?
How many of them parried a bayonet thrust of an enemy? How many of them were wounded or killed in battle?
Out of war nations acquire additional territory, if they are victorious.
They just take it.
This newly acquired territory promptly is exploited by the few -- the selfsame few who wrung dollars out of blood in the war.

The general public shoulders the bill.
And what is this bill?
This bill renders a horrible accounting.
Newly placed gravestones.
Mangled bodies.
Shattered minds.
Broken hearts and homes.
Economic instability.
Depression and all its attendant miseries.
Back-breaking taxation for generations and generations.
For a great many years, as a soldier, I had a suspicion that war was a racket; not until I retired to civil life did I fully realize it.
Now that I see the international war clouds gathering, as they are today, I must face it and speak out.
There are 40,000,000 men under arms in the world today, and our statesmen and diplomats have the temerity to say that war is not in the making.
Hell's bells! Are these 40,000,000 men being trained to be dancers?
Of course, for this loss, there would be a compensating profit -- fortunes would be made.
Millions and billions of dollars would be piled up. By a few.
Munitions makers.
Bankers.
Ship builders.
Manufacturers.
Meat packers.
Speculators.
They would fare well.
Yes, they are getting ready for another war.
Why shouldn't they? It pays high dividends.
But what does it profit the men who are killed?
What does it profit their mothers and sisters, their wives and their sweethearts?
What does it profit their children?
What does it profit anyone except the very few to whom war means huge profits?
Yes, and what does it profit the nation?

For a very few this racket, like bootlegging and other underworld rackets, brings fancy profits, but the cost of operations is always transferred to the people -- who do not profit. " End Quote]
I still see bumper stickers: "Support the Troops."
I would like to see one that reads: "Damn the Government for NOT Supporting the Troops!"
Perhaps what we need is another Memorial Day commemorating the hundreds of thousands of American soldiers that the government in Washington used for radiation and chemical weapons experiments."

NO.
WHAT WE NEED IS A MILITARY FOR DEFENSE ONLY, NOT SENT TO ALL POINTS OF THE GLOBE, BUT STAYING RIGHT HERE AT HOME.

MAYBE THEY COULD CONTROL OUR "HOME-GROWN TERRORISTS" THAT OCCUPY THE SEATS IN THE U.S. CONGRESS....AND THE OVAL OFFICE. THEN AGAIN, MAYBE THE REASON THE GOVERNMENT IS WORKING SO HARD TO GAIN CONTROL OF HUMAN MINDS IS JUST SO THEY CAN PREVENT THE RETURNING VETERANS FROM DEFENDING US AGAINST....THE GOVERNMENT?

TO KEEP ALL OF US DOCILE, COMPLACENT, OBEDIENT SHEEP...HOW GREAT WOULD THAT BE FOR ANY GOVERNMENT, RIGHT?

THINK ABOUT THAT....




___________________

SOURCES AND FURTHER READING:
"In 1948 Heinrich Mueller, the former head of the Gestapo, told his CIA Interrogator that the influenza pandemic of 1918-19, the most devastating plague in human history, was man-made.
Mueller said the flu started as a US army bacteriological warfare experiment that somehow infected US army ranks at Camp Riley, Kansas in March 1918, and spread around the world.
He said that it "got out of control" but we cannot discount the horrible possibility that the "Spanish Flu" was a deliberate elite depopulation measure, and that it could be used again.

Researchers have found connections between it and the recurring "Bird Flu."
At a 1944 Nazi bacteriological warfare conference in Berlin, General Walter Schreiber, Chief of the Medical Corps of the German Army told Mueller that he had spent two months in the US in 1927 conferring with his counterparts.

They told him that the "so-called double blow virus" (i.e. Spanish Flu) was developed and used during the 1914 war.
Mueller: "I am not a doctor, you understand, but the 'double-blow' referred to a virus, or actually a pair of them that worked like a prize fighter. The first blow attacked the immune system and made the victim susceptible, fatally so, to the second blow which was a form of pneumonia...[Schreiber told me] a British scientist actually developed it...Now you see why such things are insanity. These things can alter themselves and what starts out as a limited thing can change into something really terrible."
[ Source
:"Gestapo Chief: The 1948 CIA Interrogation of Heinrich Mueller" Vol. 2 by Gregory Douglas, p. 106]
" The flu pandemic of 1918-1919 infected 20% of the world's population and killed between 60 and 100 million people. This is roughly three times as many people as were killed and maimed in World War One, and is comparable to WWII losses.
One observer wrote, "Another unusual feature of this pandemic was that it mostly killed young adults, with 99% of pandemic influenza deaths occurring in people under 65 and more than half in young adults 20 to 40 years old."

[See
Swine Flu Expose' - by Eleanora I. McBean, Ph.D., N.D., 1976]


[See also
"I WAS AN ON-THE-SPOT OBSERVER OF THE 1918 INFLUENZA EPIDEMIC"]
This is unusual since influenza is normally most deadly to the very young (under age 2) and the very old (over age 70). "


~ A History of U.S. Secret Experimentation
~ DARPA's "WARRIOR WEB PROJECT"...
https://www.army.mil/article/125315

~ From NBC News, "Ugly Past of U.S. Human Experiments Uncovered"
An exhaustive review by The Associated Press of medical journal reports and decades-old press clippings found more than 40 such studies. At best, these were a search for lifesaving treatments; at worst, some amounted to curiosity-satisfying experiments that hurt people but provided no useful results.

"Attitude similar to Nazi experiments"
The AP review of past research found:
A federally funded study begun in 1942 injected experimental flu vaccine in male patients at a state insane asylum in Ypsilanti, Mich., then exposed them to flu several months later.
It was co-authored by Dr. Jonas Salk, who a decade later would become famous as inventor of the polio vaccine.
In the last 15 years, two international studies sparked outrage.
One was likened to Tuskegee. U.S.-funded doctors failed to give the AIDS drug AZT to all the HIV-infected pregnant women in a study in Uganda even though it would have protected their newborns. U.S. health officials argued the study would answer questions about AZT's use in the developing world.
The other study, by Pfizer Inc., gave an antibiotic named Trovan to children with meningitis in Nigeria, although there were doubts about its effectiveness for that disease. Critics blamed the experiment for the deaths of 11 children and the disabling of scores of others. Pfizer settled a lawsuit with Nigerian officials for $75 million but admitted no wrongdoing.
Last year, the U.S. Department of Health and Human Services' inspector general reported that between 40 and 65 percent of clinical studies of federally regulated medical products were done in other countries in 2008, and that proportion probably has grown. The report also noted that U.S. regulators inspected fewer than 1 percent of foreign clinical trial sites.


~ PROJECT MK-ULTRA DID EXIST...
The following Senate report from 1977 on the CIA's MKULTRA program was originally

posted online by the New York Times.
"PROJECT MKULTRA, THE CIA'S PROGRAM OF RESEARCH IN BEHAVIORAL MODIFICATION"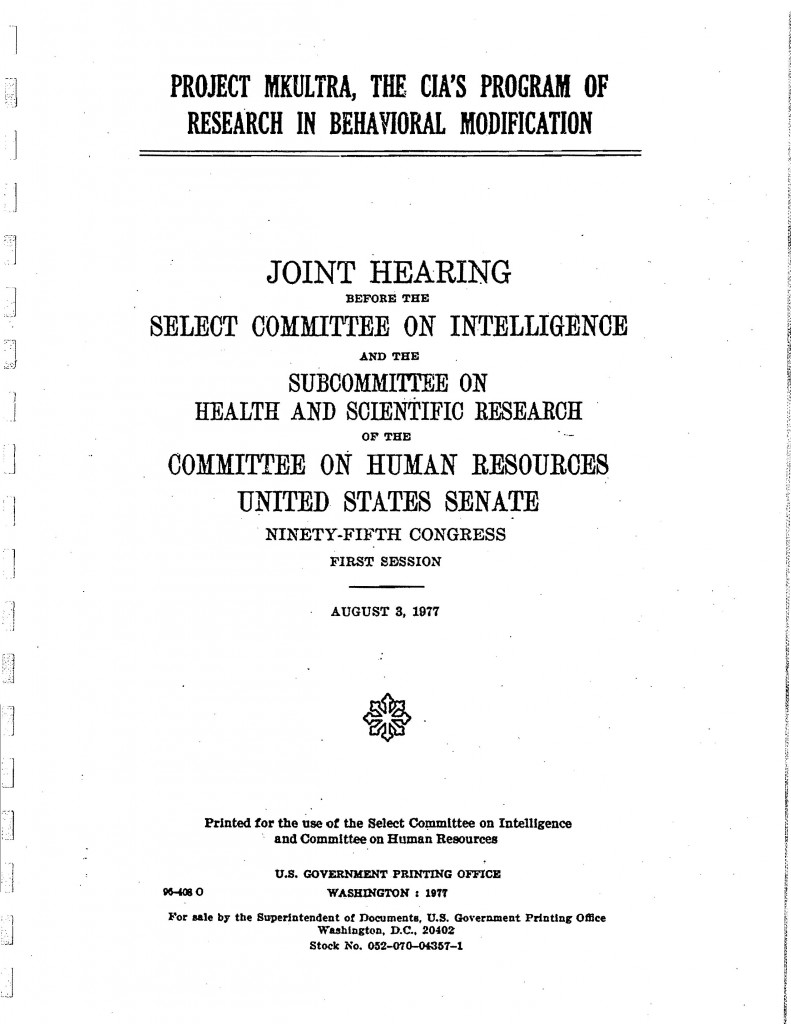 ~ With the CIA and National Security Council firmly established, the first in a series of covert brain-washing programs was initiated by the Navy in the fall of 1947.
Project CHATTER was developed in response to the Soviet's "successes" through the use of "truth drugs." This rationale, however was simply a cover story if the program were to be exposed. The research focused on the identification and testing of such drugs for use in interrogations and the recruitment of agents.
The project was "officially terminated" in 1953.

The CIA decided to expand their efforts in the area of behavior modification, with the advent of Project BLUEBIRD, approved by director Allen Dulles in 1950.
(1) discover a means of conditioning personnel to prevent unauthorized extraction of information from them by known means

(2) investigate the possibility of control of an individual by application of special interrogation techniques

(3) investigate memory enhancement

(4) establish defensive means for preventing hostile control of agency personnel
In August 1951, Project BLUE BIRD was renamed Project ARTICHOKE, which evaluated offensive uses of interrogation techniques, including hypnosis and drugs.
The program ceased in 1956. Three years prior to the halt of Project ARTICHOKE, Project MK-ULTRA came into existence on April 13, 1953 along the lines proposed by Richard Helms, Deputy Director of Central Intelligence (DDCI) with the rationale of establishing a "special funding mechanism of extreme sensitivity."



The hypothetical etymology of "MK" may possibly stand for "Mind Kontrolle." The obvious translation of the German word "Kontrolle" into English is "control."
A host of German doctors, procured from the post war Nazi talent pool, were an invaluable asset toward the development of MKULTRA. The correlation between the concentration camp experiments and the numerous sub-projects of MKULTRA are clearly evident.
The various avenues used to control human behavior under MKULTRA included:
materials "LSD" being the most widely dispensed "material"
A special procedure, designated MKDELTA, was established to govern the use of MKULTRA abroad. MKULTRA/DELTA materials were used for harassment, discrediting or disabling purposes.




149 SUB-PROJECTS!
There were 149 subprojects listed under the umbrella of MKULTRA. Project MONARCH has not been officially identified by any government documentation as one of the corresponding subprojects, but is used rather, as a descriptive "catch phrase" by survivors, therapists, and possible "insiders".
MONARCH may in fact, have culminated from MKSEARCH subprojects such as operation SPELLBINDER, which was set up to create "sleeper" assassins (ie. "Manchurian candidates") who could be activated upon receiving a key word or phrase while in a post-hypnotic trance.
Operation OFTEN, a study which attempted to harness the power of occultic forces was possibly one of several cover programs to hide the insidious reality of Project MONARCH.

A former military officer connected to the DIA, told this writer,
"In the 'big picture' these people [MONARCH victims] are in all walks of life, from the bum on the street to the white-collar guy".
In corroboration, a retired CIA agent vaguely discussed the use of such personnel to be used as "plants" or "chameleons" for the purpose of infiltrating a designated group, gathering information and/or injecting an ulterior agenda.

There are an inordinate amount of alters in the victim/survivor with numerous back-up programs, mirrors and shadows. A division of light-side (good) and dark-side (bad) alters are interwoven in the mind and rotate on an axis. One of the main internal structures, (of which their are many) within the system is shaped like a double-helix, consisting of seven levels. Each system has an internal programmer which oversees the "gatekeeper" who grant or deny entry into the different rooms.
A few of the internal images predominately seen by victims/survivors are:



trees

the Cabalistic "Tree of Life," with adjoining root systems

infinity loops

ancient symbols and letters

spider webs

mirrors or glass shattering

masks

castles

mazes

demons/monsters/aliens

sea shells

butterflies

snakes

ribbons

bows

flowers

hour glasses

clocks

robots

chain-of-command diagrams

schematics of computer circuitry boards
LEVELS OF 'PROJECT MONARCH':
ALPHA.

Regarded as "general" or regular programming within the base control personality; characterized by extremely pronounced memory retention, along with substantially increased physical strength and visual acuity. Alpha programming is accomplished through deliberately subdividing the victims personality which, in essence, causes a left brain-right brain division, allowing for a programmed union of L and R through neuron pathway stimulation.



BETA

. Referred to as "sexual" programming. This programming eliminates all learned moral convictions and stimulates the primitive sexual instinct, devoid of inhibitions. "Cat" alters may come out at this level.



DELTA

. This is known as "killer" programming, originally developed for training special agents or elite soldiers (i.e. Delta Force,

First Earth Battalion

, Mossad, etc.) in covert operations. Optimal adrenal output and controlled aggression is evident. Subjects are devoid of fear; very systematic in carrying out their assignment. Self-destruct or suicide instructions are layered in at this level.



THETA,

considered to the "psychic" programming. Bloodliners (those coming from multi-generational Satanic families) were determined to exhibit a greater propensity for having telepathic abilities than did non-bloodliners. Due to its evident limitations, however, various forms of electronic mind control systems were developed and introduced, namely, bio-medical human telemetry devices (brain implants), directed-energy lasers using microwaves and/or electromagnetics. It is reported these are used in conjunction with highly-advanced computers and sophisticated satellite tracking systems.



OMEGA

. A "self-destruct" form of programming, also known as "Code Green." The corresponding behaviors include suicidal tendencies and/or self-mutilation. This program is generally activated when the victim/survivor begins therapy or interrogation and too much memory is being recovered.



GAMMA.

Another form of system protection is through "deception" programming, which elicits misinformation and misdirection. This level is intertwined with demonology and tends to regenerate itself at a later time if inappropriately deactivated.
The names and locations of some of the major institutions involved in MONARCH programming experimentation were/are:



Georgetown University Hospital

Maimonides Medical Center

St. Elizabeth's Hospital (Washington D.C.)

Stanford Research Institute

Westinghouse Friendship Laboratories

Mankind Research Unlimited

The "final product" was/is usually created on military installations and bases, where maximum security is required. Referred to as (re) programming centers or near-death trauma centers, the most heavily identified are:
China Lake Naval Weapons Center

Other places recognized as major programming sites are:



Los Alamos National Laboratories

areas in or by Mt. Shasta, CA, Lampe, MO and Las Vegas, NV.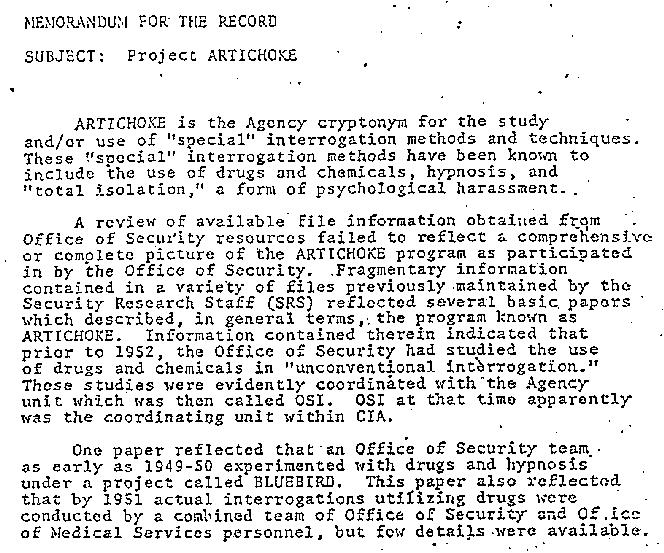 100 YEARS AS LAB RATS, GEOENGINEERING WATCH
~ http://www.geoengineeringwatch.org/betrayed-100-years-of-us-troops-as-lab-rats/

HUMAN TEST SUBJECTS, CNN
~ http://www.cnn.com/2012/03/01/health/human-test-subjects/
.~ Even Wikipedia lists "secret experiments" on newborns, infants and very young children, as well as adult "subjects", so have a read there for several I didn't include here, and then ask yourselves....HOW is that different from what was done to people in Nazi concentration camps & POW sites in Korea, China, Japan, and all across the globe?

https://en.wikipedia.org/wiki/Unethical_human_experimentation_in_the_United_States#Late_19th_century

IF OUR GOVERNMENT WILL DO THESE THINGS TO THE MEN AND WOMEN WE DEPEND ON TO SAFEGUARD AMERICA'S DEFENSE, AND THEY HAVE, WHAT WON'T THEY DO TO 'EXPENDABLE' CIVILIANS?