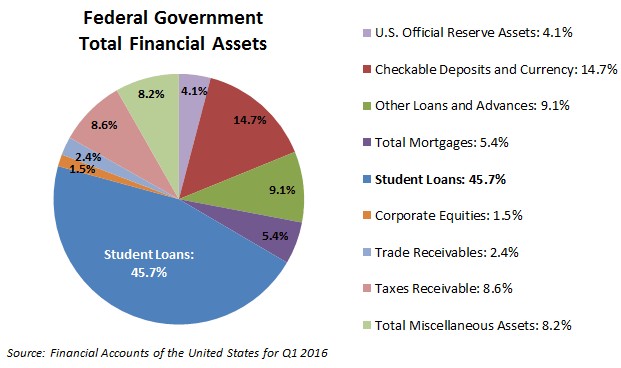 IT'S VERY SIMPLE, REALLY

:

DOES AMERICA'S INCOME MATCH ITS OUTGO...DO AMERICANS MAKE ENOUGH TO STAY ABOVE WATER?

THE ANSWER, IN BOTH CASES, IS NO.

THE GOVERNMENT'S CURRENT BIG MONEY-MAKER?
STUDENT LOANS.

DEFAULTS IN THIS AREA OF GOVERNMENT REVENUE WILL HURT.


WHY?


Because Universities bear none of the risks [of student loans], the federal government does.

DEBT SLAVES FOR DECADES...

"If former students cannot find employment with enough income to pay for this debt, and if they then default, or if this debt is forgiven in some manner, then lenders (mostly the government, and therefore taxpayers) eat the losses, while the university smiles all the way to the bank — when it should be the universities that eat the losses on loans of their former students.

[ANOTHER THING THIS DEBT DOES IS PREVENT YOUNG AMERICANS FROM BUYING HOMES, SPENDING THAT MONEY BACK

FOR AYTHING BUT DEBT TO THE FEDERAL GOVERNMENT.]



"This is inflation of the most pernicious kind that will haunt the US economy for years, and the Fed is blissfully blind to it.",
writes Jill Mislinski at Advisor Perspectives, which runs an excellent series of analyses and updates on the topic. "
In a separate analysis, Advisor Perspectives today reported on the outstanding student loan balances for the first quarter, based on federal loans to students from the Fed's Z.1 Financial Accounts of the United States.

At $986 billion, the outstanding student loan balances have soared 853% since Q4 2007, when the Great Recession began.

TAXES ARE THE 2nd BIGGEST FEDERAL MONEYMAKER, BUT TAX REVENUES FROM CORPORATIONS ARE AT A HISTORICAL LOSS

...


ALL OVER THE NEWS, STATES ARE MOANING OVER LOSS OF SALES TAX...TEXAS, MICHIGAN, WISCONSIN, MANY OTHERS, ALL COME UP AS BEING BADLY AFFECTED BY THIS WHEN I DID A SEARCH USING "Sales tax drops again, shortfall increases".

AS WE'LL SOON SEE, CORPORATIONS ARE PAYING LESS TAXES, PERIOD, LESS IN EVERYTHING, ALL DEPARTMENTS, SO THAT'S ANOTHER STRIKE AGAINST A HEALTHY INCOME FOR UNCLE SAM.

ADDING STUDENT LOAN DEFAULTS TO THE LOWER CORPORATE TAXES OUR CONGRESS HANDED TO WALL STREET AGAIN , THE FEDS ARE LOSING MONEY ON HALF THEIR EXPECTED INCOME.

WE ARE SEEING ANOTHER RECESSION...AND IT'S ALREADY BEGUN.

THERE ARE SEVERAL INDICATORS THAT AMERICA IS BACK TO WHERE WE WERE IN 2007-2008.
FINANCIAL WIZARDS DIFFER SLIGHTLY ON WHICH IS THE MOST IMPORTANT "SIGN OF THE TIME", BUT MOST WILL LIST THE FOLLOWING.

1~ TOTAL BUSINESS SALES DROPPED AGAIN, MAKING IT 2 YEARS SINCE TOTAL SALES SAW ANY INCREASE AT ALL.
Industrial production has now declined for nine months in a row.

We have never seen this happen outside of a recession in all of U.S. history.

NOT SINCE JULY, 2014 HAVE TOTAL SALES INCREASED AND ARE NOW AT 2013 LEVELS, ACCORDING TO THE FEDERAL RESERVE'S "FRED" WEBSITE AND THE CENSUS BUREAU.

While we read much on the "oil glut" and people lining up to buy gas-guzzling SUVs and muscle cars, it sure isn't reflected in U.S. auto sales, which hit a 13-month low back in April this year, as was reported in Bloomberg.

2~ FACTORY ORDERS AND SHIPPING ORDERS WERE DOWN, MARKING A DOWNTURN THAT HAS CONTINUED FOR THE PAST YEAR OR MORE.

"Inventories-to-shipments ratio was 1.36, down from 1.37 in March."

The Cass Shipping Index has been falling on a year over year basis for 14 consecutive months.

3~ UNEMPLOYMENT: At the end of May (last month), the Bureau of Labor Statistics announced that the U.S. economy only added 38,000 jobs in May, far below the 158,000 jobs projected, and also way below what Americans need to keep up with population growth.

The employment numbers that the government released last month were the worst in six years.

The number of jobs created in April was also revised down by 37,000 and the number of jobs created in March was revised down by 22,000.

"The number of temporary workers in the United States peaked and started falling precipitously before the recession of 2001 started.

The exact same thing happened just prior to the beginning of the 2008 recession.

So, would it surprise you to learn that the number of temporary workers in the United States peaked in December and has fallen dramatically since then?"


According to Challenger, Gray & Christmas, layoffs at major firms are running 24 percent higher up to this point in 2016 than they were during the same time period in 2015.

This was the worst jobs report in almost six years, and Wall Street seemed shell-shocked over it.

Amazing, sort of, since corporate taxes dropped like a rock for big businesses and profits and cash flow were up, while corporations laid workers off or dropped jobs altogether:

"In May, 59,000 full-time jobs were lost, but 118,000 part-time jobs were gained."

"Taxes on corporate income decreased $1.7 billion in the first quarter, compared with a decrease of $32.2. billion in the 4th quarter.

Dividends increased $7.4 billion in the first quarter, in contrast to a decrease of $15.1 billion in the fourth.
Undistributed profits increased $0.8 billion, in contrast to a decrease of $112.2 billion. Net cash flow with IVA -- the internal funds available to corporations for investment -- increased $11.8 billion, in contrast to a decrease of $101.6 billion."



GIVEN ALL THAT,

I STILL CAN'T FIND A LOGICAL, SANE REASON WHY, WHEN GAS PRICES MAKE PRODUCTION AND SHIPPING LOWER, WHEN BUSINESSES ARE LAYING OFF WORKERS, HIRING ONLY PART-TIME WORKERS OR ERASING JOBS, WHEN THOSE SAME BUSINESSES ARE PAYING LESS TAXES, LESS IN FEES WHEN THEY IMPORT ANYTHING, WHEN 'INCENTIVES' AND 'SUBSIDIES (ENORMOUS AMOUNTS OF CORPORATE WELFARE!) INCREASED AGAIN FOR CORPORATE AMERICA, WHEN FOREIGN MARKETS ARE BIGGER THAN EVER, AND WHEN THE TOP 50 U.S. COMPANIES WERE JUST BUSTED HIDING OVER $1 TRILLION IN OVERSEAS BANKS, WHY AND HOW DO BIG BUSINESSES HAVE THE AUDACITY TO BITCH AND WHINE ABOUT PROFITS AND

RIP

AMERICANS OFF WHILE MAKIN

G CHEAPER

GOODS?

4~TAXES, FALLING TAXES JUST LIKE BEFORE THE LAST RECESSION:

"Federal tax receipts and state tax receipts usually both start to fall as we enter a new recession, and that is precisely what is taking place right now."


5~ RECESSION INDICATORS FROM MAJOR SOURCES:
> JPMorgan's "recession indicators" have risen to the highest level seen since the last recession.

> Goldman Sachs has its own internal tracker of the U.S. economy, and it has fallen to the lowest level since the last recession.


6~ BANKS IN TROUBLE...AGAIN.
The delinquency rate on commercial and industrial loans has been rising since January 2015.

I WROTE ABOUT THIS BACK IN APRIL... "Is The Fed Preparing For The Next Financial Earthquake To Hit?"

"THE EIGHT BIGGEST BANKS IN AMERICA GOT SLAPPED ON THE WRIST FOR FAILURE TO COMPLY WITH THE REGULATIONS ESTABLISHED BY CONGRESS AFTER THE 2008 "BANKING CRISIS" AND ENSUING "RECESSION".

FIVE OF THE EIGHT ARE IN NO WAY IN COMPLIANCE AND SO, JUST AS IN 2008, THEIR CUSTOMERS ARE AT HIGH RISK OF, ONCE AGAIN, LOSING IT ALL, BUT THESE BANKS WOULD NOT SUFFER, ONLY THEIR CUSTOMERS.

MANY ARE WARNING THAT, SHOULD THOSE FAIL TO COMPLY, AS THEY DID IN 2008, TO PROTECT DEPOSITORS, ETC, WHAT WILL ENSUE WILL BE FINANCIAL CHAOS IN AMERICA, WORSE THAN IN 2008."

Page 11 of the Federal Deposit Insurance Corporation's (FDIC) letter to JP Morgan, reveal

s

that they have "identified a deficiency" in JPMorgan's wind-down plan which, if not properly addressed, could "pose serious adverse effects to the financial stability of the United States."

"The agencies have jointly determined that each of the 2015 resolution plans of Bank of America, Bank of New York Mellon, JP Morgan Chase, State Street, and Wells Fargo

WAS NOT CREDIBLE

or would not facilitate an orderly resolution under the U.S. Bankruptcy Code, the statutory standard established in the Dodd-Frank Wall Street Reform and Consumer Protection Act. "

PRIOR TO ALL THIS, IN MARCH THIS YEAR, THE ATLANTA-BASED FEDERAL RESERVE BANK HAD DOWNGRADED AMERICA'S GDP (GROSS DOMESTIC PRODUCT) TO BARELY, JUST BARELY ABOVE WHAT IT WAS PRIOR TO THE 2008 CRASH... 0.1%.

Bank of America is expected to reduce staffing in its consumer banking division by as many as 8,000 more jobs....announced just last week (June 15).

WHEN MAJOR BANKS BEGIN TO WOBBLE, LOOK OUT FOR A FALL.

7~ ANOTHER HOUSING BUBBLE RIPE TO EXPLODE...

According to the New York Times: "Many say the sudden surge in hyperprice homes – often built and sold by speculative investors – is the ultimate bubble signal."

And when was the last time this sort of pile-up happened? In 2007 and 2008, just as the housing market was beginning to spiral down and as the Financial Crisis was beginning to mature.

So now, the same signs are popping up once again.

While overall home prices were still soaring in the first quarter, at the top 5% of the housing market, the bubble has begun to deflate, with prices down 1.1%, according to Redfin.
In some cities, the very top end is starting to take some hits, including in Manhattan where a luxury condo boom has turned into a glut, and where prices have begun to sag. "
Read… Another Condo Bubble Bites the Dust


Sooner or later, with wages stagnant for many renters, market resistance starts kicking in. And this may now be happening in the first few cities, and a mega-landlord is preparing for a downturn.
Read… "It Starts: Apartment Glut in San Francisco "

AND

New York City.

"The Atlanta Fed's "sticky-price" CPI – "a weighted basket of items that change price relatively slowly," as it says – rose 2.6% for the 12-month period, the hottest increase since April 2009.

Based on the surveys, the BLS figured the "owners' equivalent rent" rose 3.3% year over year. That measure accounts for 24.2% of CPI. It is always ludicrously low. It's the simplest way of hiding the impact of soaring housing costs, and the simplest way of keeping CPI artificially low.

For the component "rent of primary residence," renters are asked what they're currently paying in rent. Even if they've lived in a rent-controlled apartment for 20 years and pay just a fraction of market rent, it becomes part of the statistics, and not the rent that a new renter pays.

So "rent of primary residence" – however understated it may be – rose 0.4% from April and 3.8% from a year ago, the biggest year-over-year increase since January 2008:

Over the longer term?
In the five-and-a-half years since September 2010, the index for rent, understated as it is, has risen 18.5%:

8~ FOREIGN INVESTORS ARE UNLOADING U.S. DEBT.
Last month, foreign investors dumped U.S. debt at the fastest pace ever recorded…

"Foreign investors sold a record amount of U.S. Treasury bonds and notes for the month of April, according to U.S. Treasury Department data, as investors priced in a few more rate increases by the Federal Reserve this year.

Foreigners sold $74.6 billion in U.S. Treasury debt in [APRIL], after purchases of $23.6 billion in March.

April's outflow was the largest since the U.S. Treasury Department started recording Treasury debt transactions in January 1978."

ADD IT ALL UP, STEP BACK AND LOOK AT IT.
Simply put, Americans are taking on more debt

AGAIN

: student loans, credit cards, auto loans, etc, just like before.

And just like before their income has not

risen to match the new debt.
Adjusted for inflation, the federal minimum wage peaked in 1968 at $8.54 (in 2014 dollars).
Since it was last raised in 2009, to the current $7.25 per hour, the federal minimum has lost about 8.1% of its purchasing power to inflation.
Nearly half (48.2%) of the 3 million hourly workers who were at or below the federal minimum in 2014 were ages 16 to 24. An additional 22.4% are ages 25 to 34, according to the Bureau of Labor Statistics; both shares have stayed more or less constant over the past decade.
GET IT?


PRICES KEEP RISING, WAGES DON'T.


BUT AMERICAN WORKERS GO DEEPER IN DEBT.

JOBS KEEP MOVING OVERSEAS OR TURN INTO PART-TIME JOBS OR JUST DISAPPEAR.
THE PRICE OF OIL DROPS AND WALL STREET GOES INSANE.

AMERICA KEEPS FIGHTING "TERROR" FROM HERE TO ALPHA CENTAURI AND BEYOND, TO THE TUNE OF BILLIONS TO TRILLIONS OF AMERICAN DOLLARS THAT THE GOVERNMENT REALLY DOESN'T HAVE, UNLESS IT CAN KEEP ROBBING SOCIAL SECURITY, KEEP COLLECTING TAXES FROM WORKERS, LOANS FROM UNEMPLOYED STUDENTS, AND PRINT ENOUGH MONOPOLY MONEY TO MAKE IT SEEM LIKE ALL IS ALMOST OKAY.

IT'S ALL A BIG RUSE, A LIE, A CON-GAME, AND WHEN THIS NEW RECESSION GETS ROLLING, AMERICANS WON'T KNOW WHAT HIT THEM, BUT IT WILL BE WORSE THAN BEFORE, WORSE THAN ANYTHING WE'VE EVER SEEN HERE.



WE CAN DO ALL WE CAN TO PREPARE FOR IT, B

UT CAN WE DO ENOUGH TO SURVIVE IT?



NO

T LONG AGO, THE FED's EX-CHIEF LIAR, ALAN

GREENSPAN, TOLD FOX "NEWS" THAT AMERICA COULD, AT ANY TIME NOW, BECOME LIKE VENEZUELA, WHERE THE ECONOMY IS IN RUIN AND PEOPLE ARE OUT HUNTING PIGEONS TO EAT.

THAT MAY BE THE ONLY TRUTH GREENSPAN EVER TELLS...
AND NOT ONLY WILL OUR WORTHLESS POLITICIANS BE UNABLE TO STOP IT, MOST OF THEM HONESTLY DON'T G

IVE A DAMN THAT IT'S HAPPENING, SO LONG AS THEY CAN KEEP GETTING AMERICANS TO VOTE THEM BACK IN OFFICE.