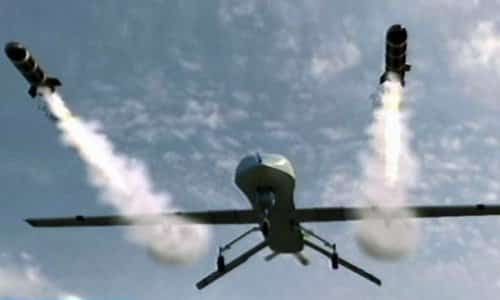 IN 1999, SEVERAL UNMANNED AIRCRAFT (DRONES) WERE SHOT DOWN BY SERBIAN FORCES.
SOME OF THOSE EARLIER DRONES ARE STILL ON DISPLAY AT A MUSEUM THERE.

THE FIRST CIA DRONE ATTACK THAT WAS MADE PUBLIC WAS AGAINST YEMEN IN 2001.

WE WERE TOLD THAT ONLY 11 NATIONS HAVE DRONES THAT ARE OR COULD EASILY BE CONVERTED TO ARMED ATTACK DRONES:

THE 11 ARE THE USA, RUSSIA, FRANCE, THE UNITED KINGDOM, TURKEY, ISRAEL, IRAN, INDIA, CHINA, GERMANY AND ITALY.

AS OF A FEW MONTHS AGO, WE MUST ADD SAUDI ARABIA SINCE CHINA SOLD THE HOUSE OF SAUD THE DRONES IT WANTED.

WE MUST ALSO ADD THE ISLAMIC STATE (ISIS, ISIL) AND 'AL QAEDA'.

AND, AS OF FEBRUARY OF THIS YEAR, ADD NIGERIA AND IRAQ, ADD SOUTH AFRICA AND SOMALIA.

Sweden, Greece, Switzerland, Spain, Italy and France are working on a joint project through state-owned aeronautical companies and are in the final stages of developing an advanced armed drone prototype called the Dassault nEURon, from which the France plans to derive armed drones for its air force.

IF WE COUNT ALL NATIONS WITH ARMED MILITARY DRONES, THERE MAY BE FEWER THAN 20, BUT IF WE COUNT ALL NATIONS WITH DRONES CAPABLE OF BEING WEAPONIZED, THE NUMBER OF NATIONS GROWS TO 78.

NOT LISTED IN RELEASED DATA OF U.S. DRONE STRIKES AGAINST OTHER NATIONS ARE: LIBYA, SYRIA, IRAQ, CHAD, ALGERIA, IRAN, AND ALONG OUR SOUTHERN BORDER, RIGHT HERE IN THE USA, AND ANYWHERE ELSE THE ARMED DRONES FLY IN AMERICA, IF THE AGENCY FLYING THEM DECIDES TO FIRE.

IT WAS RECENTLY ALSO ADMITTED THAT ANY DRONE THAT CAN CARRY A SURVEILLANCE CAMERA, CAN CARRY A WEAPON.


POPULAR SCIENCE SHOWS US HOW EASY IT IS:

How An Off-The-Shelf Drone Can Be Turned Into A Weapon

THE ARTICLE ENTITLED "WHY THE U.S. GOVERNMENT IS TERRIFIED OF HOBBYIST DRONES" IS MORE THAN A LITTLE DISCONCERTING.


THE DEPARTMENT OF HOMELAND SECURITY SAYS IT'S TOO EASY TO WEAPONIZE EVEN SMALL DRONES.
ABOVE: A small
DJI Phantom 2 drone is equipped with three pounds of mock explosives.

I DO NOT FIND ANY COMFORT AT ALL IN HOW EASILY THAT'S DONE.


HOW OFTEN ARE INNOCENT CIVILIANS KILLED BY DRONE?
WHILE AMERICA SEEMS TO OFFER DATA ON ITS DRONE KILLS, OTHER NATIONS DO NOT.

THERE IS NO WAY FOR US TO KNOW WHAT RUSSIA, CHINA, BRITAIN, FRANCE, GERMANY, TURKEY OR ANYONE ELSE IS DOING WITH THEIR DRONES, AND IF U.S. "INTELLIGENCE" DID FIND OUT, WOULD WE BE INFORMED?

We do NOT have sufficient, available data for the U.S. for 2002 through 2004, but from 2004 until 2016, we are given, and expected to accept, the data below from the U.S. data sets:

~PAKISTAN:
THE U.S. WAS "INVITED" TO BRING DRONES TO PAKISTAN, BUT NOW, AFTER A GREAT PUBLIC OUTCRY THERE, THE PAKISTANI REGIME CLAIMS IT'S CALLING OFF AMERICAN DRONE STRIKES.

NO THEY AREN'T, BUT THEY WERE ABLE TO ACQUIRE DRONES OF THEIR OWN.
NOW, THEY CAN KILL THEIR OWN PEOPLE AND BLAME THE U.S., SINCE THEY'RE USING U.S.-BUILT DRONES.
HOW CONVENIENT, YES?

Total U.S. strikes: 424
Total killed: 2,499-4,001
Civilians killed: 424-966


Children killed:

172-207
Injured: 1,161-1,744


Most recent strike:May 21 2016


IT WAS ALL OVER THE PRESS FOR A TIME THAT OF THE 2,500-PLUS KILLED IN PAKISTAN BY DRONE,

ONLY 84 WERE FOUND TO BE "AL QAEDA TERRORISTS"

.

WHO WERE THE OTHERS?
The U.S. government has repeatedly been caught lying about the identities of its bombings victims. As that April NYT article put it, "Every independent investigation of the strikes has found

far more civilian casualties than administration officials admit."



WE MUST ASSUME, THEN, THAT ALL NATIONS LIE ABOUT THEIR KILLS AS WELL, RIGHT?


A leaked internal document – titled Details of Attacks by NATO Forces/Predators in FATA – which contains the Pakistani government's own estimates of how many people have died in specific CIA drone strikes:
The summary report – obtained from three independent sources – covers the period January 13, 2006 to October 24, 2009.
Drawn from field reports by local officials in Pakistan's Federally Administered Tribal Areas (FATA), the document lists over 70 drone strikes between 2006 and late 2009, alongside a small number of other incidents such as alleged Nato attacks and strikes by unspecified forces.
Of 746 people listed as killed in the 2006-2009 drone strikes (IN JUST 3 YEARS), at least 147 of the dead are clearly stated by the leaked report to be civilian victims.

94 of these are said to be children.
ABOVE: AFTERMATH OF A CIA-DIRECTED DRONE ATTACK ON A SCHOOL IN PAKISTAN DURING THE GEORGE W. BUSH REGIME. 69 CHILDREN DIED THAT DAY.

YES, WE CONDUCTED AN ATTACK ON A SCHOOL TO TAKE OUT JUST ONE MAN, THE TEACHER. IT WAS A KNOWN SCHOOL DAY WITH CHILDREN KNOWN TO BE IN ATTENDANCE, AND THE U.S. DRONE PILOT, "JUST FOLLOWING ORDERS", PUSHED THAT BUTTON ANYWAY... TO KILL JUST ONE "SUSPECTED TERRORIST".
Most recent strike in Pakistan: May 21 2016


~YEMEN.
WE ARE IN YEMEN BECAUSE SAUDI ARABIA WANTS US TO BE IN YEMEN AND THIS IS THE RESULT OF THAT:
Confirmed drone strikes: 133-153
Total killed: 573-833
Civilians killed: 65-101


Children killed:

8-9
Injured: 98-232

Possible extra drone strikes in Yemen: 90-107
Total killed: 353-506
Civilians killed: 26-61
Children killed: 6-9
Injured: 82-109

Other 'covert operations': 15-78
Total killed: 203-436
Civilians killed: 68-102
Children killed: 26-28
Injured: 43-132
Most recent strike in Yemen: September 22 2016


~SOMALIA:
NOBODY CAN PINPOINT EXACTLY WHY THE U.S. IS BOMBING SOMALIANS BY DRONE.

IN 1992, GEORGE BUSH, SR, ORDERED "HUMANITARIAN AID" FLOWN INTO SOMALIA DURING THEIR CIVIL WAR.

"1992: The UN Security Council approves a military mission, "Operation Restore Hope," led by the United States to try to help the starving country by protecting food shipments from the warlords.
1993:
Somali rebels shoot down two U.S. helicopters, resulting in the death of 18 U.S. Army Rangers and one Malaysian man. A heated battle ensues and hundreds of Somali civilians are killed.
1994:
The U.S. formally ends the mission to Somalia, which has cost $1.7 billion dollars and left 43 U.S. soldiers dead and another 153 wounded."




The U.S. is not at war in Somalia. Congress has never declared war on Somalia, nor has it authorized the use of military force there.

HOWEVER, the 2001 Authorization for Use of Military Force (AUMF), enacted by Congress in the wake of 9/11 to authorize the targeting of al Qaeda and "affiliated" forces "ANYWHERE IN THE WORLD", could not have meant "al Shabaab" in Somalia because that group didn't even exist back then. Bin laden was nowhere near Somalia and Somalia had never posed a threat to the USA.

But, in we went and this is what the aftermath of that is to date:

Drone strikes: 30-34
Total killed: 228-392
Civilians killed: 3-10
Children killed: 0-2
Injured: 2-8
Other 'covert operations': 9-13
Total killed: 59-160
Civilians killed: 7-47
Children killed: 0-2
Injured: 11-21
Most recent strike: September 5 2016


ON TO ...
AFGHANISTAN:
WAS BIN LADEN EVER REALLY IN AFGHANISTAN, AND IF WE KNEW HE WAS, WHY DID WE SEND THE BULK OF U.S. FORCES TO IRAQ?
Bureau data:
Total strikes: 472-477
Total killed: 2,073-2,726
Civilians killed: 75-130
Children killed: 4-21
Injured: 223-231

U.S. Air Force data:

Missions with at least one
weapon release:
800
Total weapons released:
1,760

(For more on the difference between US and Bureau data, read the notes page of our Afghanistan datasheet.)


THE TEA ROOM MUST CALL B.S. ON TOTAL CIVILIANS AND TOTAL CHILDREN KILLED ANYWHERE BY DRONE.
IT'S HARD TO COUNT BODIES WHEN THE BODIES ARE BLOWN TO PIECES.
HOW IS BODY COUNT DETERMINED?
DOES THE U.S. OR ANY OTHER NATION SEND IN A TEAM BEHIND THE STRIKES AND COUNT, WHAT, HEADS, LEGS, TORSOS?


In February 2016, the bipartisan 'Stimson Task Force on U.S. Drone Policy'
identified 12 countries believed to HOST U.S. drone bases (WHETHER THEY WANT TO OR NOT?):


Afghanistan, Djibouti, Ethiopia, Kuwait, Niger, the Philippines, Qatar, Saudi Arabia, Seychelles, Turkey, the United Arab Emirates and Yemen.



HOLD ON!
WE HAVE A DRONE BASE IN GERMANY, IN ITALY, SEVERAL IN THE U.K. AND AN UNKNOWN NUMBER VERY NEAR THE RUSSIAN BORDER, AS WELL AS ALL OVER NORTH AFRICA, SO WHY AREN'T THOSE LISTED?

GERMAN CITIZENS RECENTLY PROTESTED THE U.S. DRONE BASE THERE!
A RECENT NEW YORK TIMES ARTICLE CHARGES THAT MUCH INFORMATION HAS BEEN WITHHELD, OFFERING STATEMENTS BY THOSE INVOLVED IN DRONE ATTACKS BY AMERICA, THOSE WHO ORDERED ATTACKS AND THOSE WHO REMOTELY FLEW THOSE DRONES.

STRIKES "OUTSIDE WAR ZONES", AND REMEMBER, AMERICA HAS NOT DECLARED A WAR SINCE WORLD WAR 2, ARE NATURALLY NOT REVEALED AS WE MIGHT HOPE, BECAUSE WE WOULD THEN BE HELD ACCOUNTABLE BY THE U.N. AND THE NATIONS HIT BY U.S. DRONES.

EVERY NATION AMERICA HAS INVADED OR TARGETED ON BEHALF OF "ALLIES" SINCE WW2 HAS BEEN DESIGNATED AS "EXTENDED MILITARY ENGAGEMENTS".

OUR FEDERAL GOVERNMENT ATTACKS WHOM THEY PLEASE, WHEN THEY PLEASE WITHOUT OFFICIALLY DECLARING WAR ANYMORE.
IT'S BASICALLY THE SAME THING WITH ALL NATIONS WHO DEPLOY DRONES. IT'S INDISCRIMINATE KILLING.

SOMETIMES, THOUGH HOW OFTEN WE MAY NEVER KNOW, THE U.S. COUGHS UP PAYMENTS TO FAMILIES OF CIVILIANS OUR DRONES KILL "BY MISTAKE"... A $1 MILLION EURO SETTLEMENT WITH AN ITALIAN FAMILY, QUITE RECENTLY.


BIGGER PAYLOADS: MORE HEAVILY ARMED DRONES ARE SOLD TO ANY NATION THAT CAN AFFORD THEM. CHINA HAS RECENTLY SOLD TO SAUDI ARABIA AFTER HOUSE OF SAUD COMPLAINED THAT AMERICA WOULDN'T DO SO.


"When President George W. Bush declared a "War on Terror" 11 years ago, the Pentagon had fewer than 50 drones.
Now, it has around 7,500."

NEARLY 90% OF THOSE KILLED BY DRONES WERE NOT THE TARGET.
"Anyone caught in the vicinity is guilty by association," the source of the documents told The Intercept. When "a drone strike kills more than one person, there is no guarantee that those persons deserved their fate. … So it's a phenomenal gamble."

IT'S A BIG GAMBLE TO TRAIN AND BASE U.S. DRONES ON HOME TURF AS WELL.

THERE HAVE BEEN OVER 400 "ACCIDENTS" WITH CRASHED MILITARY DRONES SINCE 2001 THAT THE MEDIA WAS AWARE OF AND REPORTED ON.
Slightly more than half of those accidents occurred in Afghanistan and Iraq.


Almost a quarter happened in the United States.
"A Washington Post investigation has revealed the Reaper drone has been hit with an unprecedented number of technical problems, causing the 2.5 tonne craft to fall from the sky.
Electrical faults have beset the craft, causing 20 large Air Force drones to be destroyed or sustain at least $2 million in damage in accidents last year, the worst annual toll ever, it claims.

IMAGINE LYING IN BED AND HAVING ONE OF THOSE COME CRASHING THROUGH YOUR ROOF?

WHEN AN ARMED DRONE IS IN THE AIR OVERHEAD, ANYONE CAN BECOME THE NEXT FATALITY IN THE WORLDWIDE DRONE WARS, WHETHER BY INTENT OR BY "ACCIDENT".

WHO, WITH A FULLY FUNCTIONAL BRAIN, WOULD IMAGINE THAT ANY NATION CONDUCTING DRONE ATTACKS IS KEEPING ACCURATE RECORDS OR TELLING ITS CITIZENS THE WHOLE TRUTH ABOUT HOW MANY DRONE ATTACKS IT CONDUCTS?
By most accounts, conventional airstrikes and ground invasions kill a higher proportion of noncombatants.

But without detailed, reliable, on-the-ground intelligence, experience has shown, drones make it possible to precisely kill the wrong people.
Every independent investigation of our drone strikes has found far more civilian casualties than administration officials admit.

Gradually, it has become clear that when operators in Nevada fire missiles into remote tribal territories on the other side of the world, they often do not know who they are killing, but are making an imperfect best guess.
The escalation in the use of drones from surveillance to combat and the ensuing arms race has exposed millions around the world to the threat of "collateral damage".



Every wedding party, every village gathering or innocent farmer that the United States, Saudi Arabia, Nigeria or any of the other 21 nations bombs breeds generations of violent resentment.
Though the pilots may be safe within their control bunkers, the civilian populations under the flight path of the drones are certainly not.
The fuzzy digital images relayed back to operators may often make distinguishing between a funeral and gathering of terrorist difficult and a farmer with a hoe may be mistaken for a militant with a rifle. Mistakes have grown all too common, even by the best-intentioned countries.

LET US REMEMBER, 78 NATIONS HAVE SURVEILLANCE DRONES, WHICH CAN BE OUTFITTED WITH SOME WEAPONRY.

AND LET US CONSIDER THOSE WHO HAVE LOST CHILDREN TO DRONE STRIKES.
WHO COULD REST OR JUST GO ON WITH LIFE AFTER THEIR CHILD WAS KILLED BY A DRONE LAUNCHED BY ANY COUNTRY?

WHO WOULDN'T WANT REVENGE?

AND YET, WE DEFEND THIS NEW WEAPON OF DESTRUCTION?
Rachel Stohl, of the Stimson Center, a Washington research institute, said, "These are precise weapons. The failure is in the intelligence about who it is that we are killing."

WRONG ANSWER, OR JUST ANOTHER LIE.

"
Ars Technica recently revealed that the National Security Agency's (NSA) SKYNET program, which uses an algorithm to gather metadata in order to identify and target terrorist suspects in Pakistan, Somalia and Afghanistan, would result in 99,000 false positives."

Micah Zenko, a scholar at the Council on Foreign Relations and lead author of a 2013 study of drones, said the president's statement (about "unfortunate mistakes" in drone attacks) "highlights what we've sort of known: that most individuals killed are NOT on a kill list, and the government does NOT know their names."
Zenko noted that with the new disclosures, a total of eight Americans have been killed in drone strikes. Of those, only one, the American cleric Anwar al-Awlaki, who joined Al Qaeda in Yemen and was killed in 2011, was identified and deliberately targeted.

IS ONE "MISTAKE" OKAY?
NOT IF THE ONE WAS SOMEONE WE LOVED, RIGHT?

"COLLATERAL DAMAGE", WHEREIN INNOCENT PEOPLE ARE KILLED IN DRONE ATTACKS, IS AT ABOUT 10%-12% AND RISING STEADILY AS MORE NATIONS ACQUIRE ARMED DRONES.

AND NOW, U.S. LAW ENFORCEMENT AGENCIES ARE ACQUIRING DRONES.
IF THEY CAN CARRY NON-LETHAL WEAPONS, THEY CAN CARRY DEATH AS WELL.

Student who outfitted his drone with a handgun and flamethrower.


SEE HOW EASY IT IS TO ARM A DRONE?

WHAT IF DRUG DEALERS, GANGS, ANY CRIMINAL ELEMENT DECIDES TO ENGAGE IN A LITTLE "DRONE WARFARE"?


WHAT IF OUR FEDERAL GOVERNMENT DECIDES WE'RE ALL "POTENTIAL TERRORISTS"?


DRONE WARS..... COMING SOON TO OUR NEIGHBORHOODS?

SOMETHING TO CONSIDER, PREPARE FOR, AS BEST WE CAN.




_____________________________________


Sources I may not have properly cited?

~ https://www.thebureauinvestigates.com/category/projects/drones/drones-graphs/


~ http://fortune.com/2016/02/12/these-countries-have-armed-drones/


~https://mic.com/articles/23708/guess-which-8-countries-the-u-s-is-waging-secret-drone-campaigns-against#.3is4NKiaO