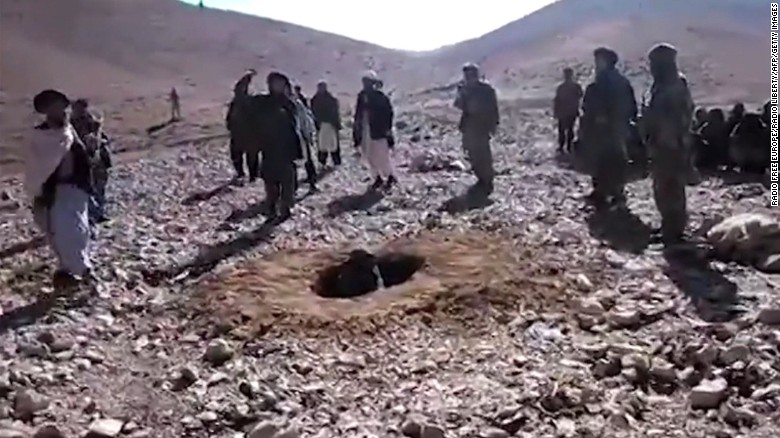 STONING IN AFGHANISTAN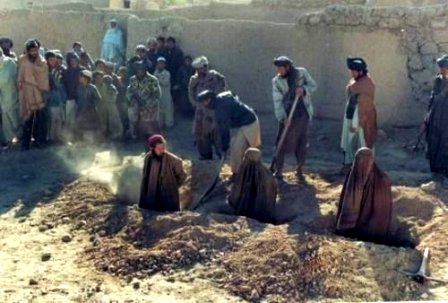 IN MOST ISLAMIC NATIONS, STONING IS ACCEPTABLE PUNISHMENT FOR THE 'CRIME OF ADULTERY'

30 MAY 2017
"A tribal court in Muslim-majority Pakistan has sentenced a 19-year-old woman to death for adultery after she accused her cousin of raping her at gunpoint."

Under Islamic law, rape can only be proven if the rapist confesses or if there are four MALE witnesses.
Women who allege rape without the benefit of the act having been witnessed by four men (who presumably develop a conscience afterwards) are actually confessing to having sex.
If they or the accused happens to be married, then it is considered to be adultery.
Quran (2:282) - Establishes that a woman's testimony is worth only half that of a man's in court (there is no "he said/she said" gridlock in Islam).

Stoning is a legal form of Islamic judicial punishment in...
-SAUDI ARABIA
Woman in Saudi Arabia faces calls for her EXECUTION after beinging pictured without hijab ...
Dec 2, 2016 - "Kill her and throw her corpse to the dogs,"

-SUDAN

-UNITED ARAB EMIRATES

-SOMALIA

-IRAQ

-NIGERIA

-PAKISTAN (See main article above)

- GAZA (while not a nation, stoning is very much alive there).
Woman tries to appeal death sentence in Gaza.
Some 37% of married women in the Palestinian territories have been subjected to domestic violence by their husbands. Of these, 51% live in Gaza according to a 2012 study by the Palestinian Central Bureau of Statistics.
These include 16 murders OF WOMEN during the past year in the Palestinian territories.
The Bureau of Statistics report indicated that Palestinian women face many forms of violence, with 76.4% of Gazan women being subjected to emotional violence, 34.8% to physical violence, 14.9% to sexual violence

-IRAN
In early 2013, a spokesman for judicial committee of Iran's parliament stated that stoning is no longer mentioned in Iran's legislation, but that punishment will remain the same as it is in Islamic law.
Stoning remains as a possible form of punishment under the new Iranian penal code.

-BRUNEI
-AFGHANISTAN
Stoning is illegal in Afghanistan, but is sometimes carried out by tribal leaders.
While stoning is officially banned in Afghanistan, it has continued to be reported occasionally as a crime.

-INDONESIA
While not an actual law, it remains a possible punishment of Sharia law there.

-QATAR

-YEMEN

-MAURITANIA

ADD TURKEY, WHERE NOT JUST STONING, BUT "HONOR SUICIDES" ARE ACCEPTED AS NORMAL PUNISHMENT UNDER SHARIA LAW, ACCORDING TO A REPORT BY THE NEW YORK TIMES.
"In Turkey there is the growing issue of honor suicide. Women's groups say that a growing number of "dishonored" girls are being locked in a room for days with rat poison, a pistol or a rope, and told by their families the only thing resting between their disgrace and redemption is death. This practice is also known as forced suicide."


ACCORDING TO THE 19-YER-OLD PAKISTANI GIRL, HER ASSAILANT, A COUSIN, SNEAKED INTO HER FAMILY'S HOME, HELD HER AT GUNPOINT, THREATENED TO KILL HER FAMILY IF SHE CRIED FOR HELP AND YET SHE FACES DEATH BY STONING BECAUSE THE RAPIST PRODUCED THREE MEMBERS OF HIS FAMILY WHO LIED FOR HIM, SAYING THE YOUNG GIRL SEDUCED HIM.

BY SHARIA LAW, ANYONE CLAIMING A WOMAN TO BE AN ADULTERESS HAS TO CLAIM TO HAVE BEEN AN EYEWITNESS AND PRODUCE AT LEAST 3 OTHER CREDIBLE WITNESSES WHO SAW THE SEXUAL ACT TAKE PLACE.
THE ALLEGED RAPIST ASKED THE COURT TO BELIEVE THAT HE DID WHAT?...INVITED 3 MEMBERS OF HIS FAMILY TO WATCH HIM HAVE SEX WITH HIS COUSIN?

THAT 4 ADULT MALES ENTERED A HOME LATE AT NIGHT, UNDETECTED, AND STOOD AROUND WATCHING THIS TAKE PLACE, THEN ALL OF THEM LEFT WITHOUT ROUSING ANYONE?

THOUGH THE MAN IS OBVIOUSLY A LIAR, AS ARE THOSE WHO 'TESTIFIED' HE WAS SEDUCED, THE 'COURT' IS PERHAPS WORSE FOR ACCEPTING THIS FLAGRANT LIE.

IN THE MALE-DOMINATED ISLAMIC SOCIETY, WOMEN ARE CHATTEL, CAN BE BOUGHT AND SOLD, THROWN OUT LIKE TRASH, BEATEN, GENITALLY MUTILATED, CAN BE "MARRIED" FOR MINUTES AND THEN "DIVORCED" IN SECONDS JUST TO PREVENT THE MALES FROM BEING GUILTY OF FORNICATION WHEN THEY RAPE A FEMALE,

THIS YOUNG WOMAN WILL EITHER BE STONED TO DEATH OR HER OWN FAMILY WILL KILL HER TO "SAVE FACE".
HER ONLY REAL HOPE IS TO ESCAPE AS FAR AWAY FROM THERE AS SHE CAN GET, PREFERABLY SOMEWHERE THAT SHARIA LAW IS NOT RECOGNIZED.

"The alleged victim, identified only as Shumaila, reportedly lodged a complaint with local law enforcement, a move that prompted local authorities to arrest four men in connection with the ruling issued by a local panchayat, a tribal court that operates outside the official justice system in remote areas of Pakistan.

Before the authorities arrested the men, Qaisar Hasnain, a local police officer, told Hindustan Times, "We have registered an FIR [first information report] against the panchayat members and will take them into custody for declaring her Kari (liable to death either by stoning or else)."

The local tribal court accused Shumaila of intentionally seducing her attacker.
The Express Tribune points out: "Four men, including Muhammad Shafee, the father of the alleged rapist, forced the Panchayat to pronounce Shumaila a Kari [adulteress] on Thursday. The girl's father was forced to accept the decision."

Local authorities have sent Shumaila to a government safe house for women in Rajanpur, notes the Hindustan Times.

So-called "honor" killings and death sentences are sanctioned by the tribal court system but have no legal standing, explains the news outlet.
"Women declared Kari are often executed by their own family in so-called honor killings to restore their reputation."

Panchayats – informal village justice systems that operate in remote areas of Pakistan – have been criticized for handing out cruel punishments for adultery. The sentences they give out have no legal standing.

EVEN YOUNG VICTIMS OF INCEST ARE 'GUILTY' AND CAN BE STONED TO DEATH.
"A recent fatwa from a mainstream Islamic site echoes this rule and even chides a victim of incest for complaining when she has no "evidence":

THE SITE STATES: 'However, it is not permissible to accuse the father of rape without evidence. Indeed, the Sharee'ah put some special conditions for proving Zina (fornication or adultery) that are not required in case of other crimes. The crime of Zina is not confirmed except if the fornicator admits it, or with the testimony of four trustworthy men, while the testimony of women is not accepted.

Hence, the statement of this girl or the statement of her mother in itself does not Islamically prove anything against the father, especially that the latter denies it.

Therefore, if this daughter has no evidence to prove that her accusations are true, she should not have claimed that she was raped by her father and she should not have taken him to the court.' (IslamWeb.net, Image)
Since it is incredibly unlikely that a child molester will violate his victim in front of "four trustworthy men", Islamic law amounts to a free pass for sexual predators.

Australian Sheik Feiz recently said a rape victim "has no one to blame but herself. She displayed her beauty to the entire world... to tease man and appeal to his carnal nature." Even his successor, who was brought in to mitigate the backlash, compared unveiled women to "sweet pastries" tempting hungry men.

One of the world's most respected Sunni scholars, Sheikh Yusuf al-Qaradawi, recently told an audience on his al-Jazeera television show that "To be absolved from guilt, the raped woman must have shown some sort of good conduct."

Dr. Abd al-Aziz Fawazan al-Fawzan, a professor of Islamic law said that "If a woman gets raped walking in public alone, then she, herself is at fault. She is only seducing men by her presence. She should have stayed at home like a Muslim woman."

This was echoed by the imam of a Salafist mosque in Cologne, Germany in the wake of the shocking sex abuse rampage by recently arrived Muslims on New Year's Eve in 2015. He explained that "the events" (which included rape) "were the girls' own fault because they were half-naked and wearing perfume."

When it came to light in 2016 that a 13-year-old British girl had been abused by a dozen Pakistani rapists, certain members of the Muslim community said they believed the victim "played her part."
In 2013, Syria's chief Mufti, Sheikh Abd al-Rahman Ali al-Dala, issued a statement that gives soldiers religious permission to rape the women they capture.

There can be also no such thing as rape in a Muslim marriage, even if the husband has to hit the wife in order to bring about her submission. Another recent fatwa reminds a woman, she "does not have the right to refuse her husband, rather she must respond to his request every time he calls her." (Islam Q&A, Fatwa No. 33597).

SINCE AT LEAST 2011, THE U.S. DEPARTMENT OF STATE HAS CITED PAKISTAN FOR HUMAN RIGHTS VIOLATIONS,
THAT HAS DONE NOTHING TO CHANGE THINGS, NEITHER IN PAKISTAN NOR IN ANY OTHER NATION THAT HAS BEEN CITED FOR THIS HUMAN RIGHT VIOLATION.
Zainab Salbi: Why women are still being stoned to death in 2015
"Islam does indeed have the judgment of stoning for those who are engaged in sexual activities outside of marriage.

Never before in Islamic history have women been so brutalized, whether it's stoning in Afghanistan, Iraq and Iran, kidnapping by Boko Haram in Nigeria, or assassinations in Libya.

This crossing of the line -- physically attacking women in such savage ways -- has spread in the last two decades, but it's really taken off with the rise of ISIS."

AS ANYONE CAN SEE WHO DOES A GOOGLE SEARCH FOR THIS NEWS ARTICLE, AMERICAN MAINSTREAM MEDIA HAS NOT COMMENTED ON IT.
I FOUND IT IN ONLY ONE REPORT BY BRITISH MAINSTREAM MEDIA AND IN 2 OF WHAT IS CONSIDERED THEIR "RAGSHEETS".

THIS IS ONE YOUNG GIRL BUT SHE REPRESENTS COUNTLESS OTHERS WHO DIE THIS TYPE OF HORRIBLE DEATH WITHOUT ANYONE IN AMERICA (OR THE WORLD) TAKING NOTICE.
IT'S SIMPLY "PART OF ISLAM", AN "ACCEPTABLE PUNISHMENT OF SHARIA LAW.
WELL, NOT TO ME.

AND SO, I WONDER HOW MANY READERS CAN WATCH THE FOLLOWING VIDEO OF AN ACTUAL DEATH BY STONING AND CALL IT "JUST A PART OF ISLAM" AND FORGET IT....

AFTER YOU WATCH IT, IF YOU WATCH IT (IT IS INTENSELY GRAPHIC AND DISTURBING, I WARN YOU), LET ME KNOW IF YOU SEE IT AS SOMETHING NO ONE OUTSIDE ISLAM SHOULD BE CONCERNED ABOUT.









...


//WW