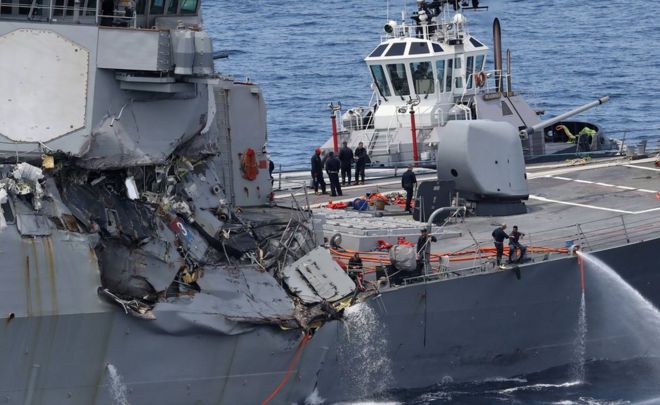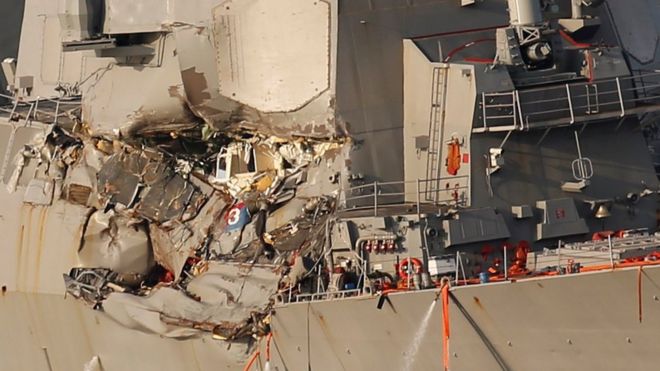 The damage to the destroyer suggests that the container ship, the ACX Crystal, might have slammed into it at a high speed, raising questions about communication between the two vessels.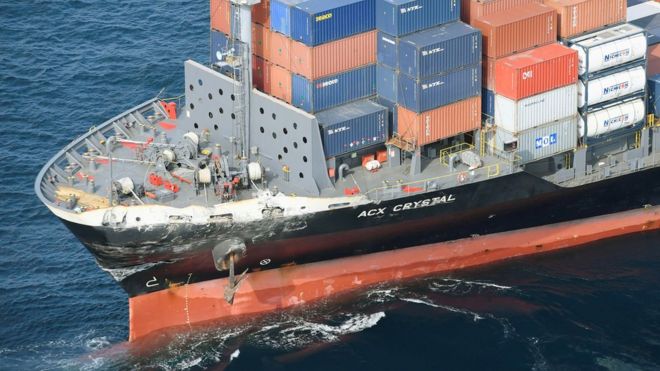 The Philippines-registered container ship, the ACX Crystal, suffered less damage and went on to complete its journey to Tokyo.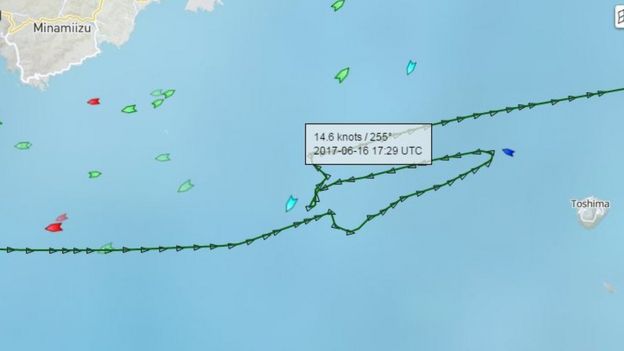 Marine Traffic showed the strange u-turn on a tracking map (above) of the ACX Crystal's route..

None of the 20 Filipino crewmen were reported injured.

It is not known why it changed course. [SEE

U

PDATE BELOW]

[UPDATE: 26 JUNE 2017: "The container ship steered hard to starboard (right) to avoid the warship but hit the Fitzgerald 10 minutes later at 1:30 a.m., according to a copy of Captain Ronald Advincula's report to Japanese ship owner Dainichi Investment Corporation that was seen by Reuters.
Another focus of the probes has been the length of time it took the ACX Crystal to report the collision. The JCG says it was

first notified at 2:25 a.m.

, nearly an hour after the accident.
In his report, the ACX Crystal's captain said there was "confusion" on his ship's bridge, and that it turned around and returned to the collision site after continuing for 6 nautical miles (11 km).
Shipping data in Thomson Reuters Eikon shows that the ACX Crystal, chartered by Japan's Nippon Yusen KK (9101.T), made a complete U-turn

between 12:58 a.m. and 2:46 a.m.


12:58 a.m. would be 30 minutes BEFORE the REPORTED time of the collision, and 2:46 a.m. would be 45 minutes AFTER the collision."

The tracking data shows the container vessel never stopped.
THE REUTER

S

ARTICLE GOES ON TO S

TAT

E THAT THE CAPTAIN OF THE CRYSTAL 'FLASHED LIGHTS' TO WARN THE FITZGERALD, BUT DID HE USE ANY AUDIBLE MEANS TO WARN THEM, AND COULDN'T HE HAIL THE OTHER VESSEL BY RADIO?
WHERE WAS THE FITZGERALD'S RADIO OPERATOR, WHO WAS MINDING THE RADAR,

WAS THERE NO LOOKOUT ON THE BRIDGE OF THE NAVAL SHIP

, AND IS THE CRYSTAL'S CAPTAIN'S VERSION OF WHAT HAPPENED VERIFIABLE ARE ALL UNANSWERED QUESTIONS FOR NOW.


(

END UPDATE)

Similar records (which DO exist) for the USS Fitzgerald's movements are not publicly available.

IN THE DAYS AHEAD, IT WILL BE INTERESTING, AND IMPERATIVE, TO SEE HOW THIS COULD HAVE POSSIBLY HAPPENED.
IT HAS BEEN NOTED THAT THE HUGE CONTAINER SHIP REVERSED ITS ENGINES AND DID A "U-TURN" 25 MINUTES BEFORE IT STRUCK THE USS FITZGERALD.
BUT WHY DIDN'T THE FITZGERALD GET OUT OF HARM'S WAY?

17 June 2017

The U.S. Navy has identified seven sailors who were killed when their destroyer collided with a container ship in Japanese waters on Saturday.

The sailors were found in flooded berths onboard the USS Fitzgerald, said a statement by the US Navy.

At least three others onboard were injured, including the captain, in the collision which took place near the port city of Yokosuka.

Many of the Fitzgerald's crew were asleep when the incident happened.
The U.S. Navy said it was investigating.

The warship has since been towed to the US naval base in Yokosuka.
The seven sailors were reported missing after the incident which took place at about 02:30 local time on Saturday (17:30 GMT Friday).

The Navy has now said that divers gained access to the damaged areas and found their remains.
Marine Traffic records suggest that the container ship, the Filipino-flagged ACX Crystal, made a sudden U-turn roughly 25 minutes before the crash. It is not known why it changed course.

Similar records for the USS Fitzgerald are not publicly available.

According to Maritime Bulletin, "Container ship ACX CRYSTAL though Philippines-flagged, [is] said to be operated by Japanese NYK. Her damages though substantial, aren't too serious, let alone critical."

CNN reported that "the container ship was operating under charter to Japanese shipping company Nippon Yusen Kabushiki Kaisha (NYK) and owned by Dainichi-Invest Corporation."

The collision is reported to have taken place in calm, clear conditions.

The Navy said the remains of the seven missing sailors had been found.

The victims were...
1-Gunner's Mate Seaman Dakota Kyle Rigsby, 19, from Palmyra, Virginia;
2-Yeoman 3rd Class Shingo Alexander Douglass, 25, from San Diego, California;
3-Sonar Technician 3rd Class Ngoc T Truong Huynh, 25, from Oakville, Connecticut;
4-Gunner's Mate 2nd Class Noe Hernandez, 26, from Weslaco, Texas;
5-Fire Controlman 2nd Class Carlos Victor Ganzon Sibayan, 23, from Chula Vista, California;
6-Personnel Specialist 1st Class Xavier Alec Martin, 24, from Halethorpe, Maryland;
7-Fire Controlman 1st Class Gary Leo Rehm Jr., 37, from Elyria, Ohio.

A PHOTO TRIBUTE TO THE VICTIMS CAN BE SEEN <HERE>.

Vice Adm. Joseph Aucoin, the commander of the 7th Fleet, described a harrowing scene as other sailors fought to keep the ship from sinking.

"Most of the damage is below the waterline, including a large gash near the keel," Aucoin said.

"The water flow was tremendous, and so there wasn't a lot of time in those spaces that were open to the sea. And as you can see now, the ship is still listing, so they had to fight the ship to keep it above the surface. It was traumatic," Aucoin said at a news conference at the Yokosuka base on Sunday.

He said one machinery room and two berthing areas for 116 crew members were severely damaged from the impact to the ship's side. Navy spokesman Lt. Paul Newell said the victims may have been killed by the impact of the collision or drowned in the flooding.

The Fitzgerald's captain, Cmdr. Bryce Benson, suffered a head injury in the collision and was airlifted to the U.S. Naval Hospital in Yokosuka. Two other crew members suffered cuts and bruises and were also flown out by helicopter.

The coast guard questioned crew members of the ACX Crystal, and is treating the collision as a case of possible professional negligence, said Masayuki Obara, a regional coast guard official.

According to The Guardian, "Japan's coastguard and the U.S. navy plan to question crew members from the ACX Crystal, and could treat the collision as a possible case of endangerment of traffic caused by professional negligence."

FROM TWITTER:
#USSFitzgerald Look at track of #ACXCrystal it veered OFF course TWICE The last time right b4 hitting USN ship.. Autopilot malfunction? pic.twitter.com/c8PFJ3IN9P

— ESNEET (@esneet4113) June 17, 2017

It was traveling at a speed of 12.4 knots and was still in motion in the hours after the collision.

The Navy has not confirmed this information. Nor has it explained why USS Fitzgerald did not see the ACX Crystal coming and vice-versa.

IF I WERE FAMILY, I COULD NOT FIND CLOSURE UNTIL I HAD FULL EXPLANATIONS OF WHY THAT CONTAINER SHIP MADE A U-TURN AND HIT THE FITZGERALD AT HIGH SPEED AND JUST KEPT GOING.
NOR COULD I REST UNTIL THE U.S. NAVY EXPLAINED WHY NO EVASIVE ACTION WAS TAKEN BY THE NAVAL SHIP, IF WE CAN BELIEVE SOME REPORTS OF THE DESTROYER'S ROUTE.
IF EVASIVE ACTION WAS TAKEN, DID THE CRYSTAL JUST PURSUE THE DESTROYER IN ORDER TO RAM IT?

WE CAN BE THANKFUL TO ALL WHO KEPT A COOL HEAD ND DID ALL THEY COULD TO RESCUE THE NAVAL CREWMEN AND TO STABILIZE THE DESTROYER.

DEEP, HEARTFELT SORROW FOR THIS LOSS OF LIVES.









//WW