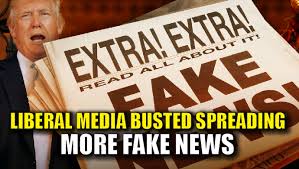 IS THE DOJ GOING TO BLOW THE LID OFF AMERICA'S PROPAGANDA MACHINE, THE MAINSTREAM MEDIA?

...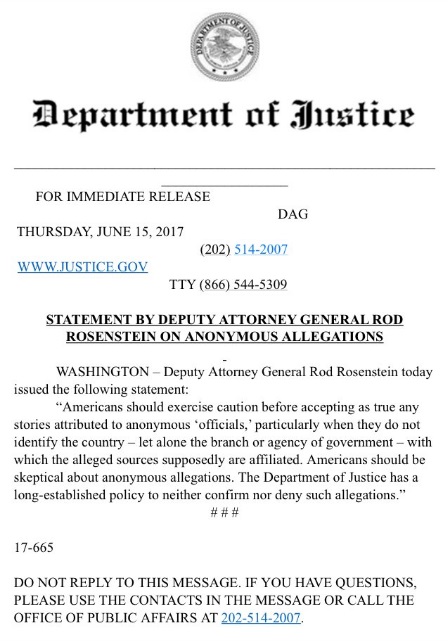 ON JUNE 15, THE DEPARTMENT OF JUSTICE (DOJ) DID SOMETHING IT HAS NEVER DONE BEFORE.
"The Justice Department issued a statement Thursday night warning the media and other Americans against believing anonymous sources, and warning that the Justice Department doesn't confirm statements from unnamed officials."

The statement was Rosenstein's first remarks since he said in a Senate hearing on Tuesday that he had not seen any "good cause" to fire Robert Mueller, the special counsel investigating Russia's meddling in the 2016 presidential election.

THE WARNING CAME AFTER SENATE TESTIMONIES BY JAMES COMEY AND DAN COATS EXPLAINED TO THE COMMITTEE THAT THE WASHINGTON POST AND NEW YORK TIMES WERE

NOT ALWAYS "RELIABLE NEWS SOURCES"

.
IMAGINE THAT!

VIDEO CLIP: James Comey, ex-FBI director in Senate testimony, June 8, 2017,

"There have been many, many stories based on — well, lots of stuff, but about Russia that are dead wrong."


"MANY, MANY...ARE DEAD WRONG" ?
WHY NOT JUST SAY THEY LIED?
DNI DIRECTOR SCHOOLS JOHN McCAIN

Department of National Intelligence (DNI) Director Dan Coats was asked by the ever-hopeful someone will like him, old John McCain, why he wouldn't openly discuss whether or not Trump asked him to stop the investigation of national security advisor Michael Flynn.
Coats refused to discuss it in open session.

McCain, attempting to appear knowledgeable, reminded him that the entire story appeared in the very public Washington Post, so why wouldn't he discuss that then and there, in open Senate hearing.

Coats shot McCain down by stating that he (Coats) had learned not to always take the Washington Post "at face value" and that its reporting is not always accurate."
The Post being just another user of those "anonymous sources."
He also expressed his concern that classified information was given to the Post.
"Just because it's published in the Washington Post doesn't mean it's now unclassified," Coats said.

ADDED TO COMEY'S AND COATS' REFUTING THE MAINSTREAM MEDIA (MSM) AS FAKE NEWS SOURCES, THE U.S. DEPARTMENT OF JUSTICE DROPPED A RATHER NICE 'BOMBSHELL'.
Deputy Attorney General Rod Rosenstein diplomatically backed up former FBI director James Comey's assertions that many MSM stories using "anonymous" sources have been "dead wrong".
Rosenstein issued the following statement:

" Americans should exercise caution before accepting as true any stories attributed to anonymous 'officials,' particularly when they do not identify the country - let alone the branch or agency of government - with which the alleged sources supposedly are affiliated.
Americans should be skeptical about anonymous allegations.
The Department of Justice has a long-standing policy to neither confirm or deny such allegations."

The message from Rosenstein's statement, along with Comey's and DNI Director Coats' testimony, is that the MSM boys are, indeed, often reporting fake news.
THEY LIE.
MSM LIES.

BUSTED...THE THREE TOP MSM: CNN, WASHINGTON POST, NEW YORK TIMES.

1~ CNN, CAUGHT TELLING MORE LIES AND CREATING MORE FAKE NEWS THAN FOX SO FAR THIS YEAR.
ONE EXAMPLE FROM THE RECENT PAST:
The day before former FBI Director James Comey's scheduled testimony in Congress, CNN headlined an article claiming that their "unnamed sources," verified that Comey was going to "refute" President Trump's claim that he was told by Comey on three separate occasions that he was not personally under investigation.
CNN repeated their claim, on air, stating "Comey is going to dispute the president on this point if he's asked about it by senators, and we have to assume that he will be," said Borger, the network's chief political analyst. "He will say he never assured Donald Trump that he was not under investigation, that that would have been improper for him to do so."

WRONG!
LIE!
Then Comey's prepared statement came out, which confirmed not CNN's false story, but Trump's initial assertion that he was in fact, told he was not personally under investigation.

FROM COMEY'S NOTES PRESENTED TO THE SENATORS:
1. January 6th Meeting at Trump Tower:
"In that context, prior to the January 6 meeting, I discussed with the FBI's leadership team whether I should be prepared to assure President-Elect Trump that we were not investigating him personally. That was true; we did not have an open counter-intelligence case on him. We agreed I should do so if circumstances warranted. During our one-on-one meeting at Trump Tower, based on President Elect Trump's reaction to the briefing and without him directly asking the question, I offered that assurance."

2. January 27th Dinner at White House:
"During the dinner, the President returned to the salacious material I had briefed him about on January 6, and, as he had done previously, expressed his disgust for the allegations and strongly denied them. He said he was considering ordering me to investigate the alleged incident to prove it didn't happen. I replied that he should give that careful thought because it might create a narrative that we were investigating him personally, which we weren't, and because it was very difficult to prove a negative. He said he would think about it and asked me to think about it."

3. March 30 Phone Call:
"I explained that we had briefed the leadership of Congress on exactly which individuals we were investigating and that we had told those Congressional leaders that we were not personally investigating President Trump. I reminded him I had previously told him that."

HOW DID CNN RESPOND TO COMEY'S BACKING-UP TRUMP'S CLAIM THAT HE WAS NOT UNDER FBI INVESTIGATION REGARDING THE RUSSIANS?

CNN CHANGED THE HEADLINE, ACTUALLY CHANGED IT, TO READ, NOT WHAT THE ORIGINAL READ, "Comey expected to refute Trump," BUT TO NOW READ,
"Comey unlikely to judge on obstruction," AND THEY ADDED A NOTATION:

"CORRECTION AND UPDATE: This article was published before Comey released his prepared opening statement. The article and headline have been corrected to reflect that Comey does not directly dispute that Trump was told multiple times he was not under investigation in his prepared testimony released after this story was published."

THOSE "ANONYMOUS OFFICIALS" WITH 'PROOF' TRUMP LIED, EITHER NEVER EXISTED OR THEY ALSO LIED.
CNN WILL NEVER ADMIT THAT THEY SIMPLY DON'T HAVE ONE SHRED OF REAL FACTS SHOWING EUSSIA HACKED THE LECTION, THAT RUSSIA WANTED TO HELP TRUMP WIN.

2~ NEXT UP, THE RABID NEW YORK TIMES (NYT).
SHOWN FOR WHAT THEY HAVE BECOME, MERE ATTACK DOGS FOR THEIR OWNERS:

The NYT was highlighted as a FAKE news source when Sen. James Risch (R-Idaho) asked Comey about a NYT article from February 14, 2017, titled "Trump Campaign Aides Had Repeated Contacts With Russian Intelligence," to which Comey confirms for Risch that the article, which again quoted anonymous officials and sources, was "not true."

Comey's statement to the Senator:
"In the main – it was not true. The challenge -- and I'm not picking on reporters -- about writing stories about classified information is that people talking about it often don't really know what is going on. And those of us who actually know what's going on aren't talking about it. And we don't call the press to say, hey, you got that thing wrong about this sensitive topic. We just have to leave it there."

THE STORY WAS NOT TRUE.
FAKE.
FALSE.
BEING NOT TRUE, DOESN'T THAT MAKE IT WAS JUST ANOTHER LIE?

In 2003, the N Y Times admitted that Jayson Blair, one of its reporters, had committed repeated journalistic fraud over a span of SEVERAL YEARS.
The general professionalism of the paper was questioned, though Blair immediately resigned following the incident.

3~ THE WASHINGTON POST (WaPo) , PERHAPS TRUMP'S BIGGEST HATER.
BACK IN DECEMBER OF LAST YEAR, IT WAS THE NYT WHO 'BLEW THE WHISTLE' ON THE WASHINGTON POST'S VERY FAKE NEWS ARTICLE, "
"Russian Propaganda Effort Helped Spread 'Fake News' During Election, Experts Say."
THE TEA ROOM DID A BLOG POST ON THAT, DEC. 9,2016.

" The Post report claimed that a 'number of researchers' had uncovered a "sophisticated Russian propaganda campaign" that spread fake-news articles across the Internet with the aim of hurting Hillary Clinton and helping Donald Trump. It prominently cited the PropOrNot research REJECTED by the NYT.

THE NEW YORKER 'OUTED THE POST:

"The story topped the Post's most-read list, and was shared widely by prominent journalists and politicians on Twitter. The former White House adviser Dan Pfeiffer tweeted, "Why isn't this the biggest story in the world right now?"

But a close look at the report showed that it was a mess. "To be honest, it looks like a pretty amateur attempt," Eliot Higgins, a well-respected researcher who has investigated Russian fake-news stories on his Web site, Bellingcat, for years, told me. "I think it should have never been an article on any news site of any note."

Indeed, the list of "propaganda outlets" has included respected left-leaning publications like CounterPunch and Truthdig, as well as the right-wing behemoth Drudge Report. The list is so broad that it can reveal absolutely nothing about the structure or pervasiveness of Russian propaganda. "It's so incredibly scattershot," Higgins told me. "If you've ever posted a pro-Russian post on your site, ever, you're Russian propaganda."

In a scathing takedown on The Intercept, Glenn Greenwald and Ben Norton wrote that PropOrNot "embodies the toxic essence of Joseph McCarthy, but without the courage to attach individual names to the blacklist."

Given PropOrNot's shadowy nature and the shoddiness of its work, I was puzzled by the group's claim to have worked with Senator Ron Wyden's office.
In an e-mail, Keith Chu, a spokesman for Wyden, told me that the PropOrNot team reached out to the office in late October.
Two of the group's members, an ex-State Department employee and an I.T. researcher, described their research.
"It sounded interesting, and tracked with reporting on Russian propaganda efforts," Chu wrote. After a few phone calls with the members, it became clear that Wyden's office could not validate the group's findings."

DID WaPo CORRECT ITS STATEMENT THAT THE GROUP WAS NOT, NOT USED BY WYDEN'S OFFICE, THAT THEY REJECTED ITS "FINDINGS"?
HELL NO!
THAT WOULD OPEN THE REAL POSSIBILITY THAT IT WAS ALL FAKED.

Craig Timberg's November 24, 2016 Washington Post "biggest story in the world"...WAS PROVEN TO BE BASED ON FALSE INFORMATION.
As Adrian Chen wrote for the New Yorker, its methods were themselves suspect, hinting at counter-Russian propaganda – ostensibly with Ukrainian origins – and verification of its work was nearly impossible.
Chen wrote, "the prospect of legitimate dissenting voices being labelled fake news or Russian propaganda by mysterious groups of ex-government employees, with the help of a national newspaper, is even scarier."

WELL, WaPo NEVER RETRACTED THE FAKE STORY, BUT DID WRITE:

"Editor's Note: The Washington Post on Nov. 24 published a story on the work of four sets of researchers who have examined what they say are Russian propaganda efforts to undermine American democracy and interests.
One of them was PropOrNot, a group that insists on public anonymity, which issued a report identifying more than 200 websites that, in its view, wittingly or unwittingly published or echoed Russian propaganda.
A number of those sites have objected to being included on PropOrNot's list, and some of the sites, as well as others not on the list, have publicly challenged the group's methodology and conclusions.
The Post, which did not name any of the sites, does not itself vouch for the validity of PropOrNot's findings regarding any individual media outlet, nor did the article purport to do so. Since publication of The Post's story, PropOrNot has removed some sites from its list."

AT THE END OF THE 'STORY', STILL ONLINE TODAY, ONE CAN ALSO READ:
"Correction: A previously published version of this story incorrectly stated that Russian information service RT had used the "#CrookedHillary" hastag pushed by then-Republican candidate Donald Trump. In fact, while another Russian information service Sputnik did use this hashtag, RT did not."
YOU'RE DAMNED RIGHT THEY DIDN'T, LIARS!

DO YOU SEE WHAT THEY DID?
THEY KNOW THE 'SOURCE' MADE UP THAT LIST OF "PROPAGANDA WEBSITES", BUT OLD WaPo, HATE-MONGERING AGAINST TRUMP, WILL NOT RETRACT IT, JUST LEAVES IT UP THERE TO DAILY FOMENT FEAR AND LOATHING FOR THE TRUMP WHITE HOUSE.
ONE CAN STILL SEE IT CITED AS FACTUAL ON 'SOCIAL MEDIA' SITES.

WaPo DIDN'T EVEN HAVE THE COMMON DECENCY TO LIST THE ORGANIZATIONS THEIR FAKE 'EXPERTS' TOOK OFF THEIR FAKE LIST!

"By admitting it never vetted its primary source, whose biased and conflicted "work" smeared hundreds of websites, just how is the Washington Post any different from the "fake news" it has been deriding on a daily basis ever since its endorsed presidential candidate, HILLARY CLINTON, lost the elections?"

WHAT HAPPENED NEXT, AFTER THE HEADS OF AMERICA'S 'INTELLIGENCE AGENCIES' AND THE DOJ WARNING TO AMERICA MADE A FEW HEADLINES, IS ALMOST COMICAL...

MSBC, AP, CNN, NYT, Politico, ABC News and others, ALL of whom make a habit of using "anonymous" sources or repeating other outlets that claim to cite unnamed sources for their "bombshell" news, ALL took to Twitter to express their shock and confusion over why Rosenstein would issue such a statement.

IT WAS A MONUMENTAL, "SURELY HE CAN'T MEAN US" DAY OF FAST AND FURIOUS TWEETS THAT TRIED TO SUGGEST THAT THE DOJWARNING MEANT FOREIGN SOURCES, THAT THE DOJ WAS BEING "ODD", "STRANGE", "CONFUSING".

I ADMIT, I LAUGHED UNTIL I CRIED.

IT REMINDED ME OF THE OLD MOVIE, "THE WIZARD OF OZ", WHEN DOROTHY SEES THE MAN BEHIND THE CURTAIN, THE REAL "WIZARD" WHO WAS NO WIZARD AT ALL. HE EVEN TELLS HER NOT TO MIND THE MAN SHE SEES WITH HER OWN EYES, TO LISTEN, INSTEAD, TO THE GREAT AND TERRIBLE WIZARD OF OZ.

WELL, LADIES AND GENTLEMEN, THE MSM WIZARDS HAVE BEEN BUSTED...AGAIN...AND AGAIN...BUT MAYBE SINCE THE JUSTICE DEPARTMENT FINALLY BLEW THE WHISTLE ON THOSE "ANONYMOUS SOURCES" BEING PERHAPS FICTITIOUS, JUST MAYBE WE'LL SEE LESS OF THAT CRAP.

BTW, ERIC GELLER OF 'POLITICO' MAY TAKE THE PRIZE FOR MOST MISLEADING TWEET, WHEREIN HE TRIES TO MAKE IT SEEM THAT THE DOJ IS TALKING ABOUT "LEAKS", NOT THE LYING MSM, AND SURELY NOT THE MAGNIFICENT 'POLITICO':
<IMAGE>

NO GELLER, HE MEANS YOUR FAKE SOURCES AND YOUR FAKE NEWS, ALL OF YOU WHO WORK TO SELL NEWS, ANY WAY YOU CAN.
EAT IT AND SMILE.

ROSENSTEIN'S WARNING TO AMERICAN NEWS READERS BACKS UP BOTH COMEY'S AND COATS' REVELATIONS TO THE SENATE IN TESTIMONY WHICH BOTH GAVE UNDER OATH.

IN SHORT, YOU'VE BEEN BAMBOOZLED, AMERICA.
YOU HAVE BEEN FED PROPAGANDA AND FAKE NEWS, JUST AS JFK INSINUATED JUST WEEKS BEFORE HE WAS ASSASSINATED.
JFK HAD SENT A MESSAGE TO THE MSM THAT HE WOULDN'T TOLERATE THEIR USING THEIR RAGSHEETS AND TV NEWS TO MANIPULATE THE TRUTH AND AMERICAN MINDS.

[SEE "Address before the American Newspaper Publishers Association, April 27, 1961" ]

THAT WAS OVER 50 YEARS AGO!

AND THE TV CROWD?
THERE HAS BEEN ALMOST A YEARLY EXPOSE' OF THEIR FALSE STORIES.
ONE FROM 2015 SHOWED FOX TOPPED THE LIST OF FAKE NEWS WITH 60% OF THEIR STORIES HAVING FALLACIES IN THEM.
THE SAME ARTICLE STATED THAT NBC ALSO REPORTS FAKE NEWS. "ABOUT 44% OF NBC 'NEWS' CAN BE DISCREDITED"

CNN, IN 2014 WAS FOUND TO HAVE SERVED-UP ALMOST 25% FAKE NEWS.
IT WILL BE INTERESTING TO SEE CNN SCORES THIS YEAR!
SO FAR, BY MY COUNT, THEY OUTRANK FOX!


TRY TO READ "12 Fake News Stories from the Mainstream Media - Breitbart", AND "25 Fake News Stories From The Mainstream Media"

EYE-OPENING BUSTS OF MAINSTREAM MEDIA SHOULD OPEN MANY EYES, BUT WILL IT?

I'LL GIVE THE NEW YORKER THIS...IT CALLED OUT THE WASHINGTON POST AS NO OTHER DID, IN MY OPINION, AND WHAT THE ARTICLE STATED ABOUT WaPo CERTAINLY APPLIES TO ALL MSM.
"The story of PropOrNot should serve as a cautionary tale to those who fixate on malignant digital influences as a primary explanation for Trump's stunning election. The story combines two of the most popular technological villains of post-election analysis—fake news and Russian subterfuge—into a single tantalizing package. Like the most effective Russian propaganda, the report weaved together truth and misinformation.

...the prospect of legitimate dissenting voices being labelled fake news or Russian propaganda by mysterious groups of ex-government employees, with the help of a national newspaper, is even scarier.

Vasily Gatov told me, "To blame internal social effects on external perpetrators is very Putinistic."

I FIND IT HUMOROUS THAT HE REFERS TO GATOV.
GATOV'S ARTICLE ON RUSSIAN "INFO-WARS'" AND USE OF MEDIA FOR PROPAGANDIZING DEPICTS WHAT WE SEE TODAY IN AMERICAN MEDIA!
IT IS A PERFECT MATCH!
AMERICAN NEWS MEDIA ALL DO WHAT RUSSIA DOES!

I REMIND MY READERS THAT ADOLF HITLER SO ADMIRED THE AMERICAN PROPAGANDA MACHINE THAT IS OUR 'PRESS' THAT HE INCORPORATED THOSE TACTICS TO SWAY GERMAN MINDS IN HIS FAVOR AND TOOK THE WORLD TO WAR.
AS I HAVE NOTED BEFORE, HITLER ALSO ADMIRED THE AMERICAN TECHNIQUES USED TO COMMIT GENOCIDE AGAINST THE INDIGENOUS TRIBES.

I WATCHED THE SAME MEDIA WHIP AMERICANS HERE INTO A FRENZY AGAINST THE VIETNAM WAR, TO THE POINT THAT AMERICAN CITIZENS WERE ATTACKING RETURNING SOLDIERS COMING HOME FROM NAM.
AND WHO CAN FORGET KENT STATE?

AS I WROTE ELSEWHERE A FEW DAYS AGO, MAINSTREAM MEDIA IS ABSOLUTELY AT LEAST PARTIALLY RESPONSIBLE FOR THE SHOOTINGS AT THE CONGRESSIONAL BASEBALL PRACTICE, HAVING AGAIN FANNED THE FLAMES OF ANGER AND HATE JUST AS THEY DID DURING THE CIVIL RIGHTS MOVEMENT, AND HAVING MADE IT "NEWS" TO TELL THEIR READERSHIP WHEN AND WHERE THE BALL PRACTICE WAS BEING HELD.

EVER SINCE THE TRUMP WIN (AND, AGAIN, I DO NOT AT ALL LIKE TRUMP) THE VAST MAJORITY OF OUR MSM HAVE TAUNTED THE "LOSERS", DEMOCRATS, AND CONSTANTLY 'SUGGESTED' THAT THOSE WHO ARE DISTRAUGHT OVER HILLARY'S LOSS TAKE TO THE STREETS, DO SOMETHING TO "TAKE AMERICA BACK".

AMERICA HASN'T GONE ANYWHERE!
SHE'S STILL AMERICA, STILL RIGHT HERE, AS INTACT AS SHE WAS DURING ANY DEMOCRAT PRESIDENT'S TERM IN OFFICE.

AMERICA HAS NOT BEEN "HIJACKED", AND AS ALL STATES REPORTED AFTER THE ELECTIONS, NO VOTES WERE CHANGED BY RUSSIAN 'HACKERS'.
MAINSTREAM MEDIA DID NOT POINT OUT THAT ABC REPORTED THAT JEANNETTE MANFRA, DEPT. OF 'HOMELAND SECURITY' ACTING DEPUTY UNDERSECRETARY OF CYBERSECURITY
"reiterated that there was no evidence that any actual votes were manipulated, as did former FBI director, James Comey."

RADIO FREE EUROPE JUST TODAY REPORTED THAT MANFRA AND OTHERS HAVE REPEATEDLY SAID NO VOTES WERE CHANGED AT ALL, NOT IN ANY STATE.


Manfra also testified that vote tallies were not tampered with, ... saying there was no evidence that actual vote tallies were stolen.

Jeh Johnson told the House Intelligence Committee--echoing the comments from the officials before the Senate committee -- said there was no evidence that actual vote tallies were stolen. "To my current knowledge, the Russian government did not through any cyberintrusion alter ballots, ballot counts or reporting of election results," he said.

U.S. officials have repeatedly pointed out that the decentralized nature of U.S. election systems is one reason it is hard for external actors to directly manipulate the vote count."

Director of National Intelligence at the time, James Clapper, admitted to Congress ... "They did not change any vote tallies or anything of that sort."
THE NSA SAID NO VOTES WERE CHANGED OR STOLEN.
"The NSA notes in its report that it is "UNKNOWN whether the aforementioned spear-phishing deployment successfully compromised all the intended victims, and what POTENTIAL data from the victim COULD have been exfiltrated."

NONE, NOT ANY, AS WE NOW KNOW.


WHAT WILL IT TAKE TO FORCE THE AMERICAN MEDIA WHO SIDED WITH CLINTON TO STOP LYING TO ALL OF US?
NO VOTES WERE CHANGED!
HILLARY LOST BECAUSE SHE RAN A BAD CAMPAIGN AND JUST SEEMED TO GO A LITTLE TOO BAT-SHIT INSANE DURING THE PROCESS...THE END...SHE LOST.
VOTERS GOT A LOOK AT THE REAL HILLARY AND DIDN'T LIKE WHAT THEY SAW!

ADD TO THE ABOVE SWORN STATEMENTS OF BASICALLY EVERYBODY BUT GOD THAT THE ELECTION WAS NOT HACKED BY RUSSIANS THE MANY I.T. EXPERTS WHO HAVE WRITTEN ON THE 'NERDY' WEBSITES THAT MOST OF US DON'T READ, THIS WAS NOT A CASE OF HACKING BUT OF A THING CALLED "PHISHING", WHICH CANNOT CHANGE ANYTHING AND WHICH HAS BEEN PROVEN WAS UNSUCCESSFUL.

COMPUTER 'WIZARDS' KNOW THE DIFFERENCE.
PHISHING IS NOT HACKING, BUT THE MSM KEEPS RIGHT ON SCREAMING "THE ELECTION WAS HACKED".

WHEN WE WENT THROUGH THE RECENT RANSOMWARE ATTACK ON WORLDWIDE COMPUTERS, AGAIN THE TECH COMMUNITY SHOWED US THE BIG DIFFERENCE BETWEEN HACKING AND PHISHING, BUT MSM KEEPS SCREAMING "WE WERE HACKED!"

NO, MORONS, WE WERE PHISHED, UNSUCCESSFULLY, AS YOU ALL WELL KNOW BUT NEVER SAY!

SEVERAL PEOPLE INSIDE THE DNC DID NOT WANT HILLARY AS A CANDIDATE.
SOME THOUGHT SHE HAD STOLEN THE NOMINATION FROM SANDERS, REMEMBER?

WHAT WAS REVEALED IN REGARDS TO THE CLINTON CAMP, ABOUT PODESTA'S EMAILS AND HILLARY'S, ALMOST OF A CERTAINTY CAME FROM WITHIN THE CLINTON CAMP.
PERHAPS, AS WIKILEAKS' ASSANGE HAS INSINUATED, THAT POOR MURDERED YOUNG MAN HANDED THOSE OVER BEFORE HE WAS KILLED, OR SOMEONE IN THE NSA, CIA, SOMEONE OFFENDED BY HILLARY CLINTON, "LEAKED" THOSE SO THE WORLD WOULD BE ABLE TO SEE THE REALITY OF THE CLINTON FOUNDATION, THE WOMAN HERSELF, AND THE DEMOCRAT'S 'NATIONAL COMMITTEE'.

WELL, WE DID SEE, JUST AS WE SAW TRUMP MAKING LEWD REMARKS ABOUT WOMEN, JUST AS WE SAW HIS ELITIST IDEOLOGY, HIS UNREAD INEPTITUDE AND LIMITED VOCABULARY, HIS CLUELESSNESS ON FOREIGN POLICY.
BUT THE ELECTORAL COLLEGE DECIDED THIS ELECTION, JUST AS THEY DID WITH GORE VERSUS BUSH, JR, JUST AS THEY HAVE BEFORE WHEN THE RESULTS OF A CLOSE ELECTION DID NOT ERUPT INTO RIOTS, BEATINGS OF REPUBLICANS, ATTACKS ON CONGRESSMEN, AND DID NOT RESULT IN A WILD-EYED RANT AND A LONG ROUND OF BLAMING EVERYONE BUT HERSELF BY THE LOSER.


YOU KNOW, IT WASN'T THAT LONG AGO THAT CONGRESS WAS SCREAMING "FOUL!" WHEN THEY LEARNED THEIR COMPUTERS HAD BEEN TAPPED BY THE CIA/NSA BOYS.
I SAY CIA/NSA BECAUSE IT'S HARD TO SEPARATE THE TWO WHEN EACH ARE CONSTANTLY SPYING ON AMERICANS.


WE WILL HAVE TRUMP FOR AT LEAST FOUR YEARS, UNLESS THE MSM CAN INCITE SOMEONE TO KILL HIM.
THEY SEEM TO ME TO BE VERY HOPEFUL THAT TRUMP WILL EITHER BE ASSASSINATED OR CAVE IN UNDER THEIR INCESSANT ONSLAUGHT AND JUST LEAVE OFFICE

I INVITE READERS TO GO RESEARCH THE LIES OF MAINSTREAM MEDIA THROUGHOUT OUR SHORT AMERICAN HISTORY, TO SEE FOR THEMSELVES THE MANY TIMES THIS BULLYING INSTITUTION HAS BEEN CAUGHT RED-HANDED PRINTING AND BROADCASTING OUTRIGHT LIES, FAKE NEWS, TO HERD THE AMERICAN POPULACE LIKE SHEEP TO SLAUGHTER, TO PUSH AMERICANS TO COMMIT VIOLENCE AGAINST OTHER AMERICANS.

IT WILL HURT YOUR HEARTS TO FIND THE TRUTH, TO SEE HOW WE'VE BEEN DUPED, BUT WE NEED TO FINALLY REALIZE THAT WE ARE BEING PLAYED LIKE CHEAP VIOLINS.
WE DEPEND TOO MUCH ON THE MSM TO DELIVER THE TRUTH TO US.
THEY ARE ALL OWNED BY PEOPLE WITH VERY HIDDEN AGENDAS, MY FRIENDS.
THEY ARE THERE TO MAKE MONEY, TO BE THE "BIGGEST AND BEST", TO SELL THEIR PRODUCT...THE NEWS.
THEY HAVE SCREWED US OVER SINCE THEIR INCEPTION AND WE HAVE ALLOWED IT AND KEPT RIGHT ON, MINDLESSLY, UNQUESTIONINGLY, BELIEVING WHAT WE'RE TOLD TO BELIEVE.

WHY DON'T WE STOP DOING THAT?
WHY DON'T WE USE THIS AMAZING THING CALLED THE INTERNET TO GO TO THE PEOPLE INVOLVED OURSELVES, TO GET THE FACTS OURSELVES, TO DIG AND DIG UNTIL WE FIND THE REAL TRUTH?

NOT LONG AGO, I READ AN ARTICLE ABOUT A CERTAIN TRIBE HERE IN AMERICA THAT JUST DIDN'T SEEM POSSIBLE TO BE CORRECT.
ALL I HAD TO DO WAS SEND AN EMAIL TO THE TRIBAL COUNCIL TO FIND OUT THE TRUTH!
I HAD A REPLY IN UNDER 24 HOURS.
UNSATISFIED EVEN WITH THAT, I EMAILED A FEW MEMBERS OF THAT TRIBE, CALLED ANOTHER MEMBER, AND YES, I WAS RIGHT... THE NEWS" WAS WRONG. BOTH THE COUNCIL AND THE PEOPLE HAD THE FACTS. THEY WERE RIGHT THERE WHERE THINGS WERE HAPPENING.

WE HAVE THE ABILITY TO "GO SEE FOR OURSELVES", TO GO TO THE SAME PEOPLE THE FAKE NEWS BOYS CLAIM TO HAVE GONE TO.
ISN'T IT WORTH THE EFFORT AND TIME TO KNOW THE FACTS, TO GET THE TRUTH?

FOR ME, IT IS.

QUESTION EVERYTHING, PEOPLE OF EARTH!
WE CAN 'VIRTUALLY' GO SEE IT ALL FOR OURSELVES, JUST AS I SAW THE DAMAGE DONE BY A LANDSLIDE ALONG THE CALIFORNIA COAST, BY MEANS OF VIDEOS SHOT BY A FEW LOCALS JUST MOMENTS AFTER IT HAPPENED.
WE GO TO THE HORSE'S MOUTH TO SEE WHAT THE HORSE IS EATING.

QUESTION EVERYTHING.
AND NEVER, NEVER FEAR THE TRUTH.
TRUTH CAN HURT, BUT LIES WILL KILL.
IN THE CULTURE OF MY MOTHER'S PEOPLE, A LIE WAS AS BAD AS A MURDER, BECAUSE A LIE KILLS THE TRUTH AND TRUTH IS MOST IMPORTANT OF ALL THINGS, EXCEPT MAYBE HUMAN LIVES.













//WW