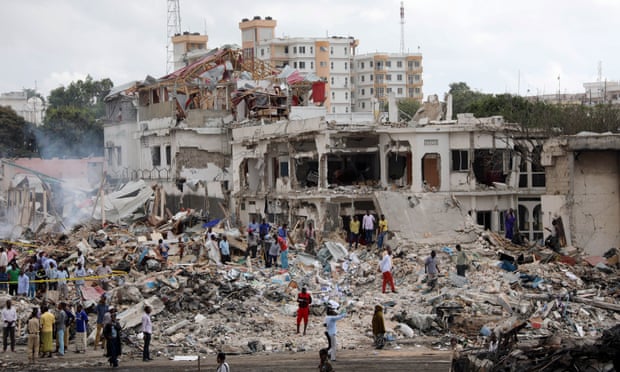 ABOVE: The scene of the explosion in Mogadishu. Photograph: Feisal Omar/Reuters

1. TRUCK BOMBING IN MOGADISHU, SOMALIA, KILLS 240, INJURES AT LEAST 300, SERIOUSLY DAMAGES QATAR'S EMBASSY THERE.
FROM THE GUARDIAN, U.K., 15 OCTOBER 2017

At least 500 people are believed to have been killed or seriously injured in Mogadishu, the capital of Somalia, in one of the most lethal terrorist acts anywhere in the world for many years.

The death toll from Saturday's attack, which involved a truck packed with several hundred kilograms of military-grade and homemade explosives, stood at 239 on Sunday but is expected to rise as more bodies are dug from the rubble spread over an area hundreds of metres wide in the centre of the city. At least 300 people were injured, according to local reports.

Rescue workers on the ground said it would be difficult to establish a definitive death toll because the intense heat generated by the blast meant the remains of many people would never be found.

The bomb, which is thought to have targeted Somalia's foreign ministry, was concealed in a truck and exploded near a hotel on a busy street, demolishing the building and several others.

2. CALIFORNIA WILDFIRES STILL BURNING, MORE THAN 300 PEOPLE MISSING, 40 KNOWN DEAD, ALMOST 6,000 HOMES AND BUSINESSES DESTROYED.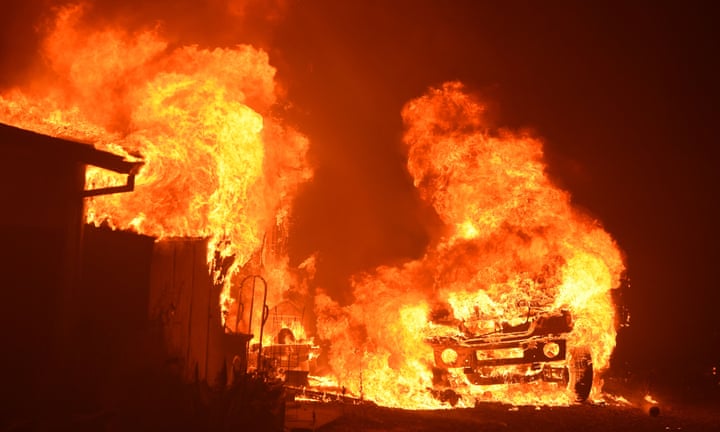 The death toll stands at 40 today. Some 300 people remained unaccounted for, though officials thought they would locate most alive. Most of the deceased were believed to have died late on 8 October or early on 9 October, when the fires exploded in the dead of night. Most victims were elderly, though they ranged in age from 14 to 100.

At least 5,700 homes and businesses had been destroyed, making the fires the deadliest and most destructive in state history.

"It's a horror that no one could have imagined," Governor Jerry Brown said

Seventeen large fires still burned across the northern part of the state, with more than 10,000 firefighters attacking the flames using air tankers, helicopters and more than 1,000 fire engines.

3. KURDS BLOCK IRAQI ACCESS TO KIRKUK OIL FIELDS AS IRAN CLOSES BORDER WITH IRAQ.
TURKEY WILL SIDE WITH IRAQ.
U.S. IGNORES PLIGHT OF KURDS, AS USUSAL, AND ALSO TAKES SIDES WITH IRAQ.
FROM REUTERS, 13 OCTOBER 2017

The Baghdad central government has taken a series of steps to isolate the autonomous Kurdish region since its vote for independence, including banning international flights.
Iran meanwhile shut its border crossings with Iraq's Kurdistan in support of measures taken by the Iraqi government to isolate the Kurdish region, the Iraqi foreign ministry said.
The Iraqi government in a statement accused the Kurdistan Regional Government (KRG) of bringing fighters from Turkey's separatist Kurdistan Workers Party (PKK) to Kirkuk, describing the move as a "declaration of war".
The city of Kirkuk, the airbase and their immediate surroundings, including the oilfields, are under Kurdish control.
Kurdish authorities said on Friday they had sent thousands more troops to Kirkuk to confront Iraqi "threats." Iraqi Prime Minister Haider al-Abadi has repeatedly denied any plans to attack the Kurds.
The United States has taken the side of the Iraqi government in refusing to recognize the validity of the referendum.

4. BITCOIN 'STAMPEDES' TO RECORD $5,846, MAY RISE PAST $6,000.
SEEMS MANY LEADING NATIONS HAVE TRIED TO STOP THE POPULARITY OF BITCOIN AND CAN'T QUITE DO IT, SO THIS SHOULD BE GOOD NEWS FOR THOSE SEEKING AN ALTERNATIVE TO THE SHRINKING AMERICAN FIAT DOLLAR.
The value of bitcoin surged to another record Friday, jumping as high as $5,846. The cryptocurrency is cementing its position at the top of the heap as it stampedes toward the $6,000 milestone.

MEANWHILE, U.S.Treasury yields were lower on Friday after muted underlying U.S. inflation data offset higher gasoline prices and strong retail sales while the U.S. dollar regained ground but was set for its worst week in five.
U.S. consumer prices recorded their biggest increase in eight months in September as gasoline prices soared in the wake of hurricane-related refinery disruptions, but underlying inflation remained muted.

European shares rose to their highest in nearly four months, helped by corporate earnings updates.


THIS BLOG ENTRY WILL BEGIN SOMETHING I HAVE WANTED TO DO FOR YEARS, HIGHLIGHT WHAT SEEMS TO BE THE TOP 3 IMPORTANT WORLD NEWS STORIES (IN MY OPINION ONLY) AND ONE FINANCIAL HEADLINE THAT AFFECTS WORLD COMMERCE.

I WILL ATTEMPT TO NOT COMMENT OVER-MUCH AND JUST CALL ATTENTION TO THINGS WE NEED TO KNOW, WHICH OFTEN MAY BE THINGS THE CURSED
PROPAGANDIZED AMERICAN MAINSTREAM MEDIA WON'T REPORT.

I'M NOT SURE IF THIS WILL SERVE A TRUE PURPOSE AND MAY NOT KEEP IT, BUT IT DAWNED ON ME LONG AGO THAT MY FELLOW AMERICANS SIMPLY DON'T SEARCH THE NEWS STORIES BEYOND WHAT THEY FIND 'ATTRACTIVE' OR IN-LINE WITH WHAT THEY WANT TO READ, SO...WELL, WE'LL SEE.
//WW