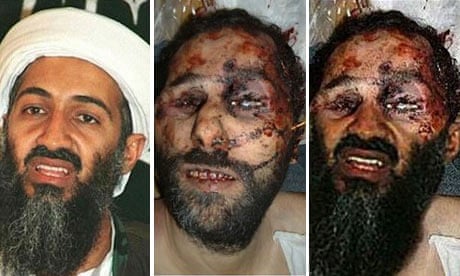 WE SHOULD HAVE KNOWN WHEN THE GUARDIAN, UK AND GOOD OLD CNN REVEALED THE ABOVE AS A FAKE THAT SOMETHING WAS ROTTEN INSIDE THE OVAL OFFICE...THAT THE ACCOUNT OF THE BIN LADEN KILLING WAS JUST AS FAKE.


AND WHEN THE "FAT BIN LADEN" VIDEO WAS BUSTED AND ALSO REVEALED AS A FAKE, WE SHOULD HAVE SCREAMED "LIARS!"

[THIS BLOG HAS BEEN UPDATED AUGUST 24, 2013, BEGINNING AT *** FAR BELOW...SCROLL DOWN.]

ALL FILES RELATED TO THE RAID ON AND DEATH OF OSAMA BIN LADEN (OBL) HAVE BEEN PURGED FROM PENTAGON DATABASES, THEY ARE G-O-N-E AND THERE WILL BE NO FREEDOM OF INFORMATION ACT GROUNDS TO GAIN ACCESS TO ANY OF THEM!
HOW CONVENIENT!

NO PHOTOS, NO VIDEOTAPE, NO ACTUAL DNA EVIDENCE, NO PROOF THAT OBL WAS KILLED OR "BURIED AT SEA".
NEXT, TOO MANY OF THE ALLEGED SEAL TEAM INVOLVED HAVE SINCE DIED. TOO MANY PAKISTANIS HAVE COME FORWARD AND SAID THAT OBL NEVER LIVED AT THAT HOUSE, THAT THE WHOLE THING WAS A MYTH, A LIE.

FIRST OF ALL, LET'S ESTABLISH THAT OSAMA BIN LADEN WAS DEAD LONG BEFORE THE OBAMA ADMINISTRATION ALLOWED THE LIE OF HIS CAPTURE.

BENAZIR BHUTTO, PAKISTANI PRIME MINISTER, NAMED HIS MURDERER IN LATE 2007 BEFORE SHE HERSELF WAS KILLED!
IN HER OWN WORDS, THE MAN WHO KILLED BIN LADEN WAS AHMED OMAR SAEED SHEIKH, ONE OF THOSE CONVICTED OF KIDNAPPING AND KILLING U.S. JOURNALIST DANIEL PEARL.

<<Bhutto released that statement on November 2, 2007 in an interview with Al-Jazeera TV channel. Bhutto spoke in English in the program titled "Frost Over the World". However, no one paid any attention to her words. Speaking about the enemies, who did not wish to see her back in Pakistan, she said: "Omar Sheikh is the man who murdered Osama bin Laden." >>

[SEE http://youtu.be/oIO8B6fpFSQ ,OR SEE
http://www.dailymotion.com/video/xzy0iz_osama-bin-laden-dead-since-2001-benazir-bhutto-says-osama-bin-laden-dead-in-2007_news#.UdtMaKwyiSo ]

[REPORTED IN http://english.pravda.ru/world/asia/15-01-2008/103426-benazir_bhutto_osama-0/]

EVEN THE MUCH-TOUTED FOX NETWORK REPORTED ON THE DEATH OF BIN LADEN IN 2001!Published December 26, 2001
FoxNews.com
http://www.foxnews.com/story/0,2933,41576,00.html

<<Usama bin Laden has died a peaceful death due to an untreated lung complication, the Pakistan Observer reported, citing a Taliban leader who allegedly attended the funeral of the Al Qaeda leader.

"The Coalition troops are engaged in a mad search operation but they would never be able to fulfill their cherished goal of getting Usama alive or dead," the source said.

Bin Laden, according to the source, was suffering from a serious lung complication and succumbed to the disease in mid-December, in the vicinity of the Tora Bora mountains. The source claimed that bin Laden was laid to rest honorably in his last abode and his grave was made as per his Wahabi belief.

About 30 close associates of bin Laden in Al Qaeda, including his most trusted and personal bodyguards, his family members and some "Taliban friends," attended the funeral rites. A volley of bullets was also fired to pay final tribute to the "great leader."

The Taliban source who claims to have seen bin Laden's face before burial said "he looked pale ... but calm, relaxed and confident.">>

A MAN WITH IMPECCABLE CREDENTIALS, SOMEONE WHO WAS IN 3 ADMINISTRATIONS AS ASSISTANT SECRETARY OF STATE CAME FORWARD YEARS AGO AND AGAIN RECENTLY TO SAY OSAMA DIED IN 2001.

Former Deputy Assistant Secretary of State under three different administrations, Steve R. Pieczenik states Bin Laden died in 2001.

In April 2002, Pieczenik stated that OBL had been dead for months.
"Not because special forces had killed him, but because as a physician I had known that the CIA physicians had treated him and it was on the intelligence roster that he had Marfan Syndrome," adding that the US government knew Bin Laden was dead before they invaded Afghanistan.

"He died of Marfan Syndrome, Bush junior knew about it, the intelligence community knew about it," said Pieczenik, noting how CIA physicians had visited Bin Laden in July 2001 at the American Hospital in Dubai.
[NOTE: THE TELEGRAPH, UK, REPORTED THAT BUSH WAS ANGRY OVER THE LATEST PURPORTED VIDEO FROM OBL AND STATED HE WAS DEAD.]


"Did the intelligence community or the CIA doctor up this situation, the answer is yes, categorically yes," said Pieczenik.



Pieczenik's source for the information comes directly from intelligence files that he saw over nine years ago confirming that the terror leader was dead.

Pieczenik's assertion that Bin Laden has been dead for years is also backed up by a myriad of other intelligence professionals and heads of state, including

Former CIA officer and hugely respected intelligence and foreign policy expert Robert Baer, as well as former FBI counter-terror head Dale Watson, who have all gone on the record to state that Osama was dead long before the raid on his alleged Pakistani compound.


[Please note...Pieczenik served as the Deputy Assistant Secretary of State under three different administrations, Nixon, Ford and Carter, while also working under Reagan and Bush senior, and still works as a consultant for the Department of Defense.

A former US Navy Captain, medical doctor, government insider, Pieczenik achieved two prestigious Harry C. Solomon Awards at the Harvard Medical School as he simultaneously completed a PhD at MIT.

Recruited by Lawrence Eagleburger as Deputy Assistant Secretary of State for Management, Pieczenik went on to develop "the basic tenets for psychological warfare, counter terrorism, strategy and tactics for transcultural negotiations for the US State Department, military and intelligence communities and other agencies of the US Government," while also developing foundational strategies for hostage rescue that were later employed around the world.]

CBS News reported that Bin Laden was having kidney dialysis treatment the night before 9/11
http://www.cbsnews.com/stories/2002/01/28/eveningnews/main325887.shtml

"In a tale as twisted as the hunt for Osama bin Laden, CBS Evening News has been told that the night before the Sept. 11 terrorists attack, Osama bin Laden was in Pakistan. He was getting medical treatment with the support of the very military that days later pledged its backing for the U.S. war on terror in Afghanistan.

Pakistan intelligence sources tell CBS News that bin Laden was spirited into a military hospital in Rawalpindi for kidney dialysis treatment."

In November 2005, Senator Harry Reid revealed that he was told Osama died in Pakistan.

In September of 2006, French intelligence also leaked a report that Osama had died in Pakistan.
When the December 27, 2001 video of a frail, sickly, semi-paralyzed Bin Laden was released, it was summarily dismissed by the Bush administration, AS REPORTED BY THE TELEGRAPH ... as 'sick propaganda possibly designed to mask the fact the al-Qa'eda leader was already dead'. "He could have made the video and then ordered that it be released in the event of his death,"said one White House aide.

Translation of Funeral Article in Egyptian Paper:
al-Wafd, Wednesday, December 26, 2001 Vol 15 No 4633 was the leading source in the MIddle East on OBL's death. Titled "News of Bin Laden's Death and Funeral 10 days ago.". SEE
http://www.globalresearch.ca/osama-s-funeral-reported-in-december-2001/24705
A prominent official in the Afghan Taleban movement announced yesterday the death of Osama bin Laden, the chief of al-Qa'da organization, stating that binLaden suffered serious complications in the lungs and died a natural and quiet death.>>

Israeli intelligence: Bin Laden is dead, heir has been chosen.

Reported in the World Tribune, 2002. Israeli sources said Israel and the United States assess that Bin Laden probably died in the U.S. military campaign in Afghanistan in December.
"The Bin Laden Scam is One of the Most Shameful Acts Ever Perpetrated…"By Gordon Duff, Veterans Today, December 5, 2009

FBI: Bin Laden 'probably' dead
The US Federal Bureau of Investigation's counter-terrorism chief, Dale Watson, says he thinks Osama bin Laden is "probably" dead. [BBC]
CONSPIRACY THEORISTS? SHOULD WE DISCOUNT ALL OF THESE WHO HAVE SAID OBL DIED YEARS AGO, EVERY SINGLE ONE OF THEM?
NOT IN A MILLION YEARS!


COULD AT LEAST SOME BE CONSIDERED WHISTLEBLOWERS?
YES.

BIN LADEN DIED IN LATE 2001.
EVERYONE IN THE BUSH ADMINISTRATION ACCEPTED THAT AND THAT WAS WHAT GOT OBL ELECTED AS THE "BAD GUY".
DEAD MEN CAN'T PROTEST THEIR INNOCENCE.
DEAD MEN CAN BE USED AND MADE INTO ANYTHING ANYONE WISHES TO MAKE THEM...HERO OR VILLAIN.

BACK TO THE PURGING OF THE PENTAGON FILES...
ALL PENTAGON FILES PURGED?
WHY HIDE THE TRUTH?
WHY HIDE WHAT THE PENTAGON HAD 'FILED' ON THAT VERY MYSTERIOUS RAID THAT SUPPOSEDLY NABBED BIN LADEN?

WHY SEND THE FILES TO THE CIA "SO THEY COULD BE MORE EASILY SHIELDED FROM EVER BEING MADE PUBLIC" AS ACKNOWLEDGED BY ADMIRAL WILLIAM McRAVEN WHO PURGED THOSE FILES?

McRAVEN ADMITS THAT'S WHY HE DID IT!

SO WHY WAS THAT ADMISSION REMOVED WEEKS AGO FROM THE INSPECTOR GENERAL'S FINAL VERSION OF THE "REPORT"?

<<McRaven's directive sent the only copies of the military's records about its daring raid to the CIA, which has special authority to prevent the release of "operational files" in ways that can't effectively be challenged in federal court. The Defense Department can prevent the release of its own military files, too, citing risks to national security. But that can be contested in court, and a judge can compel the Pentagon to turn over non-sensitive portions of records.

Under federal rules, transferring government records from one executive agency to another must be approved in writing by the National Archives and Records Administration. There are limited circumstances when prior approval is not required, such as when the records are moved between two components of the same executive department. The CIA and Special Operations Command are not part of the same department.

The Archives was not aware of any request from the U.S. Special Operations Command to transfer its records to the CIA, spokeswoman Miriam Kleiman said. She said it was the Archives' understanding that the military records belonged to the CIA, so transferring them wouldn't have required permission under U.S. rules.

HOW VERY CONVENIENT!
WAY TO AVOID NASTY QUESTIONS THAT KEEP COMING UP!

NO PHOTOS OF BIN LADEN'S BODY, NOT ONE?
NO RECORD/VIDEO/PROOF OF THAT "BURIAL AT SEA"?
NO DNA?NO FINGERPRINTS, DENTAL IMPRINTS, BLOOD SAMPLES, NOTHING?

NO "SEAL TEAM" MEMBER RECOGNIZED THE DEAD MAN AS BIN LADEN?
THEY HAD TO TAKE A CHILD'S WORD FOR IT THAT IT WAS REALLY 'USAMA'?
THEN, SEVERAL, TOO MANY, MEMBERS OF THAT "SEAL TEAM" KILLED IN THE ENSUING WEEKS?

WHERE WERE THE IRONCLAD MEDICAL RESULTS, DNA SAMPLES, LAB TESTS TO CONFIRM BEYOND A SHADOW OF A DOUBT THAT OBL WAS KILLED IN PAKISTAN?
THERE WERE NONE...NONE...NOT ONE!

WE'RE TOLD THE U.S. WANTED TO AVOID ENRAGING THE MUSLIMS BY BURYING OBL AT SEA, BUT THAT IS NOT AN ACCEPTABLE PRACTICE IN ISLAM, AND IT WOULD HAVE BEEN NO VIOLATION OF ISLAMIC CODE TO OBTAIN ANY OF THOSE SAMPLES TO PROPERLY IDENTIFY ANY MUSLIM INDIVIDUAL. FOR FAMILY MEMBERS, IT WOULD HAVE BEEN IMPERATIVE.


THE ONE SEAL TEAM MEMBER WHO WROTE THAT BOOK, WHO SAID IT SURE DIDN'T RESEMBLE BIN LADEN, IS UP FOR CHARGES. HE ALREADY SAID TOO MUCH.


JUST A SHORT TIME AGO THE PENTAGON SWORE TO THE AP AND OTHER MEDIA THAT IT COULD FIND NO DOCUMENTS INSIDE THE DEFENSE DEPARTMENT.
NOW WE KNOW WHY!
THEY HAD BEEN SHIPPED OUT!

"Welcome to the shell game in place of open government," said Thomas Blanton, director of the National Security Archive, a private research institute at George Washington University. "Guess which shell the records are under. If you guess the right shell, we might show them to you. It's ridiculous."

YET THE CIA SAYS THAT IT WASN'T TO GET AROUND THE FREEDOM OF INFORMATION ACT AT ALL, NO SIR!
"Records of a CIA operation such as the (bin Laden) raid, which were created during the conduct of the operation by persons acting under the authority of the CIA Director, are CIA records."

Golson said it is "absolutely false" that records were moved to the CIA to avoid the legal requirements of the Freedom of Information Act.
The records transfer was part of an effort by McRaven to protect the names of the personnel involved in the raid, according to the inspector general's draft report. "


IS THAT BECAUSE THE "PERSONNEL" WERE MORE OR LESS FICTITIOUS, BECAUSE THAT "SEAL TEAM" WASN'T A REAL SEAL TEAM, WAS NO TEAM AT ALL?

OR WAS IT BECAUSE THAT RAID WAS ENTIRELY FICTITIOUS FROM START TO FINISH?

THEN WHO WROTE THE BOOK THAT BASICALLY TOLD US HE DIDN'T THINK THAT WAS BIN LADEN?
"No government agencies the AP contacted would discuss details of the transfer.
The timing may be significant: The Freedom of Information Act generally applies to records under an agency's control when a request for them is received."

TWO YEARS LATER AND NO RESPONSE TO A FOIA REQUEST?
HIDING MUCH, BOYS? AFRAID OF WHAT WE'D SEE...OR NOT SEE?


"The Federal Records Act would not permit agencies "to purge records just on a whim," said Dan Metcalfe, who oversaw the U.S. government's compliance with the Freedom of Information Act as former director of the Justice Department's Office of Information and Privacy.

"I don't think there's an exception allowing an agency to say, `Well, we didn't destroy it.

We just deleted it here after transmitting it over there.'

High-level officials ought to know better."


SURE, THEY DO KNOW BETTER, AND SO THAT'S WHAT THEY DID!

FOR SOMETHING THIS IMPORTANT TO BE ENTRUSTED TO JUST ONE AGENCY WITH NOT ONE OTHER COPY OF THOSE RECORDS, ISN'T THAT LIKE HANDING A BURGLAR THE ONLY VIDEO OF HIS CRIME?

EVERYONE IN THE MIDDLE EAST KNEW BIN LADEN HAD BEEN DEAD FOR YEARS, DEAD AND BURIED!

IT WAS REPORTED IN MAJOR NEWSPAPERS OVER THERE, IT WAS CONFIRMED BY LEADERS OF NATIONS, EVEN KARZAI HAD SAID HE WAS DEAD!
CNN REPORTED THAT.
KARZAI WAS PISSED THAT AMERICAN TROOPS WERE IN AFGHANISTAN KNOWING OBL WAS DEAD.

THE ABSOLUTELY TERRIBLE, AMATEURISH VIDEOS PRODUCED BY THE U.S. THAT SO VERY POORLY "SHOWED BIN LADEN" FOR THE PAST 5 OR 6 YEARS HAVE BEEN PROVEN TO BE CONTRIVED, TO HAVE BEEN ACTORS WHO HARDLY RESEMBLED OBL IN THE LEAST, AND THE FEW "LEAKED" PHOTOS OF HIS DEATH WERE 100% PROVEN TO BE PHOTO-SHOPPED!

"Two former CIA officials have admitted to creating a fake video in which intelligence officers dressed up as Osama Bin Laden and his cronies in an effort to defame the terrorist leader throughout the middle east.The details are outlined in a Washington Post article by investigative reporter and former Army Intelligence case officer Jeff Stein."

<<BBC: Osama Bin Laden Pentagon Video a Hoax- Man Identifed >>
http://dotsub.com/view/70fd5400-ed4b-417e-adf2-6baf4f77f5a9

<<UK Guardian 2010: CIA admits to making fake videos of Osama bin Laden >>

<<BBC 2008: A Spanish politician has said he was shocked the FBI had used his photo for a Fake digitally-altered image of Bin Laden >>

<<CNN: 2002 - The Pentagon released doctored fake image of Osama bin Laden >>

<< In February 2007, Professor Bruce Lawrence, head of Duke University's Religious Studies program, stated that the purported video and audio tapes that were being released of Bin Laden were fake.>>



THE OBAMA ADMINISTRATION TOLD A WHOPPING LIE TO THE WHOLE WORLD, A LIE PERPETRATED ON THE AMERICAN PUBLIC, ONE THAT WAS COMING UNRAVELED, SO WHAT ELSE COULD THE PENTAGON DO BUT BURY IT, PURGE THE FILES, HIDE THEIR NOTES, MAKE SURE NO FOIA REQUESTS COULD BE GRANTED.



IT'S AS OBVIOUS AS THE SUN IN THE EAST AT DAYBREAK!

BUT IT JUST GETS WORSE...
President Obama's State of Secrecy: Bin Laden raid files purged


"McRaven's unusual order would have remained secret had it not been mentioned in a single sentence on the final page in the inspector general's draft report that examined whether the Obama administration gave special access to Hollywood executives planning a film, "Zero Dark Thirty," about the raid.
The draft report was obtained and posted online last month by the Project on Government Oversight, a nonprofit watchdog group in Washington.

McRaven, who oversaw the bin Laden raid, expressed concerns in the report about possible disclosure of the identities of the SEALs. The Pentagon "provided the operators and their families an inordinate level of security," the report said. McRaven also directed that the names and photographs associated with the raid not be released.
"This effort included purging the combatant command's systems of all records related to the operation and providing these records to another government agency," according to the draft report.
The sentence was dropped from the report's final version."

THEY "PURGED THE COMBATANT COMMAND'S SYSTEMS OF ALL RECORDS RELATED TO THE OPERATION"?
WHY?
TO HELP PROTECT A PART OF THE "OBAMA LEGACY"?
LIKE THEY PROTECTED REAGAN DURING THE IRAN-CONTRA MESS AND BUSH2 FROM THE TRUTH THAT THERE WERE NO WMDs AND LBJ ABOUT THE LIES TOLD TO GET US IN AND KEEP US IN VIETNAM AND THE FDR LIES ABOUT NO FOREKNOWLEDGE OF THE IMPENDING ATTACK ON PEARL HARBOR?
IT ALL GETS REVEALED SOONER OR LATER....WHY LIE NOW?
HOW MANY OTHER TIMES HAVE THEY GONE TO THIS EXTREME AND WHY DID THEY?
TO SAVE SOME PRESIDENT'S ASS, TO KEEP HIM FROM HAVING TO EXPLAIN TO CONGRESS AND THE AMERICAN PEOPLE WHY SUCH THINGS ARE COMMON?

"Bridget Serchak, a spokeswoman for the inspector general, would not explain why the reference was left out of the final report and what, if any, actions the office might be taking. "Our general statement is that any draft is pre-decisional and that drafts go through many reviews before the final version, including editing or changing language," Serchak wrote in an e-mail.

The unexplained decision to remove the reference to the purge and transfer of the records "smells of bad faith," said Steven Aftergood, director of the Project on Government Secrecy at the Federation of American Scientists. "How should one understand that? That adds insult to injury. It essentially covers up the action."


OH, IT'S A CLASSIC COVER-UP ALRIGHT!
I WISH WE ALL HAD A LOUSY DOLLAR FOR ALL THE COVER-UPS OUR GOVERNMENT HAS PULLED OFF...WE'D ALL BE MILLIONAIRES!

"A U.S. judge and a federal appeals court previously sided with the CIA in a lawsuit over publishing more than 50 "post-mortem" photos and video recordings of bin Laden's corpse. In the case, brought by Judicial Watch, a conservative watchdog group, the CIA did not say the images were operational files to keep them secret. It argued successfully that the photos and videos must be withheld from the public to avoid inciting violence against Americans overseas and compromising secret systems and techniques used by the CIA and the military.

The Defense Department told the AP in March 2012 it could not locate any photographs or video taken during the raid or showing bin Laden's body.

It also said it could not find any images of bin Laden's body on the USS Carl Vinson, the aircraft carrier from which he was buried at sea. The Pentagon also said it could not find any death certificate, autopsy report or results of DNA identification tests for bin Laden, or any pre-raid materials discussing how the government planned to dispose of bin Laden's body if he were killed.

It said it searched files at the Pentagon, Special Operations Command headquarters in Tampa, Fla., and the Navy command in San Diego that controls the Carl Vinson.

The Pentagon also refused to confirm or deny the existence of helicopter maintenance logs and reports about the performance of military gear used in the raid. One of the stealth helicopters that carried the SEALs in Pakistan crashed during the mission and its wreckage was left behind.

The Defense Department also told the AP in February 2012 that it could not find any emails about the bin Laden mission or his "Geronimo" code name that were sent or received in the year before the raid by McRaven.
The department did not say they had been moved to the CIA. It also said it could not find any emails from other senior officers who would have been involved in the mission's planning. It found only three such emails written by or sent to then-Defense Secretary Robert Gates, and these consisted of 12 pages sent to Gates summarizing news reports after the raid.


NO PHOTOS EXIST?
EXCEPT THE ONES REVEALED AS FAKE PHOTO-SHOPPED ONES.

NO VIDEOS?

THAT'S THE TRUTH BECAUSE THEY DID NOT KILL OBL DURING THE OBAMA REGIME!
SECRETARY OF DEFENSE PANETTA DISCLOSED ANOTHER LIE.
"The photo of President Obama and a roomful of his advisers apparently watching the operation go down (recorded by helmet-cams worn by the SEALS) turns out to be a picture of them watching … something else. Secretary of Defense Leon Panetta acknowledged that the helmet-cams were not on during the operation, and were off for 25 minutes (others say 35) after the SEALS entered the compound."


Salon's Glenn Greenwald cut to the chase in his May 3rd column: "In bin Laden killing, media – as usual – regurgitates false Government claims":

Politico's Josh Gerstein adds: "The White House backed away Monday evening from key details in its narrative about the raid that killed Osama bin Laden, including claims by senior U.S. officials that the Al Qaeda leader had a weapon and may have fired it during a gun battle with U.S. forces." Gerstein added: "a senior White House official said bin Laden was not armed when he was killed."

FBI admits they have no evidence connecting bin Laden to 9-11
"In fact, FBI Director Robert Mueller and Vice President Dick Cheney both admit there is no evidence linking bin Laden to 9-11. On March 29, 2006, on The Tony Snow Show, Vice President Dick Cheney stated: "We've never made the case, or argued the case, that somehow Osama Bin Laden was directly involved in 9/11. That evidence has never been forthcoming."

THERE WASN'T ANY EVIDENCE!
NOBODY IN THE BUSH ADMINISTRATION WOULD FINGER THE HOUSE OF SAUD FOR 911, EVEN THOUGH THE MAJORITY OF THE ALLEGED HIJACKERS CARRIED SAUDI CITIZENSHIP AND MANY IN SAUDI ARABIA WERE SHOWN CELEBRATING THE DESTRUCTION OF THE TWIN TOWERS.

"In normal circumstances, people who turn their backs on reality are soon set straight by the mockery and criticism of those around them, which makes them aware they have lost credibility. In the Third Reich there were no such correctives, especially for those who belonged to the upper stratum. On the contrary, every self-deception was multiplied as in a hall of distorting mirrors, becoming a repeatedly confirmed picture of a fantastical dream world, which no longer bore any relationship to the grim outside world. In those mirrors I could see nothing but my own face reproduced many times over."
[FROM: Carol Tavris and Elliot Aronson, Mistakes Were Made (but not by me) – Why We Justify Foolish Beliefs, Bad Decisions, and Hurtful Acts, 2007, p. 65]


"Military emails show that NO U.S. sailors witnessed Osama bin Laden's secret burial at sea"

"Pentagon failed to produce autopsy report, death certificate or results of DNA tests"

Internal emails among U.S. military officers indicate that no American sailors watched Osama bin Laden's burial at sea from the USS Carl Vinson, and traditional Islamic procedures were followed during the secret ceremony.
The emails, obtained by The Associated Press through the Freedom of Information Act, are heavily blacked out, but are the first public disclosure of government information about the al-Qaida leader's death. The emails were released Wednesday by the Defense Department.

The CIA, which ran the bin Laden raid and has special legal authority to keep information from EVER being made public, has not responded to AP's request for records about the mission."

SO, YOU DECIDE...IS THIS PURGING, THIS DELETION OKAY?
DID THE PENTAGON COVER UP THE TRUTH, THAT BIN LADEN WAS NEVER "CAPTURED IN PAKISTAN"?

MAYBE SOME DAY WE'LL FIND OUT WHAT ALL WE'VE BEEN LIED TO ABOUT.
PROBABLY NOT, BUT MAYBE...

***BEGIN 08/24/2013 UPDATE***
http://edition.cnn.com/2002/US/02/01/gen.bergen.cnna/index.html
February 1, 2002
(CNN) -- On Thursday night, CNN aired parts of an interview with Osama bin Laden that the Arabic-language television network Al-Jazeera recorded in late October.

Al-Jazeera said it didn't air the tape because it wasn't newsworthy, and announced Thursday it was severing its relationship with CNN, claiming the interview was stolen and aired illegally. CNN disputes that.

CNN: The U.S. government also obtained this independently. So what was the incentive in holding this back from the American public?

BERGEN: Well, Paula, I mean, again, I'm just really, really perplexed. Al-Jazeera bills its reputation as being a sort of independent broadcaster in the Middle East, different from some of the other broadcasters that are basically government entities. Perhaps they came under some pressure from their own government, the government of Qatar, not to broadcast this.

CNN: The last interview you did with bin Laden was back in 1997. How different was the Osama bin Laden we saw in this tape, the interview taped late in October of 2001?

BERGEN: He's actually quite similar. I mean, in terms of his demeanor and his voice -- these kinds of things are quite similar. The big difference is that he's aged enormously between '97 and October of last year.
This is a man who was clearly not well. I mean, as you see from these pictures here, he's really, by December he's looking pretty terrible. But by December, of course, that tape that was aired then, he's barely moving the left side of his body. So he's clearly got diabetes. He has low blood pressure. He's got a wound in his foot. He's apparently got dialysis ... for kidney problems.
I mean, this is a man who has a number of health problems, apart from the fact that anybody running around the Afghan mountains is not going to be in great shape.

CNN: And, of course, the question that people continue to debate is not only is he not well, is he still alive today?

==
http://whatreallyhappened.com/WRHARTICLES/osamatape2.html
EVIDENCE THAT THE BLIND COULD SEE...
==

http://web.archive.org/web/20021205223313/http://216.26.163.62/2002/me_terrorism_10_16.html
Israeli intelligence: Bin Laden is dead, heir has been chosen
SPECIAL TO WORLD TRIBUNE.COM
Wednesday, October 16, 2002
TEL AVIV — Osama Bin Laden appears to be dead but his colleagues have decided that Al Qaida and its insurgency campaign against the United States will continue, Israeli intelligence sources said.
Al Qaida terrorists have launched a new campaign of economic warfare and are targeting shipping in the Middle East, according to U.S. intelligence officials.

The Israeli sources said Israel and the United States assess that Bin Laden probably died in the U.S. military campaign in Afghanistan in December. They said the emergence of new messages by Bin Laden are probably fabrications, Middle East Newsline reported.

But Bin Laden's heir has been chosen and his colleagues have decided to resume Al Qaida's offensive against the United States and Western allies, the sources said.

The sources said Al Qaida has already determined Bin Laden's heir. They said the heir has not been identified, but is probably not Bin Laden's son, Saad. Saad is said to be in his 20s and ranked within the top 20 members of Al Qaida.
Earlier this week, Bin Laden's deputy, Ayman Zawahiri, was said to have released a videotape in which he claims that the Al Qaida leader is alive and functioning. Bin Laden's voice was not heard on the tape.
http://216.26.163.62/2002/me_terrorism_10_16.html

==
Cronkite: Osama bin Laden c/o Karl Rove?

On October 29, 2004, Larry King interviewed Walter Cronkite on CNN. This is how Cronkite reacted to seeing a video clip of Osama bin Laden threatening America.

KING: OK, Walter. What do you make of this?

CRONKITE: I'm a little inclined to think that Karl Rove, the political manager at the White House, who is a very clever man, he probably set up this thing.


BIN LADEN'S FUNERAL
http://www.thestar.com/NASApp/cs/ContentServer?pagename=thestar/Layout/Article_Type1&c=Article&cid=1038524483919&call_pageid=968332188492&col=968705899037
[Page cannot be crawled or displayed due to robots.txt.]

THAT PAGE NOTED ABOVE WAS DELETED!
Luckily, the whole article was captured at the time & reprinted here:
http://www.welfarestate.com/binladen/funeral/swiss-lab.txt

Nov. 28, 2002. 06:23 PM
Bin Laden tape a fake, Swiss lab says
Scientists compared recording to 20 other tapes of terror chief

PARIS (AP) - The latest audiotape statement attributed to accused
terrorist mastermind Osama bin Laden is not authentic, a Swiss research
institute said.

The Lausanne-based Dalle Molle Institute for Perceptual Artificial
Intelligence said it is 95-per-cent certain the tape does not feature the
voice of the long-absent terrorist leader.

The review of the tape was commissioned by France-2 television and its
findings were presented by the institute's Professor Herve Boulard in a
special TV report shown late Thursday.

He said the institute compared the voice on the tape, first aired two
weeks ago on Al-Jazeera, an Arabic television network, with some 20
earlier recordings of bin laden.
==

http://www.globalresearch.ca/9-11-analysis-where-was-osama-bin-laden-on-september-11-2001/20986
10 September 2010
If the CBS report by Dan Rather is accurate and Osama had indeed been admitted to the Pakistani military hospital on September 10, 2001, courtesy of America's ally, he was in all likelihood still in hospital in Rawalpindi on the 11th of September, when the attacks occurred. In all probability, his whereabouts were known to US officials on the morning of September 12, when Secretary of State Colin Powell initiated negotiations with Pakistan, with a view to arresting and extraditing bin Laden.

The CBS report is a potential bombshell. It invalidates the Osama bin "legend" created by US intelligence. It casts doubt on the notion that Osama was the "mastermind" behind the 9/11 attacks. It points to coverup and complicity at the highest echelons of the US administration.

He could have been arrested at short notice which would have "saved us a lot of trouble", but then we would not have had an Osama Legend, which has fed the news chain as well as George W's speeches in the course of the last five Bush2 years.

It should be noted that the hospital is directly under the jurisdiction of the Pakistani Armed Forces, which has close links to the Pentagon. U.S. military advisers based in Rawalpindi. work closely with the Pakistani Armed Forces. Again, no attempt was made to arrest America's best known fugitive, but then maybe bin Laden was serving another "better purpose". Rumsfeld claimed at the time that he had no knowledge regarding Osama's health. (CBS News, 28 January 2002)

In other words, Osama's whereabouts were known to US officials on the morning of September 12, when Secretary of State Colin Powell initiated negotiations with Pakistan, with a view to arresting and extraditing bin Laden. These negotiations, led by General Mahmoud Ahmad, head of Pakistan's military intelligence, on behalf of the government of President Pervez Musharraf, took place on the 12th and 13th of September in Deputy Secretary of State Richard Armitage's office.
==

Bin Laden "was used in the same way that 9/11 was used to mobilize the emotions and feelings of the American people in order to go to a war that had to be justified through a narrative that Bush junior created and Cheney created about the world of terrorism." — Dr. Steve R. Pieczenik

Dr. Steve R. Pieczenik, a man who held numerous different influential positions under three different Presidents and still works with the Defense Department, shockingly told The Alex Jones Show yesterday that Usama Bin Laden died in 2001 and that he was prepared to testify in front of a grand jury how a top general told him directly that 9/11 was a false flag inside job.

"Pieczenik cannot be dismissed as a "conspiracy theorist". He served as the Deputy Assistant Secretary of State under three different administrations, Nixon, Ford and Carter, while also working under Reagan and Bush senior, and still works as a consultant for the Department of Defense. A former US Navy Captain, Pieczenik achieved two prestigious Harry C. Solomon Awards at the Harvard Medical School as he simultaneously completed a PhD at MIT.

This information is known to Fox News, The New York Times, The Washington Post and the administrations of both the GW Bush and Obama. If the subject were less emotional and complex, hoardes of reporters would already have torn the official version to shreds. But the way Obama's administration packaged and released the stories was meant to – and did – plunge all of us into the fiery picture of bloody heroics in the made-for-movie saga of a continuing fight for Good against Evil.
http://my.firedoglake.com/davidson/2011/05/07/something-is-very-wrong-with-the-bin-laden-kill-story/

Alan Sabrosky (Ph.D., University of Michigan) is a writer and consultant specializing in national and international security affairs.
In December 1988, he received the Superior Civilian Service Award after more than five years of service at the U.S. Army War College as Director of Studies, Strategic Studies Institute, and holder of the General of the Army Douglas MacArthur Chair of Research. He is listed in WHO'S WHO IN THE EAST (23rd ed.).
A Marine Corps Vietnam veteran and a 1986 graduate of the U.S. Army War College, Dr. Sabrosky's teaching and research appointments have included the United States Military Academy, the Center for Strategic and International Studies (CSIS), Middlebury College and Catholic University; while in government service, he held concurrent adjunct professorships at Georgetown University and the Johns Hopkins University School of Advanced International Studies (SAIS).
Dr. Sabrosky has lectured widely on defense and foreign affairs in the United States and abroad.
Here's parts 1 & 7 of an interview with him:

http://www.youtube.com/watch?v=GemBPvSsbG4&feature=related

http://www.youtube.com/watch?v=yOsho6Yd1Hs&feature=related

Something is very wrong with the administration's slip-sliding story of midnight heroics executing the bad guy behind 9-11, then disposing of his body so no one could verify the alleged DNA match and saying "Just trust us" .
Trust the very government that lied about Iraq?
Trust the government that has been caught red-handed creating false flag events since the Revolutionary War?

The photo of President Obama and a roomful of his advisers apparently watching the operation go down (recorded by helmet-cams worn by the SEALS) turns out to be a picture of them watching … something else.
Secretary of Defense Leon Panetta acknowledged that the helmet-cams were not on during the operation, and were off for 25 minutes (others say 35) after the SEALS entered the compound.

Initially, the story was presented as a vicious firefight against an armed compound, where bin Laden used his wife as a human shield, firing at the invaders from behind her. Now it seems that bin Laden was not armed, was not using anyone as a shield, and was in his pajamas when shot.

"No matter how many times this happens — from Jessica Lynch's heroic firefight against Iraqi captors to Pat Tillman's death at the hands of Evil Al Qaeda fighters — it never changes: the narrative is set forever by first-day government falsehoods uncritically amplified by establishment media outlets, which endure no matter how definitively they are disproven in subsequent days."

"I don't know where bin Laden is. I have no idea and really don't care. It's not that important. It's not our priority. I am truly not that concerned about him."
- G.W. Bush, responding to a question about bin Laden's whereabouts, 3/13/02 (The New American, 4/8/02)

What did Usama himself say about 9-11?
In a Sept. 28, 2001 interview with the Pakistani newspaper Ummat, bin Laden is reported to have said:

"I have already said that I am not involved in the 11 September attacks in the United States. As a Muslim, I try my best to avoid telling a lie. I had no knowledge of these attacks, nor do I consider the killing of innocent women, children and other humans as an appreciable act. Islam strictly forbids causing harm to innocent women, children and other people. Such a practice is forbidden even in the course of a battle."

According to the FBI "Wanted" page: "Usama Bin Laden is wanted in connection with the August 7, 1998, bombings of the United States Embassies in Dar es Salaam, Tanzania, and Nairobi, Kenya. These attacks killed over 200 people. In addition, Bin Laden is a suspect in other terrorist attacks throughout the world."

When asked why there is no mention of 9/11 on the FBI's web page, Rex Tomb, the FBI's chief of investigative publicity, is reported to have said,
"The reason why 9/11 is not mentioned on Usama Bin Laden's Most Wanted page is because the FBI has no hard evidence connecting Bin Laden to 9/11."

In fact, FBI Director Robert Mueller and Vice President Dick Cheney both admit there is no evidence linking bin Laden to 9-11. On March 29, 2006, on The Tony Snow Show, Vice President Dick Cheney stated: "We've never made the case, or argued the case, that somehow Osama Bin Laden was directly involved in 9/11. That evidence has never been forthcoming."

At the end of their Top Ten list, the FBI notes that bin Laden "is left-handed and walks with a cane."
This last comment is important because there are reports of the CIA creating fake bin Laden videos – at least one with a right-handed actor looking to be 80-100 lbs. fatter, and with a much fatter nose, than Usama bin Laden — which have been embarrassingly easy to spot as fake.

Former CIA Officials Admit To Faking Bin Laden Video
May 25th, 2010:
"Two former CIA officials have admitted to creating a fake video in which intelligence officers dressed up as Usama Bin Laden and his cronies in an effort to defame the terrorist leader throughout the Middle East.

"The details are outlined in a Washington Post article by investigative reporter and former Army Intelligence case officer Jeff Stein."

Could the CIA group of "dark skinned actors" have been behind the infamous December 2001 "Fat nosed" Bin Laden video, that was magically found in a house in Jalalabad after anti-Taliban forces moved in?

The tape featured a fat Usama laughing and joking about how he'd carried out 9/11.
The video was also mistranslated in order to manipulate viewer opinion and featured "Bin Laden" praising two of the hijackers, only he got their names wrong. This Usama wrote with his right hand (the real Usama was, as the FBI site noted, left-handed).
The actor playing Fat Usama in the December 2001 staged video, also wore gold rings: a practice totally in opposition to the Muslim faith.

Despite the fact that the man in the video looks nothing like Bin Laden and is right-handed, the CIA stood by it and declared it to be the official "9/11 confession video".

"The Bin Laden Scam is One of the Most Shameful Acts Ever Perpetrated…"
By Gordon Duff, Veterans Today, December 5, 2009

"Conservative commentator, former Marine Colonel Bob Pappas has been saying for years that bin Laden died at Tora Bora and that Senator Kerry's claim that bin Laden escaped with Bush help was a lie. Now we know that Pappas was correct. The embarrassment of having Secretary of State Clinton talk about bin Laden in Pakistan was horrific. He has been dead since December 13, 2001 and now, finally, everyone, Obama, McChrystal, Cheney, everyone who isn't nuts is finally saying what they have known for years.

"We know this: Bin Laden always denied any ties to 9/11 and, in fact, has never been charged in relation to 9/11. He not only denied involvement, but had done so, while alive, 4 times and had vigorously condemned those who were involved in the attack.

US Navy Seal Commander, Who Killed Osama Bin Laden, Commits 'Apparent Suicide' In Afghanistan
Thursday, December 27, 2012
Cmdr. Job W. Price, 42, died Saturday, Dec. 22, of a non-combat-related injury while supporting stability operations in Uruzgan Province, Afghanistan.
Military officials are looking into the death of Cmdr. Job W. Price as a possible suicide, but his death remains under investigation.
http://www.theguardian.com/world/2012/dec/23/us-navy-seal-death-afghanistan

April of 2011, Taliban fighters shot down a U.S. helicopter and killed 22 members of SEAL Team Six, along with 16 other U.S. troops.

March 28, 2013, Special Warfare Operator Chief Brett D. Shadle was killed in a parachute training accident when he collided in midair with another SEAL over the Arizona desert. He was later identified as being a part of Team Six.

Neighbors of the house where the raid took place say that there's NO WAY he was living there.

It was NOT a "mansion", but was barely worth $48,000USD.
http://www.youtube.com/watch?feature=player_embedded&v=7Fvooj3hPhk

IN A VERY SLICK MOVE TO ONCE-AND-FOR-ALL QUELL THE RUMORS (AND MAYBE STOP INSIDERS FROM TELLING US WHAT REALLY HAPPENED?), IT WAS SUDDENLY "LEAKED" THAT PAKISTAN GAVE UP BIN LADEN...

USA TODAY, A FAVORITE FOR SELLING WHAT THE FEDS WANT US TO BELIEVE, CARRIED THE STORY OF THE "LEAK".
AND AL JAZEERA DID A FAIR JOB...
THERE'S QUITE A BIT ALL ABOUT THIS ON THE AJ WEBSITE <HERE>.

SO, SHOULD WE ALL GO BACK TO BELIEVING THE U.S., UNDER THE OBAMA GO-AHEAD, KILLED BIN LADEN?
NOT IN A MILLION YEARS!








_____________________________________

MAJOR SOURCES, NOT LISTED ABOVE:

http://www.nydailynews.com/news/national/u-s-files-bin-laden-raid-purged-pentagon-computers-secrecy-report-article-1.1392728

http://www.monroenews.com/news/2013/jul/08/secret-move-keeps-bin-laden-records-shadows/?in-other-news


http://www.dailymail.co.uk/news/article-2236617/Revealed-Military-emails-NO-U-S-sailors-witnessed-Osama-bin-Ladens-secret-burial-sea.html#ixzz2YUpWGazM

http://whatreallyhappened.com/WRHARTICLES/osama_dead.php

http://www.corbettreport.com/osama-bin-laden-pronounced-dead-for-the-ninth-time/
http://www.salon.com/news/opinion/glenn_greenwald/2011/05/03/propaganda_bin_laden)

http://www.washingtonpost.com/lifestyle/style/report-of-bin-ladens-death-spurs-questions-from-conspiracy-theorists/2011/05/02/AF90ZjbF_story.html