MOST AMERICANS HAVE HEARD THE TERM "HUMAN TRAFFICKING" BUT FEW REALIZE HOW SERIOUS THIS IS IN AMERICA AND AROUND THE GLOBE.
NO ONE KNOWS HOW MANY CHILDREN WHO ARE KIDNAPPED HERE EACH YEAR WIND UP AS SEX SLAVES IN A VAST NETWORK THAT SELLS OR "RENTS" CHILDREN FOR SEX.
[SEE http://havacuppahemlock1.blogspot.com/2013/06/pedophiles-in-bush1-white-house-male.html]
FEW ALSO REALIZE THAT MANY TRAFFICKED PEOPLE HAVE THEIR ORGANS HARVESTED FOR SALE ON THE BLACK MARKET.
MILLIONS OF PEOPLE LIVE AS SLAVES TODAY, EVEN MORE THAN THE NUMBER OF SLAVES IN 1860.
CURRENT FACTS AND STATISTICS FOLLOW THE NEWS ARTICLES ON THE SAUDI 'PRINCESS'.
HERS IS JUST ONE STORY...

Saudi princess Meshael Alayban,
one of six wives of
Saudi Prince Abdulrahman bin Nasser bin Abdulaziz al Saud
, and her family had crossed the globe in May with an entourage of servants and settled into one of the upscale communities in Orange County.
Early Tuesday, one of the servants darted out of the complex and flagged down a bus. The woman clutched a suitcase and a pamphlet on human trafficking given to her by the American embassy in Saudi Arabia.
Police say the servant is a 30-year-old woman, originally from Kenya, who managed to escape Tuesday. A passenger on the bus helped her contact the Irvine Police Department.
She had been hired by Alayban in Saudi Arabia base on a contract that said she would work five days a week, for eight hours a day, and make $1,600 a month. After three months, she could return home if she was unhappy.
But when she arrived at Alayban's Saudi home, the 'princess' tore up the contract, took away the Kenyan woman's passport, then brought her with her to America.
By that time, the Kenyan maid was working 16 hours a day, 7 days a week, for only $220 per month.
She was part of a vast domestic workforce in that nation.
Saudi Arabia, with a population of around 28 million and an average household size of 6, employs more than 1 million maids from developing countries...just maids.
Most of them are very poor and their well-being is tied to the whims of their employers.
If the employer abuses them, they have nowhere to turn.
"Even if they get raped and they go to the police and report that, there have been cases where the police simply raped them again, and then they were deported,"
Antoinette Vlieger, a law professor at the University of Amsterda, said. Vlieger has made a long study of the problems found in Saudi Arabia's treatment of foreign employees, particularly domestic help.
Vlieger said it's likely Alayban doesn't even comprehend that she broke the law, as there are no laws similar to America's in Saudi Arabia.
Khaled Abou El Fadl, a professor of Islamic law at UCLA, said servants are treated so poorly for so long "that they become completely docile, the Saudi employer cannot imagine them as anyone who has free will, so they comfortably view them as part of the baggage and bring them to the U.S. or Europe."
"There have been warnings from the Saudi government to wealthy people not to bring their domestic servants when they travel to the U.S. or Europe, for precisely this reason," Abou El Fadl said.
The Kenyan woman continued her work in the four condo units, biding her time to escape, authorities said, until her run for freedom on Tuesday. The prince and princess, their three young children and four other servants from the Philippines also lived at the four-condo complex. The servants' passports had been locked in a bank safe deposit box, said Orange County District Attorney Tony Rackauckas, who recently announced that he was forming a special unit to deal with human trafficking.
Later that day, authorities searched the princess' condo units and found the other servants. "The detective spoke to them and said, 'Do you want to leave with us?'" Engen said. "And they said, yes."
Alayban was arrested early Wednesday.
In court Thursday, she was in blue prison garb.
Judge Gregg Prickett approved a protective order that would bar her from contacting the Kenyan woman or people close to her. Alayban also surrendered her passports.
On Thursday afternoon, she posted $5 million bail and was freed.
The $5 million bail was paid by the Saudi Arabian consulate, the Orange County Sheriff's Department said Friday.
AND THAT WILL LIKELY BE THE LAST WE HEAR OF THIS...THE SAUDIS ARE OUR OIL BUDDIES, AFTER ALL, AND WE DARE NOT ANGER THEM.
HEADS WILL PROBABLY ROLL IN ORANGE COUNTY OVER THIS!
HUMAN TRAFFICKING IS A GROWING BUSINESS.
Human trafficking is considered to be one of the fastest growing criminal industries in the world
It is a form of modern-day slavery where people profit from the control and exploitation of others. As defined under U.S. federal law, victims of human trafficking include children involved in the sex trade, adults age 18 or over who are coerced or deceived into commercial sex acts, and anyone forced into different forms of "labor or services," such as domestic workers held in a home, or farm-workers forced to labor against their will.
Those who traffic in human beings also do so to extract vital organs to sell, to extract human ova, or to force women into surrogacy for the purpose of selling the resulting babies.
The factors that each of these situations have in common are elements of force, fraud, or coercion that are used to control people.
In 2008, the United Nations estimated nearly 2.5 million people from 127 different countries are being trafficked into 137 countries around the world.
THAT WAS A VERY LOW ESTIMATE, BUT SINCE U.N. TROOPS ALL OVER THE WORLD HAVE BEEN CAUGHT AT AND A FEW EVEN CHARGED WITH ENGAGING IN HUMAN TRAFFICKING AND HUMAN RIGHTS VIOLATIONS, RAPES, MURDERS, KIDNAPPINGS, ETC, IT'S LITTLE WONDER THE ABOMINATION THAT IS THE U.N. WOULD UNDERESTIMATE THE FIGURES.
[SEE
http://www.un.org/womenwatch/news/documents/DPKOHumanTraffickingPolicy03-2004.pdf
AND ALSO
http://www.thenewamerican.com/world-news/africa/item/8349-un-troops-accused-of-sex-crimes-worldwide
]
MORE LIKELY STATISTICS:
In 2008, the U.S. Department of State estimated that 2 million children are exploited by the global commercial sex trade.
In the same year, a study classified 12.3 million individuals worldwide as "forced laborers, bonded laborers or sex-trafficking victims."
THE PROBLEM WITH ANY AND ALL DATA IS THAT THEY ARE MERE ESTIMATES, NOT BACKED BY FACTS. THE PROBLEM IS LIKELY MUCH GREATER THAN WHAT IS PRESENTED BY THE U.N. OR BY THE WORLD'S MEDIA.
"'...these figures rarely have identifiable sources or transparent methodologies behind them and in most (if not all) instances, they are mere guesses.'"
THE 2008 ESTIMATES HAVE ALMOST DOUBLED IN THE PAST 4 YEARS.
Less than 1 percent of an estimated almost 21 million human trafficking victims worldwide are identified, according to Capitol Hill testimony given in May, 2013, by Bradley Myles, executive director and CEO of Polaris Project, a non-profit that combats human trafficking.
That was just one of several shocking statistics that came up in the hearing held by the Committee on Foreign Affairs, which focused on local and private sector initiatives to combat human trafficking.
Chairman Ed Royce said in his opening statement that some estimates put the number of American citizen children who are such victims within U.S. borders at 100,000. [NOTE, THOSE FIGURES DO NOT COUNT INCEST IN AMERICA.]
Another witness at the hearing was Don Knabe, who is the Los Angeles County Supervisor for the Fourth District and has worked extensively on this issue. He talked about the average age of prostitution being between 12-13. He told the story of a probation officer who received word that a 10-year-old girl was taken into custody at 6 pm on a Tuesday for prostitution.
Human trafficking ends up being more lucrative than the trafficking of drugs or guns, and safer—for the criminals.
Legislative hurdles:
A key component revolves around treating children who have been trafficked as victims, rather than criminals because of the acts committed. Myles said certain states are looking at changing laws to do just that, but he believes something such as a Sense of the Congress resolution would help the situation. Another legal hang-up is that prosecutors have to prove the sex trafficker knew the victim was a child.
According to Luis CdeBaca, Ambassador-at-Large in the State Department's Office to Monitor and Combat Trafficking in Persons, an important first step would be to redefine human trafficking as modern slavery rather than as moving of humans across borders for the purpose of exploitation.
"Once you stop looking at [human trafficking victims] as contraband that's being moved across international borders," said CdeBaca, "you start to focus on the people as individuals, and…from that flows an urgency of identifying and helping the victims."
2013 report ranks every country in the world on a
scale
evaluating, among other things, their anti-human trafficking laws, legal assistance for victims and government-funded shelter and care for victims.
More than 20 countries garnered the lowest ranking this year, including war-torn nations like Syria, the Central African Republic, and the Democratic Republic of Congo and regional powers like China, Russia, Saudi Arabia, and Iran.
The bottom group also includes Mauritania, an arid West African country with a long history of hereditary slavery. According to a
CNN special report
, the nation only made holding slaves a crime in 2007. While an estimated 20 percent of the population is still enslaved, only one person has been convicted since the 2007 law was passed.
IT'S A LUCRATIVE BUSINESS.
http://www.havocscope.com/black-market-prices/organs-kidneys/
~AVERAGE PAID FOR A HUMAN KIDNEY, $150,000 USD.
~AVERAGE ASKING PRICE FOR A HUMAN LUNG TOPPED $312,000 USD.
~IN 2010, THE AVERAGE FOR SALES OF ILLEGALLY OBTAINED ORGANS WAS ONE PER HOUR.
~CHINA USES PRISONERS' ORGANS FOR TRANSPLANT, BUT "PROMISES" TO STOP DOING SO BY 2015.
<<An estimated 10,000 organ transplants are believed to take place in China every year, according to various reports. Up to 7,000 organs used in those transplants are taken from executed prisons. China has up to 1.5 million people waiting for an organ donation.>>
http://www.havocscope.com/black-market-prices/human-trafficking-prices/
ON THAT 'PRICE LIST WE READ THINGS LIKE:
~CHILDREN IN INDIA ARE SOLD BY PARENTS FOR AS LITTLE AS $45, WHILE A BUFFALO THERE SELLS FOR $350.
~PEOPLE IN CHINA WILL PAY AN AVERAGE OF $14,473 FOR A MALE CHILD.
~A WOMAN IN PAKISTAN FETCHED ONLY $342 AT AUCTION
~ISLAMISTS IN MALI ARE PAYING AS MUCH AS $600 FOR CHILDREN TO SERVE AS SOLDIERS, AND MEN THERE WILL NOT PAY ABOVE $1000 FOR A "BRIDE".
~YOUNG GIRLS FROM ROMANIA FETCH $3000-$6000 FOR THE SEX SLAVE TRADE
~IN CANADA YOUNG WOMEN FROM QUEBEC CAN BE SOLD IN ONTARIO FOR THE SEX TRADE FOR ABOUT $6000 CANADIAN DOLLARS.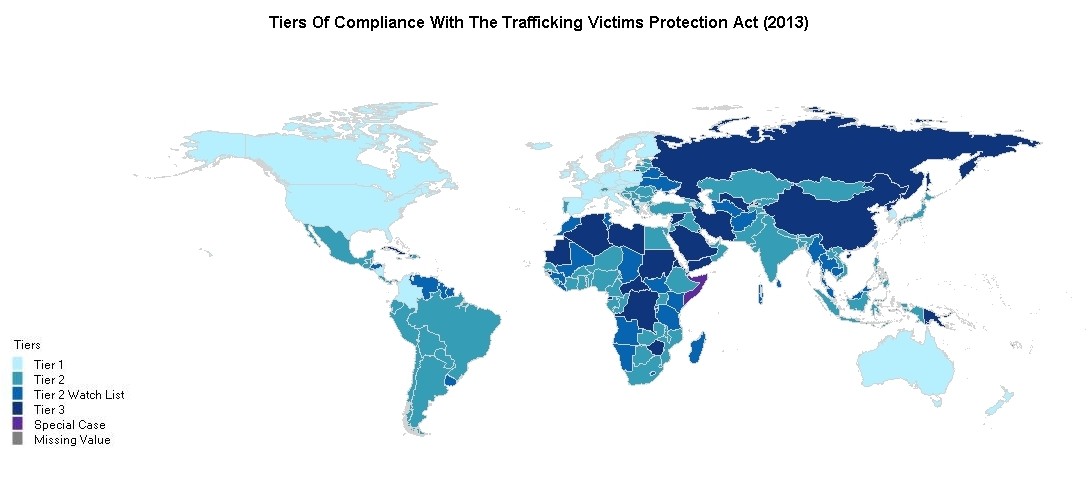 http://i.huffpost.com/gen/1202987/original.jpg
While slavery is illegal across the globe, the SumAll Foundation has noted, there are 27 million slaves worldwide, more than in 1860, when there were 25 million. Most are held in bonded servitude, particularly after taking loans they could not repay. Slaves cost slightly more now, with a median price of $140, compared with $134 per human in 1860. Debt slaves cost on average $60; trafficked sex slaves cost $1,910.
[CLICK ON PHOTO BELOW TO ENLARGE]
http://venturebeat.files.wordpress.com/2013/02/sumall-infographic.png?w=1024&h=2040
THE AVERAGE LIFETIME OF A SLAVE, FROM THE TIME OF BEING BOUGHT, IS SIX YEARS.
THEY EITHER ESCAPE, ARE SET FREE BECAUSE THEY ARE NO LONGER 'VALUABLE', OR DIE.
MANY BECOME SLAVES BECAUSE OF POVERTY, FROM TAKING A 'LOAN' FROM THOSE WITH ULTERIOR MOTIVES.
80% OF EARTH'S POPULATION, ROUGHLY 4.3 BILLION PEOPLE, EARN LESS THAN $10 USD PER DAY.
50%,
OVER 3 BILLION
, LIVE ON LESS THAN $2.50 USD PER DAY.
[
http://www.globalissues.org/article/26/poverty-facts-and-stats
]
DESPERATE PEOPLE DO DESPERATE THINGS IN ORDER TO EVEN BARELY SURVIVE.
MOTHERS SELL BABIES, MEN SELL KIDNEYS, PARENTS SELL THEIR YOUNG DAUGHTERS, OR SONS, EVEN THOUGH THEY KNOW IT'S FOR SEX...THINGS LIKE THAT HAPPEN EVERY DAY.
80% OF THE HUMAN BEINGS ON EARTH ARE PREY FOR THOSE WHO DEAL IN HUMAN SLAVES AND BLACK MARKET BABIES, CHILDREN, AND HUMAN ORGANS.
MAYBE WE SHOULD THINK A LOT MORE ABOUT THAT?
MAYBE WE SHOULD THINK ABOUT WHO THE REAL "TAKERS" ARE?
<<For every $1 in aid a developing country receives, over $25 is spent on debt repayment.
[22
]
The poorer the country, the more likely it is that debt repayments are being extracted directly from people who neither contracted the loans nor received any of the money.
[Source
]>>
While Americans and Europeans spent $17 BILLION on pet food (1998 data), it would have cost only $13 BILLION to assure that every human on earth had proper nutrition and health services, just a very little bit more than what was spent on perfumes here and in Europe in 1998 alone.
WE CAN SIT IN FRONT OF OUR MONITORS AND SAY ALL DAY THAT WE'D NEVER SELL A CHILD, A BODY PART, OR OURSELVES TO PAY OFF A DEBT, BUT WE DON'T LIVE IN NATIONS WHERE SOMEONE WILL KILL OUR ENTIRE FAMILY IF WE DON'T...NOT YET WE DON'T.
IS THAT ANY 'EXCUSE' FOR THOSE WHO PROVIDE MANY OF THE HUMANS FOR HUMAN TRAFFICKING?
NO, NO THERE IS NO VALID "EXCUSE", JUST REASONS WHICH SEEM JUSTIFIED TO MANY WHO ARE FACED WITH DEATH OR THE ALTERNATIVES.
SOMETHING HAS TO CHANGE.
THERE MUST BE A SOLUTION TO THIS SOMEWHERE...
IF WE LIVED IN A NATION WHERE THERE ARE SIMPLY NO JOBS, OR WHERE JOBS PAID LESS THAN $2 A DAY, IF WE LIVED IN NATIONS WHERE MEN WILL KILL US FOR A DEBT, MAYBE THEN WE'D LOOK HARDER FOR A LASTING SOLUTION, AND FACE REALITY A LITTLE BETTER THAN WE DO NOW?
THIS IS HOW THINGS ARE FOR 80% OF THE WORLD.
AS I'VE SAID MANY TIMES HERE, THE PEOPLE OF A NATION ARE NOT ITS GOVERNMENT.
WHILE THE PEOPLE STRUGGLE TO LIVE, GOVERNMENTS STRUGGLE TO MAKE PROFITS AND OFTEN BECOME CORRUPT IN THAT ENDEAVOR.
THE PEOPLE LOSE CONTROL OF CORRUPT GOVERNMENT.
THAT'S JUST HOW IT IS...
http://cdn1.globalissues.org/i/poverty/wdi-2008/consumption-inequality-2005-pie.png
SOURCES NOT CITED ABOVE:
http://www.latimes.com/news/local/la-me-saudi-princess-20130712,0,4328859.story
Bialik, Carl, 2010, 'Suspect Estimates of Sex Trafficking at the World Cup', The Wall Street Journal, 19 June.
http://townhall.com/tipsheet/elisabethmeinecke/2013/05/09/crimes-in-your-own-backyard-shocking-human-trafficking-statistics-n1590958
http://www.huffingtonpost.com/2013/06/19/46000-human-trafficking-victims-identified_n_3467978.html
"Mali Islamists 'buying child soldiers, imposing Sharia'," BBC News, October 10, 2012.
"Romanians Replace Bulgarian Prostitutes in Brussels' 'Quartier Nord'," Sofia News Agency, May 26, 2010.
"Sex slaves trafficked from Montreal to Ontario," Toronto Star, February 10, 2012.
Dan Bilefsky, "European Crisis Bolsters Illegal Sales of Body Parts," New York Times, June 1, 2012.
Denis Campbell and Nicola Davison, "Illegal kidney trade booms as new organ is 'sold every hour'," Guardian, May 27, 2012.
http://www.cnn.com/2013/05/08/world/asia/freedom-fighters-stats
http://bits.blogs.nytimes.com/2013/03/06/global-slavery-by-the-numbers/