THE RECENT SHOOTING AT FORT HOOD, ONCE AGAIN, PROMPTED ME TO LOOK FURTHER INTO HOW OUR MILITARY TRAINS OUR TROOPS.
YOU MUST BE AWARE THAT EVERY GENERATION IN MY FAMILY HAS SEEN VOLUNTEERS SIGN UP FOR SERVICE.
SOME WENT ON TO BECOME PART OF THE "SPECIAL FORCES" WHO RECEIVE ADDITIONAL TRAINING.
SOME WORKED IN AREAS THEY STILL ARE NOT AT LIBERTY TO DISCUSS.
I KNOW DOZENS OF CURRENTLY DEPLOYED MILITARY AND HAVE SAT AND LISTENED LONG TO THEIR STORIES, THEIR COMPLAINTS, THEIR FIRST-HAND EXPERIENCES, JUST AS I LISTENED FOR DECADES TO TWO SPOUSES AND TWO UNCLES (SADNESS AT THEIR GOING PEACE TO THEIR ASHES) AND MY FATHER, WHO WERE WORLD WAR 2, KOREAN, AND/OR VIETNAM VETERANS..
WE WERE A MILITARY FAMILY, SOLDIERS IN THE AMERICAN REVOLUTION, WARRIORS IN BATTLE SINCE BEFORE THE FOUNDING OF AMERICA.

I WILL NEVER PRINT FALSE INFORMATION ABOUT OUR TROOPS.
I AM DEDICATED TO APPRECIATING THEIR SERVICE AS MUCH AS A HUMAN CAN.
I "SUPPORT OUR TROOPS" BY WISHING THEY COULD ALL COME HOME AND STAY HOME.
I BELIEVE WE WOULD BE BEST SERVED BY NEVER SENDING A U.S. SOLDIER TO ANY FOREIGN NATION EVER AGAIN, UNLESS THAT NATION ATTACKS THE U.S.

THAT SAID, I FIND THAT THE WAY OUR MILITARY TRAINS OUR TROOPS IS BOTH IMMORAL AND UNETHICAL AS PERTAINS TO THE TROOPS THEMSELVES.
OUR TROOPS AND THEIR WELFARE ARE NOT THE PRIORITY OF THE CURRENT U.S. MILITARY, AND MAY HAVE NEVER BEEN.
THEY ARE TRAINED IN A WAY THAT DISRUPTS THEIR CONSCIENCES, THAT DELETES THEIR INDIVIDUALITY, THAT TOO OFTEN ROBS THEM OF THE ABILITY TO REASON LOGICALLY, AND INSTILLS IN THEM A HOSTILITY AND AGGRESSIVENESS THAT THEY FIND HARD TO DEAL WITH ONCE WAR IS DONE.

THIS THE STORY OF JUST ONE GROUP, BUT OTHER "ELITE FORCES". "SPECIAL FORCES" HAVE RECEIVED THE SAME DIRECTIVES, HAVE ENGAGED IN SIMILAR (AND EVEN WORSE) TACTICS. .
US Army Sergeant Major (Retired) Joe Garner describes what was probably the first parachute jump with a W54 Special Atomic Demolition Munition (SADM) in 1960 as part of PROJECT GREENLIGHT in his autobiography - Code Name: Copperhead. SGM Garner, a Special Forces soldier with many years of combat experience, described his high altitude jump from a H-21 helicopter on the back side of Fort Bragg, also the fictional setting of the special munitions depot in Lost Key. Joe reported that he dropped faster than anticipated in his modified chute and ended up on the ground with all the laces busted out from his boots.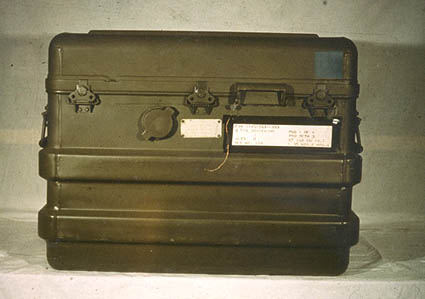 ONE VERSION OF THE SUITCASE NUKES, ABOVE.
In the Navy scenario, the two-man team would place the weapon package in the target location, set the timer, and swim out into the ocean where they would be retrieved by a submarine or other high-speed water craft. The parachute jumps and the retrieval procedures were practiced extensively.
Reportedly 300 SADMs were assembled and remained in the US arsenal until 1989.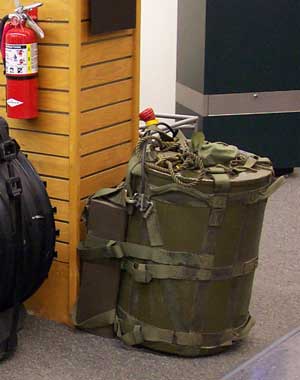 A WASTEBASKET VERSION OF THE SADM.
THE BALTIMORE SUN REPORTED, July 27, 1994
"U.S. commandos once assigned to suicide missions"
<<For many years, American commandos were assigned to volunteer teams with the suicidal mission of detonating small nuclear weapons at very close range, according to authoritative military sources.
The so-called "Green Light" Army demolition squads were supposed to deliver, arm and then "watch the device until it went off" to assure that enemy forces did not interfere with the explosion, said a former Special Forces member trained in the mission.
"If that meant staying inside the hydroelectric plant, standing 20 feet away from the warhead, that's where you stayed," he said. "It was suicide and we all knew it."

Retired Army Maj. Gen. David Einsel, deputy assistant secretary of defense for atomic energy from 1980 to 1985, confirmed the "Green Light" teams' assignment.

Man-portable nuclear warheads "were not the weapon of choice, and it had to be a very worthwhile mission or you weren't going to set it off in the first place," General Einsel added.
George Grimes, spokesman for the U.S. Special Operations Command, said he could not discuss the capabilities of forces assigned to the command. The Special Forces member trained in nuclear detonation asked not to be identified because, he said, he had signed confidentiality agreements while in the Army program.

A classified Army manual on nuclear demolition supports his account and General Einsel's, and civilian experts in nuclear weapons say it is consistent with their understanding of nuclear war tactics.
No devices ever were actually fired by the Army's tactical nuclear demolition teams. The last of 300 so-called "backpack nukes" built for such missions were withdrawn from NATO arsenals in 1988 and destroyed.

WHO WOULD EVER DREAM OF SENDING OUR TROOPS ON SUICIDE MISSIONS?
WE FIND THAT OUT FROM THE ARTICLE IN THE SUN...
DWIGHT DAVID EISENHOWER...A GENERAL HIMSELF.
President Eisenhower conceived of the highly classified U.S. tactical weapons program in the 1950s, hoping that ways could be found to use very small nuclear devices in combat.
The smallest weapon, armed with a 58-pound warhead and producing a blast equal to only a few tons of TNT, was deployed in Europe in 1964. It was designed to destroy Eastern Bloc bridges, tunnels, dams, canals and other targets invulnerable to bombardment from the air.
The warhead was drum-shaped, about 20 inches in diameter and 24 inches tall. Two-man teams carried the devices in customized backpacks. One bore the warhead, which was nicknamed "the monkey," according to the former Army Special Forces commando; the other carried the firing mechanism. Assembled, the device weighed about 160 pounds, according to the Nuclear Weapons Databook, the definitive unclassified manual on the subject.
"They practiced delivering it by land, sea and air; by static line, free fall, HALO (high-altitude, low-opening parachute) jump and submarine; by car, truck, train and just plain hiking it in," said the former commando.

They'd disguise it as a trash can, a water cooler, a keg of beer. If somebody beside it pulled out a sextant, you'd think it was surveying gear," said the former commando.
According to Mr. Arkin, a cable only 100 meters long ran from the blast site to the detonation team in early versions of the device. "Believe it or not, for safety and security reasons, it was operated without remote detonation. Somebody actually had to push the button."
Later, use of a radio activated "timer option" was permitted. But protecting the device still required that demolition team and their squad of 10 heavily armed and cross-trained protectors stay fatally close to the warhead, the Special Forces veteran said.
If the weapon were deeply buried in rock and the detonation triggered by a radio transmission, "Green Light" teams might have survived the explosion, General Einsel said.
They probably would not have survived the radioactive fallout, according to tables published in a classified 1971 Army field manual titled "Employment of Atomic Demolition Weapons." It predicted heavy casualties from fallout even at the lowest yields and even when the warhead was buried 12 meters deep.
["Although demolition units were likely to perish, "delay in the onset of effects . . . may permit some personnel to remain effective long enough to influence a specific operation," the training manual states."]

One [NUCLEAR DEVICE] nearly got away in 1977, according to a former "Green Light" team member.
In that incident the navigator of an Air Force MC-130 that was supposed to drop a "Green Light" team a half mile inland from the Gulf of Mexico at Eglin Air Force Base in Florida, got lost, he said.
The aircraft dropped the team and their weapon more than|| TC mile offshore into choppy seas. Eleven of the 12 squad members let their gear drop to the bottom and took turns holding up the warhead two at a time. The twelfth member swam ashore and found help. The warhead was saved, he said.>>
<end quoted Sun article>
In a detailed report by Foreign Policy,
the publication chronicles the creation of the
Special Atomic Demolition Munition (SAMD)
, a portable nuclear weapon that could be carried into battlefield by a single solider. During the Cold War's final 25 years, Navy SEALs and Army Special Forces were trained to carry these "backpack nukes" beyond enemy lines where, if necessary, they'd be used to destroy valuable infrastructure and keep opposing forces at bay.
[NOTE: THE ARTICLE LINKED ABOVE,
FOREIGN POLICY
, IS RICH WITH PHOTOS AND ILLUSTRATIONS.]
Concerned with the Soviet Union's military advantage over the United States and its allies in terms of manpower and traditional weaponry, President Dwight Eisenhower looked to enhancing the country's nuclear capabilities as a way to level the playing field. His "New Look" strategy, however, promised "massive retaliation" to any form of aggression by the Soviet Union – a bold strategy that in reality left the US with little room to maneuver.
"In the event that communist forces launched a limited, non-nuclear attack, the president would have to choose between defeat at the hands of a superior conventional force or a staggeringly disproportionate (and potentially suicidal) strategic nuclear exchange that would kill hundreds of millions of people," the report stated.

In an attempt to develop targeted nuclear weapons that wouldn't cause as many casualties, the SAMD was born. Often strapped to a soldier's back, the 58-pound bomb made it difficult for soldiers to maneuver through a war zone, and those chosen to carry the device – known as the "Green Light" teams – underwent extensive training to ensure they could deliver the bomb, even at the expense of their own lives.
"I think that my first reaction was that I didn't believe it," former Green Light member Ken Richter told Foreign Policy. "Because everything that I'd seen prior to that, World War II, showed this huge weapon. And we were going to put it on our backs and carry it? I thought they were joking.
US allies were not particularly fond of the idea of detonating numerous nuclear devices across their countries, while others within the American military questioned the whole enterprise.
"In our hearts, we knew nobody was going to give control of these to a bunch of big old boys running around the countryside," Tom Davis, another Green Light member, told Foreign Policy. "We just didn't believe it was ever going to happen."
This, however, wasn't the only controversial idea the United States tested during the Cold War.
A lawsuit is currently unfolding in federal court concerning a
military program
that subjected servicemen to various secret drug and chemical experiments. The US hoped to discover new ways to control human behavior, pinpoint weaknesses, hypnotize, and increase an individual's resistance to torture.
As a result, many former soldiers have come forward claiming that their long-term health problems are a direct product of the experiments conducted on them. The Department of Veterans Affairs has generally declined to cover the health costs of these individuals, though just recently a federal judge ruled the US must notify all veterans of any potential health problems stemming from the experiments.>>
<end quoted RT article>
"We were kamikaze pilots without the airplanes," said Louis Frank Napoli Jr. of Tampa, Fla., a former enlisted man in the Army who said he volunteered for the assignment.
WELL, IT WAS "IMPRESSIVE" ENOUGH THAT NORTH KOREA VOWS IT HAS ITS OWN VERSION OF THE AMERICAN SUICIDE UNITS THAT CARRY SIMILAR DEVICES, AND ARE JUST ITCHING TO USE THEM.
AMERICAN MILITARY'S TOP DOGS ARE DEDICATED TO PRESERVING THEIR SPECIAL UNITS BEYOND THE "WARS" IN THE MIDDLE EAST.
<<T
he Special Operations Command, or SOCOM, is scheduled for spending and personnel increases
while the rest of the military looks to be making cuts.
In fact, the number of operators has doubled since 9/11, and their budget tripled — from $3.5 billion to $10.5 billion. The trend will likely continue as the U.S. is in the middle of a shift to "smaller footprint" type operations.>>
THE ABOVE ARTICLE MAKES MENTION OF A COUPLE OF SPECIAL UNITS NOT LISTED BY WIKIPEDIA AND OTHER SITES. [SEE LIST BELOW]
SPEC OPS
WEATHERMAN,
ANGL
ICO
,
ARMY CAG
,
FAST
,
MARSOC
...
SOME OF THE "COURSES" THE SPECIAL ELITE FORCES ARE REQUIRED TO TAKE ARE RIGOROUS, DEMANDING, AND FEW PASS ENOUGH OF THESE, PLUS THE TRAINING, TO MAKE IT INTO THESE GROUPS.
Military freefall
Combat diving/Underwater egress training
Survival Evasion Resistance Escape
Jump master (parachuting)
Combatives instructor
Combat lifesaver (medical first response)
Pathfinder (survival)
Language
Mountain Warfare
Maritime interdiction and law enforcement
Anti-terrorism/Force Protection
CBRN-E Detection
Vertical Insertion (commonly referred to as Fast Roping)
Search and Rescue (limited)
Port Protection/Anti-sabotage
Canine Handling Teams (Explosive detection)
Tactical Boat Operations
Hook and Climb
Non-compliant boarding operations
A [PROBABLY PARTIAL] list of active military special forces units:
THOUGH I CHOSE TO USE THIS LIST FROM WIKIPEDIA SO YOU MAY, ATYOUR LEISURE, EXPLORE EACH LINK GIVEN, THE SAME LIST APPEARS ON SEVERAL CURRENT WEBSITES.
I OFFER THE LIST SO WE MAY ALL CONTEMPLATE WHAT EACH OF THESE SPECIAL UNITS/SPECIAL FORCES MAY BE TRAINED FOR, AND REALIZE THE DANGERS INHERENT FOR THE MEN SO TRAINED. HOW "AT RISK" ARE THEY, AND WHY WOULD WE ASK THEM TO BASICALLY HAND OVER THEIR LIVES TO THEIR COMMANDERS WITHOUT THOUGHT,
AND SOMETIMES, WITHOUT KNOWING
THAT IS WHAT THEY WILL BE REQUIRED TO DO...
NOW, THESE ARE CURRENT, SUPPOSEDLY, BUT THERE WERE SPECIAL UNITS BEFORE THESE IN AMERICA'S MILITARY, AND THAT IS IMPORTANT SO WE CAN UNDERSTAND HOW FAR BACK THE HISTORY OF THESE GOES.
YOU MAY SKIP PAST THE LIST IF YOU DON'T CARE FOR HISTORY.
AGAIN, I LEAVE LINKS INTACT AS SOME OF THESE UNITS MAKE FOR VERY INTERESTING, IF NOT GREATLY DISTURBING, READING.
FASCINATING...OFTEN HORRIFYING, SOME...
The Civil War
World War II
Korean War
Combined Command Reconnaissance Activities, Korea (CCRAK)
Detachment 1, 6160th ABG/22nd Crash Boat Rescue Squadron (CBRS), Korea Detachment
Special Activities Group (SAG)

GHQ 1st Raider Company (Provisional)/8227th Army Unit

Unit 4 21st Troop Carrier Squadron (TCS), 5th AF/Special Air Missions (SAM) Detachment, 21st Troop Carrier Squadron (TCS), 5th AF
United Nations Partisan Infantry Korea (UNPIK)

BAKER Section
Partisan Airborne Infantry Regiment (PAIR)

US Navy Special Operations Group, Korea
Vietnam War
46th Special Forces Company
Project "Leaping Lena" (Vietnam War)
Project Sigma and Project Omega
US Navy Boat Support Units (BSU)
Other
1st Battalion, 245th Special Operations Aviation Regiment (Airborne)
5th Force Reconnaissance Company
6th Special Forces Group
11th Special Forces Group
129th Air Commando Group
129th Special Operations Aviation Company (SOAC)
437th Combat Control Squadron
617th Special Operations Aviation Detachment
1730th Pararescue Squadron
Army Aviation Support Element (AASE), US Special Operations Command
Detachment A (DET A, 39th SFOD)
Special Forces Groups Aviation Detachments
Special Warfare Aviation Detachments (SWAD)

22nd Aviation Detachment (Special Forces)
23rd SWAD (Surveillance)
281st Assault Helicopter Company, Airmobile Light (AML)

Special Boat Unit 11 (SBU 11)
Special Boat Unit 13 (SBU 13)
Special Boat Unit 24 (SBU 24)
Special Boat Unit 26 (SBU 26)
Task Force 5 (forerunner of Task Force 11)
Task Force 98
Task Force 157 (Covert USN Intelligence unit)
US Army Special Operations Division
USAF Special Operations Combat Control Team (SOCCT)
US Coast Guard Drug Interdiction Assist Team (DIAT)
Yellow Fruit

THEY FAILED TO INCLUDE THE "COVERT OPS", ETC, GROUPS FROM THE AMERICAN REVOLUTIONARY WAR, BUT, REST ASSURED, THEY EXISTED.
AMERICA HAS ALWAYS HAD "SPECIAL FORCES".

NO MORE GREEN LIGHT UNITS!!!
WE NEED TO KNOW HOW TO REPAIR THE DAMAGE DONE TO HUMAN MINDS ONCE THE TROOPS COME HOME.
WE NEED TO FORCE THE FEDERAL GOVERNMENT TO SUPPORT THE TROOPS, THE VETERANS COMING HOME FROM THEIR "ASSIGNMENTS", AND HOW WE CAN RESCIND THEIR ORDERS TO KILL, KILL, KILL...
THE MILITARY MUST TAKE RESPONSIBILITY FOR HELPING THOSE WHO SURVIVE THEIR TRAINING AND SURVIVE THEIR DEPLOYMENT.
WE HAVE TO FIND A WAY TO BRING ALL OUR TROOPS HOME AND MAKE SURE THEY CAN HANDLE COMING BACK TO US.

NO MORE SUICIDE MISSIONS, NO MORE THINKING THAT THEIR LIVES ARE NOT WORTH ANYTHING. NO MORE FORT HOOD SHOOTINGS, NO MORE COMING HOME AND KILLING SPOUSES, STRANGERS, OR THEMSELVES! DO YOU REALLY "SUPPORT YOUR TROOPS"?
THEN MAKE SURE THEY CAN HOME TO A TRUE AND LASTING PEACE...OF MIND.
GRAPHIC, WARNING, BOTH THESE VIDEOS ARE INCREDIBLY GRAPHIC.
BOTH WERE WIKILEAKED.