FROM THE MOUTH OF A FORMER U.S. SECRETARY OF DEFENSE, WHO REALLY OUGHT TO KNOW, YES?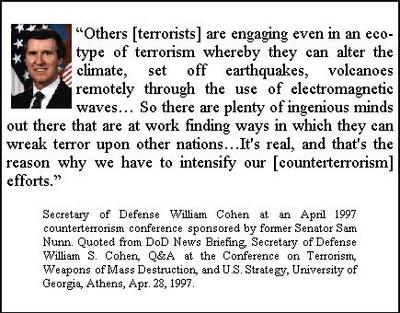 http://www.lookingglassnews.org/articles/oct/somebody3.jpeg

"ALTER THE CLIMATE, SET OFF EARTHQUAKES, VOLCANOES, REMOTELY THROUGH THE USE OF ELECTROMAGNETIC WAVES".

NOTICE HE DID SAY "OTHERS"...
HE KNEW WE WERE IN IT IN A BIG WAY!

SO DID OTHER MEMBERS OF CONGRESS!

"Congressman Dennis Kucinich (D) has submitted bill no.
HR 2977 IH
, which proposes a ban on the weaponization of space. One of the weapons systems listed in the bill is "chemtrails". The use of this term is significant because until now, all reported governmental inquiries into this issue have been dismissed or den
ied. Agencies such as the Air Force have routinely called reports of chemtrails a hoax. "

LOOK!
IT REALLY EXISTED AND HE REALLY KNEW WHAT WE'RE INTO!
FROM THE THOMAS WEBSITE WHICH LISTS ALL BILLS EVER BEFORE CONGRESS IN OUR LIFETIME!
(2)(A)

T

he terms `weapon' and `weapons system' mean a device capable of any of the following:
(III) directing a source of energy (including molecular or atomic energy, subatomic particle beams, electromagnetic radiation, plasma, or extremely low frequency (ELF) or ultra low frequency (ULF) energy radiation) against that object;


(ii) Inflicting death or injury on, or damaging or destroying, a person (or the biological life, bodily health, mental health, or physical and economic well-being of a person)--


(II) through the use of land-based, sea-based, or space-based systems using radiation, electromagnetic, psychotronic, sonic, laser, or other energies directed at individual persons or targeted populations for the purpose of information war, mood management, or mind control of such persons or populations;





(B) Such terms include exotic weapons systems such as--(i) electronic,

psychotronic

, or information weapons;




(ii) chemtrails;




(iii) high altitude

ultra low frequency weapons systems

;




(iv) plasma, electromagnetic, sonic, or

ultrasonic weapons

;




(v) laser weapons systems;




(vi) strategic, theater, tactical, or

extraterrestrial weapons

; and




(vii) chemical, biological, environmental,

climate, or tectonic weapons.
THE GOOD CONGRESSMAN JUST LAID IT ALL OUT IN THE OPEN FOR YOU, CADETS!
THERE'S THE SHORT LIST OF WHAT WE HAD AVAILABLE TO US, AS OF 2001, 14 YEARS AGO!
AND HOW DID THE DEPARTMENT OF DEFENCE REACT?
"
Status: Unfavorable Executive Comment Received from DOD"



HE BLEW THE WHISTLE ON THEM...BUSTED!

THE EUROPEAN UNION HAS CALLED AMERICA'S HAARP PROGRAM "A GLOBAL CONCERN" AND IN 2010 DEMANDED MORE INFORMATION ABOUT IT.
GOOD LUCK WITH THAT, E.U.

CHINA, JAPAN, RUSSIA, VENEZUELA, HAITI HAVE ALL ACCUSED AMERICA OF CREATING EARTHQUAKES.

THEY SHOULD SEE WHAT ELSE THE U.S. HAS IN ITS LITTLE BLACK BAG OF TRICKS TO WAGE WEATHER WARFARE!
STEERING STORMS AND HURRICANES IS BEING PERFECTED, CAUSING EARTHQUAKES IS OLD NEWS, HEATING THE ATMOSPHERE OVER SPECIFIC REGIONS AND CREATING OR ALTERING WEATHER PATTERNS HAVE BEEN DONE AND WILL BE DONE AS IT SUITS "WEATHER MODIFIERS".
NEED A DROUGHT, A FLOOD?
AMERICAN TECHNOLOGY CAN DO THAT!

WHETHER USING HAARP, USING CHEMICALS AND OTHER PARTICLES SPRAYED OR DROPPED FROM HIGH-FLYING AIRCRAFT, OR BY FRACKING, OUR "SCIENTISTS" HAVE MANAGED TO FIND WAYS TO CHANGE WEATHER AND THEREFORE CLIMATES.

IT'S LIKE OPENING PANDORA'S BOX.

TO SEE ONE WAY THE U.S. IS ACCOMPLISHING THIS, PLEASE HAVE A LOOK AT THE VIDEOS, ACTUAL MICROWAVE RADAR IMAGES OF THE STEERING OF TWO HURRICANES AT THE END OF THIS BLOG.
THEY ARE EXTREMELY INTERESTING.

FOR THE SKEPTICS...PLEASE REMEMBER THE MANHATTAN PROJECT...
THE U.S. GOVERNMENT BUILT AN ENTIRE CITY TO SUPPORT THE HIGHLY CLASSIFIED NUCLEAR TESTING BEFORE THE AMERICAN PUBLIC WAS AWARE ANYTHING WAS GOING ON...AND WHO WOULD HAVE BELIEVED WHAT THE "BIG BOMB" WAS CAPABLE OF, OR RADIATION/RADIOACTIVE FALLOUT?
THE ATOMIC BOMB WAS ONCE A "CONSPIRACY THEORY".
KEEP THAT IN MIND.

WHILE HAARP ADMITTEDLY CAN BE USED TO "FIRE PULSED, DIRECTED ENERGY BEAMS IN A VARIETY OF ELECTROMAGNETIC FREQUENCIES INTO THE IONOSPHERE TO TEMPORARILY EXCITE A LIMITED AREA" ... IT IS NOT THE NEWEST TOOL FOR WEATHER CONTROL, OR FOR CONTROL, PERIOD.

YOU MAY WISH TO WATCH A VIDEO, a TV documentary on HAARP by the Canadian Broadcasting Corporation (CBC).
CLICK HERE

HAARP (High Frequency Active Auroral Research Program) is a little-known, yet critically important U.S. military defense program which has generated quite a bit of controversy over the years in certain circles.

RUSSIA ACCUSED AMERICA OF CREATING THE HAITIAN QUAKE OF 2008.
An unconfirmed report by the Russian Northern Fleets suggests that the devastating Haiti earthquake was caused by a United States Navy "earthquake weapons" test, which was intended to be used against Iran.

THE ACCUSATIONS ALSO APPEARED IN PRAVDA.
AND THEY WERE MORE REVEALING...
Since the end of the decade of the 70's in the last century, the U.S. "advanced a lot" in the state of its earthquake weapons and, according to these reports, they now use equipment with Pulse, Plasma and Tesla Electromagnetic and Sonic technology together with "shock wave bombs."
The report also compares the experiences of these two earthquake weapons of the U.S. Navy last week, when the test in the Pacific caused an earthquake of magnitude 6.5 to strike in the area around the town of Eureka, Calif., causing no casualties.


But the test in the Caribbean (HAITI) caused the death of at least 140 thousand innocent people.



As regards the final result of the tests of these weapons, the report warns that there is a U.S. plan to destroy Iran through a series of earthquakes designed to overthrow its current Islamic regime. Additionally, according to the report, the system being tested by the USA (HAARP Project) would also create anomalies in the climate causing floods, droughts and hurricanes.

It can be observed that there is a correlation between seismic activity and the ionosphere, through the control of Radio Frequencies Induced by force fields, which is a HAARP feature, and it can be concluded that:
1 .- Earthquakes identical in depth and linearly on the same fault are caused by induced frequency linear projection.
2 .- A coordinated satellite configuration can generate concentrated frequency projections targeting specific points (force fields).
3. A diagram shows that earthquakes considered to be artificial propagate linearly at the same depth.
NOW, NIKOLA TESLA WAS A GENIUS ABOVE ALL GENIUSES AND SEVERAL TOWNS MORE OR LESS RAN HIM OUT AROUND THE TURN OF THE CENTURY (1900) FOR CAUSING QUAKES, LIGHTNINGS, ETC, WITH HIS AMAZING INVENTIONS.
THE TESLA COILS HE USED WERE INCREDIBLE THINGS!

BTW, RUSSIA SHOULD KNOW QUITE A BIT ABOUT TESLA...THEY WERE THE ONLY NATION TO BUY HIS "TOP SECRET WEAPONS", AND EVEN RUSSIAN SCIENTISTS HAVE WONDERED ALOUD IF THE TESLA EXPERIMENTS CAUSED THE TUNGUSKA EXPLOSION.
HIS TECHNOLOGY WAS MORE THAN CAPABLE OF THAT.

HE HAD ONLY BEGUN TO DABBLE IN SCALAR TECHNOLOGY.

AND, AFTER HIS DEATH, HAARP (A TESLA INVENTION IF EVER THERE WAS ONE!) CAME INTO EXISTENCE... ONCE THE U.S. CONFISCATED TESLA'S PRIVATE PAPERS.
"P. E. Foxworth, assistant director of the New York FBI office, was called in to investigate. According to Foxworth, the government was "vitally interested" in preserving Tesla's papers. Two days after Tesla's death, representatives of the Office of Alien Property went to his room at the New Yorker Hotel and seized all his possessions."

<<If HAARP is a TMT [Tesla Magnifying Transmitter], and these researchers correctly understand Tesla's work, we could be in a lot of trouble. It is quite possible that the scientists working on HAARP do not know what they are playing with.>>

NO ONE BUT TESLA WILL EVER UNDERSTAND TESLA TECHNOLOGY...AT LEAST, NOT IN OUR LIFETIMES.

BACK TO CREATION OF EARTHQUAKES.
HUGO CHAVEZ ALSO, THROUGH A SPOKESPERSON, ACCUSED THE U.S. OF THE HAITIAN QUAKE.
FOX NEWS ADDED: "The United States apparently possesses an "earthquake weapon" that set off the catastrophic quake in Haiti and killed 200,000 innocents. The story has since been taken down from the Venezuelan Web site, but a Google cache of the charges remains intact.
The publication of the story came just days after Chavez himself accused the U.S. of using the earthquake as an excuse to "invade and militarily occupy Haiti," a nation so poor that its entire economy is based on foreign aid — particularly from the U.S."

CHINA ACCUSED THE U.S. FOR ITS 2008 DEVASTATING 8.0 QUAKE THAT KILLED 90,000, AND TALKED OF "PAYBACK".

"Chinese and Russian Military scientists, these reports say, are concurring with Canadian researcher, and former Asia-Pacific Bureau Chief of Forbes Magazine, Benjamin Fulford, who in a very disturbing video released from his Japanese offices to the American public, details how the United States attacked China by the firing of a 90 Million Volt Shockwave from the Americans High Frequency Active Auroral Research Program (HAARP) facilities in Alaska."

A PAKISTANI JOURNALIST ALSO QUESTIONED IF AMERICA'S HAARP PROGRAM WAS RESPONSIBLE FOR JAPAN'S FUKUSHIMA QUAKE.

"In his column, titled "The Japanese Earthquake and Tsunami – Natural or Artificial?" Nusrat Mirza argued that the world will have to decide that the 2005 earthquake in Pakistan, the 2010 Pakistani floods, the 2004 tsunami in Indonesia, and the 2011 Japanese earthquake-cum-tsunami were all artificially caused by the U.S., possibly through the use of HAARP technology at a scientific research center in Alaska."

ONE ARTICLE AT THE TIME OF THE CHINA QUAKE READ "CERN 'Nailed Heart Of Earth' With China Quake, Chilean Volcano".

CERN IS A VERY INTERESTING, COMPLEX STRUCTURE IN EUROPE, BUT AMERICA ALSO HAS PARTICLE COLLIDERS/ PARTICLE ACCELERATORS.
YOU MAY BE ASTONISHED AT HOW MANY OF THESE THINGS EXIST AROUN THE WORLD, SO READ THE LONG LIST HERE:
Particle Accelerators Around the World

YOU MAY VISIT CERN'S REALLY "NICE, SWEET" WEBSITE HERE AND LET THEM CONVINCE YOU HOW UTTERLY SAFE IT IS...AS LONG AS IT DOESN'T PRODUCE STRANGELETS, BLACK HOLES, OR OPEN THE GATES OF HELL.

WELL, TOP SCIENTISTS DID INDEED WARN THAT THE LARGE HADRON COLLIDER COULD CAUSE THAT AND MORE...
THERE WAS A LAWSUIT TO STOP IT.

SEE ALSO: On March 17, 2005, the BBC published an article implying that researcher Horaţiu Năstase believes black holes have been created at RHIC.
"In case you missed all the hub-bub, a group of international scientists were concerned that, among other things, the large colliders could:
~Crack open the earth BY PRODUCING MEGA-EARTHQUAKES..
~Create black holes that would consume the earth.
~Open other dimensions.
~Basically, unleash hell..."

An international group of critics and experts recently filed a complaint at the Human Rights Committee of the United Nations at Geneva concerning risks and dangers of the planned experiments at the Large Hadron Collider (LHC) operated by the European Organization of Nuclear Research (CERN) in Switzerland.

The group impeaches the CERN member states, especially Switzerland, France and Germany, for not having carried out their legal responsibilities to ensure citizens' safety.

It includes a clear and detailed description of the scientific discourse on several risks and dangers arising from the artifical and extreme states of matter planned to be created, such as risks from "micro black holes" and "strangelets" as described in a number of studies - and even dangers of transitions in the energy level of space. CERN affirms there is a 65-70% of chances of producing negative strangelets, which according to standard science on strangelets today, will provoke the ice-9 reaction.


What are dangerous strangelet attributes? - As shown here - i) negative electric charge and ii) stability:
"ABSTRACT: We estimate the parameters relevant to black hole production;

we find that they are absurdly small. We show that other accelerator

and (especially) cosmic ray environments have already provided far

more auspicious opportunities for transition to a new vacuum state, so

that existing observations provide stringent bounds. We discuss in most

detail the possibility of producing a dangerous strangelet."

YOU MAY SEE THE PROBABILITY OF CREATING THESE AT THE LARGE HADRON HERE :

~ http://heavyionalert.org/

~ http://cerntruth.files.wordpress.com/2010/09/slides-1718-last-strangelet-hunt-on-cms.jpg?w=645&h=1103
~ http://cerntruth.wordpress.com/2011/12/27/119-terrorists-will-start-production-of-strangelets-irony-or-destiny/

WHAT EXACTLY IS CERN LOOKING FOR WITH THESE "LARGE COLLIDERS"?
WELL, THAT"GOD PARTICLE" THING, FOR ONE.
BUT WHY?
THE THEORY IS THAT, WITH THE HIGGS BOSON/GOD PARTICLE, THEY CAN THEN PRODUCE A HIGGS SINGLET WHICH WILL OPEN ANOTHER DIMENSION!
TOP SCIENTISTS ARE WORKING ON THIS, AND, NO, IT IS NOT A RUMOR, NOT A CONSPIRACY THEORY, IT IS A GOAL OF THE CERN GROUP AND OF THE LARGE HADRON COLLIDER.

THEY SAID THEY FOUND IT, THAT "GOD PARTICLE", GOT A NOBEL PRIZE, BUT TOO MANY COLLEAGUES SAID THEY DID NOT FIND IT.
THEY WILL LOOK SOME MORE.
I HOPE WE SURVIVE THAT.
FROM VANDERBILT UNIVERSITY, HARDLY A 'CONSPIRACY THEORY' WEBSITE
<<One of the major goals of the collider is to find the elusive Higgs boson: the particle that physicists invoke to explain why particles like protons, neutrons and electrons have mass. If the collider succeeds in producing the Higgs boson, some scientists predict that it will create a second particle, called the Higgs singlet, at the same time. According to Tom Weiler, a physics professor at Vanderbilt University and Chui Man Ho theory, these singlets should have the ability to jump into an extra,

fifth dimension where they can move either forward or backward in time and reappear in the future or past

."
AND WHO IS DR. HO? WHAT ARE HIS CREDENTIALS?

2009-Now: Postdoctoral Fellow at Vanderbilt University
2007-2009: Postdoctoral Fellow at UC-Berkeley
2002-2007: PhD from University of Pittsburgh
Dr Ho is currently working on LHC physics, dark matter and neutrinos.


LHC IS THE ABBREVIATION FOR LARGE HADRON COLLIDER...YES, HE WORKS THERE!

IF CERN'S BOYS CAN OPEN OTHER DIMENSIONS OR IF THEY HAVE INDEED CAUSED EARTHQUAKES OR ANY OTHER HARM WITH THESE "EXPERIMENTS" WE DESERVE TO KNOW.

ONWARD...WEATHER MANIPULATION... "In 1975, the US and Canada entered into an agreement under the auspices of the United Nations

for the exchange of information on weather modification activity.


Weather modification, particularly hostile weather warfare, was addressed by the "United Nations General Assembly Resolution 31/72, TIAS 9614 Convention on the

Prohibition of Military or Any Other Hostile Use of Environmental Modification Techniques

" was adopted.

The Convention was: Signed in Geneva May 18, 1977; Entered into force October 5, 1978; Ratification by U.S. President December 13, 1979; U.S. ratification deposited at New York January 17, 1980.



SO, WHY HAS OUR CONGRESS OKAYED EXPANDING OUR WEATHER MODIFICATION CAPABILITY?

2005 U.S. Senate Bill 517 and U.S. House Bill 2995 were two bills proposed in 2005 that would have expanded experimental weather modification, to establish a Weather Modification Operations and Research Board, and implemented a national weather modification policy. Neither were made into law. Former Texas State Senator John N. Leedom was the key lobbyist on behalf of the weather modification bills.
2007 <<U.S. Senate Bill 1807 & U.S. House Bill 3445 , identical bills introduced July 17, 2007, proposed to establish a Weather Mitigation Advisory and Research Board to fund weather modification research>>

MUCH ONLINE SPECULATION ABOUT AMERICAN "WEATHER WARFARE" CAPABILITY.
SOME MAINSTREAM MEDIA NEWS SITES REPORTED ON THAT, AND MSM IS CONSIDERABLY MORE CREDIBLE THAN "ALTERNATIVE NEWS SOURCES" , RIGHT?
WHO DECIDED THAT?
AND WE DO KNOW THAT THE U.S. USED A LITTLE "WEATHER MANIPULATION" MORE THAN ONCE...

VIETNAM SAW WHAT AMERICA COULD DO

...


"Veteran weather modification expert Ben Livingston is a former Navy Physicist who briefed President Lyndon B. Johnson on the effectiveness of weather control back in the 1960′s during the Vietnam era, when he was involved in cloud seeding programs that worked to slow down the advance of Vietnamese and Korean troops.

Livingston asserts that hurricane control was a national priority of the government more than 40 years ago and that the technology was fully operational to control the weather at the time.




Dr Livingston was assigned in 1966 from the Naval weapons research Laboratory to a marine fighter squadron in Vietnam. Instead of guns, the aircraft under Livingston's control were fitted with cloud seeding equipment.

"My mission was to find clouds and seed them for maximum precipitation value" he stated."



THAT SOUNDS ALMOST BENIGN, DOESN'T IT? SEED A FEW CLOUDS...HARMLESS, YES?
NOT WHEN YOU BEGIN TO CREATE WEATHER THAT DESTROYS HOMES AND LIVES!

"Methods of Artificial Weather Manipulation(AWM) help agriculture, devastate the enemy and control the world economy"


Indiadaily.com.


MARCH 27, 2005
<<Scientists, Weather Engineers and Space Specialists are working towards something that can change human civilization forever!
It is the methods of artificial weather modification.
Many countries are mastering the science of weather control.
As a matter of fact many experts predict that a war game is being played by major powers in the world to demonstrate their capabilities of weather control.

Most of these initiatives are classified and shoved off from the public. The only way one can track these initiatives is to look at countries taking actions to shield against weather control experiments.
The more modern methods involve artificial ionization of earth's atmosphere between 15,000 and 30,000 ft. and above.
Manipulating the ionosphere and use of controlled solar-terrestrial interactions can create much larger effects.
There are many methods of controlling the ionosphere.
It is the process of artificially manipulating ion density in the ionosphere.


High power transmitter and antenna array operating in the HF(High Frequency) range is one of the methods.

>>

IN OTHER WORDS, HAARP.
Already in the 1970s, former National Security advisor Zbigniew Brzezinski had foreseen in his book "Between Two Ages" that:
"Technology will make available, to the leaders of major nations, techniques for conducting secret warfare, of which only a bare minimum of the security forces need be appraised...
Techniques of weather modification could be employed to produce prolonged periods of drought or storm. "

New Zealand's leading newspaper, the New Zealand Herald:
"Top-secret wartime experiments were conducted off the coast of Auckland to perfect a tidal wave bomb, declassified files reveal.
United States defence chiefs said that if the project had been completed before the end of the war, it could have played a role as effective as that of the atom bomb.
Details of the tsunami bomb, known as Project Seal, are contained in 53-year-old documents released by the Ministry of Foreign Affairs and Trade."



We bring to the attention of our readers an article on climate manipulation published in 1999, focusing specifically on the incidence of earthquakes.
"[W]eather-modification offers the war fighter a wide-range of possible options to defeat or coerce an adversary... In the United States, weather-modification will likely become a part of national security policy with both domestic and international applications. Our government will pursue such a policy, depending on its interests, at various levels." (Air University of the US Air Force, AF2025)
"Technology will make available, to the leaders of major nations, techniques for conducting secret warfare, of which only a bare minimum of the security forces need be appraised... [T]echniques of weather modification could be employed to produce prolonged periods of drought or storm." (Zbigniew Brzezinski, Former National Security Adviser, Between Two Ages, Greenwood Publishing Group, 1992)
[PLEASE NOTE: I HAD TO FIND THAT REPORT ELSEWHERE AS THE ORIGINAL LINK DEAD-ENDED, BUT THE NEW LINK I INSERTED IS THE SAME REPORT.]

Weather modification technology is being perfected under the High-frequency Active Auroral Research Program (HAARP) as part of the ("Star Wars") Strategic Defence Initiative (SDI). Recent scientific evidence suggests that HAARP is fully operational and has the ability of potentially triggering floods, droughts, hurricanes and earthquakes.


From a military standpoint, HAARP is a weapon of mass destruction.

Artificially-Induced Earthquakes
Officially, there REALLY IS such an area of research devoted to man-made earthquakes.

Geologists and seismologists agree that humans can induce earthquakes in five major ways: fluid injection into the Earth, fluid extraction from the Earth, mining or quarrying, nuclear testing and through the construction of dams and reservoirs.


In fact, there are officially recorded instances of earthquakes caused by human activity.
Geologists discovered that disposal of waste fluids by means of injecting them deep into the earth could trigger earthquakes after a series of earthquakes in the Denver area occurred from 1962-1965; the periods and amounts of injected waste coincided with the frequency and magnitude of earthquakes in the Denver area. The earthquakes were triggered because the liquid, which was injected under very high pressure, released stored strain energy in the rocks.


Man-made earthquakes may seem like something out of the X-Files, and it's probably only a matter of time before the idea is picked up by Hollywood. This year, best-selling thriller author Ken Follett released his latest book, Hammer of Eden, about a terrorist group threatening to level San Francisco with a man-made earthquake. When asked by Salon Magazine how real is the idea of a man-made earthquake, Follett replied that "Some of the seismologists told me, 'There's no way this could happen.' But others gave sad little shrugs and said, 'It's hard to say. Who knows? Maybe. It's within the realm of possibly.'"

[AND THEN THERE WAS A LITTLE 4+ MAN-MADE QUAKE IN OREGON IN THE 1990s, UNINTENTIONAL, BUT IT HAPPENED.

In the 1970s, an experiment involving a water flood at the Rangely oil field WAS the cause of more than 1200 micro-earthquakes on a fault near Guy, Arkansas.

AND THAT 5.7 QUAKE IN OKLAHOMA,

2011,

CAUSED BY FRACKING....SO, YES, VIRGINIA, MEN CAN MAKE EARTHQUAKES.]
In 1966, Professor Gordon J. F. MacDonald was associate director of the Institute of Geophysics and Planetary Physics at the University of California, Los Angeles, a member of the US President's Science Advisory Committee, and later a member of the US President's Council on Environmental Quality.


He published papers on the use of environmental-control technologies for military purposes.

MacDonald made a revealing comment:
"The key to geophysical warfare is the identification of environmental instabilities to which the addition of a small amount of energy would release vastly greater amounts of energy. "


World-renowned scientist MacDonald developed ideas for using the environment as a weapon system and he contributed to what was, at the time, only in the wildest dream of a futurist. When he wrote his chapter, "How To Wreck The Environment," for the book Unless Peace Comes.
In 1997 the US Secretary of Defense, William Cohen, delivered a speech on terrorism at the University of Georgia.
Reuters quoted him as saying, "Precautions against unconventional arms must be intensified as potential terrorists develop chemical and biological weapons and electromagnetic methods that could create holes in the ozone layer or trigger earthquakes or volcanoes."


Cohen's admission reveals he has direct knowledge of such potential weapons. But it's hard to conceive of "terrorists developing the capacity to "trigger earthquakes". Hardly, when one considers the Pentagon's HAARP project. A more likely explanation is that Cohen was warning against allowing such technology to spread to other countries.
In New Dawn No. 39, a report on the work of Aum Shinrikyo's Science and Technology Minister, Hideo Murai, revealed that the group was interested in advanced weapons, including "laser-powered seismic weapons." On 7 April, 1995 Murai responded in a press conference to a question about a rumoured 'earthquake machine'.
He remarked there was a strong possibility the Kobe earthquake was activated using "electromagnetic power," or that somebody used a device that "applied force inside the earth."
Shortly after this press conference, a lone assassin stabbed Hideo Murai to death in full view of the Japanese media.
HOW BIG AN EARTHQUAKE CAN MAN CREATE?

"We don't see any reason that there should be ANY upper limit for an earthquake that is induced," says Bill Ellsworth, a geophysicist with the U.S. Geological Survey, who wasn't involved in the new study.

In 1967, India's Koyna Dam caused a 6.5 earthquake that killed 177 people, injured more than 2000, and left 50,000 homeless.

Unprecedented seasonal fluctuations in water level behind a dam in Oroville, Calif., are believed to be behind the magnitude 6.1 earthquake that occurred there in 1975.

[YES, CADETS, DAMS CAUSE EARTHQUAKES AND WE KNEW THAT A LONG TIME AGO.
The most serious case may be the 7.9-magnitude

Sichuan earthquake

in May 2008, which killed an estimated 80,000 people and has been linked to the construction of the

Zipingpu Dam

.
]
Extracting a fluid from the ground can also contribute to triggering a quake. "Think about filling a balloon with water and burying it at the beach," Ellsworth says. "If you let the water out, the sand will collapse inward." Similarly, when humans remove large amounts of oil and natural gas from the ground, it can put additional stress on a fault line. "In this case it may be the shear stresses that are being increased, rather than normal stresses," Ellsworth says.

Take the example of the Gazli gas field in Uzbekistan, thought to be located in a seismically inactive area when drilling began in 1962. As drillers removed the natural gas, the pressure in the gas field dropped from 1030 psi in 1962 to 515 psi in 1976, then down to 218 psi in 1985.
Meanwhile,

three large magnitude-7.0 earthquakes struck

: two in 1976 and one in 1984.
Each quake had an

epicenter within 12 miles of Gazli

and caused a surface uplift of some 31 inches.

The new study says that though earthquakes with a magnitude of 5.0 or greater are rare east of the Rockies, scientists have observed an 11-fold increase between 2008 and 2011, compared with 1976 through 2007. But the increase hasn't been tied to human activity. "We do not really know what is causing this increase, but it is remarkable," Abers says. "It is reasonable that at least some may be natural."

http://www.cosmosmagazine.com/features/man-made-earthquakes-cause-seismic-rumblings/
Then, last July, HUMAN-INDUCED earthquakes made headlines following a trio of studies published in the journal Science. To those whose views had been dismissed, it was long-overdue recognition.
"It's not news to earthquake scientists," says Frohlich. "Seismologists have known this since the 1930s."

HOW FAR BACK DOES WEATHER MODIFICATION GO?
WOULD YOU BELIEVE 1877?

This is certainly an incomplete history because weather modification, weather warfare, and geoengineering are all shrouded by disinformation and secrecy. Everything mentioned here is true to the extent that we can trust "reputable" government and scientific sources to tell us the truth.

1904: US government begins using airplanes to conduct upper air atmospheric research.
The Wright Brothers historic first flight took place in 1903.
Uncle Sam didn't wait long to put their amazing invention to work in weather research.

THE HISTORY CHANNEL DID A HALF-HEARTED 'DOCUMENTARY' ON HAARP.
THEY HAVE SINCE REMOVED IT, BUT A PIECE OF IT IS AVAILABLE HERE , IF YOU'RE INTERESTED:
Below are two quotes from the History Channel documentary:
"

Electromagnetic weapons

… pack an invisible wallop hundreds of times more powerful than the electrical current in a lightning bolt. One can blast enemy missiles out of the sky, another could be used to blind soldiers on the battlefield, still another to control an unruly crowd by burning the surface of their skin. If detonated over a large city, an electromagnetic weapon could destroy all electronics in seconds.
They all use directed energy to create a powerful electromagnetic pulse."
"Directed energy is such a powerful technology it could be used to heat the ionosphere to turn weather into a weapon of war. Imagine using a flood to destroy a city or tornadoes to decimate an approaching army in the desert. The military has spent a huge amount of time on weather modification as a concept for battle environments.
If an electromagnetic pulse went off over a city, basically all the electronic things in your home would wink and go out, and they would be permanently destroyed."



DOES THE U.S. REALIZE HOW EASILY HAARP CAN "GET AWAY FROM THEM"?
YES, YES IT DOES!

A 1990 government document indicates that the radio-frequency (RF) power zap will drive the ionosphere to unnatural activities.
" ... at the highest HF powers available in the West, the instabilities commonly studied are approaching their maximum RF energy dissipative capability, beyond which the plasma processes will 'runaway' until the next limiting factor is reached."
~

3.1. Thresholds of Ionospheric Effects

,

Figure 1. "
READ THE PART ABOUT ELF/VLF WAVES WHILE YOU'RE THERE.
"2.2. Generation of ELF/VLF Waves"


"In this

regard, heater generated ELF would be attractive if it

could provide significantly stronger signals than those available

from the Navy's existing antenna systems in Wisconsin and

Michigan."



BEYOND HAARP...SCALAR TECHNOLOGY
TESLA BOASTED HE HAD THIS, OR SIMILAR, TECHNOLOGY.
SO DID NIKITA KHRUSHCHEV .

"
"By 1957-8 the Soviets had progressed to the point of a giant scalar EM accident in the Urals which exploded nearby atomic wastes, devastating the area. They had also progressed to development of great new superweapons using their new energetics - weapons to which Khrushchev referred in 1960 when he informed the Soviet Presidium of a new, fantastic weapon in development, a weapon so powerful that it could wipe out all life on earth if unrestrainedly employed.'"


MAYBE WHAT WE'RE SEEING BEING DEVELOPED TODAY IS JUST MORE TESLA TECHNOLOGY?
A FEW QUESTIONED IF THE TESTING OF SCALAR WEAPONRY/WEATHER MANIPULATION WAS THE CAUSE OF ALL THOSE MASS DEATHS OF BIRDS ALL OVER THE GLOBE BACK IN 2011, AS THIS ARTICLE FROM A SALEM, OREGON NEWSPAPER SHOWS:
"Yet another weapons technology has been under development for some decades.

Scalar technology

—invented by the genius Nikola Tesla early in the 20th Century—has the potential to turn the environment itself into a weapon and tune its deadly properties into a merciless, near instantaneous killer.



Ominous evidence is steadily growing that the bizarre red wing blackbird deaths—now being reported across three states—are not natural.

A freak meteorological phenomenon also cannot account for reports of mass bird deaths that followed the Arkansas incident. Red wing blackbirds have also been seen falling out of the skies over Louisiana and reported by an eyewitness in Kentucky."
Scalar wavelengths are finer than gamma rays or X rays and only one hundred millionth of a square centimeter in width. They belong to the subtle gravitational field and are also known as gravitic waves.

Uniquely, they flow in multiple directions at right angles off electromagnetic waves, as an untapped energy source called 'potentials'.
Potentials are particles which are unorganized in hyperspace - pure etheric energy not manifest in the physical world. In comparison, electromagnetic waves (measured by so many hertz or pulses per second, which we are familiar with e.g. radio waves) exist normally in the physical world, but can only be measured up to levels determined by the sensitivity of the equipment being used as to how many cycles per second they operate.
Scalar waves were originally detected by a Scottish mathematical genius called James Clerk Maxwell (1831-1879)
He linked electricity and magnetism and laid the foundation for modern physics, but unfortunately the very fine scalar waves (which he included in his research) were deliberately left out of his work by the 3 men, including Heinrich Hertz, who laid down the laws taught for physics as a discipline at colleges.

They dismissed Maxwell's scalar waves or potentials as "mystical" because they were physically unmanifest and only existed in the "ethers" and so were determined to be too ineffectual for further study.
These enigmatic (but more powerful than even microwaves when harnessed and concentrated into a beam) scalar waves may have been forgotten except that Nicola Tesla accidentally rediscovered them.
He'd originally worked with Thomas Edison who discovered direct current, but Tesla discovered alternating current.
The two men disagreed and eventually parted ways and Tesla later experimented using the research of the German Heinrich Hertz, who was proving the existence of electromagnetic waves.
Tesla found, while experimenting with violently abrupt direct current electrical charges, that a new form of energy (

scalar

) came through.
By 1904, Tesla had developed transmitters to harness scalar energy from one transmitter to another, undetectably bypassing time and space. He could just materialize it from one place to another through hyperspace, without the use of wires, it was just sucked right out of the space-time/vacuum and into a transmitter and into a beam which could be targeted to another transmitter.

These finer scalar wave-forms also have been discovered periodically by other mathematicians, who have been able to calculate new equations especially in harmonics (used in hyperdimensional physics) connecting the wavelengths of matter, gravity and light to each other and how all these lock in and create our expression of time (as it manifests in space) - which has been now discovered to be untapped 'potential' energy flowing in hyperspace.

When 2 transmitters send timed pulses, which meet, an explosion will occur which either produces energy or extracts it.
If 2 crossed beams are in 'continuous' mode the energy between beams is continuous and Tesla globes and hemispheres can be made which act as a continuous shield.

In the early 1970's hundreds of inmates at the Gunniston Facility of the Utah State Prison were subjected to scalar wave mind control tests.
Inmates tried unsuccessfully to fight back in court.

The University of Utah researched at that time how scalar waves could induce the mind into hearing voices, overriding and implanting thoughts into the mind, as well as reading the thoughts. They also developed eye implants. In 1998 scalar waves were used to test subliminal voices in the head in TWO Utah prisons

Unlike Western universities, Eastern Europe and Russia have always included Tesla's scalar wave research openly in their curriculum and so they got a head start with multiple facilities built all over the Soviet Union to build scalar weapon transmitters

starting from the 1950's.



US/Soviet Joint projects
The United States and the Soviet Union began secret cooperation on world weather-engineering in 1971.
The next year, US and Soviet scientific teams conducted research in the Bering Sea.
The second project was POLEX, the Polar Experiment of the Global Atmospheric Research Program.
In 1973, both nations secretly cooperated on AIDJEX, the Arctic Ice Dynamics Joint Experiment.
U.S. contribution to the polar Experiment (POLEX) : report of the Joint U.S. POLEX Panel to the U.S. Committee for the Global Atmosphere [i.e. Atmospheric] Research Program (GARP), Committee on Polar Research (CPR), Committee on Atmospheric Sciences (CAS), Ocean Science Committee (OSC)
It is purported that these experiments involved attempts to melt the polar ice cap.
Other U.S. projects such as Nile Blue and Climate Dynamics involved the changing of the arctic ice pack.
There was even an article in the December 16, 1980, edition of the New York Times discussing a joint U.S.-Soviet project involving the transmission of ELF waves from Antarctica designed "to interfere with the earth's magnetic field."

THE CONGRESSIONAL "TOP SECRET" HEARINGS ON WEATHER MODIFICATION, 1974, A PDF DOCUMENT.
http://cryptome.org/weather-war3.pdf

THE U.S. HAS DEMONSTRATED IT CAN CREATE WEATHER, STEER STORMS, TAP THE IONOSPHERE, USE ELF/VLF TO CONTROL AND DESTROY SEVERAL THINGS, INCLUDING HUMAN BEINGS, BUT HOW WELL IT CAN DO THAT, AND WITH WHAT DEGREE OF CONTROL WE DON'T KNOW.


WANT TO SEE SOMETHING CREEPY?
WATCH THIS!
ACTUAL, REAL-TIME RADAR IMAGES OF HURRICANE OPHELIA...SEPTEMBER 16, 2005.
WHERE DO THOSE LITTLE "SPINNERS" COME FROM THAT ARE TWISTING INSIDE THE STORMS?
Images originally from the University of Wisconsin MIMIC (Morphed Integrated Microwave Imagery at CIMSS)
THE UNIVERSITY OF WISCONSIN...NOT A CONSPIRACY THEORY ORGANIZATION, IS IT?
The satellite image loops of the storm tracks indicate some anomalous and erratic behavior in the path and intensity of Hurricane Ophelia.
They show Ophelia as a well-organized, strong category 1 storm off the southeast coast of the US. Over very warm, late season open water, the US Weather Service predicted a category 4 storm within 24 to 48 hours and the westerly path of the storm track had it headed for landfall along the mid-Atlantic coast.
Instead, in less than 12 hours, the storm had change course and dissipated completely. The radar image shows something very strange occurring IN the storm. As the storm tracks west towards the coast, the satellite precipitation image reveals two extremely heavy, nearly parallel bands of precipitation emanating, in waves, from the east, directly toward the eye of the storm.
As these heavy bands of precipitation intensify over
hurricane Ophelia, the storm begins to change course, dissipate and is quickly extinguished. The effect is quite dramatic and not at all natural looking. The fact is, intensely heavy bands of cool rainfall falling on the eye of a well organized hurricane, through which the warm waters of the ocean below rise to provide energy and circulation to the hurricane, would have the effect of interfering with that energy flow and for all practical purposes starving the storm of its' fuel.

THIS ONE, OF HURRICANE IRENE, IS EVEN CREEPIER!

http://tropic.ssec.wisc.edu/real-time/mimic-tc/2011_09L/webManager/displayGifsBy12hr_06.html
VERY, VERY IMPRESSIVE, IS IT NOT?
YES, YES, WE CAN STEER HURRICANES!!!
THE UNIVERSITY OF WISCONSIN SHOWS US THE PROOF.

LARGER IMAGE HERE:
http://tropic.ssec.wisc.edu/real-time/mimic-tc/2011_09L/webManager/gifsBy12hr_06.gif
Richard C. Hoagland, technical science adviser to Walter Cronkite during the Apollo missions, worked with Carl Sagan developing the message discs placed aboard Pioneer spacecraft and has had a close working relationship with NASA's Jet Propulsion Laboratory for many years, describes the dual heavy rain bands in Ophelia as taking on a "tuning fork" interference pattern that moves in lock step with the eye of the storm.
It is Hoagland's contention "…based on the physics of these images that these bizarre 'tuning fork' patterns — note, geometrically aimed at the precise centers of these respective storms! — are actually a "rainfall side-effect" of an unseen energy technology being applied to these respective storms … in an effort to decrease both their wind velocities, and to simultaneously alter the storms' tracks themselves."

HOAGLAND HAS A NICE SET OF IMAGES ON THIS WEBSITE HERE, DUPLICATING THE IMAGES SEEN ON THE TWO ABOVE SITES.

http://www.lookingglassnews.org/viewstory.php?storyid=3106

THE HURRICANE WILMA IMAGE THERE SHOWS THE SAME ATTEMPT AT STEERING...HOAGLAND HAD THIS TO SAY ABOUT WILMA:
<<In the early hours of this morning, October 19th, 2005 -- less than 18 hours after going from a Tropical Storm to a full-fledged Catagory 1 -- "Wilma" reached a hurricane strength of Catagory 5, the maximum extension of the Saffir-Simpson Scale.
Her central pressure was measured at 882 millibars -- the lowest recorded in a hurricane since 1935!
Her internal winds (relayed by a U.S. Air Force hurricane hunter aircraft in the eyewall just hours ago) were in excess of 175 miles per hour!
This hundreds of times increase in intensity (the energy of a hurricane goes up as the square of its peak wind velocity!) -- for a storm that was barely in existence less than a day before (!) -- remarkably, began precisely coincident with the cessation of the anomalous "red tuning fork" geometry recorded earlier: at about 01:45 GMT, October 18th, 2005.>>

ARE THE ACCUSATIONS TRUE?
HAS THE U.S. WAGED WEATHER WARFARE GLOBALLY?
HASN'T EVERYONE?

IT'S NOT A SECRET ANYMORE.
"OWNING THE WEATHER IN 2025" IS NOT "ALTERNATIVE NEWS" OR RUMOR...
IT'S A 1996 AIR FORCE DOCUMENT!
GO READ IT FOR YOURSELF.
That 50-YEAR-OLD file report outlines in great detail the existence of expanding US weather modification programs as far back as 1956, a full decade earlier than the date of the document in question.
A "special commission" is outlined in this document to coordinate the multiple governmental agencies involved with US weather modification programs as well as independent contractors and universities which the report also mentions. It covers the "management" of international impacts, legal and social ramifications, species disruptions, biological consequences, etc.

IMAGINE THE STRIDES MADE SINCE THEN, THE NEW TECHNOLOGY NOT YET UNCOVERED AND PRESENTED TO THE PUBLIC!

SCIENTISTS ARE DUMBFOUNDED BY THE RECENT MELTING OF THE POLAR CAP, GREENLAND AND HIMALAYAN GLACIERS, ANTARCTICA'S ICE SHELVES...MAYBE THEY SHOULD JUST GO CHAT WITH OUR GOVERNMENT, AND RUSSIA'S, AND A FEW OTHERS WHO ARE AWARE OF THE CAPABILITY MAN NOW HAS TO CHANGE THE CLIMATE.
IT'S GEOENGINEERING AT ITS WORST.
IT'S OUR "NEW WAY OF LIFE".
WE OBVIOUSLY HAVE NO SAY IN IT...DO WE?
ALMOST FORGOT...
[OTHER UNIV. OF WISCONSIN "MIMIC" IMAGES, JUST FOR FUN...
http://tropic.ssec.wisc.edu/real-time/mimic-tc/ ]