UPDATE: JULY 30, 2015
AFTER 16 MONTHS AND A WIDE SEARCH FOR WRECKAGE, DEBRIS SUDDENLY APPEARS ON REUNION ISLAND OFF THE COAST OF MADAGASCAR, WHICH U.S. AND OTHER EXPERTS HAVE IDENTIFIED (ONLY FROM PHOTOS AND VIDEOS) AS DEBRIS FROM A BOEING 777, THE SAME TYPE PLANE AS THE LOST FLIGHT MH370.
FAMILY MEMBERS RESPOND TO DEBRIS DISCOVERY

ALSO FOUND THE DAY BEFORE AT SAINT ANDRE NEARBY, REMNANTS OF A SUITCASE WITH WHEELS, SEEN BELOW.
A VERY LARGE IMAGE OF THIS CAN BE FOUND AT
https://pbs.twimg.com/media/CLJcILpW8AAIstc.jpg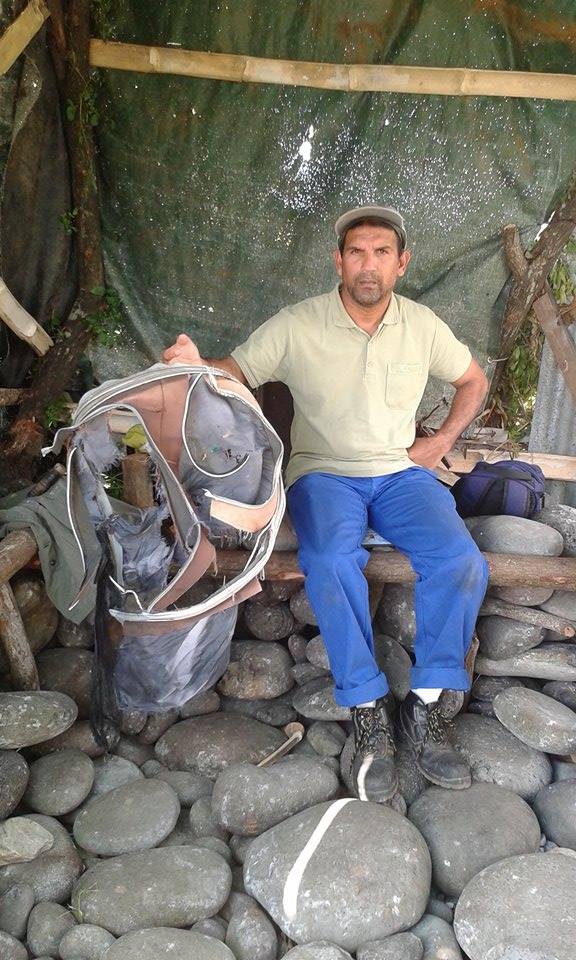 AGAIN, A LARGER IMAGE CAN BE VIEWED AT
https://pbs.twimg.com/media/CLJdkZkXAAAgV-h.jpg
A MAP OF THE AREA WHERE THE AIRCRAFT WENT MISSING AND OF THE LOCATION OF THIS DEBRIS.

MY THOUGHTS GO TO THE FAMILIES OF THE MISSING PASSENGERS, AND, LIKE THEM, I WILL NOT BE SATISFIED WITH THEORIES, BUT WILL WONDER UNTIL THE "BLACK BOX" IS FOUND AND MUCH MORE EVIDENCE IS PRESENTED THAT THE FLIGHT DID ABSOLUTELY CRASH WITH NO SURVIVORS.
<END UPDATE>

FBI investigators say the disappearance of MH370 may have been 'an act of piracy' and the possibility that hundreds of passengers are being held at an unknown location has not been ruled out.

The investigation is focusing on the plane being deliberately diverted by the pilots or someone on board with considerable flying experience.
UPDATE APRIL 5, 2015
ALL FUTURE UPDATES TO THIS ARTICLE AFTER TODAY WILL APPEAR AS COMMENTS AT THE END OF THIS BLOG.


McINERNEY REAFFIRMED HIS BELIEF THAT MH370 WAS HIJACKED LAST MONTH DURING A NEW INTERVIEW ON MARCH 18, 2015.
[SEE https://youtu.be/sJwtL_qbA64]
HE HAS MENTIONED A BOEING REPORT SEVERAL TIMES THAT SUPPOSEDLY AFFIRMS BOEING BELIEVES THE AIRCRAFT IS IN THE PAKISTAN/AFGHANISTAN REGION.
Most people shook their heads and groaned and ignored the retired Lt. General's comments...AGAIN.
McInerney has also accused the American government of helping build ISIS, the Islamic State, to combat President Assad in Syria.
Interestingly, several recent articles from abroad have renewed the possibility that the Malaysian flight was, indeed, diverted to somewhere near the Pakistani/Afghan border!
News reports from the UK, Russia, etc have underscored the fact that the plane was hijacked,
"reports of a passenger jet near Kandahar, Afghanistan. All passengers alive but held hostage".
"Pilots are not guilty; the plane was hijacked by unknown terrorists."
"We know that the name of the terrorist who gave instructions to pilots is "Hitch."
"The plane is in Afghanistan not far from Kandahar near the border with Pakistan."

"...
the

passengers have been divided

into seven groups and are living in mud huts with almost no food.
Twenty Asian passengers were said to have been smuggled into a bunker in Pakistan."
T
om Casey, a retired American Airlines pilot who flew the Boeing 777, said that it could land and stop on a runway as short as 3,500 feet if it were coming in light on fuel, as Flight 370 would have been after flying for seven hours.
And the New York public radio station WNYC, relying on data from the aviation site X-Plane, found 634 runways of 5,000 feet or more in the countries surrounding Malaysia, including Micronesia and the far-flung Maldives.
Who is Thomas
McInerne
y?
He is a highly decorated Air Force command pilot who flew over 400 missions in Vietnam.
He served overseas in NATO; Pacific Air Forces and as commander of 11th Air Force in Alaska.
Currently, he is a Fox News contributor, and is a member of the Iran Policy Committee.

His military awards and service history are very impressive.
Seeing these, one might not imagine he's some "crackpot" or a "conspiracy theorist at all.
His major military awards and decorations include:
~Distinguished Service Medal with oak leaf cluster
~Defense Superior Service Medal
~Legion of Merit with oak leaf cluster
~Distinguished Flying Cross with oak leaf cluster
~Bronze Star Medal with "V" device and oak leaf cluster
~Meritorious Service Medal with oak leaf cluster
~Air Medal with 17 oak leaf clusters
~Air Force Commendation Medal with oak leaf cluster
~Vietnam Service Medal with six service stars
McInerney has also been awarded the Third Order of the Rising Sun by the Japanese government for outstanding service in enhancing relations between the US government and Japan.
McInerney was inducted into the USAF Order of the Sword in July 1980.
This award recognizes both military and civilian individuals for conspicuous and significant contributions to the welfare and prestige of the noncommissioned officer corps and the military establishment.
He was the sixth Pacific Air Forces officer and the 63rd officer overall inducted into the order since the Air Force became a separate branch of the armed services in 1947.

EXCEPT FOR HIS AFFILIATION WITH FOX (aka, FAUX) HIS BACKGROUND AND SERVICE TO OUR COUNTRY MIGHT POINT TO HIS CREDIBILITY ON THIS.
NEWS AGENCIES LAST YEAR ALSO REPORTED THAT THE CO-PILOT HAD TRIED TO MAKE A CELLPHONE CALL FROM THE AIRCRAFT AS IT PASSED 200 NAUTICAL MILES NORTHWEST OF THE COAST OF PENANG, AFTER IT HAD "DISAPPEARED" FROM RADAR.
ALLEGEDLY, THE TELECOMMUNICATIONS COMPANY WHOSE TOWER PICKED UP THE ATTEMPTED CALL CONFIRMED THIS.
<END UPDATE, RETURN TO ORIGINAL ARTICLE>
THE DIEGO GARCIA LANDING THEORY

Missing Malaysia Arlines flight MH370 may have flown to a tiny island called Diego Garcia.

Officials quickly dismissed over 20 eyewitness reports of seeing an odd, low-flying jumbo jet in the first hours of the missing plane crisis.

According to officials, no individual on the MH370 investigation team have ever followed up with any of those eyewitnesses, including those reports that came from the Maldives.

Diego Garcia, in the middle of the Indian Ocean, is home to a U.S. Naval base and is now speculated to have answers to the MH370 mystery, according to News.com.au.

The island is said to be "one of the world's most remote locations," which allegedly has a "secret prison." The island reportedly has no indigenous inhabitants as they were forcibly removed and were asked to relocate on other locations such as Chagos Archipelago, Seychelles and Mauritius in the year 1971.

WHEN INVESTIGATORS SEIZED MALAYSIAN MH370's pilot Captain Zaharie Shah's flight simulator,

it had Diego Garcia's runway location stored in it.

The island's landing strip WAS programmed into the home flight simulator of MH370's pilot, Captain Zaharie Shah.

The Berita Harian Malay language paper quoted unnamed sources close to the investigation as saying that the 5 airport runways FOUND ON SHAH'S SIMULATOR were Male International Airport in the Maldives, Diego Garcia and three runways in India and Sri Lanka.
Diego Garcia has a runway large enough to accommodate commercial aircraft — and was even deemed suitable for a landing by the US Space Shuttles in the event of an emergency.
"We are not discounting the possibility that the plane landed on a runway that might not be heavily monitored, in addition to the theories that the plane landed on sea, in the hills, or in an open space," the Malay Mail Online quoted the source as saying.
DIEGO GARCIA has received press coverage in recent years after reports emerged claiming it was used to detain alleged terrorists by the US.

This news of a possible Diego Garcia or Maldives landing is of particular note since earlier today, Haaveru Online, quoted locals who said they had seen a "low flying jet" whose description is approximate to what flight MH370 looked like. From the source:
"Whilst the disappearance of the Boeing 777 jet, carrying 239 passengers has left the whole world in bewilderment, several residents of Kuda Huvadhoo told Haveeru on Tuesday that they saw a "low flying jumbo jet" at around 6:15am on March 8.
They said that it was a white aircraft, with red stripes across it – which is what the Malaysia Airlines flights typically look like.
Eyewitnesses from the Kuda Huvadhoo concurred that the aeroplane was traveling North to South-East, towards the Southern tip of the Maldives – Addu.
They also noted the incredibly loud noise that the flight made when it flew over the island."
"I've never seen a jet flying so low over our island before. We've seen seaplanes, but I'm sure that this was not one of those. I could even make out the doors on the plane clearly," said an eyewitness."It's not just me either, several other residents have reported seeing the exact same thing. Some people got out of their houses to see what was causing the tremendous noise too."
A local aviation expert told Haveeru that

it IS "likely" f

or MH370 to have flown over the Maldives.

So, did the pilot hijack the plane, reprogram the flight path, turn off the transponder, and fly low above the surface and below radar all the way to the Maldives, or alternatively, US airbase, Diego Garcia, where Captain Shah promptly offloaded 20+ tons of still unknown cargo? Some experts opine on just this, by way of the Telegraph:
If the Maldive lead turns out to be a strong one, then the next question is: could the plane conceivably have flown to Somalia? Or somewhere in the southern Arabian peninsula or Iran? Somalia seems a much more likely destination for a hijacker with its known al-Qaeda connections.
- The plane, a Boeing 777-200, was capable of traveling as far as the Maldives
- Male is the main airport but the sighting appears to have come from an atoll a long way south

- Commercial aircraft-tracking software, while not always reliable, doesn't seem to show any other nearby traffic with which a sighting might have been confused,
Theories about what happened to missing Malaysia Flight MH370 now span a 2 million-plus square mile area of open ocean and southeast Asian land, including one mysterious island in the Indian Ocean known as Diego Garcia.
While aviation experts and armchair theorists continue to come up with plausible locations, the jet could have landed or crashed. Many theories have included Diego Garcia as a notable landing strip.

USA TODAY WROTE:
If somebody commandeered the flight, either the plane landed safely or there was a crash.
If there was a catastrophe – a crash or a breakup in flight – where is the wreckage?
An aviation enthusiast, Keith Ledgerwood, posted a theory on tumblr.com that gained widespread attention that Flight 370 remained unnoticed as it flew across Malaysia by trailing a Singapore Airlines flight along the same route at nearly the same time.
Both planes would travel under the same radar blip.
At 8:11 a.m., the final ping sounded seven and a half hours after the plane took off.
An Inmarsat satellite orbiting above the Indian Ocean was only able to detect how far away the signal was, not its precise location. That led to the current search in two major arcs stretching over multiple countries and thousands of miles of ocean.
The arcs themselves are imprecise because
the plane conceivably could have kept flying an hour after the final ping before its fuel ran out.
U.S. congressmen have even suggested a possible landing.
Michael McCaul, a Republican congressman from Texas, who chairs the House Homeland Security Committee, said that the plane may have actually landed and could be used by terrorist groups.
John Cornyn, a senator from Texas, helpfully tweeted a link to possible runways where the plane could have landed.
Peter King, a Republican congressman representing New York, said, "I still have questions about the two Iranians who were on the plane [who boarded the plane with stolen passports] , but again, that could be a side issue.
Evidence revealed on Saturday 15 March by the Malaysian Prime Minister Najib Razak suggested the jet was

deliberately diverted by someone on board about an hour after takeoff.
The ACARS - a service that allows computers aboard the plane to "talk" to computers on the ground - was silenced some time after 01:07 as the plane crossed Malaysia's east coast.
Time of the last confirmed communication with a satellite was 08:11 (00:11 GMT), meaning that the Boeing continued flying for nearly seven hours after contact with air traffic control was lost.
Investigators are making further calculations to establish how far the plane might have flown after the last point of contact.
The aircraft's change of direction was consistent with "deliberate action on the plane", the Malaysian authorities said.
But it remains unclear whether the course change was carried out by the air crew or flight-trained hijackers onboard.
So far no known or credible terror group has emerged to claim responsibility.
Initial investigations concentrated on two passengers found to be traveling on stolen passports.

The two Iranian men - 19-year-old Pouria Nour Mohammad Mehrdad and Delavar Seyed Mohammadreza, 29 - were later found to be headed for Europe via Beijing, and had no apparent links to terrorist groups.
Aviation blogger Keith Ledgerwood believes the missing plane hid in the radar shadow of Singapore Airlines flight 68. The Singaporean airliner was in the same vicinity as the Malaysian plane, he argues.
"It became apparent as I inspected SIA68's flight path history that MH370 had manoeuvred itself directly behind SIA68 at approximately 18:00UTC and over the next 15 minutes had been following SIA68."
He believes that the Singaporean airliner would have disguised the missing plane from radar controllers on the ground.
"It is my belief that MH370 likely flew in the shadow of SIA68 through India and Afghanistan airspace.
As MH370 was flying 'dark' without a transponder, SIA68 would have had no knowledge that MH370 was anywhere around, and as it entered Indian airspace, it would have shown up as one single blip on the radar with only the transponder information of SIA68 lighting up ATC and military radar screens."
The Singapore Airlines plane flew on to Spain. The Malaysian jet could have branched off.

Prof Hugh Griffiths, radar expert at University College London, says it sounds feasible.

Deputy Transport Minister Datuk Abdul Aziz Kaprawi denied on Sunday receiving a report from an Indonesian family claiming that they had received "missed calls" from Firman Candra Siregar who was onboard Malaysian Airlines (MAS) flight MH370.
He was responding to an Indonesian online news portal report quoting the victim's sister January Siregar as saying that she received missed calls on March 11 and March 13 from her younger brother via Skype on her iPad after the aircraft went missing on March 8.

Many passenger cell phones WERE called and GPS information exists SOMEWHERE.

Abdul Aziz said that the Government has not heard from the Indonesian authorities regarding the matter.


In a BBC interview, the partner of missing passenger says that the MH370 flight was stolen and taken to an undisclosed location, due to the number of high-profile passengers aboard with ties to defense contractors.
There were at least 20 passengers on the plane who were "extremely talented and valuable" employees of Freescale Semiconductor Ltd., a Rothschild front group currently researching highly sensitive technology.

Malaysian officials HAVE told relatives of passengers from missing Malaysia Airlines flight MH370 that there was sealed evidence, which will not be made public.
A Malaysian team have told relatives of Chinese passengers on board the missing Malaysia Airlines (MAS) flight MH370 that there was sealed evidence that cannot be made public, as they came under fire from the angry relatives at a briefing on Wednesday.
The sealed evidence included air traffic control radio transcript, radar data and airport security recordings.
- See more at: http://www.straitstimes.com/the-big-story/missing-mas-plane/story/malaysia-says-theres-sealed-evidence-mh370-cannot-be-made-publ#sthash.ub39IhTB.dpuf
A Malaysian team have told relatives of Chinese passengers on board the missing Malaysia Airlines (MAS) flight MH370 that there was sealed evidence that cannot be made public, as they came under fire from the angry relatives at a briefing on Wednesday.
The sealed evidence included air traffic control radio transcript, radar data and airport security recordings.
- See more at: http://www.straitstimes.com/the-big-story/missing-mas-plane/story/malaysia-says-theres-sealed-evidence-mh370-cannot-be-made-publ#sthash.ub39IhTB.dpuf
A Malaysian team have told relatives of Chinese passengers on board the missing Malaysia Airlines (MAS) flight MH370 that there was sealed evidence that cannot be made public, as they came under fire from the angry relatives at a briefing on Wednesday.

The sealed evidence included air traffic control radio transcript, radar data and airport security recordings.

Sarah Bajc, girlfriend of Malaysian Flight 370 passenger Philip Wood WHO IS AN IBM EXECUTIVE FROM HOUSTON, TX, claimed on CNN Friday that she was told about eye witness reports that MH370 was spotted "accompanied by fighter planes" prior to its 'disappearance'.
Bajc also told CNN that she and other passengers family members are confident that the plane is not only still intact, but that the passengers have also survived.
YOU MAY WATCH THE VIDEO HERE...IT WILL NOT UPLOAD TO THIS BLOG:
http://youtu.be/jpKot27qbyw
Bajc concluded by telling the stunned CFR member and CNN anchor Erin Burnett, "Many people are saying that the United States is involved … but the general thinking across the families here and even non-families … this was a military operation of some sort."
"But the one really unanswered question is this basic fact or reality.... that airplane flew for a very long time over Malaysian airspace. So how long exactly, I'm not sure but if it's half an hour or 45 minutes … you've got a 777, an unidentified object that theoretically has no communication with the ground, flying over their airspace and they're saying that their military just didn't see it or that they didn't think it was a threat. I don't believe that."
Bajc, who lives in Beijing, added that Malaysia military has one of the most sophisticated radar systems in that part of the world, which means they were "clearly hiding something."
She not only believes the Malaysian government is hiding what happened but thinks other governments may be involved, including the US.
Families in China have also accused the Malaysian government of a cover-up and staged protests outside the Malaysian embassy last week, angrily calling for the truth.

Surprisingly, this all dovetails with a Malaysian Insider report released on Mar. 18 titled "US military base, South Asian airports in MH370 pilot's simulator, says paper", as the pilot of MH370 was found to have had scale simulations of Diego Garcia in his home flight simulator.

An excerpt from the Malaysian Insider reads:

Investigations into the flight simulator taken from the missing pilot's home showed a software for five practice runways, including one belonging to the United States, Berita Harian reported today.



PHILIP WOODS' PARTNER SAYS IN RECENT DAYS SHE HAS SETTLED DOWN ABOUT THE LOSS OF THE FLIGHT BECAUSE SHE KNOWS PHILIP IS ALIVE.




THAT COULD

BE BECAUSE, ALLEGEDLY, PHILIP SENT A GPS LOCATION AND TEXT THAT HE WAS ALIVE AND HELD PRISONER.

According to freelance journalist Jim Stone, one of the American passengers, Phillip Wood, a technical storage executive at IBM, sent a photo, along with a brief voice activated text, from GPS coordinates which put Wood only a few miles away from the U.S. controlled Diego Garcia military base which is located on an island south of the Maldives in the Indian Ocean.
In his post Stone claims that the coordinates may be off by a few miles (see update below post), proving that the iPhone actually sent the otherwise blank black picture revealing nothing else. Stone speculates the picture was taken in a dark room or in some position in which Wood's hands were bound.

Strangely the blank black image labeled "1395192158752.jpg" contains the following metadata:

Dimensions: 240 x 320

Device Make: Apple

Device Model: iPhone 5

Color Space: RGB

Color Profile: sRGB IEC61966-2.1

Focal Length: 4.12

Alpha Channel: No

Red Eye: No

F Number: 2.4

Exposure Program: 2

Exposure Time: 1/15

Stone also points out in detail how the above Exchangeable Image Format (EXIF) image data is the "smoking gun", writing:

The Exif is intact.
Exif data gets embedded in every image by every camera and includes the circumstances under which the photo was taken.

It can be viewed by saving the image to your desktop, and then right clicking it and selecting image properties. Hit the details tab. You can see that the image was taken on March 18 with an iPhone 5, with the ISO at 3200 and a shutter of 1/15. The coordinates are included in the exif data because the iPhone knows where it is, and the coordinates are for Diego Garcia.
THE FIRST TIME A BLANK PHOTO SAID IT ALL.

Exif can't be rewritten with common software, it can only be added to in fields such as image credits with some advanced applications. It can be erased as well but NOT CHANGED.
Photos with the exif intact will hold up in court.
If the Exif is hacked and this is not real, the CIA or a really good hacker did this, which I doubt, I'd say it's probably real.

Another smoking gun is that the voice recognition software put the word personal instead of personnel. This is completely consistent with a blind software assisted dial out.

I cannot stress how important it is that the GPS coordinates in the photo do not perfectly match what Google says and are not posted anywhere on the web, because it proves that the source of those coordinates did not come from google or Wikipedia, they really did come from the imaging device and it HAD TO be at Diego Garcia when it took the photo.
Re: the black/blank photo from the IBM tech on the lost Malaysian jet. The photo was taken inside a building just off the runways at Diego Garcia. I put the photo into my editing software, grabbed the GPS point and here it is. Try this: go to: itouchmap.com , choose #6, go to the bottom right box and input the info:

-7 18 58.3 LATITUDE

72 25 35.6 LONGITUDE

Click on: SHOW POINT

Zoom in and you will see where the photo originated.
DIEGO GARCIA!!!
A Russian newspaper is saying that Malaysia Airlines Flight MH 370 is in Kandahar Province, located in Pakistan near the Afghanistan border,
but it offers anonymous, dubious sources.
The Moskovsky Komsomolets paper says
"an anonymous source in the intelligence agencies" in Russia said that the missing plane's "pilots are not guilty."
"Flight MH 370 Malaysia Airlines missing on March 8th with 239 passengers was hijacked. Pilots are not guilty, the plane was hijacked by unknown terrorists. We know that the name of the terrorist who gave instructions to pilots is 'Hitch'. The plane is in Afghanistan not far from Kandahar near the border with Pakistan,"
It then said that "experts" on the plane were taken into a bunker in Pakistan. "Twenty Asian specialists were captured. There is one Japanese among them," it said, possibly referring to employees with the Freescale Semiconductor firm.
IN ANOTHER STRANGE STORY...
Rothschild inherits Patent after 4 co-owners disappear on MH 370 Flight .
The disappearance of four members of a patent semiconductor traveling on Malaysia Airlines MH370 makes the famous billionaire Jacob Rothschild the sole owner of a very important patent.
"Freescale previously confirmed that the 20 employees — 12 from Malaysia and eight from China — were among 239 people on flight MH370. The company has not released the names of those employees, and again declined to do so on Monday.", as reported by Brian Gaar, the American Statesman, Mar. 24.
It has also been mentioned in a statement by a company spokesperson that the employees who were aboard MH370, were extremely talented and valuable in the technological field.
"These were people with a lot of experience and technical background and they were very important people," Haws said. "It's definitely a loss for the company."
Freescale Semiconductor Ltd. is primarily owned by
the Blackstone Group
, i.e. Lord Jacob Rothschild, the same group responsible for spraying the highly-toxic Corexit 500A into the waters of the Gulf of Mexico in the months following the BP oil spill.
Freescale RF which is involved in creating solutions for Aerospace and Defense listed below.
1. Battlefield communication
2. Avionics
3. HF Radar – Band L- and S-
4. Missile Guidance
5. Electronic Warfare
6. Identification, friend or foe (IFF)

They now produce the world's smallest micro controller at a size of 4 square millimeters using integrated circuitry. [IT IS SO SMALL IT FITS INSIDE A DIMPLE ON A GOLF BALL]

Military benefits of this technology include, but not limited to:

(1) Radar Jamming (2)Target Modification (3)RF Power (4)Missile Guidance (5) Identification Friend or Foe (IFF) (6) Electronic Counter Measure
(7) Cloaking for Radar & Visual Disappearance


This technology could have been used on this very plane.
Looking at this situation, we have Western Military technology being designed in a Muslim country with ties to China and Russia, who are often at odds with US foreign policy.
They now produce the world's smallest micro controller at - See more at: http://henrymakow.com/2014/03/what-really-happened-to-flight.html#sthash.GBImn7we.dpuf
On September 15, 2006, Freescale agreed to a $17.6 billion buyout by a consortium led by Blackstone Group and its co-investors, Carlyle Group, TPG Capital, and Permira. The buyout offer was accepted on November 13, 2006.

Freescale's shareholders include the Carlyle Group
of private equity investors whose past
advisers
have included ex-US president
George Bush Sr
and former British Prime Minister
John Major.
Carlyle's previous heavyweight clients include the
Saudi Binladin Group,
the construction firm
owned by the family of Osama bin Laden.
Experts have been baffled how a large passenger jet seems to have flown undetected and possibly beaten military radar systems for up to six hours even though today's satellites can take a crystal clear picture of someone crossing a street.
A 2006 Boeing announcement appeared in
Flight Global
written by John Croft of the plane manufacturer receiving a U.S. patent for a system that upon activation takes away all controls from the pilot and could return the plan to a predetermined landing location.
The system could be activated by the pilots, onboard sensors or remotely using radio of satellite links of government agencies such as the CIA.
The article also claimed that the technical staff at Rolls Royce also monitored the plane's flight, citing a Wall Street Journal report. It said the technicians even reported the plane's position to the British government. The Boeing 777 uses Rolls Royce Trent engines which Rolls Royce leases to airlines and monitors all the time while the jet is flying.
Many passenger cell phones were called and GPS information exists somewhere. - See more at: http://henrymakow.com/2014/03/what-really-happened-to-flight.html#sthash.GBImn7we.dpuf
The lingering doubt that Malaysian authorities are allegedly hiding something is shared by relatives of Chinese passengers. The anger of the kin was so much that police had to intervene and protect the Malaysian officials who came to explain what happened to the grieving relatives staying at the Lido Hotel in Beijing.
One theory U.S. officials are considering,
according to a Wall Street Journal report
, is that someone might have taken the plane to be used for some other purpose later, saying
"some senior U.S. officials believe that the plane may have been taken as part of a 'dry run' for a future terrorist attack, testing the ability to take a plane and hide it from radar and satellites."
What about reports that passengers' cell phones continued operating after the flight's disappearance?
When phones are disabled or turned off -- which would presumably happen after a plane crash -- calls to those cell phones go directly to voice mail.
Friends and loved ones of the missing passengers, however, reported ringing when they called.
Experts have claimed the Boeing 777-200ER dropped 5,000ft (1,500m) to evade commercial radar detection
Investigators told the New Straits Times that they were now convinced the aircraft flew low over Kelantan, which is in the north east - exactly the same area where the villagers and fishermen who saw bright lights in the sky on the night the jet vanished are living.
The first report of a 'bright light descending at high speed' came from Alif Fathi Abdul Hadi, 29, who said he saw the light heading towards the South China Sea at 1.45am on the night the aircraft disappeared.
The businessman lives in Kampung Kadok, in the far north west of the Malaysian mainland, close to the southern border of Thailand - and the light he witnessed would have been several miles to the north of the flight path the jet was on before it vanished.
Lending credibility to the account by Mr Alif is the claim by fisherman Azid Ibrahim, 55, who saw a bright light streaking overhead at 1.30am on Saturday, about 100 miles south of where Mr Alif had seen the light.
Mr Alif's account tended to coincide with that of fisherman Mr Azid: 'Usually, lights from an airplane look like distant stars at night but the one that I saw was big, as the aircraft was flying below the clouds.

'I followed the light for about five minutes before it disappeared.'

Meanwhile, researchers from Slade.com have pinpointed

634 runways where the place could have landed in the vast area now being searched.
Following Mr Alif's account, nine more peopled filed police reports about a low-flying aircraft in the north east, close to the border with Thailand.
NOTHING ADDS UP, NOTHING EXPLAINS ALL THE ANOMALIES OF THIS FLIGHT, THE EYEWITNESS ACCOUNTS OF A LOW-FLYING PASSENGER PLANE, THE FACT THAT THE PILOT HAD BEEN PRACTICING LANDING AT DIEGO GARCIA

AND THE MALDIVES

ON HIS HOME-BASED SIMULATOR, THOSE CELLPHONE CALLS, WHAT U.S. CONGRESSMEN HAVE SAID (IT LANDED), NO WRECKAGE, NO BODIES...

WE MAY NEVER KNOW THE TRUTH OF IT, BUT THE FAMILIES OF ALL WHO WERE ABOARD MA370 DESERVE TO KNOW.



COULD ANY OF US REST WITHOUT ABSOLUTE PROOF OF WHAT REALLY HAPPENED TO OUR LOVED ONE ?


SOMETIMES, HOPE IS ALL WE HAVE...