WE'VE ALL SEEN THE LATEST TRAGEDY IN SAUDI ARABIA,

OVER 700 AND COUNTING WERE KILLED IN A HUMAN STAMPEDE

AS PILGRIMS TO MECCA RUSHED TO 'STONE THE DEVIL' IN FINAL RITUALS THERE.

"The directorate said at least 863 other pilgrims were injured in Thursday's stampede, which took place in Mina, on the outskirts of the holy city of Mecca.
Mina is where pilgrims carry out a symbolic stoning of the devil by throwing pebbles against three stone walls. It also houses more than 160,000 tents where pilgrims spend the night during the pilgrimage.
Al Jazeera

's Basma Atassi, reporting from Mina, said the incident took place in a street between pilgrim camps.




The head of the Central Hajj Committee, Prince Khaled al-Faisal,

blamed the stampede on "some pilgrims from African nationalities,

" Saudi-owned al-Arabiya TV channel reported.

"


THE 700+ DEATHS FOLLOW THE DEATHS OF OVER 100 AFTER A CRANE COLLAPSE NEAR THE BEGINNING OF THE HAJJ THIS YEAR. AWAITING BEHEADING AND CRUCIFIXION



SEP 24 2015

MEANWHILE, AWAITING AN UNCOMMON EXECUTION SINCE 2014, ARRESTED IN 2012 WHEN HE WAS JUST 17 YEARS OLD, IS ALI MOHAMMED AL-NIMR.

Al-NIMR IS TO BE BEHEADED AND THEN CRUCIFIED

, HIS BODY LEFT HANGING IN A PUBLIC PLACE AS A WARNING. The conviction was upheld this week by Saudi Arabia's highest court, and the execution could take place at any time.


INTERNATIONAL PLEAS IGNORED

A group of United Nations experts on torture and capital punishment urged Saudi Arabia to halt the execution,

saying that al-Nimr was a child at the time of his offense

and that the proceedings against him were flawed.

THERE HAVE BEEN 134 EXECUTIONS IN SAUDI ARABIA THIS YEAR, MOST BY BEHEADING, UP FROM 90 LAST YEAR.

"It is scandalous," U.N. Watch executive director Hillel Neuer, told CNN. "Petro-dollars and politics have trumped human rights."


WHAT WAS THE TEENAGER'S CRIME?

HE PARTICIPATED IN AN "ARAB SPRING" PROTEST AND

SOMEONE SAID

HE THREW MOLOTOV COCKTAILS AT POLICE.

THE YOUTH HAS SAID HE WAS TORTURED INTO CONFESSING.

MANY SAY THAT THE REAL REASON FOR HIS "DOUBLE" DEATH SENTENCE IN 2014 IS THAT HE IS THE NEPHEW OF A SHI'A CLERIC, AND SAUDI ARABIA'S MONARCHY SEES SHIITE PEOPLE AS A DANGER TO THE KINGDOM.

UNCLES ALSO SENTENCED TO DEATH "

Al-Nimr's cleric uncle was sentenced to death in a separate 2014 trial on terrorism charges and for "waging war on God" because of his speech during anti-government protests in Qatif, according to Amnesty International.




Amnesty called Sheikh al-Nimr's trial

"deeply flawed"

and said it was "part of a campaign by the authorities in Saudi Arabia to crush all dissent, including those defending the rights of the Kingdom's Shia Muslim community."




He was also denied surgery to remove a bullet in his back.

Treatment for his right leg, which remains paralyzed since he was shot during his arrest, has also been refused.

Sheikh al-Nimr's brother, Mohammad al-Nimr, was reportedly arrested after the sentence was passed at the Specialised Criminal Court in Riyadh.




The reasons for Mohammad al-Nimr's arrest and his whereabouts remain unknown."



IRONICALLY, SAUDI ARABIA, WHICH HOLDS THE RECORD FOR ANNUAL BEHEADINGS IN THE WORLD, WAS

RECENTLY NAMED TO THE U.N.'s "HUMAN RIGHTS COUNCIL"

, EVEN THOUGH SAUDI ARABIA HAS BEEN ON THE "TOP 10 LIST" OF HUMAN RIGHTS VIOLATORS ALMOST SINCE THE KINGDOM WAS CREATED IN 1932.
THAT'S QUITE AN ACCOMPLISHMENT FOR A NATION THAT IS

ONLY 83 YEARS OLD.

FOREIGNERS ARE NOT EXEMPT FROM THE LAW IN SAUDI ARABIA AND ROUGHLY HALF OF THE EXECUTIONS OF 2013 WERE OF FOREIGNERS.

[SEE

"Death Sentences and Executions 2013"

(PDF)

.

Amnesty International

. 2014

.

]


" In fact, foreigners (especially those from the developing world) are routinely executed, mainly for drug smuggling and murder." THE KINGDOM'S PRACTICE OF STONING WOMEN TO DEATH AND BEHEADING AND, RARELY, CRUCIFYING FOREIGNERS, DISSENTERS, AND SHIITES HAVE ALL BEEN WRITTEN ABOUT THOUSANDS OF TIMES.
SO HAS THE WAY IT TREATS WOMEN, AND ITS ALLOWING MEN TO TAKE CHILD BRIDES AS YOUNG AS 8 YEARS OLD.

Middle East Eye, which often criticizes Saudi Arabia for its human rights abuses,

compared

a set of 'legal

punishments' carried out by the Islamic State

with the corresponding punishments in Saudi Arabia.




Why it left out Saudi crucifixions is unknown.




Perhaps because that is called for "ONLY" once every 5-7 years?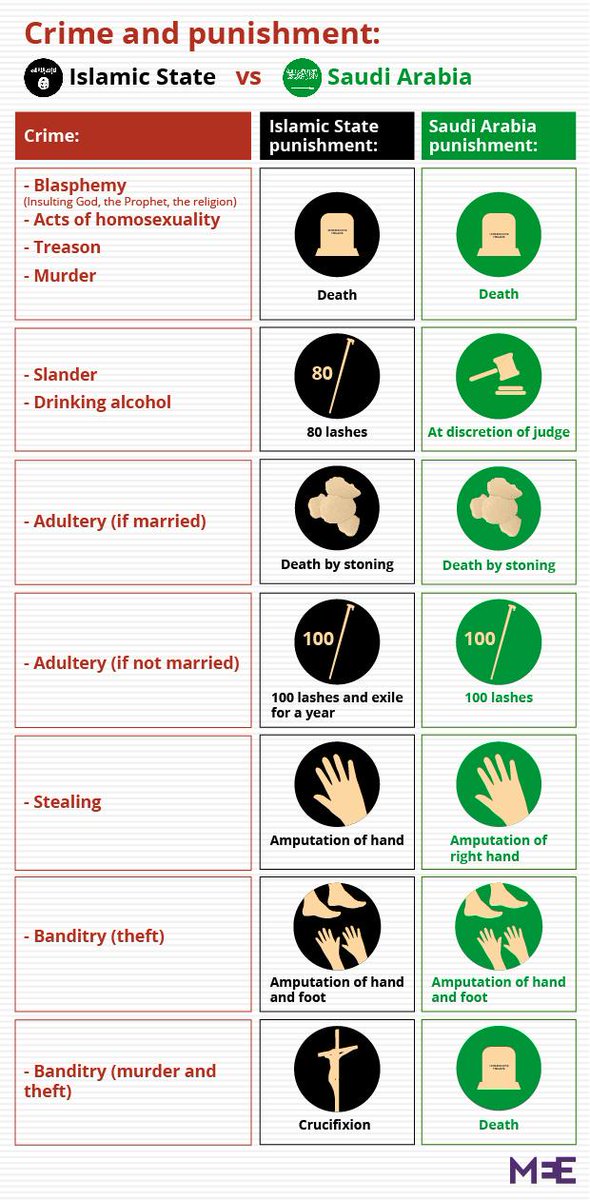 NOT MUCH DIFFERENCE, IS THERE?
LARGER IMAGE AT
https://pbs.twimg.com/media/B8COT85IQAA9M24.jpg
YET

ISIS HAS VOWED TO DESTROY MECCA AND KILL THE SAUDI MONARCHS

AS APOSTATE INFIDELS BECAUSE THEY INVITE THE WORLD'S MUSLIMS TO COME AND "KISS THE BLACK STONE", WHICH ISIS SEES AS A KILLING OFFENSE IN ITSELF!
THE ISLAMIC STATE HAS PROMISED TO KILL ANY WHO HAVE "KISSED THE STONE".

"I swear to God, if we conquer Saudi Arabia, as you worship, none other than Allah will demolish the Kaaba."
ISIS follows a strict interpretation of the

Sunni

faith, which is against idolatry of anything other than God, and

ISIS sees Mecca and its worship of the Kaaba as idolatry.
It has also threatened to kill any it finds near the Kaaba, or who have "rubbed the stone".

ISIS member Abu Turab Al Mugaddasi said that they would destroy the Kaaba in Mecca:
"If Allah wills, we will kill those who worship stones in Mecca and destroy the Kaaba. People go to Mecca to touch the stones, not for Allah."
ISIS SEES SAUDIS AS LAX?
LOOK AT WHAT THE MONARCHY ENFORCES!


Those who live within the borders of the Saudi kingdom can be and have been executed for charges of murder,
false prophecy,
witchcraft and sorcery,
apostasy, blasphemy, banditry, homosexual acts and infidelity.
All these charges are open to wide interpretation by sharia law.
As of January 2013
, more than 45 foreign house maids were on
death row
awaiting execution.
Even AL JAZEERA raised an outcry against Saudi Arabia for the way it treats migrant workers imported by the kingdom's elite.


http://www.aljazeera.com/programmes/insidestory/2013/01/201311116530348352.html


"

The case once again highlights the plight of thousands of migrant workers in Saudi Arabia.

Human rights groups say access to adequate translation and legal assistance is limited or non-existent.

Only three countries execute individuals for crimes committed involving minors: Saudi Arabia, Sudan and Iran."



1,000 LASHES
A Saudi Arabian online activist,

Raif Badawi,

has been

sentenced to 1000 lashes and ten years in prison,

after he set up an online forum to encourage public debate.

Badawi, who co-founded the Saudi Arabian Liberals website, was also ordered to pay one million Saudi riyals (£157,220) by Jeddah's Criminal Court.

The website, created in 2006, was a platform for discussions on liberal
ideas and interpretations of Islam.

The court

accused the activist of

"setting up a website that undermines

general security " and "ridiculing Islamic religious figures".

Badawi was arrested in 2012 on charges of cyber-crime and

apostasy

,

the latter carrying the death penalty in the Saudi Kingdom.

His website has been closed since his arrest.

Saudi Arabians in the Kingdom's

predominantly Shi'a

Eastern Province have been calling for reforms since before February 2011, when the "Arab Spring" uprisings swept through the Middle East and North Africa. EVEN

THE U.S. STATE DEPARTMENT HAS MADE NOTE OF SAUDI VIOLATIONS OF HUMAN RIGHTS

, BUT HAS CHOSEN NOT TO MAKE A BIG ISSUE OF THEM. SAUDI OIL TRUMPS CARING ABOUT HUMAN RIGHTS?
APPARENTLY SO.

WHAT'S A LITTLE BLOOD MIXED WITH CHEAPER OIL, RIGHT?

BESIDES, SHARIA LAW HAS ALREADY BEEN UPHELD HERE IN AMERICA.

GET USED TO IT!

FROM NBC NEWS :

In a decision that Muslim legal advocates celebrated as a major win, a federal appeals court on Tuesday agreed with a lower court that blocked an Oklahoma law that would have barred state courts from considering or using Shariah law — the Islamic code of conduct.

A panel of federal judges has ruled that states cannot protect their courts

from jurists who base their decisions on international or Koranic law.

SHARIA LAW GAINS FOOTHOLD IN AMERICA

"With the aid of taxpayer funds provided by Congress, AIG also employs a "Shariah Supervisory Committee." According to AIG, the role of its Sharia authority "is to review our operations, supervise its development of Islamic products, and determine Shariah compliance of these products and our investments." SOON, AMERICA'S "MODERATE" MUSLIMS WILL FEEL THE HEAT OF THE PURE QUR'ANIC LAW, SHARIA, UNDER WHICH THEY ARE SEEN AS APOSTATE BY IRAN, SAUDI ARABIA AND THE ISLAMIC STATE. AND SO WILL WE ALL BE SEEN AS INFIDELS. THOSE NOT LIVING AS SHARIA IN SAUDI ARABIA, IRAN AND OTHER "PURIST" ISLAMIC STATES' MANDATE WILL COME UNDER THE GUN.

INSULTS TO ISLAM WILL BE REASON ENOUGH TO BE DRAGGED BEFORE A COURT UNDER SHARIA LAW.
AMERICA'S RAPIDLY GROWING POPULATION OF "PURIST" MUSLIMS WILL DEMAND SHARIA JUSTICE SUCH AS IS CURRENTLY APPLIED IN PURELY ISLAMIC NATIONS.

MANY OF YOU WILL LAUGH AT THIS STATEMENT... GET BACK TO ME IN A YEAR OR TWO.
LET ME KNOW IF YOU'RE STILL LAUGHING.
TO DENY THE PURE FORM OF SHARIA LAW HERE TO IMMIGRANTS WHO COME FROM NATIONS WHO LIVE BY IT WILL BE RULED (AND HAS ALREADY BEEN RULED) AS A VIOLATION OF THEIR RELIGIOUS BELIEF AND CIVIL RIGHTS.

THAT'S NOT ALLOWED HERE...UNLESS YOU ARE A CHRISTIAN...EVERYONE HAS TAKEN TO PISSING ON CHRISTIANS AND THEIR RELIGIOUS BELIEFS, AFTER ALL.
CHRISTIAN RELIGIOUS BELIEFS ARE NOT PROTECTED UNDER ANY LAW, IT SEEMS.
DOESN'T MATTER WHAT A CHRISTIAN BELIEVES, IT WON'T HOLD UP IN COURT!

IN FACT, AREN'T MOST CHRISTIAN DOCTRINES CONDEMNED?

SHARIA LAW...GET USED TO IT.
AFTER ALL, ISLAM DEMANDS WE ALL SUBMIT.

AND WE ARE...WE ARE...

WILL THE "DOUBLE" DEATH SENTENCE BE CARRIED OUT?
WHY WOULDN'T IT BE?
A 17-YEAR-OLD IS NOT EXEMPT UNDER SHARIA LAW IN THE MIDDLE EAST.





_________________________

NOTES:
~The

Hajj

is an

annual

Islamic

pilgrimage

to

Mecca

, and a

MANDATORY religious duty

for Muslims that must be carried out at least once in their lifetime by all adult

Muslims

who

are physically and financially capable of undertaking the journey, and can support their family during their absence

ANYONE KILLED WHILE ON PILGRIMAGE IS GUARANTEED ENTRANCE INTO PARADISE.

~ YOU REALLY MUST LEARN ALL YOU CAN ABOUT SHARIA LAW AS IT WILL BE AND HAS BEEN ALREADY ALLOWED TO TRUMP AMERICAN LAW IN THE USA.
Classification of Non-Muslims: In his article, "The Ordinances of the People of the Covenant and the Minorities in an Islamic State," Sheikh Najih Ibrahim Ibn Abdullah remarks that legists classify non-Muslims or infidels into two categories:

*Dar-ul-Harb or the household of War, which refers to non-Muslims who are not bound by a peace treaty, or covenant, and whose blood and property are not protected by the law of vendetta or retaliation;

*and Dar-us-Salam or the household of Peace, which refers to those who fall into three classifications:
1)

Zimmis (those in custody) are non-Muslim subjects who live in Muslim countries

and agree to pay the Jizya (tribute) in exchange for protection and safety, and to be subject to Islamic law. These enjoy a permanent covenant.




2)

People of the Hudna (truce) are those who sign a peace treaty with Muslims after being defeated in war.

They agree to reside in their own land, yet to be subject to the legal jurisprudence of Islam like Zimmis, provided they do not wage war against Muslims.




3)

Musta'min (protected one) are persons who come to an Islamic country as messengers, merchants, visitors, or students wanting to learn about Islam.


A Musta'min should not wage war against Muslims and he is not obliged to pay Jizya, but he would be urged to embrace Islam.

If a Musta'min does not accept Islam, he is allowed to return safely to his own country. Muslims are forbidden to hurt him in any way.


When he is back in his own homeland, he is treated as one who belongs to the Household of War.
Islamic Law and Zimmis
Muslim Muftis (legal authorities) agree that the contract of the Zimmis should be offered primarily to the People of the Book, that is, Christians and Jews, then to the Magis or Zoroastrians.
However, they disagree on whether any contract should be signed with other groups such as communists or atheists.
The Hanbalites and the Shafi`ites believe that no contract should be made with the ungodly or those who do not believe in the supreme God.
Hanifites and Malikites affirm that the Jizya (mandatory tax) may be accepted from all INFIDELS regardless of their beliefs and faith in God.
"...to spare the blood (of the Zimmis), to be a symbol of HUMILIATION of the infidels and as an insult and punishment to them, and as the Shafi`ites indicate, the Jizya is offered in exchange for residing in an Islamic country."
Thus Ibn Qayyim adds,
"Since the entire religion belongs to God, it aims at HUMILIATING ungodliness and its followers, and INSULTING them. Imposing the Jizya on the followers of ungodliness and OPPRESSING them is REQUIRED by God's religion.
The Qur'anic text hints at this meaning when it says:
`until they give the tribute by force with humiliation.' (Qur'an 9:29).
What contradicts this is leaving the infidels to enjoy their might and practice their religion as they wish so that they would have power and authority."
Abu Hanifa, however, did not want pagan Arabs to have this option because they are the people of the Prophet.
They must be given only two options: accept Islam or be killed.
According to Muslim jurists, the following legal ordinances must be enforced on Zimmis (Christians and Jews alike) who reside among Muslims:
1) Zimmis are not allowed to build new churches, temples, or synagogues. They are allowed to renovate old churches or houses of worship provided they do not allow to add any new construction. "Old churches" are those which existed prior to Islamic conquests and are included in a peace accord by Muslims.




Construction of any church, temple, or synagogue in the Arab Peninsula (Saudi Arabia) is prohibited.

It is the land of the Prophet and only Islam should prevail there. Yet, Muslims, if they wish, are permitted to demolish all non-Muslim houses of worship in any land they conquer.




2)

Zimmis are not allowed to pray or read their sacred books out loud at home or in churches, lest Muslims hear their prayers.




3) Zimmis are not allowed to print their religious books or sell them in public places and markets. They are allowed to publish and sell them among their own people, in their churches and temples.




4) Zimmis are not allowed to install the cross (OR STAR OF DAVID) on their houses or churches since IT IS A SYMBOL OF INFIDELITY.
THE SAME IS TRUE FOR ANY SUCH SYMBOLS WORN ON ONE'S PERSONAGE.




5) Zimmis are not permitted to broadcast or display their ceremonial religious rituals on radio or television or to use the media or to publish any picture of their religious ceremonies in newspaper and magazines.




6) Zimmis are not allowed to congregate in the streets during their religious festivals; rather, each must quietly make his way to his church or temple.




7) Zimmis are not allowed to join the army unless there is indispensable need for them in which case they are not allowed to assume leadership positions but are considered mercenaries.
GOT IT?
THEN...SUBMIT???