[ABOVE, MAP OF THE VERY LARGE AREA THAT WILL BE AFFECTED BY THIS LIVE VIRUS' RELEASE.]
"The Murray-Darling Basin Plan was signed off by Tony Burke, Minister for Sustainability, Environment, Water, Population and Communities on 22 November 2012, and passed disallowance period in the Australian Parliament on 19 March 2013."

THAT "PLAN" HAS CHANGED AGAIN AND AGAIN, BUT THIS NEW ONE MAY JUST TAKE THE PRIZE FOR 'CRAZIEST OUT THERE'.

IN WHAT CAN ONLY BE SEEN AS A REALLY DUMB MOVE, AUSTRALIAN OFFICIALS ARE SET TO PURPOSELY INFECT AN ENTIRE RIVER SYSTEM WITH A LIVE HERPES VIRUS TO KILL THOUSANDS AND THOUSANDS OF TONS OF CARP.

WE CAN ASSUME NO ONE IN CHARGE OF PROCEEDING WITH THIS CARES WHAT THOUSANDS OF TONS OF DEAD CARP IS GOING TO SMELL LIKE, LOOK LIKE AND HOW ALL THAT ROTTING FISH FLESH IS GOING TO CONTAMINATE AND DESTROY EVERYTHING IN THAT RIVER AND A LOT OF TERRESTRIAL LIFE FORMS THAT DEPEND ON THAT RIVER.

THERE WAS THIS BRIEF EXCHANGE:

Mr Mues:

"
...the herpes virus is going through the last stages of testing—I think the New South Wales Department of Primary Industries is leading the work necessary to get those last trials done—but that is I think two to three years off maybe from release.

Senator DAY: Two to three years is it?


Mr Mues

:

That is my understanding.


Mr James

:

I might just say it is one thing to get the virus to the right safety level, if you like, that it is not going to impact on other species, but the strategy you need to have in place to release it is quite massive because you think of dead carp up and down the river system, you need to have systems in place to deal with that and that is going to be a massive effort.


CHAIR:

You will have to talk to Mr Papps to get enough water to flow them all out."

THERE ISN'T ENOUGH WATER TO "FLOW THEM ALL OUT"!

TO MY MANY AUSTRALIAN READERS...PLEASE EDUCATE YOUR LEADERS WHO HAVE COME UP WITH THIS LUNACY!

MAKE THEM STOP THIS BEFORE ALL OF AUSTRALIA SMELLS LIKE A DEAD FISH AND EVERYTHING IN THAT RIVER SYSTEM DIES!
This will go on as planned beginning in 2018, if we can trust that date given by these 'officials'.

You have that short a time to change their minds, Australian citizens.
HOW IGNORANT ARE THE "PLANNERS" WHO CAME UP WITH THIS?

DON'T THEY READ, STUDY, REALLY RESEARCH SUCH A THING?

SURE THE CARP NEED TO BE ELIMINATED, BUT NOT BY MEANS OF INFECTING THEM BY VIRUS, ENDANGERING OTHER LIFE AS THEY DIE OFF EN MASSE ALL ALONG THAT ENTIRE RIVER BASIN!

HAVE THEY DONE A LONG-TERM STUDY TO SEE HOW THIS VIRUS MIGHT MUTATE OVER THE NEXT 30 YEARS THAT THEY PLAN TO RELEASE IT?

HAVE THEY GOTTEN HUMAN VOLUNTEERS TO TEST THE LONG-TERM EFFECTS OF INGESTING THIS VIRUS OVER A PERIOD OF YEARS?
AFTER ALL, THOSE WHO USE THESE RIVERS FOR DRINKING WATER OR IRRIGATION WILL BE DOING JUST THAT!

AND HAVE THEY TESTED PETS TO SEE WHAT HAPPENS TO THEM WHEN FED THIS "CARP CRAP" FOR MONTHS, YEARS?

FIRST, THEY PAID ABOUT $4 MILLION FOR 'STUDIES' TO MAKE SURE THE KOI HERPES VIRUS WILL KILL ONLY CARP.

THEN THEY PAID $11 MILLION (IN AUSTRALIAN DOLLARS) TO HAVE THE LIVE VIRUS READIED FOR INTRODUCTION INTO THE MURRAY-DARLING BASIN,

HOW MANY RIVERS WILL THIS AFFECT?
Murray,
Darling,
Warrego,
Murrumbidgee,
Yarrawonga Weir, Lachlan,
Balonne,
Goulburn,
Barwon,
Campaspe,
Mitta Mitta,
Loddon,
Macquarie, Cudgegong, Paroo,
MacDonald, Maranoa, Owens,

Namoi, Severn and numerous others...

PLUS Lake Mulwala, Lake Burrendong and Lake Burley Griffin!
WHAT AREAS OF AUSTRALIA WILL BE IMPACTED?
Queensland, New South Wales, Australian Capital Territory, Victoria.

HEADS UP, RESIDENTS!
THE IDIOTS ALSO WANT TO FEED THOSE SOON-TO-BE ROTTING CARP TO YOUR PETS OR USE THEM TO FERTILIZE FOODS YOU EAT!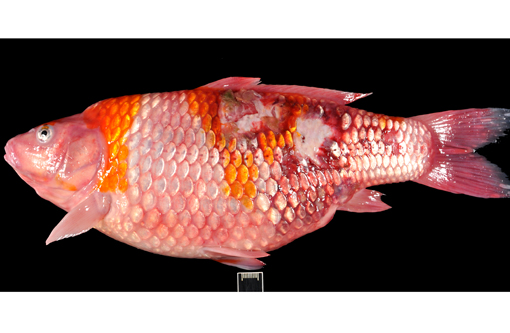 THOSE OF YOU WHO WOULD FEED YOUR PET THE ABOVE FISH, INFECTED WITH HERPES VIRUS, RAISE YOUR HAND.
"Science Minister Christopher Pyne said the Government would find a use for the dead fish, with the prospect of turning them into pet food.

"We're going to either turn them into fertiliser, or pet food maybe, or dig enormous holes and put them in there," Mr Pyne said.

Mr Warrick said the EPA did not allow large quantities of dead carp to be buried.
[WARRICK ALSO SAID ISRAEL HAD TRIED THIS AND THE CARP SPECIES REBOUNDED!]
[EPA doesn't allow dead carp in mass numbers to be buried but WILL allow them in pet food, human foods through fertilizers, through using water teeming with dead carp for irrigation?
Think about that!]
"But the decision's been made, the herpes virus can be released, and we'll get rid of these noxious pests, " said Pyne.

NOXIOUS?
CHRIS, BABY, YOU'RE ABOUT TO REDEFINE NOXIOUS!

DO YOU HAVE ANY CONCEPT HOW LONG IT'S GOING TO TAKE TO REMOVE THAT MANY DEAD CARP FROM THE LENGTH OF THAT RIVER BASIN?

WHAT WILL IT COST AUSTRALIANS TO PAY THE NECESSARY THOUSANDS OF WORKERS TO HURRY UP AND GET THOSE DEAD CARP OUT OF THAT RIVER BEFORE THE BACTERIA FROM THEIR DECOMPOSING GROWS INTO A REPLAY OF THE PLAGUE OF EGYPT?

WHAT ABOUT THE CARP BODIES THAT SINK AND LIE ON BOTTOM OF THOSE VERY SLOW-MOVING RIVERS?

HOW LONG WILL THOSE LAY THERE AND ROT AND HOW MANY?

HOW LONG WILL IT TAKE THOSE RIVERS TO REFRESH IF THIS THING GOES BADLY AND YOU WIND UP POISONING EVERYTHING THAT LIVES IN THE LENGTH OF THAT BASIN?

SOME PEOPLE DEPEND ENTIRELY ON THESE RIVERS FOR DRINKING WATER, FOR CROP IRRIGATION.
DID THAT NOT FIGURE INTO THIS "PLAN"?
"OFFICIALS" PLAN TO DO THIS FOR THE NEXT 30 YEARS!
THEY IMAGINE IT WILL TAKE 30 YEARS TO GET RID OF 95% OF THE CARP, LEAVING 5%, WHICH WILL THEN REPRODUCE AND THE WHOLE THING CAN START ALL OVER AGAIN...

LOCATION, CHRIS, THINK OF THE LOCATION, THE SHEER AREA!
"Most of the 1,061,469 km2 (409,835 sq mi) basin is flat, low-lying and far inland, and receives little direct rainfall."
DID THOSE 'STUDIES' EXPERIMENT ON ALL LIFE FORMS IN/NEAR/DEPENDENT ON THOSE WATERS TO MAKE 100% CERTAIN THEY WON'T DIE FROM THIS LIVE VIRUS?
ALL?
80 species of mammals, 10 endangered
55 species of frogs, with 18 endangered
46 species of snakes, with five endangered
5 species of tortoises, none endangered
34 species of fish, with up to half either threatened or of conservation significance
AND THAT'S JUST "NATIVE FAUNA", NOT DOMESTICATED, NOT HUMANS, NOT PLANTS!


DID THE 'STUDIES' TAKE SPECIMENS OF ALL THOSE ENDANGERED SPECIES FOR TESTING?

HOW DID THEY LEGALLY DO THAT?

REPORTED MAY 1, 2016:
"Commonwealth Scientific and Industrial Research Organisation (CSIRO) scientists have been carrying out various tests for nearly a decade on OTHER animals including chickens, mice, frogs, turtles and water dragons "to determine the safety and suitability" of the virus in dealing with an excessive carp population.
[OTHER?
WHAT ABOUT ALL?]
The virus was proven to be harmless to humans and animals, but it causes kidney failure in carps, attacks their skin and kills the fish after sitting tight in its system for about seven days.
IF IT ATTACKS THEIR SKIN, THEN ONCE THE SKIN IS PEELING OFF, WON'T THE FLESH GET CONTAMINATED, MAKING IT UNFIT FOR PET FOOD OR FERTILIZER FOR HUMAN FOODS?

DO THEY NOT REALIZE THE TOXINS RELEASED INTO BODY TISSUE BY KIDNEY FAILURE?
"
If the kidney function fails, the waste products accumulate in the blood and the
body..."
"It causes high death rates in common carp and in the ornamental koi carp.
No other species of fish, including goldfish, are known to be affected by the virus," CSIRO official website says.
Australia's Agriculture and Water Resources Minister Barnaby Joyce said that every year Australia loses up to 500 million Australian dollars (more than US$ 380 million) due to the uncontrolled population of carp. "
AND WHAT WILL IT COST IF THIS ALL GOES HORRIBLY WRONG, AS OTHER SUCH ATTEMPTS HAVE GONE?

WHAT WILL IT COST THE GOVERNMENT (AND THEREFORE, TAXPAYERS) TO SUPPLY FRESH DRINKING WATER AND IRRIGATE CROPS FOR YEARS IF THIS VIRUS IDEA CREATES ANOTHER ENVIRONMENTAL CATASTROPHE FOR AUSTRALIANS?

WHAT WILL IT COST IF THIS ADVERSELY AFFECTS HUMANS?

WHAT VALUE DO THEY PLACE ON ONE HUMAN LIFE?
ANOTHER THING THAT MAKES NO SENSE....THE LACK OF MARKETING OF CARP IN AUSTRALIA WHEN AN AUSTRALIAN COMPANY HAS COME TO AMERICA TO GET AMERICAN CARP TO SELL TO ASIA!
Jan 20, 2012 -


"An Australian company that harvests and processes carp for Asian and European food markets will open its first U.S. facility in Wabasha Friday

Bell said he began exploring the upper Mississippi River as an area to grow his business after several years of drought in Australia made it difficult to harvest carp there."
Why isn't there a booming carp export industry in Australia, if carp is so desired in Asia?
18 July , 2002
Why then is Australia's carp industry so small if the rest of the world from China to the Czech republic depends on carp?
There's just a handful of successful carp exports in the country, and one of them is KNC fisheries operating from Sale in Victoria's Gippsland Lake system.

The director is Keith Bell, and he's put what he's described as 19 years hard labour into achieving success in the industry and chasing export markets.



[Yes, this is the same Bell who recently set up shop in America when carp are right there in Australia....go figure that one out!]



KEITH BELL: Carp is the most consumed species of fish anywhere in the world, on the whole.
For instance, Poland uses 80,000 tonnes of it a year, and China breeds and they farm 123 million tonnes per year, so it's a major protein source around the world.

Basically America and New Zealand, Japan and Australia are the four countries that DON'T use it as a major food supplement.

ADRIAN WELLS: My understanding, from talking to a number of carp fishers and processors, is that they would certainly welcome the reduction in carp.

While at the moment there are some people who are doing reasonably well out of the carp industry, in the long run they would prefer to see carp out of our river systems because there are more lucrative ways to make money than with carp."
KEITH BELL: On the surface of it, it looks like there's a monstrous opportunity but when you go on the global level playing field, and the global price of about 47 cents per kilogram, wet fish weight. It doesn't make it easy to be bale to get into those markets."

SO, WHILE CHINA AND OTHER NATIONS ARE FARM-RAISING CARP AND STILL DON'T HAVE ENOUGH CARP, AUSTRALIAN FISHERMEN WON'T TAKE ADVANTAGE OF THIS GREAT ABUNDANCE OF CARP BUT WILL MOVE OPERATIONS TO AMERICA INSTEAD?

AND THE AUSTRALIAN GOVERNMENT WILL SPEND MULTI-MILLIONS JUST TO STUDY USING A VIRUS TO KILL CARP BUT WON'T FINANCIALLY ENCOURAGE FISHERMEN TO HARVEST ALL THEY PLEASE, WHICH SHOULD CLEAR OUT THE CARP NICELY IN LESS THAN THE 30 YEARS THIS DANGEROUS VIRUS THING WILL TAKE?

THAT'S SHEER LUNACY, ALL OF IT.

GOOD LUCK, AUSTRALIAN FOLK...
YOU'RE GOING TO NEED IT....