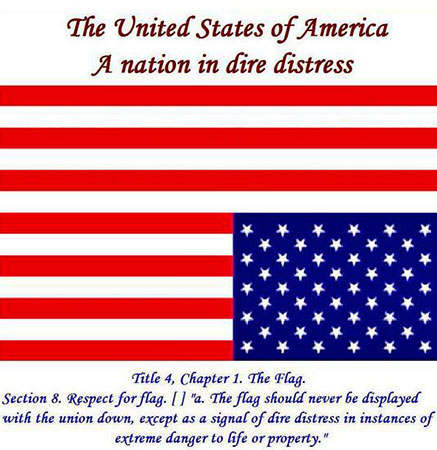 I HAVE NEVER BEEN "DOWN ON AMERICA".
I LOVE MY NATION.
I LOVED HER BEFORE I COULD SPELL HER NAME.

BUT I FLY HER FLAG UPSIDE DOWN.
I ALWAYS WANTED EVERYONE TO KNOW SHE WAS "IN DISTRESS".
TOO FEW GIVE A DAMN.
IT'S HER GOVERNMENT, HER ELECTED ONES, THE LIARS AND WHORES SOLD OUT TO WALL STREET, THE CONGRESSIONAL PROSTITUTES WORKING "K STREET" WHOM I DESPISE AND HAVE ONLY THE UTMOST CONTEMPT FOR.
IT'S THE DRAFT-DODGING MAJORITY IN THE U.S. CONGRESS, AND THE TREASONOUS CO-CONSPIRATORS IN THAT OVAL OFFICE AND IN THE SUPREME COURT THAT MAKE ME PUKE.
THEY HAVE NO HONOR AND THEY HAVE NO SENSE OF SHAME OR REMORSE FOR SELLING OUT A NATION, FOR COMMITTING TREASON, DAY AFTER DAY, YEAR AFTER YEAR.
NONE HAVE LIVED UP TO THEIR OATH OF OFFICE.
NONE, NOT ONE.
IT'S THOSE WHO MAY OWN AND HAVE OWNED STOCK IN THE INDUSTRIES WHO SUPPLY THE GREAT "WAR MACHINE", WHO SEND OUR BEST, OUR BELOVEDS, OUR HOPE, OUR FUTURE OFF TO UNDECLARED WARS SO THEY AND THEIR PROFIT-LOVING PALS CAN COLLECT FROM ANOTHER ROUND OF FLAG-DRAPED CASKETS ARRIVING BACK ON AMERICAN SOIL, PROFIT FROM MORE VICTIMS OF THEIR MILITARY/INDUSTRIAL COMPLEX GAME.
DAMN THEIR ROTTEN SOULS TO HELL FOR ALL THE LIVES THEY'VE ROBBED US OF: OUR CHILDREN, OUR GRANDCHILDREN, HUSBANDS AND WIVES...BUT NOT THEIRS, NEVER THEIRS.
THE VAST MAJORITY GOT DEFERMENTS, KNEW WHO TO CALL ON TO MAKE SURE THEY DIDN'T HAVE TO SERVE.
ONLY 97 OF THE ENTIRE CONGRESS THIS YEAR HAVE EVER SERVED IN OUR MILITARY.
97 OUT OF 535!
BUT THEY SEND US AND THEN OUR KIDS AND THEIR KIDS OFF TO WARS FOR OIL SO THEY CAN RAKE IN THE PROFITS, THE POLITICAL FAVORS TURNED INTO BARGAINING CHIPS.
"I'LL SCRATCH YOUR BACK IF YOU SCRATCH MINE".
BASTARDS!
WAY BACK IN THE EARLY 1950s, I RECALL MEN SAYING, "IF A POLITICIAN'S MOUTH IS MOVING, YOU KNOW HE'S LYING."
SOMEONE ELSE WOULD SAY, "YEAH, AND IF WE HAD ALL THE MONEY THEY TAKE UNDER THE TABLE, WE'D ALL BE MILLIONAIRES."
THEY KNEW THEN, OVER 60 YEARS AGO, WHAT POLITICIANS WERE.
BUT GONE WERE THE DAYS OF TAR AND FEATHERS, OF THE VERY REAL THREATS [PROMISES!] OF PUBLIC LYNCHINGS, OF MIDNIGHT RAIDS TO DRAG CRIMINALS FROM THEIR LAIRS AND LAY A WHIP TO THEIR BACKS AND DRIVE THEM TO JAIL UNCONSCIOUS...OR WORSE.
NO, I GREW UP IN AN "INNER CIRCLE" THAT CONTAINED MANY, MANY OF THOSE LIARS, THOSE SCUM-SUCKING, SELF-SERVING, CORPORATE BUTT-KISSING REPROBATES.
I KNEW THEM AS "UNCLE SO-AND-SO", A COMMON "PET NAME" FOR CLOSE MALE FRIENDS OF SOUTHERN FAMILIES, "UNCLE", BUT I KNEW THEIR DIRTY LITTLE SECRETS, KNEW WHAT THEY SAID AND DID BEHIND CLOSED DOORS, WATCHED THEM DIVIDE "POLL TAXES" AMONGST THEMSELVES, POUR EACH OTHER WHISKEYS AS THEY BURNED EVERY BALLOT FROM THE "COLORED" BALLOT BOXES, MADE LISTS OF WHO IN THE COMMUNITY WERE "DANGEROUS", WHO NEEDED TO BE "TALKED TO", WHO MIGHT JUST NEED A CROSS BURNED IN THEIR YARDS TO DISCOURAGE THEM FROM BEING TOO "UPPITY", TOO VOCAL, TOO HONEST.
I WATCHED THEM DESTROY "WHISTLE-BLOWERS".
I KNEW THEM WELL...U.S. SENATORS, REPRESENTATIVES, GOVERNORS, STATE OFFICIALS, COUNTY AND CITY POLITICIANS, ALL THE SAME...LIARS, WORSE THAN WILD DOGS TO FORM PACKS TO PREY ON LESSER 'ANIMALS'..
I WATCHED AS HONOR AND INTEGRITY LOST ALL MEANING TO THOSE "RUNNING FOR OFFICE".
I HEARD TOO MANY TIMES THE SESSIONS WITH THEIR "SPEECH WRITERS" WHEN THEY'D START WITH,
"HOW AM I GONNA FOOL THE PUBLIC INTO THINKING..."
YEAH, I KNEW THEM WELL.
I KNEW THEM EVEN BETTER AFTER A SPOUSE WHO WORKED FOR "WHITE HOUSE COMMUNICATIONS" SPILLED THE BEANS ON
THAT
TIGHTER CIRCLE OF CRIMINALS.
BUT THE WORST WAY I KNEW THEM WAS THROUGH THE EYES AND LIVES OF MY FATHER'S BROTHER AND ANOTHER SPOUSE WHO WERE "OSS/OSI", WHO BOTH FOUGHT IN KOREA, VIETNAM, SAW THE 'BAY OF PIGS'.
UNTIL YOU'VE SAT AND LISTENED TO MEN LIKE THAT, YOU CANNOT POSSIBLY KNOW HOW OUR MEN AND WOMEN IN UNIFORM WERE THEN AND STILL ARE TREATED BY OUR IGNOBLE, ABHORRENT, WRETCHED FEDERAL GOVERNMENT, BY THOSE IN "HIGH PLACES".
IT'S AN ABOMINATION WHAT THEY'RE SUBJECTED TO!
America has Been at War 93% of the Time - 222 Out of 239 Years - Since 1776
MAYBE YOU WERE UNAWARE OF THAT FACT?
I READ THEIR "BILLS"
, DAILY, EVERY SINGLE ONE OF THEM,
EVERY PAGE
, SEE
THEIR SELDOM-SEEN "NOTES"
TO THOSE BILLS, SEE HOW THEY MANIPULATE AND USE THE LAW FOR THEIR OWN BENEFIT AND THE BENEFIT OF
THOSE THEY SERVE....WALL STREET NAMES, BANKERS,
NOT US, NOT "WE, THE PEOPLE".
THEY STOPPED SERVING US WHEN WE BEGAN TO ALLOW THEM TO SERVE THE MASTERS THEY SERVE TODAY.
I READ AND HEARD FROM "HORSES' MOUTHS" HOW THE FEDERAL RESERVE AND "SOCIAL SECURITY" WERE CREATED TO ENSLAVE THE MASSES, TO CREATE
IRREDUCIBLE DEBT,
TO BUILD A SERF CLASS OF DRONES, WORKER BEES, TO SUSTAIN THE KINGS AND QUEENS OF THE RULING CLASS.
YOU TRULY HAVE NO IDEA, AMERICANS, HOW VILE, HOW COMPLETELY CORRUPT, HOW VENOMOUS ARE THOSE YOU ELECT TO OFFICE.
DOWN ON AMERICA?
NOT ME.
THAT'S THE ONES YOU VOTE FOR.
POLITICIANS ARE DOWN ON AMERICA, DEDICATED TO BRINGING HER TO HER KNEES, DRIVEN TO DO WHATEVER IS NECESSARY TO SUBJECT HER PEOPLE TO SERVITUDE TO THE REAL POWERS THAT BE....THAT'S WHAT OUR GOVERNMENT DOES BEST.
THEY ARE
NOT
IN CONTROL, BUT ARE MERELY PETS, WILLFUL SERVICE ANIMALS TO THOSE WHO
ARE
IN CONTROL.
WHEN THEIR USEFULNESS FADES, THEY ARE REPLACED.
AND, AS WE CAN SEE, IF WE CARE TO SEE, OUR POSITION IN THIS GRAND SCHEME IS MERELY ONE OF
SERVITUDE, UNQUESTIONING OBEDIENCE.
DOWN ON AMERICA?
NOT ME!
BUT I HAVE SPAT IN A FEW FACES WHO WERE, WHO STILL ARE, DOWN ON AMERICA.
THEY WERE ALMOST ALL POLITICIANS.
PLUS A FEW WHO KISSED "POLITICIAN ASS", WHO LICKED THE BOOTS OF THAT LOT.
ANYONE WHO IS
NOT
DOWN ON AMERICA WOULD DO THE SAME....AND MORE.
AND THAT, GENTLE READERS, IS WHY AND IS HOW THE "HEMLOCK TEA ROOM" CAME TO BE.... A STAND AGAINST THE LIARS, THE THIEVES, THE TRAITORS WHO ARE "DOWN ON AMERICA".
I LOATHE THEM,
ALL "PARTIES"
, ALL THE TIME.
I WILL DRAW MY LAST BREATH ATTEMPTING TO EXPOSE THEM FOR WHAT THEY ARE, DOING ALL I CAN TO RID US OF THEM,
DOING, NOT JUST TALKING/WRITING ABOUT IT
, BUT
ACTING
, MAKING MYSELF A "GADFLY",
BITING THEM EVERY WAY I POSSIBLY CAN.
THIS IS THE ONLY TIME I WILL OFFER YOU INSIGHT INTO WHETHER OR NOT I'M "DOWN ON AMERICA".
I AM FOR MY NATION, AND DAMN HER TRAITORS TO THE HOTTEST HELL.