(ABOVE, From left) ACTORS Pablo Schreiber, John Krasinski and David Denman in the movie,
"13 Hours: The Secret Soldiers of Benghazi." Photo: Paramount Pictures
.
Credit: Peter Larsen/Getty Images for Paramount Pictures
These men – battle-hardened ex-US Marines and Navy Seals – were supposed to be minders for Benghazi's 20-strong CIA team, many of whom were Ivy League graduates with little street sense. But when a call came through from the consulate saying, "If you do not get here soon, we are all going to die," they charged to the rescue.
Controversially, members of the team later claimed to have gone to the consulate despite orders from the CIA station chief, "Bob", to stay put and focus on protecting his staff.
When the fighting reaches the CIA annex, the building divides abruptly into what the [surviving] contractors call "shooters and non-shooters".
The CIA 'preppies' hide in a nearby safe room as their protectors shoot at jihadists from the rooftop.
Afterwards, all six were awarded specially created medals for valour by the CIA.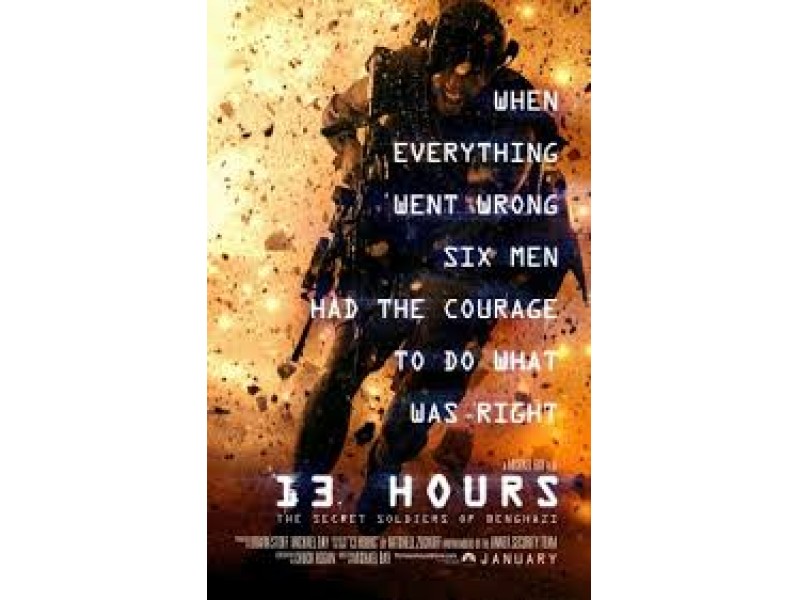 But when a mob of armed jihadists overran the consulate and set it ablaze on the night of September 11 2012, it quickly became his private death chamber."

ABANDONED BY THE CIA AGENT WHO WAS SUPPOSED TO PROTECT HIM, WITH THAT AGENT ESCAPED TO THE ANNEX A MILE AWAY, WITH NONE OF THE 30 OR SO CIA AGENTS THERE COMING TO HIS RESCUE, NOR THE CIA-HIRED LIBYAN 'SECURITY PERSONNEL', STEVENS AND SMITH WERE ON THEIR OWN.




January 16, 2016
The author of the book upon which the film "13 HOURS" is based, Mitchell Zuckoff, stood by his depiction of the scene on Friday, saying in a telephone interview with The Associated Press that he'd based it on several firsthand accounts. Zuckoff collaborated on his book, "13 Hours," with some of the surviving security contractors. THOUGH DENIED, THE STAND DOWN ORDER BY THE BENGHAZI STATION CHIEF WAS REPORTED, TESTIFIED TO BY THE FIVE SURVIVING MEMBERS OF THE CIA-HIRED TEAM WHO LEFT TRIPOLI ON A FLIGHT THEY PAID THE PILOT $30,000 TO MAKE. YES, THEY WERE EMPLOYED BY THE CIA, AND YES, THEY SWORE THAT THEY WERE HELD UP FOR HOURS AT THE BENGHAZI AIRPORT BY CIA-HIRED LIBYAN "SECURITY FORCES", THEN AGAIN FOR 20-30 MINUTES BY THE CIA CHIEF HIMSELF. "Stand down," says the actor playing the CIA station chief

in Michael Bay's new film, "13 Hours: The Secret Soldiers of Benghazi."

He's speaking to the security team that wants to go help Americans under siege

less than a mile away

in a U.S. diplomatic compound under fierce attack.

His order keeps the team from leaving for a crucial 20 minutes, before they decide to ignore him and go anyway.

IN AN ARTICLE BY TIME MAGAZINE, THE FOLLOWING:

"

Reports show that the chief CIA commander at the nearby annex in Benghazi DID tell the team of American security personnel to wait before rushing to the diplomatic compound. Operatives had "tactical disagreements about the speed with which the team should depart," according to a House accounting of the incident.

As the movie shows, security at the diplomatic compound was fatally thin and warning signs went unheeded.

Hillary Clinton has accepted responsibility for not arranging for better security in Libya, [AS BLOODY WELL SHE SHOULD!] and she was largely considered to have vindicated herself in a hearing in a House hearing in October." NOT A POLITICAL STATEMENT "It would be naive to think that some won't view it through a political lens," film director Bay said. "But it's not what we set out to do in the book or movie."

It's the pivotal — and most controversial — scene in the new film "13 Hours", a movie that Bay insists steers clear of politics, but which is bound to spark much political discussion nonetheless.

On Friday — the movie's opening day — the Washington Post quoted the now-retired CIA station chief, identified only as Bob, as strongly denying he ever issued such an order or anything like it.

In the Post report, the station chief, "Bob", also challenged the movie's depiction of him as

treating the security contractors —members of the so-called Global Response Staff — dismissively and derisively as "hired help,"

in the words of the film script.

Bay, the director, has stressed that he sees the movie as non-political, because it focuses on what he calls "a great human story, that got buried. And that's the story I'm telling: the guys who were on the ground. The men and women that were stuck in the CIA annex, and how they fought for 13 hours to get out of there alive."

Speaking in an interview last week in Miami promoting the movie, Bay also said that the filmmakers took great pains to present the facts accurately.

"We worked very hard to get the facts right from the research of the book that Mitch did to the amazing access I have from working 20 years with the military, from the boots on the ground, the people who were in country to the CIA, at a high-level meeting to get just the facts right, the recently released emails. We just had to get it right."

Benghazi survivors ungagged: CIA delayed rescue team & nixed air support

September 6, 2014

"A gag order was put on 33 surviving Americans.

In the words of USAF retired Colonel Dick Brauer, co-founder of 'Special Operations Speaks' (SOS), on March 1, 2013:

"The FBI has interviewed the survivors, but they refuse to release that information to Congress, let alone the American people.

At this juncture, the injured survivors are [ALLEGEDLY] hidden in a heavily guarded wing of Walter Reed National Military Medical Center.

Those not currently needing medical treatment are supposedly legally barred by non-disclosure agreements from even admitting they were present during the attacks – something that should have been fixed by the Whistleblower Protection Enhancement Act of 2012."

Now, three survivors — security operators at the secret CIA annex in Benghazi — are speaking out publicly for the first time in a Fox News special, airing tonight (Sept. 5) at 10 p.m. (EDT).

As security operators, they would be the first-responders to any attack on the consulate.

In a FOX News report, Sept. 5, 2014,

security contractors — Kris Paronto, Mark Geist, and John Tiegen – gave their first-hand account of what they saw and did that night.

Now, looking back, the security team said they believed that

if they had not been delayed for nearly half an hour

, or if the air support had come, things might have turned out differently.

"Ambassador Stevens and Sean [Smith], yeah, they would still be alive, my gut is yes," Paronto said.
Tiegen concurred, adding, "I strongly believe if we'd left immediately, they'd still be alive today."


In a statement to Fox News, a senior intelligence official insisted that, "There were no orders to anybody to stand down in providing support."

TEAM MEMBERS SAY THAT'S A LIE! Tiegen and Paronto say they WERE ordered to stand down: "No, it [stand down order] happened. It happened on the ground– all I can talk about is what happened on that ground that night. To us. To myself, twice, and to– to Tig, once. It happened that night. We were told to wait, stand– and stand down.
We were delayed three times."

In a statement to Fox News, a senior intelligence official

did allow that the security team was delayed from responding while the CIA's top officer in Benghazi tried to rally local support."
MAYBE THE CREW AT FOX ARE JUST TOO DUMB TO REALIZE WHAT THIS SAYS... IT SCREAMS THAT SOMEBODY IN THE CIA IN BENGHAZI DIDN'T WANT STEVENS TO BE RESCUED.
WE NEED TO FIND OUT WHY!

MAYBE THE CONGRESS OF THE UNITED STATES DOES NOT REALIZE WHAT CHAIN OF COMMAND MEANS?

LET'S LOOK AT HOW MANY CURRENTLY IN CONGRESS HAVE SERVED IN THE MILITARY....

"

The 114th Congress will be made up of 70 current members and 11 incoming members

of the U.S. House of Representatives who have served or are serving in the U.S. military.

On the Senate side,

three

incoming members (two of whom are currently serving in the House) are serving or have served in the military — Tom Cotton of Arkansas, Gary Peters of Michigan and Joni Ernst of Iowa.

There are currently only 13 members of the Senate who served in the military.

Compared to the 113th Congress, which began with 108 military veterans, the drop-off for the 114th Congress is only slight,

but over the past 25 years nearly every congressional delegation has had fewer veterans than the previous group. " THAT'S A TOTAL OF 97, 16 SENATORS OUT OF A TOTAL OF 100, 81 REPS, OUT OF A TOTAL OF 435!

97 VETERANS OUT OF 535 MEMBERS OF CONGRESS, AND WAY TOO FEW ON THE "HOUSE ARMED SERVICES COMMISSION" INVESTIGATING THE BENGHAZI AFFAIR EVER SERVED IN THE MILITARY.

TED CRUZ DAMNED SURE NEVER SERVED. WILLIAM "MAC" THORNBERRY NEVER SERVED.

ADAM SMITH NEVER SERVED.

TREY GOWDY NEVER SERVED.

JEFF SESSIONS WAS DEFERRED BY ATTENDING COLLEGE, NEVER SERVED.

JOHN BOEHNER, WHO APPOINTED GOWDY, NEVER SERVED, THOUGH ENLISTED.
"Boehner enlisted in the United States Navy but was honorably discharged after eight weeks because of a bad back.
8 WEEKS?
HE NEVER COMPLETED BASIC TRAINING?
BAD BACK?

JAMES AUSTIN SCOTT NEVER SERVED.

MIKE ROUNDS NEVER SERVED.

THOM TILLIS NEVER SERVED.

MIKE LEE NEVER SERVED.

ROY BLUNT NEVER SERVED.

SAXBY CHAMBLISS NEVER SERVED, (Received student deferments and was also given a medical deferment.)

DAVID VITTER NEVER SERVED.

DARRELL ISSA... LIED SEVERAL TIMES ABOUT HIS MILITARY SERVICE...
The Examiner published in May 1998 a devastating article detailing the conflicts between Issa's public statements and public records. and concluded that Issa's service "was marred by a bad conduct rating, a demotion and allegations that he had stolen a fellow soldier's car."

"That kid [DARRELL ISSA] stole my car out of the parking lot and took it to Cleveland, and I knew he did it," said retired 1st Sgt. Jay Bergey, who served with Issa in 1971 on the 145th Ordnance Detail, an Army bomb squad stationed near Pittsburgh.

"I confronted Issa. . .. . I got in his face and threatened to kill him, and magically my car reappeared the next day, abandoned on the turnpike," the retired soldier said in a phone interview from his home in Pennsylvania.

Issa was not prosecuted and "he left the unit very shortly after that," the former soldier said.

[ALSO] cited, his 1998 campaign biography saying he served in the Army nine years, even though records showed he served just over five years.

He was enlisted [ACTIVE DUTY] from 1970-1972 and was in a college Army ROTC program from 1972 through 1976.
COLLEGE ROTC...COLLEGE STUDENT...NOT ACTIVE DUTY.

Issa claimed he protected then-President Richard Nixon as part of an "elite Army bomb unit" at the World Series in 1971.

But it turns out Nixon didn't even attend the games, according to the Nixon Presidential Library .

The paper wrote that former soldiers "said it was impossible that Issa would have been involved if, as his service record indicates, he had been reassigned to the supply depot during the games."

SEE ALSO THE ARTICLE <HERE>. SO, ON CHAIN OF COMMAND...ON MILITARY PROTOCOL, THE SCREAMERS WHO DON'T KNOW WHAT GOES ON IN THE MILITARY NEED TO SIT THE HELL DOWN AND SHUT THE HELL UP!

UNTIL ONE HAS ACTUALLY SERVED, "BOOTS-ON-THE-GROUND", ONE CAN NEVER KNOW MUCH ABOUT WAR AND BATTLE AND MILITARY OPERATIONS!



I HAVE TO ASK AGAIN...WAS CHRIS STEVENS 'FRAGGED' BY THE CIA?



READ WHAT FOLLOWS CAREFULLY, AND JUST CONSIDER THAT POSSIBILITY.


FOX GETS DUMBER

NOV. 11, 2012

"Right from the start, the Pentagon and the CIA timelines do not match. (The CIA timeline, which was released on Nov. 1, states that at 9:40 p.m., "A senior State Department security officer at the U.S. Consulate in Benghazi called the CIA annex and requested assistance.") [WHY THE HELL SHOULD THE CIA TIMELINE BE SO READILY ACCEPTED WHEN THEY MADE SO MANY PRIOR ERRORS (OR WERE THEY INTENTIONAL ACTS?) AND WHEN SO MANY HAVE HIGHLIGHTED THAT THE CIA HAD KEPT SO MANY OTHER THINGS FROM BOTH THE GOVERNMENT AND CONGRESS ITSELF , BOTH RECENTLY AND IN MANY TIMES PAST, LIKE PRIOR TO 09/11/2001?]


A source at the CIA annex that night [THIS WAS ONE OF THE 5 SURVIVORS OF THE CIA-HIRED SECURITY CONTRACTORS WHO FLEW IN FROM TRIPOLI] told Fox News that when they first asked to go and help, they were told to wait.


[THEY WERE TOLD TO WAIT BY THE CIA STATION CHIEF...THEY WERE NOT U.S. MILITARY, BUT HIRED SECURITY BY THE CIA AND DID NOT COME UNDER MILITARY ORDERS.] Within 17 minutes of the start of the attack, AFRICOM commander Gen. Carter Ham, who happens to be visiting Washington and was in the Pentagon that day, redirects an unarmed, unmanned drone to Benghazi.

[WHY A DRONE? BECAUSE THAT IS ALL THEY HAD THAT WOULD GET THERE IN TIME TO DO MUCH OF ANYTHING, AS 9 TOP BRASS MILITARY WITNESSES AND OTHER MEMBERS OF THE MILITARY TOLD CONGRESS, BUT THAT DRONE WAS NOT ARMED.] At 10:32 p.m. (4:32 p.m. in Washington), 50 minutes after the incident began, the National Military Command Center, which is the operations center at the Pentagon where Ham is overseeing the operation, notifies Defense Secretary Leon Panetta and Joint Chiefs of Staff Chairman Gen. Martin Dempsey.

[NOTICE THE CHAIN OF COMMAND!
THE PENTAGON, NMCC, NOTIFIED WHO FIRST?
NOT CLINTON!
CLINTON WAS NOT IN THAT CHAIN OF COMMAND!
PANETTA WAS!] A CIA team left for the consulate at 10:04 p.m. -- 28 minutes before the Pentagon says Panetta and Dempsey were told the attack had occurred. [BIG QUESTION: HOW DID THIS TEAM, WHICH WAS IN TRIPOLI, LEARN ABOUT THE ATTACK BEFORE THE PENTAGON ALERTED THE SECRETARY OF DEFENSE THAT THE ATTACK WAS ON?
WHO CALLED THEM?
WHO TOLD THEM THE COMPLEX NEEDED HELP?
DID THEY JUST ASSUME THIS ON THEIR OWN?
HOW DID THEY FIND OUT?]

[PAY CLOSE ATTENTION TO THIS NEXT STATEMENT.]

" Sources at the CIA annex in Benghazi

[THAT SAME "SPECIAL TEAM" FROM TRIPOLI]

told Fox News in an interview on Oct. 25 that

they asked permission to leave for the consulate immediately and twice were told to wait. The CIA says the base chief was trying to arrange Libyan help. [KEEP IN MIND FOX "REPORTED", aka, sensationalized, THIS IN 2012, BEFORE ALL OF THE TOP BRASS TESTIFIED TO CONGRESS. SO, BACK IN 2012, THE CIA WENT ON RECORD SAYING THEY DELAYED THE SPECIAL SECURITY TEAM... BUT DID FOX PICK UP ON THAT AND ASK MORE QUESTIONS? NOPE! 'DUHHMB'.] At 5 p.m. in Washington, D.C. (11 p.m. in Libya), nearly an hour and a half after the attack began, according to the Pentagon's timeline, "Secretary Panetta and General Dempsey attend a previously scheduled meeting with the President at the White House." The attack has already been under way for 78 minutes, but no rescue forces from outside Libya have yet been mobilized.

[WHO ORDERS SUCH MOBILIZATION OF MILITARY FORCES?
NOT THE BLOODY STATE DEPARTMENT, NOT IN A MILLION YEARS!
BACK TO 'CHAIN OF COMMAND'. MAYBE NOBODY AT FOX EVER SERVED IN THE MILITARY OR ACTUALLY LOOKED INTO THE CHAIN OF COMMAND IN SITUATIONS LIKE THIS?

THE HIRED TEAM, THE CIA-HIRED TEAM, DID NOT COME UNDER 'MILITARY ORDERS'...THEY WERE A PRIVATELY-HIRED, EX-MILITARY TEAM, LIKE THE LIBYANS THE CIA ALSO HIRED, THE VERY LIBYANS WHO DIDN'T COME TO THE RESCUE WHEN STEVENS HIMSELF CALLED ON THEM FROM INSIDE THE SAFE ROOM.

LATER, DURING MILITARY TESTIMONY TO CONGRESS, THE TOP MILITARY MEN IN CHARGE OF THAT 'FIELD OF OPERATION' WOULD STATE AGAIN AND AGAIN THAT THE CIA NEVER ASKED FOR ON-GROUND SUPPORT, BUT ONLY FOR A MILITARY PLANE TO GET THEM THE HELL OUT OF THERE AFTER THEY MADE THE RUN TO THE AIRPORT.

THE CIA WAS RELYING TOO HEAVILY ON THEIR PAID LIBYAN SECURITY, WHICH HAD BASICALLY ABANDONED THEM FOR HOURS. BEFORE THE ATTACK BEGAN, DURING THE ATTACKS, AND NO ONE HAS QUESTIONED THE NEARLY ENOUGH ABOUT WHY THEY DIDN'T REQUEST AMERICAN SECURITY FORCES THERE THEMSELVES .
WHY WOULDN'T THE CIA WANT AMERICAN MILITARY GUARDING THAT COMPOUND?

ANOTHER VERY IMPORTANT UNANSWERED QUESTION IS 'WERE THERE ANY OF THOSE LOCALLY-HIRED LIBYANS AMONG THE MOB THAT ATTACKED THE BENGHAZI EMBASSY'? ] By 5:30 p.m. (11:30 p.m. in Libya), all surviving American personnel are rescued by the CIA annex team and leave the consulate for the CIA annex.

[WRONG! THE LIBYANS WHO FOUND STEVENS RIGHT WHERE HE WAS LEFT BY THE SOLE AGENT WHO ESCAPED OUT THE WINDOW TO THE ANNEX WITHOUT STEVENS OR SMITH, FOUND HIM BARELY ALIVE, BUT HE WAS FOUND, WHEN NO ONE ELSE HAD BEEN ABLE TO FIND HIM...WHY WE STILL DON'T KNOW!]

From 6:00 to 8:00 p.m. at the Pentagon, Panetta, Dempsey and Ham meet to discuss additional response options.

Sometime over the next two hours, according to the official Pentagon timeline, Panetta gives the "go code" for two Marine FAST (Fleet Anti-terrorism Security) teams to prepare to leave Rota, Spain. A Special Operations force which is training in Central Europe is told to "prepare to deploy to an intermediate staging base in southern Europe (Sigonella, Sicily), and a Special Operations team in the U.S. is told to prepare to deploy to Sigonella as well.

It isn't until 2:53 a.m. (about five hours after the incident began) that those orders are formalized by Panetta and the teams are told they can leave. [BY PANETTA...PANETTA...PANETTA, NOT CLINTON, BECAUSE CLINTON HAD NO SPOT IN THE CHAIN OF COMMAND.]

The official brief, according to those familiar with it, simply says that the plane landed at Sigonella at 7:57 p.m. on Sept. 12 -- 20 hours after the start of the attack, even though they were just a few hours away in Croatia.

[WHY REROUTE THEM ALL TO ITALY WHEN SOME WERE THAT MUCH CLOSER TO BENGHAZI? WHY WASTE THAT MUCH TIME? WHY DID TESTIMONY SAY IT TOOK THEM 6 HOURS TO PREPARE TO LEAVE FOR ITALY?] "It's not like you dial up the U.S. military and service members go down a fire pole, hop on a fire engine and go. That's not how our forces work, especially from a cold start," according to the senior U.S. defense official who briefed the Pentagon timeline.

"We are an excellent military, finest in the world, always prepared, but we are neither omniscient nor omnipresent." [BUT WHO DROPPED THE BALL ON DEPLOYMENT, INITIALLY, AND WHY?
WHY FOCUS ON TEAMS THAT THE TOP BRASS AND THE OTHER MILITARY WHO WERE 'IN-COUNTRY' SAY COULD NOT HAVE ARRIVED IN TIME TO SAVE ANYONE?

WHY NOT FOCUS, INSTEAD, ON WHY THE CIA FAILED TO MAKE IT CLEAR THAT THE HIRED LIBYANS THEY WERE SO RELYING ON WERE NOT COMING TO THEIR AID?
STEVENS CALLED THEM PERSONALLY FROM HIS CELLPHONE AND THEY REFUSED TO RESPOND!

WHY NOT FOCUS ON THE FACTS, AS TOLD BY THEIR OWN PAID SECURITY TEAM FROM TRIPOLI, THAT THE CIA DID DELAY THEIR RESCUE ATTEMPT OF STEVENS FOR 20 TO 30 MINUTES?

WHY DID THE CIA CHIEF, WHO WAS IN CONTACT WITH U.S. MILITARY NEVER ASK FOR ON-GROUND FORCES, BUT ONLY ASKED FOR A LARGER MILITARY RESCUE PLANE AND FOR "AIR SUPPORT"?

IT'S SAID THAT THEY IMAGINED JUST ONE AIRSTRIKE WOULD SCARE OFF THE ATTACKERS, BUT IS THAT A VALID THOUGHT?

THE MILITARY AND DEPARTMENT OF DEFENSE KNEW BETTER!
THEY'VE STATED THAT SUCH A STRIKE WOULD HAVE PROBABLY INCITED THE LIBYAN GOVERNMENT TO RESPOND IN AN EVEN WORSE WAY FOR THOSE ON THE GROUND AT THE BENGHAZI COMPLEX.

THEY SAW AN AIRSTRIKE AS A VERY BAD IDEA, EVEN FOR THOSE TRAPPED INSIDE THE COMPLEX.



AS PANETTA REPLIED TO JOHN McCAIN:

"You can't just willy-nilly send F-16s there and blow the hell out of the place without knowing what's taking place."


WHY DIDN'T THE CIA PROVIDE THE "INTELLIGENCE" THE MILITARY NEEDED TO ASSESS WHETHER OR NOT SUCH A STRIKE WAS WARRANTED OR WOULD POSE NO DANGER TO AMERICANS INSIDE THE COMPLEX?



REMEMBER WHEN THE CIA AND FBI WERE OPENLY BLAMED FOR "BAD INTELLIGENCE " REGARDING THE ATTACKS ON AMERICA ON SEPTEMBER 11, 2001?



IT WAS THAT VERY CIA "BAD INTELLIGENCE" THAT WAS THE EXCUSE THE BUSH ADMINISTRATION USED FOR SENDING AMERICAN FORCES TO IRAQ, LOOKING FOR "WMDs" THAT DIDN'T EXIST THERE!] In the days following the attack in Benghazi, the CIF team was sent by Ham to Tunisia to remain on standby in case they were needed for other contingencies, such as a retaliatory strike, according to senior U.S. military commanders with knowledge of the operation. Meanwhile in Libya, two hours and 48 minutes after the attack on the consulate began, a six-man rescue team organized by the CIA in Tripoli that included two Tier One Army Special Operators already in Tripoli on another assignment leave the capital to help.

However, they do not have a plane and end up chartering one too small to rescue the entire group in Benghazi and are required to make a round trip. They do not depart Benghazi with the last survivors and Ambassador Chris Stevens' body until 10 a.m. the next day.
The CIA says that their Tripoli rescue team landed in Benghazi at 1:15 a.m. on Sept 12."

THEY WERE HELD UP FOR HOURS AT THE AIRPORT. FACTS DON'T LIE.
AND IF WE BUT LOOK CLOSELY, WE SEE THE FACTS TWISTED, THEN RE TWISTED BY SOME MEMBERS OF CONGRESS AND MINDLESS SHEEP IN SERVICE TO THE "PARTY" INSTEAD OF TO AMERICA.

BUT IF WE HEED WHAT IS SAID BY THOSE WHO WERE THERE, THEN WHAT MIGHT WE SEE?
TRUTH, MAYBE, AS THEIR EYES SAW THINGS THERE? AFTER THE 450+ PAGES OF MILITARY TESTIMONY WERE RELEASED FOR PUBLIC SCRUTINY, SOME IN THE GOP ADMITTED THEIR ERRORS IN BLAMING CLINTON AND OBAMA AND REFOCUSED ON PANETTA AND THE MILITARY...DRIVEN TO FIND AT LEAST ONE 'WHIPPING BOY'.
BUT ONE OF THEIR NUMBER JUST KEEPS ON HAMMERING AT THE STATE DEPARTMENT ISSUING A STAND-DOWN ORDER, EVEN AFTER 30 HOURS OF TESTIMONY BY MILITARY COMMANDERS.

THAT ONE, THAT LOUDEST SCREAMER, IS DARRELL ISSA.
FACT-CHECKING DARRELL ISSA
A report by Republicans on the Armed Services Committee recently declared:

"There was no 'stand down' order issued to U.S. military personnel in Tripoli who sought to join the fight in Benghazi."

A bipartisan Senate Intelligence Committee report released in January said:
"The Committee has reviewed the allegations that U.S. personnel, including in the IC [Intelligence Community] or DOD, prevented the mounting of any military relief effort during the attacks, but the Committee has not found any of these allegations to be substantiated."
The chairman of the House Oversight and Government Reform Committee,

Rep.

Darrell Issa (R-Calif.), actually appears to acknowledge the findings, saying that it was not characterized as "stand down."



But then he uses the phrase again in a series of questions:

"Was there a stand-down order to Leon Panetta or did he just not do his job?
Was there a stand-down order from the president who said he told them to use their resources and they didn't use them?"
"Why was there not one order given to turn on one Department of Defense asset?"

[ISSA'S LACK OF COMPREHENSION IS SHOWING.
LIKE A DOG TO ITS VOMIT, HE GOES RIGHT BACK TO OLD 'BILLARY' & 'BIG O'.
BUT ALMOST IN THE SAME BREATH, HE MENTIONS THE DEFENSE DEPARTMENT, KNOWING THAT'S WHERE THE DECISIONS LAY!]

One could argue the response was slow, bungled or poorly handled.
But Issa is crossing a line when he suggests there was no response — or a deliberate effort to hinder it. Frankly, it would be rather surprising for a secretary of state to TRY to tell a defense secretary how to deploy his troops.

What does the evidence show?

The Facts
The official timeline of DOD actions on Sept. 11-12, 2012, shows that the incident began at 3:42 p.m., Washington time, and that by 5 p.m., Panetta and Gen. Martin Dempsey, chairman of the Joint Chiefs of Staff, were at the White House discussing possible options with Obama.

A Predator drone arrived over the Benghazi facility at 5:10 p.m. Between 6 p.m. and 8 p.m., Panetta convened a series of meetings and gave verbal authorization for the following actions:

1. A Fleet Anti-Terrorism Security Team (FAST) platoon, stationed in Rota, Spain, is told to deploy to Benghazi, while a second FAST platoon in Rota is told to prepare to deploy to the embassy in Tripoli.

2. A Special Operations force training in central Europe, known as the Commander's In-Extremis Force (CIF), is told to prepare to deploy to a staging base in southern Europe.

3. A Special Operations force based in the United States is told to prepare to deploy to a base in southern Europe.

(Separately, six U.S. security personnel left the U.S. Embassy in Tripoli for Benghazi and landed by 7:30 p.m., and "performed heroically," the report says.

Four other personnel had hoped to join them but were told to remain behind to defend diplomats there BY AFRICOM COMMAND.

That incident later led to allegations that they were ordered to "stand down," but the Special Operations commander [GIBSON] later told investigators that the decision was correct in hindsight because otherwise his team would not have been there to deal with the wounded arriving from Benghazi.)

The House Armed Services report makes it clear that Obama told Panetta to do what he needed to do — and that Clinton did not speak with him [PANETTA] on Sept. 11 as deployment decisions were made:

"[A]s to specifics" of the U.S. reaction, Secretary Panetta testified to the Senate that the President "left that up to us." Secretary Panetta said the President was "well informed" about events and worried about American lives.

He and General Dempsey also testified they had no further contact with the President, nor did Secretary of State Hillary Clinton ever communicate with them that evening.

A footnote added: "Secretary Clinton testified before the Senate Foreign Relations Committee in January 2013 that she and General Dempsey spoke about the attack on September 12.
Furthermore, she said on the day of the attack she participated in a 'secure video conference' which included 'senior officials' from DOD."

Here's how Panetta described Obama's instructions in his testimony:
"He basically said, do whatever you need to do to be able to protect our people there."

HOWEVER, the deployment of forces by Panetta turned out to be pretty poor.

It took six hours just for the units to prepare to depart for Libya.

Not until 17 hours after Panetta issued the order did the CIF finally make it to the staging base in southern Europe [ITALY].

An hour later, one FAST platoon arrived in Tripoli.
Thirty minutes after that, the Special Ops force from the United States arrived in Europe [ITALY].

The Armed Services report also says one FAST platoon was delayed because the troops had to pause at a base to change clothes because of a request from the Libyan government, which it said apparently feared combat-ready troops would "unduly alarm or inflame" Libyans.



So, contrary to Issa's claim that "not one order" was given to deploy one DOD asset,

there were plenty of orders.



Meanwhile, there appears to be no evidence that Clinton spoke directly with Panetta, in an apparent effort to override Obama's instructions.


So what is Issa talking about?


Frederick Hill, a spokesman for the Oversight Committee, said that Issa was speaking of Clinton and Panetta as "institutional actors" operating at the "highest levels of the State Department and the Department of Defense."

He suggested the shorthand of "Clinton" and "Leon" was used because it was easier for the audience to understand than "State" and "DOD." Last time we checked, the "State Department" was not a potential candidate for president.
AS ONE COMMENTER WROTE:
"This is where all of the Republican draft dodgers slither out of the ground to speak on military tactics..." LET US ALSO REMEMBER THAT LEON PANETTA SERVED EXACTLY 2 YEARS IN THE MILITARY AS AN ARMY INTELLIGENCE "INSTANT" 2nd LIEUTENANT, BUT WAS CIA DIRECTOR FOR THE SAME AMOUNT OF TIME, 2 YEARS.

IN WHICH DIRECTION MIGHT HIS 'LOYALTY' LIE? BEFORE 1971, PANETTA WAS A REPUBLICAN AND SERVED UNDER NIXON.

Panetta was assistant to Robert H. Finch, Secretary of the United States Department of Health, Education, and Welfare under the Nixon administration.

Soon thereafter he was appointed Director of the Office for Civil Rights.

Eventually forced out of office

in 1970, Panetta resigned and left Washington to work as Executive Assistant for John Lindsay, the then-

Republican

Mayor of New York City

(Lindsay would switch parties the following year.)

Like Lindsay, Panetta switched to the Democratic Party in 1971, because he thought that

"the Republican Party was moving away from the political center"

.

IS HIS PREVIOUS PARTY LOYALTY CREEPING BACK IN?

WHY HASN'T PANETTA, WHO WAS DEFINITELY IN THE LOOP OF THAT CHAIN OF COMMAND (UNLIKE CLINTON), BEEN GRILLED OVER AND OVER AGAIN, YEAR AFTER YEAR, FOR HOURS ON END... LIKE OTHERS HAVE BEEN, LIKE THE MILITARY, LIKE CLINTON, LIKE OTHER DEMOCRATS?

WHY HASN'T THE CIA STATION CHIEF BEEN RIPPED TO SHREDS BY THE SENATE, HOUSE, BY ANYONE?


AND, FINALLY, IF THE REPUBLICANS, WHO ABSOLUTELY DESPISE CLINTON AND WOULD PROBABLY SELL THEIR SOULS TO SATAN TO BRING HER DOWN AND SEE HER IN PRISON, HAD THE SLIGHTEST HARD-CORE EVIDENCE AGAINST THE OLD GIRL, WHY ON EARTH HAVEN'T THEY INDICTED HER, FORCED HER TO RESIGN IN 2012, OR FORCED HER OUT OF THE "RACE" FOR PRESIDENT?

WHY, AFTER ALL THE MILITARY TOP BRASS AND SURVIVORS OF THE CIA-PAID TEAM TESTIFIED FOR HOURS, DAY AFTER DAY, THAT THERE WAS NO STAND-DOWN ORDER FROM EITHER OBAMA OR CLINTON, DID THE CONGRESS TURN ON THE MILITARY AND NOT SO MUCH PANETTA?

INSTEAD OF INVESTIGATING THE CIA, NOW THOSE SCREAMERS IN CONGRESS ARE SCREAMING AT THE MILITARY!

MAYBE THE CIA HAS ENOUGH 'DIRT' ON THOSE CONGRESSMEN TO MAKE SURE THEY'RE NEVER INVESTIGATED?

MAYBE CONGRESS' LITTLE TEAM OF "INVESTIGATORS" IS SCARED OF THE CIA?
IF THEY CAN'T HANG OLD CLINTON, WHO WILL THEY PICK AS THEIR NEXT CANDIDATE FOR CRUCIFIXION IN CLOSED SESSIONS, BEHIND LOCKED DOORS, THEN PUBLICLY?

IT WON'T BE PANETTA, NOR THE CIA...SO WHO DOES THAT LEAVE?

NEXT!

========================

https://armedservices.house.gov/subcommittees/armed-services

In the 114th Congress, the House Armed Services Committee is led by Rep. Mac Thornberry (R-TX) with Rep. Adam Smith (D-WA) serving as the Ranking Member. The following members serve on the Committee:

Majority

(GOP)

John McCain, Arizona, Chair

Jim Inhofe, Oklahoma

Jeff Sessions, Alabama

Roger Wicker, Mississippi

Kelly Ayotte, New Hampshire

Deb Fischer, Nebraska

Tom Cotton, Arkansas

Mike Rounds, South Dakota

Joni Ernst, Iowa

Thom Tillis, North Carolina

Dan Sullivan, Alaska

Mike Lee, Utah

Lindsey Graham, South Carolina

Ted Cruz, Texas

Minority

(DEMS)

Jack Reed, Rhode Island Ranking Member

Bill Nelson, Florida

Claire McCaskill, Missouri

Joe Manchin, West Virginia

Jeanne Shaheen, New Hampshire

Kirsten Gillibrand, New York

Richard Blumenthal, Connecticut

Joe Donnelly, Indiana

Mazie Hirono, Hawaii

Tim Kaine, Virginia

Angus King, Maine[3]

Martin Heinrich, New Mexico