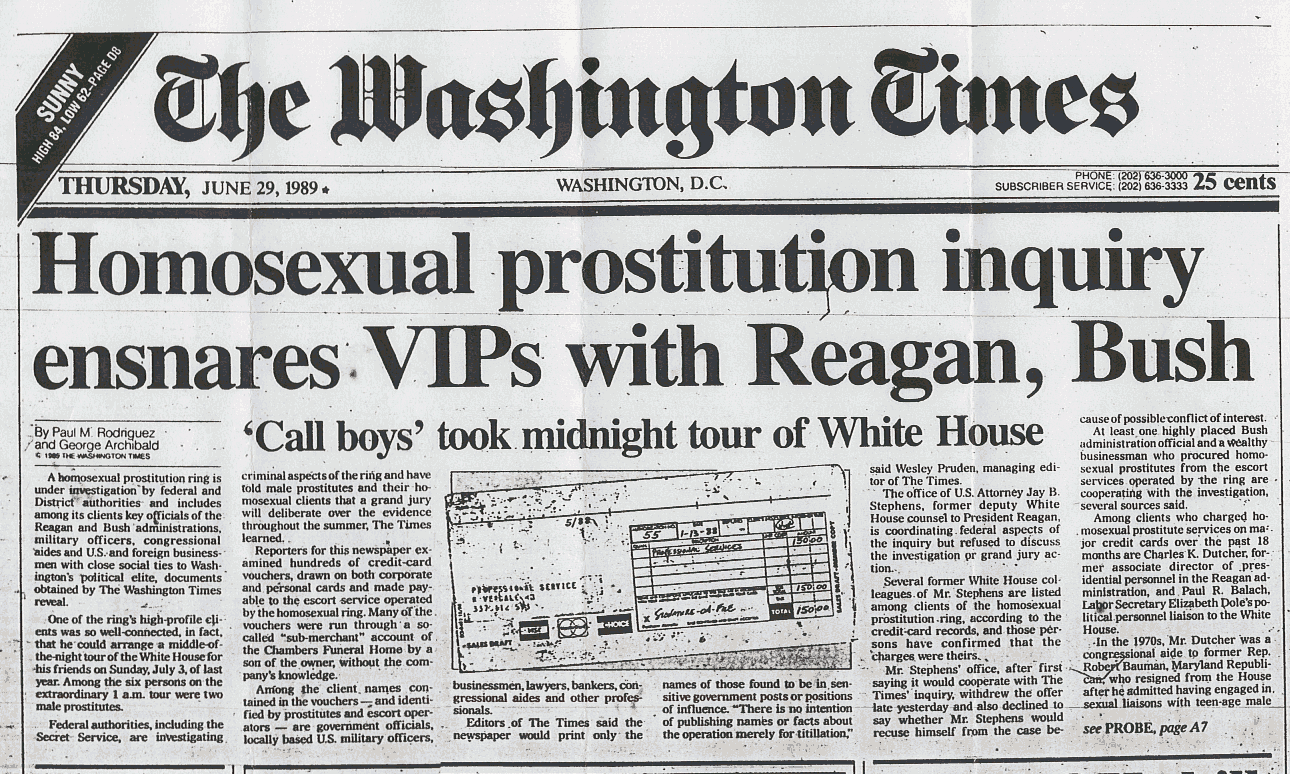 HEADLINE, JUNE 1989
MISSING FROM THE BOLD TYPE...CHILDREN WERE INVOLVED.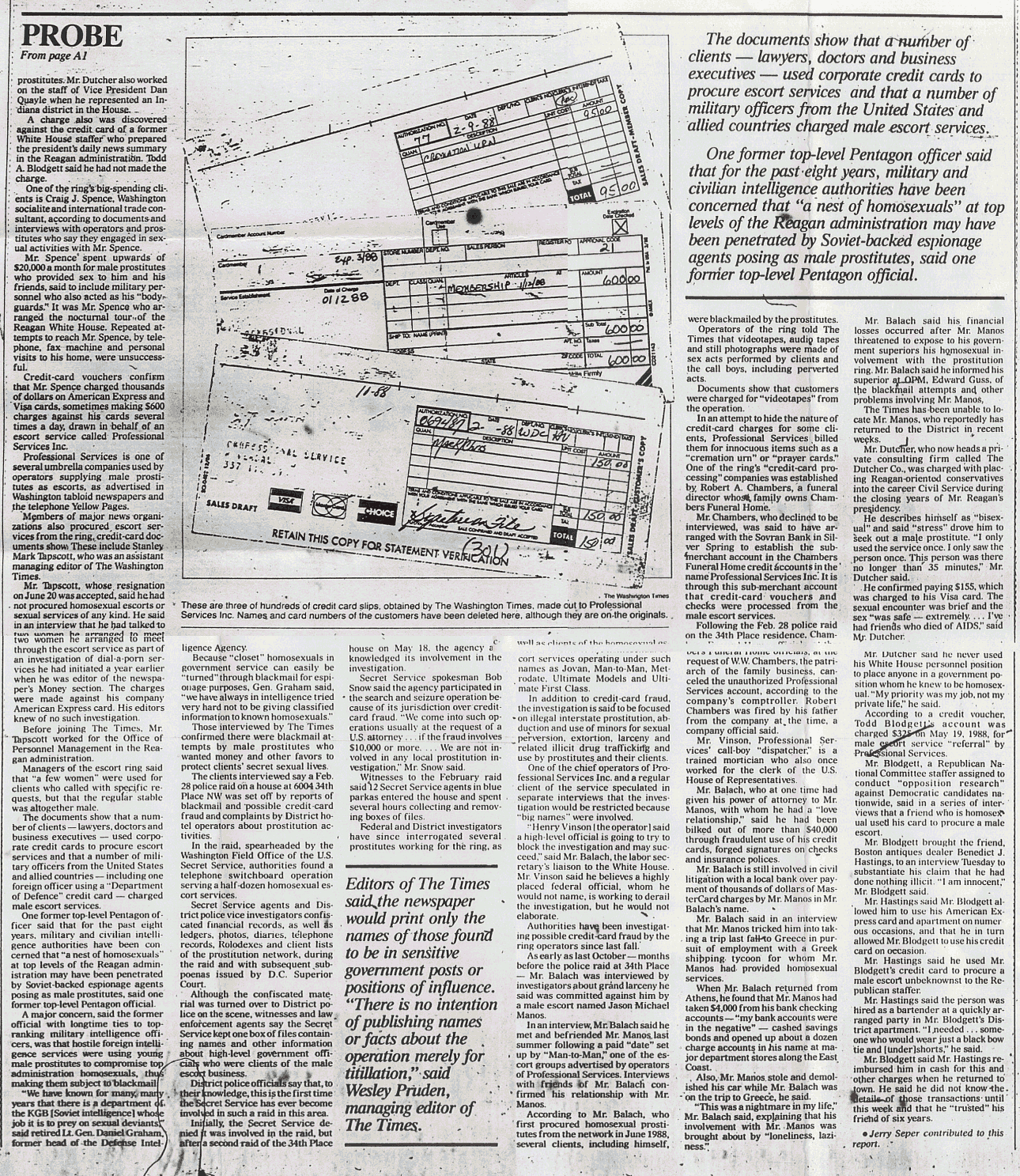 http://www.wanttoknow.info/mind_control/19890629_washington_times_2.gif
HAS PEDOPHILIA BEEN THE "DARK SECRET" AMONG AMERICA'S ELITE CIRCLE OF THE RULING CLASS ALL ALONG? DO MEN IN POWER USE CHILDREN TO MAKE THEM FEEL "MORE POWERFUL"? IS WASHINGTON RIFE WITH SUCH SINISTER SECRETS?
WHO WAS NAMED AND UNNAMED IN ONE OF THE BIGGEST CHILD SEX SCANDALS EVER SUPPRESSED IN AMERICA?
WHY WAS NOTHING DONE TO PROSECUTE ALL THOSE WHO HAD ABSOLUTE PROVEN LINKS TO THE SEXUAL ABUSE OF CHILDREN, TO THOSE "MIDNIGHT WHITE HOUSE TOURS" BY A "CALL BOY" SERVICE, TO WASHINGTON PARTIES WHERE CHILDREN WERE TRADED OR BOUGHT, OR RENTED FOR THE NIGHT?
WHY WERE THERE SO MANY SUDDEN DEATHS/SUICIDES AFTER THIS CAME OUT IN THE OPEN....EVEN THOUGH IT WAS HUSHED VERY QUICKLY?
AND WHAT ABOUT THE CLOSE RELATIONSHIP OF THE YOUNGER BUSH WHILE HE WAS IN OFFICE WITH A MALE PROSTITUTE, "JEFF GANNON", aka, "JEFF/JAMES GUCKERT"?
[GUCKERT IS THE MAN BUSH IS SHOWN KISSING]
THIS JEFF GANNON/JIM GUCKERT...WHO COMMANDED VERY HIGH DOLLAR FOR HIS "SERVICES".
MORE ON GANNON AND BUSH JUNIOR LATER.
June 29, 1989
"Homosexual prostitution inquiry ensnares VIPs with Reagan, Bush administrations. 'Call boys' took midnight tour of White House."
"A homosexual prostitution ring is under investigation by federal and District authorities and includes among its clients key officials of the Reagan and Bush administrations, military officers, congressional aides and US and foreign businessmen with close social ties to Washington's political elite. Reporters for this newspaper examined hundreds of credit-card vouchers, drawn on both corporate and personal cards and made payable to the escort service operated by the homosexual ring."
-- Washington Times, 6/29/1989
THE FULL TEXT OF THIS ARTICLE CAN BE FOUND AT
http://www.wanttoknow.info/890629washingtontimesfranklin
<<Among clients who charged homosexual prostitutes services on major credit cards over the past 18 months are Charles K. Dutcher, former associate director of presidential personnel in the Reagan administration, and Paul R. Balach, Labor Secretary Elizabeth Dole's political personnel liaison to the White House.
In the 1970s, Mr. Dutcher was a congressional aide to former Rep. Robert Bauman, Maryland Republican, who resigned from the House after admitted having engaged in sexual liaisons with teen-age male prostitutes. Mr. Dutcher also worked on the staff of Vice President Dan Quayle when he represented an Indiana district in the House.
A charge also was discovered against the credit card of a former White House staffer who prepared the president's daily news summary in the Reagan administration. Todd A Blodgett said he had not made the charge.
One of the ring's big spending clients is Craig J. Spence, Washington socialite and international trade consultant, according to documents and interviews with operators and prostitutes who say they engaged in sexual activities with Mr. Spence.
Mr. Spence spent upwards of $20,000 a month for male prostitutes who provided sex to him and his friends, said to include military personnel who also acted as his "bodyguards." It was Mr. Spence who arranged the nocturnal tour of the Reagan White House. Repeated attempts to reach Mr. Spence by telephone, fax machine and personal visits to his home, were unsuccessful.
Members of major news organizations also procured escort services from the ring, credit card documents show. These include Stanley Mark Tapscott, who was an assistant managing editor of The Washington Times.
Mr. Tapscott, whose resignation on June 20 was accepted, said he had not procured homosexual escorts or sexual services of any kind. He said in an interview that he had talked to two women he arranged to meet through the escort service as part of an investigation of a dial-a-porn services he had initiated a year earlier when he was editor of the newspaper's Money section. The charges were made against his company American Express card. His editors knew of no such investigation.
Before joining The Times, Mr. Tapscott worked for the Office of Personnel Management in the Reagan administration.
Managers of the escort ring said that "a few women" were used for clients who called with specific requests but that the regular stable was altogether male.
The documents show that a number of clients — lawyers, doctors and business executives — used corporate credit cards to procure escort services and that a number of military officers from the United States and allied countries — including one foreign officer using a "Department of Defence" credit card — charged male escort services.
One former top-level Pentagon officer said that for the past eight years, military and civilian intelligence authorities have been concerned that "a nest of homosexuals" at top levels of the Reagan administration may have been penetrated by Soviet-backed espionage agents posing as male prostitutes, said one former top-level Pentagon official. "We have known for many, many years that there is a department of the KGB [Soviet intelligence] whose job it is to prey on sexual deviants," said retired Lt. Gen. Daniel Graham, former head of the Defense Intelligence Agency.
Because "closet" homosexuals in government service can be easily "turned" through blackmail for espionage purposes, Gen. Graham said, "we have always in intelligence tried very hard not to be giving classified information to known homosexuals."
Although the confiscated material was turned over to District police on the scene, witnesses and law enforcement agents say the Secret Service kept one box containing names and other information about high-level government officials who were clients of the male escort business.
District police officials say that, to their knowledge, this is the first time the Secret Service has ever become involved in such a raid in this area.
Initially, the Secret Service denied it was involved in the raid, but after a second raid of the 34th Place house on May 18, the agency acknowledged its involvement in the investigation.
Secret Service spokesman Bob Snow said the agency participated in the search and seizure operation because of its jurisdiction over credit card fraud. "We come into such operations usually at the request of a U.S. attorney … if the fraud involves $10,000 or more … We are not involved in any local prostitution investigation," said Mr. Snow.
Witnesses to the February raid said 12 Secret Service agents in blue parkas entered the house and spent several hours collecting and removing boxes of files.
In addition to credit-card fraud, the investigation is said to be focused on illegal interstate prostitution, abduction and use of minors for sexual perversion, extortion, larceny and related illicit drug trafficking and use by prostitutes and their clients.
One of the chief operators of Professional Services Inc. and a regular client of the service speculated in separate interviews that the investigation would be restricted because "big names" were involved.
"Henry Vinson [the operator] said a high level official is going to try to block the investigation and may succeed," said Mr. Balach, the labor secretary's liaison to the White House. Mr. Vinson said he believes a highly placed federal official, whom he would not name, is working to derail the investigation, but he would not elaborate.
Operators of the ring told The Times that videotapes, audio tapes and still photographs were made of sex acts performed by clients and the call boys, including perverted acts.
Documents show that customers were charged for "videotapes" from the operation.
>>
FROM
GEORGE BUSH #1
's FIRST YEAR AS PRESIDENT , "CALL BOY" SERVICES WERE DISCOVERED VISITING THE WHITE HOUSE AT ODD HOURS,
SOME WERE SIGNED IN, BUT NOT OUT,
OTHERS WERE NOT SIGNED IN BUT LATER SIGNED OUT.
SECRET SERVICE AGENTS LOST JOBS, THE FBI WAS INVOLVED, BUT WHY WAS IT THEN JUST ALL SILENCED?
LAWRENCE E. KING
, A REPUBLICAN HIGH IN THE RANKS IN THOSE DAYS, WAS PROVIDING CHILDREN AND YOUNG MEN, EVEN A FEW WOMEN, AT PARTIES ALL OVER THE NATION. KING WAS ALSO BUSTED FOR HIS PART IN THE FRANKLIN COMMUNITY FEDERAL CREDIT UNION SCANDAL, WHICH ALSO LED TO A SEX SCANDAL OF GIANT PROPORTIONS.
KING WAS EVENTUALLY ARRESTED AND CHARGED, BUT ONLY FOR THE CREDIT UNION CRIMES, WAS CONVICTED OF MULTIPLE COUNTS OF CONSPIRACY, EMBEZZLEMENT, AND FALSIFYING ACCOUNTING BOOKS BUT ONLY SERVED A PORTION OF HIS SENTENCE (JUST 18 MONTHS!) OF 15 YEARS.
Paul A. Bonacci, one of the children who swore he had been "offered" to Washington pedophiles numerous times by King, won a default judgment of $800,000 in compensatory damages and $200,000 in punitive damages in a civil action against King in which the petition alleged kidnapping, mind control, satanic ritual abuse, and sexual abuse, and alleged various personal injuries, both physical and psychological.
The Judge did not rule on these allegations, but merely ruled on the motion for default judgment.
The judgment in U.S. District Court in Omaha, Nebraska, on February 27, 1999 was a default judgment following defendant King's failure to appear to respond to the charges. At the time, King was in prison having been sentenced in June, 1991 to 15 years.
Paul Bonacci has drawn a floor-plan of the inside living quarters of the White House, an area not available to the public. It has been confirmed that he must have seen these quarters first-hand.
Paul and other children told about youngsters, both male and female, being taken from orphanages, foster-homes, and Boys Town, Omaha, Nebraska, driven to Sioux City, Iowa (184 miles) and then flown to Washington, D.C. for sex orgy parties with dignitaries, congressmen, and high level public officials at Larry King's Embassy Row condominium.
Larry King rented this condominium for $5,000.00 per month while earning a salary of only $17,000 per year.
Bonacci also stated that pictures were taken at the parties by Rusty Nelson, Larry King's personal photographer.
According to Bonacci, many of the surreptitiously photographed public officials were thereafter blackmailed by Larry King and others.
WHY WAS THIS YOUNG MAN SLANDERED AND KING WAS SET FREE AFTER SERVING NO TIME FOR THE VERY ACTS BONACCI WON THE JUDGEMENTS FOR?
WAS IT BECAUSE NO ONE IN WASHINGTON WANTED A JURY TO HEAR THE NAMES OF THOSE BONACCI HAS SAID ATTENDED THESE CHILD MOLESTING ORGIES?
THE NEWS HIT THE MAJOR MEDIA IN JUNE,1989....THEN, JUST AS SUDDENLY, ALL WENT QUIET.
IT WAS 6 MONTHS AFTER GEORGE H.W. BUSH WAS SWORN IN.
"The almost endless DOCUMENTATION paints a chilling portrait of what is really going on in the upper echelons of what is often called the "ruling elite" here in America. The story involves children from orphanages in Nebraska, from Boys Town, from "foster care" being flown around the United States by top Republican officials in order to engage in child sex orgies with America's politicians, news media employees, rich contributors to both parties, high-level military, foreign "dignitaries", and even a few religious leaders.

It is a fact that during the 1980's, child sexual services were provided by top Republican officials to key bureaucrats and diplomats but most importantly, there is a chilling proximity of all of these events and personalities to the President of the United States at the time, George H.W. Bush.

There have been victims who, under oath and in interviews, claim that the President himself engaged in the illicit, perverse activities.

It is a tale of child sex, murder, espionage, blackmail, and huge payoffs. And all the players involved, from the White House to the CIA to the media barons to the Republican elite - right down to the orphanages and foster homes where they procured their victims, have gone mostly unpunished and the names of those involved have, in several instances, been "CLASSIFIED".
One repeat offender whose passport had been confiscated was given back the passport and left the United States.
This story was the second biggest scandal of the 1980's but media coverage was rapidly and completely obliterated by the Bush1 White House... a complete coordinated blackout by the ruling elite in cooperation with the American television networks and almost every mainstream media source in America.
Boy prostitutes, 15 years old (and younger) were taking midnight tours of the White House.

There are 19 more Washington Times articles in full text about this case available here http://web.archive.org/web/20010801215144/http://newsmakingnews.com/sexandcapitol7,18,01.htm
The book,
George Bush: The Unauthorized Biography
(1986), states that in 1985, Eulice (Lisa) Washington, told Youth Care Worker, Julie Walters, as documented in her
Department of Social Services March 25,1986 report
, that Larry King ran a massive child sex, homosexual, and pornography industry.
She described how beginning in tenth grade, she had been taken by plane by Larry King, with other youths, to be used as a child prostitute at parties in Washington, Chicago, and New York. Lisa said that at these parties, she sat "looking pretty and innocent" and guests could engage in any sexual activity they wanted except penetration.
Lisa named Vice President George Bush as in attendance at least twice, according to Walters' report. Lisa said she had first met Mr. Bush at the Dallas 1984 Republican Convention.
She also saw Vice President George Bush , Sr.,
at a party in Chicago
in September or October of 1984,
accompanied by two large white males.
Walters' report states; "She [Lisa] indicates that she sat on a table at the party while wearing nothing but a negligee. She stated that George Bush saw her on the table.
She stated she saw Vice President George Bush pay King money, and that Bush left the party with a nineteen year old black boy named Brent."

According to the Chicago Tribune of October 31, 1984, George Bush, Sr., WAS in Illinois campaigning for congressional candidates at the end of October, 1984.
Fortunately not all people in Washington are in on the crimes of the elite.

Now and then, a person comes along who sees these things being done and fights to end this evil force which is destroying the lives of innocent children. In this case, former Republican Senator John Decamp was involved in the production a documentary called "Conspiracy of Silence" it was to air May 3, 1994, on the Discovery Channel.

This documentary exposed a network of religious leaders and Washington politicians who flew children to Washington D.C. for sex orgies.

As the story goes, at the last minute before airing, there was a massive effort from key Washington politicians who were implicated in the scandal to exert pressure on the channel to threatened the TV Cable industry with restrictive legislation if this documentary was aired.


Almost immediately, the rights to the documentary were purchased by unknown persons who had ordered all copies destroyed.
A copy of this videotape was furnished anonymously to
former Nebraska state senator and attorney John De Camp who made it available to retired F.B.I. chief, Ted L. Gunderson.
While the video quality is not top grade, this tape is a blockbuster in what is revealed by the participants involved.
Conspiracy of Silence
(55 minutes) is now available for free viewing at the links below:
http://personalgrowthcourses.net/video/conspiracy_of_silence
https://www.youtube.com/watch?v=vBSIDQt5Dwc
https://www.youtube.com/watch?v=pcB1Nb7bbu8
....
You may find yourself becoming angry or upset while watching
Conspiracy of Silence.
Many people do.
Why the children who wanted to testify were harassed and terrified into silence, into recanting their explicit and detailed original testimonies is disgusting, to say the least.
The way those who did not recant have been treated by the press, by the courts, by society in general is criminal.
The pure, raw POWER that can stop investigations, make people "disappear", silence those who have been so wronged, and stop justice from being achieved for so many children is a sign that we live in a nation run by the wrong people!
That THOUSANDS of high-ranking, influential people used children for sex and got away with it sends the message loud and clear that ANYTHING GOES IN AMERICA...DO WHAT FEELS GOOD...SOMEONE WILL GET YOU OFF SCOTT-FREE, NO MATTER WHAT YOU DO, IF YOU KNOW THE RIGHT "SOMEONE".
For an excellent website filled with information about the Franklin case child sex abuse ring:
http://www.franklincase.org/
A DOCUMENTARY ALSO EXISTS ON VIDEO ABOUT THE FRANKLIN/KING SCANDAL:
https://www.youtube.com/watch?v=CcWrrBceuP4
PDF OF REPORT OF INVESTIGATION
http://www.wanttoknow.info/mind_control/finders_foia_report_child_abduction.pdf
PAY SPECIAL ATTENTION TO THE LAST PAGE.
REMEMBER CRAIG SPENCE?
On November 10, 1989, JUST 5 MONTHS AFTER THE SCANDAL BROKE,
Spence was found dead, dressed in a tuxedo in Room 429 the Boston Ritz Carlton, the city's most expensive hotel with three dollars in his pocket.
In black felt-tip marker he had written on a mirror of his room:
<<Chief, consider this my resignation, effective immediately. As you always said, you can't ask others to make a sacrifice if you are not ready to do the same. Life is duty. God bless America.
As a postscript, he wrote, "To the Ritz, please forgive this inconvenience."
>>
In January 1985, Spence registered with the U.S. State Department as a foreign agent for Japan and began lobbying for Japanese interests. Throughout the 1980s, Spence built a reputation as an influential lobbyist who represented many Japanese concerns and established close friendships with a number of leading Japanese politicians.
During a lengthy interview at a Manhattan apartment a few months before his death, Spence alluded to more intricate involvements.
"All this stuff you've uncovered (involving call boys, bribery and the White House tours), to be honest with you, is insignificant compared to other things I've done. But I'm not going to tell you those things, and somehow the world will carry on."
Spence entered a downward spiral in the wake of the Washington Times exposé, increasingly involving himself with call boys and crack, and culminating in his July 31, 1989 arrest at the Barbizon Hotel on East 63rd St in Manhattan for criminal possession of a firearm and criminal possession of cocaine.
Months after the scandal had died down, and a few weeks before Spence was found in a room of Ritz-Carlton Hotel, in Boston, he was asked who had given him the "key" to the White House.

Michael Hedges and Jerry Seper of The Washington Times reported that "Mr. Spence hinted the tours were arranged by 'top level' persons", including
Donald Gregg, national security adviser to Vice President George H. W. Bush at the time of the tours were given.
When pressed to identify who it was who got him inside the White House, Spence asked "Who was it who got [long-term CIA operative] Félix Rodríguez in to see Bush?", agreeing that he was alluding to Mr. Gregg.
GEORGE W. BUSH AND THE MYSTERIOUS JOURNALIST WHO WAS ALSO A MALE PROSTITUTE
"Pedophilia and male prostitutes in the White House: the Franklin Affair and Bush's Jeff Gannon"

April 16, 2010
http://www.examiner.com/article/pedophilia-and-male-prostitutes-the-white-house-the-franklin-affair-and-bush-s-jeff-gannon
<<Most Americans are unaware that a gay male prostitute was allowed over 200 visits to the Bush White House between 2003 and 2005 with a "press pass" issued by White House leadership. According to Secret Service public records of check-in and check-out dates and times (here and here), most of the prostitute's visits included several hours of time before and/or after press conferences, 32 times on days without press conferences, and
14 visits without checking out in apparent overnight stays at the White House residence of Mr. Bush.
The prostitute, Jeff Gannon, had no previous experience as a journalist and no association with any media when he began attending White House press conferences.
The 3-minute video [link below] shows pictures of Mr. Bush kissing, fondling and embracing Mr. Gannon
.
http://www.youtube.com/watch?v=3DB0CiVMCjw
>>
[NOTE: FOR DOUBTERS THAT GANNON WAS AN ADVERTISED PROSTITUTE, THE GUARDIAN GAVE LINKS TO EXPLICIT WEBSITES SHOWING A NUDE JEFF GANNON AND THIS SITE http://americablog.com/2005/02/man-called-jeff.html ELABORATES CONSIDERABLY ON THAT.]
The White House is the most difficult press conference in the world to attend and only open to the most credentialed professionals from major media, yet Mr. Gannon received special White House permission
without any connection to any media.

Months later, Mr. Gannon created a website with feeds from Republican news sources.
Secret Service would ordinarily declare a security emergency and conduct a full search of the White House if their records indicated a person hadn't checked-out at the end of a press conference.
ALLEGEDLY, GANNON BROKE THE NEWS OF THE ATTACK ON IRAQ 4 HOURS BEFORE THE INVASION BEGAN.
ONE MAJOR NETWORK PRODUCER COMMENTED THAT GANNON OFTEN KNEW THINGS IN ADVANCE AND WONDERED ALOUD HOW SUCH A "SMALL-TIME" REPORTER GOT SUCH "SCOOPS".
THERE ARE REWARDS FOR BEING "SPECIAL FRIENDS" TO ANY PRESIDENT, AS WE'VE SEEN TIME AND TIME AGAIN.
I AM UNABLE TO FIND THE ACTUAL COPIES OF THE "THE NEW JOURNAL:
The Magazine about Yale and New Haven, since 1967" WHICH REPORTEDLY MENTIONED BUSH JUNIOR AS A YALE CHEERLEADER LIVING WITH ANOTHER MALE CHEERLEADER, VICTOR ASHE II.

I CAN'T IMAGINE BUSH LEADING CHEERS AT YALE AS HE DID AT HIS PREP SCHOOL, YALE IS A MORE DEMANDING VENUE, BUT HE DID FURTHER ASHE'S POLITICAL CAREER, AND THEY DID ATTEND YALE TOGETHER, AND BOTH WERE MEMBERS OF SKULL AND BONES.

VICTOR ASHE II later became the mayor of Knoxville, Tennessee, and WAS the American ambassador to Poland, 2004-2009.
Sex and corrupt politics in DC is nothing new.
For example, during the Civil War there were 450 brothels in the capital.
Part of the mythology of Washington, however, is what might be called 'the Jim Lehrer Illusion', which is to say that all people in DC do is sit around and rationally debate policy alternatives.
In fact, Washington politics is also heavily driven by cowardice, bribery, blackmail, deceit, fear, loyalty to old buddies and even older bodies, cooptation, sex, and just plain crime. Journalists who pretend otherwise either don't understand what is going on or are covering for someone.
WHAT MAY BE A "SIMPLE DALLIANCE" TO JOE Q. PUBLIC IS NOT THE SAME WHEN POLITICIANS OR ANY WHO ARE FAMOU
S ENGAGE IN IT....THAT CAN LEAD TO BLACKMAIL.

LEST WE FORGET, WASHINGTON IS NOT SOME RURAL LITTLE TOWN FULL OF "EVERYDAY JOES".
THERE IS A LOT MORE GOING ON!

"The public often misunderstands the importance of Washington scandals, assuming them to be a simple dalliance, individual failing, or private offense.

What makes both sex and crime in DC different, at least when those in power are involved, is that there is far more opportunity for blackmail and far more skill at covering things up.
The blackmail may be used by members of one branch of government against those of another, by lobbyists against members of Congress, by the police against whomever they wish, and by foreign powers.

For example, one way to keep a congress member bought is for a lobbyist to provide him with high class prostitutes.
And it is noteworthy that both the Israelis and Boris Yeltsin apparently knew about Bill Clinton's affair with Monica Lewinsky before the American public did.
The city's ecology lends particular importance to gay sex simply because greater public antipathy makes it an even easier target for the blackmailer

;

witness the case a few years back when DC police officers were found to be running an extortion racket against those who visited gay bars.
The ability to cover up scandal or crime is also much greater in Washington.
This may be accomplished by relying on the social club rules of the federal city, through the aid of acquiescent journalists, by official spin or censorship, or by resort to the capital's various law enforcement agencies, each one beholden for budget and top appointments to some federal department.
For example, both the Attorney General and the U.S. Attorney (who handles all DC crimes) are appointed by the president.
The FBI, DEA, National Park police and the Secret Service, not to mention the Aqueduct police, all work for the president.
And the Metropolitan Police Department and the Capitol Police are under the thumb of Congress, which approves their budgets and exercises behind-the-scenes authority.

There is not a single police agency within the boundaries of Washington that does not report to the politicians of Congress or the White House.
AFTERMATH

SOMETHING TO REALLY THINK ABOUT...
The Guardian reported in January 2001 that Interpol, the international police agency, "has agreed to set up an electronic library of child sex victims at its headquarters in Lyon, France."

The first images that were to be processed into that database were 750,000 photos seized by British authorities in the Wonderland raids.

In April 2003, Britain's The Register reported that the U.S. Justice Department was setting up an even larger database:
A huge database system designed to find sexually abused children is under development in the US … The US Justice Department's Child Victim Identification Program will include a catalogue of thousands of illicit pictures seized from suspects and collected from the Web. This could make the Justice Department the "owner of the world's largest collection of child pornography," AP reports.
According to that AP report, child pornography investigators in several countries had already contributed images to the database, as had "the FBI, Secret Service, Postal Inspection Service and exploited-children groups."

The goal is for the system to "eventually include most of the illicit photographs in circulation on the Internet."
Advanced image recognition software will be utilized in an attempt match and identify the children in the photographic images, which will, as The Register noted, make it easier "to identify and locate sexually abused children."
[BUT HOLD ON! WON'T THAT SORT OF DATABASE ALSO COMPROMISE THESE CHILDREN? COULDN'T THE DATABASE ITSELF MAKE THEM TARGETS?
]
It is certainly within the realm of possibility that the high profile child pornography raids in recent years, which invariably result in relatively few arrests and even fewer prosecutions and convictions, are not intended to punish the victimizers, but to identify and compromise them.

And is it not inconceivable that the databases being compiled will be utilized as something of a recruitment list to identify those persons who have been 'preconditioned,' so to speak?
One thing can be stated with certainty about the thousands of victims of today's child pornography and child prostitution rings: some day, many of them will come forward to tell harrowing stories of their early childhood abuse.
They will speak of acts of depravity committed against children that are so heinous as to be almost beyond human comprehension.
And yet, as difficult as their stories will be to believe, they will be documented by the images stored in Interpol's computers, and in the U.S. Justice Department's computers.
But how many of these victims will be believed?"
HOW MANY WILL BE SILENCED BECAUSE OF WHO USED AND MOLESTED THEM?
HOW MANY DIDN'T LIVE TO POINT A FINGER?
__________________________________
SOURCES NOT CITED ABOVE:
http://www.thebirdman.org/Index/Others/Others-Doc-ConspiracyTheory&NWO/+Doc-ConspiracyTheory-NWO&Pedophilia&Homosexuality/PedophocracyPart6.htm

http://prorev.com/sexindc.htm
http://www.american-buddha.com/pervert.indeathspencetrueform.htm