Thick smoke from an airstrike by the US-led coalition rises in Kobani, Syria (Source: www.usnews.com)
MEANWHILE, WHO DRIVES, WHO PUSHES THIS WAR MORE THAN OTHERS AND HAS DONE SO FOR YEARS?

THE ANSWER IS IN THE FOLLOWING QUOTE FROM 'ASIA TIME

S

':




"

THE HOUSE OF SAUD AND THE "HOUSE OF ERDOGAN"' are trying .... through their military provocations. .... to get an extended Western military support which is coming."

NOT BECAUSE AMERICAN CITIZENS WANT IT!

The Pentagon-backed Syrian Democratic Forces recently fought a CIA-armed militia.
Such clashes have become routine. (Delil Souleiman / AFP/Getty Images)

NOT BECAUSE AMERICAN TROOPS WANT TO FIGHT IT.
.
It's an expensive, indeterminate, and definitely counter-productive intervention in Syria where we're actually fighting ourselves by proxy.
HERE'S WHAT AMERICA IS DOING IN SYRIA, COMPLIMENTS OF, IF ONE CAN BELIEVE IT, AMERICAN MAINSTREAM MEDIA.

NOT ONLY HAS AMERICA BECOME, PERHAPS, THE BIGGEST SELLER OF "BLACK MARKET" WEAPONRY IN THE MIDDLE EAST, WE'VE SOLD SO MUCH TO SO MANY THAT NOW WE HAVE LITTLE CHOICE BUT TO KEEP ON ARMING EVERYONE WE CAN TO THE TEETH.
IT'S INSANITY COMPLETELY REDEFINED.


FROM "THE WEEK", MARCH 29, 2016:

"U.S.-supported "moderate"(SYRIAN) militias find themselves fighting U.S.-supported Kurdish fighters in groups known as People's Protection Units (YPG). The former have the backing of the CIA, which supports their rebellion against the brutal Assad regime, coupled with their opposition to the radicalized Islam of ISIS.
The latter are funded, armed, and trained by the Pentagon, which sees the Kurds as a vital piece in the anti-ISIS coalition.
The Syrian rebels and the Kurds are fighting each other.
Oh, and it's getting worse.
The fighting has intensified over the past two months, as CIA-armed units and Pentagon-armed ones have repeatedly shot at each other as they have maneuvered through contested territory on the northern outskirts of Aleppo, U.S. officials and rebel leaders have confirmed. [Chicago Tribune]
Of course, Washington has not exactly been forthcoming with recognition about this counteractive dynamic. "Syria continues to be a very complex and challenging environment," said U.S. Central Command spokesman Col. Patrick J. Ryder, who seems to be a master of understatement.

He added, "I can tell you that we remain focused on supporting indigenous anti-[ISIS] ground forces in their fight against [ISIS]."

That's technically true, as both the YPG and the rebels are indeed fighting ISIS.
But it's also a supporting role that apparently does not exclude a proxy war against ourselves.
Of course, the Department of Defense (DoD) has told its Kurdish proxies to stop attacking the CIA-backed rebels, but with limited effect. To the rebels themselves, U.S. failure to control the YPG suggests America is not a trustworthy ally: As conflict among U.S.-supported groups continues, it looks like Washington is "just watching," in the words of one militia leader. "That is a major problem," notes Andrew Tabler of the Washington Institute for Near East Policy, who is an authority on Syria. "It's not just that it's a nonsense policy. It's that we're losing influence so rapidly to the Russians that people just aren't listening to us anymore."


For its part, the Pentagon insists that it backs the Kurdish YPG only insofar as it is doing the things we like:

Per a DoD official, the U.S. is "supporting the [YPG] east of the Euphrates River, in its fight against ISIS, but not in its new campaign against rebel groups to the west" — as if money isn't fungible and weapons and training can't be shared.

One reason American taxpayers are footing a seemingly endless bill to arm the YPG is that these Kurdish fighters face opponents who are also armed with American equipment. As the State Department said, ISIS "has obtained some heavy weaponry, and the Kurds need additional arms and we're providing those."

That's true as far as it goes, but it carefully avoids mentioning the source of that heavy weaponry ISIS is using: It includes hundreds of millions of dollars' worth of equipment which the United States military brought to Iraq following the 2003 invasion. Those materials were given to the Iraqi army, and are now in ISIS's hands.

So our government is arming the Kurdish YPG with American weapons to fight ISIS, which is also armed with American weapons.
And the American weapons "captured" by ISIS are being destroyed by still other American weapons in American airstrikes.
And the Syrian moderate militias, armed with American weapons, are fighting both the YPG and ISIS with their respective — you guessed it! — American weapons.
We've paid to arm all actors in this messy conflict at one point or another.

We're fighting ourselves by proxy. And we're bombing our own stolen stuff.
"It's very strange, and I cannot understand it," said Ahmed Othman, commander of one U.S.-backed rebel group in Syria, of the bizarre web of costly counter-productivity American foreign policy has become.
It is very strange indeed, and I can't understand it either."
CHICAGO TRIBUNE, MARCH 26, 2016

THAT "BATTLE FOR ALEPPO"? THAT WAS THE U.S. AGAINST THE U.S.
WHO WON?
THE CIA!

"Syrian militias armed by different parts of the U.S. war machine have begun to fight each other on the plains between the besieged city of Aleppo and the Turkish border, highlighting how little control U.S. intelligence officers and military planners have over the groups they have financed and trained in the bitter 5-year-old civil war.
The fighting has intensified over the past two months, as CIA-armed units and Pentagon-armed ones have repeatedly shot at each other as they have maneuvered through contested territory on the northern outskirts of Aleppo, U.S. officials and rebel leaders have confirmed.
Rebel fighters described similar clashes in the town of Azaz, a key transit point for fighters and supplies between Aleppo and the Turkish border, and March 3 in the Aleppo neighborhood of Sheikh Maqsud.

"It is an enormous challenge," said Rep. Adam Schiff of California, the top Democrat on the House Intelligence Committee, who described the clashes between U.S.-supported groups as "a fairly new phenomenon."
"It is part of the three-dimensional chess that is the Syrian battlefield," he said.

NO, BABY, IT'S SELF-DEFEATING AND IT'S BANKRUPTING AMERICAN TAXPAYERS!
"This is a complicated, multisided war where our options are severely limited," said a U.S. official, who wasn't authorized to speak publicly on the matter. "We know we need a partner on the ground. We can't defeat ISIL without that part of the equation, so we keep trying to forge those relationships."
(ISIL is an acronym for the Islamic State.)

AMERICA CREATES A NEW "MILITARY COALITION", AS IF WE HAVEN'T CREATED ENOUGH, SINCE REAGAN BACKED THE TALIBAM AS "FREEDOM FIGHTERS, WHICH GAVE US "AL QAEDA" WHO SPLIT FROM THE AMERICAN-BACKED TALIBAN, AND AL QAEDA GAVE US ISIS WHICH SPLIT FROM AL QAEDA AFTER AMERICA "HAD NO CHOICE" BUT TO OFFER JUST A LITTLE "AID" TO SOME "GOOD GUY" AL QAEDA FORCES WHO WERE GOING TO HELP THE AMERICAN GOVERNMENT OVERTHROW ASSAD IN SYRIA.
AND NOW, AMERICA FINDS ITSELF "NEEDING" THE HELP OF ALL THE OLD 'TERRORIST GROUPS' TO KILL AND ERASE ISIS.

OH, WHAT TANGLED WEBS WE WEAVE!

WHEN THE CIA, OPERATING OUT OF THE SO-CALLED "EMBASSY" IN BENGHAZI AND BEGINNING TO EARNESTLY RUN WEAPONS INTO SYRIA, BEGAN TRYING TO ROUND UP SOME OF THE WEAPONRY THAT AMERICA HAD SUPPLIED TO "REBEL FORCES" WE'D PAID, I MEAN "SUPPORTED", TO ASSASSINATE QADDAFI, THEY REBELLED, WANTED TO HANG ONTO WHAT WE'D SUPPLIED THEM.

FOUR AMERICANS DIED BECAUSE OF OUR "CIA COVERT OPS" IN LIBYA AND OUR INCESSANT SUPPLYING OF ARMS TO THE MIDDLE EAST SO THEY WILL ALL KILL ONE ANOTHER, AS THEY HAVE FOR OVER A THOUSAND YEARS WITHOUT AMERICA'S HELP.

BY SUPPLYING BIGGER, BETTER ARMS TO EACH WARRING FACTION, AMERICA MUST HOPE THE PROCESS OF MUTUAL GENOCIDE WILL BE SPED UP AND THE MIDDLE EAST WILL BE MINUS MILLIONS WHO STAND BETWEEN US AND "ALL THAT OIL".

OF COURSE, THOSE WHO HAVE SAID THAT OR WHO SEE THINGS THAT WAY COULD BE WRONG.

MAGICAL MANIPULATIONS:
FIRST FROM THE PENTAGON:

"Last year, the Pentagon helped create a new military coalition, the Syrian Democratic Forces.
The goal was to arm the group and prepare it to take territory away from Islamic State in eastern Syria and to provide information for U.S. airstrikes

The group is dominated by Kurdish outfits known as the People's Protection Units, or YPG. A few Arab units have joined the force in order to prevent it from looking like an invading Kurdish army, and it has received airdrops of weapons and supplies and assistance from U.S. Special Forces.
Gen. Joseph Votel, now commander of U.S. Special Operations Command and the incoming head of Central Command, said this month that about 80 percent of the fighters in the Syrian Democratic Forces were Kurdish.
The U.S. backing for a heavily Kurdish armed force has been a point of tension with the Turkish government, which has a long history of crushing Kurdish rebellions and doesn't want to see Kurdish units control more of its southern border.

THEN COMES THE CIA:
The CIA, meanwhile, has its own operations center inside Turkey from which it has been directing aid to rebel groups in Syria, providing them with TOW antitank missiles from Saudi Arabian weapons stockpiles.

While the Pentagon's actions are part of an overt effort by the U.S. and its allies against the Islamic State, the CIA's backing of militias is part of a separate covert U.S. effort aimed at keeping pressure on the Assad government in hopes of prodding the Syrian leader to the negotiating table.

Continued fighting among different U.S.-backed groups may be inevitable, experts on the region said.
"Once they cross the border into Syria, you lose a substantial amount of control or ability to control their actions," said Jeffrey White, a former Defense Intelligence Agency official. "You certainly have the potential for it becoming a larger problem as people fight for territory and control of the northern border area in Aleppo."
FROM U.S. NEWS & WORLD REPORT, JULY 13, 2016 :
"The black market in Syria and Jordan has an exciting new supplier of high-grade weaponry perfect for your next militia of questionable ideological motivation! It's called the U.S. government, and it's pumping new guns and other military equipment into the Mideast's underground economy on the regular, all courtesy of the American taxpayer.

That's the finding of the FBI's investigation of a November 2015 attack in Jordan which left five people, including two Americans, dead by means of CIA-provided equipment: Weapons shipments the CIA brought into Jordan to supply Syrian rebels were systematically stolen by Jordanian spies and sold on the black market, a tidy profit for criminals unwittingly supplied at our expense.
This revelation is the newest indication that Washington is failing miserably in its efforts to engineer the outcome of the Syrian civil war – but it's hardly the only evidence to that effect.
First, recall, the Pentagon decided to train theoretically moderate rebels to who would oppose both the autocratic Bashar Assad regime and the invasion attempts of the Islamic State group. But $500 million later, the program successfully trained just "four or five" guys. Not four or five militias, not four or five thousand of fighters – just four or five guys, who, per recent reports, now say they're struggling to hold onto their tiny outpost thanks to an absence of ongoing American support.
After that debacle, the Pentagon changed its training program to focus on militia leaders exclusively. That project has been 20 times as successful as the initial endeavor, but again, since the first round trained so few people you could count them on one hand, 20 times better means fewer than 100 fighters at a cost of millions of dollars.

But the Pentagon isn't the only branch of our government fiddling in Syria. The CIA is there too – beyond its role as a benefactor of the black market, that is. Unfortunately, the two agencies don't always coordinate so well, which is why we find Pentagon-backed Kurdish groups getting into skirmishes with CIA-backed militias. Yes, America is in a proxy war with herself in Syria, as fighters mutually armed by U.S. tax dollars use our beneficence to fight each other with increasing intensity.

Of course, one major reason we've armed these two factions to the teeth is that they're facing American-provided weaponry in the Islamic State group's hands: Hundreds of millions of dollars' worth of deadly largesse originally intended for the Iraqi army is now controlled by it.
In short, Syria is home to a many-sided arms race, and Washington is weaponizing all comers at Americans' expense.
This counterproductive mayhem has become all too typical of or government's attempts to solve Syria's problems, an intervention which reaches new heights of folly by offering no desirable outcome for the United States. Win, lose, or draw, in Syria we are all too likely to find ourselves stuck with an endless, costly nightmare situation better solved by neighboring countries who (unlike America) have clear and immediate national interests at stake in Syrian stability.

The case against our continued meddling in Syria has long been considerable, a string of one ineffective and wasteful mistake after another, so this news that the CIA is accidentally funneling arms to the black market where they are used to kill Americans is just the final clincher.

It's time to scrap Washington's misadventures in Syria once and for all."
ABOVE, SYRIAN REFUGEES, WHICH WE DID NOT SEE LEAVING IN SUCH LARGE NUMBERS UNTIL "THE SUPER-POWERS" STARTED BOMBING, STARTED ARMING EACH SIDE AGAINST THE OTHER.
.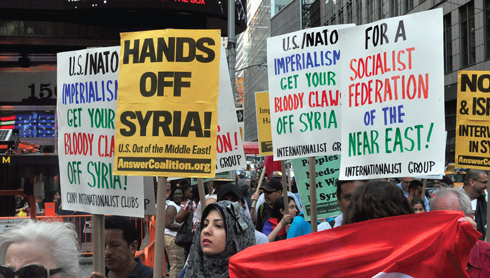 SYRIA SHOULD BE
LEFT TO THE SYRIAN PEOPLE TO DECIDE WHOM THEY WANT IN POWER, IF THEY WANT PROLONGED WAR.
WE ARE DESTROYING AN ENTIRE NATION, AGAIN...AGAIN! JUST LIKE IRAQ, JUST LIKE AFGHANISTAN, JUST LIKE LIBYA, NONE OF WHICH WERE INVOLVED IN THE 911 ATTACK ON AMERICA THAT SUPPOSEDLY STARTED ALL THIS CHAOS AND DEATH ALL OVER THE MIDDLE EAST.
THAT "POT" WAS STIRRED BY SENDING OUR TROOPS ANYWHERE BUT AGAINST THE NATION FROM WHICH THOSE ALLEGED HIJACKERS (AND BIN LADEN) CAME FROM, WERE AT LEAST IN SEVERAL WAYS FUNDED BY ........ AND WHAT NATION WAS THAT?


IT WAS NOT IRAQ, OR IRAN, OR AFGHANISTAN, OR LIBYA, OR SYRIA, OR JORDAN, OR PAKISTAN, OR TURKEY.

BIN LADEN'S HOME, LIKE ALMOST ALL OF THOSE 'HIJACKERS', WAS SAUDI ARABIA, AND SAUDI ARABIA HAS DEMANDED THAT AMERICA REMOVE ASSAD FROM POWER. THEY "FELT THREATENED BY HIM".

AS 'ASIA TIMES' WROTE IN FEBRUARY THIS YEAR:
"It is interesting to note how the House of Saud is equating the necessity of defeating Syria's 'legitimate leadership' with the defeat of IS.

However, if we closely look at the war-context against which the decision for a ground invasion has been taken, the agenda of Saudi Arabia and Turkey becomes clear: apart from removing Assad from power, they want to protect "opposition groups" such as IS..
If the Syrian Army backed by Russia's air support retakes Aleppo, they will be able to cut off potential supply routes coming from certain 'neighbouring countries.' They can then effectively corner 'opposition forces' which currently have more territory under their control than the Syria government.


This is a scenario that the House of Saud and the 'House of Erdogan' are trying to avoid through their military provocations. It is an open secret that the so-called 'Arab coalition' does not have enough military power to face the combined forces of Syria, Iran and Russia. While the 'Arab coalition' has certainly failed in Yemen (where they did not have to face Russia directly), they hardly stand any chance whatsoever to fight and win the battle in Syria.
The reason for such provocations is to get an extended Western military support which is coming.
The reason for such provocations is to get an extended Western military support which is coming. As part of the military exercises code named 'Shamal Storm,' the UK is reportedly going to deploy 1,600 soldiers and 300 vehicles to Jordan to carry out drills similar to preparations for the invasion of Iraq.
Smoke rises during clashes between forces loyal to Syria's President Bashar al-Assad and the Army of Islam fighters, (Source: The Mirror, UK)
IF THE SYRIAN PEOPLE WANT ASSAD GONE, THEY WILL MAKE IT SO, AS THEY SHOULD, AS THE IRAQI PEOPLE AND THE AFGHAN PEOPLE AND THE LIBYAN PEOPLE SHOULD HAVE BEEN ALLOWED TO DO AS WELL.