IT'S CALLED THE CHILCOT REPORT AND IT'S DUE OUT TODAY IN BRITAIN AFTER SEVEN LONG YEARS.
IT'S A SCATHING INDICTMENT OF BOTH BLAIR AND BUSH, BOTH OF WHOM LIED TO THEIR COUNTRIES ABOUT GOING TO 'WAR' IN IRAQ.

BRITAIN'S NEWSPAPER, THE GUARDIAN, IS ONLINE WITH LIVE UPDATES FOR ANY WHO WISH TO EXPLORE THIS FURTHER.

JUST <GO HERE> FOR THOSE UPDATES AS THE DOCUMENT IS BEING RELEASED.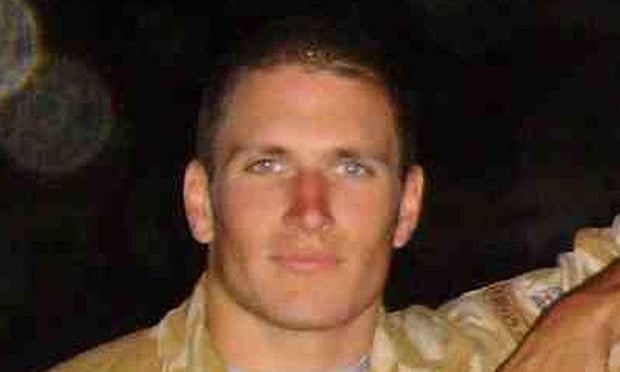 The parents of Senior Aircraftsman Peter McFerran, 24, pictured above, who was killed in southern Iraq in 2007, arrived at the QE2 centre in London shortly before the report was released to families at 8am, the Press Association reports. The couple had travelled to London from Flintshire and wore "Justice for Peter" T-shirts.
Sir John Chilcot, who began the investigation seven years ago, said he hoped his report would ensure that Britain does not go to war in the future without a very thorough assessment of the potential disadvantages.
He implied this did not happen in 2003.
He said:

"The main expectation that I have is that it will not be possible in future to engage in a military or indeed a diplomatic endeavour on such a scale and of such gravity without really careful challenge analysis and assessment and collective political judgement being applied to it.
There are many lessons in the report but that probably is the central one for the future."
Bush, like Powell before him, ultimately acknowledged that the search for WMDs had ended in failure.

As reported in his own memoir 'Decision Points', Bush wrote,

"No one was more shocked and angry than I was when we didn't find the weapons. I had a sickening feeling every time I thought about it. I still do." When discussing the lack of WMDs, Bush would later state, "It is true that much of the intelligence turned out to be wrong." In an interview with ABC's Martha Raddatz, Bush would once again confirm the lack of WMDs in Iraq.
BUT ALL THIS TIME, TONY BLAIR HAS STAYED THE COURSE,
STILL SAYS HE'D DO IT ALL OVER AGAIN.
SEEING THE TERRIBLE COST OF THIS PROTRACTED WAR BASED ON LIES, HOW CAN BLAIR OR BUSH OR ANYONE INVOLVED IN THE INITIAL DECEPTION SAY SUCH A THING?
John Miller, whose son Simon was one of six military policemen murdered in Iraq in 2003, told Sky News this morning that he hoped Tony Blair would be put on trial at the international criminal court.
"There's got to be some kind of court case, be that in The Hague or elsewhere," he said. "I want to see him in the dock."
WE NEVER SHOULD HAVE LOST ALL THOSE PRECIOUS LIVES.
IN APRIL, 2016, ONE OF THE LUNATICS RUNNING FOR THE OFFICE OF PRESIDENT OF THE U.S., REPUBLICAN CANDIDATE DONALD TRUMP, MADE THE GOP CRINGE WHEN HE STATED THE KNOWN FACT,

"You call it whatever you want. I want to tell you. They [the Bush administration] lied. They said there were weapons of mass destruction [in Iraq]; there were none. And they knew there were none. There were no weapons of mass destruction."

He also stated "We spent $2 trillion, thousands of lives. Obviously, it was a mistake. George Bush made a mistake. We can make mistakes. But that one was a beauty. We should have never been in Iraq. We have destabilized the Middle East."

Trump's statement went against an unwritten rule in the Republican establishment which states that it is taboo to bring up the subject of the WMDs that were not found after the invasion and occupation of secular-Baathist Iraq..."

WHILE REPUBLICANS ARE FUMING OVER THE FBI NOT INDICTING HILLARY CLINTON FOR THAT PRIVATE EMAIL SERVER BUSINESS, ACROSS THE POND, BRITAIN IS WINDING UP

THIS

7-YEAR INQUIRY INTO THE IRAQ WAR

THAT JUST MAY REOPEN THE CASE AGAINST GEORGE W. BUSH, AS IT SHOULD.



WELL, AMERICA PUT SADDAM INTO POWER, USED HIM LIKE A CHEAP TOOL AGAINST IRAN AND THEN HUNG HIM, BUT THE BRITS PRESSED ON, DRAGGED ALONG BY A WILLING BUSH ACCOMPLICE, TONY BLAIR.

[SEE ALSO US and British Support for Hussein Regime - Global Policy Forum]


BEGINNING IN 2009, THE CHILCOT INQUIRY DUG DEEPER AND DEEPER INTO THE FEARSOME WATERS OF FACTS TO GET TO THE TRUTH AT THE BOTTOM OF IT ALL, AND LO, AND BEHOLD, AFTER SPENDING OVER $13 MILLION, THEY THINK THEY HAVE ARRIVED.

SOME WANT TO TRY BLAIR AND IMPEACH HIM

USING A VERY OLD ENGLISH LAW THAT SOME SAY THEY WILL EVOKE JUST TO MAKE BLAIR PAY FOR HIS COMPLICITY WITH BUSH.

AND, ALAS FOR REPUBLICANS IN AMERICA, BRITAIN WILL RELEASE OVER 130 CONVERSATION BETWEEN GEORGE BUSH, THE SECOND,,AND THEIR OWN TONY BLAIR.

IF IT'S ANYTHING LIKE WHAT WE'VE ALREADY SEEN COMING FROM THOSE 'DOWNING STREET MEMOS' THE BRITS 'LEAKED', WHICH PROVED BUSH PLANNED TO ATTACK IRAQ BEFORE THE WMD FIASCO, I CAN HARDLY WAIT TO SEE WHAT EXCUSES THE REPUBLICANS WILL USE TO NOT TRY OUR EX-LIAR AND NOT ADMIT THAT BUSH OUGHT TO HAVE BEEN IMPEACHED AS WELL.

AFTER ALL, BUSH LED BLAIR DOWN THE OLD GARDEN PATH....HE JUST DIDN'T KISS HIM IN THE MOUTH IN THE ROSE GARDEN AS HE DID THE SAUDI MONARCH... OR DID HE???

FROM NBC NEWS:
July 5, 2016

"CHILCOT REPORT: BRITAIN'S IRAQ INQUIRY WILL FINALLY BE RELEASED"


"The Iraq Inquiry was set up in July 2009 by Blair's successor, Gordon Brown, and was meant to take just one year to complete.

Seven years later, it has cost the British taxpayer £10,375,000 ($13.56 million), with Chilcot, and his committee members being paid between $750 and $1,000 every day.

A key question will be Blair's legal basis for entering the war.
Blair told the Iraq Inquiry in January 2010 that intelligence at his disposal had indicated "beyond doubt" that Saddam had weapons of mass destruction — and that he did not regret the decision to invade.
Blair's critics claim he was too cozy with the Bush in the run-up to the war, with newspaper cartoons at the time depicting the British leader as a lapdog to the president.
The Iraq Inquiry was commissioned to examine "the way decisions were made and actions taken" before and during the Iraq war, as well as "to establish as accurately and reliably as possible what happened, and to identify lessons that can be learned."
In addition to nearly 4,500 Americans and countless Iraqis, the Iraq war cost the lives of 179 British servicemen and women.

Many current U.K. politicians now openly say entering the war was a mistake.
"In the case of Iraq, some people maintain the war was legal," former U.N. weapons inspector Hans Blix told the Iraq Inquiry in July 2010. "I am of the firm view that it was an illegal war. I think the vast majority of international lawyers feel that way."
"I think it was an illegal war — I'm confident about that," Labour's own current leader, Jeremy Corbyn, told the BBC last year. "Is [Blair] going to be tried for it? I don't know. Could he be tried for it? Possibly."
The lawmakers, led by former Scottish National Party leader Alex Salmond, want to use legislation that hasn't been deployed since 1806, according to the newspaper, although it is not clear how credible this challenge would be.
Even for the most avid bookworm, reading the whole thing will present something of a challenge. The 12-volume report will run for a staggering 2.6 million words — around 33 times longer than the first "Harry Potter" novel and almost 4 ½ times longer than Leo Tolstoy's Russian epic "War and Peace."
Anyone can order a copy — though it will cost £767 (around $1,000). An executive summary — itself some 300 pages — is available for £30 ($40).

The Iraq Inquiry also will publish records from more than 130 conversations between Blair and George W. Bush, according to Reuters. "
BACK IN 2010, THERE WAS AN OPEN LETTER SENT TO THE INQUIRY LEADER FROM MANY WELL-KNOWN PEOPLE WHO HAD LONG CLAMORED FOR JUSTICE...

You stated the Iraq Inquiry would not apportion blame, but if it produces evidence that this country's invasion and occupation of Iraq was illegal, then the public deserves that the matter not be allowed to rest there. As it is, the Inquiry's Legal Advisor Sarah Goom has confirmed that if the Inquiry receives any 'new evidence that criminal offences have been committed', it would be obliged to refer that evidence to the appropriate investigating authority.
You also said the Inquiry is not 'here to provide public sport or entertainment.' Justified public outrage is neither, and must be fully and appropriately addressed. You added, 'We ask fair questions and we expect full and truthful answers.' Given Tony Blair's past public assertions on Iraq, the public expects great depth and persistence when you examine him, with particular and detailed attention being addressed to all relevant issues of international law.
What Mr Blair knew about the lack of weapons of mass destruction held by Iraq , and when he knew it, is central to whether the invasion of Iraq had any authority without the support of a second UN resolution.

In December 2009 he said that even had he known there were no WMD, he would still have thought it right to invade Iraq in order to remove Saddam Hussein, though he would have had to 'deploy other arguments'. He had tried to argue that our country was under threat from WMD.

To argue for invasion in order to effect regime change shows a willingness to flout international law.
We therefore request that the Inquiry press Mr Blair on his understanding of international law in relation to the use of force, and especially in relation to effecting 'regime change'.
In a democracy the citizens have a right to be truthfully informed of the reasons for recourse to war. Mr Blair must be questioned rigorously and all his evidence given in public, rather than being hidden behind a veil of 'national security'.
The Inquiry has already demonstrated that, due to lack of post-invasion planning, organisation and funding, this country could not fulfil its obligations as an occupying force to guarantee provision of necessities such as health care.
Should the Inquiry produce evidence of illegality regarding the invasion and subsequent occupation of Iraq then Mr Blair, as the individual ultimately responsible for the decision to commit this country to the invasion, must be held to account. If not, the whole nation – its citizens, its reputation and its democracy – will continue to pay a heavy price.

SIGNED,
Faruq Ziada – Former Iraqi Ambassador

Hans-C. von Sponeck – UN Humanitarian Coordinator for
Iraq
(1998-2000)

Craig Murray – Former UK Ambassador and author

Sabah Al-Mukhtar – President, Arab Lawyers Association, UK

Richard Falk – Albert Milbank Professor of International Law Emeritus, Princeton University

Professor Ken Booth FBA, AcSS, FRSA – Dept of International Politics, Aberystwyth University

Dr. Eric Herring – Reader in International Politics, University of Bristol
Robert Manson – Lecturer in Law, founder of INLAP

George Farebrother – Institute for Law Accountability & Peace, World Court Project
Jo Wilding – Barrister; author Don't Shoot the Clowns; documentary: Letter to the Prime Minister
Dr Rosalie Bertell, Ph.D., USA - International Physicians for Humanitarian Medicine
Air Commodore Alastair Mackie (Ret'd) – Vice President CND
Commander Robert Green, Royal Navy (Ret'd) – Disarmament & Security Centre NZ
John Pilger – Journalist, author, documentary maker
Geoff Simons – Extensive author on Iraq, inc. They Destroyed Iraq and Called it Freedom
Nicholas Wood – Author, War Crime or Just War?
Aly Renwick – Ex-soldier, author Hidden Wounds
Lesley Docksey – Editor, Abolish War
Felicity Arbuthnot – Journalist, co-author Baghdad, Great City series
Hussein Al-Alak – Harvard International Law Review contributor
Bruce Kent – Vice President, Pax Christi
Dr Tony Kempster – Anglican Pacifist Fellowship
Dr Kate Dewes – Director Peace Foundation Disarmament and Security Centre
Sue Gilmurray – Chair, Movement for the Abolition of War
Tahrir Swift – Women Solidarity for an Independent and Unified Iraq
Michael Culver – Make Wars History
Joe Letts – Joint Leader, Human Shield Convoy to Baghdad , 2003
Brian Haw – Parliament Square Peace Campaigner
Lynda Holmes – mother of soldier and member of Military Families Against War


WE'VE KNOWN OUR IGNOBLE LEADERS LIED FOR OVER A DECADE NOW, BUT NOTHING HAS BEEN DONE ABOUT IT.

OBVIOUSLY, JUDGING FROM THE CURRENT SYRIAN DEBACLE AND AN ESCALATION OF OUR MILITARY BACK TO IRAQ, NEITHER THE PEOPLE OF THE UK NOR IN AMERICA HAVE LEARNED TO QUESTION WHY WE ARE IN THE MIDDLE EAST, AND ARE WILLING FOR THOUSANDS MORE TO DIE IN WHATEVER UNDECLARED WARS OUR TRAITOROUS LEADERSHIP TELLS US WE MUST FIGHT.

WHAT WILL COME OF IT ALL, THESE "NEW REVELATIONS"?
PROBABLY NOTHING MORE.


WHO WILL BE TRIED AND/OR IMPEACHED?
NO ONE.

WHY DO I SAY THIS?

BECAUSE NEITHER HERE NOR IN THE UK DO THE PEOPLE HAVE ANY FURTHER HOPE FOR RIGHT, OR RIGHTS.
IN AMERICA AND IN BRITAIN, IT APPEARS, THE MASSES JUST WON'T PRESS THIS OR ANYTHING ELSE TO THE MAT AND DEMAND ANYTHING ANYMORE.

CITIZENS ON BOTH SIDES OF THE POND ARE CONTENT TO BE SCREWED-OVER AND LEFT WITH THE BURDENS OF PROTRACTED, SENSELESS, UNDECLARED WARS BEGUN AND EXTENDED FOR THE PROFITS OF THE MILITARY-INDUSTRIAL COMPLEX AND THE ELITES WHO DECIDE WHEN AND WHERE NATIONS WILL GO TO WAR.

WE HANDED IT ALL OVER TO THOSE WHOM NO ONE IN THEIR RIGHT MINDS WOULD TRUST TO LEAD A NATION AND, HAVING DONE SO, MAYBE TOO MANY ARE TOO EMBARRASSED TO SAY, "NO, WE WERE WRONG, AND WE WANT OUR POWER BACK. WE WANT TO BE THE ONES WHO DECIDE. WE DEMAND YOU LISTEN TO US AND DO AS WE SAY!"

IF IT ISN'T EMBARRASSMENT OR "PARTY LOYALTY" THAT PREVENTS A LOUD OUTCRY, THEN THAT LEAVES JUST ONE REASON WHY SO MANY WOULD TOLERATE SO MUCH FOR SO LONG....

FEAR.

WE'RE CONDITIONED TO FEAR.

BUT THE MAIN THING WE'RE MOST RECENTLY PROGRAMMED TO FEAR IS NOT EVEN A REALITY, JUST A GROWING ABSTRACT USED TO KEEP US AFRAID, AS GORE VIDAL SO APTLY PUT IT...
In a world of fabrication, intended deceit, propaganda, accidental error and oblivious intellectual mediocrity,







______________________________

FURTHER READING:

This material highlights the various military, intelligence, and financial assistance given to Saddam's regime by the US. In 1986, former Vice President George H.W. Bush traveled to the Middle East, repeatedly encouraging Saddam to step up Iraq's bombing campaign against Iran. In addition, the US supplied Saddam with several big orders of helicopters and provoked a diversionary engagement with the Iranian navy in coordination with a major Iraqi offensive. (Global Policy Forum)
This report by the Senate Banking Committee analyzes the US's exports of warfare-related goods to Iraq and their possible impact on the health consequences of the Gulf War. The report concludes that the US provided Iraq "with 'dual-use' licensed materials which assisted in the development of Iraqi chemical, biological and missile-system programs." (Gulflink)

As part of his call for regime change in Iraq, George W. Bush has accused Saddam Hussein of using poison gas against his own people. However, in 1988 the US worked to prevent the international community from condemning Iraq's chemical attack against the Kurdish village of Halabja, instead attempting to place part of the blame on Iran. (International Herald Tribune)
As President Reagan's Middle East envoy in the early 80s, current US Secretary of Defense and leading Bush administration hawk, Donald Rumsfeld, offered support to Saddam Hussein during the Iraq-Iran conflict with knowledge that the Iraqis were using chemical weapons. (Guardian)
Former US Ambassador to Iraq Ms. April Glaspie met with Saddam Hussein on July 25 1990, only 8 days before he invaded Kuwait. According to this excerpt from a transcript of their meeting, the two talked about oil prices, how to improve US-Iraq relations, and how the US has "no opinion on the Arab-Arab conflicts, like your border disagreement with Kuwait." (New York Times)