"WE ARE ONE 'TRIGGER EVENT' AWAY FROM SEEING MARTIAL LAW DECLARED."
"WASN'T IT, IN ESSENCE, MARTIAL LAW IN BOSTON AFTER BOSTON MARATHON BOMBINGS?"
Apr 19, 2013 -

"All of Boston" should shelter in place, Massachusetts Gov. ... Repeat--Do not answer door, stay away from windows, keep doors locked,"
Apr 19, 2013 -

All students and staff should stay in doors. Be sure to keep doors locked and stay away from windows to stay safe."
[PLEASE NOTE: WHILE NATIONAL GUARDSMEN WERE DEPLOYED, MARTIAL LAW WAS NOT ENACTED BY THE GOVERNOR OF MARYLAND. THE ABOVE IS FROM A "WHAT IF" YOUTUBE VIDEO. SEE ARTICLE :
Martial Law: Police, National Guard invade Baltimore streets


Apr 30, 2015 -

This is a glimpse of what a martial law scenario would look like with militarized police and national guard being deployed to quell the riots in Baltimore.]





Martial Law, Definition:
http://legal-dictionary.thefreedictionary.com/Martial+Law

"The exercise of government and control by military authorities over the civilian population of a designated territory.

Martial law is an extreme and rare measure used to control society during war or periods of civil unrest or chaos. According to the Supreme Court, the term martial law carries no precise meaning (Duncan v. Kahanamoku, 327 U.S. 304, 66 S. Ct. 606, 90 L. Ed. 688 [1946]). However, most declarations of martial law have some common features. Generally, the institution of martial law contemplates some use of military force. To a varying extent, depending on the martial law order, government military personnel have the authority to make and enforce civil and criminal laws. Certain civil liberties may be suspended, such as the right to be free from unreasonable searches and seizures, freedom of association, and freedom of movement. And the writ of Habeas Corpus may be suspended (this writ allows persons who are unlawfully imprisoned to gain freedom through a court proceeding).

In the United States, martial law has been instituted on the national level only once, during the Civil War, and on a regional level only once, during World War II. Otherwise, it has been limited to the states. Uprisings, political protests, labor strikes, and riots have, at various times, caused several state governors to declare some measure of martial law.

Martial law on the national level may be declared by Congress or the president. Under Article I, Section 8, Clause 15, of the Constitution, Congress has the power "[t]o provide for calling forth the Militia to execute the Laws of the Union, suppress insurrections and repel Invasions." Article II, Section 2, Clause 1, of the Constitution declares that "[t]he President shall be Commander in Chief of the Army and Navy of the United States, and of the Militia of the several States, when called into the actual Service of the United States." Neither constitutional provision includes a direct reference to martial law. However, the Supreme Court has interpreted both to allow the declaration of martial law by the president or Congress. On the state level, a governor may declare martial law within her or his own state. The power to do so usually is granted in the state constitution.
THE RECENT SHOOTINGS OF BOTH BLACKS AND POLICE OFFICERS HAVE THE ENTIRE NATION ON EDGE.
PROTESTERS FROM ALL SIDES HAVE BLOCKED TRAFFIC AND CAUSED NEAR-RIOTS ALL ACROSS AMERICA.

HOW EASY WOULD IT BE FOR THE PRESIDENT TO DECLARE MARTIAL LAW?
VERY EASY, INDEED. THERE WERE NEW AND VERY STRINGENT MARTIAL LAW PROVISIONS ENACTED AFTER THE ATTACKS OF 9/11 THAT TOO FEW ARE AWARE EXIST.

AGAIN, IN 2006, THEN-PRESIDENT GEORGE W. BUSH GRANTED THE EXECUTIVE OFFICE OTHER POWERS THAT SERIOUSLY OVERSTEPPED THE LIMITATION PLACED ON THAT OFFICE BY THE CONSTITUTION OF THE UNITED STATES, MAKING HIM A TRAITOR TO HIS OATH OF OFFICE TO UPHOLD THAT DOCUMENT, AS IT WAS WRITTEN.


Martial Law in cases of National Emergency
H.R. 5122 (2006)
H.R. 5122, also known as the John Warner National Defense Authorization Act for Fiscal Year 2007 was a bill passed in the United States Congress on September 29, 2006 and signed by President George W. Bush on October 17, 2006 becoming Public Law 109-364. House Vote - 396 Ayes (168 Democrats/1 Independent) with 31 Nays and 5 present not voting.
Expansion of the President's power to declare martial law under revisions to the Insurrection Act, and take charge of United States National Guard troops without state governor authorization when public order has been lost and the state and its constituted authorities cannot enforce the law (amended in 2008 by H.R.4986 SEC.1068);

Sec. 333. Interference with State and Federal law
`The President, by using the militia or the armed forces, or both, or by any other :means, shall take such measures as he considers necessary to suppress, in a State, any insurrection, domestic violence, unlawful combination, or conspiracy,

Public Law 109-364, or the "John Warner Defense Authorization Act of 2007″ (H.R.5122) (2), which was signed by the commander in chief on October 17th, 2006, in a private Oval Office ceremony, allows the President to declare a "public emergency" and station troops anywhere in America and take control of state-based National Guard units without the consent of the governor or local authorities, in order to "suppress public disorder."


President Bush seized this unprecedented power on the very same day that he signed the equally odious Military Commissions Act of 2006.
In a sense, the two laws complement one another.
One allows for torture and detention abroad, while the other seeks to enforce acquiescence at home, preparing to order the military onto the streets of America.

Remember, the term for putting an area under military law enforcement control is precise; the term is "martial law."
ALL OF CONGRESS, AT THAT TIME, VIOLATED THEIR OATHS OF OFFICE BY ALLOWING THIS "ACT" TO HAPPEN.
"Any time entities in power want to do something that is illegal under the Constitution, they go simply ahead with it under the principle of the martial law declared by Lincoln.
That is how the Executive Orders are presented.
They are Executive Orders based on martial law that has not been lifted.
This is also referred to as admiralty law."
"Congressional Globe" concerning H.R. 1328 which established the Department of Justice to CONTINUE TO CARRY OUT MARTIAL LAW nearly five years after the end of the Civil War:
Further proof that martial law remained in effect after the Civil War can be found in the "Congressional Globe" (now called the "Congressional Record"). The following are excerpts from the April 20th through 29th, 1870 "Congressional Globe" concerning H.R. 1328 which established the Department of Justice to CONTINUE TO CARRY OUT MARTIAL LAW nearly five years after the end of the Civil War:
"The following bureaus shall be established in this department [the Department of Justice]: a Bureau of International Law, a Bureau of Revenue Law, a Bureau of Military and Naval Law, a Bureau of Postal Law, a Bureau of Land Management Law."
Congressman Lawrence then said in the record:

"This Bill, however, does transfer to the Law Department, or the Department of Justice as it is now called, the cognizance of all subjects of martial law, and the cognizance of all subjects of military and naval law, except that portion of the administration of military justice which relates to military court martial, their proceedings, and the supervision of records.

"If a question of martial law is to be determined by the law officers of government, it will now belong to the Attorney General, or to this Department of Justice. It will not belong to the Judge Advocate General of the Army. He will not be called upon for any opinion relating to martial law or military law except as to that portion of the administration of military law which relates to military justice.
NO "CONSPIRACY THEORY", JUST EASILY FOUND FACTS.
Peter Dale Scott highlighted how such "new programs" were a continuation of martial law provisions that first came to light during the Iran Contra scandal in the 1980's.
Scott also made the connection to former Attorney General John Ashcroft's 2002 call for U.S. citizens to be detained as enemy combatants in detention camps, (PDF FILE) a story also considered not "too silly to discuss" by the Los Angeles Times' Jonathan Turley, a professor of law at The George Washington University Law School.
The government spied on American citizens (even before 9/11 … confirmed here and here), while saying "we don't spy". The government tortured prisoners in Iraq, but said "we don't torture".

In other words, high-level government officials have conspired to cover up the truth.
The bottom line is that the power of the state is used to crush criticism of major government policies and actions (or failures to act) and high-level government officials.

Pay attention, and you'll notice that criticism of "conspiracy theories" is usually aimed at attempting to protect the state and key government players. The power of the state is seldom used to crush conspiracy theories regarding people who are not powerful . . . at least to the extent that they are not important to the government.
What the mainstream still fails to grasp is the fact that the majority of Americans no longer trust them, so the sophomoric catchphrases just aren't going to get the job done anymore.
A September 2009 Pew Research Center poll found, "Trust in news media has reached a new low, with record numbers of Americans saying reporting is inaccurate, biased and shaped by special interests."
The poll found that just 29% of Americans still trusted the corporate media.

By labeling manifestly provable facts, such as the absolutely self-evident and admitted push for a system of global governance called for repeatedly in mainstream media interviews by Ban Ki Moon, as "conspiracy theories" and claiming they are false, the corporate media is only committing seppuku and dispensing with any credibility they had left."
April 19, 2013

[A VERY WELL-WRITTEN PIECE, BTW.]

"

People tolerate extreme police powers when they seem temporary.



The martial law after Katrina gave way to more civilized policing, such as it is in New Orleans.
But what if the emergency persists?
What if the U.S. becomes home to a crime plausibly labeled terrorism every couple months—can we expect a state of constant siege?
Even then, the threat to any given American would be very statistically low. Yet the gruesomeness and horror could legitimize all sorts of overreaction.

We see the danger inherent in state power.

Yes, the lockdown will eventually ratchet back, but I fear this is only a hint of what is to come.

On the one hand, we can say the suspect allegedly committed a particularly insidious crime and poses an especially frightening threat, and so the police reaction is either no cause for alarm, or at least something that will pass.

On the other hand, all it took was a couple people with a couple bombs made from pressure cookers, and they managed to provoke the kind of full-scale lockdown you'd expect in response to a genuine invasion by a fully armed and manned military force.

Monday showed us how fragile life and social tranquility are.



Today shows us how fragile liberty is

."
JUST A FEW WEEKS BACK, PRESIDENT OBAMA INFORMED CONGRESS THAT HE HAD SENT AN ADDITIONAL 200 U.S. TROOPS TO SUDAN.
JUST ASIN THE CASE OF LIBYA, HE DID NOT SEEK NOR NEED CONGRESSIONAL APPROVAL TO MOVE U.S. FORCES ANYWHERE HE PLEASES.
HE SIMPLY DOES SO AND THEN INFORMS CONGRESS.

THE SAME HAS BEEN TRUE SINCE LINCOLN'S TIME.
IT'S CALLED "WAR POWERS" AND EVERY PRESIDENT HAS HAD SUCH POWER.

THAT POWER WAS GREATLY ELEVATED AFTER 9/11.

AND WE HAVE BEEN POTENTIAL "ENEMIES OF THE STATE SINCE FDR.
State Of Emergency: FDR makes US Citizens the Enemy


WHEN JIMMY CARTER FORMALLY INSTALLED FEMA, FEMA WAS GRANTED THE POWER TO SUSPEND THE CONSTITUTION, THE ENTIRE BILL OF RIGHTS AND SEND CONGRESS HOME FOR 6 FULL MONTHS.


TODAY, ANY PRESIDENT CAN CALL A DRONE STRIKE ON AN AMERICAN CITIZEN ABROAD, AS OBAMA HAS DONE, OR ON FOREIGN CITIZENS, AS BUSH 2 DID MANY TIMES, KILLING AN ESTIMATED 168 CHILDREN IN PAKISTAN ALONE, 69 SCHOOL CHILDREN DYING IN JUST ONE SUCH STRIKE IN ONE DAY.


ANY PRESIDENT CAN NOW DECLARE A U.S. CITIZEN AN "ENEMY OF THE STATE' AND DETAIN THAT CITIZEN INDEFINITELY, SANS TRIAL, SANS LEGAL REPRESENTATION, AND CAN TRANSFER AND DETAIN CITIZENS OUTSIDE THE U.S.

EVERY PRESIDENT SINCE LINCOLN HAS DECLARED A STATE OF NATIONAL EMERGENCY EVERY TWO YEARS, AT LEAST.
THAT NATIONAL STATE OF EMERGENCY GIVES HIM OR ANY PRESIDENT THE RIGHT TO DECLARE MARTIAL LAW AT ANY MOMENT IN TIME, LEGALLY, SANS CONGRESSIONAL APPROVAL.

THINK ABOUT THAT.

WITH HIS FINAL TERM NEARING END, WITH CIVIL UNREST RAMPANT, WITH THE ECONOMY AT THE BRINK OF COLLAPSE, ACCORDING TO MANY "EXPERTS" WORLDWIDE, WITH HIS DEEP DESIRE TO SEE A BAN ON FIREARMS HELD BY U.S. CITIZENS, WITH THE U.N. SCREAMING FOR A "GLOBAL GOVERNANCE" AND WITH THE AMERICAN PEOPLE JUST BEGINNING TO SEE GEORGE ORWELL'S '1984' COMING TO LIFE IN AMERICA, WILL OBAMA DO IT?

WILL HE ENACT MARTIAL LAW?

WOULD HILLARY CLINTON?
WOULD DONALD TRUMP?

IT CAN HAPPEN OVERNIGHT.
WE NEED TO BE PREPARED.



.
Sweeping Away Constitutional Rights - Civil litigator Glenn Greenwald will later note that the memo gives legal authorization for President Bush to deploy the US military within US borders, to turn it against foreign nationals and US citizens alike, and to render the Constitution's limits on power irrelevant and non-functional.



WHEN THE LEADERS OF THIS NATION IGNORE THE BOUNDARIES SET TO THEM BY THE CONSTITUTION, WHAT CAN WE CALL THEIR ACTIONS BUT TYRANNY AND WHAT CAN THEY BE BUT TRAITORS TO AMERICA?

.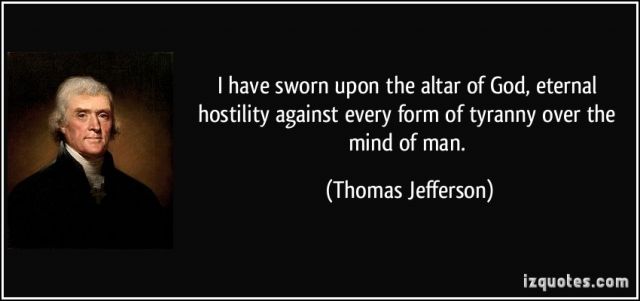 SO HAS THE AUTHOR OF THE TEA ROOM....