DIDN'T EVERY NATION ON EARTH BECOME A NATION BY SOME SORT OF CONQUEST?
CAN'T WE TRACK THE MAKING OF NATIONS IN HISTORY?
OF COURSE WE CAN... ALL OF THEM, EVERY SINGLE ONE, INCLUDING ISRAEL.

NOW, JUST FOR A MOMENT, LET US THINK ABOUT HOW MANY NATIONS TODAY ARE "OCCUPIED BY" OR HAVE A "MILITARY PRESENCE" INSIDE THEIR BORDERS OF THE SO-CALLED "SUPER-POWER NATIONS", THE UNITED STATES, RUSSIA, GREAT BRITAIN AND FRANCE.

HOW MANY NATIONS HAS SAUDI ARABIA EITHER ATTACKED OR IS CURRENTLY ATTACKING SINCE 1932?

HOW MANY NATIONS DOES TURKEY HAVE MILITARY FORCES IN?
WHAT ABOUT IRAN?
CHINA?

HAS BRITAIN YET ALLOWED SCOTLAND AND ALL OF IRELAND TO BE FREE, INDEPENDENT NATIONS?

WHO'S SCREAMING ABOUT ANY OF THAT?

WHO TOLD AMERICA, "DON'T DO THAT" WHEN WE DID THE FOLLOWING?

AMERICAN FORCES HAVE BASES IN 74 COUNTRIES, NONE OF WHICH HAVE EVER ATTACKED AMERICAN SOIL
THERE IS ALMOST NO NATION THAT DOES NOT HAVE SOME SORT OF AMERICAN MILITARY PRESENCE IN IT.



"

Altogether, based on information contained in the DoD's latest Base Structure Report (BSR), the US has bases in at least 74 countries and troops practically all over the world, ranging from thousands to just one in some countries (it could be a military attaché, for instance).
By comparison, France has bases in 10 countries, and the UK has bases in seven.

HOWEVER...
"While 686 base sites is quite a figure in its own right, that tally strangely excludes many well-known U.S. bases, like those in Kosovo, Kuwait, and Qatar.

Less surprisingly, the Pentagon's count also excludes secret (or secretive) American bases, like those reported in Israel and Saudi Arabia.

There are so many bases, the Pentagon itself doesn't even know the true total."


HYPOCRITES!


GO <HERE> AND LOOK AT HOW "AGGRESSIVE" THE U.S. HAS BEEN SINCE IT BECAME A NATION...YOU MAY NOT BELIEVE WHAT YOU SEE!

ISRAEL DEFENDS HER TINY SPIT OF LAND AND THE ENTIRE PLANET WANTS ISRAEL'S HEAD ON A STICK!?

HYPOCRISY!
HYPOCRITES!


ISRAEL'S CONQUESTS OF HER LAND CAME FIRST ABOUT 3,000 YEARS AGO, AND AS RECENTLY AS 1973, THE 4th ARAB-ISRAELI WAR, aka, THE 'YOM KIPPUR WAR'.
ONLY EGYPT AND SYRIA ATTACKED ISRAEL IN '73, AND THEY LOST AGAIN.


ON HER VERY FIRST DAY AS AN INDEPENDENT NATION, "The armies of Egypt, Lebanon, Syria and Iraq attacked Israel. With such a combined force attacking Israel, few would have given the new country any chance of survival."

BUT SHE WON THAT FIRST WAR.IN 1967, STANDING AGAINST ALMOST THE ENTIRE ARAB WORLD, SHE CONQUERED THE SAME LANDS YET AGAIN, IN JUST SIX DAYS.


"Israel's stunning victory in the Six-Day War of 1967 left the Jewish nation in control of territory four times its previous size. Egypt lost the 23,500-square-mile Sinai Peninsula and the Gaza Strip, Jordan lost the West Bank and East Jerusalem, and Syria lost the strategic Golan Heights."
"King Hussein of Jordan signed a defense pact with Egypt on May 30. Nasser then announced:
The armies of Egypt, Jordan, Syria and Lebanon are poised on the borders of Israel...to face the challenge, while standing behind us are the armies of Iraq, Algeria, Kuwait, Sudan and the whole Arab nation. This act will astound the world. Today they will know that the Arabs are arranged for battle, the critical hour has arrived. We have reached the stage of serious action and not declarations. (Source: The Case For Israel, (Australia: The Globe Press, 1972), p. 60.)
President Abdur Rahman Aref of Iraq joined in the war of words: "The existence of Israel is an error which must be rectified. This is our opportunity to wipe out the ignominy which has been with us since 1948. Our goal is clear -- to wipe Israel off the map."


THE MAP BELOW SHOWS WHAT ISRAEL COULD HAVE LOOKED LIKE TODAY HAD IT NOT RETURNED THE SINAI LAND.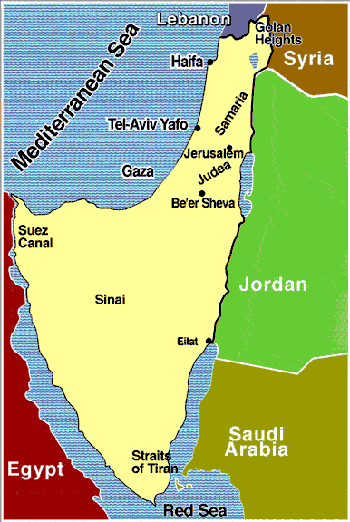 (Conquered lands by Israel shown in yellow, but recall that Syria AND Jordan were also defeated. REMEMBER WHAT NATIONS THE "ALLIED NATIONS" CLAIMED, CONTROLLED AND PARCELED OUT AFTER THEIR VICTORIES IN WORLD WAR I.

IMAGINE....)
HAD ISRAEL LOST, WHAT NATION WOULD HAVE CRIED 'FOUL' AGAINST ANY ARAB NATION, OR DEMANDED THEY RETURN CAPTURED LANDS TO ISRAEL?

BUT ISRAEL DID RETURN THE SINAI TO EGYPT 6 YEARS AFTER THE 1973 WAR.
"In 1979 Sadat and Israeli Prime Minister Menachem Begin (1913-92) signed the first peace agreement between Israel and one of its Arab neighbors. In 1982, Israel fulfilled the 1979 peace treaty by returning the last segment of the Sinai Peninsula to Egypt.

ALSO in 1979, Syria voted with other Arab states to expel Egypt from the Arab League."





THERE IS TO BE NO PEACE WITH ISRAEL.



AND WHO ASSASSINATED SADAT IN 1981?
A FELLOW MUSLIM.


ANCIENT CONQUESTS....
ISRAEL'S INITIAL CONQUESTS OF LOCAL TRIBES 3,000+ YEARS AGO WAS, ADMITTEDLY, OFTEN SEEN AS BRUTAL, EVEN CRUEL AS THEY SWEPT IN AND CONQUERED....

FIRST TO FALL WERE THE 'CANAANITES', OFFSPRING OF NOAH, RELATIVES OF ABRAHAM.
WHEN ISRAEL WARRED AGAINST THEM, CANAAN WAS ALREADY A VASSAL STATE OF EGYPT, A SMALL PART OF THE VAST EGYPTIAN EMPIRE.

ISRAEL ALSO FOUGHT AGAINST A PEOPLE KNOWN AS 'JEBUSITES' AND ALSO ROUTED THEM TO TAKE CONTROL OF JERUSALEM c. 1000 BCE.

THE CANAANITES HAD BEEN MOSTLY ABSORBED AND WERE NO LONGER IDENTIFIABLE IN THE REGION AFTER 450 BCE.


ALSO VIRTUALLY OBLITERATED BY ISRAEL WITH THE AID OF ARAB NEIGHBORS, THE PHILISTINES. (Everyone in the levant despised the Philstines, you see.)

From 'Encyclopedia Britannica':

"P

hilistine

, one of a people of Aegean origin who settled on the southern coast of

[what is now Israel]

in the 12th century

BCE

, about the time of the arrival of the

Israelites

.

The Philistines came from Caphtor (possibly

Crete

), one of the

Sea Peoples

that invaded

Egypt

about 1190

bce

after ravaging

Anatolia

,

Cyprus

, and

Syria

. After being repulsed by the Egyptians, they settled—possibly with Egypt's permission—on the coastal plain from Joppa (modern

Tel Aviv–Yafo

) southward to

the city of Gaza

.

The area contained the five cities (the Pentapolis) of the Philistine confederacy (Gaza,

Ashkelon

[Ascalon],

Ashdod

,

Gath

, and

Ekron

) and was known as Philistia, or the Land of the Philistines.

It was from this designation that the whole of the country was later called Palestine by the Greeks.
They were defeated by the kingdom of Israel in the 10th century BCE.
The

Assyrian

king Adad-nirari III (810–782), boasted of having collected tribute from Philistia.
By the early part of the 7th century,

Gaza

, Ashkelon,

Ekron

,

Ashdod

, and probably

Gath

were vassals of the Assyrian rulers; during the second half of that century, the cities became Egyptian vassals.

With the conquests of the Babylonian king Nebuchadnezzar II (605–562) in Syria and Palestine, the Philistine cities became part of the Neo-Babylonian empire.

There are no documents in the Philistine language. Little is known of the Philistine religion."


PHILISTINES, LIKE CANAANITES, NO LONGER EXIST.
THERE ARE NO GENETIC DESCENDANTS...THEY SIMPLY WERE EITHER KILLED BY ALL WHO LOATHED THEM OR WERE DRIVEN OUT AND DISAPPEARED IN THE MISTS OF TIME.


DOES ANYONE NOTICE THAT THE BEDOUIN PEOPLE AND OTHERS IN THE AREA STILL CALL WELLS AND TOWNS BY OLD HEBREW NAMES?
THOSE WELLS WERE DUG AND THOSE TOWNS ESTABLISHED BY THE CONQUERORS, THOUSANDS OF YEARS AGO IN MANY INSTANCES, AND THEIR NAMES REMAIN UNCHANGED.
DOES ANYONE IN NEWS MEDIA REMIND US THAT MUHAMMAD HIMSELF SAID THAT ISRAEL INDEED BELONGED TO THE "PEOPLE OF THE BOOK", aka, "JEWS"?
"Israel is mentioned eight times in the Qur'an and there is not a single mention that it belongs to Arabs or Muslims.
Whenever there is a reference to the Land of Israel and to whom it belongs, the prophet points to the Jewish people."

It's every easy and quick to see this for oneself, even in the ORIGINAL language, in a Qur'an from, say, Saudi Arabia or Iran.

Here is an "acceptable" English translation, which will never be truly "acceptable" to any Purist Muslim:
Qur'an 17:104 : And We [ALLAH] said unto the Children of Israel after him: Dwell in the land; but when the promise of the Hereafter (wa3'dul akhirati) cometh to pass We shall bring you as a crowd gathered out of various nations.



Also according to the Qur'an, Allah chose the Children of Israel above all the nations:

Children of Israel! call to mind the (special) favour which I bestowed upon you, and that I preferred you to all other nations (for My Message). [Qur'an, sura 2:47]

O Children of Israel! call to mind the special favour which I bestowed upon you, and that I preferred you to all others nations (for My Message).[Qur'an, sura 2:122]

"God made a covenant with the Israelites and raised among them twelve chieftains [the princes of the twelve tribes of the twelve sons of Jacob/Israel]". [Qur'an, sura 5:12, "The Table"]
A COLUMNIST ONCE NOTED: "
Jerusalem and Zion appear as frequently in the Qur'an "as they do in the Hindu Bhagavad-Gita, the Taoist Tao-Te Ching, the Buddhist Dhamapada and the Zoroastrian Zend Avesta—

which is to say, not once."



AS ALWAYS, GO SEE FOR YOURSELVES.


ONE MUST REMEMBER THAT ISLAM IS ONE OF THE NEWEST ESTABLISHED WORLD RELIGIONS, YOUNGER EVEN THAN CHRISTIANITY, HAVING BEEN BEGUN BY MUHAMMAD c. 610 AD/CE,

THE PROPHET ACKNOWLEDGED ABRAHAM AS A FOUNDER OF JUDAISM, WHICH HISTORY ALSO RECORDS AS HAVING BEGUN ABOUT 1800 BCE... ALMOST 2,500 YEARS BEFORE ISLAM AND ABOUT 1900 YEARS BEFORE CHRISTIANITY (CHRISTIANITY WAS ESTABLISHED c. 33 AD/CE, 600 YEARS BEFORE ISLAM).


INTERESTINGLY, EX-AMERICAN PRESIDENT JIMMY CARTER HAS WRITTEN A BOOK ABOUT THE LONG-STANDING FEUD BETWEEN THE OFFSPRING OF ABRAHAM, IT'S TITLE TELLING MUCH... "THE BLOOD OF ABRAHAM", IN WHICH CARTER ARGUES FOR THE REJECTED SON, ISHMAEL.

[ BTW, Jews almost never referred to themselves collectively as "Jews" until after the 13th century. They called themselves "Children of Israel", "Children of Jacob", "Israel", etc. but never "Jews". The word "Jews" derives from the Roman term "Judea" which described roughly the area allocated to the tribe of Judah including Jerusalem. ]


HOW MANY NEWS REPORTS MENTION THAT JUDAISM WAS AN ESTABLISHED RELIGION WHOSE "STRANGE" PRACTICES AND MONOTHEISM WERE MENTIONED BY MANY KINGDOMS THOUSANDS OF YEARS AGO?

ABOUT 1000 BCE, EGYPT BEGAN TO RECORD ISRAEL'S PRESENCE IN THE LEVANT AND SAW IT AS A THREAT.


A STELE FROM THE MOABITE TRIBE RECORDS THE FIGHTING BETWEEN MOAB AND AN ISRAELI KING WHOM THE MOABITES WERE ABLE TO HOLD OFF, A KING OF "THE HOUSE OF OMRI", WHO WORSHIPED A GOD CALLED YAHWEH, WHOSE TEMPLE THE MOABITES HAD PLUNDERED.

AT THE SAME TIME THE KINGDOM OF ISRAEL WAS ENGAGED IN BATTLES WITH TYRE, DAMASCUS, AMMON, AND THE NEO-ASSYRIAN KINGDOM, AS WHAT SURVIVES OF THEIR RECORDS SHOW.


IN ABOUT 722 BCE, ASSYRIA SACKED THE ISRAELI CAPITAL OF SAMARIA,. WHICH HAD BEEN THE KINGDOM'S CAPITAL SINCE

930 BCE.

DURING THE REIGN OF THE JUDEAN KING HEZEKIAH, 715 UNTIL ABOUT 686 BCE, ASSYRIA RECORDED HIS PRESENCE IN THE LEVANT, NOTING THAT HIS WAS THE STRONGEST KINGDOM IN OPPOSITION TO THEM.

BUT WHEN HE INCREASED HIS NUMBERS IN JERUSALEM TO ABOUT 25,000 PEOPLE AND ALSO FORTIFIED HIS SECOND LARGEST CITY, LACHISH, IN FULL REVOLT AGAINST ASSYRIA, KING SENNACHERIB ATTACKED IN THE YEAR 701 BCE.

ON WHAT IS CALLED 'SENNACHERIB'S PRISM', IN CUNEIFORM, THE KING HAD RECORDED HIS CONQUEST OF "46 STRONG CITIES",
"and uncountable smaller places," along with the siege of Jerusalem where Sennacherib says he just "shut him [HEZEKIAH] up...like a bird in a cage," subsequently enforcing a larger tribute upon him."


IN FACT, 185,000 ASSYRIANS WERE SLAIN IN A SINGLE NIGHT AND SENNACHERIB ABANDONED HIS SIEGE OF JERUSALEM.


HOWEVER, IT IS ALSO RECORDED IN JEWISH TRANSCRIPTIONS THAT HEZEKIAH DID INDEED PAY 300 PIECES (TALENTS) OF SILVER TO THE ASSYRIAN KING AFTER THAT BATTLE, BUT THE PRISM STATES IT WAS 800 PIECES.




The Greek historian, Herodotus (c. 484 BC – c. 425 BC),

wrote of the invasion and acknowledges many Assyrian deaths, which he claims were the result of a plague of mice. (SEE Ancient Iraq - Georges Roux)


I WILL END THIS BIT OF HISTORY HERE (WHICH ANYONE CAN FIND AT A GREAT NUMBER OF WEBSITES ONLINE AND IN HUNDREDS OF HISTORICAL DOCUMENTS AND ARCHEOLOGICAL STUDIES OF THE REGION), BUT HOPE THIS MAKES CLEAR THAT ISRAEL HAS BEEN A CONTINUAL PRESENCE IN THAT EXPLICIT AREA FOR OVER 3,000 YEARS, AS RECORDED BY OTHER CULTURES AND KINGDOMS, AND THAT THE JEWS WERE INDEED LIVING EAST OF THE JORDAN AND WERE IN CONTROL OF A LARGE AREA THERE....BY CONQUEST.... LIKE ALL NATIONS HAVE.


THREE JEWISH TRIBES DECIDED TO MAKE THEIR HOMES THERE, "ACROSS THE JORDAN" AND DID SO EVEN AFTER THE ASSYRIANS, BABYLONIANS, PERSIANS GREEKS AND ROMANS HAD COME AND GONE.
[PLEASE NOTE: Hundreds of versions of the above map of where the 12 Tribes resided can be found, from many different nations and books, but I chose this one merely for

its size and the coloration.]



IT WAS BY THESE THREE TRIBES ON THE EAST SIDE OF JORDAN, THAT ISRAEL'S MOST FAMOUS KING, DAVID WAS BROUGHT TO POWER, FOLLOWED BY HIS SON, SOLOMON, WHO BUILT THE TEMPLE IN JERUSALEM. THAT NAME...JERUSALEM.... (/

dʒ

ə

ˈ

r

uː

s

ə

l

əm

/; Hebrew:

יְרוּשָׁלַיִם

Yerushaláyim

pronounced [jeruʃaˈlajim]) YES, IT IS A HEBREW NAME.
IRONICALLY, IT MEANS "CITY OF PEACE".

JERUSALEM IS LISTED AS ONE OF THE OLDEST CITIES KNOWN, FIRST ESTABLISHED C. 4000 TO 3000 BCE BY THE CANAANITES, WHO CALLED IT "URUSALIMA", ALSO KNOWN AS "CITY OF PEACE".

QUITE SIMILAR, THE TWO NAMES, YES?REMEMBER, THE CANAANITES AND THE CHILDREN OF ISRAEL BOTH CLAIMED TO DESCEND FROM... NOAH, JUST AS BOTH ARABS AND 'JEWS' CLAIM ABRAHAM AS THEIR "FATHER".


WAS ISRAEL/JUDAH ALSO CONQUERED?
OF COURSE!

BUT, BELIEVE IT OR NOT, ISRAEL WAS GREATLY AIDED IN REESTABLISHING ITS TEMPLE AND COMMUNITIES BY NONE OTHER THAN ... PERSIANS... c. 515 BCE.

THE PERSIANS NOT ONLY RESTORED THE TEMPLE ATOP THE MOUNT FOR THE JEWS BUT ALSO HELPED THEM REINSTATE THEIR PRIESTHOOD, AND CAME TO ISRAEL'S RESCUE AGAIN WHEN ANOTHER PERSIAN KING RESTORED JERUSALEM TO THE PRIESTHOOD OF ISRAEL 100 YEARS LATER.

THE JEWISH PRESENCE WAS DUBBED "YEHUD MEDINATA", THE PROVINCE OF JUDAH.
FEW REALIZE THAT THE TURKISH SULTAN SULEIMAN I, KNOWN IN EUROPE AS "SULEIMAN THE MAGNIFICENT", AFTER HE HAD CONQUERED THE LEVANT, INVITED THE JEWS TO RETURN FROM THEIR PLACES OF EXILE, HELPED THEM TO REESTABLISH THEIR COMMUNITIES AND BUILT THE WALL AROUND THE "OLD CITY" OF JERUSALEM.
HE INSTALLED MANY JEWS INTO HIS COURT AND TRIED TO INTERVENE WHEN POPE PAUL IV WAS BURNING OTTOMAN JEWISH SUBJECTS AT THE STAKE IN ANCONA, ITALY.
DURING HIS 46-YEAR REIGN (1520 TO 1576 AD, OR CE IF YOU WILL), THE JEWISH PEOPLE WERE ABLE TO LIVE IN PEACE AND PROSPERITY.
NOT SULEMAN OR ANY BEFORE OR AFTER HIM EVER MADE JERUSALEM THEIR CAPITAL, NEVER ESTABLISHED AN ARAB STATE THERE, AND EVEN AFTER ISLAM CAME INTO BEING, ALL MUSLIMS, TO THIS DAY, WHO LIVE INSIDE ISRAEL, WHO CAN ATTEND PRAYER ATOP THE TEMPLE MOUNT, ALL PRAY FACING.... MECCA....MECCA, NOT THE "DOME OF THE ROCK".

POST-WORLD WAR I
WHEN THE CONQUERING "ALLIES" AND THE LEAGUE OF NATIONS MADE A 'GIFT' OF 'PALESTINE', AS THE ROMANS AND BRITS HAD CALLED WHAT IS NOW JORDAN AND ISRAEL AND GAZA, TO THE JEWISH PEOPLE AND INVITED THEM TO RETURN, RETURN, AS IN GO BACK TO THEIR ANCIENT HOMELAND, MOST OF THE WORLD WAS AWARE THAT THE JEWS WERE SIMPLY GOING HOME.
THOSE FEW WHO DID NOT SMILE TO SEE ISRAEL'S RETURN HOME DID GRIN FROM EAR-TO-EAR WHEN THE SAME "GIVERS" GAVE A BRAND NEW HUGE NATION TO ARABS THAT WOULD COME TO BE KNOWN AS 'SAUDI ARABIA'.
MANY NEW ARAB STATES WERE CREATED BY THE ALLIED CONQUERORS AFTER WORLD WAR I.
ISRAEL'S SMALL PARCEL WAS THE ONLY ONE RENEGED ON....THE ONLY ONE SUB-DIVIDED DISPROPORTIONATELY INTO YET ANOTHER BRAND NEW ARAB STATE, A STATE THAT WAS MUCH BIGGER THAN ISRAEL BECAME...THE NEW TERRITORY CALLED "TRANSJORDAN"...OR WHAT WAS KNOWN IN ANCIENT DAYS AS PART OF THE KINGDOMS OF ISRAEL-JUDAH, JEWISH KINGDOMS.
"The Trans-Jordan Memorandum annulled the articles regarding the Jewish National Home in the territory east of the Jordan."
THE BRITS JUST COULDN'T RESIST KISSING ONE MORE ARAB EMIR'S BACKSIDE, ABDULLAH, EMIRS TO WHOM THEY'D ALREADY HANDED 'SAUDI ARABIA', IRAQ, SYRIA.
BUT JUST ONE OF THEIR MANY ERRORS IN DOING SO WAS IN ALSO HANDING "TRANSJORDANIA" OVER TO A "HASHEMITE "KING".

MORE ON THE HASHEMITES FURTHER ALONG...BUT THE HASHEMITES ARE AT ODDS WITH THE REST OF ISLAM, ALWAYS WERE, ALWAYS WILL BE.
"Sovereignty was granted after World War I to the Arabs in Syria and Iraq; in addition, Saudi Arabia consisted of approximately 865,000 square miles of territory that was designated as "purely Arab".
IN HIS LETTER OF PROMISE TO ISRAEL, LORD BALFOUR HAD STATED:

Considering all the "territories" that had been given to the Arabs, Lord Balfour "hoped" that the "small notch" of Palestine EAST AND WEST of the Jordan River, which was "being given" to the Jewish people, would not be "grudged" to them by Arab leaders .

The insertion of Abdullah and his emirate into mandated Palestine, in the area east of the Jordan River that was part of the land allocated to the "Jewish National Home," might be partially traced to a suggestion received by Colonial Secretary Winston Churchill from T. E. Lawrence.

In a letter of January 1921, Lawrence informed Churchill that Emir Feisal (Abdullah's brother, and Lawrence "of Arabia's" choice to lead the Arab revolt)
had "agreed to abandon all claim of his father to [Western] Palestine," if Feisal got in return Iraq and Eastern Palestine as Arab territories.
This was called the
Feisal-Weizmann agreement
and it was quite a crock of illegal manure on Britain's part to rob Israel of over half its land allotment promised by the League of Nations and the Balfour agreement, but the Jews had little choice but to go along with the theft.
Something was better than nothing.
The Anti-Semitism among the conquering Brits was barely disguised, after all.

Britain, after World War I, like America after the Revolutionary War,was financially beholden to the SAME ultra-wealthy Jewish family, the Rothschilds, and, since it was to Baron Rothschild that Balfour's letter was sent informing him of the intentions of the nations to grant a return to the homeland for the Jewish people, perhaps the Brits did what they did as an act of defiance toward the man they owed so much money to.

Whatever their real motive, Britain was in charge of the"mandate" and acted quickly to rob from the surviving Jews to give to the quite rich Arabs. They did exactly what America did when it took lands from the American Indians, America's ORIGINAL INHABITANTS, to give to those whom they favored.

It's good to be the conquerors, yes?

PLEASE TAKE NOTE OF THE FOLLOWING:

"Yasser Arafat OFTEN stated that Jordan is Palestine.
Other Arab leaders, even King Hussein and Prince Hassan of Jordan, from time to time have affirmed that "Palestine is Jordan and Jordan is Palestine."



Moreover, in 1970-1971, later called the "Black September" period, when King Hussein waged war against Yasser Arafat's Arab PLO forces, who had been operating freely in Jordan until then, it was considered not an invasion of foreign terrorists but a CIVIL WAR.



It was "a final crackdown" against those of "his people" whom he accused of trying to establish a separate Palestinian state, under Arab Palestinian rule instead of his own, "criminals and conspirators who use the commando movement to disguise their treasonable plots," to "destroy the unity of the Jordanian and Palestinian people."


AS WE WILL SEE BELOW, ARAFAT KNEW WHAT HE WAS TALKING ABOUT, BECAUSE BRITAIN REALLY DID CUT OUT 3/4ths OF ISRAEL'S ORIGINALLY ASSIGNED 'HOMELAND' BY THE BALFOUR DECLARATION TO CREATE A HOME FOR THE "ARAB PALESTINIAN PEOPLE, SEPARATE FROM THE STATE OF ISRAEL"...A PLACE TO WHICH ARABS INSIDE THE NEWLY FORMING INDEPENDENT STATE OF ISRAEL COULD GO AND FINALLY ESTABLISH THAT MYTHICAL LAND THEY COULD FINALLY CALL "PALESTINE".
ARAFAT AND OTHERS FELT ROBBED...BECAUSE THEY WERE, AND BY "ONE OF THEIR OWN", A GREEDY SAUDI MONARCH WHO ACCEPTED BRITAIN'S GIFT TO HIM ON THAT PROMISE AND THEN, JUST LIKE BRITAIN, RENEGED.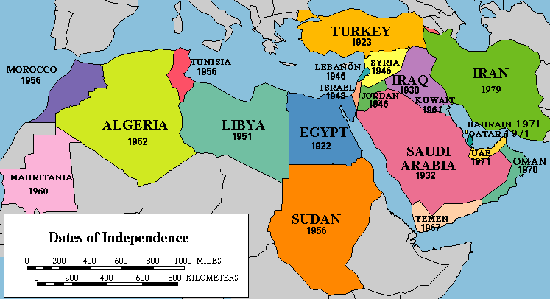 ABOVE, A MAP SHOWING THE DATES WHEN ALL MIDDLE EASTERN NATIONS GAINED THEIR INDEPENDENCE... I'LL LIST THOSE VERY RECENT DATES BELOW AT THE TRIPLE RED, HIGHLIGHTED ASTERISKS

***
A VERY IN-DEPTH STUDY OF HOW EACH ARAB NATION WAS CREATED AND THEN GOT ITS INDEPENDENCE CAN BE FOUND <HERE>.
TO LEARN THE HISTORY OF WHICH "SUPERPOWERS"
OWNED
WHICH NATIONS FOR A TIME IS QUITE ENLIGHTENING, AS ARE THE WARS THAT EACH NATION FOUGHT FOR INDEPENDENCE...JUST AS ISRAEL FOUGHT.
I HIGHLY RECOMMEND READING THAT HISTORY OF THE MIDDLE EAST.
IT WILL CLARIFY THE ONGOING CONFLICT THERE, ESPECIALLY SAUDI ARABIA'S CLAIM TO DOMINANCE THROUGH THEIR MONARCH'S 'HASHEMITE' LINEAGE.
"The name "Hashem" is actually that of Qusayy's grandson, who was the great-grandfather of the prophet Muhammad. The Hashemites are thus the direct descendants of the prophet through his daughter Fatima and her husband Ali bin Abi Talib, who was also the prophet's paternal first cousin and the fourth caliph of Islam.
Ali and Fatima had two sons: Al-Hassan and Al-Hussein.

The direct descendants of their eldest son, Hassan, are known as "Sharifs" (nobles), while the descendants of Hussein are called "Sayyids" (lords). The royal family of Jordan, the Hashemites, is descended through the Sharifian branch of lineage.
King Hussein's branch of the Hashemite family ruled the holy city of Mecca from 1201 until 1925."
King Abdullah's ELDEST son was displaced in Jordan by his eldest son, Hussein, on
August 11, 1952.

After Hussein's death in 1999, yet another by the name of Abdullah, the
eldest son of the late King Hussein became what is known as "the current bearer of the Hashemite torch"... something that displeases many Muslims.
THAT THE 'OVERLORDS' OF MECCA, A FAMILY PLEDGED TO THE WAHHABI SECT OF THE SUNNI MUSLIMS (THE SAME SECT ISIS/ISIL CLAIMS TO BELONG TO) HAS CONTROL OF THE PROMISED ARAB-PALESTINIAN STATE IS AN ONGOING SOURCE OF BOTH VIOLENCE AND CONTINUAL DISCORD BETWEEN THAT "SIDE" OF ISLAM AND THE OTHER, THE SHIITES OR SHI'A, WHO ARE STILL "DISCOURAGED' FROM ATTEMPTING TO MOVE TO JORDAN.
ABOVE, ON THE LEFT, A MAP OF WHAT WAS TO HAVE BEEN ISRAEL, ACCORDING TO THE

INITIAL PROMISE OF

THE LEAGUE OF NATIONS
NOVEMBER 2nd 1917, WHICH STOOD UNTIL GREAT BRITAIN TOOK OVER AND DIVIDED THAT PARCEL INTO WHAT WE SEE ON THE RIGHT,

CIRCA 19

21

.

THE PROMISED JEWISH HOMELAND INCLUDED ALL OF WHAT IS NOW JORDAN.
The British Mandate for Palestine, or the Palestine Mandate was a League of Nations mandate for the territory that had formerly constituted the Ottoman Empire sanjaks of Nablus, Acre, the Southern part of the Vilayet of Syria, the Southern portion of the Beirut Vilayet, and the Mutasarrifate of Jerusalem, prior to the Armistice of Mudros.

The League of Nations AND the British had designated the land called "Palestine" for the "Jewish National Home" -- EAST AND WEST OF THE JORDAN RIVER from the Mediterranean to Arabia and Iraq, and north and south from Egypt to Lebanon and Syria.

Historian Arnold Toynbee observed in 1918 that the "desolate" land "which lies EAST of the Jordan stream," was
"capable of supporting a large population if irrigated and cultivated scientifically. ... The Zionists have as much right to this no-man's land as the Arabs, or more."
Thus, the territory known variously as "Palestine," as "South Syria," as "Eastern and Western Palestine," or as part of "Turkey" had been designated by international mandate as a "Jewish National Home".

THE TRUTH OF THE WHOLE SORDID AFFAIR CAME T

O LIGHT LATER.
A "secret dispatch from Chief British Representative at Amman" later in 1921, it turns out, had cautioned that the local "Transjordanian Cabinet" had been replaced by a "Board of Secretaries,"
"responsible for all internal affairs, referring to his highness Abdullah for a decision in the event of any disagreement...."
All the "Board" members, according to the Eastern Palestine envoy, were
Syrian exiles, who with perhaps one exception, are more interested in designs on the French in Syria than in developing Trans-Jordania....


In his Highness' opinion, the allies had not dealt fairly with the Arab nation and Great Britain had not treated him as he deserved. He was one of the most chiefly instrumental in bringing about the Arab revolution and when Feisal, during the war, was inclined to accept the overtures of the Turks he had opposed that policy....

When he came to Trans-Jordania "with the consent of the British", he had agreed to act in accordance with Mr. Churchill's wishes and with British policy, as he did not wish to be the cause of any friction between the British and their allies, the French.
...

The allies had not dealt fairly with the Arabs because, whereas they had agreed to form one Arab nation, forming different Arab states, and even in Syria, as small as it is, they had divided that country into six or seven states.

He had come to Trans-Jordania hoping for great things and now he realized that he had no hope either north or east.
If he went back from here to the Hejaz, he would look ridiculous."
THE TANGLING AND RETANGLING OF THE WEB WOVEN OF DECEIT

It was a British Jew, Palestine High Commissioner Sir Herbert Samuel, who supported and even extended Winston Churchill's formulations. Samuel sent a telegram to Churchill in July 1921; while discouraging Churchill from submitting to Abdullah's predicted eventual "demand" for "attachment of Trans-Jordania to, the Hejaz," as being "contrary to Article V of the Mandate and open to much objection in relation to future development," High Commissioner Samuel suggested the following:
I concur in proposal that Abdullah should visit London and had written to you suggesting it.... At the end of six months, the following settlement might be arranged: (1) the Arab governor mutually agreed upon by his majesty's government and Abdullah or King Hussein. (2) British officer(s) to have real control. (3) Reserve force commanded by British officer(s), Air Force and armored cars as at present. (4) A small British garrison to be stationed in District temporarily. (5) A declaration in accordance with new article to be inserted in mandate that Jewish National Home provisions do not apply east of Jordan. This would not prevent such Jewish immigration as political and economic conditions allowed but without special encouragement by Government.

Feisal got his wishes and became King of Iraq; his brother Abdullah was installed in the British mandatory area as ruler of the "temporary" emirate on the land of eastern Palestine, which became known as the "Kingdom of Transjordan."
Palestine High Commissioner Harold MacMichael later offered some evidence -- of the original "temporary" nature of British intentions in a "private, personal and most secret" cipher; MacMichael reported in 1941 that Abdullah now harbored greater ambitions, because of
the part he [Abdullah] played in the last war, his position in the Arab world as a senior member of a royal house, [and] the purely temporary arrangements whereby in 1921 having narrowly missed being made King (a) of Iraq and (b) of Syria in turn, he was left to look after Trans-Jordan ....
Britain nevertheless quietly gouged out roughly three-fourths of the Palestine territory mandated for the Jewish homeland into an Arab emirate, Transjordan, while the Mandate ostensibly remained in force but IN VIOLATION OF ITS TERMS.

Historians and official government documents concerned with the area continued to call it "Eastern Palestine," despite the new appellation.

That seventy-five percent of the Palestine mandate was described by England's envoy to Eastern Palestine:
"a reserve of land for use in the resettlement of Arabs [from Western Palestine], once the National Home for the Jews in Palestine"* resulted in the "Jewish independent state."

The League of Nations Mandate for Palestine remained unchanged even though Britain had unilaterally altered its map and its purpose.


The Mandate included Transjordan until 1946, when that land was declared an independent state.


Transjordan had finally become the de jure Arab state in Palestine just two years before Israel gained its Jewish statehood in the remaining one-quarter of Palestine; Transjordan comprised nearly 38,000 square miles; Israel, less than 8,000 square miles.
THE ENTIRE WORLD KNEW WHERE THE ARABS WHO WISHED TO LEAVE THE NEW STATE OF ISRAEL WERE TO GO TO FORM A "PALESTINIAN ARAB STATE"... TRANSJORDANIA/JORDAN.
THEY ALREADY HAD A KING INSTALLED TO WELCOME THEM, EXCEPT...THEY WERE NEVER WELCOMED THERE.

THEY WERE INITIALLY DISCOURAGED AT FIRST FROM 'CROSSING OVER JORDAN' TO THEIR NEW HOMELAND AND THEN THEY WERE KEPT OUT BY FORCE.
TO KEEP UP APPEARANCES IN THE EARLY DAYS, IT WAS ESTABLISHED BY ABDULLAH THAT:

"Jordan remains an independent Arab Palestinian state
where a Palestinian Arab "law of return" applies: its nationality code states categorically that all Palestinians are entitled to citizenship by right unless they are Jews."
[SOURCE:
Jordanian Nationality Law, Official Gazette, No. 1171, Article 3 (3) of Law No. 6, 1954, February 16, 1954, p. 105.]


WHY WAS THAT PHRASE "UNLESS THEY ARE JEWS" TOSSED IN WHEN SPEAKING OF 'PALESTINIANS'?
BECAUSE, SINCE THE DAYS OF ROMAN CONQUEST, WHEN ANYONE REFERRED TO 'PALESTINE', THEY WERE REFERRING TO JEWS, AND THE CLEVER KING KNEW THAT.
BUT WAIT, THERE'S MORE!
THINGS HEATED UP BETWEEN THE ARABS QUITE SOON AFTER THAT!
"In most demographic studies, and wherever peoples are designated, including contemporary Arab studies, the term applied to citizens of Jordan is "Palestinian/Jordanian."
In 1966 PLO spokesman Ahmed Shukeiry declared that
"The Kingdom of Palestine must become the Palestinian Republic...."
WONDER OF WONDERS, THAT WAS THE WHOLE POINT AND THE ARABS WANTING TO EXIT ISRAEL AND FORM,AT LAST,A"PALESTINIAN STATE" WERE TURNING HOSTILE WHEN THEY WEREN'T ALLOWED TO DO SO.
THE SAUDI ARABIAN BULLYING HAD GONE TOO FAR.
THE 'PALESTINIANS' WERE BEING KEPT OUT OF 'THE PALESTINIAN STATE', AND THE NAME 'JORDAN' DIDN'T SUIT MANY.
WHY?
BECAUSE ISRAEL HAD CONQUERED A CONSIDERABLE AMOUNT OF LAND, DEFEATED TRIBES AND ESTABLISHED ITSELF AS A KINGDOM SOMEWHERE AROUND 1,050 B.C.E. IN THAT REGION, BECAUSE ISRAELI/JUDEAN PEOPLE (JEWS) HAVE CONTINUOUSLY OCCUPIED THE REGION FOR OVER 3,000 YEARS, IN SPITE OF BEING CONQUERED A FEW TIMES IN THEIR PAST, AND ENSLAVED BY THEIR CONQUERORS.
AFTER THE HOLOCAUST WAS ENDED BY THE ALLIED NATIONS AGAINST HITLER, THE LEAGUE OF NATIONS DECIDED THAT ISRAEL WAS GOING HOME...

HOME...
HOME AS IN RETURNING TO THEIR HOMELAND.
HOW HAVE ALL NATIONS BEEN FORMED?

BY SOME TYPE OF CONQUEST OF INDIGENOUS PEOPLE, BY WARS, BY "TREATIES" AFTER WARS

.



BUT... ALMOST EVERY "ARAB" NATION IN THE MIDDLE EAST WAS FORMED IN THE SAME MANNER AS ISRAEL WAS EITHER AFTER WORLD WAR I OR WORLD WAR II, AND, SURPRISINGLY, NONE OF THOSE HAD LAND AREAS REMOVED FROM THEIR ORIGINALLY GRANTED BOR

DERS... AS ISRAEL HAS.
THE U.N. GIVETH AND THE U.N. TAKETH AWAY...CURSED BE THE NAME OF THE U.N. ... AND MOST NATIONS THAT HAVE SUFFERED UNDER THE PRESENCE OF THE U.N. "BLUE

HELMETS

" WILL AGREE

, I ASSURE YOU.

.

ABOVE, WHAT THE JEWISH PEOPLE SETTLED FOR INSTEAD....MINUS ALL OF JORDAN AND MINUS HALF OF WHAT WAS LEFT TO THEM AFTER THE BRITISH DECIDED TO PLACATE SAUDI ARABIA AND OTHERS BY DIVIDING ISRAEL'S SPIT OF LAND YET AGAIN, TO MAKE ROOM FOR AN "ARAB STATE", EVEN THOUGH THE U.N. HAD CREATED PLENTY OF

ARAB STATES FOR ALL ARABS

.

NO, 'TRANS

JORDAN' WAS NOT ENOUGH.

ARAB NATIONS DEMANDED MORE, AND GOT IT.

[HERE, ALLOW ME TO PAUSE AND SINCERELY THANK THE SYRIAN PEOPLE FOR KEEPING SUCH A GOOD TRACK ON ANCIENT ISRAEL, ON HER KINGS AND HOW

THE

ONCE-KING, NEBUCHADNEZZAR OF BABYLON, DEALT WITH THE JEWISH PEOPLE. AFTER HE DRAGGED A LOT OF THEM OFF AS SERVANTS TO HIS KINGDOM. GOOD HISTORY-KEEPING!

]



HAVE WE SEEN THAT LAND-DIVIDING, THAT "TAKING IT BACK" SITUATION HAPPEN IN OTHER NATIONS, NATIONS CREATED MUCH AS ISRAEL WAS BY "MANDATE", BY

THE FALSE POWER OF THE LEAGUE OF NATIONS/U.N.

?

DID GERMANY LOSE OVER HALF ITS LAND AFTER EITHER WAR?DID JAPAN?
DID ITALY?



CERTAINLY FRANCE NOR ENGLAND EVER GOT SPLIT INTO TINY PIECES, DID THEY, NO MATTER WHAT.



WELL, I AM NO AUTHORITY ON WHAT HAPPENED AND WHO GOT CONQUERED IN ALL NATIONS OF EARTH, AND I DON'T KNOW WHO ALL WITHIN YOUR NATIONS TODAY ARE SITTING ABOUT WISHING THEY HAD NOT BEEN CONQUERED AND WISHING THEY'S WON THOSE ANCIENT WARS FOR CONTROL OF LANDS, SO I LEAVE IT TO EVERY READER TO DEAL WITH THAT IN THEIR OWN WAY.

IF YOU HAVE DESCENDANTS OF THE CONQUERED AMONG YOU WHO WOULD QUICKLY TAKE IT ALL BACK IF THEY COULD, YOU LIKELY KNOW THE FACTS.


NO MATTER WHAT MODERN NATION WE MAY GO TO, SOMEBODY INSIDE THOSE BORDERS IS PLOTTING TO TAKE THAT LAND BACK AND WISHING THEY COULD.
IT'S SIMPLY ONE

OF THE PRICES EACH NATION PAYS FOR CONQUEST.



WHAT I CAN TELL YOU MORE ABOUT THAN YOU WILL CARE TO KNOW IS AMERICA, THE UNITED STATES, AND THE AUDACITY OF MANY HERE TO CARP AND WHINE AT ISRAEL SINCE THE

WHINERS

THEMSELVES ARE LIVING ON LANDS STOLEN BY OVER 500 BROKEN TREATIES AND A COUPLE HUNDRED YEARS OF "INDIAN WARS" THAT GOT A LOT OF GOOD INDIGENOUS TRIBES' PEOPLE ERASED FROM THE EARTH.

AFTER 'AMERICA' COMMITTED GENOCIDE AGAINST THE INDIGENOUS PEOPLE OVER HERE IN THE "NEW WORLD", KILLING MILLIONS, WIPING OUT ENTIRE TRIBES, NOT IN 240 YEARS HAS ANOTHER NATION, NOR LATER THE U.N., SUGGESTED STRONGLY THAT ANY LAND BE HANDED BACK TO ANY INDIGENOUS, CONQUERED TRIBE HERE, NOT ONCE.
List of American Indian Wars


RECENT HEADLINES FROM THE BBC SHOW THE UTTER HYPOCRISY OF AMERICA'S CURRENT ADMINISTRATION AND THE DESCENDANTS OF THOSE FIRST "ILLEGAL IMMIGRANTS":

"The US has criticised Israeli plans to build hundreds of new homes in existing Jewish settlements in the occupied West Bank and East Jerusalem".


MEANWHILE, THE PEOPLE FROM WHOM EARLY AMERICANS STOLE THEIR NATION ARE THE POOREST IN ALL AMERICA, LIVING ON

POVERTY STRICKEN

RESERVATIONS, AND THE WHOLE WORLD AND ALL OF AMERICA (EXCEPT THE TRIBES) ARE FINE WITH THAT.

THE WARS WERE FOUGHT, THE CONQUERORS RULE, RIGHT?


IF THE CONQUERED ARE STILL DYING FROM THE OUTCOME, SO WHAT?


WINNER TAKES ALL, ISN'T THAT HOW IT GOES?




WINNER TAKES....ALL....



SOME "INDIANS" HERE FREEZE TO DEATH EACH WINTER FOR LACK OF HEAT,

DYING

FROM POVERTY ITSELF AS THEY CAN'T AFFORD TO PAY FOR ELECTRICITY OR FUELS TO HEAT THEIR HO

MES

.

MANY, YOU SEE, L

IVE ON REMOTE RESERVATIONS TOO FAR FROM THE CITIES WHERE THE JOBS ARE, AND SO THEY MAKE THE CHOICE TO STAY PUT ON WHAT LANDS ARE LEFT TO THEM AND DIE THERE.

MANY COMMIT SUICIDE RATHER THAN TRY TO HANG ON (ESPECIALLY TEENS) AND SOME, LIKE THE LAKOTA, HAVE TO LOOK UP AT ONCE SACRED SITES LIKE THEIR 'BLACK HILLS' AND SEE THEM DEFACED WITH THE ENORMOU

S,

UGLY HEADS OF 4 PAST WHITE AMERICAN PRESIDENTS, STARING DOWN ON THEM EVERY DAY... THE GOVERNMENT CALLS IT "MOUNT RUSHMORE", JUST LIKE THE GOVERNMENT STILL CALLS THE INDIGENOUS TRIBES "INDIANS", ALTHOUGH THEY KNOW DAMNED WELL THIS ISN'T INDIA.

ALMOST NO TRIBE IN AMERICA, AND THERE ARE ALMOST 600 OF THEM LEFT, BY THE WAY, HAS ACCESS TO THEIR ANCIENT HOLY SITES, CANNOT PERFORM CEREMONY THERE, AS MOST HAVE BEEN TURNED INTO "NATIONAL PARKS", CAMPGROUNDS, CONCRETE CITIES AND PARKING LOTS.

AMERICAN ARCHAEOLOGISTS ARE FREE TO GO DIG UP ANCIENT "INDIAN" BURIAL GROUNDS, MOUNDS, CAMPSITES AND CART THE BONES AND ARTIFACTS OFF TO MUSEUMS, WHILE THE TRIBES THEN HAVE TO PROVE THOSE ARE BONES AND ARTIFACTS THAT BELONGED TO THEIR OWN PEOPLE...THEN THEY CAN GET THE STOLEN REMAINS, ETC, "REPATRIATED"....AFTER YEARS, MAYBE DECADES, MAYBE NEVER.

AFTER ALL, AMERICANS CONQUERED THOSE TRIBES, SO THEY DO AS THEY PLEASE.


"MANIFEST DESTINY" AND BEING THE CONQUERORS MAKE IT SO.



BUT IF AN"INDIAN" WENT INTO A WHITE CEMETERY AND DUG UP ONE GRAVE, HE'D BE SHOT WITH THE SHOVEL STILL IN HIS HAND, ONSITE, AND THE SHOOTER WOULD NOT BE PROSECUTED.


POLICE RECENTLY ARRESTED A NATIVE WOMAN FOR BURNING SAGE, AN INDIGENOUS CULTURAL/CEREMONIAL PRACTICE, AT A TRUMP RALLY.


JUST LAST YEAR, AN INDIGENOUS MAN WAS ARRESTED AND HAULED OUT OF THE GALLERY THAT LOOKS ONTO THE FLOOR OF CONGRESS FOR SINGING A SONG ALOU

D IN CELEBRATION OF A RARE LEGAL VICTORY FOR THE TRIBES.



BECAUSE NONE ON THAT FLOOR UNDERSTOOD AN INDIGENOUS, ORIGINAL LANGUAGE OF ANY TRIBE, THE SENATORS HAD NO IDEA THE MAN WAS SINGING TO HONOR THEM FOR THEIR DECISION.



THAT'S THE THANKS AN "INDIAN" GETS FOR TRYING TO SAY 'THANKS'....



AMERICA

'S

INDIGENOUS PEOPLE ARE THE ONLY RACE IN AMERICA WHO MUST PROVE THEIR RACE, BY A THING CALLED "DEGREE OF INDIAN BLOOD" AND CARRY A CARD THAT LISTS THEIR "PEDIGREE".

INDIGENOUS PEOPLE IN AMERICA MUST PROVE THEIR "INDIANNESS" IS ENOUGH TO GET "ENROLLED" INTO THE TRIBES THEIR FAMILIES WERE PART OF AS FAR BACK AS RECORDED HISTORY.

IF THEY ARE NOT "INDIAN ENOUGH" THEY CAN'T BE MEMBERS OF ANY TRIBE "RECOGNIZED" BY THE FEDERAL GOVERNMENT.




EVERY NOW AND THEN THE FEDERAL GOVERNMENT SIMPLY DELETES A TRIBE WHEN ITS MEMBERSHIP FALLS BELOW A CERTAIN LEVEL, DECLARES THEM "EXTINCT", SO TO SPEAK.
IT IS NOT GOOD ENOUGH IN WHITE AMERICA TO BE ABLE TO LOOK INTO A MIRROR AND SEE THAT YOU ARE AN "INDIAN"...NOSIREE, YOU HAVE TO PROVE IT!

YES, IN AMERICA, IF YOU ARE AN "AMERICAN INDIAN", ONE OF THE CONQUERED, YOU JUST MAY BE IN WHAT CAN SEEM LIKE HELL.

DO YOU SEE AMERICA'S HYPOCRISY?

HYPOCRISY REIGNS AND FEW ARE CALLING IT WHAT IT IS, SO

I'M TAKING

ONE MORE SHOT AT UNVEILING THE ABJECT HYPOCRISY OF ANY AND ALL, ESPECIALLY HERE IN AMERICA, WHO POINT FINGERS AT ISRAEL FOR BUILDING ON CONQUERED LANDS.
AMERICA, LIKE ALMOST ALL NATIONS OF EARTH, WAS BUILT BY INVASION AND CONQUEST....

AND THEY BUILT LIKE MAD FROM DAY 1 UNTIL NOW.
TO "SETTLE" AMERICA, THE NEWLY ARRIVED "IMMIGRANTS" (aka, "INVADERS

" AND

"ILLEGAL ALIENS") BEGAN A SYSTEMATIC ASSAULT ON THE ORIGINAL INHABITANTS THAT LEFT MILLIONS, YES, MILLIONS, DEAD.
IT'S CALLED "THE AMERICAN HOLOCAUST" AND ANY MEMBER OF ANY INDIGENOUS TRIBE HERE CAN FILL YOU IN ON THE DETAILS.

BUT DO HURRY AND ASK BECAUSE OUR "INDIAN WARS" ARE ONGOING, THE FEDERAL GOVERNMENT WAS CAUGHT STERILIZING OUR WOMEN OF CHILD-BEARING AGE FOR OVER 20 YEARS.

THEY PROMISED TO STOP IN THE 1970s WHEN THEY WERE FIRST FOUND OUT BUT GOT CAUGHT DOING THE SAME THING AGAIN IN THE 1990s, AND THERE'S ONLY ABOUT 2 MILLION "INDIANS" LEFT HERE.
"Within half a decade, Indian Health Service doctors were sterilizing so many reservation women that one NativeAmerican woman was being sterilized for every seven babies born. "


FINDING NEW WAYS TO KILL "INJUNS"...
EVERY TIME AMERICA NEEDS A PLACE TO DUMP RADIOACTIVE WASTE OR DIG UP NATURAL RESOURCES BY COMPLETELY DESTROYING THE ENVIRONMENT OR WANTS TO GRAB WATER RIGHTS, SOME TRIBE IS EITHER GOING TO BE DISPLACED OR FACE BEING DEAD BECAUSE OF WHAT'S BEING DONE TO THEM AND THE LANDS THEY LIVE ON, ALL OVER AGAIN.

RADIATION AND TAINTED WATER, HAVING NO WATER SOURCE THAT CAN "LEGALLY" BE ACCESSED ANYMORE, STRIP-MINED POISONOUS LANDS ARE NOT CONDUCIVE TO LIFE OR HEALTH, PEOPLE OF EARTH.


"AMERICAN INDIANS, FIGHTING TERRORISM SINCE 1492"
OVER CAME THE BOAT PEOPLE, OUT CAME THEIR GUNS AND WITH THEM CAME DISEASES THAT THE ORIGINAL INHABITANTS HAD NO IMMUNITY TO, HAD NO RESISTANCE TO EUROPEAN PATHOGENS THAT WERE UNKNOWN HERE.
[ABOVE, THE SHORT DOCUMENTARY FILM, "AMERICAN HOLOCAUST"]
AMERICAN ARMIES KILLED MORE "INDIANS" THAN HITLER KILLED JEWS.
NOT EVEN BABIES WERE SPARED.

THE KILLING BY "SETTLERS" BEGAN IN WHAT'S NOW 'AMERICA' IN THE EARLY 1600s AND RAGED FOR OVER 300 YEARS.

THERE ARE STILL LAWS IN SOME STATES THAT MAKE IT OKAY TO SHOOT A BAND OF INDIANS ON SIGHT.

OTHER STATES HAVE OLD LAWS STILL KEPT ON THE BOOKS THAT MANDATE CITIZENS BE ARMED IN CASE OF INDIAN ATTACK.

ENTIRE TRIBES WERE OBLITERATED, LOST TO MURDERS, DISEASE OR STARVED TO DEATH AS THEY WERE CUT OFF FROM THE FOOD SUPPLIES THEY HUNTED AND GATHERED, HUNTING GROUNDS FROM THE DAYS "BTB", BEFORE THE BOATS, WERE GONE.

THE AMERICANS BEGAN A CAMPAIGN TO DESTROY THE GREAT BUFFALO HERDS, THE BIGGEST SOURCE FOR FOOD, CLOTHING AND SHELTER FOR ESPECIALLY THE WESTERN TRIBES.

THERE ARE HUNDREDS OF PHOTOS OF MOUNTAINS OF BUFFALO BONES, MILE-AFTER-MILE OF ROTTING BUFFALO CARCASSES LITTERING THE PLAINS OF THE WEST IN SOME HISTORY BOOKS TODAY, BUFFALO KILLED BY MEN HIRED BY THE U.S. GOVERNMENT.

AMERICA'S BISON HERDS NEVER RECOVERED, NEVER WILL.
NEITHER DID THE 'INDIANS'.
YOUNG CHILDREN, THE HOPE OF THE TRIBES, WERE TAKEN FROM PARENTS, SOMETIMES BY ARMED POLICE, AND PLACED IN BOARDING SCHOOLS, ALLEGEDLY TO EDUCATE THEM, TO "MAKE THEM WHITE", BUT THOSE WERE PLACES OF NIGHTMARES WHERE MANY DIED, WHERE MANY MORE WERE SEXUALLY AND PHYSICALLY ABUSED.
IF YOU DOUBT THIS, IT WAS WELL DOCUMENTED AND THE FACTS ARE EASY TO FIND ONLINE, LIKE THE PDF FILE TITLED
Death by Boarding School: "The Last Acceptable Racism".


"For the government, it was a possible solution to the so-called Indian problem.


For the tens of thousands of Indians who were sent to boarding schools, it's largely remembered as a time of abuse and desecration of culture.

The federal government began sending American Indians to off-reservation boarding schools in the 1870s, when the United States was still at war with Indians.
An Army officer, Richard Pratt, founded the first of these schools.
He described his philosophy in a speech he gave in 1892.

"A great general has said that the only good Indian is a dead one," Pratt said. "In a sense, I agree with the sentiment, but only in this: that all the Indian there is in the race should be dead. Kill the Indian in him, and save the man."
HE WAS PROBABLY SPEAKING OF GENERAL SHERIDAN, BUT TWO AMERICAN PRESIDENTS EXPRESSED THE SAME SENTIMENT QUITE OPENLY...ANDREW JACKSON AND TEDDY ROOSEVELT.
"I don't go so far as to think that the only good Indians are the dead Indians, but I believe nine out of every 10 are," Roosevelt said during a January 1886 speech in New York.


Indians were not equal to whites, Roosevelt would later tell Congress.
MANY ALSO DIED ON WHAT THE TRIBES CALL "TRAILS OF TEARS"...FROM THE SOUTHWEST TO THE CANADIAN BORDER, FROM THE PACIFIC TO THE AT;ANTIC, TRIBES WERE ROUNDED UP AND SENT, OFTEN BY FOOT, OVER HUNDREDS, EVEN THOUSANDS OF MILES TO THEIR 'NEW HOMES'... THOSE "RESERVATIONS".
NO ONE COUNTED HOW MANY DIED ON THOSE TRAILS, BUT WE CAN TELL YOU THEIR NAMES AND THEIR STORIES...WE HAVE TOLD THEM TO EACH OTHER

SINCE 1830.
SURVIVORS SPOKE OF TH

OSE WHO DIED

WITH TEARS.
WE REMEMBER THEM WITH GREAT SADNESS.


IN MY OWN FAMILY, WE KNOW THE BITTER STORY OF ONE OF THOSE WOMEN ON THE TRAIL OF TEARS TO ARKANSAS AND OKLAHOMA.
SHE WAS 15 YEARS OLD AND VERY BEAUTIFUL.
WHEN THE PEOPLE REACHED THE MISSISSIPPI RIVER, THE MILITARY PACKED THEM ONTO RAFTS TO MAKE THE CROSSING.
OUR RELATIVE FOUND A WAY TO ROLL OFF THAT RAFT AND DROWN HERSELF IN THE RIVER.
WE WERE TOLD SHE WAS TERRIFIED AND SHAMED BY BEING RAPED REPEATEDLY BY SOME OF THOSE TASKED WITH 'GUARDING' THE GROUP.

SHE CHOSE DEATH RATHER THAN TO GO THROUGH ONE MORE DAY LIKE THAT..
HER NAME, TRANSLATED, MEANT RAINBOW.
ONLY RECENTLY HAVE HISTORY BOOKS HERE BEGUN TO ADMIT THAT THERE WAS "BIOLOGICAL WARFARE" CARRIED OUT AGAINST UNSUSPECTING TRIBES, THAT YES, YES, INDEED, SMALLPOX AND OTHER PLAGUES WERE INTENTIONALLY SPREAD BY THOSE SWEET OLD 'PILGRIMS' AND THEIR "ANCHOR BABIES", FROM WHENCE SPRANG ALL 'WHITES' HERE IN AMERICA WHO CLAIM RELATIONSHIP TO THOSE FIRST INVADERS, SOME OF WHOM DARE TO WHINE AND BITCH ABOUT ISRAEL

.
THE TWO HUGE DIFFERENCES BETWEEN AMERICA AND ISRAEL ARE THAT
(1) OVER 3,000 YEARS AGO, ISRAEL CONQUERED THOSE SAME LANDS THERE IN THE 'MIDDLE EAST', MUCH MORE LAND THAN SHE CURRENTLY OCCUPIES, ALL WHILE THE ANCESTORS OF MOST MODERN NATIONS WERE STILL ON THE

LONG, WINDING

ROAD "OUT OF AFRICA" OR MARCHING IN FROM ALL POINTS TOWARD WHAT WOULD SOMEDAY BE THEIR "NEW" NATIONS, DISPLA

CING MILLIONS WHILE DOING SO

.

YEAH, IT WAS FINE FOR THEIR ANCESTORS TO CONQUER AND CREATE NEW NATIONS, BUT NOT FINE FOR ISRAEL TO DO THE SAME.


ISRAEL WAS A RECOGNIZED KINGDOM BEFORE THE GREAT WALL OF CHINA WENT UP.
WHEN HER FIRST KING WAS SELECTED THERE WAS NO ENGLAND, FRANCE, GERMANY, SPAIN, PORTUGAL, SWEDEN OR ITALY AND CERTAINLY NO THO

UGHT OF AMERICA.
SOME OF THE TRIBES ISRAEL CONQUERED WERE SO VILE TO OTHERS THAT ARABIC KINGDOMS BANDED TOGETHER WITH THE JEWISH PEOPLE TO COMPLETELY OBLITERATE THEM FROM THE EARTH.
THE PHILISTINES, AN AEGEAN CULTURE THAT INVADED THE MIDDLE EAST FROM THE AREA AROUND GREECE, WAS ONE SUCH NATION.
THERE ARE NO PHILISTINES ALIVE TODAY.


FROM ENCYCLOPEDIA BRITTANICA:
"
After being repulsed by the Egyptians, they settled—possibly with Egypt's permission—on the coastal plain

f

rom Joppa (modern

Tel Aviv

) southward to

Gaza

...

arriving at about the same time as the Israelis.


By the early part of the 7th century,

Gaza

, Ashkelon,

Ekron

,

Ashdod

, and probably

Gath

were vassals of the Assyrian rulers; during the second half of that century, the cities became Egyptian vassals.
There are no documents in a Philistine language.
Little is known about their religion.

13th-century

Mycenaean

style pottery has been found in Philistine temples and shrines displaying a variety of Aegean design elements which have been excavated in Ashdod, Ekron, and Tel Qasile."

"

All traces of the Philistines as a people or ethnic group disappeared."

AS FOR THE CLAIMS BY SOME 'PALESTINIANS' TO HAVE ORIGINATED IN THE "INDIGENOUS CANAANITE TRIBE"....THAT TRIBE ORIGINATED FROM A SON OF NOAH, AS DID THE JEWISH PEOPLE.

THERE ARE NO CANAANITES LEFT ON EARTH TODAY, EITHER
THEY WERE ASSIMILATED INTO EXTINCTION....
AMERICA?
ESTABLISHED IN 1776 OR SO....A.D, NOT B.C.
240 YEARS IN EXISTENCE AS OPPOSED TO 3.000 YEARS OF ISRAELI HISTORY....YEAH, SOME DIFFERENCE.

ALSO, AMERICANS WHO ARE OF THOSE PILGRIM LINEAGES, OF THE LINES WHO CAME FROM ENGLAND AND A FEW OTHER COUNTRIES, WERE FUNDED, ESTABLISHED, "SETTLED" HERE BY GOVERNMENTS AND 'TRADING COMPANIES' FOR THE MOST PART.
THEY HAD, SHALL WE SAY, "FINANCIAL BACKING".

LATER, THEY TURNED ON THE NATIONS THAT LANDED THEM HERE.
THAT WAS CALLED "THE AMERICAN REVOLUTION".
ASK ENGLAND...FRANCE...THE DUTCH WHO LOST A CONSIDERABLE AMOUNT OF PROPERTY AND MONEY WHEN THE 'COLONISTS' RE

VOLTED

.
(2) UNLIKE THE REVOLUTIONISTS IN AMERI

CA, ISRAEL HAD THE "PERMISSION" OF THE

THE LEAGUE OF NATIONS (WHICH INCLUDED THE USA, BTW), AND BRITAIN TO FORM A NATION IN HER ANCIENT LANDS.



THEY

HAD PROMISED ISRAEL MUCH, MUCH MORE LAND THAN SHE CURRENTLY OCCUPIES, BUT, MORE THAN ONCE, THEY CUT THAT LAND DOWN IN SIZE TO PLACATE RICH ARAB RULERS, GIVING WHAT IS NOW 'JORDAN', BUT WHAT WAS IN THE BALFOUR DECLARATION, INITIALLY, ISRAELI LAND, TO ISRAEL'S SWORN ENEMIES, TO RULERS WHO SWORE TO THEIR 'GOD', AND SO SWEAR TO THIS DAY, TO EXTERMINATE EVERY JEW ON EARTH..
ALL IT TAKES TO CONFIRM THIS SHREDDING OF ISRAEL'S RIGHTFUL PROMISED LAND IS A QUICK WEB SEARCH INTO RECORDED HISTORY.
BUT, IN EACH INSTANCE, ISRAEL AGREED TO THE CUTS...TO KEEP THE PEACE, TO LIVE WITHOUT CONFLICT.
NOT SO HER ADVERSARIES WHO DEMANDED MORE AND MORE, ALWAYS MORE.
ACTUALLY, WHEN BRITAIN HANDED OVER THE "TRANSJORDAN" TERRITORY TO THE NEW "KING", IT WAS UNDERSTOOD THAT "TRANSJORDAN" WOULD BE HOME TO ALL WHO DIDN'T WISH TO LIVE UNDER ISRAELI RULE.
TRANSJORDAN WAS TO BE THE "PALESTINIAN" NATION THAT HAD NEVER EXISTED BEFORE IN HISTORY.
The 1922 White Paper (also called the Churchill White Paper) was the first official manifesto interpreting the Balfour Declaration.
It
gives us proof of the intentions for "Transjordan"



"After the partition, Transjordan remained part of the Palestine Mandate and its legal system applied to all residents, both East and West of the Jordan River, who all carried Palestine Mandate passports. Palestine Mandate currency was the legal tender in Transjordan as well as the area West of the river. This was the consistent situation until 1946, 24 years later, when Britain completed the action by unilaterally granting Transjordan its independence.

Thus the British subverted the purpose of the Palestine Mandate, partitioned Palestine and created an independent Palestine-Arab state with no regard for the rights and needs of the Jewish population.

According to Sir Alec Kirkbride, the British representative in the area, Transjordan was:
... intended to serve as a reserve of land for use in the resettlement of Arabs once the National Home for the Jews in Palestine, which [Britain was] pledged to support, became an accomplished fact.
WHAT HAPPENED?
THE NEW "KING" OF TRANSJORDAN DENIED ENTRANCE INTO HIS NEW 'KINGDOM' TO ALL BUT WHOM HE CHOSE.
FROM DAY 1 OF THEIR VERY NEW IDENTITY UNTIL TODAY, ALL ARABIC NATIONS NEAR ISRAEL HAVE EITHER REFUSED TO TAKE IN 'PALESTINIANS', GAZANS, WEST BANK 'REFUGEES' OR

HAVE PUT THEM ALL IN REFUGEE CAMPS, MUCH LIKE AMERICA ESTABLISHED "RESERVATIONS" FOR THOSE IT SHOVED OUT OF THE WAY.
QUITE SIMPLY, WHEN OTHER ARAB NATIONS SAW THE NEW KING OF TRANSJORDAN RENEGE ON THE DEAL, THEY ALL WERE AFRAID THEIR COUNTRIES WOULD BECOME TARGETS FOR RESETTLING ALL WHO DID NOT WISH TO LIVE IN THE NEW NATION OF ISRAEL.
THEY SLAMMED THEIR BORDERS SHUT AND INVITED IN NONE WHO WERE LEAVING ISRAE

L.
ISRAEL SAID, "YOU CAN LIVE HERE AMONG US, BUT YOU MUST LIVE IN PEACE", WHILE MUSLIM COUNTRIES SAID, "NOT IN MY BACKYARD! NO WAY! KEEP OUT! WE SENT YOU TO ISRAEL, SO STAY THERE!"
THE TEA ROOM HAS PREVIOUSLY PUBLISHED THE MAPS, THE WRITTEN AND RECORDED WORDS, FROM THE

FALSE PROMISES

OF THE LEAGUE OF NATIONS AND GREAT BRITAIN, WHO WAS CHARGED WITH HANDING OVER THE LAND TO ISRAEL, TO THE LIES ARAFAT TOLD WHEN HE STOPPED BEING EGYPTIAN AND BECAME "PALESTINIAN" OVERNIGHT.
FROM ARAFAT'S 'PLO' TO TODAY'S HAMAS AND FATAH, THE MYTH OF "PALESTINIANS" HAS BEEN KEPT ALIVE ONLY BECAUSE FOREIGNERS SEEM TO WANT TO BELIEVE IT.
MUSLIMS, ARABS, ALL NATIONS WHO SENT THEIR OWN CITIZENS INTO ISRAEL TO BECOME "PALESTINIANS" KNOW BETTER.
"In 1930, the Hope Simpson Commission, sent from London to investigate the 1929 Arab riots, said the British practice of ignoring the uncontrolled illegal Arab immigration from Egypt, Transjordan and Syria had the effect of displacing the prospective Jewish immigrants."


THE SURROUNDING ARAB NATIONS ADMITTED GUILT A FEW TIMES, PROMISED TO DO BETTER.
SOME MADE THE MISTAKE OF ADMITTING IT IN WRITING.

OFTEN ENOUGH, THE NATIONS SURROUNDING ISRAEL GOT SO CONCERNED THAT THE OTHERS WERE INJECTING MORE OF THEIR CITIZENS INTO THE

TERRITORY

ISRAEL

W

AS TRYING TO ESTABLISH HERSELF IN THAN THEY WERE THAT THEY'D RAT EACH OTHER OUT, POINT TO THE "ILLEGAL IMMIGRANTS"

SENT IN BY

THE OTHER GUYS SO THE BRITS WOULD KICK A FEW OUT.
TEMPERS FLARED.

THE BEDOUIN TRIBES IN THE REGION, PLENTY PISSED OFF THAT THE ILLEGAL ARABS WERE TAKING CONTROL OF THEIR WELLS, STEALING THEIR SUPPLIES AND LIVESTOCK

,

HARASSING

THEIR WOMEN AND DISPLACING THEM ALL ALONG THE BORDER, ALSO REPORTED THE ILLEGALS TO BRITAIN, BUT BRITAIN DID NOT DO A GOOD JOB AT STOPPING THE CLANDESTINE BORDER CROSSINGS.

BRITAIN NEVER LIKED THE JEWS.

THEY BECAME THE "NEW ROME" IN HANDLING THE JEWISH HOMECOMING AND THINGS DETERIORATED RAPIDLY.


SOME RECORDED CENSUSES THAT GO BACK OVER 1,000 YEARS SHOWED THE REALITY....CENSUSES BY THE ROMANS, THE OTTOMAN EMPIRE.

IN EVERY CENSUS JEWS WERE THERE.

NOT ONCE IN RECOR

DED HISTORY HAD ALL JEWS LEFT THAT AREA.
IN EVERY CENSUS, JEWS WERE LISTED AS PRESENT AND ACCOUNTED FOR.


MANY

ARABIC PEOPLE DIDN'T WANT TO LIVE THERE ONCE THEY SAW THE IMPOSSIBILITY OF RAISING ENOUGH FOOD OR FINDING ENOUGH WATER OR DEALING WITH THE HARSHNESS OF THE LAND.

THE BEDOUINS, ON THE OTHER HAND, SEEMED TO WANT TO STAY NEAR.
"In 1915, for example, approximately 83,000 Jews lived in 'Palestine' among 590,000 Muslim and Christian Arabs."
NOTHING MUCH GREW INSIDE ISRAEL WITHOUT VERY HARD WORK, IT WAS A VERY POOR REGION IN EVERY WAY AND ONLY A NOMADIC LIFESTYLE COULD FIND SUSTENANCE FOR LONG IN ONE PLACE.
THERE ARE QUITE OLD WRITINGS THAT ACTUALLY SEEM ANGRY THAT THE JEWISH PEOPLE COULD COAX THE LAND TO GROW FOOD AND COULD FIND WATER THERE.

SOME NATIONS ALSO COMPLAINED TO BRITAIN THAT THE BEDOUIN JUST WOULDN'T GO AWAY.
JORDAN, WHICH ONCE BELONGED TO ISRAEL BY CONQUEST AND BY 3,000+ YEARS OF

CONTINUAL HABITATION

, BRIEFLY BELONGED TO HER AGAIN BY MANDATE OF THE LEAGUE OF NATIONS, WITH BRITAIN SET TO HAND IT OVER.
IT'S MERELY A HISTORICAL FACT...JORDAN SHOULD BE IN THE HANDS OF THE ISRAELI GOVERNMENT, BY RIGHT.
"1921, Colonial Secretary Winston Churchill severed nearly four-fifths of Palestine—some 35,000 square miles—to create a brand new Arab entity, Transjordan.

As a consolation prize for the Hejaz and Arabia (which are both now Saudi Arabia) going to the Saud family, Churchill rewarded Sherif Hussein's son Abdullah for his contribution to the war against Turkey by installing him as Transjordan's emir."
ISRAEL'S CONQUESTS THROUGH THE MILLENNIA INCLUDED LANDS SHE RETURNED TO THE CONQUERED MANY TIMES.

THE SINAI PENINSULA, ALSO BY RIGHT OF CONQUEST IN ANCIENT TIMES AND LAST TIME IN 1967, SHOULD BELONG TO ISRAEL.

THE GRAND HYPOCRISY OF ALL NATIONS

THAT CONDEMN ISRAEL, CAN YOU SEE IT YET?



HAVE WE SEEN AMERICA HAND BACK ONE ACRE OF LAND IT STOLE FROM THE 'INDIANS'?
NO.

AMERICA SHOVED 'INDIANS' ONTO LANDS SO POOR NOBODY WANTED TO OWN THEM....UNTIL OIL, COAL, NATURAL GAS, URANIUM, ETC, WAS DISCOVERED THERE.
AMERICA WAS VERY CLEVER IN CREATING THOSE "RESERVATIONS", THOUGH.
THE AMERICAN GOVERNMENT "HELD INDIAN LANDS IN TRUST".
BY HOLDING THEM "IN TRUST" THEY CAN DO PRETTY MUCH WHAT THEY WANT TO DO WITH THEM, LIKE HANDING OUT "99-YEAR LEASES" TO RANCHERS, MINERS, AND HOLDING THAT MONEY "IN TRUST".
ABOUT $10 BILLION DOLLARS OF THAT "IN TRUST MONEY" WENT MISSING SEVERAL YEARS BACK.
GUESS WHAT?
AMERICA NEVER PAID IT ALL BACK TO THE "INDIANS".
WHEN THOSE 'INDIAN' LANDS "HELD IN TRUST" JUST GOT TOO DESIRABLE TO RANCHERS, MINERS, ETC, THE U.S. GOVERNMENT WOULD "BUY" THE LANDS FROM THE TRIBES AND INDIVIDUAL TRIBES-PEOPLE FOR PENNIES ON THE DOLLAR, SELL THEM OR LEASE THEM AT A PROFIT TO THOSE WHO HAD EXPRESSED THEIR DESIRE FOR INDIAN LANDS
.
THE INDIANS, UNLEARNED IN THE LEGALITIES, UNSURE OF HOW LAND COULD EVER BE OWNED BY ANYONE WERE HOODWINKED, ROBBED.
THE AMERICAN PEOPLE, WHITE PEOPLE, LOOKED THE OTHER WAY.
ALL THE NATIONS OF EARTH LOOKED THE OTHER WAY.
NONE CRIED OUT FOR THE INDIANS.
AMERICA MADE ABOUT 500 "TREATIES" WITH THE TRIBES, AND TAKE A GUESS WHO BROKE EVERY SINGLE ONE OF THOSE TREATIES....
AMERICA DID.
AND THE FEDERAL GOVERNMENT CONTINUES TO BETRAY THAT "TRUST" AND THOSE TREATIES ANEW EVERY YEAR.
THEY CONNED THE TRIBE THAT OCCUPIED WHAT IS NOW MANHATTAN INTO ACCEPTING A LOUSY $28 IN TRINKETS FOR ALL THAT LAND WAY BACK IN THE 1600s.
TODAY, THEY JUST GO IN AND TAKE WHAT THEY WANT, KNOWING THE AMERICAN INDIAN TRIBES ARE THE POOREST PEOPLE IN THIS NATION AND CAN'T FIGHT THEM IN COURT.
IN CONTRAST, BOTH BEFORE THE 1917 MANDATE TO RETURN ISRAEL TO THE JEWS AND AFTER THE MANDATE WAS ISSUED, ISRAELIS BOUGHT, AT RIDICULOUSLY HIGH PRICES, BARREN OR SWAMPY LANDS THAT MUSLIMS OWNED, (LANDS WHICH, BTW, WERE OFTEN STOLEN FROM LOCAL BEDOUIN TRIBES, ABSENTEE SYRIANS, EGYPTIANS AND LEBANESE OWNERS BY LOCAL ARABS) TO THE TUNE OF OVER 500,000 ACRES (OR ABOUT 1,800,000 'DUNUMS').

EVEN MEMBERS OF THE MUSLIM SUPREME COUNCIL SOLD LAND TO JEWISH BUYERS ONCE PRICES FOR LAND ROSE HIGHER.


"Those who sold land included the mayors of Gaza, Jerusalem and Jaffa. As'ad el--Shuqeiri, a Muslim religious scholar and father of PLO chairman Ahmed Shuqeiri, took Jewish money for his land."


[DEEDS DON'T LIE. THEIR SIGNATURES ARE ON THOSE DEEDS!]
Even King Abdullah leased land to the Jews.


THIS LITTLE-KNOWN FACT WAS WELL DOCUMENTED IN THE BOOK 'KING ABDULLAH, BRITAIN AND THE MAKING OF JORDAN'...GO HAVE A READ.
In fact, many leaders of the Arab nationalist movement, including members of the Muslim Supreme Council, sold land to Jews."


A VERITABLE CIVIL WAR ERUPTED BETWEEN THOSE SELLING THEIR LANDS TO JEWS AND THOSE WHO WERE FRANTICALLY TRYING TO KEEP JEWS OUT.


The British government appointed the Peel Commission to investigate the reasons for the civil unrest in Palestine.
In 1934 Jerusalem's mufti, the spiritual leader of the city's Muslims, decreed that believers were duty bound to murder other Muslims who sold land to Jews.




Lord Peel's findings on land purchase were as follows:
Report of the Palestine Royal Commission - July 1937: "The shortage of land is due less to purchase by Jews than to the increase in the Arab population. The Arab claims that the Jews have obtained too large a proportion of good land cannot be maintained. Much of the land now carrying orange groves was sand dunes or swamps and uncultivated when it was bought."
FEW ARE AWARE THAT THE 'GRAND MUFTI' OF JERUSALEM, ONE HAJ AMIN al-HUSSEINI, WHO WAS MOST VOCAL AGAINST THE BALFOUR PROCLAMATION AND THE LEAGUE OF NATIONS RETURNING JEWS TO THEIR HOMELAND, FLED FROM JERUSALEM IN 1941 AND WENT TO GERMANY TO BEG HITLER TO SEND FORCES TO HELP OUST THE JEWS.
HITLER TOLD HIM THE TIME WAS NOT RIGHT FOR THAT AND THE MUFTI WENT ON HIS WAY, BUT HE WAS A WANTED MAN.
"In 1945, Yugoslavia sought to indict the Mufti as a war criminal for his role in recruiting 20,000 Muslim volunteers for the SS, who participated in the killing of Jews in Croatia and Hungary. He escaped from French detention in 1946, however, and continued his fight against the Jews from Cairo and later Beirut."

TODAY?

The Palestinian Authority has made the sale of land to Jews a capital crime, PUNIS

HABLE BY DEATH

and, in 1997, made headlines when they executed a 70-year-old Muslim man who sold his land to a Jew.


GAZANS HAVE LONG COMPLAINED TO THE U.N. AND OTHER INTERNATIONAL ORGANIZATIONS THAT HAMAS ROUTINELY EXECUTES GAZAN CITIZENS WHOM THEY ACCUSE OF "BEING FRIENDLY TO THE ENEMY (JEWS)" OR WHOM THEY ACCUSE OF GIVING THE JEWS INFORMATION ABOUT HAMAS' MOVEMENTS.



"The 43-page report, "Abusive System: Criminal Justice in Gaza," documents extensive violations by Hamas security services, including warrantless arrests, failure to inform families promptly of detainees' whereabouts, and subjecting detainees to torture. It also documents violations of detainees' rights by prosecutors and courts. Military courts frequently try civilians, in violation of international law.

Prosecutors often deny detainees access to a lawyer, and courts have failed to uphold detainees' due process rights in cases of warrantless arrest and abusive interrogations.

Victims of abuses and their families, lawyers, judges, Palestinian rights groups in Gaza have
reported that the Internal Security agency, the drugs unit of the civil police force (HAMAS) , and police detectives all torture detainees. and presented reviewed case files and court judgments.

The Independent Commission for Human Rights, a non-partisan Palestinian rights group that also monitors Palestinian Authority abuses in the West Bank, reported receiving 147 complaints of torture by these three Hamas forces in 2011 alone."

IF ISRAEL HAD BEEN CITED FOR ONE

SUCH CASE OF TORTURE THERE WOULD HAVE BEEN A WORLDWIDE OUTCRY.




Hamas's rival in the West Bank, the Fatah-dominated Palestinian Authority, arrests and detains Palestinians arbitrarily, including Hamas members or sympathizers, and similarly subjects detainees to torture and abuse.

WHEN MUSLIMS TORTURE OR KILL OTHER MUSLIMS, THE WORLD TURNS A BLIND EYE, BUT WHEN ISRAEL

RETALIATES AFTER HER CITIZENS ARE ATTACKED AND/OR MURDERED, ALL THE WORLD SCREAMS FOR ISRAEL'S PROSECUTION.



HYPOCRISY...LET'S CALL IT WHAT IT IS.

DONALD TRUMP HAS PROMISED TO BUILD A WALL BETWEEN THE U.S. AND MEXICO, HAS PROMISED TO BAN MUSLIMS FROM ENTERING AMERICA.
EGYPT HAS BUILT A WALL TO KEEP OUT GAZANS.

MOST OF EUROPE IS PROTESTING ALL THE SYRIAN AND OTHER REFUGEES FLEEING FROM THE NEVER-ENDING CIVIL WARS THAT GO ON YEAR-AFTER-YEAR IN ARAB NATIONS, MUSLIMS AGAINST MUSLIMS, BUT WHO SHOUTS AGAINST ANY OF THAT?


IT'S ONLY AGAINST ISRAEL THAT THE NATIONS OF EARTH HURL CONDEMNATIONS WHEN ISRAEL DOES THE EXACT SAME THINGS

ALL OTHER NATIONS ARE DOING.
WHEN FRANCE AND GERMANY AND AMERICA AND OTHERS HAVE KILLED MUSLIM TERRORISTS WHO KILLED THEIR CITIZENS ALL WAS WELL, NO ONE PROTESTED THAT.

IT'S ONLY ISRAEL...JEWS....FACE IT.


AND THAT IS ABJECT HYPOCRISY.


NO ONE DEMANDS THAT HAMAS AND FATAH STOP KILLING THEIR OWN OR EACH OTHER.

FEW COMPLAIN WHEN FOREIGN JOURNALISTS SHOW HAMAS LAUNCHING ROCKETS FROM SCHOOLYARDS, FROM THE ROOF OF A

HOSPITAL

, OR WHEN THEY HAVE SHOWN HAMAS USING CHILDREN, WOMEN WITH BABIES AS SHIELDS.



WHEN HAMAS BLUNDERED AND THEIR ROCKETS LANDED SHORT AND KILLED GAZANS, WHICH NATION CRIED OUT FOR THEM TO BE PROSECUTED IN AN INTERNATIONAL COURT?



"The intra-Palestinian political rivalry remains a significant factor behind many Hamas abuses against detainees in Gaza, Human Rights Watch found."


WHO MAKES LIFE HELL FOR GAZANS ON A DAILY BASIS?
HAMAS, NOT ISRAEL.

WHO FIRES ROCKETS AT ISRAEL FROM SCHOOLYARDS AND HOSPITAL ROOFS, ENDANGERING GAZAN LIVES EACH TIME?
HAMAS.

WHO GRABS CHILDREN OFF THE STREET TO USE AS HUMAN SHIELDS?
HAMAS.

WHO PRODUCES TV SHOWS FOR CHILDREN THAT ENCOURAGE YOUNGSTERS TO BECOME 'MARTYRS', SUICIDE BOMBERS?
HAMAS.

WHO RUNS SUMMER TRAINING CAMPS FOR YOUTH TO TEACH THEM BOMB-MAKING SKILLS AND HOW TO INFILTRATE ISRAELI COMMUNITIES, HOW TO FIRE RIFLES AND LAUNCH MISSILES AT ISRAELIS?


WHO TEACHES CHILDREN TO WANT TO DIE BY BLOWING THEMSELVES UP?


HAMAS.

WHO BEATS OR SHOOTS GAZAN CITIZENS WHO TRY TO GET OUT OF HARM'S WAY EACH TIME ISRAEL GIVES THEM WARNING OF RETALIATION AGAINST HAMAS AFTER HAMAS ATTACKS ISRAEL

...

FORCES THEM TO STAY IN AREAS WHERE ISRAEL HAS MADE CLEAR THEY WILL LAUNCH A REPRISAL SO THEN THEY CAN CALL IN THE MEDIA AND SAY, "LOOK WHAT ISRAEL DID

"

?
HAMAS.

WHO MISFIRES MISSILES, KILLING THEIR OWN PEOPLE AGAIN AND AGAIN?
HAMAS.

GAZANS HAVE REPORTED THESE THINGS, THE GAZAN PEOPLE THEMSELVES!


THE MAJORITY OF GAZANS IN SURVEYS CONDUCTED BY SEVERAL NATIONS, THE U.N. AND HUMAN RIGHTS ORGANIZATIONS, WANT RID OF HAMAS, BUT NO ONE WILL HELP THEM BREAK FREE.


WHO ATTACKS FOREIGN CITIZENS, TOURISTS, PEACEFUL PEOPLE VISITING THE TEMPLE MOUNT, THE JEWISH TEMPLE MOUNT THAT SOLOMON BUILT, EVEN KILLING SOME?
NOT JEWS!
MUSLIMS DO.

WHO BOMBS TOURIST BUSES, BUS STOPS, CAFES, MARKETS, LIES IN WAIT ON ROADWAYS FOR CARS PACKED WITH FOREIGN OR ISRAELI CITIZENS AND KILLS THEM?
NOT JEWS!
MUSLIMS DO.
WHO DOES THOSE SAME TYPE THINGS ALL OVER THE WORLD?
DO JEWS?


WHO HAS FOUGHT FOR YEARS AGAINST HAVING LIVE CAMERAS INSTALLED ON THE TEMPLE MOUNT AND AROUND THAT AREA THAT WOULD SHOW WHO THE GUILTY PARTIES ARE WHEN THERE'S TROUBLE ON THE MOUNT?

NOT JEWS, BUT MUSLIMS.

MUSLIMS DON'T WANT THJE WORLD TO SEE THE TRUTH.
FOREIGN VISITORS TO THE TEMPLE MOUNT HAVE SAID IN NEWS INTERVIEWS FOR YEARS NOW THAT THEY ARE ASSAULTED, SPIT ON,

SCREAMED

AT, THREATENED BY MUSLIMS WHILE ATOP SOLOMON'S TEMPLE MOUNT.
MANY HAD VIDEO PROOF OF THESE THINGS.

AND THAT'S WHY MUSLIMS REFUSE TO INSTALL LIVE CAMS ATOP THE TEMPLE.

DON'T YOU THINK THAT IF THOSE LIVE CAMERAS WOULD SHOW JEWS DOING ANYTHING WRONG THAT MUSLIMS WOULD WANT THE WORLD TO SEE IT?

ISRAEL WON THE SIX-DAY WAR, HAS WON ALL WARS SINCE 1948, HAS COMPLETE RIGHT TO AND CONTROL OF JERUSALEM, HER ANCIENT CAPITAL, HER ESTABLISHED CAPITAL FOR

OVER

3,000 YEARS


READ, THINK, SEE THE TRUTH, EVEN IF IT HURTS.


Israel became a nation in 1312 BCE, two thousand years before the rise of Islam.

Until after 1967 when the "radical Muslims" began clamoring for Jerusalem as their capital, Jerusalem has never been the capital of any Arab or Muslim entity.

Even when the Persians, Ottomans and Jordanians owned and occupied Jerusalem, they never sought to make it their capital, Arab leaders did not come to visit, and the "Dome of the Rock" was so abandoned and untended that it was falling down, was saved by a LEBANESE doctor, not by Muslims.

Jerusalem is mentioned over 700 times in the Jewish Holy Scriptures, but not mentioned once in the Quran, and Mohammed never saw Jerusalem, as he himself admitted.

MEANWHILE, HYPOCRISY CONTINUES....

WHAT CONQUERING PEOPLE HAVE RETURNED CONQUERED LANDS TO THE CONQUERED AFTER IT ESTABLISHED A NATION THERE?
HAS BRITAIN RETURNED SCOTLAND TO THE SCOTS, IRELAND TO THE IRISH, AUSTRALIA TO THE ABORIGINES ?
LOOK HOW LONG IT TOOK ENGLAND TO LET GO OF INDIA, CANADA, ANY LANDS IT CONQUERED AND CLAIMED!
WHILE NATIONS LIKE BRITAIN, FRANCE, GERMANY, AND CERTAINLY ALL MIDDLE EASTERN NATIONS WERE NOT EVEN IN EXISTENCE YET, ISRAEL ESTABLISHED A NATION RIGHT WHERE SHE IS NOW, AND WHERE THE SO-CALLED 'JORDANIANS', 'PALESTINIANS', ETC, ARE TODAY.
SHE FOUGHT AND WON WARS, JUST AS EVERY OTHER NATION ON EARTH HAS.

BUT ISRAEL IS THE ONLY NATION WHO IS BERATED DAILY FOR NOT GIVING BACK WHAT SHE CONQUERED SO MANY TIMES.

WHO SCREAMS FOR ISRAEL TO ABANDON HER NATION?
PEOPLE IN NATIONS THAT WERE FOUNDED BY CONQUEST!

HYPOCRISY!
LET'S CALL IT WHAT IT IS!
IT'S A WELL-NOTED FACT THAT ISRAEL STANDS ALONE AS THE ONLY MODERN NATION ON THIS PLANET WHO HAS OCCUPIED THE SAME LAND, UNDER THE SAME NAME, WITH THE SAME LANGUAGE, SAME CULTURE, AND SAME RELIGION AS SHE HAD 3,000 YEARS AGO.
NOT EVEN CHINA OR EGYPT CAN MAKE THAT CLAIM.
ABOUT THOSE "PALESTINIANS"... THE TEA ROOM HAS ALSO SHOWN THE DNA RESULTS ON SO-CALLED "PALESTINIAN" PEOPLE.
THE DNA CARRIED BY THOSE GO BACK TO SYRIA, LEBANON, EGYPT AND NORTH AFRICA.
THERE NEVER WAS IN HISTORY A TRIBE OR RACE OF PEOPLE KNOWN AS "PALESTINIANS".
THERE WAS NEVER A "PALESTINIAN" KINGDOM, NOR A "PALESTINIAN" LANGUAGE, NOR EVEN A SIMPLE "PALESTINIAN" CLAY POT OR COIN.
THERE WAS NEVER A CAPITAL CITY OF ANY PEOPLE CALLED "PALESTINIAN", NO KINGS, NO LEADERS OF A TRIBE KNOWN BY THAT NAME.
LIKE EVEN YASSER ARAFAT SAID MORE THAN ONCE, PALESTINIANS WERE INVENTED AFTER IT BECAME APPARENT THAT ISRAEL WAS GOING HOME AFTER THE NAZI HOLOCAUST.
BEFORE THAT, "PALESTINIANS" WERE SYRIANS, EGYPTIANS (AS WAS ARAFAT AND HIS FATHER AND HIS FATHER BEFORE HIM) CITIZENS FROM SEVERAL SURROUNDING NATIONS AND FLOCKED IN FROM OTHER AREAS LIKE NORTH AFRICA, SOME EVEN HIRED TO RUSH INSIDE ISRAEL'S BORDERS BEFORE SHE DECLARED HERSELF AN INDEPENDENT NATION.

NOW BRANDED "PALESTINIANS", MANY WHO JUST WANT TO GO HOME CAN'T.
THEIR HOME NATIONS DO NOT WELCOME "PALESTINIANS".
PALESTINIANS HAVE A REPUTATION FOR DISRUPTION, FOR VIOLENCE, FOR BEING IN LEAGUE WITH HAMAS.

EGYPT HAS BUILT A WALL BETWEEN ITSELF AND GAZA.
IT CONTROLS THE BORDER CROSSING, ALLOWING A VERY SMALL TRICKLE OF "PALESTINIANS" IN EVERY NOW AND THEN, BUT THEY ARE NOT WELCOME TO STAY IN EGYPT.

THE JORDANIAN KING, IN 1970, MASSACRED THOUSANDS OF "PALESTINIANS", FAR MORE THAN HAVE DIED IN ISRAELI CONFLICTS, WOULD HAVE KILLED ARAFAT BUT HE ESCAPED WITH HIS LIFE, AND RAN MANY MORE "PALESTINIANS" OUT OF HIS KINGDOM , AN EVENT KNOWN AS "BLACK SEPTEMBER".


DID THE U.N., BRITAIN, AMERICA, ANYBODY PUNISH JORDAN FOR THAT?
DID ANYONE CALL FOR JORDAN TO GIVE LAND TO THE "PALESTINIANS" OR MAKE FINANCIAL RESTITUTION?
NO.

SEEMS TO ME THAT NO MATTER HOW MANY MUSLIMS KILL OTHER MUSLIMS, THE WHOLE WORLD IS FINE WITH THAT.

BUT WHEN ISRAEL HUNTS DOWN AND KILLS A MURDERER WHO KILLED DOZENS OF ISRAELIS AND/OR FOREIGN VISITORS, ISRAEL IS CONDEMNED BY ALL.

SEE THE DIFFERENCE YET?
AS TO THAT NAME "PALESTINE", WHAT ALSO HAPPENED WAS THAT SOME OLD GREEK GUY FAR BACK IN ROMAN TIMES DIDN'T SPELL WELL, GOT CONFUSED ON THE WORD "PHILISTINES" AND THUS THE ROMANS, THEN THE BRITS TOOK THAT AND CREATED "PALESTINIANS".

THE WORD 'PALESTINE' WAS USED BY ROMANS TO DEBASE JEWS.
THEY LIKED THE THOUGHT THAT THE NAME, OR SORT OF THE NAME, OF ISRAEL'S ANCIENT ENEMY, THE PHILISTINES, WOULD REMIND ISRAEL THEY WERE A CONQUERED LAND.
BRITAIN FELT THE SAME WAY.
FROM THE ROMAN OCCUPATION UNTIL AFTER WORLD WAR I, WHEN ANYONE SPOKE OF "PALESTINIANS", IT WAS ASSUMED THEY MEANT... JEWS!
AS I HAVE SHOWN BEFORE, THE ARABIC WORD FOR "PALESTINIAN" IS "FILASTIN".
AT LEAST THE ARABS KEPT THINGS STRAIGHT TO A POINT.
MANY MUSLIM NATIONS HELPED ERASE THE PHILISTINES FROM THE EARTH A COUPLE THOUSAND OR SO YEARS AGO.

FILASTIN, THE FILASTINI...REMEMBER THOSE ARABIC WORDS.
MAYBE ARAFAT'S REFUSAL TO CALL HIMSELF AND HIS FOLLOWERS BY THAT ANCIENT NAME "FILASTINI" IS WHY HE WAS RUN OUT OF JORDAN, LEBANON AND WASN'T EVEN WELCOME IN EGYPT?

ALL THOSE NATIONS WERE AND ARE TODAY, WELL AWARE THAT THERE NEVER WAS A "PALESTINE".
WHEN SYRIAN PRESIDENT HAFIZ al-ASAD REMINDED "PALESTINIANS", GAZANS, THAT GAZA WAS SYRIAN FOR CENTURIES, THE MEDIA OF THE WORLD BARELY MADE MENTION OF THE STATEMENT.

ASAD 'READ THEM THE RIOT ACT', AS WE SAY HERE:



"

During a meeting with leaders of the Palestine Liberation Organization (PLO) in 1976, Syrian President Hafiz al-Asad referred to Palestine as a region of Syria, as Southern Syria. He then went on to tell the Palestinians:

"You do not represent Palestine as much as we do.



Do not forget one thing: there is no Palestinian people, no Palestinian entity, there is only Syria!


You are an integral part of the Syrian people and Palestine is an integral part of Syria. Therefore it is we, the Syrian authorities, who are the real representatives of the Palestinian people."


AMERICA'S COUNCIL ON FOREIGN RELATIONS (CFR) OFFERS THE REALITY TO ANYONE INQUIRING ABOUT THE "PALESTINIANS"...
ON THEIR WEBSITE 'FOREIGN AFFAIRS' THEY WROTE:
"The first Arab to use the term "Palestinian" was Farid Georges Kassab, a Beirut-based Orthodox Christian who espoused hostility toward the Orthodox clerical establishment but sympathy for Zionism.

Kassab's 1909 book Palestine, Hellenism, and Clericalism focused on the status of Greek Orthodox Christianity in Palestine, but noted in passing that

"the Orthodox Palestinian Ottomans call themselves Arabs, and are in fact Arabs,"

despite describing the Arabic speakers of Palestine as Palestinians throughout the rest of the book.

The term "Palestinian" soon caught on:
In 1910, an anonymous contributor to the Haifa-based paper al-Nafir praised an Egyptian writer for acknowledging that Palestinians had made significant literary contributions to the bourgeoning intellectual atmosphere of the age, but criticized him for failing to mention the Palestinians by name.

In 1911, the Orthodox Christian Najib Nassar from Haifa described himself and others from Palestine as Palestinians in his Haifa-based newspaper, al-Kamil.

So too did the Muslim Jerusalemite Muhammad Musa al-Maghribi around the same time in his Jerusalem-based newspaper, al-Munadi, noting that the paper would cover only news relevant to the Palestinians.

In June 1913, the concept of a Palestinian identity began forming in the media, prompting Ottoman parliamentarian and Muslim Jerusalemite Ruhi al-Khalidi to write an article titled "The Palestinian Race" for the paper Filastin.
The decades of debate all beg a central question: Is Palestinian identity an invention?
The answer, however, is self-evident—of course it is."
PRESIDENTIAL CANDIDATE MIKE HUCKABEE CAN SET FOLKS STRAIGHT:
Mike Huckabee said to The Washington Post that "there's really no such thing as the Palestinians.""The idea that they have a long history, dating back hundreds or thousands of years, is not true," Huckabee continued.

SO CAN NEWT GINGRICH, ANOTHER PRESIDENTIAL CANDIDATE:
"There was no Palestine as a state," former House Speaker Newt Gingrich told the Jewish Channel when running for president in 2011. "It was part of the Ottoman Empire. I think that we've had an invented Palestinian people who are in fact Arabs."
WHAT DOES HISTORY SAY?
ANCIENT ISRAELI TRIBES MENTIONED BY OTHER KINGDOMS INCLUDE:
"
The tribe of Manasseh occupied more territory to the east of the Jordan River than to the west, the entire tribe of Reuben dwelled east of the Jordan, and the land called Gad was east of the Jordan. Mount Gilead and Ramoudh Gilead all were east of the Jordan,"

IN THE MAP BELOW, THE TRIBES COLORED AND NAMED EAST OF THE JORDAN WERE ALL CONQUERED BY ISRAEL/JUDAH.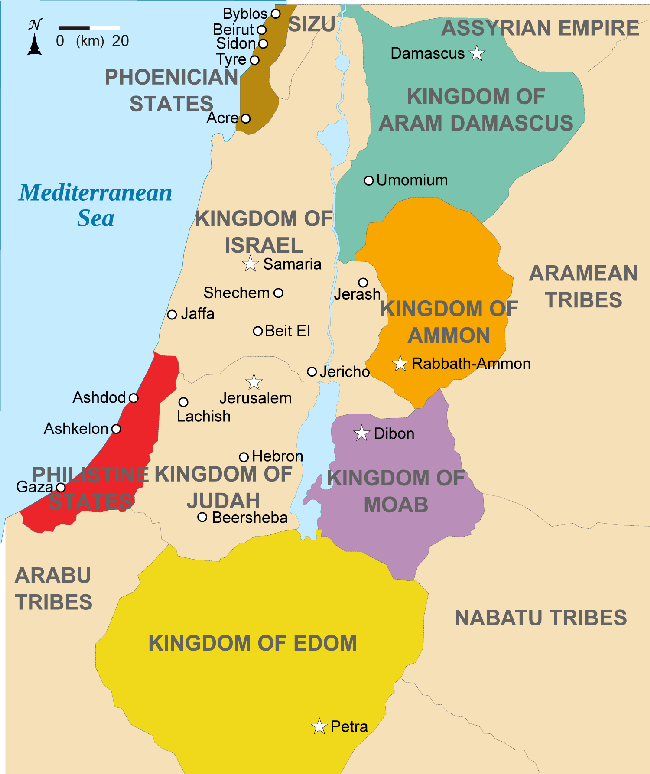 The East Bank and the West Bank, same situation... BOTH CLAIMED BY ARAB-PALESTINIANS, BUT ONLY ISRAEL IS PUSHED TO CONCEDE LAND.
If Israel must give up a portion, or all of WEST BANK land, which was part of the British Mandated "Palestine" or Jewish National Home, it is only logical that Jordan must give up a proportionately large amount of EAST BANK land which was also part of the British Mandated "Palestine" or Jewish National Home.
Each country, Israel and Jordan MIGHT agree to contribute land according to the number of Palestinians residing in their country.

(Most

Palestinians in Jordan live on the EAST BANK)


Palestinians are by law guaranteed the RIGHT OF RETURN to Jordan, where they are entitled to citizenship, "unless they are Jews."


Jordan is very much afraid that it will be declared THE PALESTINIAN STATE.

Jordan has NEVER allowed publication of the percentage of Palestinians in its population.

Jordan is also afraid that someone might suggest to take a portion of its territory for a Palestinian state.

MORE THAN TWICE the number of Palestinians live on the EAST BANK of the Jordan River in Jordanian territory, than live on the WEST BANK.


(1996 FIGURES PUT JORDAN'S ARAB-PALESTINIAN POPULATION AT 2,272,000 AD THE WEST BANK'S POPULATION AT 1,572,000.)



ARAB-PALESTINIANS ELSEWHERE, LEST WE FORGET...

FEW REALIZE THAT ARAB PALESTINIANS MAKE UP ALMOST 5% OF LEBANON (356,000) AND

SYRIA (325,000), THAT 54,000 LIVE IN EGYPT, 33,000 IN IRAQ, 38,000 LIVE IN LIBYA, AND ALMOST 320,000 ARAB-PALESTINIANS LIVE SCATTERED AMONG THE OTHER ARAB NATIONS OF THE MIDDLE EAST.



EVEN FEWER MAY BE AWARE THAT SYRIA, EGYPT, LEBANON AND JORDAN KEEP PALESTINIAN 'REFUGEES' IN REFUGEE CAMPS, IN SOME VERY HARSH

CONDITIONS

.
THEY ARE DENIED CITIZENSHIP ALMOST EVERYWHERE IF THEY IDENTIFY THEMSELVES AS PALESTINIANS

ALMOST 500,000

ARAB-PALESTINIANS HAVE IMMIGRATED TO THE UNITED SATES AND EUROPEAN NATIONS.
[SOURCE: Palestinian Central Bureau of Statistics for Palestinians in WB/Gaza
1996]



THERE IS NO SUCH THING NOW, NOR HAS THERE EVER IN HISTORY BEEN A RACE OF PEOPLE OR A CULTURE THAT COULD BE OR WAS IDENTIFIED AS "PALESTINIANS".



ARAFAT AND MANY ARAB EDUCATORS, WRITERS, HISTORIANS AND OFFICIALS HAVE SAID SO, AS THE TEA ROOM HAS SHOWN DOCUMENTATION FOR IN OTHER ARTICLES HERE.

BONAFIDE ARAB NATIONS DON'T TRUST THOSE WHO CALL THEMSELVES "PALESTINIANS" AND DON'T WANT THEM INSIDE THEIR BORDERS.
IT'S A SAD FACT, WELL KNOWN IN ARAB COUNTRIES.

DNA HAS, DOES AND WILL PROVE THE LIE OF A "PALESTINIAN"PEOPLE.

THEY ARE OF SYRIAN, NORTH AFRICAN, EGYPTIAN, LEBANESE AND EVEN, IN SOME INSTANCES, JEWISH DESCENT.


ISRAEL WAS ESTABLISHED

MILLENNIA

AGO.

ISRAEL HAS WON ALL HER WARS SINCE 1948.


SHE IS A MORE VALID NATION THAN MANY WHO WISH TO ERASE HER FROM THE EARTH.




THAT WILL NEVER HAPPEN.






______________________________
FURTHER READING, INCLUDING SOME SOURCES FOR THIS BLOG:



***

LIST OF MIDDLE EAST NATIONS' 'INDEPENDENCE DAYS", WHEN THEY BECAME NATIONS 'IN FACT', AFTER WORLD WAR I.

***


ONLY

2

OF THESE NATIONS WERE KNOWN BY THEIR CURRENT NAME WHEN ISRAEL FIRST ESTABLISHED A KINGDOM IN 1500-1000 BCE (EGYPT AND LEBANON) WHILE PERSIA OF ANCIENT DAYS BECAME IRAN

.

THE NEW NATIONS ARE MARKED BY A SINGLE

ASTERISK

:

***



--AFGHANISTAN (1919)*

--BAHRAIN (1971)*
--EGYPT (1922)
--IRAQ (1932)*


--ISLAMIC REPUBLIC OF IRAN (1979, BEGAN BEING CALLED IRAN IN 1935)


--JORDAN (1946) *
--KUWAIT (1961)*


--LEBANON (1943)


--PAKISTAN (1947)*


--SAUDI ARABIA (1932)*


~TURKEY (1923)*
--QATAR (1971)

*


--UNITED ARAB EMIRATES (1971)*
--YEMEN (1918, 'NORTH' YEMEN, DECLARED A REPULIC 1962) (196

7

) (1990 "UNITED" YEMEN)*
Source: World Factbook, CIA.


~
"Hamas is driving the Palestinians in Gaza to revolt against it"
"Hamas uses force to suppress all voices against it and is ready to use any measure to secure its control

.

"


~ AS THE TEA ROOM HAS SEVERAL ARTICLES ABOUT ISRAEL AND THE ONGOING CONFLICTS THERE THAT LIST MANY OF THE SAME SORCES USED FOR THIS BLOG ENTRY, SEE <HERE>, <HERE>, <HERE> AND <HERE> FOR THOSE LINKS.


~ "Muhammad, the Borrower"
Since Islam began people have charged Muhammad with borrowing stories and religious material from other religions and repeating them as the Quran, MANY ARE VERBATIM from the older manuscripts of both Judaism and Christianity.



Muhammad's contemporaries had heard those stories before and pointed to the fact that Muhammad was repeating them.



The exposure of Muhammad's borrowing continues to this day.

Modern Islamic scholars continue the assertion.

These scholars come from Atheist, Jewish, Christian, and even Muslim backgrounds.

They've all agreed that Muhammad borrowed religious material.


Interestingly, the Quran records this charge of borrowing leveled against Muhammad by his contemporaries:
Quran 25:5
And they say:

"Tales of the ancients, which he has caused to be written: and they are dictated before him morning and evening."
All are aware that Muhammad was illiterate, could neither read nor write, but dictated the Qur'an to others to write down, but he did listen to stories told around him, to Scriptures read aloud or spoken by Jews and by Christians.
We must also recall that two of Muhammad's wives were Jewish,
Safiya bint Huyayy


and
Rayhana bint Zayd.

Some Muslims don't accept that he married Safiya and call her instead his "sexual slave" or concubine.


~ The OLDEST manuscript attributed to Muhammad's dictation has been dated to 100 to 150 years AFTER his death.


~ MUSLIMS WERE INITIALLY INSTRUCTED BY MUHAMMAD TO PRAY "TOWARD SYRIA".
THIS CHANGED 13 YEARS LATER.

The Jews criticized the new faith and rejected Islamic overtures; not long after, the Qur'an broke with them, probably in early 624. The explanation of this change comes in a Qur'anic verse instructing the faithful no longer to pray toward Syria but instead toward Mecca.

The passage (2:142-52) begins by anticipating questions about this abrupt change:
The Fools among the people will say: "What has turned them [the Muslims] from the qibla to which they were always used?"
God then provides the answer:
We appointed the qibla that to which you was used, only to test those who followed the Messenger [Muhammad] from those who would turn on their heels [on Islam].
In other words, the new qibla served as a way to distinguish Muslims from Jews.
From now on, Mecca would be the direction of prayer:


~ A GREAT SET OF INTERACTIVE MAPS THAT SHOW WHO CONQUERED WHOM AND WHEN AND HOW THE MIDDLE EAST AS WE KNOW IT CAME INTO BEING CAN BE FOUND <HERE>.

JUST CLICK THROUGH THE LINKS TO GO BACK 3,

5

00 YEARS OR SO AND FORWARD TO TODAY.

MAPS SPECIFIC TO ISRAEL BEGIN <HERE>.


~FOR AN IN-DEPTH, ALBEIT SLANTED LOOK AT THE ARAB-ISRAELI CONFLICTS, FOLLOW THE LINKS AND DECIDE FOR YOURSELF IF WHAT YOU'VE BEEN TOLD IS TRUE AT <THIS SITE>.




==
On the American genocide of the Original People:

~ ISSUES IN AMERICAN INDIAN HEALTH: FORCED STERILIZATIONS



~

THE BUFFALO FIELD CAMPAIGN....GET RID OF THE BUFFALO, GET RID OF THE INDIANS