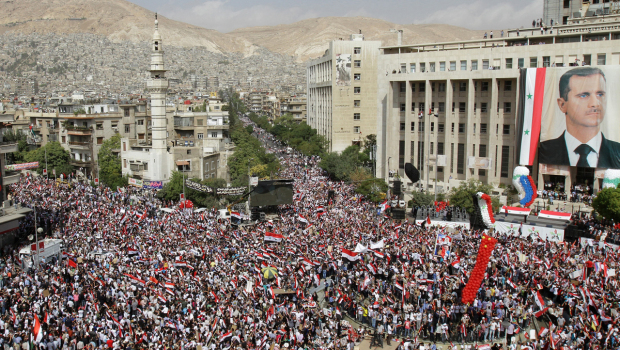 ARMAGEDDON... A MUCH OVERUSED WORD, BUT, IN THIS CASE, IT SEEMS TO FIT.

GOING IN, LET ME JUST ASSURE EVERYONE THAT THE TEA ROOM DOESN'T CARE WHAT YOUR BELIEF SYSTEM IS, IF YOU BELIEVE AS THE AUTHOR DOES, OR IF YOU BELIEVE ANYTHING AT ALL.

I READ, RESEARCH, ANALYZE, AND DO MY BEST TO STICK TO FACTS, WHETHER FACTS COINCIDE WITH WHAT I BELIEVE OR NOT.

THE FACT IS THIS SYRIAN SITUATION WAS NOT AND IS NOT A CIVIL WAR.

I LIKE THE ANALOGY GIVEN BY A 'NEWS' SITE THAT MOST AMERICANS WOULDN'T READ FROM EVEN IF YOU OFFERED THEM TICKETS TO THE SUPER BOWL AND A KEG PARTY AFTERWARDS.
T

O READ WEBSITES SUCH AS THIS

IS ENLIGHTENING, BUT WE ARE BECOME A NATION FOND OF BEING KE

PT IN

THE DARK.

THIS REALLY DOES DESCRIBE WHAT'S BEEN FOISTED UPON US REGARDING THE SYRIAN "CIVIL WAR":

"Before he became Britain's Foreign Secretary, Boris Johnson once explained that if you are losing an argument with the facts against you, instead of maintaining focus on the reality your best bet is to "throw a dead cat on the table" explaining that "everyone will shout 'Jeez, mate, there's a dead cat on the table!'"

The rapid emergence of the Islamic State of Iraq and the Levant (ISIL, also known as ISIS) has been the "dead cat" on the table of the Syrian conflict.

It has focused wider global concern on transnational terrorism and placed the future of the Assad regime into the box labelled secondary priority.

This is a victory of feelings, such as "terrorism is terrifying" over facts, such as "who is responsible for most of the violence in Syria"? Civilians are dying but nobody will take responsibility for killing them.

In a post-factual conflict all sides utilise media and social media to reinforce fearful conspiracy theories to render facts irrelevant.

Therefore, many who are anti-Assad will continue to believe he is a despotic tyrant, while those who are pro-Assad will continue to believe the opposition is made up of brutal extremists.

The two groups will consume media that reinforces their point of view and share that with their like-minded social networks, thus the divisions solidify."

DAMN FINE ARTICLE, I DON'T CARE WHO WROTE IT.

OLD JAMES CORBETT OF "THE CORBETT REPORT", ONE WHOM I AM NOT REALLY FOND OF AT ALL, ALSO HAD A FAIR ANALYSIS OF THE SITUATION WHEN HE SAID,

"[It's] a fundamentally mistaken assumption that's often purveyed in the media that what's happening in Syria is some sort of civil war, some sort of internal conflict, and a lot of narrative has been framed around that.
But I think it's fundamentally false to assert that.

I think we have to understand what's happening in Syria as the planned result of a nearly decade-long intervention: foreign-funded, foreign-armed, foreign-supplied, foreign-trained intervention in Syria that has been arming and training Syrian opposition groups – on the record, documentably – back to the Bush administration, as far back as 2006. They were starting to train the opposition forces in Syria.

So we have to understand that this is not some sort of spontaneous uprising; and that as a result there are many different outside forces, including the United States, including the Saudis, the Qataris and others, who are funding and financing their own fighters to go into this conflict.
And many of them are motivated for different reasons and are there for different opportunities and some are motivated as mercenaries, others by Jihad and the chance of establishing an Islamic state. But just because they have the same goal of overthrowing the Assad government doesn't mean they are there for the same reasons.

HIS VIEW IS SHARED, IN A WAY, BY ANOTHER " AMERICAN ANALYST".
(Found at the same website as the above, BTW.)

"This view is furthered by professor of international relations Mark Almond, who believes that a diffuse groupings all dangerously seeking personal gain may put disarmament process off the rails.

The August 21 attacks in Ghouta, which still there has not been one shred of evidence to suggest that it has been coming from the Syrian government. The weapons inspectors did not conclude that, it was beyond the mandate of their investigation. And in fact all of the evidence continues to point to the fact that it was an attack launched by the rebel groups as a sort of false-flag provocation in order to cross the 'red line,' in order to get military intervention from the US and its allies. And in the exact same vein all it would take is one such similar incident for it to be immediately again be blamed on the Assad government and used again as an excuse for calling off that UN Security Council resolution.

So it's very easy to get this disarmament process off the rails. It would be much more difficult to see this through to completion, even if everyone at the table has the best intentions. All it takes is one rogue group with access to chemical weapons to commit an attack and derail the entire process.

So there isn't just a civil war within a civil war, but several local civil wars within this conflict in Syria. And I think anybody who thinks that the West can pick and choose who are the good guys and the bad guys is very naïve.

So the idea that we can somehow negotiate with these people is problematic, even though in practice, of course, there are under-the-table contacts, after all. Turkey – a NATO country provides them with a hinterland through which they're able to operate. Large numbers of foreign fighters – I've seen this myself from Tunisia, for instance – come via Turkey, going to Syria. So there is in fact, if you like, a NATO 'necessary' link with these radical groups. They couldn't really operate in northern Syria without the connivance and, at least, toleration without Turkey and, by extension, NATO partners."

A NATO LINK TO TERRORISTS?
GASP!
WHO WOULD HAVE IMAGINED SUCH A THING?
THEN, UMMM, PUTIN WASN'T LYING WHEN HE SAID NATO HAS HIM SURROUNDED AND THAT TERRORISTS CAN GET THEIR HANDS ON NATO NUKES?
NOPE.

FROM THE BEGINNING, IT HAS BEEN A WELL-CONSTRUCTED POWER STRUGGLE BY THE UNITED STATES TO DEPOSE ASSAD AND RUSSIA DECIDED TO "INTERVENE".

ON THE U.S. SIDE IS SAUDI ARABIA,WHO PLAYS AMERICA LIKE A CHEAP FIDDLE.

ON THE RUSSIAN SIDE IS IRAN, WHO WILL PLAY WITH ANYBODY WHO OFFERS THEM THE BEST DEAL.

LET'S FACE IT, THE U.S. HAS NOT YET BROUGHT "DEMOCRACY" TO THE MIDDLE EAST, BUT HAS DAMNED SURE EXPORTED BOTH WEAPONS AND DISASTER ALL OVER THAT BIG SANDLOT.

IF "THE ROAD TO HELL IS PAVED WITH GOOD INTENTIONS", AS THE OLD ADAGE GOES, WHAT IS AMERICA PAVING WITH ITS IMPERIALISTIC BULLYING AND ADDICTION TO OPEC BUT-KISSING?

WHERE WE FIND AMERICA, RUSSIA WILL NOT BE FAR BEHIND, AND WHERE WE FIND RUSSIAN FORCES, AMERICA'S WILL BE THERE SOON ENOUGH.

AMERICAN PRESIDENTS GIVE US THEIR LIST OF THOSE WHO ARE "THE AXIS OF EVIL" AND WE GO, "OH, OKAY, LET'S NUKE 'EM!"

IT'S A GREAT BIG GAME OF CHESS BUT THIS TIME IT WILL NOT END WELL, MARK IT DOWN.

SOME HAVE SAID RUSSIA'S PUTIN WAS 'THE VOICE OF REASON' WHEN IT SEEMED, BRIEFLY, THAT RUSSIA'S ENTRANCE INTO THAT FRAY BACKED AMERICA OFF OF ASSAD'S TIRED BEHIND FOR A BIT.

BUT THAT DIDN'T LAST LONG.

AND BESIDES, WHEN WE COMPARE MOST HEADS OF STATE TO MR. OBAMA'S 'REASONING' REGARDING THE MIDDLE EAST, OUR PREZ, LIKE HIS PREDECESSOR, HAS THE SAME REASONING ABILITY AS THE CHIEF RESIDENT IN ANY ASYLUM FOR THE HOPELESSLY INSANE.

AMERICAN PRESIDENTS DON'T OR JUST WON'T OR MAYBE CAN'T APPLY LOGIC OR COMMON SENSE TO MUCH OF ANYTHING.

OUR 'LEADERS' LEAD WHERE THE MILITARY-INDUSTRIAL COMPLEX SAYS GO.

MAYBE IT'S THE SAME IN RUSSIA?

I DON'T LIVE THERE SO I CAN'T HONESTLY CALL THAT ONE.

I DO KNOW THAT ASSAD, IN A VERY CLOSELY WATCHED "DEMOCRATIC ELECTION", WAS ELECTED BY THE MAJORITY OF SYRIAN VOTERS, THOUGH SOME THERE, LIKE MANY HERE BEFORE, DURING AND AFTER OUR OWN ELECTIONS, CLAIMED FOUL PLAY, ELECTION RIGGING, ALL THAT THE LOSING PARTY SCREAMS ABOUT HERE IN THE USA AFTER EVERY "DEMOCRATIC ELECTION".

ALL ONE HAS TO DO IS LOOK BACK AT ANY ELECTION, ANYWHERE TO SEE HOW THE "LOSERS" RESPOND, AND SYRIA IS NO DIFFERENT.

STILL, JUST LIKE HERE IN OUR 'ELECTIONS', A WINNER WAS NAMED AND IT WAS ASSAD.

HAS ANY AMERICAN STOPPED TO IMAGINE THAT THE SYRIAN PEOPLE, IF THEY WANT ASSAD OUT, WILL FIND A WAY TO OUST HIM?

THE BIG PROBLEM WITH THAT ELECTION WAS THAT AMERICA'S PUPPET-MASTERS DON'T WANT ASSAD, THEY WANT A COMPLIANT, BUTT-KISSING PUPPET WHO WILL DANCE TO THE TUNE AMERICA PIPES.

WE SAW THE SAME THING HAPPEN IN IRAN IN 1953 WHEN AMERICA COVERTLY DEPOSED THEIR ELECTED PRESIDENT AND PUT THAT BOOT-LICKING SHAH IN POWER.

SAME THING HAPPENED TO SADDAM IN IRAQ, BEGINNING IN THE 1990s, AFTER HE'D BEEN A TOOL TO TRY TO DESTROY IRAN FOR DECADES.
WHEN HE STOPPED THAT AND WENT OFF THE DEEP END, HE GOT A NOOSE.

THE SAME WITH QADDAFI IN LIBYA, A "DICTATOR" WHO OFTEN RODE FOR MILES STANDING IN AN OPEN VEHICLE, WAVING TO THE PEOPLE...WHO NEVER ONCE TOOK A SHOT AT HIM.

QADDAFI WANTED TO GO TO A "GOLD FOR OIL" DEAL, A GOLD-BACKED CURRENCY SYSTEM, THAT GOLD DINAR, AND SINCE AMERICA HAS NO REAL GOLD TO SPEAK OF AND INTENDS TO KEEP THE MONOPOLY MONEY, THE WORTHLESS FIAT U.S. DOLLAR AS KING OF THE WORLD'S CURRENCY, QADDAFI, ONCE HAILED AS AN "ALLY" OF OURS IN THE MIDDLE EAST WAS HUNTED DOWN AND KILLED BY THOSE WHOM AMERICA FUNDED TO DO SO.

THIS AFTER WE BOMBED THE COMPLETE HELL OUT OF LIBYA AS WE DID IRAQ AND AFGHANISTAN AND HAVE DONE IN YEMEN, SOMALIA, ETC, IN THAT AREA OF THE WORLD.

OH, IT MAY NOT LOOK LIKE AMERICAN FORCES USING THOSE WEAPONS THERE, BUT ASK THE PEOPLE WHERE THOSE WEAPONS CAME FROM.
ONE "SIDE" WILL HAVE AMERICAN WEAPONS, THE OTHER SIDE WILL HAVE AMERICAN AND/OR RUSSIAN ONES.
THE GAMES GO ON.

THE BATTLE IS REALLY FOR "KING OF THE HILL", FOR "STRATEGIC DOMINANCE".

THE SAME WAS DONE TO EGYPT'S MUBARAK AND MORSI AND THE 'NEW GUY' IS UP FOR THE OUSTER THERE AS WELL.
WE JUST CAN'T FIND ANYONE TO SUIT US IN EGYPT, BUT WE STILL SEND THEM MILLIONS IN "FOREIGN AID" AND REPAIR THEIR SEWERS WITH AMERICAN TAXPAYER MONEY.

AND DON'T FORGET THE AMERICAN-GROOMED KARZAI WHO REPLACED THE OUTDATED SEMI-LEGITIMATE PREZ THERE, WHO GOT TOO COZY WITH RUSSIA AND IS NO MORE, AS WILL BE THE NEXT GUY THERE WHO DOESN'T PLAY FOOTSIE AND KISSY-BUTT WITH AMERICA.


"THE SPICE MUST FLOW" FROM AFGHANISTAN AND SOME OF THE OTHER NATIONS MENTIONED ABOVE WHERE THE POPPY FIELDS GROW THE FUTURE MONEY-MAKER FOR OUR CIA, ET AL, THE KINGS OF GLOBAL DRUG LORDS, DRUG DEALERS, BIG, REALLY BIG MONEY-MAKING POPPY FIELDS.
AND HUMAN SLAVES.
YES, THOSE STILL EXIST, ESPECIALLY LUCRATIVE IS THE SEX SLAVE TRADING.
THE MIDDLE EAST IS A GREAT SOURCE FOR THAT.

IN THE DRUG TRADE, PAKISTAN IS OUR "ALLY" FOR NOW, AS IS, OR WAS AND MAY YET BE ON THE FACE OF THINGS, TURKEY AND ITS CRAZY MAN, ERDOGAN, WHO PERHAPS GOT A WARNING WITH THAT FAKE COUP ATTEMPT THING ... "GET RID OF ASSAD OR NO MORE PRESIDENCY AND DRUG $$$$ FOR YOU, BOY-O!"

WHAT THE AMERICAN PUBLIC JUST LOVES TO FORGET IS THAT ONLY A FEW THOUSAND COLONISTS KICKED THE BEHINDS OF WHAT WAS THEN THE MAJOR SUPER-POWER, BRITAIN, AND ITS HIRED HUNS AND WE TOOK WHAT WE WANTED, THEN.... INDEPENDENCE, FREEDOM, AND ESTABLISHED OUR LITTLE 'REPUBLIC', FOR IT WAS ESTABLISHED AS A REPUBLIC, NOT A DEMOCRACY, BECAUSE DEMOCRACIES DON'T WORK AND THE FOUNDING BIG SHOTS KNEW THAT.

NO, AMERICA, WE DON'T USE THE "DEMOCRATIC" IDEAL OF "MAJORITY RULES" HERE, NO, WE HAVE AN ELECTORAL COLLEGE THAT MAKES SURE THE MAJORITY DON'T VOTE IN SOMEONE THE MASTERS DON'T WANT...THE "POPULAR VOTE" IS AXED BY THE ELITISTS OF THE ELECTORAL COLLEGE.

BUT, HEY! WE WANT TO RAM DEMOCRACY DOWN EVERY NATION'S THROAT WE CAN WRAP HANDS AROUND.
AND WHEN ANY NATION SAYS, "NO, THANKS!", WELL, WE JUST BOMB THEM UNTIL THEY CRY UNCLE, OR UNTIL THOSE WHO REALLY RUN THINGS GIVE THE BACK-OFF ORDER.

HAVE YOU SPOKEN WITH ANY SYRIAN PEOPLE, PERSONALLY?
HAVE YOU DONE THE ONLY SANE, ONLY RATIONAL, LOGICAL THINGS AND GONE TO THE PEOPLE TO ASK THEM AND LISTEN TO THEIR ANSWERS OF WHAT THE SYRIAN PEOPLE HAVE SEEN, WHAT IS REALLY HAPPENING THERE, WHAT THEY WANT?

IT'S THEIR COUNTRY AND SOME HAVE FLED WHO NEVER WANTED TO FLEE.
FYI, HALF THE SYRIAN POPULATION HAVE BECOME "REFUGEES".

SOME HAVE SCREAMED QUITE LOUDLY THAT IT WAS TURKISH FIGHTERS WHO GASSED THOSE SYRIAN PEOPLE SO THAT OBAMA HAD A "JUSTIFIABLE REASON" TO MAKE HIS ALREADY COVERT PRESENCE KNOWN IN SYRIA.

THAT GAS, IT WAS GAS THAT BUSH SENIOR GAVE SADDAM TO USE AGAINST IRAN THAT SADDAM INSTEAD USED AGAINST THE KURDS, THE KURDS WHOM AMERICA HAD COUNTED ON AND WHOM WE ALSO USED TO STOP IRAN AT THE IRAQI BORDER, THE SAME KURDS THE U.S. ABANDONED AND WATCHED MURDERED BY OUR "BOY" SADDAM...MORE THAN ONCE.

WHAT AMERICA DID TO THE KURDS WAS A CRIME AGAINST HUMANITY, AND WE'RE DOING IT AGAIN IN SYRIA.

ALL ANYONE WHO WANTS TO HEAR WHAT MANY KURDS HAVE TO SAY ABOUT BUSH'S ABANDONMENT NEED ONLY SEARCH FOR THAT ON THE INTERNET AS MANY KURDS ARE VERY ANXIOUS FOR THE WORLD TO KNOW THE TRUTH...LIKE THIS KURDISH MAN:

"Chemical weapons were used against the Kurds and 5000 people lost their life in a single attack against Halabja. The regime carried out mass killings and deportations of Kurds and nearly 280,000 Kurds were killed in the Anfal campaign.

By the end of this war, Iraq was crippled and the Gulf states refused to support Hussein financially.

With the green light given by the Americans, he invaded Kuwait in 1991, which led to the First Gulf War.

In this battle, Bush Snr encouraged the people to rise up and when they rose the US abandoned them.

As a result, the Shia were hunted down in the south and the Kurds escaped to the mountains. Again thousands died due to disease and starvation in harsh winter conditions. Many members of my family were among the mass exodus and several died.
A safe haven zone was established in the Kurdish region, followed shortly by the withdrawal of Saddam's troops from most of the region.

Bush Jr and Tony Blair started planning to remove Saddam from power by accusing Iraq of having and hiding weapons of mass distraction. Blair prepared a dossier on these weapons based on lies and fabrications and of course with support of the media.

They lied and misled the public in their countries into supporting the invasion of Iraq in 2003. Most Iraqis wanted to get rid of Saddam when the war came but they never expected such terrible suffering to come from it.

The US and Britain went to war without any planning for what would happen after Saddam's removal. They dismantled all the building blocks of a country and turned it into a failed state where militias and criminal gangs took over.
Kidnapping for ransom became common; intellectuals were assassinated.

This led to the rise of Al-Qaeda and now ISIS in Iraq rather than the peace and democracy promised by the US. More than 250,000 Iraqis have been killed to date and millions more became refugees in foreign lands.

Just on Sunday, bombings in the Karrada district of Baghdad killed more than 200 innocent civilians enjoying their last day of Ramadan, mostly children and young people.

Today Iraq is run by a corrupt government. MPs represent their corrupt parties and militias fill their pockets with money while the ordinary Iraqi people live a terrible, unsafe life. Many live in extreme poverty, with no electricity to power their homes.

Our family left Baghdad for Kurdistan in 2005; with thousands of other Kurdish and Christian families fleeing the city, they do not recognise Baghdad now.

Bush and Blair are responsible for the loss of life, the rise of terrorist groups, and what is happening in Iraq and the wider world today."

THERE IS A FAIR, NOT GREAT, "HISTORY OF THE UNITED STATES AND THE KURDS" ONLINE...JUST CLICK ON THE LINK.


NO MATTER WHAT NATION WE'VE INVADED, THE PEOPLE, IF ONE JUST GOES TO THEM, WILL TELL US BASICALLY THE SAME THING.

SOME SYRIANS SAY THEY COULD HAVE PROVED IT WAS TURKS WHO USED THAT GAS, BUT, WHADDAYA KNOW, AMERICA AND HER WEAPONIZED "REBELS" BOMBED THE SUPREME PISS OUT OF THAT AREA....NO EVIDENCE FOUND.

HOWEVER, FROM, OF ALL PLACES, COMES HARD EVIDENCE TO BACK UP WHAT THE SYRIANS ARE SAYING.

As reported by Turkey's largest newspapers, Today's Zaman:

"The Syrian Chemical Weapons Attack Was a False Flag By Turkey and ISIS"

CHP deputies Eren Erdem and Ali Şeker held a press conference in İstanbul on Wednesday in which they claimed the investigation into allegations regarding Turkey's involvement in the procurement of sarin gas which was used in the chemical attack on a civil population and delivered to the terrorist Islamic State in Iraq and the Levant (ISIL) to enable the attack was derailed.

Taking the floor first, Erdem stated that the Adana Chief Prosecutor's Office launched an investigation into allegations that sarin was sent to Syria from Turkey via several businessmen. An indictment followed regarding the accusations targeting the government.

"The MKE [Turkish Mechanical and Chemical Industry Corporation] is also an actor that is mentioned in the investigation file. Here is the indictment. All the details about how sarin was procured in Turkey and delivered to the terrorists, along with audio recordings, are inside the file," Erdem said while waving the file.

Over 1,300 people were killed in the sarin gas attack in Ghouta and several other neighborhoods near the Syrian capital of Damascus, with the West quickly blaming the regime of Bashar al-Assad and Russia claiming it was a "false flag" operation aimed at making US military intervention in Syria possible.

Suburbs near Damascus were struck by rockets containing the toxic sarin gas in August 2013.

The purpose of the attack was allegedly to provoke a US military operation in Syria which would topple the Assad regime in line with the political agenda of then-Prime Minister Recep Tayyip Erdoğan and his government.

CHP deputy Şeker spoke after Erdem, pointing out that the government misled the public on the issue by asserting that sarin was provided by Russia. The purpose was to create the perception that, according to Şeker, "Assad killed his people with sarin and that requires a US military intervention in Syria."

The MP said that evidence in Adana's case, according to his judgment, proves that IS was responsible.

"For example the chemical attack in Ghouta. Remember.
It was claimed that the regime forces were behind it. This attack was conducted just days before the sarin operation in Turkey.
It's a high probability that this attack was carried out with those basic materials shipped through Turkey. It is said the regime forces are responsible but the indictment says it's ISIS. UN inspectors went to the site but they couldn't find any evidence. But in this indictment, we've found the evidence. We know who used the sarin gas, and our government knows it too," he said.

At the same time, Erdem also accused the West and Europe in particular for providing "basic materials" to create such a powerful chemical weapon."

WILL AMERICANS BELIEVE THIS?
MAYBE A FEW.

AN IN-DEPTH PROBE OF THE ALLEGATIONS AGAINST ASSAD USING THAT GAS ON HIS OWN PEOPLE WAS OFFERED TO AMERICAN MEDIA BY THE PULITZER PRIZE-WINNING JOURNALIST, SEYMOUR HERSH, WAS NOT ONLY REJECTED BUT OUTRIGHT BANNED!

YOU CAN NOW READ WHAT HE FOUND <HERE>.

"A US intelligence consultant told me that a few weeks before 21 August he saw a highly classified briefing prepared for [Chairman of the U.S. Joint Chiefs of Staff, Martin] Dempsey and the defense secretary, Chuck Hagel, which described 'the acute anxiety' of the [Turkish President Recep Tayyip] Erdoğan administration about the [U.S.-Turkey-Saudi-Qatari-backed] rebels' dwindling prospects.

The analysis warned that the Turkish leadership had expressed 'the need to do something that would precipitate a US military response'. [In other words: Turkey's leader, Erdoğan, 'expressed' to the U.S. Joint Chiefs of Staff, that they needed to do something that would 'precipitate a US military response' against the man Erdoğan wanted to bring down, Assad. He was advising what's called by the intelligence-services a 'false-flag attack.' Erdoğan wanted a false-flag attack, so as to enable U.S. President Barack Obama to have a publicly believable excuse for invading Syria and doing what Erdoğan wanted done.]… In the aftermath of the 21 August attack Obama ordered the Pentagon to draw up targets for bombing. "

TALK TO THE SYRIAN PEOPLE, DON'T RELY ON THE "NIGHTLY NEWS" TO TELL YOU ANYTHING BUT WHAT YOU'RE SUPPOSED TO BELIEVE...PROPAGANDA TO SHORE UP OUR BLINDLY BACKING THE MILITARY-INDUSTRIAL COMPLEX TO KEEP MAKING UNDECLARED WAR ON ALL THE WORLD, IF THAT'S WHAT THEY DECIDE TO DO...AND LOOKS LIKE THEY'RE READY TO CREATE WORLD WAR III.


IS IT REALLY WORTH A WORLD WAR TO DEPOSE ASSAD?
SHOULD OUR GOVERNMENT EXPECT USTO FUND THIS IGNOBLE, UNDECLARED WAR?

NOT IN MY BOOK.
WE SHOULD GET THE HELL OUT OF THE MIDDLE EAST.

AFTER ALL, WE HAVE PLENTY OF TYRANTS RIGHT HERE IN AMERICA FOR OUR MILITARY TO DEPOSE.