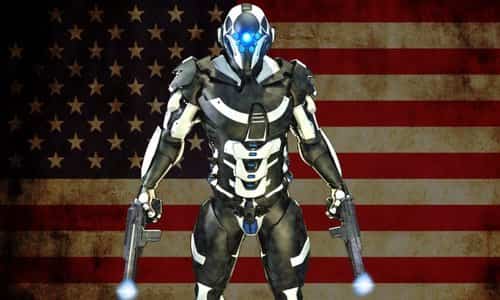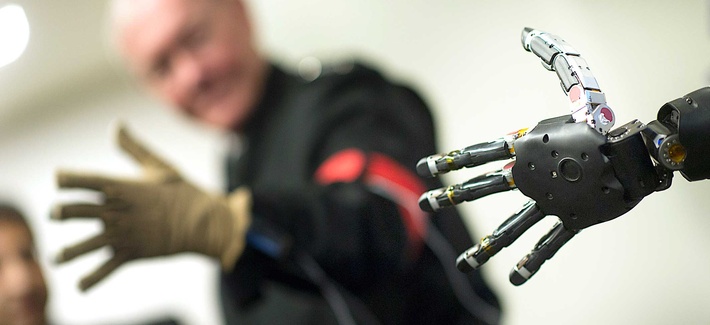 Inside the Military's New Office for Cyborgs

ROBOTS, CYBORGS, SUPER-SOLDIERS, ARTIFICIAL INTELLIGENCE....AS I READ THE 'NEWS' THIS WEEK THOSE WORD KEPT POPPING UP IN HEADLINES BOTH HERE AND ABROAD.

THREE YEARS AGO, IN A POST HERE TITLED "DRONES ACROSS AMERICA : RISE OF THE 'CYBORGS'?", I EXPLORED THE POSSIBILITY OF SOMETHING GOING TERRIBLY WRONG WITH ARMED DRONES HERE IN THE U.S.
WE EXPLORED 'A BRIEF HISTORY OF AMERICAN DRONES, 1916-2013'.

IT APPEARED THAT, AFTER A HUNDRED YEARS OF USING DRONES, NO "FAIL-SAFE" SYSTEM HAD WORKED, ACCIDENTS STILL HAPPEN.

WE'VE SEEN WARNINGS ABOUT OUR CREATION OF AND DEPENDENCE UPON ARTIFICIAL INTELLIGENCE FROM MANY CORNERS...SCIENCE, ETHICS, POLITICAL, SOCIETAL, ECONOMICS...

SOME HAVE BEEN QUITE DIRE:

Stephen Hawking warns artificial intelligence could end mankind ...

BBC
"Dec 2, 2014 - Prof Stephen Hawking, one of Britain's pre-eminent scientists, has said that efforts to create thinking machines pose a threat to our very existence. He told the BBC:"The development of full artificial intelligence could spell the end of the human race."

Stephen Hawking, Elon Musk, and Bill Gates Warn About Artificial Intelligence
"In January 2015, Stephen Hawking, Elon Musk, and dozens of artificial intelligence experts signed an open letter on artificial intelligence calling for research on the societal impacts of AI.
[http://futureoflife.org/ai-open-letter/]

The four-paragraph letter, titled "Research Priorities for Robust and Beneficial Artificial Intelligence: an Open Letter", lays out detailed research priorities in an accompanying twelve-page document."

OTHERS THINK AI WOULD BE A GREAT THING FOR HUMANKIND BUT SOME CAUTION IS ADVISED.

What is the superintelligence control problem?

It is reasonable to think that ongoing research in AI (Artificial Intelligence), machine learning, and computing infrastructure will eventually make it possible to build AI systems that not only equal, but far exceed human capabilities in most domains.
... it would be surprising if it were not eventually achieved.
However, superintelligent AI systems could also pose risks if they are not designed and used carefully.

In pursuing a task, such a system could find plans with side-effects that go against our interests; for example, many tasks could be better achieved by taking control of physical resources that we would prefer to be used in other ways, and superintelligent systems could be very effective at acquiring these resources.

If these systems come to wield much more power than we do, we could be left with almost no resources. If a super-intelligent AI system is not purposefully built to respect our values, then its actions could lead to global catastrophe or even human extinction, as it neglects our needs in pursuit of its task.

The superintelligence control problem is the problem of understanding and managing these risks.
There are other sources of risk from superintelligent systems; for example, oppressive governments could use these systems to do violence on a large scale, the transition to a superintelligent economy could be difficult to navigate..."

THE ABOVE ARTICLE IS VERY MUCH WORTH READING.

US Army Will Have More Robots Than Human Soldiers By 2025

(This includes everything classified as "robotic".)
October 21, 2016

"The US army is determined to increase its efficiency level with the help of artificial intelligence technology. It is estimated that by the year 2025, the US army will have more combat robots than human soldiers. This can be a huge breakthrough for the US as it will save human lives and prove to be beneficial for the protection of the country.
Thousands of such robots will be a part of the US army by the end of the next decade."

DARPA
As the Tea Room has posted before, the most advanced (and secretive while in 'development') robot prototypes are developed and/or funded by the controversial Defense Advanced Research Projects Agency (DARPA).
This is one of the PENTAGON's "research and development" branches. There are many, but DARPA is king.

DARPA has also dived deeply into the creation of so-called "super soldiers," cybernetically enhanced humans who will have implants

The ability to link human brains to machines, create new life forms and build Star Trek-style disease detectors will be the focus of a new Defense Department office soon.

The new office, named the Biological Technology Office, or BTO, will serve as a clearinghouse for Defense Advanced Research Projects Agency, or DARPA, programs into brain research, synthetic biology and epidemiology. The office will cover everything from brewing up tomorrow's bioweapon detectors and connecting humans to computers to designing entirely new types of super-strong living materials that could form the basis of future devices.

Cyborgs, Neurochips and Brain-steered Drones
In 2013, researchers from the Rehabilitation Institute of Chicago demonstrated a cybernetic arm prosthetic that functions like something straight out of RoboCop.

"The ones where the prosthetics are connecting in to the peripheral nervous system or are being controlled by other muscles in the body are currently in an FDA process," said Arati Prabhakar, DARPA director.

"That kind of amazing capability is something that no one thought was possible. What we're learning about the human brain could give us insight into how we build our artificial processing capabilities."

The agency's Cortical Processor Program, with a $2.3 million FY 2015 budget request, seeks to recreate in software the brain's capability to take in lots of incoming stimuli from sensory organs and spit out recognized patterns.

Turning the Building Blocks of Life into New Materials

Synthetic biology holds the promise of one day creating entirely new life forms.
A group of researchers from the U.S. and U.K. recently announced the creation of the first artificial chromosome, derived from piecing together 273,871 separate DNA nucleotides from yeast, thus achieving a key step in the potential development of designer chromosomes or even new life.

"What our program is trying to do is create the tools to make [synthetic biology] an engineering discipline. Instead of taking millions of dollars and many years to do even minor projects, we really want to unleash it," said Prabhakar. "Think about what's going to be possible for new chemistries beyond petrochemicals. Think about new types of chemicals with all kinds of structural and electronic and optical properties."

Bioengineered materials derived from living components like lipids and proteins would be several times more diverse and functional than designs based on more traditional approaches to chemistry. Learning to harness the building blocks of life could allow for living materials that are stronger, more flexible, more durable and cheaper than anything available today. Those new materials could make their way into battlefield armor or even electronic components. "

BIO-ENGINEERED MATERIALS ARE ONE THING, BUT BIO-ENGINEERED HUMANS?

Engineering Humans for War
Sep 23, 2015
THE ATLANTIC

"For decades after its inception in 1958, the Defense Advanced Research Projects Agency—DARPA, the central research and development organization of the Department of Defense—focused on developing vast weapons systems.

Starting in 1990, and owing to individuals like retired four-star general Paul F. Gorman , a new focus was put on soldiers, airmen, and sailors—on transforming humans for war.
The progress of those efforts, to the extent it can be assessed through public information, hints at war's future, and raises questions about whether military technology can be stopped, or should [be].
"Soldiers get tired and soldiers get fearful," Gorman told me last year. "Frequently, soldiers just don't want to fight. Attention must always be paid to the soldier himself."

Gorman sketched out an early version of the thinking in a paper he wrote for DARPA after his retirement from the Army in 1985, in which he described an "integrated-powered exoskeleton" that could transform the weakling of the battlefield into a veritable super-soldier.

The "SuperTroop" exoskeleton he proposed offered protection against chemical, biological, electromagnetic, and ballistic threats, including direct fire from a .50-caliber bullet. It "incorporated audio, visual, and haptic [touch] sensors," Gorman explained, including thermal imaging for the eyes, sound suppression for the ears, and fiber optics from the head to the fingertips. Its interior would be climate-controlled, and each soldier would have his own physiological specifications embedded on a chip within his dog tags.

By 2001, DARPA had unveiled two exoskeleton programs, and by 2013, in partnership with U.S. Special Operations Command, DARPA had started work on a super-soldier suit called TALOS (Tactical Assault Light Operator Suit) unlike anything in the history of warfare.

Engineered with full-body ballistics protection; integrated heating and cooling systems; embedded sensors, antennas, and computers; 3D audio (to indicate where a fellow warfighter is by the sound of his voice); optics for vision in various light conditions; life-saving oxygen and hemorrhage controls; and more,

TALOS is strikingly close to the futuristic exoskeleton that Gorman first envisioned for DARPA 25 years ago, and aims to be "fully functional" by 2018.

Goldblatt told his program managers a few weeks after his arrival. One program in the DSO, called Persistence in Combat, addressed three areas that slowed soldiers down on the battlefield: pain, wounds, and excessive bleeding.

Goldblatt hired a biotechnology firm to develop a pain vaccine. If a soldier got shot, Goldblatt explained, the vaccine would "reduce the pain triggered by inflammation and swelling," the desired result being "10 to 30 seconds of agony then no pain for 30 days." Such a vaccine would allow the warfighter to keep fighting so long as bleeding could be stopped.

To develop new ways to try to stop bleeding, Goldblatt initiated another program that involved injecting millions of microscopic magnets into a person, which could later be brought together into a single area to stop bleeding with the wave of a wand.

Another idea was to find a way to get a wounded soldier to go into a kind of hibernation, or suspended animation, until help arrived. Achieving this goal would give a soldier precious hours, or even days, to survive blood loss and avoid going into shock while awaiting evacuation or triage. Bears hibernate. Why can't man?

Sleep, too, was a focus of intense research at DSO. In the Continually Assisted Performance program, scientists worked on ways to create a "24/7 soldier," one who required little or no sleep for up to seven days.
If this could be achieved, an enemy's need for sleep would put him at an extreme disadvantage. Goldblatt's program managers hired marine biologists studying certain sea animals to look for clues.
Whales and dolphins don't sleep; as mammals, they would drown if they did. Unlike humans, they are somehow able to control the lobes of their left and right brains so that while one lobe sleeps, the opposite lobe stays awake, allowing the animal to swim.

While some DARPA scientists ruminated over the question of how humans might one day control the lobes of their own brains, other scientists experimented with drugs like Modafinil, a powerful medication used to counter sleep apnea and narcolepsy, to keep warfighters awake.

But a 2008 report by defense scientists raised some warnings. "An adversary might use" brain technology "in military applications. … An extreme example would be remote guidance or control of a human being." Other critics said that the quest to enhance human performance on the battlefield would lead scientists down a morally dangerous path.

Michael Goldblatt disagreed.
"How is having a cochlear implant that helps the deaf hear any different than having a chip in your brain that could help control your thoughts?" he asked.

When questioned about unintended consequences, like controlling humans for nefarious ends, Goldblatt insisted, "There are unintended consequences for everything."

"I am here to announce that we are building Iron Man," President Obama said of the suit during a manufacturing innovation event in 2014.
When the president said, "This has been a secret project we've been working on for a long time," he wasn't kidding."

IRON MAN OR TOTALLY CONTROLLABLE ZOMBIE?

WHAT ARE THE LEGALITIES OF "CYBER-SOLDIERS"?
WOULD SUCH 'ENHANCED HUMANS VIOLATE INTERNATIONAL TREATIES, LAW, AGREEMENTS?

Could Human Enhancement Turn Soldiers Into Weapons That Violate International Law?
Yes.
Jan 4, 2013

"Half a world away from the battlefield, a soldier controls his avatar-robot that does the actual fighting on the ground. Another one wears a sticky fabric that enables her to climb a wall like a gecko or spider would. Returning from a traumatic mission, a pilot takes a memory-erasing drug to help ward off post-traumatic stress disorder. Mimicking the physiology of dolphins and sled-dogs, a sailor is able to work his post all week without sleep and only a few meals.

All of these scenarios are real military projects.
[TEA ROOM NOTE: THERE ARE 26 LONG PAGES OF THESE 'RESEARCH PROJECTS' LISTED AT THE ABOVE LINK, JUST THE ONES THE GENERAL PUBLIC ARE ALLOWED TO SEE, AND YOU MAY NOT BELIEVE SOME OF THEM.]

This is the frontline of the Human Enhancement Revolution -- we now know enough about biology, neuroscience, computing, robotics, and materials to hack the human body, reshaping it in our own image.
And defense-related applications are a major driver of science and technology research.

But, as I reported earlier, we also face serious ethical, legal, social, and operational issues in enhancing warfighters. Here, I want to drill down on what the laws of war say about military human enhancements, as we find that other technologies such as robotics and cyberweapons run into serious problems in this area as well.

Should enhancement technologies -- which typically do not directly interact with anyone other than the human subject -- be nevertheless subject to a weapons legal-review? That is, is there a sense in which enhancements could be considered as "weapons" and therefore under the authority of certain laws?

Should Article 36 of the Geneva Conventions be interpreted to include warfighters themselves as weapons subject to regulation?
There could be several reasons to think so.

First, other organisms are plausibly weapons subject to an Article 36 review.
Throughout history, humans have employed animals in the service of war, such as dogs, elephants, pigeons, sea lions, dolphins, and possibly rhinoceroses.
Dogs, as the most commonly used animal, undergo rigorous training, validation, and inspections.

If a military were to field a weaponized rhino in an urban battlefield that contains innocent civilians, we would be reasonably worried that the war-rhino does not comply with Article 36. "

THAT IS A VERY LENGTHY, IN-DEPTH ARTICLE ON INTERNATIONAL LAWS AND AGREEMENTS ABOUT HOW WARS ARE TO BE FOUGHT AND IT IS WELL WORTH THE READ, BUT I CHOSE TO MOVE ON TO THAT AUTHOR'S CONCLUSION:

"It is imperative to start considering their impacts before technologies fully arrive on the scene and in the theater of war. Consider, for instance, the explosion in number of robots in war: in its invasion of Iraq, the US had zero ground robots in 2003 and suddenly about 12,000 in 2008; and its inventory of aerial robots multiplied by 40-fold between 2002 and 2010. This report, therefore, is intended to anticipate ethical, legal, and policy surprises from new technologies, which -- in the case of military drones -- has already led to international outcry, as well as harm to reputation and real lives. With emerging human enhancements, we can think first before we act."

SORRY, THAT WILL NEVER BE A CONSIDERATION AMONGST THE 'SUPER POWERS' WHO CAN AFFORD TO AND ARE DRIVEN TO CREATE SUCH 'CYBORGS', ETC.

AS IT HAS ALWAYS BEEN, SO IS IT TODAY...WIN AT ANY COST.
DOMINATE.
BE SUPERIOR TO ALL OTHERS.

IT ISN'T JUST HUMAN-LIKE OR MAN/MACHINE 'ROBOTS' WE NEED TO BE CONCERNED ABOUT.

In March, 2016, DARPA launched an autonomous drone ship designed for various missions, such as hunting down enemy submarines.
We may not ever know what all those "missions" entail, or against whom they are launched.

Boeing, a major US defense contractor, launched an unmanned submarine this past April for "exploratory missions" as well as warfare.
Where, why, for what reasons?

Other companies that are completely unrelated to the US military-industrial complex are also investing in "autonomous ships", unmanned, and perhaps easily "hacked"?

Rolls-Royce, of all companies, announced in June of this year that they plan to create "ghost ships," which would carry cargo and would function specifically in trade.

DARPA is also funding other non-military robotics projects, such as the development of tiny, flying robots to replace the endangered bee population.

REALLY?
Or is there another "project" in mind?
You see, that's a REAL CONCERN, at least to me...we don't know because we aren't told, we're not in those loops that create and deploy these things.

THINGS ARE MOVING MORE QUICKLY THAN IMAGINED...
"John Bassett, a former UK intelligence officer who worked for 20 years at the UK's Government Communications Headquarters (GCHQ), told attendees at a counter-terrorism meeting in London that numerous 'advances in autonomous warfare' have taken place this year and pointed to that as evidence that the automation of the military is quickly approaching.
Bassett also argued that artificial intelligence and robotics, in general, would soon begin to mesh together, due to the recent advancements in both fields."

IF IT WERE ONLY ADULTS FIGHTING WARS, ONLY ADULTS AS VICTIMS OF WAR, MY MIND WOULD STILL REBEL AGAINST WAR.
WAR HAS NEVER BROUGHT ANY LASTING PEACE.

BUT, AS I WROTE IN "WARS ON CHILDREN", THE REAL VICTIMS OF EVERY WAR ARE THE INNOCENTS, THE HELPLESS, THE UNBORN FETUSES, THE UNARMED INFANTS, TODDLERS, YOUNG CHILDREN WHO HAVEN'T SEEN 10 WINTERS YET.

WHAT ABOUT THE CHILDREN WHO WOULD SURELY 'GET IN THE WAY' OF THESE NEW MAN/MACHINE SUPER-SOLDIERS?

WHY RISK THAT?

WHAT ON EARTH COULD BE MORE IMPORTANT TO PROTECT THAT CHILDREN?

NOTHING.

WHAT'S WORTH MORE THAN THE LIFE OF ONE INNOCENT?
OIL?
GOLD?
CONTROL OF WATER SOURCES?

NO.

SO, BY ALL MEANS, LET'S DO WHAT WE CAN NOW, WHILE CHANGES CAN BE MADE AND MORE ATTENTION PAID TO SUCH THINGS TO FORCE OUR LEADERS AND OUR MILITARIES WHO ARE DEVELOPING SUCH THINGS TO FIRST CONSIDER THE MOST PRECIOUS THINGS ON EARTH...OUR CHILDREN.