HAVE YOU EVER KNOWN OF A TIME IN HISTORY THAT CHILDREN STARTED A WAR? AND YET, THEY ARE ALWAYS THE MOST INNOCENT VICTIMS OF WAR.
HAVE YOU EVER NOTICED THAT THE "LEADERS" OF NATIONS WHO DO START WARS VERY RARELY ATTEND THE "EVENTS" THEMSELVES?
THEY HAVE ARMIES TO DO THAT, ARMIES MADE UP OF THE VERY ONES WE ALL HAVE LOST FAMILY OF FRIENDS TO....LOW-PAID ARMIES WHO GO TO WAR AND KILL AND DIE AND LEAVE US GRIEVING ON BOTH SIDES OF THE "WAR".
WE HAVE ARMIES BECAUSE WE'RE ALL AFRAID OF ONE ANOTHER.
WE HAVE ARMIES BECAUSE WE BELIEVE WE NEED TO HAVE THEM FOR PROTECTION. HISTORY HAS SHOWN US WE HAVE ALL BEEN 'AGGRESSORS' AT ONE TIME OR ANOTHER. HUMANS MAKE WAR. ADULT HUMANS. OFTEN A NATION'S POPULATION DOES NOT WANT WAR, BUT ITS LEADERS CHOOSE WAR FOR THEM.
SOMETIMES THE REASONS THEY CHOOSE FOR WAR ARE INVALID, UNFOUNDED, SELF-SERVING, WRONG.
I WANT US TO LOOK AT WHAT HAPPENS TO CHILDREN IN WAR.
I WANT US TO THINK LONG AND HARD ABOUT WHETHER OR NOT WE WANT CHILDREN TO KEEP DYING IN WARS.
I WANT TO PRESENT YOU WITH A REALISTIC LOOK AT WAR.
Governments keep the REALITY of war hidden because it is hideous. Governments spend MILLIONS to keep the photos and videos of the results of war out of the public's sight. They spend MILLIONS on the media propaganda FOR war, to convince the citizenry that war is GOOD, NECESSARY, that wars are for the "RIGHT" reasons.
To allow citizens to see war's gruesome consequences — the small shattered bodies, the dead children, the SUFFERING of our youngest, the incomprehensible chaos of war — is to risk eroding popular support for war. This is particularly true with wars that have less than overwhelming popular support to begin with. And in Iraq/Afghanistan, wars whose official justification has turned out to be false, and which a majority of the American people now believe to have been a mistake, the administration would prefer that these grim images of those killed and maimed in these wars never be seen.
Two men in particular who have dared to put these REALITIES of war where all may see them have come under such fierce retribution from our government that it makes one sick to see the vindictiveness of such a government that is so afraid of TRUTH that it will hunt down, try and condemn men for exposing those very truths.
Our government even had a ban on news teams covering the return of all those thousands of flag-draped coffins arriving back in the U.S. fro the Middle East. Yes, we know our troops die by the thousands, but our government hates for us to SEE them come home in coffins...day after day after day.
But it isn't about "just" Iraq, Afghanistan, or "just" any one place.
CHILDREN, CIVILIANS AND SOLDIERS ARE VICTIMS OF WAR ALL OVER THE WORLD. CHILDREN DON'T START WARS, THEY ARE NOT ENLISTED IN ARMIES, BUT THEY ARE TERRORIZED BY WAR, AND NO ONE SEEMS TO BE THINKING ENOUGH ABOUT THE CHILDREN. NO ONE WANTS TO IMAGINE THAT THE PEOPLE OF WAR, THOSE "ON THE OTHER SIDE" ARE HURTING, TOO, ARE WEEPING, TOO, ARE SICK OF WAR, TOO, JUST LIKE US.
I AM NO "PEACENIK". I AM NOT CONDEMNING ANYONE FOR WAR EXCEPT THOSE WHO START UNJUST WARS. THE MEN IN MY OWN FAMILY HAVE ALWAYS GONE OFF TO WAR...FROM THE MEN WHO SOUGHT TO STOP THE EUROPEAN 'SETTLERS' FROM TAKING AWAY THESE BEAUTIFUL BLUE RIDGE MOUNTAINS TO THE PRESENT TIME. OUR FAMILY HAS HAD ITS SHARE OF WARRIORS. WE HAVE LOVED EACH ONE, AND GRIEVED EACH ONE'S LOSS. WHEN WAR COMES, MEN MUST FIGHT THEN. I RECOGNIZE THAT ANY NATION UNDER ATTACK MUST FIGHT. I DO NOT RECOGNIZE THAT THE FIGHTING MUST BE DONE FOR "MAXIMUM KILL".
I HAVE ALL MY LIFE THOUGHT THAT WHEN TWO NATIONS HAVE CONFLICT, THE GOVERNING MEMBERS OF EACH, AND ONLY THOSE FEW, SHOULD ARRAY THEMSELVES ON A FIELD OF BATTLE, ARMED ONLY WITH KNIVES AND SWORDS. LET THE BEST WARRIOR WIN. I BELIEVE THAT JUST MIGHT STOP WARS QUITE SOON.
THE FIRST PHOTO DOES NOT SHOW A CHILD FROM THE CURRENT "WARS", BUT TO ME IT IS REPRESENTATIVE OF THE REALITY OF THE DEATH CAUSED BY WAR. IT REPRESENTS THE DEATH OF INNOCENCE PERHAPS MORE THAN ANY PHOTO I'VE SEEN OF THE MISERY CHILDREN IN WAR FACE.
THE YOUNG MAN WHO TOOK THIS PHOTOGRAPH RECEIVED A PULITZER PRIZE FOR IT....AND, SHORTLY THEREAFTER, COMMITTED SUICIDE. SUCH A PHOTO HAUNTS US, DOESN'T IT? THE EFFECTS OF WAR (AND OF POVERTY AND SLOW STARVATION OF A PEOPLE) LAST FOR GENERATIONS, PERHAPS FOREVER.
Photo by Kevin Carter
I ask you...what chance do children have when their parents have died and left them alone? What hope for life can a baby have left alone on the field of war?
Some may struggle on to TRY to survive, as the brother and sister in the following photo. But what are their REAL chances for survival?
How angry would we each be if these were OUR children?
You see, war creates an anger, a RAGE that lasts for thousands upon thousands of years.
Ask those who have "lost" wars. We ALL lose in war. We may lose our "humanity", our compassion 'only', or we may lose lands, homes, family, but we ALL lose in war. Wars CREATE losers.
These two children have lost almost everything. LOOK at the weariness on the sister's face.
Caring for her younger sibling, weary, bone weary of war.
Hungry? Sick? Alone, these two?
What must they think of war?
The next photo is of six-year-old Lamiamh Ali, his body being prepared for burial.
Some may call him "an unfortunate casualty of war".
I call him by his name, Lamiamh Ali, I call him a CHILD who did NOTHING to warrant being killed by war. I call him INNOCENT.
Remember his name...too often we never see names. Too often all we see is "enemy".
NO young child is an enemy who doesn't even understand war.
Lamiamh was a beautiful child, wasn't he?
I wish we could have seen him grow to manhood.
His death grieves me more than I can say.
Grief will not restore his life.
Bombs don't see children, nor do those who drop them, and children of the age of this precious little girl surely don't know what that is falling on them from the sky.
CURSED DRONES DON'T CARE WHO DIES!
We have "depersonalized" war.
There is a venue of videos here that are called "war porn", and they are quite popular. They depict bodies blown apart, heads lying on the ground here, legs over there.
They depict the destruction of human flesh and absolute carnage and some idiot decided to call them "war porn".
The comments left below them would tear at the hearts of stones.
To know that some among us ENJOY such things...how can any nation live with that and not try to change it?
The little girl in this next photo is experiencing TERROR, my friends.
THIS is what TERROR looks like...we see it in the face of a child.
Whether from internal, "civil" strife, one sect against another, or a nation against another nation, why don't "warriors" consider the CHILDREN?
We can see other things in the faces of children of war.
IMMEASURABLE LOSS.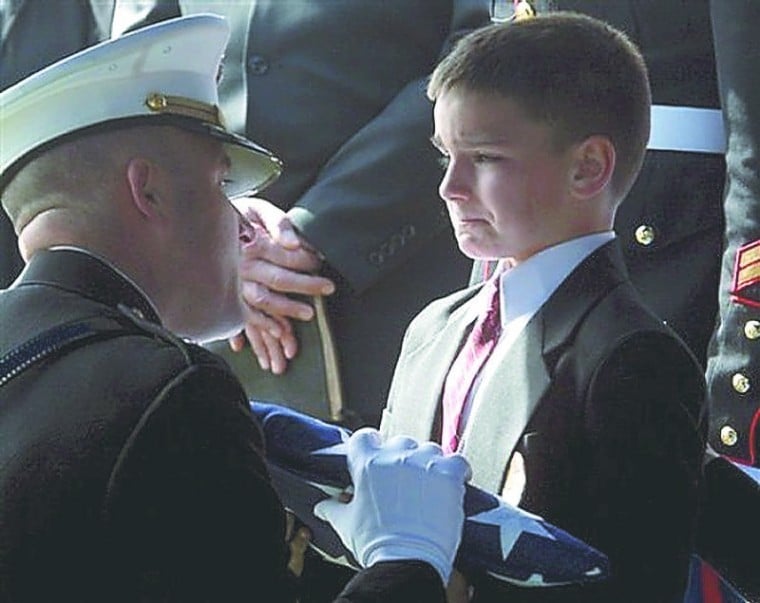 This photo depicts a young lad of nine years-old receiving the flag that draped his father's coffin.
His father was due home in weeks, after a second "tour" in Iraq, but a sniper's bullet found him and this child knows too well the GRIEF of war.
His name is Christian Golczynski. Remember his name.
His father will not be around to speak it.
To his father, Marc Golczynski, we can only weep and say, "Thank you so much for going where I did not go, for standing in for ME in this hateful war, thank you forever for being brave beyond measure and performing the DUTY assigned you, good sir.
Your life was precious to me. Though I would not have "spent" such a beloved life, I will always honor you for laying it down. The world is darker for your extinguished light."
These American children paid a horrible price for war. I know that some will see this and the above photo and say, "American soldiers should die!"
To those, all I can say is, NO ONE SHOULD DIE!
NO ONE.
Many will say that soldiers have no heart, are merely "conditioned to kill" and never think twice about it.
That's a lie, for the most part.
But, even IF it were true, those who say this have also AGREED to such a thing. IF, IF we have all created within our nations what are called "killing machines", didn't we sit SILENTLY and with our SILENCE agree to it?
Sometimes war begins from the SILENCE of those opposed to it.
Not enough voices rise in dispute of war.
Too few have the COURAGE to speak against it.
Perhaps that's because too few have had a good look at war, up close, as victims of war, haven't lost loved ones to war, haven't had any come home with the horror of war written into their faces.
These soldiers have hearts, despite what anyone else may think, and their photos show they are VERY mindful of the cost of war.
IN BOTH THESE PHOTOS, THE VICTIMS WERE VICTIMS OF ATTACKS BY FELLOW CITIZENS OF THEIR NATIONS. BUT WAR IS WAR, WHETHER WAGED WITHIN NATIONS WHERE THE INHABITANTS ARE AT WAR WITH OTHER INHABITANTS, OR WAR AGAINST NATIONS BY OTHER NATIONS.
WAR IS WAR.
If there had been NO war in Iraq, would this child have suffered?
Perhaps the man holding the tiny one is a father himself?
Is he thinking, "What if this was MY child?"
I hope he is.
I hope we ALL say that when we look at the child victims of war.
WARNING: As shocking as some of the above images are, this one below may be called more "graphic". Children often "get in the way" of things like helicopter strafings, cluster bombs, mortar shells... The result is always "shocking"...there is no word in any language I know that can say what such results are. I am at a loss.
These pitiful ones below are the remains of infants "killed by mistake" in Iraq from one such "strafing".
"Mistakes", apologies for mistakes never bring a human being back to LIFE.
America said it was going to FREE the people of Iraq. From what, LIFE?
The caption states these are Afghan toddlers, wounded by a UK Apache helicopter.
"Just wounded"?
In a democratic society we are all responsible for the action of our government.
Do you think that goes too far, showing such a thing?
You should BE THERE!
You should see IN PERSON just how "FAR" things go when humans make war!
You should ask yourselves again and again if you want THIS to happen to YOUR children!
WHEN WE AGREE TO WAR, WE MUST AGREE TO ITS CONSEQUENCES AND ACCEPT THE RESPONSIBILITIES THAT COME WITH WAR!
THE BOTTOM LINE IS THIS:
WHEN WE MAKE WARS, WHEN OUR CHILDREN ARE KILLED OR MAIMED BY WAR, PARENTS, GRANDPARENTS, SIBLINGS, FAMILIES AND FRIENDS ARE ALL ENRAGED, EMBITTERED, INCENSED TO SEEK "JUSTICE" FOR THE DEATHS AND WOUNDS UPON THE CHILDREN OF WAR.
THE SENSELESS DEATH OF CHILDREN EATS AWAY AT PEOPLE LIKE A FAST-SPREADING CANCER.
THIS WE MAY ALL AGREE ON, IF OUR OWN CHILDREN WERE SUBJECTED TO WAR, IF OUR OWN CHILDREN DIED OR WERE INJURED, OR TRAUMATIZED FOREVER BY WAR, WE WOULD DAMN WELL WANT SOMEBODY TO 'PAY'!
WE WOULD NEVER REST NOR SLEEP UNTIL WHOEVER KILLED OR INJURED OUR INNOCENTS 'PAID' FOR DOING SO!
AND THAT MEANS MORE WAR, AND THEN MORE WAR, AND STILL WE WAR.
HERE'S SOMETHING YOU MAY NOT THINK ABOUT...
ALL THOSE SOLDIERS FIGHTING IN WARS ARE SOMEBODY'S CHILD.
ALL THOSE WITH ARMS AND "INTENT TO KILL", WITH THE DRIVE TO 'WIN' THESE WARS ARE SONS AND DAUGHTERS OF SOME MOTHER, SOME FATHER SOMEWHERE. NO MATTER HOW OLD THEY MAY BE, THEY ARE EACH AND EVERY ONE SOME MOTHER'S 'BABY', SOME FATHER'S HOPE.
ALL THOSE FIGHTING ARE FIGHTING IN OUR PLACE!
WE DON'T GO TO WAR, NOT THE VAST MAJORITY OF US.
BUT OUR 'BABIES' DO!
SOME HAVE TRIED TO BRING THE REALITY OF WAR TO AMERICAN TV.
MANY WERE FIRED FOR THEIR EFFORTS.
SOME FACE CHARGES AND TRIALS FOR TRYING.
THE GREAT WAR MACHINES OF NATIONS DON'T WANT THE REALITY OF WAR TO BE SHOWN OR KNOWN.
NONE OF OUR GOVERNMENTS WANT US TO
NOT
SUPPORT WAR.
HERE, IF WE VOICE RESISTANCE TO GOING TO WAR, WE ARE OFTEN LABELED "UN-AMERICAN".
WE ARE TOLD THAT ONLY TRUE BLUE PATRIOTS KNOW THE 'NEED' FOR WAR, AND IF YOU SAY DIFFERENTLY,
YOU ARE NO PATRIOT HERE.
IT DOESN'T MATTER IF WE HAVE SONS AND DAUGHTERS LAID ON THE ALTAR OF WAR, IT DOESN'T MATTER IF WE WANT OUR BELOVED CHILDREN HOME, WE MUST SUPPORT THE WAR, BUT THE CRY IS CHANGED, YOU SEE, TO
"SUPPORT OUR TROOPS!"
WELL, WE DO...BYALLTHEGODS, WE
DO
SUPPORT THEM!
WE SUPPORT THEM COMING HOME TO HELP WITH THE
INTERNAL
WAR HERE, MAYBE TO HELP FERRET OUT OUR
OWN
TERRORISTS, SOME WHO GOT ELECTED TO HIGH OFFICES, SOME WHO HAVE HIGH RANKS.
WHILE OUR GOVERNMENT WANTS US TO SUPPORT WARS, WE WANT TO SUPPORT LIFE.
LIFE, NOT DEATH!
WE WANT OUR TROOPS TO LIVE!
WE WANT CHILDREN TO LIVE.
WE VALUE THE LIVES OF ALL CHILDREN, REST ASSURED.
WE JUST DON'T DO ENOUGH TO STOP THE WARS.
YOU DON'T WHERE YOU ARE, WE DON'T OVER HERE.
WE HAVE ALL FALLEN PREY TO THE VULTURES OF WAR.
CHILDREN DO NOT START WARS. BUT THEY ALWAYS PAY THE AWFUL PRICE FOR WAR.
HOW CAN WE REST OR SLEEP KNOWING THAT?
ALL OF US WHO HAVE LOST CHILDREN TO WAR, ALL OF US WHO GRIEVE, LET US PLEASE FIND A WAY TO NOT DO WAR ANYMORE!
VIDEO CREDIT:
http://www.youtube.com/watch?v=ziZWTXvkIiA
https://youtu.be/NpdaQRGSv0k
IN SPITE OF ALL THE DEATHS, ALL OVER THE WORLD, WARS CONTINUE.
IN THIS VIDEO RELEASED JUST LAST MONTH,
WE CAN SEE WHAT LIFE IS LIKE FOR CHILDREN IN SYRIA.
OVER 11,000 CHILDREN HAVE BEEN KILLED IN SYRIA! 11,000!
IF OVER 11,000 HAVE DIED IN SYRIA IN JUST THREE YEARS, HOW MANY MORE?
THE AGONY ON THE PARENT'S FACES...CHEMICAL WARFARE.
AND BELOW, AS SAUDI ARABIA BOMBS YEMEN, HUNDREDS OF PHOTOS EMERGE OF CHILDREN WHO HAVE DIED, WILL DIE TODAY, TOMORROW...
WHY?
SCHOOLS AND HOSPITALS WERE DESTROYED BY SAUDI BOMBINGS.
DOES ANY NATION CARE THAT CHILDREN LIKE THIS ARE IN HARM'S WAY?
EVEN THE UNBORN...THIS REPORT IS OF A PREGNANT YEMENI WOMAN KILLED.
THOUGH MANY IN THE MIDDLE EAST ARE ASKING HOW SAUDI ARABIA SHOULD BE PUNISHED FOR THIS, I ASK HOW SHOULD ALL NATIONS BE PUNISHED?
WHAT WILL MAKE IT STOP?
WILL WE WE EVER SEE AN END TO WARS AGAINST CHILDREN?