HAMAS' LATEST THREAT: IF PRESIDENT OBAMA VISITED THE TEMPLE MOUNT ON HIS TRIP TO ISRAEL, THAT IT WOULD BE "A DECLARATION OF WAR" AGAINST THE ISLAMIC WORLD.
MUSHIR al-MASRI CALLED FOR A THIRD INTIFADA
( Literally translated to "shaking off", and, in this context means "shaking off" Israel)
IF OBAMA VISITS THE MOUNT.
No, this is not false information. It hit the internet, then the MSMs across the world.
This is a confirmed fact, this is what Hamas said, and the furor and the near-riots that followed in Israel is unbelievable....ALL BECAUSE THEY WERE AFRAID OBAMA MIGHT WANT TO GO TO THE TEMPLE MOUNT!
I'LL EXPLAIN WHY THAT COULD SET OFF "INTIFADA" AND "JIHAD" BELOW.
WHO IS THIS GUY?
How dare he threaten the leader of a nation?
HERE'S A SHORT INTRODUCTION TO MUSHIR, FROM MARCH, 2012:
http://www.youtube.com/watch?v=dU71nFMt7pw
March 13, 2013
http://washington.cbslocal.com/2013/03/12/hamas-declaration-of-war-if-obama-visits-temple-mount/
<<Hamas: 'Declaration Of War' If Obama Visits Temple Mount
WASHINGTON (CBSDC/AP) — Hamas is warning that if President Obama visits the Temple Mount it would be a "declaration of war" against the Islamic world.
The terror[ist] group made the threat during a protest march at the religious site following riots on Friday.
Mushir al-Masri, a Hamas spokesman, called for a third intifada if Obama visits the contested religious site in Jerusalem's Old City between Israelis and Muslims.
White House officials have said Obama doesn't plan on visiting the Temple Mount during his trip.
Both Israelis and Muslims have claimed sovereignty over the Temple Mount since Israel liberated the site during the 1967 Six-Day War.
ISRAEL WON, but left the Waqf in charge of the Temple Mount compound.>>
HAMAS IS NOT A NATION, BUT IS KNOWN AS A TERRORIST GROUP EVEN AMONG FELLOW ARABS.
HAMAS HAS NO LEGAL STATUS WHATSOEVER ON THE FACE OF THE EARTH.
PEOPLE IN GAZA, MUSLIMS, HAVE BEEN COMPLAINING OPENLY FOR DECADES ABOUT THE STRONG-ARM TACTICS AND ATTACKS ON THEIR OWN PEOPLE BY HAMAS, THE PLO, EVEN FATAH.

HAMAS USES CHILDREN AS HUMAN SHIELDS, USES SCHOOL ROOFTOPS TO LAUNCH MISSILES FROM, HAMAS' GOON BRIGADE THAT PATROLS THE STREETS OF GAZA DOING AS IT WISHES, TERRIFYING PEOPLE, KILLING PEOPLE, TORTURING, RAPING, STEALING.
THAT IS HAMAS.
AND YET HAMAS SAYS A UNITED STATES PRESIDENT CANNOT VISIT A TOURIST SITE THAT ALMOST ANY FOREIGN VISITOR TO ISRAEL IS (when it's 'convenient' for Waqf) ALLOWED TO VISIT?
I DON'T TAKE EXCEPTION TO THIS AS AN AMERICAN, BUT AS SOMEONE WHO HAS READ AND HEARD THE PLEAS AND COMPLAINTS AND HORROR STORIES OF MANY WHO LIVE UNDER HAMAS!
THERE WAS ONCE A WEBSITE CREATED BY GAZAN YOUTH WHICH TESTIFIED TO THE DAILY FEAR ALL IN GAZA LIVE UNDER WHO DO NOT SUPPORT HAMAS, OR WHO BECOME THEIR TARGETS.
I CAN'T LOCATE THAT WEBSITE AND AM AFRAID FOR WHAT MAY HAVE HAPPENED TO THOSE BRAVE YOUNG PEOPLE BECAUSE OF THE PHOTOS AND MESSAGES THEY POSTED, TELLING THE TRUTH ABOUT HAMAS.
HAMAS, LIKE THE PLO, IS DEDICATED TO MAKING PROBLEMS, NOT SOLVING THEM.
PLEASE BE AWARE
THAT MY INTENTION IS NOT TO BELITTLE EVERY MUSLIM ON EARTH, OR TO "RUN-DOWN" THE NATIONS OF ISLAM.
SURELY YOU CAN SEE FROM ALL MY BLOGS THAT I AM AFTER TRUTH, JUST TRUTH, NO MATTER WHOM IT HURTS....ME, YOU, IT DOESN'T MATTER WHOM TRUTH MAY WOUND!
WHEN MY OWN COUNTRY IS GUILTY OF ANYTHING, I SAY SO.
IT DEEPLY PAINS ME TO POINT OUT LIES AND WRONGS DONE BY MY OWN COUNTRY, SO IT PAINS ME TO DO SO NOW, BUT DO IT I MUST!
I AM NOT STUPID, SO I KNOW, AS DO WE ALL, I HOPE, THAT NO ONE GROUP OR RACE OR FAITH IS "ALL BAD" NOR "ALL GOOD", NOT ONE IS 100% BLAMELESS NOR GUILTLESS OF SOME THINGS.
HUMANS ERR. HUMANS MAKE MISTAKES, BAD JUDGEMENTS ...
ALL HUMANS.
HAVE ISRAELIS DONE THINGS THEY SHOULD NOT HAVE DONE?
OF COURSE!

HAVE MUSLIMS?
YES!

HAVE I, HAVE YOU?
YES, YES!
SO LET ME BEGIN WITH ONE OF THE SENTENCES AT
THE END
OF THIS POST:
"WHY MUST 'BROTHER' JUST KEEP FIGHTING AGAINST 'BROTHER' ?

"

I BELIEVE THE ANSWER IS "BECAUSE 'SOMEONE' KEEPS BAITING THEM TO THE FIGHT"!

SOMEONE WANTS WAR BETWEEN THE OFFSPRING OF ISAAC AND ISHMAEL AND WILL DO ANYTHING TO KEEP THE WAR GOING! IN THIS POST, WHEN I 'SAY' ARAB, JEW, AMERICAN, MUSLIM, JORDANIAN, ETC, I WILL NEVER MEAN ALL OF ANY ONE PEOPLE! NEVER!

ALL JEWS, ALL ARABS, ALL MUSLIMS DO NOT THINK NOR REACT AS ONE, NO GROUP IS 100% "IN SYNC".
UNDERSTAND THAT.
I DON'T EVEN BELIEVE THAT EVERYONE IN THE GROUP 'HAMAS' BELIEVES ALL JEWS SHOULD BE OBLITERATED FROM THE EARTH.
NOW, FOR YOUR CONSIDERATION:
http://frontpagemag.com/2012/joseph-puder/how-hamas-terrorizes-gazas-citizens/
"According to Saudi-based Arab News, an HRW report titled "Abusive System: Criminal Justice in Gaza" alleged that Hamas security services failed to inform relatives of the whereabouts of detainees, and had arrested and abused lawyers. Stork added that "Hamas should stop the kind of abuses that Egyptians and Syrians and others in the region have risked their lives to bring to an end."
"Relatives mourn Ismael Alzaanin, a Fatah member killed by Hamas"

THIS IS JUST ONE PHOTO OF LIFE UNDER HAMAS.
Read more:
http://www.time.com/time/photogallery/0,29307,1648830,00.html#ixzz2Oax1I7yg
PAY CLOSE ATTENTION TO WHO HAS AIDED FATAH, AND WHO HAS SUPPORTED HAMAS:
The U.S.
committed $59 million for training and non-lethal equipment for
PNA's Presidential Guard
, and
Arab allies
funded the purchase of further weapons for them as well. Israel, too, allowed light arms to flow to members of the Presidential Guard.
Jordan and Egypt
hosted at least two PNA battalions for training.
Beginning in 2004,
British
intelligence MI6 prepared plans for a wide-ranging crackdown on Hamas, in cooperation with British officials at Whitehall, and these plans were passed to Jibril Rajoub,
senior Fatah official
in charge of security, according to a cache of
Palestine Papers leaked to the press in 2011.
Following the Itamar massacre in March 2011, and another bombing of Jerusalem,
27 U.S. senators
sent a letter requesting that the US Secretary of State identify the administration's steps to end Palestinian incitement to violence against Jews and Israel that they said was occurring within the "Palestinian media, mosques and schools, and even by individuals or institutions affiliated with the Palestinian Authority."
The United Nations body UNESCO
stopped funding a children's magazine sponsored by the Palestinian Authority that commended Hitler's killing of Jews.
It deplored this publication as contrary to its principles of building tolerance and respect for human rights and human dignity. [NOTE: I have posted "children's videos that sprang from this magazine on another blog.
SEE:
http://havacuppahemlock1.blogspot.com/2013/03/should-we-teach-our-children-sharia-law.html
]
Palestinian Media Watch reported that
the Palestinian Authority
spent more than $5 million a month paying salaries to Palestinians and Israeli Arabs imprisoned
in Israel
for terror crimes.
They also stated that groups in a summer camp for children sponsored by PA Prime Minister Salam Fayyad were named after militants: Dalal Mughrabi, who led the Coastal Road Massacre; Salah Khalaf, head of Black September that carried out the Munich Massacre; and Abu Ali Mustafa, the general secretary of the Popular Front for the Liberation of Palestine who perpetrated many attacks.

Saddam Hussein, the leader of Iraq, donated $25,000 to the families of suicide bombers.
Those suicide bombers perpetrated the bus bombing in 2003 in Jerusalem's Shmuel Hanavi neighborhood which killed twenty-three people, many of them children.
The Palestinian Arab Party
, the largest of the Arab political parties formed in Palestine during the 1930s,
sponsored the development of storm troops CONSISTING SOLELY OF CHILDREN.
A British report from the period stated that "the growing youth and scout movements must be regarded as the most probable factors for the disturbance of the peace".
As a youngster, Yasir Arafat, OF EGYPTIAN LINEAGE, BOASTED that he had led neighborhood children in marching and drills, beating those who did not obey.
WHERE HAS THIS LED?
On March 16, 2005, an Israeli border guard found a bomb in the school bag of
12-year-old
Abdullah Quran at a military checkpoint near Nablus. His life was saved only because a cell phone rigged to detonate the 13-pound bomb failed to set off the explosive at the checkpoint as it had been designed to do.
Eight days later, on 24, March
16-year-old
Hussam Abdo was captured wearing an explosive belt, having allegedly been paid by
Fatah's
Tanzim branch to blow himself up at the same checkpoint.
From September 2000 through 2003, 29 suicide attacks have been carried out by youth UNDER THE AGE OF 18, and, more than 40 youths UNDER THE AGE OF 18 were involved in attempted suicide bombings that were thwarted.
GAZA'S CIVIL WAR
YOU MAY NOT BE AWARE OF THE PALESTINIAN CIVIL WAR/CONFLICT OF BROTHERS (
called 'Wakseh' among Palestinians
) SO LET US EXPLORE THAT BRIEFLY.
It began in 2006, after Hamas's legislative victories and has continued, politically and sometimes militarily up to this day. The conflict, which erupted between the two main Palestinian parties, Fatah and Hamas, resulted in the split of Palestinian Authority into two political factions, each seeing themselves as the 'TRUE' representatives of the Gazan people: the Fatah-ruled 'Palestinian National Authority' and the 'Hamas Government in Gaza'.
Yasser Arafat left the Palestinian Authority plagued with nepotism and corruption.
During Arafat's rule, the United States, World Bank, European Union, and Arab governments poured $7 billion into the Palestinian Authority
to try and help forge a viable Arab-Israeli peace.
As much as half that sum is reported to have gone missing, unaccounted for
, with only a small fraction recovered to date.
And Arafat's widow, Suha, who fled to Paris in 2000 and has been living there with their daughter on an entire floor of the palatial Hotel Le Bristol, a five-star hotel, at approximately $16,000 per night,
has proved to be only one of several big-time beneficiaries of those billions in funds.
This has increasingly angered those in Gaza who need those funds for, among other things, FOOD.
They want that $7 billion back!
That's one reason why, in 2004–05, after a sharp rise in lawlessness, corruption and crime by those in charge of Gaza (
PLO offshoots
) , as well as a steep decline in public service delivery, Hamas's got a 2006 electoral victory.
Gazans swapped the devil for the deep blue sea.
The period from March to December 2006 was marked by escalating tensions when
Fatah
commanders refused to take orders from the government while the Palestinian Authority initiated a campaign of assassinations and abductions against
Hamas
.
On December 15, Abbas called for a Palestinian general election. Hamas challenged the legality of holding an early election, maintaining its right to hold the full term of its democratically elected offices.
Hamas characterized this as an attempted Fatah coup by Abbas.
According to one Palestinian rights group,
more than 600 Palestinians were killed
in fighting from January 2006 to May 2007. A serious escalation in the violence was marked by the 2006 Rimal neighborhood shootings.
On December 15, 2006, in-fighting broke out in the West Bank after Palestinian National Security Forces fired on a Hamas rally in Ramallah. At least 20 people were wounded.
March and April 2007,
more than 90 more people were killed by infighting.
In mid-May 2007, clashes erupted once again in the streets of Gaza. In less than 20 days, more than
50 Gazans were killed by other Gazans.
Throughout June 7 to 15, 2007, the civil war continued and Hamas took control of the main north–south road and the coastal road and removed Fatah officials.
At least 118 people were killed and more than 550 wounded during the fighting in the week up to June 15.
DID THE WORLD DECRY THIS CIVIL WAR?
NO...BECAUSE ARABS WERE KILLING ARABS, AGAIN.
THE CRY GOES UP ONLY WHEN AN ARAB IS KILLED BY A JEW, YOU SEE.
AND ALMOST NEVER WHEN A JEW IS KILLED BY AN ARAB DO MAJOR MEDIA REPORT THAT.
On June 14, Palestinian President Mahmoud Abbas announced the dissolution of the current unity government and the declaration of a state of emergency. Palestinian Prime Minister Ismail Haniya was dismissed, and
Abbas began to rule Gaza and the West Bank by presidential decree.
Hamas spokesman Sami Abu Zuhri responded by declaring that President Abbas's decision was "in practical terms ... worthless," asserting that Haniya "remains the head of the government even if it was dissolved by the president".
I
n October of 2007, clashes between Fatah and Hamas led to the deaths of a 13-year old boy, a woman, 22 other civilians, and over 100 injured.
On January 1, 2008, at least
eight people died in this factional fighting in the Gaza Strip
.
On May 31, 2009,
six people were killed as Palestinian Authority and Hamas forces clashed in Qalqilya.
Earlier this year (2013), political analyst Hillel Frisch from Bar-Ilan University's BESA Center, noted that
"The Palestinian Authority is playing a double game...with regards to battling Hamas, there's coordination if not cooperation with Israel. But on the political front, the PA is trying to generate a popular intifada."
Palestinian groups involved in politically motivated violence include Hamas, the Palestinian Liberation Organization (PLO), the Palestinian Islamic Jihad, Fatah, the Popular Front for the Liberation of Palestine (PFLP), the Popular Front for the Liberation of Palestine - General Command (PFLP-GC), the Democratic Front for the Liberation of Palestine, and the Abu Nidal Organization.
Tactics have included plane hijackings, stone throwing, stabbing, shootings, and bombings.
[
See "The intifada: Palestinian adaptation to Israeli counterinsurgency tactics" Terrorism and Political Violence 7.2 (1995). Sep 5, 2010
]
HUNDREDS TO THOUSANDS OF GAZANS KILLED BY THEIR 'BROTHERS', BY THEIR OWN, THOUSANDS IN JUST ONE YEAR!
CHILDREN AND WOMEN SENT TO THEIR DEATHS EVERY YEAR AS SUICIDE BOMBERS!
AND THAT CONTINUES TODAY!
JORDANIAN-PALESTINIAN CIVIL WAR
There has also been a more-or-less ongoing
Jordanian-Palestinian civil war
, various clashes between the fedayeen and the army between the years 1968–1970.
The situation climaxed in September 1970, when several attempts to assassinate king Hussein failed.
Battles between Palestinian guerrilla forces and the Jordanian army continued during the closing months of 1970 and the first six months of 1971. In November 1971, members of the Palestinian Black September group, who took their name from the civil war, assassinated Jordanian Prime Minister Wasfi al-Tal in Cairo.
In December the group made an unsuccessful attempt to assassinate the Jordanian ambassador in Britain.
A bitterly fought 10-day civil war known as
Black September
ensued, drawing involvement by Syria and Iraq, and sparking troop movements by Israel and the United States Navy.
The number of people killed on all sides were estimated as high as 3,500, other sources claiming it to be as high as 20,000.
ALL FROM INFIGHTING!
HOW DOES HAMAS RULE?
ASK A GAZAN.
MEMBERS OF HAMAS DRAG BODY OF
ACCUSED
SPY THROUGH STREETS OF GAZA.
http://assets.nydailynews.com/polopoly_fs/1.1208007.1353916305!/img/httpImage/image.jpg_gen/derivatives/landscape_635/article-palestinian1-1125.jpg
<<It was a sight that shocked the world — the corpse of Ribhi Badawi being dragged through the streets of Gaza City Tuesday by a motorcycle as Hamas gunmen fired into the air.
His crime? ALLEGEDLY "collaborating with Israel" to pinpoint Hamas targets.
But the charge wasn't true, the militant's grieving widow told The News.
http://www.nydailynews.com/news/world/hamas-victim-dragged-streets-collaborator-widow-article-1.1208004#ixzz2ObIBEnkk
"They burned (him) and broke his jaw and teeth," said his widow, Kholoud Badawi. "He was hanged for 45 days by his arms and legs to make him confess. He confessed because of the torture."
She offered his diary as proof of his innocence.
As Kholoud and her five young children accepted the condolences of neighbors and friends in their tiny home in the poverty-stricken Sheikh Radwan neighborhood of Gaza City, friends and neighbors said Badawi was a kind, helpful man who
made a living as a herbalist
.>>
WHAT HAPPENED?
WHAT CHANGED?

JEWS AND ARABS LIVED SIDE-BY-SIDE FOR HUNDREDS UPON HUNDREDS OF YEARS AFTER ALL THE ANCIENT WARS WERE FINISHED, WERE SOMETIMES EVEN ALLIES AGAINST GREATER THREATS!

EVERYTHING SEEMED SO MUCH MORE PEACEFUL UNTIL ISRAEL WAS GIVEN BACK HER ANCIENT HOMELAND AND SOME WENT INTO A RAGE OVER THAT!

WHY?
WHY WAIT UNTIL THE 1930s TO DECIDE JEWS HAD TO BE "PUSHED INTO THE SEA"?
WHAT HAPPENED IN NATIONS THAT HAVE NO JEWISH POPULATION AND YET MUSLIMS DIE?
WHO GETS BLAMED FOR THE INFIGHTING IN SAUDI ARABIA, IRAQ, IRAN, SYRIA, EGYPT, JORDAN, INDIA, AFRICAN NATIONS, PLACES WHERE MUSLIMS KILL MUSLIMS EVERY SINGLE DAY?

<<Grisly inventory finds the total number of deaths in conflicts since 1950 numbering about 85,000,000 across the earth.

Of that sum, the deaths in the Arab-Israeli conflict since 1950 include 32,000 deaths due to Arab state attacks and 19,000 due to Palestinian attacks, or 51,000 in all.

Arabs make up roughly 35,000 of these dead and Jewish Israelis make up 16,000.


These figures mean that TOTAL deaths due to Arab-Israeli fighting since 1950 amount to
0.06 percent
of the total number of deaths in all conflicts in the world in that period.
More graphically, 1 out of about 1,700 persons killed in conflicts since 1950 has died due to Arab-Israeli fighting.
(Adding the 11,000 killed in the Israeli war of independence, 1947-49,
5,000 Arabs dead and 6,000 Israeli Jews
, does not significantly alter these figures.)
I
n a different perspective, some 11,000,000 Muslims have been violently killed since 1948, of which 35,000, or 0.3 percent, died during the sixty (60) years of fighting Israel, or 1 out of every 315 Muslim fatalities.
In contrast, over 90 percent of the 11 million who perished were killed by fellow Muslims.
>>
[SOURCES: Small, M. and Singer, J.D., Resort to Arms: International and Civil Wars 1816-1980, 1982; White, M., "Death Tolls for the Major Wars and Atrocities of the Twentieth Century," 2003.]

WHAT IS GOING ON?
AND WHY?
WHY ARE MUSLIMS FIGHTING BUDDHISTS, HINDUS, CHRISTIANS, AND OTHER MUSLIMS?
WHERE THERE ARE NO JEWS, WHO IS BLAMED?
WHY DON'T WE SEE OR READ OF JEWS KILLING THEMSELVES IN ORDER TO KILL MUSLIMS (LIKE PALESTINIAN SUICIDE BOMBERS/RELIGIOUS MARTYRS DO) OR KILLING OTHER JEWS WITHIN ISRAEL?

WHAT IS HAPPENING IN ISLAM?
THE FOLLOWING, THOUGH QUITE LENGTHY, IS OF GREAT IMPORTANCE FOR YOU TO THINK ABOUT WHEN YOU THINK OF HAMAS' OR ISLAM'S CLAIMS AGAINST JEWS, ABOUT THEIR RIGHT TO ANYTHING WITHIN WHAT IS NOW ISRAEL, AND THIS IS MERELY HISTORICAL, WELL-DOCUMENTED FACT.
HAVING BEEN WITHIN SEVERAL ARAB NATIONS, NOT UNDERSTANDING THEIR STANCE ON MANY THINGS, I BEGAN IN 1972 TO LEARN WHAT I COULD THAT MIGHT HELP ME COMPREHEND THE VIOLENCE I WAS WITNESS TO.
I HAVE NOT FINISHED MY STUDY YET, BUT HERE IS PART OF
50 YEARS
OF RESEARCH, AND WHAT I GLEANED FROM STUDY OF THE QUR'AN AS WELL.
IF YOU WISH TO REFUSE TO SEE THESE FACTS, YOU MAY STOP READING HERE, FOR MUCH IS HISTORICALLY AND PHOTOGRAPHICALLY DOCUMENTED,
INCONTROVERTIBLE PROOF EXISTS THIS IS TRUE.
IF YOU DON'T WANT TO SEE/KNOW THESE THINGS, STOP HERE.
HISTORICALLY SPEAKING...JUST THE FACTS
Despite 1,300 years of Muslim/Arab rule, Jerusalem was NEVER ONCE the capital of an Arab entity, NO ARAB STATE WAS EVER BEGUN THERE, NO ARAB SIGNIFICANCE WAS ATTACHED TO THE TEMPLE AREA UNTIL MODERN TIME,
IT LAY ABANDONED AND IN RUIN UNTIL A LEBANESE CITIZEN TOOK PHOTOS OF IT AND BEGAN A CAMPAIGN TO RESTORE THE TEMPLE MOUNT IN ABOUT 1930 OR SO.
NOR WAS JERUSALEM EVER ONCE MENTIONED IN THE PLO's ORIGINAL 'COVENANT', NOR WERE ANY SUCH CLAIMS TO JERUSALEM MADE UNTIL ISRAEL REGAINED CONTROL OF 'EAST JERUSALEM' AFTER THE 'SIX-DAY WAR' OF 1967.
WILL
PHOTOGRAPHIC EVIDENCE
CONVINCE YOU OF HOW LITTLE THE ARABIC POPULATION THOUGHT OF THE TEMPLE MOUNT BACK TO THE 1860s?
IF IT MIGHT, THEN SEE THESE PHOTOS OF THE RUIN THAT WAS THE TEMPLE MOUNT ALL THROUGH THE 1800s.
THE PITIFUL STATE OF THE MOUNT WAS MENTIONED BY MANY WHO SAW IT WHILE IT WAS UNDER ARAB CONTROL.
NO MUSLIM WORSHIPERS CROWDED AROUND TO WORSHIP THERE.
IT WAS OF SO LITTLE CONSEQUENCE TO THEM THAT THE MOSQUE WAS FALLING DOWN IN RUIN.
WHO CARED?
THEY PRAYED FACING MECCA THEN, TOO.
THERE ARE MANY PHOTOS OF ISRAEL THAT SHOW WHAT A DESOLATE PLACE ITS LANDS WERE, THAT IT WAS ALMOST VOID OF ARAB PRESENCE, DESCRIBED AS "ONE OF THE MOST DESOLATE PLACES ON EARTH" BY SUCH AS MARK TWAIN, WHO VISITED THERE IN THE 1870s.
IT LAY BARREN, WITHOUT LIFE, FOR THE ARABS NEVER CARED FOR IT...UNTIL THE JEWS WERE AWARDED A HOMELAND THERE.
PLEASE DON'T THINK THESE PHOTOS WERE TAKEN BY JEWS OR "FRIENDS OF JEWS". THEY WEREN'T, AND I ASSURE YOU THAT MANY AN ARABIC WEBSITE HAS USED THE
SAME
ONES TO SHOW HOW 'PITIFUL' IS THE PLIGHT OF 'AL AQSA'.
THESE PHOTOS WILL ALSO SHOW YOU TRUTH, AS OPPOSED TO THE LIE OFT TOLD THAT THERE WERE NO JEWS IN THIS LAND UNTIL THE
1940s
.
BY TURKISH (OTTOMAN EMPIRE) CENSUS, BY ROMAN CENSUS, BY BRITISH CENSUS, WE KNOW THAT THOUSANDS OF JEWS REMAINED NOT ONLY IN ISRAEL BUT ALSO IN JERUSALEM SINCE IT WAS MADE THE CAPITAL BY KING DAVID.
MORE ON THAT BELOW.
SOURCE:
http://www.eretzyisroel.org/~dhershkowitz/index2.html
PHOTO CREDITS AT END OF PAGE.
JEWS IN THE 1800s AT THE WALL
WHY NO ARAB PALESTINIAN STATE IN ISRAEL, EVER?
BECAUSE PALESTINIANS NEVER EXISTED AS A RACE OR A CULTURE.
THEY WERE IMMIGRANTS FROM MAINLY SYRIA, EGYPT WHO ONLY BEGAN CALLING THEMSELVES 'PALESTINIANS' WHEN THE JEWS BEGAN THEIR RETURN.
EVEN ARAFAT ADMITTED THAT!


ARABS CONTROLLED ALL THE LAND FOR OVER A THOUSAND YEARS, YET NO "ARABIC STATE OF PALESTINE"?

WHY?


JERUSALEM WAS NEVER DECLARED THE CAPITAL OF ANY ARAB NATION, EVER?

WHY?

REMEMBER,

ISLAM IS THE YOUNGEST OF THE WORLD RELIGIONS

, COMING

THOUSANDS OF YEARS AFTER JUDAISM,

AND MANY YEARS AFTER CHRISTIANITY.

REMEMBER, TOO, AS JIMMY CARTER PUT IT,

"THE BLOOD OF ABRAHAM"

...THE FACT THAT ABRAHAM'S ILLEGITIMATE SON BY HIS WIFE'S

EGYPTIAN

SERVANT WAS THE OLDEST SON,

BUT HIS SON BY HIS WIFE, SARAH, WAS HIS HEIR

.

THIS HAS BEEN A SORE SPOT IN THE MUSLIM WORLD SINCE ITS FOUNDING.


SAME 'FATHER' AS THE JEWS, BUT THE JEWS INHERITED THE LAND, JUST AS THE QUR'AN STATES MANY TIMES

. (SEE BELOW)

THAT HAS TO GRATE ON THE DESCENDANTS OF ISHMAEL, I SUPPOSE.

After the Muslim conquest of Jerusalem in 637 AD/CE, Umayyad Caliphs commissioned the construction of the al-Aqsa Mosque and Dome of the Rock on the site.

The Dome was completed in 692 A.D./C.E., and rests on the far southern side of the Mount,

FACING MECCA

.

The Dome of the Rock currently sits in the middle of the Temple Mount, occupying exactly, or close to, the area where the Bible mandates the Holy Temple be rebuilt.

Were the Muslims aware of what they were doing when they placed the Dome there?

Yes, absolutely.

In spite of efforts to make Jerusalem a holy site to all Islam, Jerusalem never replaced the importance of MECCA in the minds or hearts of Muslims, NOR EVEN CAME BEFORE MEDINA.

When the Umayyad dynasty fell in 750 A.D./C.E., Jerusalem also fell into near obscurity for 350 years, until the Crusades.

During those centuries, many Islamic sites in Jerusalem fell into disrepair and in 1016 A.D./C.E. the Dome of the Rock collapsed.

IT COMPLETELY FELL DOWN.

<<In the year 407 A.H. (1016 A.D.), an earthquake caused the Dome to collapse, and it was re-erected, six years later, by the Caliph Hakim.

~ Source:

http://www.oocities.org/mutmainaa/mosque/dome_rock.html

>>

SIX YEARS LATER?


<< In 1099, the Haram area was occupied by the Crusaders and the monuments there turned to different uses.

The Dome of the Rock was turned into a church, with a golden cross placed at the top of the dome, and the Masjid al-Aqsa transformed into a royal residency, renamed Templum Solomon (or the Temple of Solomon).

The Dome of the Rock was renamed Templum Dominai (or the Temple of the Lord),

from which the Knights Templar, whose Order was formed there, takes its name.

Qur'anic inscriptions over the dome of the Rock were plastered over, steps were carved into the rock itself and an altar erected on top of it. >>

Jerusalem/Yerushalaim, known by this name for several millennium to all in that area of the world, ITS NAME RECORDED IN THE HISTORY OF MANY NATIONS, is NOT ONCE mentioned by name IN THE QUR'AN.


You may see the word "Quds" mentioned by Islam, referring to their prophet's one DREAM of travel to "a far away place", but "Quds" NEVER meant Jerusalem.

In the Koran, or Qur'an, you will find Quds in there, which the Arabs say NOW is an Islamic name for Jerusalem, but that is simply NOT TRUE.

Quds was

never

translated as "JERUSALEM". It was a place Mohammed NEVER ONCE visited, but merely mentioned that he DREAMT of, never specifying where that place was precisely, nor naming the place he dreamt of.

"Exalted is He who took His Servant by night from al-Masjid al-Haram (the Sacred Mosque) to al-Masjid al-Aqsa (the Further Mosque), whose surroundings We have blessed, to show him of Our signs. Indeed, He is the Hearing, the Seeing." ~Quran 17:1

In the DREAM, Mohammed "visited" a place referred to as 'masjid el-aksa', which means "the farthest mosque".

The Arabs claim that this refers to their mosque of that name, located on the Temple Mount.

THE MENTION OF JERUSALEM IS ONLY FOUND AFTER THE FACT,

AFTER

MUHAMMAD DIED, AND SOME HADITHS ARE UNACCEPTABLE TO SOME MUSLIMS, PREFERRED BY OTHERS.


NO, the Al Aksa Mosque was built about a hundred years after Muhammad departed this life!

REPEAT: THERE WAS NO DOMED MOSQUE IN JERUSALEM, NO MAIN MOSQUE AT ALL, WHILE MUHAMMAD WAS ALIVE!

In Muhammad's time, Jerusalem was ruled by the Byzantine Christians, and

THERE WERE NO MOSQUES AT ALL IN JERUSALEM, NOT ONE, not on the Temple Mount or anywhere else.
So obviously, Muhammad couldn't have dreamed about a mosque that DID NOT EXIST IN HIS LIFETIME, ABOUT ANY MOSQUE IN JERUSALEM, BECAUSE THERE WERE NONE!
WHY BUILD A MOSQUE ATOP THE RUINS OF ANOTHER FAITH'S SACRED BUILDINGS?

It has always been a Muslim policy, when conquering any area, to take over the holy places of the local people and to turn them into mosques, or raze them and build mosques in their place.

They have done this not only in the Land of Israel, regarding both Jewish and Christian holy places and buildings, but also in India, replacing Hindu holy places, in Afghanistan, replacing Buddhist holy places, and so on, all across the globe.

So, when the Muslims conquered the Land of Israel in the 7th century, they simply looked for the holiest place around, found the

BYZANTINE CHURCH

that was built upon the ancient Jewish Temple site, and erected there the Al Aqsa mosque, thereby building ATOP both Christian and Jewish holy places at the same time.

It's just Muslim tradition to do so when they conquer.

But Muhammad was dead 100 years before this mosque was even a dream.

Add to this that, geographically, on any map current or ancient, Jerusalem could never be referred to as "the farthest place".

Jerusalem is CENTRALLY located.

Within the land of Israel, it is located on the mountain ridge between the Jordan River and the Mediterranean Sea. On a larger scale, it is located at the junction point (CENTER) of three continents: Asia, Europe and Africa. We see this shown in ancient maps, such as the Medeba map.

JERUSALEM COULD NOT HAVE BEEN THE "FARTHEST PLACE" MUHAMMAD DREAMED OF!

In Muhammad's time (and even earlier than that), "the farthest place" would

never

refer to Jerusalem. It could, by a stretch, refer either to a coastal city, such as Jaffa, Acre or Haifa, perhaps, or maybe to

the "end" of the Mediterranean Sea, such as Spain, Gibraltar or Morocco.

No, Muslims changed the meaning/translation of Quds when Jews became independent and changed the land back to its original name, Israel.

You may be surprised to know that the words "Bani Israel" (Children of Israel) IS mentioned 40 TIMES in the Qur'an, while the word "Palestinians" or "Palestine" is NEVER mentioned, not even once, in the Qur'an.
{Quran- Al-A'raf 7:137 And We made people, who were considered weak (and of no account) [The Children of Israel], inheritors of lands in both east and west, – lands whereon We sent down Our blessings. The fair promise of thy Lord was fulfilled for the Children of Israel, because they had patience and constancy.}

{Quran -Ash-Shu'ara 26:59 Thus it was, but We made the Children of Israel inheritors of it [the Land]}.

{Quran Al-Baqara 2:122 O Children of Israel! Call to mind the special favor which I bestowed upon you, and that I preferred you to all mankind}. It is clear that the Holy Land, ACCORDING TO THE QUR'AN ITSELF, was given as an inheritance to the "Children of ISRAEL".


IT MUST BE SO, MUHAMMAD SAID IT, yes?

AS I STATED BEFORE, THE ONLY MENTION OF JERUSALEM BY NAME CAME MUCH LATER IN A HADITH, NOT IN THE QUR'AN.

A HADITH is a saying or an act or tacit approval or disapproval ASCRIBED either validly or invalidly to the prophet of Islam.

In Islamic terminology, the term hadith refers to REPORTS of statements or actions of Muhammad, or of his tacit approval or criticism of something said or done in his presence.

Classical hadith specialist Ibn Hajar al-Asqalani says that the intended meaning of hadith in religious tradition is something ATTRIBUTED to Muhammad but that is NOT found in the Quran.

Hadith are regarded by traditional Islamic schools of jurisprudence as important tools for understanding the Quran and in matters of jurisprudence. Hadith were evaluated and gathered into large collections during the 8th and 9th centuries A.D./C.E.. These works are referred to in matters of Islamic law , BUT, NO TWO GROUPS AGREE ON THESE HADITHS, AND SOME SECTS REJECT SOME HADITHS ALTOGETHER.

The largest denominations of Islam,

Sunni

,

Shia

, and

Ibad

i, rely upon DIFFERENT sets of hadith collections.

ISLAM CANNOT AGREE ON HADITHS, EITHER, IT SEEMS.

Clerics and jurists of all denominations classify individual hadith as sahih (authentic), hasan (good) and da'if (weak). However, different traditions within each denomination, and different scholars within each tradition, may differ as to which hadith should be included in which category.

There was no mention of Quds before Muslims invaded Israel/Philistine/Palestine during the period of Muslim conquests (632--732), also referred to as the Islamic conquests or Arab conquests,.

CONQUESTS OF NON-ARAB PEOPLE BEGAN AFTER THE DEATH OF MUHAMMAD .

He merely established a new unified POLITICAL policy in the Arabian Peninsula which, under the subsequent Rashidun (The Rightly Guided Caliphs) and Umayyad Caliphates, saw a century of rapid expansion of Muslim power.

Still, for 1,300 years, various Islamic dynasties (Syrian, Egyptian, and Turkish) continued to govern Jerusalem as part of their overall control of the Land of Israel, disrupted only by the Crusaders.

What is amazing is that over that period, NOT ONE ISLAMIC DYNASTY EVER MADE JERUSALEM ITS CAPITAL CITY.

By the 19th century, Jerusalem had been so NEGLECTED by Islamic rulers that several prominent Western writers who visited Jerusalem were moved to write about it. French writer Gustav Flaubert, for example, found "ruins everywhere" during his visit in 1850 when it was part of the Turkish Empire (1516-1917). Seventeen years later Mark Twain wrote that Jerusalem had "become a pauper village."

JERUSALEM SIMPLY WAS NOT MAINTAINED BY THE OTTOMAN EMPIRE.

IT WAS NOT IMPORTANT TO THEM.

In 610, the Sassanid Empire drove the Byzantine Empire out of the Middle East, giving the Jews control of Jerusalem for the first time in centuries.

The Jews in 'Palestine' were allowed to set up a vassal state under the Sassanid Empire called the Sassanid Jewish Commonwealth which lasted for five years. Jewish rabbis ordered the restart of animal sacrifice for the first time since the time of Second Temple and started to reconstruct the Jewish Temple.

Shortly before the Byzantines took the area back five years later in 615, the Persians gave control to the Christian population, who tore down the partially built Jewish Temple edifice and turned it into a garbage dump, which is what it was when the Caliph Omar took the city in the 630s.

Interestingly, severe damage was caused by the 1927 and 1937 earthquakes to the mosque called Al Aqsa, but the mosque was repairs were NOT made until 1938 after the 1927 quake, and 1942 after the 1937.

WHY LEAVE IT IN RUIN ANOTHER 10 YEARS IF IT WAS SO IMPORTANT?

As recently as the mid-20th century, when Arabs last controlled parts of Jerusalem, they exhibited no respect for the 'Holy City' LIKE THEY DO MECCA.

In 1948, when JORDAN took control of the eastern part of Jerusalem, including the Old City, it divided the city for the first time in its 3,000-year history.

Under the 1949 armistice agreement with Israel, Jordan pledged to allow free access to all holy places but failed to honor that commitment.

From 1948 until the Six-Day War in 1967, the part of Jerusalem controlled by the Jordanians again became an isolated and underdeveloped provincial town, and its religious sites the target of religious intolerance.

The Old City was rendered void of Jews.

Jewish sites such as the Mount of Olives were desecrated.

Jordan destroyed more than 50 synagogues, and TRIED to erase all evidence of a Jewish presence.

In addition, all Jews were forced out of the Jewish Quarter of the Old City adjacent to the Western Wall, an area where Jews had lived for generations.

For 19 years, under Jordan, Jews and Christians residing in Israel (and even Israeli Muslims) were barred from their holy places, despite Jordan's pledge to allow free access.

Jews, for example, were unable to pray at the Western Wall; Christian Arabs living in Israel were denied access to churches and other religious sites in the Old City and nearby Bethlehem, also under Jordanian control.

During Jordan's reign over eastern Jerusalem, its restrictive laws on CHRISTIAN institutions led to a dramatic decline in the holy city's Christian population by more than half, from 25,000 to 11,000, a pattern that characterizes Christian Arabs in other Arab countries throughout the Middle East where religious freedom is not honored.

It was only after the Six-Day War that the Jewish Quarter was rebuilt and free access to holy places was reestablished.

It is worth noting that after Jordan annexed the West Bank in the 1950s, it too failed to make Jerusalem, a city that Arabs now claim as 'the third most holy site of Islam', its capital.

NO ARABS EVER SAW JERUSALEM AS IMPORTANT...UNTIL THE JEWS GOT A HOMELAND BACK!

Israel reunited Jerusalem as one city in 1967, after Jordan joined the Egyptian and Syrian war offensive and shelled the Jewish part of Jerusalem. Israeli leaders vowed the city would never again be divided.

One of the first acts Israel undertook after reuniting the city was to guarantee and safeguard the rights of all citizens of Jerusalem.

This included not only free access to holy sites (MUSLIMS HAD BEEN CHARGING FEES FOR THOSE WHO WISHED ACCESS TO THE TEMPLE MOUNT AREA) for all faiths but also represented an unprecedented act of religious tolerance.

Israel granted Muslim and Christian religious authorities responsibility for managing their respective holy sites, including Muslim administration of Judaism's holiest site, the Temple Mount.

Eventually, however, the Waqf, which holds administrative responsibility over the Temple Mount, violated the trust with which it was invested to respect and protect the holiness of the Temple Mount for both Muslims and Jews.

On 1 Adar 5764 [23 February 2004], a report was published in

the Jerusalem Arabic newspaper 'El Quds'

stating that the roof of the Dome of the Rock on the Temple Mount had been badly damaged by the earthquake which hit Israel and Jerusalem on 19 Shevat 5764 [11 February 2004].

A large bulge also appeared in the southern wall of the Temple Mount and another large bulge and crack on the eastern wall of the Temple Mount.

On Saturday, 22 Shevat 5764 (14 February 2004), another wall on the Temple Mount collapsed in the area of the Western Wall.

The wall was the continuation of the Western Wall and contained the western (Mugrabe) gate leading to the Temple Mount. Stones from the collapsed wall fell in the women's prayer area at the Western Wall while women were praying in the area.

On Tisha b'Av 2001, a long bulge appeared on the southern wall of the Temple Mount after the Temple Mount Faithful Movement brought a cornerstone for the Third Temple to the area. Over the next two years Jordanian engineers and workers tried to fix the bulge but they have still not completed the work.

[Damage and repair work photo:

http://www.cuttingedge.org/Wall_ZoomIn_Destruction.jpg

]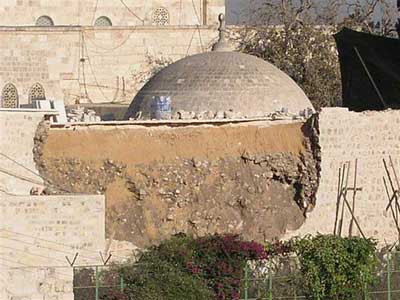 WHY SUCH A VAST DIFFERENCE IN HOW JEWS AND ARABS SEE JERUSALEM AND THE TEMPLE MOUNT AREA?
When Jews pray they face Jerusalem, no matter where they are on earth; in Jerusalem Israelis pray facing the Temple Mount.
When Muslims pray, they face Mecca, no matter where they are on earth;
in Jerusalem Muslims pray with their backs (their buttocks and the soles of their feet) to the Mosque atop the Temple Mount, and to the city of Jerusalem. TO LEARN WHY THIS IS CONSIDERED OFFENSIVE TO MUSLIMS, GO HERE, AN AUDIO AND TEXT SITE: http://uwf.edu/atcdev/afghanistan/Behaviors/Lesson8PhysicalGestures2.html Even at burial, a Muslim's face is turned toward Mecca, not Jerusalem, not 'Palestine'.
Consider the number of times ' Jerusalem ' is mentioned in the two religions' holy books:
The 'Old Testament' which is derived from ancient Hebrew texts, mentions 'Jerusalem', BY NAME, 349 times. Zion, another name for 'Jerusalem,' is mentioned 108 times.
The Qur'an NEVER mentions Jerusalem – not even once.


The one and only mention of Jerusalem in Islam is in

hadith

form,

written after the prophet's death

,

never written by the prophet himself

.

Remember that Islam began in what is now Saudi Arabia.

Muhammad founded Islam in

622 AD/CE

, and was born and raised in present-day Saudi Arabia;

he NEVER set foot in Jerusalem

.

His connection to the city came

years after his death

when the Dome of the Rock shrine and the al-Aqsa mosque were built in 688 and 691, respectively, their construction spurred by political and religious rivalries, rivalries WITHIN Islam itself,

a battle of caliphs

, early

internal discord

. In 638 CE, the Caliph (or claimed successor to Muhammad) Omar and his invading armies captured Jerusalem from the Byzantine Empire.

One reason they wanted to erect a holy structure in Jerusalem was to proclaim Islam's supremacy over Christianity and its most important shrine, the Church of the Holy Sepulcher. At that time it may be said that Islam despised Christians more than Jews.

More important than making Christians subservient was the power struggle within Islam itself.

The Damascus-based Umayyad Caliphs who controlled Jerusalem wanted to establish an alternative holy site in case their rivals blocked access to Mecca.
That was important because the Hajj, the pilgrimage to Mecca, was (and remains today) the fifth pillar of the Five Pillars of Islam. As a result, they built what became known as the Dome of the Rock shrine and the adjacent mosque.


NOTICE THERE IS NO PILGRIMAGE NECESSARY TO JERUSALEM!

ALSO NOTICE THAT HISTORICALLY, VERY FEW, VERY FEW

MUSLIM

'HEADS OF STATE' OR '

Rightly Guided Caliphs

', OR '

Grand Imams

' HAVE SO MUCH AS VISITED AL AQSA MOSQUE EVEN

ONCE

IN THEIR LIFETIMES.

THE HIGH OFFICIALS OF ISLAM MAINLY IGNORED JERUSALEM. IT LAY IN A DESOLATE LAND AND ALMOST NO ONE MADE PILGRIMAGE THERE.

To enhance the prestige of the '

substitute Mecca,

' the Jerusalem mosque was named al-Aqsa. It means 'the furthest mosque' in Arabic, but has far broader implications, since it is the same phrase used in a key passage of the Quran called "The Night Journey." In that passage, Muhammad arrives at what he called 'al-Aqsa' on a

winged

steed accompanied by the

Archangel Gabriel

; from there,

IN THIS DREAM

, they ascend into heaven for a divine meeting with Allah, after which Muhammad returns to Mecca.

MUHAMMAD NEVER INSINUATED THIS WAS IN JERUSALEM! HE SAID IT WAS THE "FURTHEST MOSQUE" AND THERE WAS NOT ONE MOSQUE IN ALL JERUSALEM DURING HIS LIFETIME!


Naming the Jerusalem mosque al-Aqsa was an attempt to say the Dome of the Rock was the very spot from which Mohammed ascended to heaven, thus tying Jerusalem to divine revelation in Islamic belief, AND perhaps excusing some from the Hajj? After all, the NEW mosque was supposed to be a "

substitute Mecca"

as we saw above.

LET'S CONSIDER THIS....

IF MUHAMMAD RECOGNIZED THIS DREAM MOSQUE AS BEING IN JERUSALEM, WHY WOULDN'T MUHAMMAD IMMEDIATELY MOVE HIMSELF AND ALL OF ISLAM TO JERUSALEM IF THAT WAS THE PLACE HE MET GOD? WOULDN'T YOU? HE NEVER MET GOD IN MECCA, DID HE?


NO, NO HE NEVER MET GOD IN MECCA, BUT IN FACT HE

FLED

FROM MECCA

TO MEDINA

, FEARING HE WAS ABOUT TO BE

ASSASSINATED IN MECCA

, RIGHT?

From his base in Medina,

WHERE HE WENT AT THE INVITATION OF JEWISH TRIBES,

Muhammad and his Muslim followers took to raiding Meccan caravans from Medina.

In 624, they won the battle of Badr and took much treasure.

Now secure in Medina, Muhammad expelled the Banu Qaynuqa, one of the three main

Jewish

tribes who had asked him to come there, and ordered the assassination of the poetess Asma bint Marwan and then the poet Abu Afak, who had been critical of his rule.

Subsequently,

after each major battle

,

Muhammad destroyed a different one of the Jewish tribes that had welcomed him and his followers to Medina.


After Uhud, Muhammad expelled the Banu Nadir, and following the Battle of the Trench in 627, the Muslims accused the Jews of Banu Qurayza of conspiring with the Meccans.


They beheaded the adult male members of the Banu Qurayza, and sold the women and children as slaves. HOWEVER, DURING THESE YEARS,

MUHAMMAD TOOK TWO JEWESS WIVES FROM THE TRIBES HE ANNIHILATED.

..RAYHANA (aka, RIHANA/RIHANNA) AND SAFIYYA. YES, MUHAMMAD HAD TWO JEWISH 'WIVES' AND AISHA/AYESHA, HIS CHILD BRIDE, WAS HORRIBLY JEALOUS OF THE FIRST ONE! THE SECOND CONTINUED IN HER JEWISH FAITH, WE'RE TOLD.


While the second Jewish wife may have been but a concubine, we can read here and there the story of their 'wedding'.

<<He invited her to be his wife; but she declined and chose to remain (as indeed, having refused marriage, she had no alternative) his slave or concubine. She also declined the summons to conversion, and continued in the Jewish faith, at which the Prophet was much concerned. It is said, however, that she afterwards embraced Islam. She did not many years survive her unhappy fate. (Muir,

The Life of Mohamet

, p. 309). >>

TO RECAP, WE HAVE LEARNED THAT MUHAMMAD NEVER SAID JERUSALEM WAS THE SITE OF THE MOSQUE IN HIS DREAM.

THAT WAS ADDED AFTER HIS DEATH AND AFTER AL AQSA WAS BUILT, ADDED IN 'HADITHS', IS NOT IN THE QURAN.

THE ARABS/MUSLIMS WHO RULED THE LAND FOR OVER 1300 YEARS NEVER SAW JERUSALEM AS A CAPITAL, NEVER MAINTAINED IT, LEFT THE MOSQUE IN RUIN FOR YEARS, AND THE EARLY ARABIC ORGANIZATIONS WHO WERE AGAINST JEWISH RETURN NEVER MENTIONED WANTING JERUSALEM UNTIL AFTER THE SIX-DAY WAR OF 1967.

JEWS WERE GIVEN A MUCH BIGGER TERRITORY TO FOUND THEIR STATE IN,

BUT THAT WAS TAKEN BACK

, PARTITIONED AND REPARTITIONED FOR AN "ARAB-PALESTINIAN STATE' WHICH ARABS TOOK AND

TURNED INTO JORDAN,

AND THAT JORDAN WARRED WITH ARAB PALESTINIANS, SO THEY NEEDED A "NEW" STATE, FROM THE PALTRY 8,000 SQ. MI LEFT TO THE JEWS.

AFTER MANY LOST WARS, FAILED ATTEMPTS TO DRIVE ISRAEL INTO THE SEA, NOW THE 'PALESTINIANS' (whom Jordan does NOT want, nor does Egypt, Lebanon, nor Syria, nor Saudi Arabia, nor....any nation) WANT TO GO BACK TO THE OLD PARTITION AND TAKE WHAT THEY COULD HAVE HAD DECADES AGO WITHOUT WARS.

THE QUR'AN ITSELF RECOGNIZES, BY NAME, ISRAEL'S RIGHT TO THE LAND SHE CONQUERED THOUSANDS OF YEARS AGO, TO ALL THE LAND, INCLUDING PARTS OF SYRIA, LEBANON AND ALL OF WHAT IS NOW JORDAN.

BY CONQUEST, JUST AS ALL OTHER NATIONS OF EARTH, ISRAEL WON LAND IN WAR, AND IN RECENT WARS. (The Sinai Peninsula, for one example.)

BY CONQUEST, ISRAEL OWNS ALL OF JERUSALEM.

JERUSALEM HAS BEEN THE CAPITAL OF ISRAEL FOR AT LEAST 3000 YEARS.

NOW SOME ARE MISTAKEN IN THINKING THAT ISRAEL WAS LOST BECAUSE ALL JEWS WERE TAKEN OUT OF ISRAEL, AND NONE WERE LEFT THERE TO INHABIT THEIR CONQUERED LANDS.

SHOULDN'T ISRAEL FORFEIT HER CONQUESTS BECAUSE SHE WAS "ABSENT" FROM THE LAND?

THAT BRINGS UP THE NEXT QUESTION:

WAS THERE A YEAR THAT JEWS WERE NOT PRESENT IN ISRAEL? NO, NOT A ONE!


Even when other nations controlled Jerusalem, Jews maintained a physical presence in the city, as they have for over 3000 years, despite being killed and placed in strict confinement by other cultures.

Before the 1880s, Jews were firmly and continuously settled in Israel,

particularly in four cities: Safed, Tiberias, Hebron, and, most importantly, Jerusalem.

Their presence was documented by each nation that ever conquered Jerusalem, they were counted in census after census over time, there are records of lands both bought and sold by them, so it is

historically documented

that not once, not in over 3000 years, has there NOT been a Jewish presence in Israel.

In 1004 BC/BCE, Jerusalem became the capital of a United Israel.


In 539-537 BCE, following a decree by the Persian King Cyrus who had conquered Babylonia, some Jews returned to Israel.

An estimated 50,000 embarked on their First Return, led by Zerubbabel, a descendant of the House of David. Recorded in Persian/Babylonian history.

Recorded history: In 63 BC, the Romans invaded Israel, led by Pompeii.

They granted the Hasmonean (Jewish) king, Hyrcanus II, limited authority under the Roman governor of Damascus.

The Jews did not accept the Roman rule well, as evidenced by numerous insurrections. The last attempt to restore the former glory of the Hasmonean dynasty was made by Mattathias Antigonus in 40 BC.

His defeat and death three years later at the hands of the Romans brought Hasmonean rule to an end, and the land became a vassal state of the Roman Empire.

According to the first century historian, Flavius Josephus, an estimated one million Jews perished in the 70 AD/CE siege of Jerusalem, with many killed elsewhere in the country and tens of thousands sold into slavery.

So, in 70 AD/CE, there were more than 1 MILLION Jews in Israel.

The first official census of the City of Jerusalem in 1844 confirms Jewish religious majority: 7,120 Jews, 5,760 Muslims, and 3,390 Christians.

The first Jewish suburb, Mishkenot Sha'ananim, was built near the Jaffa Gate outside the Old City walls in 1860 by Sir Moses Montefiore. Seven similar neighborhoods were also built outside the walls, e.g., Nahlat Shiva (1869), Mea Shearim (1873-75), and Yemin Moshe (1892), etc. These became the nucleus of the New City of Jerusalem.

The 1913 report of the Palestine Royal Commission [British] quotes an account of the condition of the Coastal Plain along the Mediterranean Sea :

"The road leading from Gaza to the north was only a summer track suitable for transport by camels and carts... no orange groves, orchards or vineyards were to be seen until one reached Yavne village... houses were all of mud. Schools did not exist... The western part, towards the sea was almost a desert... The villages in this area were few and thinly populated."

Yavne was one of the major ancient JEWISH cities in the southern coastal plain.

After the destruction of the Second Temple in 70 AD/CE, Rabban Yochanan Ben Zakkai moved the Sanhedrin to Yavne.

Yavne was a populated JEWISH city for at least 2000 years.

According to the Peel Commission (British, 1937):

"The Arab charge that the Jews have obtained too large a proportion of good land cannot be maintained. Much of the land now carrying orange groves was sand dunes or swamp and uncultivated when it was purchased."

Moreover, the price the Jews paid for this barren land was exorbitant. At that time, Jews paid between $1,000 and $1,100 per acre in Palestine, mostly for arid or semi-arid land; in the same year, rich black soil in Iowa was selling for about $110 per acre according to the U.S. Department of Agriculture data. 1935-1944.

In 1916, even before Britain and France had conquered the Ottoman Empire, they set up an Anglo-French commission to submit a plan for the postwar partition of the Ottoman Empire.

The British representative was Sir Mark Sykes and the French representative was Charles Francois Georges-Picot.

The agreement became known as the Tripartite (Sykes-Picot) Agreement of 1916, which effectively drew the borders of the new states of the Middle East.

Their interests were more in favor of the strategic interests of Britain and France, not necessarily the people who would live in this region. Consequently, Kurdistan was apportioned to Turkey, Syria, Iraq and Iran, and to this day, the original inhabitants, the Kurds, are disenfranchised.

Most of the modern Arab states of the Middle East owe their borders to the Sykes-Picot Agreement, as does Israel. While many believe that Israel is a new state to the region, having only acquired its sovereignty in 1948, it needs to be remembered that the other Middle East states also acquired their independence in this century, e.g., Saudi Arabia (1913), Lebanon (1920), Iraq (1932), Syria (1941), Jordan (1946), and Kuwait (1961).

Therefore, none OF THESE can boast historical claims to this or that border, other than the very ancient and historically verified claims to the lands by the Jews, AS RECOGNIZED BY THE QUR'AN ITSELF. .

Their conquest of the land was well documented in the histories of those whom they conquered. Wars and their outcomes have always been a favorite thing for historians to record through time.

There are perhaps NO American Indian Tribes that cannot tell us the very day they were defeated by American soldiers. They can also tell you what day they were confined on "reservations".

ISRAEL'S STATEHOOD BEGINS

On October 31, 1917, the British War Cabinet accepted the Balfour Declaration, which was issued on November 2, 1917, as government policy. It stated:

"His Majesty's Government views with favour the establishment in Palestine of a national home for the Jewish people, and will use their best endeavours to facilitate the achievement of this object, it being clearly understood that nothing shall be done which may prejudice the civil and religious rights of existing non-Jewish communities in Palestine or the rights and political status enjoyed by Jews in any other country."

The Balfour Declaration won the approval of the United States and other Western powers.

Emir Faisal

, son of the acknowledged leader of the Arabs,

Sherif Hussein

, met with Dr. Chaim Weizmann and other Zionist leaders during the 1919 Paris Peace Conference.


They signed an agreement by which the Arabs stated that "mindful of the racial kinship and racial bonds existing between the Arabs and the Jewish people," they declared that "the surest means of working out the consummation of their [Jewish] national aspiration is through the closest possible collaboration of the development of the Arab state AND Palestine." (In 1919, Palestine was considered that portion of the Middle East designated for the Jewish people.)


The agreement between Faisal and Weizmann looked to the fulfillment of the Balfour Declaration and also called for "all necessary measures... to encourage and stimulate immigration of Jews into Palestine on a large scale, and as quickly as possible to settle Jewish immigrants upon the land through closer settlement and extensive cultivation of the soil."

On March 3rd, one day after Weizmann presented the Zionist case to the Peace Conference,

Faisal wrote to Felix Frankfurter, a U.S. Supreme Court Justice and Zionist leader, declaring:


"The Arabs, especially the educated among us, look with deepest sympathy on the Zionist movement ... We will wish the Jews a hearty welcome home ... We are working together for a reformed and revised Near East and our two movements complete one another. The Jewish movement is nationalist and not imperialist. Our movement is nationalist and not imperialist. And there is room in Syria for us both. (Under Turkish rule, Syria included part of Palestine.) Indeed, I think that neither can be a real success without the other."




These hopes were temporarily dashed when the

French

took over the mandate for Syria, ejecting Faisal from Damascus, where he had been proclaimed King of Syria.

As consolation, the

British

named Faisal King of Iraq.

And in a further effort to please the Arabs, British Colonial Secretary,

Winston Churchill, cut away 80% of the Jewish National Home in Palestine, some 35,000 sq. miles (90,565 sq. km.)

and created a brand new Arab entity, called Transjordan. Churchill installed Faisal's brother,

Abdullah

, as Emir. (Abdullah is the great-grandfather of the present-day King Abdullah II of Jordan.) Britain administered Transjordan until

1946

, when independence was granted, and the name of the area became the

Hashemite Kingdom of Jordan.

The Jewish people reluctantly

accepted

losing 80% of their promised land mass to the partition because Britain simultaneously took over the League of Nations Mandate for Palestine in 1922, and

they really had no one to which they could appeal.
It should be emphasized that Arab hopes for a vast empire have since been realized.
Today, the Arab League includes 21 separate Arab states spanning an area of more than 5,000,000 square miles (12.9 million sq. km.)

However, there is only

one

Jewish state consisting of

8,000 square miles

(20,715 sq. km.),

NOT the original 35,000 square miles.

It is called Israel.

As time went on, the British feared their relations with the Arabs would suffer and sought to protect British oil interests in the Middle East. As World War II loomed on the horizon and oil became a paramount concern, British appeasement to the Arab cause against the Jews of Palestine was obvious.

They greatly limited Jewish immigration in the British Mandate.

From 1936-1939, there was an Arab uprising in which 10,000 people were killed. The British showed leniency toward the Arabs in the beginning, which resulted in this disaster - 1,000 British were killed, 500 Jews, and 8,500 Arabs (

Let it be noted that most of the Arabs were killed by other Arabs vying for control

).

This event put greater fear into the British, who put further limits on Jewish immigration. The climax was

the British White Paper in 1939,

which ordered that future Jewish immigration be limited to 10,000 per year for five years and to an additional 25,000 refugees from Nazism - 75,000 in all.

Hardly much help while Hitler was killing 6,000,000 Jews during this same period.

As World War II came to an end, revealing the extent of the catastrophe that had befallen the Jewish people in Europe, there were demands everywhere for swift action to rehabilitate and resettle those who had survived the Holocaust through the establishment of a Jewish state.

The British had tired of their role as supervisors of the British Mandate, which had been maintained since World War I.

They were looking for a way out of Palestine, as well as a way to appease both the Arabs and the Jews of this region,

so they turned the problem over to the UN early in 1947. The UN

sent an 11-nation Special Commission on Palestine (UNSCOP) to the region to investigate. UNSCOP found

two

people groups, Arabs and Jews, both claiming all the country.

To satisfy the national aspirations of both peoples, UNSCOP proposed termination of the British Mandate and ANOTHER partition, TAKING AWAY EVEN MORE JEWISH LAND GRANTS, into an Arab state and a Jewish state based on population concentrations. Jerusalem, they said, would be an international zone.

The Jewish state was already in

de facto

existence in all areas, but, eager for independence, the Jews of Palestine were ready to accept a compromise -

the new partition

.

The Arabs boycotted the UNSCOP plan.

World opinion strongly favored the UN resolution, and it was adopted by a vote of 33-13, with 10 abstentions, on Nov. 29, 1947.

Throughout the 1947 UN debate, it was recorded that the Palestine Arab Higher Commission threatened war, while Jewish Agency spokesmen appealed for peace.


Jamal Husseini, spokesman for the Arab committee, told the UN on Nov. 24, 1947: "The partition line proposed shall be nothing but a line of fire and blood."

November 29,1947, the UN voted FOR the partition and the Arabs,

as promised

, began their war to prevent implementation of the UN resolution.

Roads were mined, Jewish settlements isolated, and Jewish convoys were ambushed.

By the end of that week, 105 Jews had been killed.

Later, apartments in Jerusalem were blown up and more than 50 men, women and children were killed.

Thirty-five Hebrew University students were massacred on the road near Jerusalem.

The Jewish Agency was bombed and took heavy casualties.

A convoy was set afire on the road to Hadassah Hospital on Mt. Scopus and 77 Jewish doctors, nurses and scientists died.

In spite of this Arabic war against the Jews, on May 14, 1948, the State of Israel was declared to be independent.

The Arabs rejected the UN partition plan of 1947 and didn't accept their portion of land

.

Instead, five Arab armies (Egypt, Syria, Transjordan, Lebanon and Iraq) immediately invaded Israel expecting to sweep the Israelis into the sea.

On May 15, 1948, Azzam Pasha, Secretary General of the Arab League, was recorded in Cairo as stating:

"This will be a war of extermination and a momentous massacre which will be spoken of like the Mongolian massacres and the Crusades."
ARABS WERE TOLD BY THEIR ARAB LEADERS TO LEAVE ISRAEL AHEAD OF THE "BLOOD BATH" AND MANY DID LEAVE.


Tiny Israel not only won this war, but retained that which was given to her by the UN, and a bit more. Those areas designated for and offered to the Arabs as an Arabic state in Palestine were immediately occupied by

OTHER

Arab countries: the West Bank (of the Jordan River)

by Jordan,

and the Gaza Strip

by Egypt.

From 1948-1972, over 1,400,000 immigrants came into Israel. All had to be settled, trained, given Hebrew language classes, and many needed health care. All of this cost fell on the shoulders of the Israelis.

Arabs of the region who became refugees, were

NOT

kicked out of Israel, but had been almost forced to leave AHEAD OF THE ATTACK

by the Arab leadership

who intended to "push the Jews into the sea."

They had not wanted Arabs in harm's way when they began their assault on Israel.

By coincidence, the total number of Arabs who left Israel ahead of the attack equaled the number of Jews who were forced out of the attacking Arab countries

ONCE THE WAR WAS BEGUN.


It has been noted by those who watched this scenario unfurl that, "The Jews who fled

Arab

countries where they had lived for

2,500 years

, left assets behind

far greater

than those the Arabs left in Israel. Jewish property that the Arabs confiscated in Iraq, Syria, Libya and Egypt more than offset Arab claims of compensation from Israel."

After the war, in the negotiations for an Armistice Agreement in 1949, the Arabs, having lost, insisted that Israel THEN accept the 1947 partition lines as borders before they would negotiate.

ISRAEL HAD ALREADY ACCEPTED THAT AGREEMENT IN 1948!


Actually, what the Arabs were demanding

AFTER DEFEAT,

was what they could have had

before

their invasion without firing a shot! The purpose of this declaration by the Arabs was to appear as the defenders of the UN and its resolutions, and to cast Israel as its violator.

The opposite was true.

That this demand by the defeated Arabs created a novel concept, which the Arabs still use to this day, is blatantly apparent: the doctrine of the limited liability war.

Under this theory, an aggressor may reject a compromise settlement and may gamble on war to win EVERYTHING in the comfortable knowledge that, even if he fails, he may insist on reinstating the ORIGINAL compromise and claim rights under it.

This has been the pattern of the Arabs in each war they have waged against Israel,

the SAME thing happened after every DEFEAT they took in 1948, 1956, 1967, 1973, 1982 and is still being used today. BUT ARABS WERE ALREADY GIVEN A LARGE HOMELAND, REMEMBER? AND SOME WERE HAPPY WITH THAT!
TRANSJORDAN WAS TO BE THEIR HOMELAND!


Transjordan's independence, becoming Jordan in 1946, forced an artificial redefinition of "Palestine" to include ONLY that area west of the Jordan River, thus restricting ISRAEL to 20% of the original 'Palestine' they had been awarded.

What the 1947 UN partition did was to FURTHER partition the TINY remaining 20% portion into yet another Arab state and a Jewish state, NOT TAKING INTO CONSIDERATION THEY HAD ALREADY GIVEN THE ARABS THE "STATE" OF TRANSJORDAN AS THEIR OWN.

NONE of this, however, changes the FACT, the recorded FACT that

Jordan originated from historical JEWISH Palestine

, that its land mass was taken away from the Jews! Over 70% of its population were "Palestinian Arabs".

IN CASE YOU DIDN'T KNOW, Jordan's King Abdullah II is

Saudi Arabian

(father)

and British

(mother), his great-grandfather, A SAUDI, having been given this territory by the British after WWI.

SO

BRITAIN RENEGED ON THE ORIGINAL PLAN FOR ISRAEL, AND WANTING TO INSURE THE SAUDIS SOLD BRITAIN OIL, THEY GAVE AWAY 80% of JEWISH Palestine and called the receiver of this "GIFT" the "Emir of Jordan", under British protection.

In 1949, Jordan, ignoring the UN partition, annexed the West Bank (also known as Judea and Samaria for

thousands

of years prior), and Palestinian Arabs, under the Jordanian umbrella of British protection, then controlled 82.5% of the Palestine Mandate

originally

given to the Jews

in 1917

, while the Jewish State then held a bare 17.5%.

Despite what you may have previously thought, it should be crystal clear that Israel did not usurp all of Palestine, BUT GOT A TINY FRACTION OF WHAT THE "LEAGUE OF NATIONS" HAD INTENDED HER TO HAVE, nor are the Arabs left without a Palestinian state.

All of Jordan is that 'Arab Palestinian State'...all 90,565 sq. km. of it, every inch of which originally was declared to be the JEWISH Palestinian State.


And yet, the current "Peace Process", from Oslo to the Wye River agreements, is STILL seeking to find a nation for the "Palestinians', because

Jordan got greedy, was power crazed,

took the land designated for

ALL Arab Palestinians

, land stolen from Israel, and decided it didn't want to make room for the troublemakers who were left

inside

JEWISH Palestine.

THE ENTIRE WORLD KEEPS SCREAMING FOR A "PALESTINIAN STATE" WHEN ONE ALREADY EXISTS AND HAS SINCE 1932,

BUT ONLY TINY ISRAEL, REDUCED TO LESS THAN THE SIZE OF

NEW JERSEY,

USA, IS EVER EXPECTED TO GIVE UP ANY LAND TO CREATE ANOTHER 'PALESTINIAN STATE", AND ANOTHER, AND ANOTHER!

ARABS HAD 1300 YEARS TO CREATE SUCH A STATE THEMSELVES AND NEVER DID. THEY NEVER DID THINK OF IT UNTIL THEY SAW ISRAEL WITH HER PITIFUL REMAINING 8,000 SQUARE MILES OF LAND.

IF ISRAEL WAS REDUCED TO ONE FOOT OF LAND, MANY IN ISLAM WOULD DEMAND 11 INCHES OF IT AND THEN TRY TO TAKE THE OTHER INCH BY FORCE!

THAT IS THEIR WAY WITH ALL "INFIDELS", IT IS THEIR HISTORY, IT HAS BEEN THE WAY THEY HAVE TREATED ALL NON-MUSLIM NATIONS ON PLANET EARTH, AND THEY WOULD NEVER BE APPEASED BY A SECOND "ARAB PALESTINIAN STATE".

THEY WEREN'T CONTENT WITH "TRANSJORDAN"

AND THEY WON'T BE CONTENT UNTIL ALL "INFIDELS" ARE ERASED FROM THE EARTH.

ARABS CONTROLLED THE LAND OF ISRAEL FOR OVER A THOUSAND YEARS AFTER MUCH OF ISRAEL WAS LED AWAY TO CAPTIVITY, AND IN THAT LONG, LONG TIME THEY NEVER PLANTED ORCHARDS, FARMS, THEY NEVER MADE PROGRESS IN THAT BARREN LAND, THEY NEVER POPULATED IT.

ONLY AFTER ISRAEL WAS LOOKING TO BECOMING A MODERN NATION DID SUCH A THOUGHT OCCUR TO ARABS TO EITHER FARM THE LAND, BUILD CITIES THERE, OR CREATE A "STATE" FOR ARABS...

ARABS, NOT 'PALESTINIANS', FOR NO SUCH TRIBE EVER EXISTED BY THAT NAME, NO SUCH LANGUAGE, NO SUCH CULTURE, NOWHERE IN HISTORY, AND HUMAN GENETICS HAS PROVEN THERE IS NO SUCH THING AS A "PALESTINIAN". THEY ARE SYRIANS, EGYPTIANS, SAUDIS, ETC, EVEN LEBANESE, BUT THEY CANNOT POSSIBLY BE 'PALESTINIANS' BECAUSE SUCH A PEOPLE NEVER EXISTED ANYWHERE ON EARTH BY THAT NAME.



DNA DOES NOT LIE! IF WE COLLECTED DNA FROM A JEWISH INDIVIDUAL AND COMPARE IT TO DNA FROM, SAY, THE DNA OF A 3000-YEAR-OLD KNOWN JEWISH CORPSE, THE DNA WOULD PROVE TO BE JEWISH IN BOTH INDIVIDUALS. WE COULD SEE THE CLEAR TRAIL FROM ONE TO THE OTHER. JEWS OF 2013 CAN TRACE THEIR ANCESTRY VERY EASILY TO JEWS OF 4,000 YEARS AGO.

IF WE COLLECTED DNA FROM ANY PERSON REFERRING TO HIMSELF AS A 'PALESTINIAN', WE COULD SEARCH FOREVER AND FIND NO MATCH TO ANY CULTURE CALLING ITSELF 'PALESTINIAN' FROM ANY ERA ON EARTH.
WE WOULD FIND KINSHIP TO OTHER ARABIC TRIBES AND LANDS, NATIONS OLD AND NEW.... EGYPTIAN, PERSIAN, TURKISH, ASSYRIAN, ETC. THEY SHOULD BE PROUD OF THEIR LINEAGE, PROUD OF THEIR ANCESTORS, PROUD TO BE WHO THEY ARE. COULD SOME IN GAZA TRACE THEIR ANCESTRY TO

ABRAHAM

?
WOULD THE DNA EVIDENCE BEAR THEM OUT?


YES!

YES, SOME MAY WELL BE ABLE TO DO SO!

BUT THEN WE COME FULL-CIRCLE BACK TO

THE AGE-OLD BLOOD FEUD

,DON'T WE?
ABRAHAM'S YOUNGER SON BECAME THE HEIR TO ALL, NOT THE OLDER SON WHO WAS CAST OUT WITH HIS MOTHER TO DIE IN THE WILDERNESS. WAS ISAAC, THE YOUNGER SON, TO BLAME FOR HIS FATHER'S ACTIONS?

SHOULD ISHMAEL HAVE TAKEN REVENGE ON ISAAC FOR WHAT HIS FATHER DID?

HE COULD HAVE, BUT

HE DID NOT

DO SO!

ISHMAEL LIVED, MARRIED AN EGYPTIAN WOMAN, HAD 12 SONS JUST AS JACOB, HIS NEPHEW, DID, AND HIS SONS WENT ON TO BECOME TRIBAL CHIEFTAINS, JUST AS JACOB'S SONS BECAME HEADS OF THE TRIBES OF ISRAEL.

WHEN ABRAHAM DIED, WE READ THAT ISHMAEL JOINED HIS BROTHER ISAAC TO BURY THEIR FATHER

IN THE CAVE OF MACHPELAH.


THE TWO BROTHERS DID NOT TEAR AT ONE ANOTHER, DID NOT SEEK TO TAKE THE LIFE OF THE OTHER.
WHY MUST THEIR OFFSPRING DO SO?
WHY MUST 'BROTHER' JUST KEEP FIGHTING AGAINST 'BROTHER' NOW? WHY CAN'T THE SONS OF ISHMAEL DO AS ISHMAEL DID AND LIVE IN PEACE WITH THE SONS OF ISAAC?

PEACE CAN ONLY COME WHEN BOTH SIDES WANT PEACE MORE THAN DOMINION OVER THE OTHER, MORE THAN CONTINUING THE AGE-OLD BLOOD FEUD BETWEEN THE REMNANTS OF ISAAC AND ISHMAEL.

ABRAHAM MADE THE CHOICE OF HEIRS, NOT EITHER OF HIS SONS!

THESE 2 VIDEOS WERE MADE BY A GAZA CITIZEN, A MUSLIM, WHO SAYS HE IS SICK OF HAMAS.

https://www.youtube.com/watch?v=I1M4eH9Kk7I

http://youtu.be/zpFaa80FpIQ

NEITHER SIDE, NEITHER MUSLIM NOR JEW, IS INNOCENT OF COMMITTING WRONGS. BOTH SIDES NEED TO FIND A BETTER WAY... FOR THE SAKE OF ALL THE CHILDREN THERE, FOR THE SAKE OF SANITY.

THE WORLD GAVE A HOMELAND TO BOTH, ISRAEL AND ARABS. JORDAN CLAIMED THE ARAB HOMELAND.

WHY WON'T JORDAN ALLOW ALL WHO WANT TO TO COME "HOME" ?

WHY WON'T THE NATIONS OF ISLAM DEMAND FROM JORDAN WHAT THEY DEMAND FROM ISRAEL?

ISRAEL GAVE UP 80% OF HER LAND. SHE SHOULD BE ABLE TO PEACEFULLY KEEP THE 20% SHE HAS LEFT.

WHAT WOULD ABRAHAM SAY?

_______________

PHOTO CREDITS:

PHOTOS 1, 2, AND 3

The Temple Mount,

1877. Note overall disrepair and lack of use http://www.eretzyisroel.org/~dhershkowitz/pic186b.jpg

PHOTO NUMBER 4

At the Wailing Wall, 1898

http://www.eretzyisroel.org/~dhershkowitz/pic182.jpg

PHOT NUMBER 5

Jews Praying On The Mount Of Olives, 1893

http://www.eretzyisroel.org/~dhershkowitz/pic178.jpg

PHOTO NUMBER 6

The Temple Mount From The West, 1862

http://www.eretzyisroel.org/~dhershkowitz/pic184.jpg

FINAL PHOTO, NUMBER 7

Abandoned with No Muslim Worshipers in 1877 at the Temple Mount

http://destination-yisrael.biblesearchers.com/.a/6a0120a610bec4970c017ee91f07c4970d-pi