SOME PLACES ON EARTH, ALONG WITH THE LIFE FORMS THERE, ARE SIMPLY DISAPPEARING.
THERE IS PHOTOGRAPHIC EVIDENCE (SEE BELOW), SATELLITE EVIDENCE, TESTIMONIES OF RESIDENTS, MANY OF WHOM ARE FLEEING THESE AREAS, AND HUGE AMOUNTS OF SCIENTIFIC MEASUREMENTS BY DOZENS OF MEANS.
IT IS STILL ALMOST IMPOSSIBLE TO GET PEOPLE TO REALIZE THAT WE MAY NO LONGER HAVE MANY PLACES, MANY PLANTS, MANY CREATURES, AND MUCH LAND AREAS WITH US FOR LONG.
IF PHOTOS WON'T CONVINCE PEOPLE, AND THE PLEAS OF THOSE WHO ARE LOSING THEIR HOMES AND RESOURCES, THEIR LIFESTYLES AND THEIR MEANS TO SURVIVE DON'T SHOW THE TRUTH OF WHAT'S HAPPENING, WHAT WILL?
NOT ALL THESE LOSSES HAVE TO DO WITH RISING SEAS AND COASTAL EROSION, BUT MANY DO.
WHETHER GLOBAL WARMING IS CAUSED BY HUMANS OR COSMIC ELVES WITH RAY GUNS, DOES IT MATTER?
THE SEAS ARE RISING THERE'S NO DOUBT.
RESOURCES ARE FAST GOING THE WAY OF THE WIND, THAT IS CRYSTAL CLEAR. SPECIES ARE DYING OFF, MATTER OF RECORD.
DID WE REALLY THINK THEY'D LAST FOREVER?
THEY MIGHT HAVE IF HUMANS HADN'T EXPANDED ACROSS THE GLOBE IN INCREDIBLE NUMBERS AND NEGLECTED TO BE GOOD STEWARDS OF THE EARTH.
OUR PLANET CAN'T HEAL ITSELF OF ALL OUR BLUNDERS AND PLUNDERINGS BY ITSELF. EVERY OVER-TAXED ORGANISM NEEDS HELP TO HEAL, WHETHER NATURAL HELP OR FROM SOME OUTSIDE SOURCE ...LIKE MANKIND.
IF THESE THINGS DON'T REALLY BOTHER YOU, OR IF YOU SEE NO REASON TO ASK WHAT WE CAN DO TO STOP THESE PLACES, PEOPLE, ANIMALS, RESOURCES AND PLANTS FROM DISAPPEARING FOREVER SIMPLY BECAUSE IT DOESN'T APPLY TO WHERE YOU ARE, OR HARM YOU IN ANY DIRECT WAY TODAY, JUST WAIT A FEW MORE YEARS...THESE TYPE THINGS WILL IMPACT YOU EVENTUALLY, BUT BY THEN, IT WILL JUST BE TOO LATE TO DO ANYTHING TO REVERSE IT.
OH, WELL, ALL THINGS MUST END, RIGHT?
IT'S DIFFERENT WHEN WHAT'S ENDING IS THE PLACE YOU CALL HOME.
IT'S DIFFERENT WHEN IT'S YOUR FOOD SUPPLY THAT'S ALL GONE, WHEN IT'S YOUR WATER THAT HAS DRIED UP OR BECOME TOO TOXIC TO DRINK.
IT'S DIFFERENT WHEN IT ALL HAPPENS TO YOU...WAIT AND SEE.
30 YEARS OF CHANGE, PHOTOS FROM SPACE FROM OVER 3 DECADES SHOW THE ENORMOUS CHANGES...THE DISAPPEARING AMAZON, URBAN SPRAWL, RECEDING GLACIERS, SHRINKING LAKES. WITH THIS KIND OF EVIDENCE IT'S LITTLE WONDER THAT CONGRESS DOESN'T WANT TO CONTINUE FUNDING THIS PROGRAM. SUCH STARK EVIDENCE JUST MIGHT PROVE WHAT MOST OF CONGRESS HAS DENIED: EARTH IS CHANGING BECAUSE OF MAN...THEY DON'T WANT US TO SEE THE GLOBAL CHANGE. NO GLOBAL CHANGE MEANS NO NEED TO RECONSIDER OUR PART IN IT. JUST KEEP TAKING WHAT WE WANT, JUST KEEP THOSE STOCKS HIGH, AND FORGET THE FUTURE....PROFITS ARE NOW! SURE, LET THESE SATELLITES GO DARK, FALL FROM THE SKY....WHO CARES? NOTHING WRONG HERE!
LIARS!
GOING, GOING, ALMOST GONE...
1~The Galapagos Islands,
off the coast of Ecuador in the Pacific, are threatened by tourism. From 1978-2010, the islands were on the U.N.'s list of World Heritage Sites, precious places at risk from environmental threats or overuse.
2~Kurumba Island
basks in the sunshine in the Maldives, the world's lowest nation, with the islands averaging a height of just 4'11" above sea level. The small island nation may be the first one to be swamped by rising sea levels. Rising waters are already endangering the nation's beaches, and will soon render many parts of the country inhospitable and uninhabitable.
Water has already eroded 14 of the islands badly enough that they've had to be abandoned. Local authorities are so worried they're even buying up land in neighboring countries so they'll have somewhere to relocate their 300,000 citizens.
Tourism is the main source of income in the Maldives and a lot of that money is going towards the country's relocation funds. So if you visit the Maldives, you could actually play a part in helping the inhabitants find a new home after theirs slips beneath the sea.
3~GREAT BARRIER REEF.
Stretching along more than 1,200 miles of Australia's eastern coast is one of the world's foremost natural wonders – The Great Barrier Reef. Rising temperatures, pollution and cylcones are continually pounding the reef, destroying its coral.
Half of the Great Barrier Reef has disappeared in the past 3 decades.
In terms of geographic scale and the extent of the decline, it is unprecedented anywhere in the world," says the Australian Institute of Marine Sciences chief John Gunn.
Coral cover could fall to just 5 percent in the next decade. "This loss of over half of initial cover is of great concern, signifying habitat loss for the tens of thousands of species associated with tropical coral reefs."
Coral reefs have been disappearing around the world but the pace of decline of the Great Barrier Reef has been more pronounced, especially since 2006.
4~Venice
: Rising seas have led to flooding increases each year. Many wonder how long this popular tourist destination can stay above water. Venice has been sinking for hundreds of years, perched as it is on unstable sediments of the Lagoon. But the rising Adriatic Sea is rapidly exacerbating the problem. At the current rate the sea will rise a foot in this century. Italian officials made the decision to construct elaborate tide dams at Lagoon entrances. Environmental groups and some scientists warn that higher tide and storm levels will soon overcome these defenses, while the dams may isolate the Lagoon from the natural flushing it needs to remain a viable ecosystem.
5~ALPINE SKI RESORTS.
Guides and scientists tell the same story: The Alps are warming, the evidence of climate change is clear and the ski tourism could fade away, according to the Guardian.
6~Ancient baobab trees
, Madagascar. The island's rich forests and its inhabitants, including its lemurs, are being destroyed by logging, burning and poaching.These are some of the oldest trees on earth, unique in their design, and they grow in few places. When they are gone, there won't be any others.
7~Congo basin forests
: Millions of acres of forests are degraded each year in the Congo Basin because of mining and illegal logging. The forests, home to wildlife, provide food, shelter, water and protection against floods to more than 75 million people.Humans will do anything to survive as they should, perhaps, but trees can't run away from destruction. And trees supply humans with one absolutely necessary resource...oxygen. We can't breathe sawdust and ashes.
8~Glacier National Park
has been shrinking in size due to climate change. The park was once home to 150 glaciers but is now home to only 25. The Nationial Park Service estimates that in less than 20 years that number will drop even further. Water is life. Glacier melt gives us some of the purest water we can get, but when the glaciers are gone, we have nothing to replace them.
9~The Taj Mahal
: India's world-renowned marble mausoleum is on track to close in five years because air pollution is eating away at the building's exterior. The Taj Mahal's issue with pollution isn't new. Measures to protect the building's façade have failed.This incredible human achievement falls to the human achievement we call "progress"...but our technological progress and advances are themselves destroying even marble. Think about that. Our bodies are more frail than marble and granite. If these materials can be devastated by such things, what about human lungs, skin?
10~Aletsch Glacier, Jungfrau, Switzerland:
Climate change is affecting glaciers worldwide,as satellite photos clearly show, including the Aletsch Glacier, which is the largest in the Swiss Alps. Over a period of 55 years, the glacier has shrunk in volume by 60% and continues to retreat at a pace of about 3 percent a year. Scientists say there's nothing anyone can do to stop this UNESCO World Heritage Site from melting away.
11~Mt. Kilimanjaro's snow cap,
Africa: You may heard about the receding ice-cap on Tanzania's Mount Kilimanjaro, which grows smaller and smaller with each passing year.
The ice atop Mount Kilimanjaro in Tanzania has continued to retreat rapidly, declining 26 percent since 2000.
Eighty-five percent (85%) of the ice cover that was present in 1912 has vanished.
The melting of ice Kilimanjaro was paralleled by retreats in ice fields elsewhere in Africa as well as in South America, Indonesia and the Himalayas.
12~Madagascar
is another island nation located off the east coast of Africa famed for its unique biodiversity. Because the country broke off from India millions of years ago, the plants and wildlife on the island have been able to continue developing without interference. As a result, more than 80% of the flora and fauna is unique to the country and can't be found ANYWHERE ELSE on the planet.
Unfortunately, the environment is under threat because of deforestation. Madagascar is one of the poorest countries in the world and many of its people slash and burn the forests in order to plant crops for food. A lot of the timber on the island is also highly valued, causing people to log even where it's illegal. More than 80% of the country's forests have already been destroyed and many species of plants and wildlife have completely disappeared.
13~ The Arctic ice fields
: Arctic ice only stays frozen for short periods now, and in some places has receded so much as to allow shipping channels never before available in modern times. Satellites have shown for years this ice is steadily melting. This is very bad news for polar bears since shorter ice seasons means they don't get enough time to hunt their prey. These animals can only live in areas where the ocean freezes, because they hunt the seals that live under the sheets of ice. The situation gets worse and worse each year and a lot of bears die trying to swim long distances between the ice. Some even die as a result of cannibalism, since desperately hungry adult bears will eat the cubs. Polar bears were the first large animals placed on the endangered species list.
There are only about 20,000-25,000 polar bears left in the wild. If you want to see them, your best bet is in Canada, which is home to about 65% of the world's polar bear population, but Canada is relaxing its protection of these animals, so hurry....
Sure, it's just one species...like humans are just one species.
14~ Glaciers of the Himalayas:
Nepal's cabinet will hold a meeting on Mount Everest to highlight the threat from global warming, which is causing glaciers to melt in the Himalayas, an official said Monday. The entire Himalayan climate is changing, but how climate change will impact specific places remains unclear, said the committee that wrote the report. The eastern Himalayas and Tibetan Plateau are warming, and the trend is more pronounced at higher elevations. Models suggest that desert dust and black carbon, a component of soot, could contribute to the rapid atmospheric warming, accelerated snowpack melting, and glacier retreat. Water resources management and provision of clean water and sanitation are already a challenge in the region, and the changes in climate and water availability warrant small-scale adaptations with effective, flexible management that can adjust to the conditions, the committee concluded.
15~POINT HOPE, Alaska:
The dilemma for the federal government — and state and local officials — about several Alaskan Inuit villages is whether to try to preserve, if it is even possible, their heritage, their ice cellars, their sod-built ancestral homes and cemeteries ringed with spires of whale bones, or spend the hundreds of millions of dollars it would cost to move even one village.
Point Hope, with a 4,500-year history, has much to lose.
"So much of our culture is being washed away in the ocean," said Point Hope Mayor Steve Oomittuk, age 50, who was born in a sod house, common here until the 1970s. "We live this cycle of life, which we know because it's been passed from generation to generation. We see that cycle breaking."
More quickly than any other place in the United States, the Alaskan Arctic is being transformed by global warming. The impacts of climate change are threatening a way of life, an entire ancient culture, and all that it depends on for life.
Unable to hunt for food means going hungry. the extremely high prices of food in the local grocery store is simply unaffordable. Milk costs $9.99 a gallon, and a jumbo pack of drumsticks is $21.77. "You get a sense of our dependence on subsistence hunting," resident John Chase said, pointing out the prices.
A dozen nearby villages are declaring defeat and trying to relocate. One village, Newtok, has identified a relocation site nine miles away on higher ground on Nelson Island, but they have not received federal funding for the move.
The village's tribal administrator, Stanley Tom, has started training villagers to build homes on the new site, but he said they are still waiting for federal permits and funding.
"Our village is sinking very fast, and we are now flood-prone," Tom said.
16~Glaciers in the tropical Andes:
Going, going... these Andean glaciers have been retreating at increasing rates since the 1970s. In the most comprehensive review to date of Andean glacier observations, researchers say the recent, unprecedented retreat could affect water supply to Andean populations in the near future. These conclusions are published January 22 in The Cryosphere, an Open Access journal of the European Geosciences Union. The Santa River valley in Peru will be most affected, as its hundreds of thousands of inhabitants heavily rely on glacier water for agriculture, domestic consumption, and hydropower. The study took into account data collected for glaciers in Colombia, Ecuador, Peru and Bolivia, covering a total of almost a thousand square kilometers. Who knew glaciers could be so important to human life, right?
17~ The Florida Keys
: The Nature Conservancy is wondering why it should even bother trying to save land that will inevitably end up under water.
Jody Thomas's Key West home lies just across the street from the town cemetery, the island's highest point, which sits just 18 feet above sea level. That is an indication of just how low-lying — and thus how vulnerable — this stretch of islands off Florida's southern coast are.
Thomas, the director of the Nature Conservancy's Southern Florida Conservation Region, and a colleague, Chris Bergh, rolled out a laminated chart on Thomas's wooden floor and showed why they're worried. Four smaller maps showed the same island under different levels of rising water. Under the most optimistic conditions, a scenario that assumes the world cooperates to aggressively fight climate change. Under that scenario, the seven-inch rise had flooded 16 percent of the island. Water would be sloshing through some streets and presumably the ground floor of many houses.
Big Pine Key may be one of the first to go.
"The important thing is that we don't know where we're going to fall on this spectrum," Bergh said. "And storm surges and abrupt changes could make it happen much more quickly."
The entire coast of Florida is threatened by rising seas and stronger surges during storms, which is already having high economic costs. Looking ahead only 40 years, a study in 2007 by Tufts University and the Stockholm Environment Institute—US Center estimated that Florida's average annual temperatures will be 5º F higher than today in 2050. Sea-level rise will reach 23 inches by 2050.
18~ Cape Hatteras, North Carolina and the Outer Banks
: Residents move inland in response to ocean storms and sea level rise, leaving houses in the surf.
Erosion along Hatteras Island has been between 12 to 16 feet PER YEAR in recent years, leaving house after house stranded in the surf, awaiting its destruction. This is due to a combination of rising sea level and stronger storms, effects of increasing warmth in the atmosphere and ocean, but no one is sure why this stretch of Carolina coast is the worst affected in the U.S.
We here in NC watched as our most famous lighthouse had to be slowly moved inland to keep it out of rising waters. Places some of us used to go to are now under water. YES, sea levels are rising, believe me.
19~ Tuvalu
: Tuvalu is the smallest of all nations, except for the Vatican. Tuvalu has no industry, burns little petroleum, and creates less carbon pollution than a small town in America. This tiny place nevertheless is on the front line of climate change.
Former assistant Environmental minister and now assistant secretary for Foreign Affairs Paani Laupepa said he "Our whole culture will have to be transplanted."
Sea level rise is the greatest problem. Tuvalu's highest elevation is 4.6 meters -- 15 feet -- but most of it is no more than a meter above the sea. Several times each year the regular lunar cycle of tides, riding on the ever higher mean sea level, brings the Pacific sloshing over onto roads and into neighborhoods. In the center of the larger islands the sea floods out of old barrow pits and even squirts up out of the coral bedrock. Puddles bubble up that eventually cover part of the airport on the main island of Funafuti and inundate homes that are not along the ocean.
WE JUST KEEP BUILDING ALONG THE COASTS.
The few inches of sea level rise in our modern times has translated to a large incursion by the ocean onto shallow coastlines. Sea level rise has already cost governments and private landowners billions of dollars as they have pumped sand onto eroding beaches and repaired the damage from storm surges that encroach further inland each year.
The size of the U.S. population living within one meter, or 3.3 feet, of the mean high tide level, as estimated in a new tidal data set from the National Oceanic and Atmospheric Administration of the lower 48 states, contains 3.7 million people today, or over 1 percent of the nation's population.
Only in a handful of places have modest steps been taken to prepare. New York City is one: Pumps at some sewage stations have been raised to higher elevations, and the city government has undertaken extensive planning. But the city — including substantial sections of Brooklyn, Queens and Staten Island — remains vulnerable, as do large parts of Long Island, Connecticut and New Jersey.
Insurance companies got out of the business of writing flood insurance decades ago, so much of the risk from sea level rise is expected to fall on the financially troubled National Flood Insurance Program, set up by Congress, or on state insurance pools. Federal taxpayers also heavily subsidize coastal development when the government pays to rebuild infrastructure destroyed in storm surges and picks up much of the bill for private losses not covered by insurance.
Most of the following photos are captioned, but may require you click on them for larger images.
Delaware Bay: Rising sea level now has reduced the area for migrating shorebirds' resting and foraging, and could affect the success of their annual flight of thousands of miles from South America to the Arctic. Also sea turtle nesting beaches are being eroded rapidly. Why care about birds and turtles? Well, they were here long before man, and as they go, so go we all, that's why.
Bangladesh: Warming Winds, Rising Tides Intruding into Rivers. Already a million people a year are displaced by loss of land along rivers, and this is increasing. Villagers spoke of losing a town mosque to unexpectedly fast erosion, even in a time of good weather in the dryer season. The one meter sea level rise generally predicted will inundate more than 15 percent of Bangladesh, displacing more than 13 million people and cut into the crucial rice crop.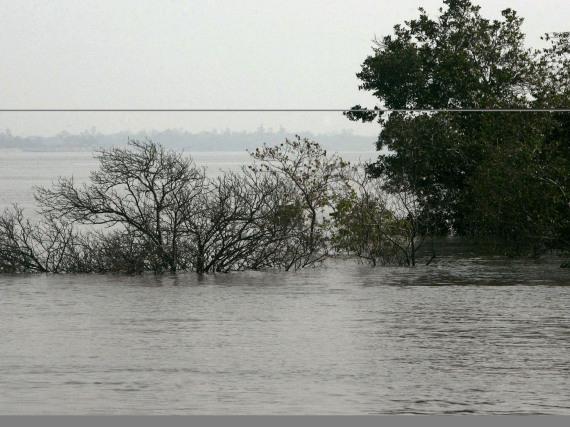 New Moore Island, Bay of Bengal, lost to the sea.
EVERY NATION ON EARTH HAS TAKEN PART IN SEA LEVEL MEASUREMENTS FOR DECADES. THEY MUST THINK IT'S IMPORTANT...AND REAL.
Southeast Louisiana is sinking.
From atop the bridge soaring over Bayou Lafourche, a sweeping panorama of the southeast Louisiana coast unfolds.
But Windell Curole, whose family has lived here for five generations, can't find the beauty in it. He sees tragedy.
"When my grandfather was a boy, there were cotton fields here," he said waving his hand in a 180-degree arc that took in mostly water. "But in just 50 years, it became marsh, then it became open water."
"This whole area is sinking -- and we're sinking at the same time the Gulf of Mexico is rising. You don't need to be a scientist to understand what that means,"
said Curole, general manager of the South Lafourche Parish Levee District.
In southeast Louisiana, the sea is expected to rise between 2-1/2 and 6 feet relative to the land, swamping the coast.

Sea-Level Rise for the Coasts of California, Oregon, and Washington
.
The study was sponsored
BY THE STATES
of California, Washington, and Oregon; National Oceanic and Atmospheric Administration; U.S. Geological Survey; and U.S. Army Corps of Engineers. The National Academy of Sciences, National Academy of Engineering, Institute of Medicine, and National Research Council make up the National Academies.
WHY WOULD THE STATES BE CONCERNED IF SEA LEVEL RISE IS A MYTH?
7 Cities About to Sink
1. Bangkok, Thailand:
Thailand's capital is sinking -- and sinking fast.
2. New York City, New York:
Sea levels in the New York City area are expected to rise about twice as quickly as sea levels around the world.
3. Houston, Texas:
Houston sits on the loosely packed banks of four major bayous that empty into the Gulf of Mexico. Now, many parts of this metropolis -- specifically Jersey Village to the northwest -- are sinking by as much as two inches per year.
4. Shanghai, China:
Located on China's coast, this sprawling city was built on swamplands surrounding the mouth of the Yangze River. Shanghai sank roughly eight feet between 1921 and 1965, which equals about two inches per year. The city still continues to drop at a rate of about half an inch per year.
5. New Orleans, Louisiana:
Any land protection the city had has been washed away, making the "Big Easy" even more prone to tropical storms. Approximately half of New Orleans sits at or below sea level. In 2006, National Geographic reported that the city sank about a quarter of an inch per year in the years leading up to Hurricane Katrina, while the levees designed to protect the city from the Gulf sank at four or five times that rate, exasperating the long-term effects of the storm.
6. Venice, Italy:
Venice has sunk almost a foot over the past 100 years. To make things worse, water levels in the Mediterranean Sea are also rising. Justin Demetri of LifeInItaly.com notes that Venice now experiences over 60 bouts of acqua alta (high water) each year.
7. Mexico City, Mexico:
Resting on a fickle lake bed in the Valley of Mexico, Mexico City has been facing the possibility of going under for centuries. However, according to geologists, there are parts of this massive metropolis that are sinking by as much as eight inches per year. Because of a lack of sufficient drainage, the city was heavily prone to flooding from groundwater and winter snow melt flowing down from the surrounding mountains. But despite best efforts, engineers say that there is no way to keep Mexico City from sinking.
Sea level rise in the UK
Updated satellite data to 2010 show that satellite-measured sea levels continue to rise at a rate close to that of the upper range of the IPCC projections.
Increases in time-average sea-level will also tend to increase the height of extreme water levels, measured relative to present day tidal level, at all locations around the UK coastline. In addition, vertical land movements will alter the relative height of extreme water events measured on the land.
2
9 Apr 2013: Cities around Europe may have to erect flood defenses similar to the Thames Barrier as tidal surges become more likely.
29 Nov 2012:
More than 4 trillion tonnes of ice from Greenland and Antarctica has melted in the past 20 years and flowed into the oceans.
29 Jan 2013:
Rapid erosion and rising sea levels are increasingly threatening the existence of islands off the coast of Bangladesh and India; the Bay of Bengal's vanishing islands.
A SIMPLE EXPERIMENT
A HIGH SCHOOL PHYSICS TEACHER SHOWED US HOW QUICKLY TOO MANY PEOPLE CAN RUIN A GOOD THING BACK IN 1964.
WE HAD A NICE, ROOMY STORAGE CLOSET, "CLIMATE-CONTROLLED", ABOUT 10 FEET BY 10 FEET, WELL LIGHTED.
HE SET ONE STUDENT IN THERE IN A COMFORTABLE CHAIR, GAVE THE STUDENT A CUP OF WATER, A PACKAGE OF SNACKS, AND CLOSED AND LOCKED THE DOOR.
NO PROBLEM.
HE ALLOWED ANY CLAUSTROPHOBIC STUDENTS TO BOW OUT OF THE EXPERIMENT.
EVERY 5 MINUTES, HE ADDED A STUDENT, NO OTHER CHAIRS, NO OTHER WATER, NO OTHER FOOD AND SAID, "SHARE!"
AFTER HE HAD ADDED ABOUT
15 STUDENTS
, SOME BEGAN TO BANG ON THE DOOR TO GET OUT.
HE ENLISTED HELP TO QUICKLY ADD STILL MORE STUDENTS AND KEEP EVERYONE INSIDE.
AFTER THE
24th STUDENT
, HE HAD MERCY AND LET ALL OF THEM OUT.
THEY WERE SOAKED WITH SWEAT, SOME COMPLAINED THERE WASN'T ENOUGH AIR TO BREATHE, THE STUDENT WITH THE WATER AND SNACKS HAD BEEN ROBBED, AND THERE WERE 24 ANGRY STUDENTS.
LESSON LEARNED?
HUMAN BODIES EMIT HEAT.
HUMANS NEED OXYGEN, FOOD, WATER, SPACE TO FEEL COMFORTABLE, AND A WAY TO AVOID BEING CRAMMED TOGETHER FOR LONG PERIODS (IN THIS CASE, THE EXPERIMENT ONLY LASTED A BIT OVER 2 HOURS).
DEPRIVED OF THESE, THEY TEND TO GET A BIT TO A LOT "TESTY".
SELF-PRESERVATION KICKS IN QUICKLY.
THAT CAN TURN UGLY.
SOURCES:
~http://www.nytimes.com/2012/03/14/science/earth/study-rising-sea-levels-a-risk-to-coastal-states.html
~http://blog.nola.com/graphics/2008/12/SinkingLand.swf
~http://www.georgetownclimate.org/resources/sea-level-rise-for-the-coasts-of-california-oregon-and-washington-past-present-and-future
~http://travel.usnews.com/features/7_Cities_About_to_Sink/
~http://www.climateadaptation.eu/united-kingdom/en#coastal-floods
~http://www.guardian.co.uk/environment/sea-level
~http://www.nydailynews.com/news/world/great-barrier-reef-losses-50-report-article-1.1172893
~http://www.huffingtonpost.com/2010/03/24/new-moore-island-disappea_n_511162.html