I WANT TO ADDRESS WHAT IS
NOT
BEING SAID MUCH IN MAINSTREAM MEDIA ABOUT
THE SHOOTER
IN THE TRAYVON MARTIN KILLING.
YOU WILL LIKELY HAVE EITHER NOT SEEN MUCH OF THIS AS IT HAS BEEN POORLY REPORTED, IGNORED, PASSED OVER IN FAVOR OF TRYING TO PAINT THE VICTIM AS DESERVING OF HIS FATE, OR YOU MAY HAVE JUST BEEN LOOKING FOR POSITIVE ARTICLES ABOUT GEORGE ZIMMERMAN BECAUSE YOU THINK HE ACTED APPROPRIATELY IN SHOOTING AN UNARMED HUMAN BEING.
THERE IS MORE THAN AMPLE DOCUMENTATION TO EACH ISSUE I WILL RAISE ABOUT THE SHOOTER, GEORGE ZIMMERMAN.
THIS WEEK, ZIMMERMAN'S ATTORNEY ATTEMPTED TO INTRODUCE INTO EVIDENCE TEXTS, PHOTOS, AND COPIES OF SOCIAL WEBSITE PAGES BELONGING TO TRAYVON MARTIN, BUT THE SAME ATTORNEY HAS BEEN FIGHTING THE RELEASE OF THE SAME TYPE "EVIDENCE" ABOUT HIS CLIENT, GEORGE ZIMMERMAN.
HE HAS MAINTAINED THAT RELEASE OF SOME VERY DEROGATORY TEXTS SENT BY ZIMMERMAN, RECORDED JAIL CONVERSATIONS WITH HIS WIFE THAT LED TO PERJURY CHARGES FOR BOTH OF THEM, AND OTHER EVIDENCE THAT I WILL OFFER HERE FOR YOUR CONSIDERATION WOULD "TAINT" PROSPECTIVE JURORS VIEW OF ZIMMERMAN.
WELL, HE'S OBVIOUSLY HOPING TO TAINT THOSE
SAME
JURORS BY PAINTING A DARK PICTURE OF TRAYVON MARTIN.
LET US ASK OURSELVES WHY ZIMMERMAN'S ATTORNEYS NEED TO USE SO ANY NEGATIVES, SO MUCH MANIPULATION TO WIN THIS CASE.
AND LET US, IF WE CAN, SIMPLY TAKE OUT ANY AND ALL 'PICTURES' OF TRAYVON MARTIN AND INSTEAD 'PLUG-IN' A PICTURE OF OURSELVES, OF OUR TEENAGERS, OF SOMEONE WE LOVE.
LET US REALLY EXAMINE CLOSELY, VERY CLOSELY, SOME OF THE 'NEW' FACTS THAT AREN'T NEW AT ALL, BUT WILL APPEAR SO TO TOO MANY BECAUSE THE MEDIA IS NEGLECTING TO KEEP THESE THINGS IN THE PUBLIC EYE.
HERE ARE A FEW OF THE THINGS ZIMMERMAN'S ATTORNEYS HAVE EITHER NOT MENTIONED OR HAVE FOUGHT TO KEEP ANYONE FROM DISCLOSING ABOUT THEIR CLIENT;
~THAT HE HAD FRIENDS IN THE SEMINOLE COUNTY SHERIFF'S DEPARTMENT, ONE WHO LET HIM AND HIS WIFE STAY IN HIS HOME FOR 6 WEEKS AFTER THE KILLING. ANOTHER FRIEND WHO ACCOMPANIED HIM TO POLICE INTERVIEWS WAS AN AIR MARSHALL AND ONE OF THOSE MEN TOLD THE FBI THAT ZIMMERMAN WAS ESTRANGED FROM HIS FAMILY AND THAT HIS MOTHER HAD BEATEN HIM AS A CHILD.
THIS FRIEND SAID THAT ZIMMERMAN WAS 'OFTEN SUICIDAL".
~THAT THE DAY HE TURNED HIMSELF IN, ZIMMERMAN HAD
ANOTHER
PISTOL IN HIS GLOVE COMPARTMENT THAT HE HAD BOUGHT FROM A GUN DEALER.
~THE FACT THAT HE WAS TAKING TWO PRESCRIPTION DRUGS THAT ARE KNOWN TO CAUSE HALLUCINATIONS, ANXIETY, CONFUSION, HOSTILITY, EVEN RAGE.
~THAT HE STANDS ACCUSED BY A COUSIN OF
SEXUAL MOLESTATION
OF A MINOR...HER...FOR TEN LONG YEARS, AND THAT HE MAY YET FACE CHARGES ON THIS IN THE STATE OF VIRGINIA.
HE IS ALSO ACCUSED OF SAME BY ANOTHER VICTIM.
~THE FACT THAT HE HAD A KNOWN HISTORY OF VIOLENT BEHAVIOR, HAD BEEN ARRESTED FOR ASSAULT ON A WOMAN WHO WAS HIS FIANCEE, AND TWO POLICEMEN, HAD PICKED UP ANOTHER WOMAN AT A PARTY AND TOSSED HER ACROSS A ROOM, AND AGREED TO GO INTO AN
ANGER MANAGEMENT
PROGRAM TO AVOID PROSECUTION.
~THAT RESIDENTS HAD COMPLAINED ABOUT HIS AGGRESSIVENESS PRIOR TO THE SHOOTING, ONE MAN ACTUALLY REPORTING HIM TO POLICE FOR COMING TO HIS DOOR.
~THAT HE HAD BEEN INVOLVED IN AN INCIDENT OF "ROAD-RAGE' WHERE NEITHER PARTY WAS CHARGED, BUT WHICH ZIMMERMAN REPORTED HIMSELF.
~THAT CO-WORKERS SPOKE OF HIM AS A "JEKYLL-HYDE" TYPE, OBSESSED WITH BEING IN CONTROL, AS SOMEONE WHO COULD GO FRO MELLOW TO ENRAGED IN SECONDS.
~THAT HE GAVE MORE THAN ONE ACCOUNT OF WHAT HAPPENED THAT NIGHT, AND THOSE ACCOUNTS DIFFER IN IMPORTANT DETAILS THAT EVEN MEMBERS OF THE SANFORD POLICE POINTED OUT.
~THAT HE AND HIS WIFE PERJURED THEMSELVES DURING THE BOND HEARING AND SHE FACES TRIAL AFTER HIS.
~THAT HE HAD TWO PASSPORTS AND IN RECORDED PHONE CONVERSATIONS WITH HIS WIFE HE ASKED HER ABOUT THE SECOND ONE. DID HE PLAN TO FLEE?
~THAT HE HAD MADE ALMOST 50 CALLS TO SANFORD POLICE PRIOR TO THAT FATEFUL NIGHT, SEVERAL OF WHICH INVOLVED SUSPECTED "BLACK MALE" INTRUDERS, ONE INVOLVING TRASH IN THE ROAD, AND A COUPLE ABOUT CHILDREN PLAYING IN THE STREET.
~ZIMMERMAN WAS INSTRUCTED NOT TO FOLLOW MARTIN, KNEW THE POLICE WERE MOMENTS AWAY, YET WE CAN HEAR HIM RUNNING AFTER MARTIN IN THE 911 CALL AND WE KNOW FROM
ONE
OF HIS
OWN
DESCRIPTIONS OF WHAT HAPPENED THAT HE DID CONTINUE THE PURSUIT.
HE ADMITTED PURSUIT.
HE WAS IN NO IMMINENT DANGER WHEN HE DECIDED TO FOLLOW TRAYVON.
HAD HE TRULY FELT THREATENED, WHY DID HE EXIT HIS SAFE VEHICLE?
IF HE REALLY HAD FELT THREATENED BY THIS TEENAGED BOY WHY GET OUT TO CONFRONT HIM?
THAT GUN ON HIS HIP?
OR KNOWING POLICE WERE JUST MOMENTS AWAY?
~
IN AN INITIAL TESTIMONY TO THE SANFORD POLICE, ZIMMERMAN SAYS THAT HE TOOK HIS GUN AND AIMED IT AT MARTIN. THIS WAS RECORDED.
IF THEY WERE STRUGGLING ON THE GROUND, IF HE WAS ON
HIS
BACK AS HE CLAIMED, HOW COULD HE "AIM" A GUN BEFORE FIRING?
PERHAPS OF UTMOST IMPORTANCE, GOING BACK TO THE OFFICIAL CORONER'S REPORT,
THERE WERE NO BRUISES, AND JUST ONE SMALL SCRATCH ON TRAYVON'S HANDS/FINGERS/KNUCKLES, NO SIGN OF REPEATED TRAUMA AS WOULD BE THE CASE IN A FIST-FIGHT. AND, QUITE DAMNING, THE MEDICAL EXAMINER NOTATED THAT
THE SHOT WAS FIRED FROM AN INTERMEDIATE DISTANCE, NOT CLOSE-RANGE.
THAT SEEMS TO AGREE WITH ZIMMERMAN SAYING HE TOOK AIM AT TRAYVON...FROM A DISTANCE...THEN RAN AND SAT ON HIM AFTER THE KID WAS DOWN.
ONE FORENSIC EXPERT NOTED:
<<"'
Given Zimmerman's statement, I also would expect to see high velocity blood spatter (mist-like spray of blood drops about 1 mm in diameter) or blowback on the barrel of Zimmerman's gun, his shooting hand, and the sleeve of his jacket.
Absence of skin tearing, stippling, and high velocity blowback or blood spatter would seriously undermine a claim of self-defense
.'">>
THERE WAS NO BLOOD SPLATTER ON ZIMMERMAN'S JACKET, NO GRASS STAINS EITHER, NO RIPS FROM THE "STRUGGLE" ON THE GROUND.
THERE IS MORE, MUCH MORE, THAT THE GENERAL PUBLIC JUST DOESN'T KNOW OR DOESN'T WANT TO KNOW ABOUT ZIMMERMAN AND HIS INCONSISTENCIES, PERJURY, PAST HISTORY AND TENDENCIES TOWARD VIOLENT BEHAVIOR.
WHY DELVE INTO ZIMMERMAN'S PAST, HIS DRUG USE, OR HIS HOSTILE AGGRESSIVENESS, HIS ARRESTS, HIS WOMAN TROUBLES, HIS RAGE?
FOR ONE, ALBEIT SMALL, REASON, BECAUSE THE MEDIA HAS DUG INTO THE VICTIM'S.
IF TRAYVON'S PAST IS SO IMPORTANT, SO SHOULD ZIMMERMAN'S BE.
TURNABOUT IS FAIR PLAY, YES?
THERE HAS BEEN TOO MUCH FOCUS ON PROVING YOUNG MARTIN SOMEHOW DESERVED HIS FATE.
I DON'T CARE, AND YOU SHOULDN'T EITHER, IF SOMEONE WALKING ALONG PEACEFULLY MINDING THEIR OWN BUSINESS DOWN A SIDEWALK IS A PRIEST OR AN EX-CON, WE SHOULD ALL SHOULD BE ABLE TO GO FROM POINT "A" TO POINT "B" WITHOUT GETTING SHOT AT, BEATEN UP, OR KILLED, RIGHT?
RIGHT?
FOR ANOTHER REASON, ZIMMERMAN'S DRUG USAGE ALONE MAY HAVE GREATLY CONTRIBUTED TO HIS KILLING TRAYVON
,
AS IT WAS SAID OF ONE OF THE COLUMBINE SHOOTERS, AND OF THE AURORA SHOOTER, AND OF THE NEWTOWN SHOOTER, AND OF MANY OTHER SHOOTERS...PRESCRIPTION DRUG USE CHANGES MINDS. THAT'S JUST A GIVEN.IT CAN MAKE PEOPLE CHANGE, AND MOST EVEN REALIZE THOSE CHANGES ARE TAKING PLACE.
SOME DRUGS CAN CAUSE DANGEROUS SIDE EFFECTS IN THOSE WHO TAKE THEM.
ZIMMERMAN WAS ON TWO SUCH DRUGS.
LOOK BACK...ZIMMERMAN HAD A HISTORY OF VIOLENCE, TRAYVON DID NOT.
WAS TRAYVON A BRASH, LOOK-AT-ME-I'M-BAD SORT OF KID?
MAYBE.
WHEN I WAS YOUNG I WANTED TO BE SUPERMAN...WHAT DID YOU PRETEND TO BE?
HOW DID ALL OF US, AS SILLY TEENAGERS, BEHAVE AT 17?
LIKE SAINTS, ANGELS?
I DOUBT THAT!


BUT ZIMMERMAN WAS AN ADULT, AND HE DIDN'T HAVE TO PLAY COP, OR HERO. HE DIDN'T HAVE TO PULL A GUN. HE DIDN'T HAVE TO GIVE CHASE.
YOU MAY BE SHOCKED TO KNOW THAT, DESPITE ZIMMERMAN SAYING MARTIN HAD HIT HIM MANY TIMES IN THE FACE,
THE OFFICIAL SIGNED CORONER'S REPORT STATED THERE WERE NO BRUISES NOR CONTUSIONS, NO ABRASIONS ON MARTIN'S HANDS, ONLY A VERY SMALL 1/4" LONG, SINGLE ABRASION BELOW THE KNUCKLE OF HIS LEFT RING FINGER.

BELOW THE KNUCKLE.

SCRAPINGS TAKEN FROM BENEATH MARTIN'S FINGERNAILS SHOWED NOT ONE SIGN OF ZIMMERMAN'S DNA, NOR WAS ONE BIT OF MARTIN'S DNA OR PRINTS FOUND ON ZIMMERMAN'S PISTOL.

THERE WAS NO STRUGGLE FOR THAT GUN.
FULL OFFICIAL AUTOPSY RESULTS, WITH LABELED DRAWINGS IN PDF HERE:
http://i2.cdn.turner.com/cnn/2012/images/05/17/trayvon.martin.autopsy.pdf
MUCH HAS BEEN SAID THE PAST FEW DAYS ABOUT TRAYVON MARTIN'S "SHADY PAST"...THAT HE SMOKED POT, THAT HE WAS A "GANGSTA", THAT HE WAS HOSTILE THE NIGHT OF HIS DEATH, THAT HE WAS NO INNOCENT KID.
FUNNY, WE DIDN'T LOOK INTO THE "CHECKERED PASTS" OF THE KIDS WHO DIED AT COLUMBINE, NOT ANY OF THE 12 KIDS WHO DIED THAT DAY, NOR AT ONE OF THE 21 WHO WERE WOUNDED, NOR WAS MAINSTREAM MEDIA DIGGING FRANTICALLY THROUGH
THEIR
SOCIAL MEDIA ACCOUNTS, OR CELLPHONES, OR LIVES.
MAYBE SOME OF THOSE KIDS SMOKED POT AND PLAYED THE "GANGSTA" ROLL, OR WORSE, BUT WHO CARED?
WE CARED ONLY THAT KIDS WERE DEAD, AS WE SHOULD HAVE.
NO ONE ASKED, NO ONE DARED QUESTION
THOSE
KIDS' PASTS.
WOULD IT HAVE MATTERED?
THEY WERE UNARMED VICTIMS.
THEY DIDN'T 'DESERVE' TO DIE.
WHETHER THEY SMOKED POT OR WERE MEMBERS OF GANGS EVEN, WHETHER THEY WERE HOSTILE IN THEIR DAILY LIVES OR ANGELS, NO ONE QUESTIONED, NO ONE DUG UP THEIR PASTS.
TRAYVON MARTIN ALSO DID NOT 'DESERVE' TO DIE.
TRAYVON MARTIN COMMITTED NO CRIME THE NIGHT OF HIS DEATH.
HE HAD NOTHING ON HIM THAT COULD REMOTELY BE CONSTRUED AS A WEAPON.

HE WAS A 17-YEAR-OLD KID, JUST LIKE SEVERAL OF THE COLUMBINE STUDENTS.
HE HAD BEEN IN THAT EXACT COMMUNITY OF CONDOS/APARTMENTS BEFORE, AS HIS FATHER'S GIRLFRIEND HAD LIVED THERE FOR YEARS AND TRAYVON HAD BEEN THERE WITH HIS DAD....BEFORE. HE KNEW WHERE THAT 7-11 STORE WAS, HAD PROBABLY BEEN THERE SEVERAL TIMES BEFORE.
AS I SAID PREVIOUSLY, IF THE PUBLIC WANTS TRAYVON'S PAST DRUG UP, LET'S DRAG UP ZIMMERMAN'S.

EVENTS OF THE NIGHT
IT WAS EARLY, ABOUT 7:30pm, WHEN MARTIN DECIDED TO GO TO THE LOCAL CONVENIENCE STORE WHILE HIS DAD AND DAD'S GIRLFRIEND WERE OUT. HE ASKED THE GIRLFRIEND'S 14-YEAR-OLD SON IF HE WANTED ANYTHING AND THE BOY ASKED FOR SKITTLES.
MARTIN WAS WALKING IN A LIGHT RAIN, TALKING ON HIS CELLPHONE TO A GIRLFRIEND (POLICE HAVE CONFIRMED THIS) , NOT TO SOME GANG, BACK TO WHERE HE CAME FROM, BACK TO WHERE HE
BELONGED
, WHEN A MAN BEGAN TO STALK HIM, FOLLOW HIM IN A VEHICLE ON THAT RAINY NIGHT.
JUST LIKE YOU OR ME, THAT MUST HAVE MADE TRAYVON NERVOUS
.
KIDS BEING PLUCKED OFF OUR STREETS AND LATER FOUND DEAD MAKE HEADLINES IN AMERICA EVERY DAY.
ADD TO THAT THE LONG HISTORY OF SANFORD'S WELL-KNOWN RACIST PAST (MORE ON THAT LATER, MUCH MORE!), AND THAT TRAYVON WAS A BLACK KID IN A PREDOMINANTLY WHITE NEIGHBORHOOD (
IF YOU DON'T THINK RACE HAS ANYTHING TO DO WITH A BLACK KID IN A WHITE COMMUNITY, YOU'RE EITHER IN DENIAL, IGNORANT OF THE FACTS OF RACISM IN MODERN AMERICA, OR YOU ARE WHITE!
).
AND YOU MAY GET AN IDEA OF JUST HOW NERVOUS A STRANGE MAN IN A TRUCK FOLLOWING ALONGSIDE YOU ON A RAINY NIGHT CAN BE.
OR YOU MAY DENY THAT THAT WOULD MAKE YOU NERVOUS.
FEBRUARY 26, 2012
WHAT WAS ZIMMERMAN'S STATUS, HIS EMOTIONAL "STATE OF MIND" ON THIS NIGHT?
WHAT COULD HAVE CAUSED HIM TO BEHAVE CONTRARY TO COMMUNITY WATCH PROTOCOL, TO LITERALLY STALK THIS KID WHOM HE HIMSELF SAID IN THE 911 CALL WAS WALKING CASUALLY ALONG, LOOKING AT THE BUILDINGS?
WHAT WAS IT THAT TRAYVON WAS DOING THAT CAUSED ZIMMERMAN TO EVEN MAKE THAT 911 CALL?
WHY HAD ZIMMERMAN LEFT HIS WIFE BEHIND WHEN HE HAD TOLD POLICE BEFORE THIS NIGHT THAT SHE WAS FRIGHTENED?
WHAT WAS GOING THROUGH HIS MIND?
WELL, FOR STARTERS,
ON FEBRUARY 6
, ANOTHER TWIN LAKES HOME HAD BEEN BURGLARIZED BUT THE
NEXT DAY
ONE OF THE BURGLARS WAS ARRESTED, ONE EMMANUEL BURGESS, AN 18-YEAR-OLD BLACK MALE, AND THE SAME KID THAT ZIMMERMAN HAD SEEN AND REPORTED (THOUGH HE DIDN'T KNOW HIS NAME AT THE TIME)
4 DAYS PRIOR
TO SANFORD POLICE (SPD) AS 'SUSPICIOUS'.
<<"I don't know what he's doing. I don't want to approach him, personally," Zimmerman said in the call, which was recorded. The dispatcher advised him that a patrol car was on the way. By the time police arrived, according to the dispatch report, the suspect had fled.>>
MAYBE ZIMMERMAN WAS BEATING HIMSELF UP FOR NOT PURSUING?
BUT, BY MANDATE OF THE HOMEOWNER'S WATCH GROUP, HE NEVER WAS SUPPOSED TO PURSUE...NEVER!
"NEVER CONFRONT" WAS THE MESSAGE ALL GOT WHO WERE PART OF NEIGHBORHOOD WATCH.
JUST
THREE DAYS AFTER THIS SITUATION WITH ANOTHER YOUNG BLACK MAN
,
FEBRUARY 10, 2012
, ZIMMERMAN'S GRANDMOTHER WAS HOSPITALIZED WITH AN INFECTION, AND
THE FOLLOWING WEEK
HIS FATHER WAS IN HOSPITAL WITH HEART PROBLEMS. ZIMMERMAN HAD SPENT A FEW OF
THOSE
NIGHTS ON A HOSPITAL COUCH WITH HIS FAMILY MEMBER.
THAT'S A LOT OF STRESS IN SO SHORT A TIME
.
BUT ZIMMERMAN WAS TAKING TWO PRESCRIPTION MEDICATIONS FOR EMOTIONAL PROBLEMS THAT SHOULD HAVE PERHAPS ALLEVIATED THE STRESS,
OR COULD HAVE MADE IT WORSE.
MSNBC.com
reported that, '"
according to the paramedic incident report, ZIMMERMAN was on the prescription drug
T
EMAZEPAM, WHICH IS KNOWN TO COMMONLY CAUSE DROWSINESS, ANXIETY, CONFUSION'", AND WHICH CAN CAUSE 'SEVERE PROBLEM BEHAVIOR', 'SEVERE HALLUCINATIONS', ANGER, AND AGGRESSIVE BEHAVIOR.
THAT'S A SHORT LIST.
ONE REPORT OF THIS AT THE TIME NOTED: <<The U.S. National Library of Medicine's information alone should show us that , after taking Temazepam, patients should not be walking around trying to "watch" anything or anyone and that, if they do not sleep for at least 7-8 hours after taking the drug, they may experience memory loss.>>
BUT THAT WASN'T THE ONLY DRUG ZIMMERMAN WAS TAKING.
HE WAS ALSO TAKING THE DRUG ADDERALL, A DRUG PRESCRIBED FOR ATTENTION DEFICIT DISORDER (ADD) AND SOMETIMES FOR NARCOLEPSY, A DRUG WITH KNOWN, COMMON SIDE EFFECTS LIKE MOOD SWINGS, AGITATION, EASILY ANGERED/ANNOYED, NAUSEA (REMEMBER THIS ONE), A FALSE SENSE OF WELL-BEING, INSOMNIA,
AND A MYRIAD OF SEXUAL PROBLEMS IN MALES.
SO, ZIMMERMAN WAS TAKING ONE DRUG THAT CAUSES INSOMNIA, ANOTHER THAT CAUSES DROWSINESS, AND BOTH CAUSE AGITATION, ANGER, AND MOOD SWINGS.
THAT'S QUITE A COCKTAIL!
AND THAT REPORT ABOUT MARTIN HAVING TRACE AMOUNTS OF THC, FOUND IN MARIJUANA?
THAT SAME REPORT STATES THIS SMALL AMOUNT WOULD NOT HAVE AFFECTED HIS BEHAVIOR.
QUITE A DIFFERENCE, ISN'T IT, IN THE TWO.
SO WE HAVE A GEORGE ZIMMERMAN, ON TWO DRUGS THAT CAN CAUSE HIM TO OVERREACT AND FLY OFF THE HANDLE, HAVING JUST GONE THROUGH THE STRESS AND ANXIETY AND PERHAPS SLEEPLESS NIGHTS OF TWO OF HIS CLOSE FAMILY MEMBERS BEING HOSPITALIZED.
HE HAD MISSED AN OPPORTUNITY TO HELP IN THE ARREST OF A BURGLAR HE HAD CALLED INTO THE SPD BUT HAD NOT PURSUED, AND HE'S VERY INTO WANTING TO BE A COP (HE HAD TAKEN COLLEGE COURSES FOR THIS RECENTLY. MORE ON THIS LATER).
ADD TO THAT THAT ALL THE BURGLARIES IN THE GATED COMMUNITY WERE REPORTEDLY BY BLACK MALES, AND TRAYVON MARTIN WAS BLACK.
ADD TO THIS INCREDIBLE MIX THAT ZIMMERMAN WAS NOTORIOUSLY 'VOLATILE', SO NOTED BY NEIGHBORS AND CO-WORKERS, AND HAD BEEN ARRESTED FOR VIOLENCE BEFORE
.
(
NOT SO, TRAYVON MARTIN, NOT ONE ARREST FOR ANYTHING ,AND WHO WAS NOT KNOWN, EVEN AT SCHOOL WHERE HE'D BEEN IN TROUBLE 3 TIMES, TO BE VIOLENT.
)
IT WAS A POTENTIALLY DANGEROUS LONG LIST OF WHAT ZIMMERMAN WAS GOING THROUGH, OF ALL THAT WAS AT PLAY BEFORE HE BEGAN FOLLOWING TRAYVON THAT NIGHT.
REMEMBER WHAT WAS SAID ABOUT THE DRUGS, SIMILAR DRUGS, THAT ONE OF THE SHOOTERS AT COLUMBINE WAS TAKING?
<<In one of his scheduled meetings with his psychiatrist, Eric Harris complained of depression, anger and possessing suicidal thoughts. As a result, he was prescribed the anti-depressant Zoloft.
He complained of feeling restless and having trouble concentrating; in April, his doctor switched him to Luvox, a similar anti-depressant drug.
At the time of his death, Harris had therapeutic Luvox levels in his system.
Some analysts, such as psychiatrist Peter Breggin, have argued that one or both of these medications may have contributed to Harris's actions.
Breggin said that side-effects of these drugs include increased aggression, loss of remorse, depersonalization, and mania.
>>
IS THERE A CONNECTION?
REMEMBER THE AURORA SHOOTER'S DRUGS?
<<Those search warrants reveal James Holmes was taking a
chemical cocktail of psychiatric drugs,
including:
• Sertraline, a generic version of Zoloft (antidepressant) •AND Clonazepam, a benzodiazepine drug known to have "hypnotic properties"
These drugs cause violence, personality changes, amnesia and more.
These two drugs produce devastating, dangerous side effects.>>
http://articles.latimes.com/2013/apr/04/nation/la-na-james-holmes-documents-20130405
WE MAY NEVER KNOW WHAT POSSESSED ZIMMERMAN TO PURSUE
THIS
'YOUNG BLACK MALE',
WHEN HE'D NEVER PURSUED OTHERS
, BUT THIS TIME WAS DIFFERENT, AS WE CAN SEE.
HE DECIDED TO PURSUE AND HE NEVER STOPPED.

MAYBE HIS
AUDIBLE STATEMENT IN THE 911 CALL
, "
THESE ASSHOLES ALWAYS GET AWAY!
" LENDS A CLUE?
HE WAS DETERMINED TO NAIL A BURGLAR, EVEN IF HIS MIND MAY HAVE TOLD HIM
THIS KID
WAS NO BURGLAR.
MAYBE BECAUSE TRAYVON WAS JUST A KID, ZIMMERMAN FELT MORE CONFIDENT TO CHASE HIM...TO DEATH?
MAYBE ZIMMERMAN HOPED TO SCORE POINTS WITH THOSE HE ADMIRED AND HOPED TO EMULATE, THE LOCAL
SPD
.
KNOWING THEY WERE ON THEIR WAY, WOULD ARRIVE IN MOMENTS, DID THAT GIVE HIM FALSE COURAGE TO PURSUE, HOPING TO BECOME A "HERO"?
MAYBE HE THOUGHT THAT AFTER ALMOST 50 CALL-INS TO THE SPD,
THIS ONE
WOULD PRODUCE AN ARREST?
OR DID THE KID'S PRESENCE ANGER HIM, SET HIM OFF SOMEHOW?
DID HE HAVE PENT-UP EMOTIONS FROM ALL THE RECENT STRESS THAT HE NEEDED TO VENT?
NONE OF THOSE ARE EXCUSES TO KILL, ARE THEY?
AT ANY POINT IN TIME
, EITHER BEFORE HE BEGAN TO PURSUE MARTIN, OR WHILE HE WAS FOLLOWING HIM, HE COULD HAVE TURNED AROUND AND GONE ABOUT HIS BUSINESS, BECAUSE PURSUING A POSSIBLE CRIMINAL, EVEN IF HE BELIEVED THAT, WAS NOT IN HIS PARTICULAR "JOB DESCRIPTION", WAS IT?
HE HAD NO LOGICAL REASON TO "PLAY COP", TO TRY TO BE A HERO, TO FOLLOW, TO STALK ANYONE, ANYWHERE.
DID HIS PISTOL GIVE HIM COURAGE?
IN ONE INTERVIEW WITH POLICE
HE CLAIMS HE "FORGOT' HE HAD THE PISTOL
SHOVED INTO HIS WAISTBAND.
REALLY?
WHO PUT THE GUN IN HIS WAISTBAND THEN?
HE DID, OF COURSE.
IF ZIMMERMAN "FORGOT" SOMETHING THAT IMPORTANT, WHAT ELSE DID HE "FORGET"?
LET'S GO ON.
ZIMMERMAN PURSUED MARTIN, AGAINST ADVICE, AGAINST THE RULES FOR NEIGHBORHOOD WATCH MEMBERS, AGAINST COMMON SENSE THAT WOULD TELL MOST OF US TO BACK OFF AND LET THE POLICE HANDLE THINGS.
THE NEXT CALL MADE TO SPD WAS FROM NEIGHBORS, REPORTING LOUD VOICES, REPORTING GUN SHOTS.
TRAYVON MARTIN LAY DEAD.

INCONSISTENCIES
THE FOLLOWING VIDEO IS ACTUALLY AN AUDIO OF THE VERY FIRST INTERVIEW ZIMMERMAN HAD WITH SANFORD POLICE A SHORT TIME AFTER THE SHOOTING.
YOU MAY LISTEN TO IT CLOSELY (THERE IS SOME "RAW" LANGUAGE IN IT) BUT KEEP THESE THINGS IN MIND AS YOU DO:
~THERE ARE SEVERAL STOPS AND INTERRUPTIONS. YOU CAN HEAR THE TAPE GO COMPLETELY SILENT.
~HE SAYS
HE
STARTED THE NEIGHBORHOOD WATCH GROUP, HE SAW MORE THAN ONE BURGLAR, HAD CALLED HALF A DOZEN TIMES,
~HE SAYS HIS WIFE WAS SCARED (IF HIS WIFE WAS SO SCARED, WHY WAS HE LEAVING HER TO GO TO THE STORE AFTER DARK?).
~HE SAYS TRAYVON COMPLETELY CIRCLED HIS VEHICLE (
WOULD YOU GIVE CHASE TO SOMEONE WHO DID THAT?
), BUT LATER SAYS TRAYVON ONLY
APPROACHED
THE VEHICLE, AND LATER SAYS HE GOT OUT OF HIS CAR TO "SEE WHERE HE CUT THROUGH"
(BUT LATER SAYS HE GOT OUT TO GET AN ADDRESS TO GIVE THE POLICE).
~HE SAYS HE BEGAN TO WALK BACK TO
HIS
STREET (NO, HIS STREET WAS ON THE FAR SIDE OF THE COMPLEX. HE WAS CLOSER TO THE STREET WHERE TRAYVON WAS STAYING. SEE THE VIDEO OF THE LAYOUT FURTHER ALONG.),
~HE SAYS HE SAW TRAYVON, THEN SAYS HE
DIDN'T
SEE HIM, AND LATER SAYS TRAYVON WAS
HIDING IN BUSHES
, BUT ANOTHER VIDEO SHOWS THAT WAS IMPOSSIBLE...
THERE WERE NO BUSHES THERE.
~HE FURTHER TELLS THE OFFICER THAT HE'D MANAGED TO GET OFF THE SIDEWALK INTO THE GRASS,
THEN HE SAYS HE WAS STILL ON THE SIDEWALK.
~HE SAYS THAT TRAYVON WAS ASTRIDE HIM, BUT MORE THAN ONE WITNESS STATED, INITIALLY, THAT
ZIMMERMAN WAS ON TOP OF MARTIN
BEFORE THE SHOT WAS FIRED,
AND THAT AFTER THE SHOT WAS FIRED, ZIMMERMAN REMAINED ATOP MARTIN UNTIL SOMEONE WITH A FLASHLIGHT APPROACHED THE SCENE.
~AT ONE POINT HE SAYS THE FIRST NEIGHBOR CALLED OUT TO HIM FROM HIS WINDOW ,
AS HE STRUGGLED WITH TRAYVON,
THAT HE WAS CALLING 911 AND HE TOLD THE GUY TO COME AND HELP HIM. THEN HE SAYS
AFTER
THE SHOT WAS FIRED THIS SAME GUY SAID HE WAS CALLING THE POLICE.
WHICH WAS IT, BEFORE OR AFTER THE SHOT?

~ZIMMERMAN HAD ALREADY STATED THAT HE KNEW EVERYONE IN THAT GATED COMMUNITY, "
EVERY MAN, WOMAN AND CHILD
" AND THAT WAS HOW HE KNEW TRAYVON DIDN'T BELONG THERE, BUT HE COULDN'T SAY WHO IT WAS THAT CALLED OUT FROM THE WINDOW, OR WHO THE WOMAN WAS WHO SPOKE TO HIM FROM HER PATIO, OR EVEN WHO THE MAN WAS WHO APPROACHED HIM WITH THE FLASHLIGHT?
~HE COULDN'T SAY EXACTLY WHERE EVERYTHING BEGAN TO GO WRONG, WHERE IT WAS THAT HE
FIRST
LEFT HIS VEHICLE, BUT HE'D WALKED THAT COMPLEX FOR YEARS?
~WHEN ASKED, ,HE
COULDN'T RECALL
WHERE HE'D PUT HIS CELLPHONE AFTER HANGING UP FROM 911, BUT
THEN
HE STATES HE REACHED FOR IT TO DIAL THEM AGAIN? WHERE DID HE REACH?
~HE STATES HE
DID
KNOW THE RULES,
"YOU JUST CALL, YOU DON'T TRY TO MAKE CONTACT WITH THEM"
, AS HE HAD BEEN REMINDED BY 911, REMEMBER?
NO CONTACT, NO PURSUIT, NO GUNS....
~ALSO NOTICE THAT, WHEN THE OFFICER ASKS IF HE WANTS TO GO TO HOSPITAL, HE SAYS THEY LOOKED AT HIM ON SCENE.
SHE HAS HIM TURN BOTH WAYS SO SHE CAN LOOK AT HIS HEAD, AND
NEVER MENTIONS
CUTS, A BROKEN NOSE, NOR ANY INJURIES THAT MIGHT WARRANT A TRIP TO THE EMERGENCY ROOM. REMEMBER THIS!
http://youtu.be/N7peywDMAc8
NEXT WE SEE OF ZIMMERMAN IS IN A REENACTMENT VIDEO THAT CAN BE FOUND HERE, AMONG MANY PLACES:
http://www.motherjones.com/mojo/2012/06/george-zimmerman-reenactment-video
AS BEFORE, PLEASE THINK ABOUT THESE THINGS AS YOU WATCH THIS;
~
THIS WAS THE DAY AFTER THE SHOOTING.
~IN PHOTOS NOT UPLOADED UNTIL
DECEMBER OF 2012
, ZIMMERMAN IS SHOWN WITH AN APPARENT BROKEN NOSE, ABRASIONS TO HIS NOSE AND FOREHEAD, AND REPORTS STATE HE HAD TWO VERY BLACK EYES.
I HAVEN'T SEEN ONE PHOTO OF THE BLACK EYES, WHICH WOULD INDICATE A BROKEN NOSE (ASK ANY DOCTOR), BUT WE HAVE THAT ONE BROKEN NOSE PHOTO ALLEGEDLY TAKEN THE NIGHT BEFORE THIS VIDEO,THE ONE OF A HUGE SWOLLEN NOSE THAT SEEMS TO COVER MUCH OF HIS FACE,
AND SHOWS PROFUSE BLEEDING.
HOW COULD HE HAVE HEALED FROM THAT OVERNIGHT?
~THERE ARE SOME VERY GOOD CLOSEUPS OF ZIMMERMAN IN THIS REENACTMENT VIDEO, ESPECIALLY OF HIS FACE, HEAD, ARMS, HANDS.
THIS VIDEO WAS TAKEN THE VERY NEXT DAY,
REMEMBER THIS.
DO YOU SEE ANY BRUISES ON THOSE ARMS, OR HANDS, ANY SIGN OF A BADLY SWOLLEN BROKEN NOSE, ANY BLACK EYES, ANYTHING BUT A SMALL LACERATION ACROSS THE BRIDGE OF HIS NOSE, A FEW SCRATCHES MAYBE ON HIS FOREHEAD?
PLAY THE VIDEO ON FULL SCREEN, PLEASE,
AS I HAVE SEVERAL TIMES.
ARE WE TO IMAGINE THAT HE RECOVERED THIS WELL FROM ALL OF THE ABOVE
OVERNIGHT
, WITHOUT SEEING A DOCTOR AND WITHOUT BEING TREATED?
THE RUMOR CIRCULATED THEN AND STILL DOES, THAT ZIMMERMAN'S BROTHER INFLICTED A BEATING ON HIM FOR CAUSING THEIR PARENTS GRIEF, AGAIN, YET AGAIN.
OTHERS SAY THE BROTHER BEAT HIM TO MAKE IT LOOK LIKE HE WAS BEATEN AT ALL.
~DOES ZIMMERMAN SEEM MOROSE, UPSET, REMORSEFUL, OR WEEPY?
~ IS HE STIFF, IS HE LIMPING OR DOES HE HAVE ANY PROBLEM
NOW,
THE DAY AFTER, ENTERING OR EXITING THE VEHICLE?
HE SURELY DIDN'T HAVE ANY TROUBLE EXITING THE POLICE CRUISER THE NIGHT OF THE VIDEO OF HIM ARRIVING AT POLICE HEADQUARTERS AFTER THE SHOOTING EITHER...GO WATCH THAT ONE.
HE GETS OUT AND WALKS WITHOUT ASSISTANCE JUST FINE, WALKING BRISKLY, AS A MATTER OF FACT!
~ DOES HE HAVE A PROBLEM KNOWING EXACTLY WHERE EVERYTHING HAPPENED, BEING ABLE TO POINT OUT PLACES THAT, THE DAY BEFORE, HE WASN'T QUITE SURE WHERE THEY HAPPENED?
MEMORY FAILED, THEN RETURNED?
HE SEEMS ABSOLUTELY CERTAIN OF THINGS, YES?
BUT WHERE ARE THOSE BUSHES TRAYVON LEAPT OUT FROM TO ATTACK HIM?
THERE WERE NO BUSHES.
~ZIMMERMAN WAS SAID TO HAVE VISITED A DOCTOR THE MORNING
AFTER
THE SHOOTING TO GET AN EXCUSE FOR WORK...AN EXCUSE FOR WORK?
IT WAS ALL OVER THE NEWS!
WHY WOULD HE NEED AN EXCUSE FOR WORK?
HE OBVIOUSLY HAD NOT YET GONE TO A DOCTOR WHEN THIS VIDEO WAS SHOT.
NO MEDICAL DOCTOR WOULD APPLY THAT TYPE OF BANDAGE TO AN INJURED HEAD, I ASSURE YOU, NOT TO
MINOR ABRASIONS, AS WERE DESCRIBED IN THE DOCTORS REPORT.
THAT TYPE DRESSING IS COMPLETELY UNPROFESSIONAL.
DID THE AMBULANCE CREW APPLY THOSE ODD BANDAGES?
WHY WOULD "BUTTERFLY" BANDAGES BE USED TO CLOSE DEEP GASHES....NOT SUTURES?
WOULD ANY MEDICAL PROFESSIONAL USE NUTTERLIES TO CLOSE MINOR ABRASIONS?
THERE WOULD BE NO NEED TO!
IN EITHER CASE, ANY DOCTOR WOULD HAVE
REMOVED
THEM FOR EXAMINATION OF THE 'WOUNDS", WOULDN'T THEY?
AND IF THE 'WOUNDS' WERE MINOR, IT'S EXTREMELY DOUBTFUL ANY DRESSINGS WOULD HAVE BEEN APPLIED.
I ONLY HAVE ABOUT 28 YEARS EXPERIENCE IN TREATING WOUNDS, SO I COULD BE WRONG ON THIS.
LOOK CLOSELY, AROUND THOSE BANDAGES...SEE ANY SWELLING, ANY REDNESS, ANY SIGN OF TRAUMA THAT SHOULD BE OBVIOUS FROM ALL THAT HEAD-BASHING ZIMMERMAN SAYS HE ENDURED?
NO SCRAPES NOR GOUGES FROM THE CONCRETE INTO WHICH HE SAID HIS HEAD WAS SLAMMED REPEATEDLY?
SHOULD WE CALL THIS A 14-HOUR "MIRACLE RECOVERY"?
~LOOK....
NO BUSHES
!
NONE!
NO BUSHES FROM WHERE MARTIN COULD HAVE LEAPT OUT FROM, NO BUSHES TO HIDE A TALL TEENAGER.
NOW BELOW IS THAT PHOTO, SUPPOSEDLY OF THE NIGHT BEFORE, JUST HOURS BEFORE THE ABOVE VIDEO WAS SHOT. LOOK AT THAT NOSE!
BUT NO BLACK EYES, NO BRUISES ON HIS FACE FROM THAT AWFUL BEATING HE SAID HE TOOK FROM MARTIN?
REALLY?
IS THAT A SQUAD CAR HE'S IN, WITH NO HANDCUFFS ON?
WOULD THEY LOAD HIM IN A SQUAD CAR BEFORE THE EMTs CLEANED THAT MESS UP?
AFTER ALL, HE TOLD THE EXAMINER AT HIS INITIAL QUESTIONING THAT THE AMBULANCE CREW HAD "CLEANED HIM UP", RIGHT?
SO HOW...I MEAN...REALLY?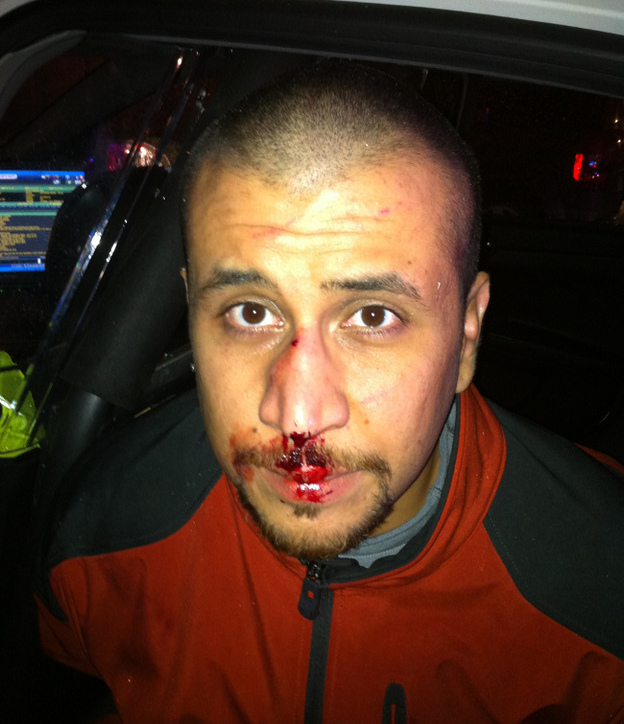 THAT JACKET HE HAS ON, IT'S ZIPPED TO THE TOP, ISN'T IT?
THAT WAS NOT THE CASE IN THE VIDEO OF HIM
ARRIVING
AT THE POLICE STATION.
HE WASN'T QUITE SO TIDY IN THAT ONE. AND HIS NOSE IS SWOLLEN OR IS LARGER BY QUITE A LOT THAN WE'LL SEE IN THE VIDEO AND PHOTOS OF HIM UNLOADING AT THE POLICE STATION IN JUST A FEW MOMENTS TIME FROM WHEN THIS PHOTO WAS ALLEGEDLY SHOT.
IN THIS PHOTO ABOVE,
THE NOSE IS MISSHAPEN, IF WE MAY USE THAT TERM, COMPARED TO LOOKING 'NORMAL' IN OTHER PHOTOS TAKEN, ALLEGEDLY, IN THE SAME TIME FRAME, WITHIN AN HOUR OR LESS OF EACH OTHER,
IF WE WANT TO BUY THAT THIS PHOTO WAS TAKEN RIGHT AFTER ZIMMERMAN WAS TAKEN INTO CUSTODY.
AND, BTW,
IN ANY PHOTOS, VIDEOS, DO WE SEE BLOOD ON HIS CLOTHES?

IF HE SHOT TRAYVON AT CLOSE RANGE, WITH TRAYVON ON TOP OF HIM, THERE WOULD HAVE BEEN SOME SERIOUS BLOOD ON THAT JACKET, WOULDN'T THERE BE?

NOT EVEN HIS OWN BLOOD, FROM THAT BLOODY NOSE, FROM THOSE LACERATIONS TO THE BACK OF HIS HEAD, NOT IN ANY PHOTO?

AND NO GRASS STAINS OR DAMAGE FROM THAT CONCRETE HE SAYS HE WAS WRESTLED ONTO?

ISN'T THAT ODD?
I ALSO WONDER IF SPD GATHERED ANY BLOOD SAMPLES, OR EVEN TOOK PHOTOS OF ANY BLOOD ON THAT SIDEWALK, IF ANY OF THAT WAS ZIMMERMAN'S.
SURELY THEY DID A THOROUGH CRIME SCENE INVESTIGATION THAT VERY NIGHT?
SURELY, IF ANY BLOOD WAS FOUND WHERE THE SCUFFLE TOOK PLACE, WHERE ZIMMERMAN WAS SO "SEVERELY BEATEN", THEY DID DNA TESTS ON ALL OF THAT BLOOD, RIGHT?
ONE ASTUTE VIEWER OF THE BLEEDING HEAD PHOTOS, WHICH WERE 'DISCOVERED' SUDDENLY IN DECEMBER OF 2012 AND UPLOADED TO THE INTERNET BY ZIMMERMAN'S TEAM, MADE AN "
APPARENT
" DISCOVERY THAT I FOUND INTERESTING, AND MAYBE YOU WILL TOO....
HE SAYS ONE PHOTO, AT LEAST, APPEARS TO HAVE BEEN PHOTO-SHOPPED, SOMETHING OTHERS HAVE SUGGESTED.
THIS MAY BE QUITE THE REVERSE, THAT THE ONE WHO UPLOADED THIS VIDEO MAY HAVE DONE THE PHOTOSHOPPING, BUT, EITHER WAY, IT DOES RAISE DOUBTS, NO?
HAVE A LOOK.
CLOSEUP OF THE BACK OF ZIMMERMAN'S HEAD SHORTLY AFTER HE SHOT MARTIN, TAKEN FROM POLICE VIDEO..

.LOOK, NO BANDAGES!
NO BANDAGES, NOT EVEN A BUTTERFLY BANDAGE LIKE WAS SHOWN IN THE VIDEO THE DAY AFTER...NO LONG TRICKLES OF BLOOD NO VISIBLE BLOOD ON THE COLLAR OF HIS CLEAN JACKET.


IN THE FULL VIDEO, WHICH WAS LATER "ENHANCED"...I MUST SUPPOSE ENHANCEMENT WAS NEEDED..

THIS SURE DOESN'T SHOW INJURIES, GRASS STAINS, WET SPOTS FROM THE RAIN OF THAT NIGHT, NOR ANY TRACE OF BLOOD ON HIS CLOTHES, AND HE ISN'T WALKING LIKE A MAN WHO WAS JUST BATTERED LIKE HE CLAIMS HE WAS. MANY MORE INCONSISTENCIES

<<Even a detective who interrogated the neighborhood watch leader pointed out inconsistencies in his story, particularly Zimmerman's claim that Martin punched him and slammed his head onto the ground.

WE MUST ASSUME THAT TRAINED OFFICER JUST DIDN'T SEE THE TERRIBLE INJURIES ZIMMERMAN LATER CLAIMED.


In one of the audio recordings, detective Chris Sereno asked Zimmerman whether he was profiling the black teen, a claim Martin's parents have made.

"You know you are going to come under a lot of scrutiny for this," Sereno said. "Had this person been white, would you have felt the same way?"

In Sereno's interview, he told Zimmerman three days after the shooting that

Martin was a "good kid, mild-mannered kid."


Sereno told Zimmerman that Martin, an athlete with an interest in aeronautics, was

"a kid with a future, a kid with folks that care

."

The detective said Martin only had a bag of Skittles and an iced tea on him when he died.

"Not a goon," Sereno said.
He asked Zimmerman to explain why he doesn't have bruises on his body or broken ribs. HE ACTUALLY ASKED HIM THAT!!!
The two dozen punches Zimmerman claims he took are "not quiet consistent with your injuries," Sereno said.
[NOT CONSISTENT WITH INJURIES AT THAT TIME!!!!
THOSE "INJURIES" MUST HAVE COME LATER! ]
The detective also questioned how Zimmerman could claim he was yelling for help when he also said Martin was smothering him.
Sereno pointed out that Zimmerman has offered two explanations for getting out of his car: to look at street signs to give the dispatcher directions and SPECIFICALLY to follow Martin.


BACK TO ALLEGED INJURIES
<<Surveillance video, ABOVE, UNEDITED, from the Sanford police station, recorded the night of the shooting, was first broadcast by ABC News
[ http://www.huffingtonpost.com/2012/03/28/trayvon-martin-police-video_n_1386764.html http://www.nbcnews.com/id/45755883/ns/msnbc-the_last_word/vp/46887730#46887730 Zimmerman Sanford Police Station]
The video on Wednesday, showed a clean-shaven and fit-looking Zimmerman being ushered in to the station

without visible abrasions, bruises or bloodstains on his clothes

, all of which may fail to support his account of a violent death struggle.
In addition, the funeral director who handled Martin's body agreed with the coroner's report, that there were no cuts or other marks on the teen's hands that would suggest violent fisticuffs.



IF TRAYVON DIDN'T BEAT ZIMMERMAN, WHO DID, AND WHEN???



ZIMMERMAN'S INJURIES WERE MINOR. http://www.cbsnews.com/8301-504083_162-57466450-504083/trayvon-martin-case-george-zimmermans-medical-reports-released/

<<The report states that the reason Zimmerman sought medical attention the day AFTER the shooting was to get a note from a doctor for work. It indicates that he had

two

lacerations to the back of his head,

one two centimeters long, and one half a centimeter long

.

They did not require stitches and he did not complain of any slurred speech or dizziness.

[HANG ON! WAIT A MINUTE! THE EMT REPORTED ONE, JUST ONE SMALL LESION ON THE BACK OF HIS HEAD,


IF WE CAN AGREE THE EMT DID MAKE THE REPORT AND THERE WAS ANY INJURY: "'

a paramedic's reports saying that he had

a 1-inch

laceration on his head and A forehead abrasion.
"Bleeding, tenderness to his nose, and

a small laceration

to the back of his head. All injuries have minor bleeding," paramedic Michael Brandy wrote about Zimmerman's injuries.

'" as reported here:

http://openchannel.nbcnews.com/_news/2012/05/17/11748468-court-docs-trayvon-martin-shooting-ultimately-avoidable-by-zimmerman?chromedomain=usnews&lite

The above found in the article "Court docs: Trayvon Martin shooting 'ultimately avoidable by Zimmerman' "

May 17, 2012]

[

SO, WE MUST BELIEVE THAT SOMEHOW, OVERNIGHT, ZIMMERMAN'S ONE-INCH LACERATION BECAME TWO INCHES AND A SECOND MATERIALIZED ABOUT 1/2" LONG? REALLY? AND MINOR BLEEDING" BECAME WHAT WE SEE IN THE DECEMBER-RELEASED PHOTOS?

]

The physician doing the examination noted that it was

"likely"

Zimmerman had a broken nose, but there is

no record of X-rays

or other tests to confirm the diagnosis.

AND THERE ARE NO BLACK EYES!
Zimmerman was prescribed pain medication for his injuries.

A medication report also said that in the weeks

before the shooting

he had been given prescriptions for

Adderall

, used to treat attention deficit and hyperactivity disorder, as well as an insomnia medication (

TEMAZEPAM

).>>

CONFIRMATION THAT HE WAS ON TWO MAJOR DRUGS.

BEFORE WE LEAVE THIS ABOUT THOSE INJURIES, HERE IS A PHOTO ALSO ALLEGEDLY RIGHT AFTER THE SHOOTING, THE PHOTO ON THE LEFT, ALL CLEANED UP NOW.

THAT SWELLING SURE HAS GONE DOWN,

BUT

STILL NO BLACK EYES

, NO TERRIBLE SCRAPES FROM THAT ROLL ON THE CONCRETE,

NO MARKS FROM TRAYVON'S FISTS, NO CONTUSIONS, ETC, ON EITHER EAR,

ARE THERE?

AND THIS COMPARISON OF THE TWO PHOTOS, SIDE-BY-SIDE...

DOES THE ONE ON THE LEFT RESEMBLE THE DAMAGE OF THE ONE ON THE RIGHT...AND, AGAIN, NO BLOOD STAINS ON HIS CLOTHES? REALLY?
.
SEE THE DIFFERENCE?
LOOK AGAIN....NO FACIAL BRUISING, NO BLACK EYES...NO SCRAPES FROM BEING BANGED INTO THAT SIDEWALK...
HERE'S ANOTHER LOOK, ABOVE.

NOW, I'VE BLOWN THIS UP TO

400%

AND STILL SEE

NO BLOOD STAINS ON THOSE CLOTHES

.

WONDER WHERE THE PHOTO IS, OR IF THERE WAS ONE, OF HIM FACING AWAY FROM THE CAMERA, TOWARD THE WALL?

SEEMS LIKE, WITH SUCH TERRIBLE "INJURIES" ON THE BACK OF HIS HEAD, THEY'D WANT A PHOTO OF THAT, RIGHT?

I MEAN THE BACK WOULD HAVE SHOWED GRASS STAINS, MAYBE MUD FROM THE RAINY NIGHT, AND SURELY BLOOD, WOULDN'T IT...IF HE'D BEEN BLEEDING LIKE THE ONE PHOTO SHOWED, IF HE'D EVER BEEN ON HIS BACK?

ONWARD...ABOUT THE PAST HISTORY OF ZIMMERMAN "GOING OFF, ALL OF A SUDDEN"...VIOLENCE AND ANGER MANAGEMENT.

<<Media has unearthed Zimmerman's criminal record, finding evidence that, in 2005, he was charged with resisting arrest with violence and battery of a law enforcement officer. That same year, his ex-fiance filed for a domestic violence restraining order, which was granted.>>

http://blogs.findlaw.com/blotter/2012/03/zimmerman-accused-of-attacking-cop-girlfriend.html

<<a cursory search of county records showed a 2005 arrest on charges of resisting arrest and assaulting a law enforcement officer. The charges were later dropped.

Also in 2005, Zimmerman was involved in a bitter domestic violence incident with his ex-fiancee, Veronica Zuazo. In that case, Zuazo filed for a restraining order against Zimmerman, who she said snatched her cell phone from her hand and pushed her during an argument. The next day, both filed court petitions accusing the other of violence.

According to the Miami Herald, Zuazo said that three years earlier, Zimmerman attacked her while the two were driving to

a counseling session

. Zuazo said she popped her gum in his face and he repeatedly smacked her in the face. In January 2002, she added, Zimmerman became enraged that she had come home late. They wrestled and

he threw her on the bed, smacking her,

according to the newspaper.

In September 2003, Zimmerman called police and reported that another motorist spat on him, AND, according to reports, Zimmerman followed the man in his car until the police arrived. Daniel Osmun, the other driver, told police that Zimmerman was tailgating and that he spit his gum out the window "out of frustration."

Osum said that Zimmerman then pulled alongside of him, and the two argued. In a police report of the incident, Osum said "at one point, he thought Mr. Zimmerman was going to attack him." No charges were filed against either man.

Some of Zimmerman's neighbors said he had a history of being overly aggressive and followed people whom he thought appeared suspicious

back to their homes

.

BACK TO THEIR HOMES? THEY LIVED THERE BUT HE FOLLOWED THEM?


I THOUGHT HE SAID HE KNEW EVERY MAN, WOMAN AND CHILD IN THAT COMPLEX?

WHY FOLLOW WELL-KNOWN NEIGHBORS?


At an emergency homeowner's association meeting on March 1,

days after the killing,

"

one man was escorted out because he openly expressed his frustration because he had previously contacted the Sanford Police Department about Zimmerman approaching him and even coming to his home," a resident who spoke on the condition of anonymity told HuffPost.
"It was also made known that there had been several complaints about George Zimmerman and his tactics" in his neighborhood watch role

.>>

http://kiestu3.com/videopage/on/-1NRASh8-8o.html

<<Zimmerman, the 28-year-old Sanford, Fla., neighborhood watch volunteer who shot the unarmed 17-year-old Martin to death last month, was

fired from a job securing illegal house parties for "being too aggressive,"

according to the New York Daily News, which quoted a former colleague of Zimmerman's.

According to the co-worker, Zimmerman worked for two agencies that provided security for house parties from 2001 to 2005.

The Daily News said Zimmerman earned $50 to $100 a night for the parties.

He was fired for being too aggressive with patrons.


"He had a temper and he became a liability,"

the newspaper quoted the former co-worker as saying. "One time this woman was acting a little out of control. She was drunk. George lost his cool and totally overreacted," he said. "It was weird, because he was such a cool guy, but he got all nuts. He picked her up and threw her. It was pure rage. She twisted her ankle. Everyone was flipping out."
"He definitely loved being in charge. He loved the power," he said.

>>

http://www.huffingtonpost.com/2012/03/30/trayvon-martin-case-george-zimmerman_n_1392591.html <<Then came 2005, and a series of troubles. Zimmerman's business failed, he was arrested, and he broke off an engagement with a woman who filed a restraining order against him.
That July, Zimmerman was charged with resisting arrest, violence, and battery of an officer after shoving an undercover alcohol-control agent who was arresting an under-age friend of Zimmerman's at a bar.


He avoided conviction by agreeing to participate in a pre-trial diversion program that included anger-management classes.>>


http://www.reuters.com/article/2012/04/25/us-usa-florida-shooting-zimmerman-idUSBRE83O18H2012042http://www.reuters.com/article/2012/04/25/us-usa-florida-shooting-zimmerman-idUSBRE83O18H20120425
UNDER-AGE FRIEND?
IF THE GUY WAS A FRIEND, SURELY ZIMMERMAN KNEW HE WAS UNDERAGE!
AND SURELY HE KNEW WHEN HE TOOK ON THE ATF AGENT THAT THE GUY WAS LAW ENFORCEMENT, RIGHT?

ZIMMERMAN IS ACCUSED OF SEXUAL MOLESTATION OF A MINOR OVER A TEN-YEAR PERIOD...AND HAS NOT DENIED IT WHEN CONFRONTED BY THE GIRL'S PARENTS.
"THIS IS THE FIRST TIME IN MY LIFE THAT I'M NOT AFRAID OF HIM." SO SAID THE WOMAN WHO ACCUSES ZIMMERMAN.


<<A family friend of George Zimmerman told investigators he sexually molested her on and off for nearly a decade, newly released audio tapes in the Trayvon Martin shooting case reveal.

"He would reach under the blankets and try to do things," the woman—identified as Witness 9—told investigators.

Zimmerman's defense team later identified the unnamed woman

as his cousin and said they plan to file "reciprocal discovery" in the coming weeks.

HIS DEFENSE TEAM "OUTED" HER? WHY?


"I would try to push him off, but he was bigger, stronger and older," she said during the interview conducted on March 20, less than a month after the Feb. 26 shooting.

The woman, who contacted prosecutors after Martin's killing, said

she was 6 and Zimmerman was 8 when the alleged molestation began. It continued until she was 16,

she said.

Investigators asked the woman why she was coming forward now. "

This is the first time in my life that I'm not afraid of him," she replied.

The woman also told state investigators that

she anonymously called Sanford police after Martin's death.

"I was afraid that he may have done something

because the kid was black

," the woman says on the recordings.

She said she had no direct knowledge of the shooting death, but

wanted police to know Zimmerman had made negative comments about blacks when they were growing up.
The woman said she was not the only victim.
"It's not just me that he would do these things to," she told investigators.
But the other alleged victim would never come forward, Witness 9 said, declining to give investigators her name: "She said she would deny it either way."

Georgie, she said, would tell her to tell others that they were just lying down or playing hide-n-seek.

"Georgie just sucked up to my dad," she said. "He was like the son he never had."

Defense attorney Mark O'Mara fought until the last minute to keep the recordings from Witness 9 a secret, but Judge Kenneth Lester Jr. ruled the evidence is public information and ordered them to be made available.

"This irrelevant statement should be withheld from public dissemination because of the substantial risk that public disclosure will lead to widespread hostile publicity which would substantially impair the Defendant's fair trial rights, and would pose a serious threat to the administration of justice," the defense said on its website.

[NOTICE THAT HE NEVER DENIED HIS CLIENT DID THOSE THINGS!
ALSO NOTUCE HE NEVER CONSIDEREDD HOW RELEASING DATA ON TRAYVON MARTIN'S PAST MIGHT AFFECT PUBLIC OPINION ABOUT THE VICTIM IN ALL THIS. I HAVE TO ASSUME THE ZIMMERMAN LAWYER ONLY WANTS NEGATIVE EFFECTS FOR VICTIMS, ALL VICTIMS OF HIS CLIENT.]


She said one of the last incidents occurred when she was 16.

Zimmerman, who had graduated from high school and moved to Florida with his family, massaged and kissed her, causing her to run out of the home.

The woman said she eventually quit attending family functions if she thought he was going to be there.

"I couldn't take it," she said. "I didn't want to be around him anymore."

She said she eventually told her sister about her encounters with Zimmerman. The sister then told their parents.

The alleged victim said

she and her parents tried to discuss the abuse with Zimmerman at a Lake Mary, Fla., restaurant in 2005. "He said, 'I'm sorry' and just got up and walked out."
HE SAID, "I'M SORRY"? HE SAID THE SAME THING TO TRAYVON'S PARENTS IN COURT!


Despite prosecutors' efforts to

protect

her identity, George Zimmerman's defense has outed the woman, claiming the former neighborhood watchman sexually abused her while the two were children and teens.

REALLY? ZIMMERMAN WAS OLDER THAN TRAYVON THE LAST TIME HE MOLESTED HER!

In a statement released Monday afternoon, Zimmerman's legal team calls Witness 9 "George Zimmerman's cousin.">>

http://www.businessinsider.com/witness-9s-relationship-revealed-2012-7#ixzz2UdbMjJ6p ZIMMERMAN'S LAWYERS REALLY TRIED HARD TO KEEP THIS MOLESTATION ACCUSATION QUIET.
http://www.csmonitor.com/USA/2012/0717/Why-was-Zimmerman-s-cousin-afraid-of-him-audio

"If a child was coerced or forced or intimidated or manipulated by an older child, in that sense, they are being victimized," said Jill Levenson, a

Lynn University

expert in sex abuse.

"Eight is pretty young to be initiating sexual activity.

You're talking about more than, 'Can I see it?'

So the questions becomes:

Where did the 8-year-old learn that, and does that 8-year-old need some help?"
WHEN THIS FAMILY CONFRONTED ZIMMERMAN AND HIS PARENTS AND ZIMMERMAN DIDN'T DENY THE ALLEGATIONS THEN, DID HIS PARENTS SEEK PROFESSIONAL HELP FOR HIM AT LEAST?
I CAN'T FIND THE ANSWER TO THAT. A STRONG WORD OF CAUTION HERE...IF YOU HAVE NEVER BEEN THE VICTIM OF CHILDHOOD MOLESTATION, DO NOT DARE ASSUME YOU CAN JUDGE THIS PERSON! YOU HAVE NO IDEA OF THE FEAR AND OTHER FACTORS THAT KEEP VICTIMS SILENT! WHEN THE MOLESTER IS A FAMILY MEMBER IT MAKES IT EVEN HARDER TO ACCUSE, TO REVEAL. RACISM IN THE SANFORD COMMUNITY AND IN THE GATED COMMUNITY WHERE MARTIN WAS SHOT.


The town of Sanford was founded by laborers in the late 19th century, and Goldsboro, once an active center of black life, became the second town in Florida

incorporated by blacks.
But in 1911, Sanford stripped Goldsboro of its charter and took it over.


The streets, named after its black pioneers, were immediately renamed.

At first,

no charges were filed

against Swofford or Ansley by Sanford police.

Turns out,

Swofford was a volunteer with the Sanford police department and Ansley was the son of a former Sanford police officer.


Ansley and Swofford were finally charged in November of that year – Swofford with manslaughter and both Swofford and Ansley with shooting into an occupied vehicle.


The case went to trial, but it was eventually dismissed by a judge who determined that it was a case of self-defense.
SOUND FAMILIAR?
DOES THIS SOUND VERY MUCH LIKE THE TRAYVON MARTIN CASE? EERILY SO, AS EVEN THEIR INITIALS WERE THE SAME!
KEEP READING, THIS WAS NOT AN ISOLATED CASE!

<<Trayvon Martin's Death Extends Sanford's Sordid Legacy

http://www.motherjones.com/politics/2012/03/trayvon-martin-sanford-racial-history

The founder wanted to ship blacks to the Congo.

Baseball's Jackie Robinson was run off.

UPDATE 38, 9:30 a.m. EDT, Wednesday, April 4: Zimmerman supporter says "young black males" were a problem: "If you plant corn, you get corn."

In an awkward TV interview with CNN,

Frank Taaffe—himself a former neighborhood watch captain in the same Sanford subdivision

—poured fuel on the racial fires by insisting that "young black males" were up to no good in his "neighborHOOD," where eight burglaries had occurred recently.

"All of the perpetrators of the burglaries, the prior burglaries, were young black males," Taaffe said. Pressed by Soledad O'Brien on how that related to Trayvon Martin's shooting, he replied,

"Well, you know, there's an old saying: If you plant corn, you get corn." >>

<<Two delivery drivers for a Papa John's

in Sanford

are out of a job after a racist voicemail rant surfaced online.

The voicemail, which runs several minutes, is filled with obscenities and repeated racial slurs.>>

http://www.cfnews13.com/content/news/cfnews13/news/article.html/content/news/articles/cfn/2013/5/27/sanford_papa_john_s_.html

<<The Racist History of Sanford, Florida:

On March 4, 1946, as the legendary Black baseball player Jackie Robinson approached the stadium in Sanford, Florida, for spring training with the Dodgers minor league team the Montreal Royals during a tour of the Deep South, a large crowd of Sanford's White citizens had gathered – some of them members of the Ku Klux Klan, which was very active in that region of the state – and they were determined to keep Robinson out of "their" ballpark.

Further, they were determined to run Robinson out of Sanford one way or another.

Some of those White members of the community met with the mayor of Sanford and demanded Robinson be forced out of town.

As a result, Sanford city officials informed the Royals, Black and White ballplayers would not be allowed on the same playing field together.

In the wake of Trayvon Martin's murder, it has been revealed the 'Klan' allegedly is still active there.

The police department has been accused of corruption and blatant discrimination against Sanford's citizens of color including dubious investigations by the department

in the murder of at least three other Black men in recent years.

But, the murder of another Black man and his wife in Sanford – five years after Jackie Robinson was run out of town – and decades before the Trayvon Martin tragedy – shook the Black community of Central Florida to its core.


Harry Tyson Moore was the founder of the first branch of the NAACP in Seminole County, Fla., the county Sanford is located in.

Moore, who was a teacher, worked tirelessly for equal pay for Black teachers in public schools, filed lawsuits against voter registration barriers for Blacks, investigated lynchings and eventually became the state secretary for the Florida chapter of the NAACP.

On Christmas night of 1951, the home of Moore and his wife Harriette Vyda Simms Moore was fire bombed. It was the couple's 25th wedding anniversary.

Moore died on his way to a Sanford hospital and his wife died 9 days later of her injuries.

After their deaths, firebombing became a popular method of White racist intimidation in the South.

No one was ever indicted in their murders.

However

,

in 2006 the state of Florida concluded the Moore's were murdered as a result of a conspiracy by the

Central Florida Ku Klux Klan

.

Decades after Robinson's precarious racial encounter and the assassination of Harry Moore and his wife, Sanford's legacy of intolerance and racial animus are alive and well.>>

http://www.afro.com/sections/news/national/story.htm?storyid=74529

<<In Sanford's more recent past, the2010 case of Sherman Ware ALSO has some troubling similarities to the Trayvon Martin tragedy.

On Dec. 4, 2010,

21-year-old Justin Collison, was captured on a YouTube video leaving a Sanford bar, when he walked up behind an unsuspecting Sherman Ware, a homeless African American man, and punched him in the back of the head, which drove Ware's face into a utility pole and then onto the pavement.

Sanford police questioned Collison that night and had possession of the video but did not arrest him. You see, Collison's father is a Sanford police lieutenant and his grandfather is a former circuit judge and wealthy Florida landowner.




Collison wasn't arrested until one month later,

and only after news organizations began airing the video.The chief of the department, Brian Tooley, took an early retirement as a result of the incident>>
http://www.dailykos.com/story/2012/04/01/1079682/-Sanford-Florida-s-Troubled-History-of-Racial-Injustice-Prejudice
SEE ALSO:
http://en.wikipedia.org/wiki/Sanford_Police_Department_%28Florida%29#cite_note-autogenerated1-17 FOR A LIST OF SIMILAR SITUATIONS/COMPLAINTS.

BUT WHAT HAPPENED TO COLLISON?
GUESS!

<<Circuit Judge Debra Nelson, came up with her own solution:

She sentenced him to 30 days in jail then suspended that, saying he'd only be locked up if he fails to follow through on the conditions of probation.


So Collison pleaded guilty to

misdemeanor battery

, was placed on a year of probation and ordered to get anger management counseling, undergo a substance abuse evaluation and get treatment, if required.

The Seminole County Sheriff's Office conducted an investigation into how

Sanford officers

handled the case.

It cleared everyone at the scene that night but concluded that then-Capt. Jerry Hargrett, who was acting police chief at the time, appeared to have violated the law when

he disclosed that an internal affairs investigation was underway.

>>

http://articles.orlandosentinel.com/2011-10-03/news/os-sanford-cop-son-plea-20111003_1_sherman-ware-justin-collison-jerry-hargrett Press reports have indicated a number of cases of RACISM by officers of the Sanford Police Department.


<<In February 2010, press reports indicated one officer was fired, and another, Ned Golden, Jr., was suspended for two weeks

after sending sexist and racist text messages on a department computer.

[

http://www.wftv.com/news/news/suspended-cop-part-of-influential-family/nJw8W/

]




Though Bowen was fired, Golden Jr. was only suspended for two weeks.

Golden's father is president of Sanford's influential Police Union, and has had similar problems in the past.

In 2004, a black

officer

accused

Golden Sr.

of racial intimidation after he allegedly said, "People like you disgust me."

Sanford police says Golden Jr.'s suspension has nothing to do with his father's influence. They say his messages were more immature than they were inappropriate.>>

http://globalgrind.com/news/411-sanford-florida-police-their-racist-past-list?page=4#ixzz2UmCH3Vig

In June 2012, SANFORD POLICE CHIEF Bill Lee was dismissed by City Manager Norton Bonaparte, on the grounds that he had lost the confidence of the community.

Chief Bill Lee said that he believed

'"arresting Zimmerman would have been a violation of his civil rights'".
What about Trayvon's civil rights?

IN DECEMBER OF 2012, Officer Stephan Santiago was charged with leaving the scene of an accident after a chase that culminated with him driving his car the wrong way on the street, bumping off the curbs several times.

Santiago passed a field sobriety test and the police department promised an internal investigation.

The same officer had been involved in a barroom brawl in 2008. [

WBDO.com, 4 December 2012]

ABOUT OFFICER SERINO WHO SO NOBLY LECTURED ZIMMERMAN...
<<SERINO

told

the FBI that he was concerned that people inside the police department were leaking information, Serino cited Sgt. Arthur Barnes, officers Rebecca Villalona and Trekelle Perkins "as all pressuring him to file charges against Zimmerman after the incident," an FBI report said.
The summary of Serino's statement does not mention the race of the officers who allegedly pressured him, but sources told The Miami Herald that

Barnes and Perkins are black, and Villalona is married to an African-American man.




All three, the source said, had been called in by their supervisor and questioned about leaking information in the case.

Serino, a 15-year veteran of the department who was a major-crimes investigator, was demoted last month to overnight patrol.


Tapes of his interviews with Zimmerman show him poking holes in the former neighborhood watch volunteer's account of what happened the night he killed Trayvon. Serino told the FBI that Zimmerman had a "little hero complex" and sounded "scripted."




However, he said he believed Zimmerman targeted Trayvon because of his attire, the circumstances and recent burglaries in the area, not the color of the teen's skin.

[HERE'S A FEW REVELATIONS!!! ZIMMERMAN WAS ESTRANGED FROM HIS FAMILY!!!]
[Other] statements said Zimmerman had been beaten as a child by his mother, was sometimes suicidal, and that two weeks after the killing he tried to buy more guns because he feared for his life.
The friend, whose name was blacked out in the report, told state investigators that Zimmerman was frugal, not very streetwise, and had a childhood marked by an abusive mother and a father who looked the other way when his son was beaten.


Zimmerman, he said, had been estranged from his family until Trayvon's shooting.


• The day Zimmerman turned himself in to be charged with second-degree murder, authorities confiscated a handgun (ANOTHER HANDGUN) from his car.

A gun dealer told police that some time in mid-March, Zimmerman called to say he was afraid for his life and "needed more guns.



• A police sergeant on duty at the station the night Trayvon was killed said he didn't notice

any

injury to Zimmerman's nose, but said he was "grunting as if in pain."


NO INJURY THAT NIGHT? THAT'S WHAT OTHERS HAVE SA

ID!


One memo from prosecutors mention [sic] that

Zimmerman went to his interviews with police accompanied by a friend who is a federal air m

arshal.


Another report, which appears to refer to the same person, details an interview with one of Zimmerman's closest friends, a former Seminole County Sheriff's deputy.
The former deputy went to the scene the night of the shooting,

put Zimmerman up for more than a month after the killing, and accompanied him to his interviews with police. He trained Zimmerman on how to use a gun, adding that he "wasn't a very good shot at first," but improved.

>>

Miami Herald

,

Posted on Thursday, July 12, 2012 ARE YOU STARTING TO SEE WHAT A TIGHT, COZY CIRCLE OF PALS AND "GOOD OL' BOYS" THIS IS?
NOW CAN YOU SEE WHY PROBABLY EVERY BLACK PERSON IN SANFORD HAS JUST CAUSE TO NOT TRUST THE POLICE THERE?
CAN YOU SEE WHY TRAYVON MARTIN, NOT GEORGE ZIMMERMAN, HAD THE MOST CAUSE TO FEAR FOR HIS LIFE?

DO YOU HAVE A BETTER PERSPECTIVE OF WHO WAS THE "VIOLENT, HOSTILE" ONE THAT NIGHT?

COULD YOU MAYBE EVEN BEGIN TO CONSIDER THE RUMOR THAT HAS BEEN FLYING ABOUT SINCE THIS HAPPENED THAT ZIMMERMAN'S OWN BROTHER BOASTED THAT HE HAD BEAT THE HELL OUT OF "GEORGIE" BECAUSE HE DISGRACED THE FAMILY AND WAS JUST STUPID?


COULD THAT BE WHY THERE ARE NO NOTICEABLE INJURIES ONE MINUTE AND A BROKEN NOSE THE NEXT?

DOES HAVING FRIENDS IN HIGH PLACES AND A DAD WHO WAS A MAGISTRATE IN VIRGINIA, A MOM WHO WAS A CLERK OF COURT, AND A PATERNAL GRANDFATHER WHO WORKED IN THE AMERICAN INTELLIGENCE COMMUNITY GET YOU ANY SPECIAL FAVORS, GET YOU OFF ON MURDER CHARGES?


TIME WILL TELL, BUT KEEP THESE THINGS IN MIND. RESEARCH THEM YOURSELVES.

TRAYVON MARTIN WAS THE VICTIM. TRAYVON MARTIN WAS THE VICTIM. TRAYVON MARTIN WAS THE VICTIM.