THIS YOU REALLY HAVE TO SEE FULL SCREEN TO APPRECIATE IT!
http://blogs.discovermagazine.com/imageo/files/2015/06/20150625_m7.9flare.jpg
The Sun sure has been acting up lately.

Early this morning it let loose with yet another in a veritable string of flares — gargantuan explosions of radiation and solar material — many of them pointed toward Earth.
Solar material blasted into space by today's flare is expected to reach Earth at about 1 p.m. EDT this coming Saturday, according to the Space Weather Prediction Center.

But it's not predicted to trigger anything like the spectacular displays of the auroral borealis that occurred this past Monday (June 22) and into Tuesday.
HERE ARE A COUPLE OF PICS OF THAT AMAZING SIGHT!
http://en.es-static.us/upl/2015/06/aurora-oregon-June-2015-e1435087567922.jpg
SEVERAL PHOTOS OF THAT ONCE-IN-A-LIFETIME WONDER CAN BE SEEN <HERE>.
BUT BELOW IS ONE SCOTT KELLY TOOK FROM THE INTERNATIONAL SPACE STATION.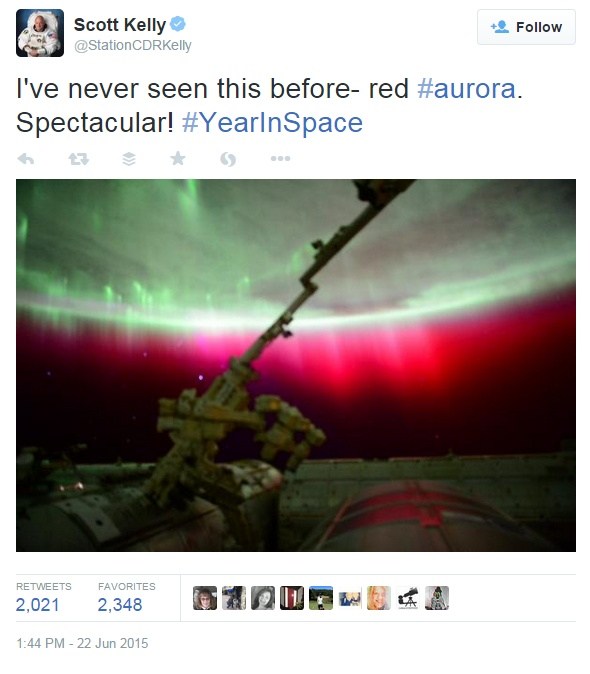 FULL ARTICLE ON THESE LATEST FLARES <HERE>.
WEREN'T WE JUST TOLD (SEE PREVIOUS BLOG) THAT THE SUN IS BECOMING INACTIVE?
THIS DOESN'T LOOK INACTIVE.

NEITHER DID THE SET OF FLARES ON THE 22nd.
"This dramatic rise in the Sun's activity began last weekend with a massive prominence eruption — a dense cloud of solar material that exploded out into space when the magnetic energy confining it suddenly let go. Yet another prominence eruption occurred not long thereafter, launching a proton radiation storm toward Earth.
Meanwhile, an active region (designated "2371") began firing off a series of flares, including the one on Monday that triggered the spectacular auroral activity earlier. "
I GET THE FEELING THAT MAYBE NOBODY REALLY KNOWS WHAT'S GOING ON WITH THE SUN...OR THE WEATHER...OR THE MASS DIE-OFFS IN THE PACIFIC...OR...WELL...ANYTHING!

AND I MAINLY JUST WANTED TO SHARE SOMETHING VERY BEAUTIFUL AND INCREDIBLE WITH ALL OF YOU.....

I LOVE SPACE!

SHIELDS UP, CADETS...INCOMING!