THIS IS NOT THE FIRST TIME ED MITCHELL OR OTHER ASTRONAUTS HAVE MENTIONED "ETs", OR UFOs, BUT EVERYONE SEEMS TO THINK MITCHELL IS JUST A BIT "OFF", MAYBE ALL THE OTHERS, TOO.

WHY BELIEVE ASTRONAUTS, COSMONAUTS, AIRLINE PILOTS, LAW ENFORCEMENT OFFICERS, OR THE MILITARY?
ALL HAVE REPORTED UFOs.

THE STORY WAS ALSO CARRIED BY THE NEW YORK DAILY NEWS WHICH WAS MOSTLY AN ARTICLE AIMED AT MAKING MITCHELL LOOK LIKE A SENILE SENIOR CITIZEN, AND, OF COURSE, "FAUX NEWS" (aka, FOX) CARRIED THE PIECE.



"The sixth man to walk the surface of the moon

told Mirror online

that he believes peace-keeping aliens visited our planet to prevent a nuclear war between Russia and the United States.
The idea sounds far-fetched, but Mitchell claims that military insiders viewed strange flying crafts cruising over U.S. missile bases and the White Sands facility in New Mexico.
"They wanted to know about our military capabilities," he said. "My own experience talking to people has made it clear the ETs had been attempting to keep us from going to war and help create peace on Earth."
The astronaut has been outspoken about his

belief in aliens

ever since he landed on the surface of the moon, becoming one of the most prominent figures in the worldwide UFO community.
Mitchell, who grew up near the famous Roswell site in New Mexico, said that he has heard from various Air Force officers who claim UFOs were a regular site during the Cold War.
"They told me UFOs were frequently seen overhead and often disabled their missiles," he added. "Other officers from bases on the Pacific coast told me their (test) missiles were frequently shot down by alien spacecraft."
"You don't know the area like I do," he said in an interview with Mirror Online.
"White Sands was a testing ground for atomic weapons - and that's what the extraterrestrials were interested in.
They wanted to know about our military capabilities."

Like I said, Mitchell is not alone as other astronauts have also made statements about UFOs, etc.
"In 2005, astronaut Leroy Chiao was commander of the International Space Station for six and a half months. During a spacewalk with cosmonaut Salizhan Sharipov, the two were installing navigation antennas. They were 230 miles above Earth, traveling at over 17,000 miles per hour, when something unusual caught Chiao's eye.
"I saw some lights that seemed to be in a line and it was almost like an upside-down check mark, and I saw them fly by and thought it was awfully strange," Chiao told The Huffington Post.

NASA TOLD HIM THOSE WERE FISHING BOATS BELOW.


SKEPTICAL BUT KEEPS AN OPEN MIND
"I'm skeptical of claims that we've been visited by aliens from another planet or other dimension, but I don't rule it out 100 percent. I have an open mind and I do believe there's other life in the universe," Chiao said.
"If there is life out there that's so much more advanced than we are and they know either how to travel great distances in short amounts of time, or they're able to come from a parallel universe into ours, why don't they just come and show themselves?"
UFO ON FILM FROM THE MOON?
An alleged photographic piece of UFO evidence occurred on the 1972 Apollo 16 moon mission when astronauts returned to Earth with several film canisters, one of which showed something intriguing above the lunar surface -- something that looks very much like a "classic" flying saucer.
BUZZ ALDRIN

ALDRIN LATER RETRACTED HIS STATEMENT.
ASTRO

NAUT GORDON COOPER


One of the original Mercury Astronauts and the last American to fly in space alone. On May 15, 1963 he shot into space in a Mercury capsule for a 22 orbit journey around the world. During the final orbit, Major Gordon Cooper told the tracking station at Muchea (near Perth Australia) that he could see a glowing, greenish object ahead of him quickly approaching his capsule.
The UFO was ALLEGEDLY picked up by Muchea's tracking radar.

Cooper's sighting was reported by the National Broadcast Company [ I CANNOT VERIFY THIS] , which was covering the flight step by step; but when Cooper landed, reporters were told that they would not be allowed to question him about the UFO sighting.

[COOPER HAS SINCE DENIED THIS EPISODE. ]
"Cooper flatly denied the long-standing claim, repeated over the years, that he saw a greenish object with a red tail move past his Mercury 9 spacecraft in 1963.
BUT he also stood by his belief that he saw a UFO land at Edwards Air Force Base in California in 1957.
Although Cooper had been filming the base with a camera crew at the time, the film, which he handed over to a high-ranking officer from Washington, has never emerged."]


Major Cooper was a firm believer in UFOs.
Ten years earlier, in 1951 he had sighted a UFO while piloting an F-86 Sabrejet over Western Germany.
They were metallic, saucer-shaped discs at considerable altitude and could out-maneuver all American fighter planes.
Major Cooper also testified before the United Nations: "I believe that these

extraterrestrial

vehicles and their crews are visiting this planet from other planets... Most astronauts were reluctant to discuss UFOs."
"I did have occasion in 1951 to have two days of observation of many flights of them, of different sizes, flying in fighter formation, generally from east to west over Europe."

And according to a taped interview by J. L. Ferrando, Major Cooper said: "For many years I have lived with a secret, in a secrecy imposed on all specialists in astronautics.
I can now reveal that every day, in the USA, our radar instruments capture objects of form and composition unknown to us.
And there are thousands of witness reports and a quantity of documents to prove this, but nobody wants to make them public.
Why?
Because authority is afraid that people may think of God knows what kind of horrible invaders.
So the password still is: We have to avoid panic by all means."

"I was furthermore a witness to an extraordinary phenomenon, here on this planet Earth.
It happened a few months ago in Florida.
There I saw with my own eyes a defined area of ground being consumed by flames, with four indentions left by a flying object which had descended in the middle of a field.
Beings had left the craft (there were other traces to prove this). They seemed to have studied topography, they had collected soil samples and, eventually, they returned to where they had come from, disappearing at enormous speed... I happen to know that authority did just about everything to keep this incident from the press and TV, in fear of a panicky reaction from the public."

NUTCASE?
CONSPIRACY THEORIST?

ANOTHER MERCURY ASTRONAUT
Donald Slayton, a Mercury astronaut, revealed in an interview he had seen UFOs in 1951: "I was testing a P-51 fighter in Minneapolis when I spotted this object. I was at about 10,000 feet on a nice, bright, sunny afternoon. I thought the object was a kite, then I realized that no kite is gonna fly that high."
As I got closer it looked like a weather balloon, grey and about three feet in diameter. But as soon as I got behind the darn thing it didn't look like a balloon anymore. It looked like a saucer, a disk.
About the same time, I realized that it was suddenly going away from me - and there I was, running at about 300 miles per hour.
I tracked it for a little way, and then all of a sudden the damn thing just took off.
It pulled about a 45 degree climbing turn and accelerated and just flat disappeared."
X-15 ENCOUNTERS UFO
On July 17, 1962 Major Robert White reported a UFO during his fifty-eight-mile high flight of an X-15. Major White reported: "I have no idea what it could be. It was grayish in color and about thirty to forty feet away."
Then according to a Time Magazine article, Major White exclaimed over the radio: "
There ARE things out there! There absolutely is!"
TOLD TO BE ON THE LOOKOUT?

On May 11, 1962 NASA pilot Joseph Walker said that one of his tasks was to detect
UFOs during his X-15 flights.
He had filmed five or six UFOs during his record breaking fifty-mile-high flight in April, 1962.

It was the second time he had filmed UFOs in flight.
During a lecture at the Second National Conference on the Peaceful Uses of Space Research in Seattle, Washington he said: "I don't feel like speculating about them. All I know is what appeared on the film which was developed after the flight." - Joseph Walker
To date none of those films have been released to the public for viewing, but NASA has said those were ice flakes.

ALL WE HAVE,BASICALLY, ARE THESE 2 SHOTS BY McDIVITT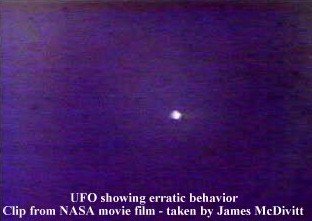 "At no time, when the astronauts were in space were they alone: there was a constant surveillance by UFOs."
(QUOTED IN SEVERAL BOOKS)
"All Apollo and Gemini flights were followed, both at a distance and sometimes also quite closely, by space vehicles of extraterrestrial origin - flying saucers, or UFOs, if you want to call them by that name. Every time it occurred, the astronauts informed Mission Control, who then ordered absolute silence."
--Maurice Chatelain, former chief of NASA Communications Systems.

BUT CHATELAIN HAD WRITTEN A BOOK HE WAS HOPING MADE BEST SELLER LISTS, SO...?

In Science Digest, the respected monthly popular science journal, astronomer-author James Mullaney (a former contributing editor to Astronomy magazine) wrote in July 1977 that "the crew of Apollo 11, during the first moon landing, reporting that their capsule was paced by what appeared to be a mass of intelligent energy....

NASA recently released a number of very striking Gemini, Apollo, and Skylab photos of true unidentifieds."

THE PILOT WHO FLEW OBAMA'S CAMPAIGN AIRPLANE

"A veteran pilot, who flew President Obama's campaign plane, has revealed that he has seen a UFO flying through the sky.
Andrew Danziger
claimed that virtually all airmen believe in unidentified flying objects and that he had his own close encounter in the cockpit between Kansas and Iowa in April 1989."

COULDN'T WE ALL FIND ACTUAL POLICE REPORTS (SOME MADE BY POLICEMEN THEMSELVES!), PHOTOS, VIDEOS TAKEN BY THOUSANDS, ALL LABELED "HOAX" OR "FRAUD", OF COURSE.

EVERY CONTINENT, EVERY NATION ON EARTH HAS REPORTED ETs AND UFOs.
BUT IN THAT "BLUE BOOK'
, IN THOSE REAL LIFE "X FILES", THERE WERE "UNEXPLAINED PHENOMENA", AND NASA ITSELF HAS A FEW SHOTS WITH NO "KNOWN SOURCE".

ALSO AVAILABLE FOR VIEWING ON YOUTUBE.
THE SCIENCE CHANNEL ONLY OFFERS "SHORTS".
CLICK HERE FOR A SELECTION OF THOSE...WHICH ARE QUITE INTRIGUING, BTW.

SO...WHAT DO YOU THINK?
I'M STILL VERIFYING A COUPLE OF THINGS, UNCONVINCED, AS ALWAYS, BUT KEEPING AN OPEN MIND.
I'M JUST NOT SO CONFIDENT WE CAN POSSIBLY BE ALONE IN THIS VAST UNIVERSE, BUT MAYBE SO.

HONESTLY, EVER SINCE THE 1950s WHEN THOSE "SECRET PHOTOS" OF A VERY SHAKEN EISENHOWER LOOKING AT A LANDING 'SPACECRAFT' CAME OUT IN MAJOR MEDIA, THOSE UFOs OVER THE WHITE HOUSE IN THE 1960s, THAT "ATTACK ON LAS VEGAS" NEWSREEL IN THE '40s, i'VE WONDERED WHEN THE WHITE HOUSE WOULD DISCLOSE THAT "WE ARE NOT ALONE".

Dr J Allen Hynek
The director of Project Blue Book of the US Air Force Dr J Allen Hynek said, "When the long-awaited solution to the UFO problem comes, I believe that it will prove to be not merely the next small step in the march of science, but a mighty and totally unexpected quantum leap... we had a job to do, whether right or wrong, to keep the public from getting excited."
General Douglas MacArthur
In 1955, Douglas MacArthur said that
"the next war will be an interplanetary war."
He added that nations of the world will have to join forces someday to fight attacks from "people from other planets."
On 12 May 1962,
MacArthur delivered a

speech
(commonly known as the "Duty, honor, country" speech) to the cadets of the U.S. Military Academy at West Point on the occasion of his receiving the Sylvanus Thayer Award, during which he once again alluded to the possibility that mankind might someday face an extraterrestrial foe.
J Edgar Hoover
The man who established the Federal Bureau of Investigation (FBI) was caught in a strange situation in 1942 when flying saucers allegedly flew over Los Angeles. The disks were fired at, according to reports. In a statement to the press,
Hoover said, "We must insist upon full access to disks recovered
. For instance, in the LA case the Army grabbed it and would not let us have it for cursory examination."
REAGAN HINTED AT IT.